Are you looking for the best WordPress theme builders to build a beautiful, fast, and functional website?
For those new to website design, just the mention of creating an entire website stresses them out.
We understand.
It honestly wasn't that long ago that you needed to basically know an entirely new language to design a website.
And even then, it didn't always look the best.
Thanks to leaps in technology, you can now launch an entire website with minimal stress. In fact, the market, especially for WordPress sites, is highly competitive. That's great news for you!
Why? Well, competition pushes developers to make their theme builders faster and easier with lots of extra features to make your site stand out.
But what exactly do theme builders do?
What Does a WordPress Theme Builder Do?
Before we dive into our list of the best WordPress theme builders, let's go over what they do and how they are different than page builders.
First, you have to have a theme installed on WordPress for your site to run.
Themes manage the look and layout of your entire website. It controls the placement and default design of the site, so you can have a uniform look across all pages.
Your theme will let you design and customize the important areas of your site, including:
Default font (including size and color)
Content section sizes
Image placeholder shapes (circle, rectangle, square, etc.)
Content placement
Design of headers, footers, and sidebars
And more…
So, your site's appearance and function really depend on your theme builder.
But how is this different from a page builder?
Page builders let you customize everything in-between the header and footer of your site. But, unfortunately, it doesn't let you change anything about your site's theme.
Page builders are helpful if you are not comfortable making changes to individual pages.
However, for most people, theme builders give enough functionality to design their entire site.
Now, it's time to jump right into our list of the best WordPress theme builders.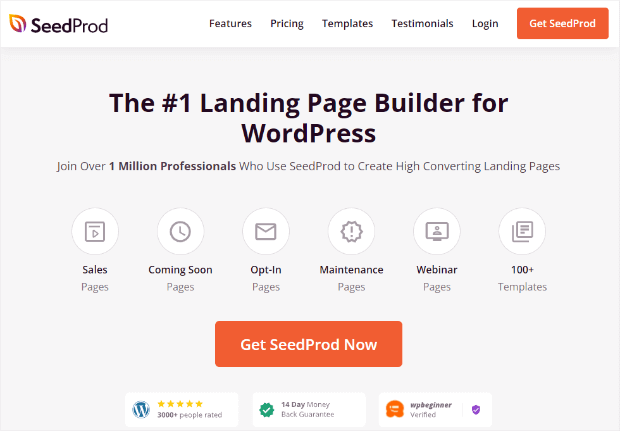 SeedProd, the world's top landing page builder for WordPress, now has a theme builder.
That's right! Now you can use SeedProd's powerful and intuitive landing page builder to create your own WordPress themes. Not to mention, their in-depth knowledge of WordPress gives you a beginner-friendly builder with expert-level features.
With the SeedProd theme builder, creating your theme is simple. Just drag and drop, just like you would in their page builder.
The visual editor in SeedProd gives you a live preview of your site as you are designing it, so there's no guesswork on how it will look and function.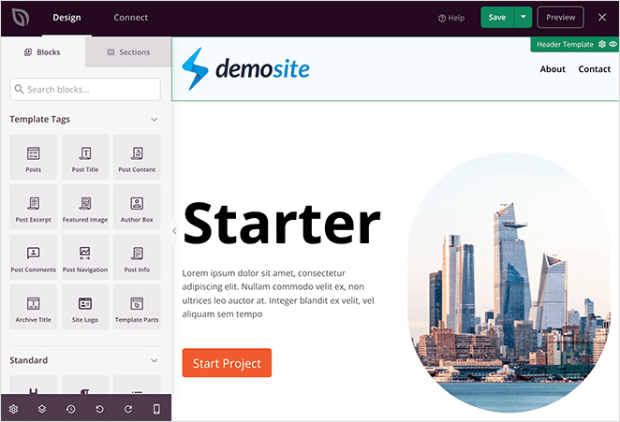 With 9 pre-made and fully customizable templates, you will definitely find the start to your own responsive, fast, and gorgeous website.
These templates will be your best friend when speed and ease are key. They will give you a complete theme kit with matching designs for every part of your theme.
That way, you will have an entire website with consistent design and branding – quickly and stress-free.
Some WordPress theme builders can really slow down your site. Not SeedProd.
SeedProd is built with speed and ease of use in mind. That way, your page runs fast, letting you rank even higher in SEO.
Key Features:
Visual drag-and-drop interface
2 million stock photos
Subscriber management dashboard
Email marketing integrations
Pricing: SeedProd plans that include the theme builder start at $199.50/year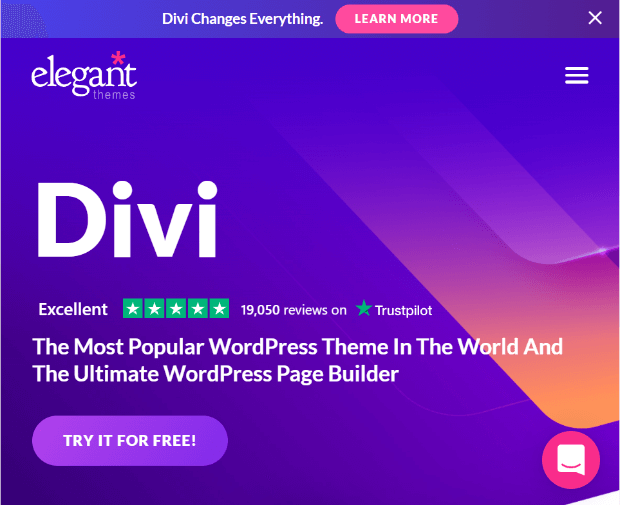 Divi is another popular drag-and-drop theme builder that can be used for almost any site you want to build.
Whether you are a seasoned website design pro or designing your first site, Divi helps you create a beautiful and responsive site.
One fun element to the Divi builder is hover options. Using hover options, you can add stunning hover effects to your website, adding a dimension of fun and interactive elements.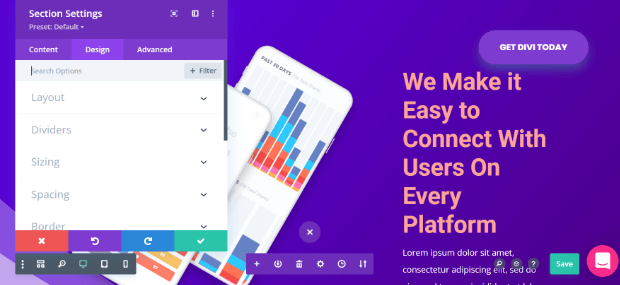 Maybe you want to design a different site for your visitors based on the device they use. Then Divi would be the best builder for you.
Sure, most builders are responsive to make your site work the same on every device. But Divi gives you 100% control over the design for every device. That way, you can tailor each element depending on if someone is looking at it on a tablet, smartphone, or computer.
Key Features:
Purchase of the theme also gives you access to the Elegant Themes membership club
Split testing to compare the performance of multiple designs
Unique border and divider editors to give your site a unique look
Pricing: Divi is $89/year. You can also purchase lifetime access for a 1-time purchase of $249.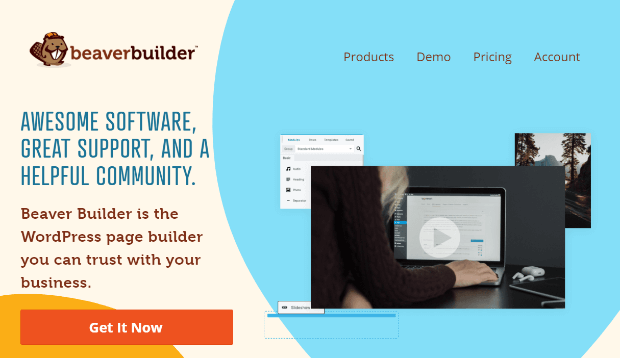 Are you looking for a solid, no-nonsense builder? Then, Beaver Builder is the best WordPress theme builder for you.
Beaver Builder focuses on the features you need without adding any fluff. What that means for you is that you get a builder that works really well.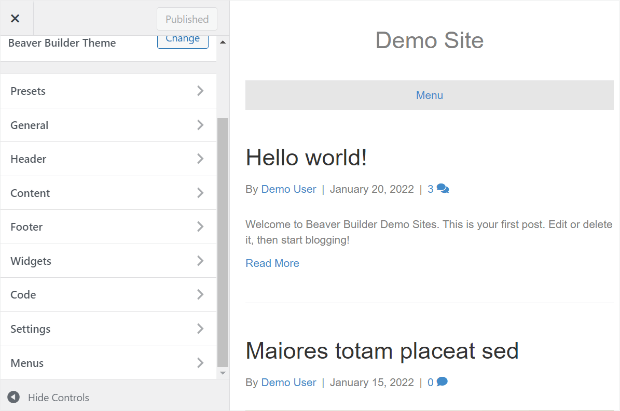 Sure, it isn't flashy as some other builders. But not everyone needs a flashy site.
Sometimes you just need a site that gets the job done and a builder that does the exact same.
What is lacks in extra features, Beaver Builder more than makes up for in stability and reliability. Plus, you have the ease of an incredibly smooth builder that will help you build your own theme.
Key Features:
Bootstrap framework
Plans let you create unlimited websites
Dynamic content settings
Pricing: Beaver Builder plans that include the theme builder start at $199/year.
Mesmerize is one of the more popular theme builders on WordPress and for a good reason.
With an extensive design library, including 100+ content sections, you have the power to create a site that's uniquely yours.
All of the themes in Mesmerize are responsive right out of the box, so you'll know your mobile visitors will get the same experience as those on desktop computers.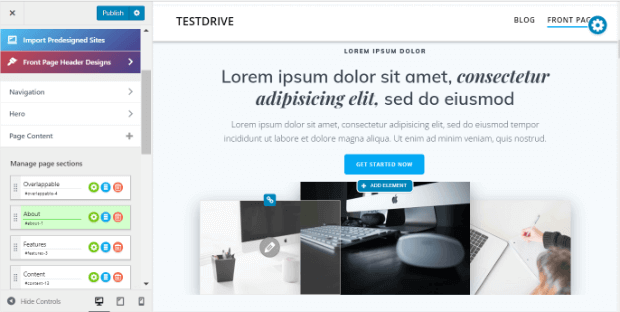 Mesmerize offers a stripped-down free version if the cost prevents you from buying a paid plan right now.
Overall, Mesmerize is very easy to use. The sheer number of design options makes sure your website won't look like any others.
Key Features:
Free access to the Font Icon icon library
Video and slideshow backgrounds
Integrates with the WPML and Polylang plugins, so you easily translate your website
Pricing: Mesmerize PRO plans start at $79/year for one site.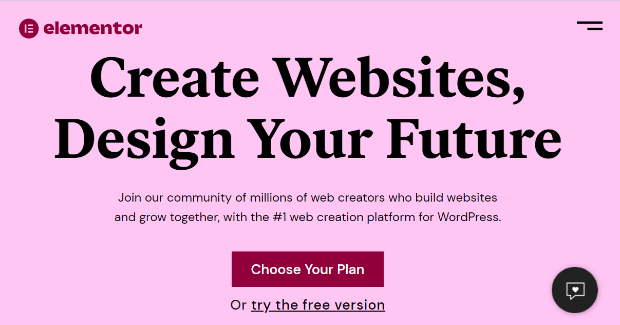 Elementor is yet another popular theme builder that rightfully deserves a place on our top WordPress theme builders list.
Simple. Intuitive. Beautiful.
What more could you want out of your website? The Elementor builder will help you accomplish just that.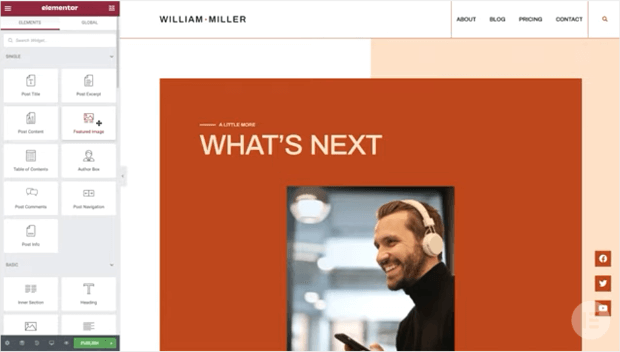 Elementor has both free and paid versions. In even better news, the free version will integrate with most other themes, so you build your own custom pages.
Plus, you can fully manage your entire WordPress site on one dashboard. Talk about making things easy for you!
Finally, Elementor has an extensive library of integrations, ensuring that most plugins you like to use will probably work in your themes.
Key Features:
Dynamic content that gives each category of pages a unique look
300+ Pro templates
60+ Pro website clicks
Pricing: Paid Elementor plans start at $49/year.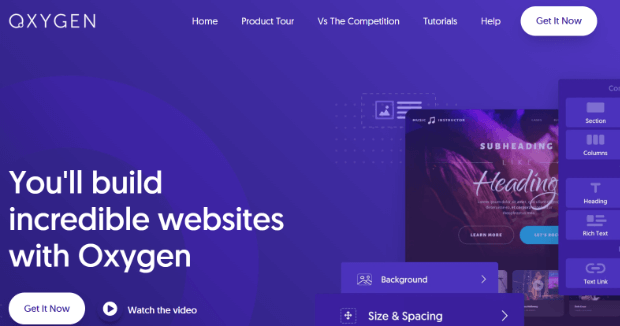 There is indeed a builder for everyone. For those among us that are more technically-minded and comfortable with code, then Oxygen is our pick for you.
With Oxygen, the main focus is on clean and lightweight code. That means that a lot of the beginner-friendly features are scrapped.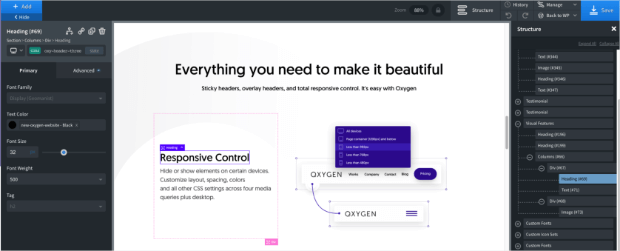 If you know how to use custom code, you can make marvelous website themes with Oxygen.
The big draw is that the Oxygen WordPress theme builder simplifies and quickens the workflow for advanced users.
Since the builder's code is clean and light, your website will reflect that. This means quicker load times, which will help your search engine rankings.
WooCommerce compatibility also gives you the power to truly make your online store your store.
Key Features:
Developer friendly with HTML, PHP, CSS, and JS live.
Advanced functionality
Your license includes unlimited use on client websites
Pricing: Oxygen paid plans start at a 1-time fee of $129.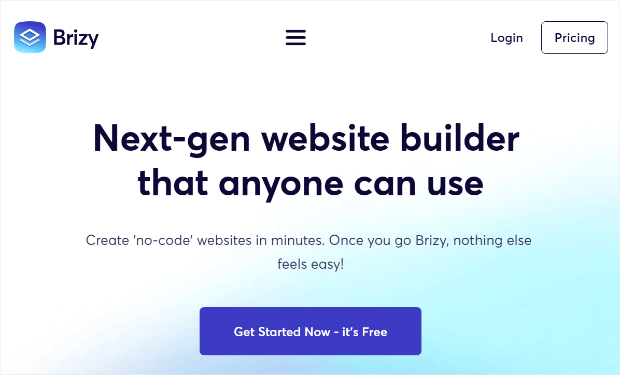 Brizy is another newcomer to the WordPress theme builder world.
While it's new, Brizy has gained popularity quickly thanks to how easy and fast you can edit your WordPress themes.
Brizy really shines in its global style editor. Don't worry if your brand undergoes a brand change and you need to change colors or fonts. The Global Styling function makes these large-scale changes in just 1 click.
While there is a free version, you need to upgrade to the paid version if you want to use their theme builder.
Where most of the best WordPress builders use sidebars for design, Brizy uses inline editors. Of course, this gives Brizy a unique look and feel while also speeding up the design process.
Another really unique feature with Brizy is that Brizy Cloud. This cloud lets you design your site in the cloud, just in case you prefer that. It's just another piece in your toolkit alongside your WordPress builder.
Key Features:
Inline design editor
Two builder options- WordPress or Cloud
100+ pre-made templates
Pricing: Brizy WordPress PRO is $49/year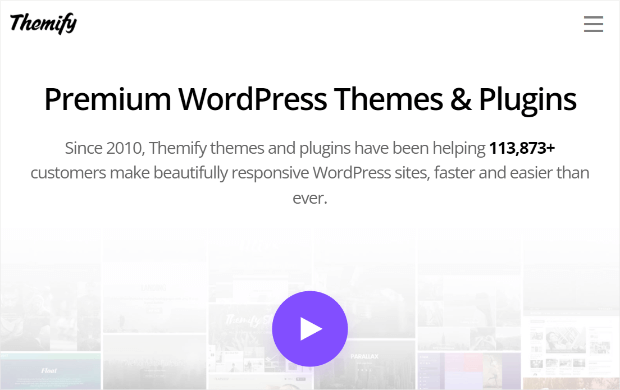 Themify Builder Pro is an incredibly responsive theme builder that will help make your site more SEO-friendly.
While Themify Builder Pro is simple to use, don't underestimate its power.
Themify stands out in display conditions that make your site flexible and eye-catching. You can set template rules on specific posts, pages, and tags. That way, you can have separate templates across your site.
Also, the Themify Builder integrates with every page theme in the Themify collection.
You also get a robust collection of addons when you buy a Themify Builder Pro membership. These addons will give you the power to create stunning animations, add WooCommerce functionality, design custom buttons, and more.
Key Features:
Membership includes 25 builder addons
Over 40 pre-designed layouts
Backend and frontend editing interfaces
Pricing: Themify Builder Pro is $69.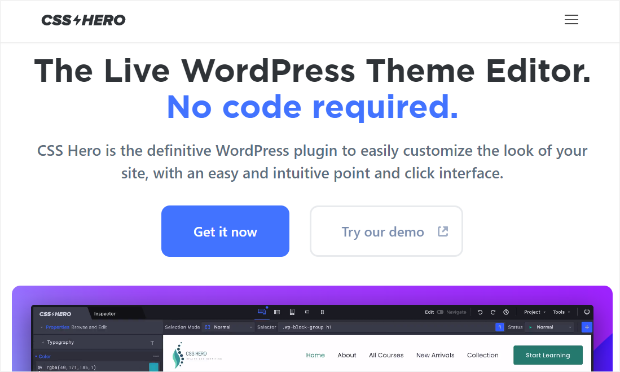 CSS Hero prides itself on being a complete website customization toolkit. From the look of your site to how it works on multiple devices, CSS Hero comes to the aid of creators that find it hard to customize using CSS code.
Basically, what needed complex CSS coding before is now handled with a point and click interface.
And don't worry about how the changes are impacting your mobile viewers. With a live mobile preview feature, you can see the mobile view in real-time as you work on your template.
Also, with Unsplash integration, you have access to a massive library of high-resolution royalty-free images to use in your themes.
CSS Hero is a super powerful WordPress theme builder that would be great in your toolkit.
Key Features:
Fonts from Google Fonts, Typekit, and custom fonts can be used
HTML/CSS Inspector
Color palette generator
Pricing: CSS Hero plans start at $19/year.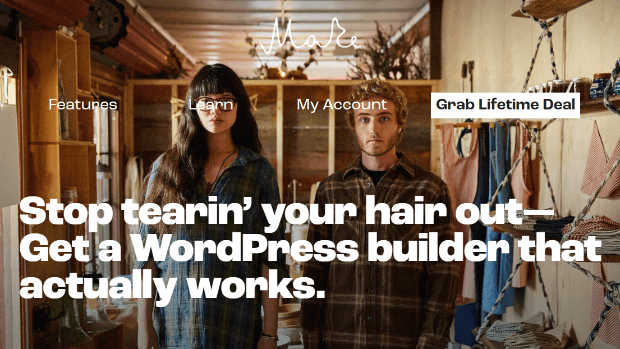 Make is a free, open-source theme builder that recognizes you have bigger and better things to spend your time (and money) on.
The Make interface is modeled after the WordPress page editor. So, if you are comfortable using that, then using Make will be easy.
With over 100 Customizer settings, you don't have to worry about your site looking bland or like your competitors. Instead, you can stand out, all without needing to know how to code.
And don't worry, you can professionally brand your site with logos and a favicon.
Finally, the Make Layout Engine™ puts your mobile users first, so they will always see great-looking content.
Key Features:
Free, open-source platform that is regularly updated
Custom displays based on page type
Native WordPress editor interface
Pricing: Make's base builder and theme are free to use. Premium plans start at $98.95/year.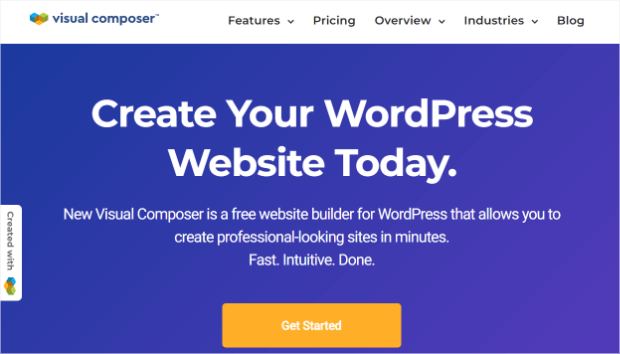 Visual Composer started life as the WPBakery Page Builder. Now, it's been relaunched as a full website theme builder.
So, if you've used WPBakery in the past, you'll be right at home with Visual Composer.
Like all the other WordPress theme builders on our list, Visual Composer also uses a drag-and-drop visual editor.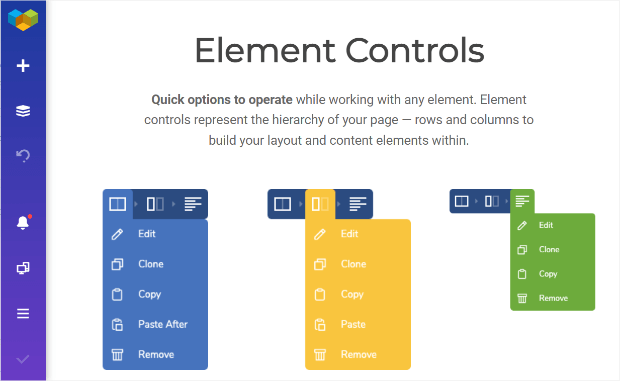 Though, with the Visual Composer Hub, you can find every possible feature you need to create the website of your dreams. Oh, and by the way, the hub is a free cloud-based marketplace.
And if you don't have time to design your own template, Visual Composer has 300+ professionally designed templates for you.
Key Features:
Conditional formatting
Element and template presets
Global layouts
Pricing: Visual Composer does have a free plan. Premium packages start at $49/year.
And that's our list of the best WordPress theme builders!
We hope this list has helped you find the best builder for your own WordPress site.
If you liked this post, then you may also want to see:
These articles will help you make your website a true success through creating excitement, generating leads, and more with our expert tips and tricks.
And if you're interested in boosting your conversions and sales quickly and effectively, you should check out TrustPulse! It's proven to increase conversions by up to 15% instantly.
Sign-up for your 100% risk-free TrustPulse account today!