Do you want to add social proof to your Shopify store the easy way?
A social proof app makes it easy to display convincing social proof on your Shopify store. But how do you choose the right app for your store?
In this article, we'll go over the best social proof apps for Shopify based on price, features, and ease of use. We hope this will help you choose the best app for your business.
Let's get started!
What is Social Proof?
Social proof means that we look to other people to help us figure out what is good or what is the right thing to do. We think that if other people like something or are doing something, it must be a good idea for us too.
Have you ever noticed that when you go to a restaurant with your friends, you look around and see what other people are ordering to help decide what you want? That's an example of social proof.
Online shoppers on eCommerce websites also look to others for help making decisions about what clothes, makeup, and other products to buy.
Types of Social Proof for eCommerce
There are several types of social proof that can be used in eCommerce to influence customer behavior and increase conversions. Some of the most common ones include:
Recent sales notifications: People want to know that other customers are buying the same product right now. This not only shows that the product is popular but that customers may miss out if they wait too long.

Customer reviews and ratings: New customers want to see not only the average rating for a product but the total number of product reviews and ratings. A product with lots of positive reviews is more convincing than one with just a few, even if the average rating is the same.

Testimonials and case studies: Featuring testimonials from satisfied customers on your website or product pages can help build trust with potential customers. Case studies offer even more detail not only about the end result but the process of deciding to purchase the product.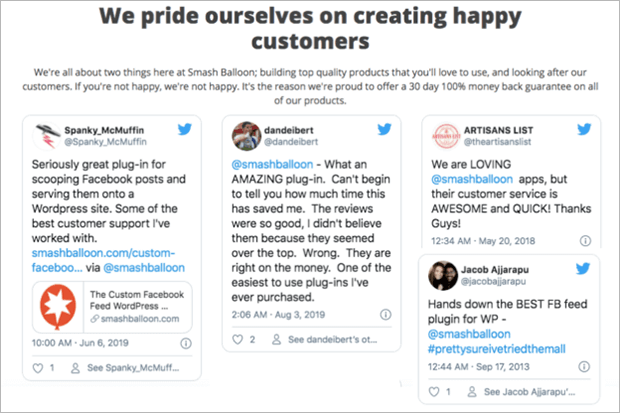 Social media followers and likes: Showcasing the number of followers and likes a business has on social media platforms can help establish the business as a reputable and popular brand.

User-generated content: Encouraging customers to share photos and videos of themselves using your products on social media platforms can also serve as social proof and help drive sales.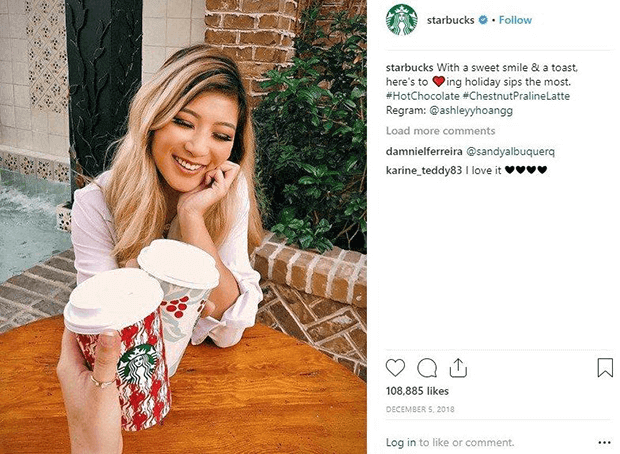 Influencer endorsements: Working with influencers to promote your products can be a powerful form of social proof, especially if the influencer has a large and engaged following.
Industry trust badges: Trust badges and certifications provide proof that a business has met certain standards and criteria set by a reputable third-party organization. They also indicate that a business is an expert in its field.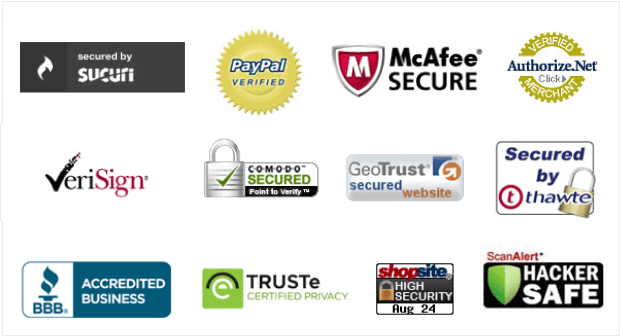 Customer numbers: Displaying the number of customers that have purchased a product or the total number of recent orders can show how popular your product is.

These are just a few examples of social proof that can be used in eCommerce. By leveraging these strategies, businesses can increase trust, credibility, and ultimately drive sales.
Now, let's see how to add social proof to your Shopify store.
How Do I Add Social Proof to My Shopify Store?
As a Shopify store owner, it's in your best interest to add social proof to your eCommerce store. Social proof is proven to increase conversions, and we all want more conversions and sales!
The easiest way to add social proof to your Shopify store is with a social proof app. We'll go through a whole list of social proof Shopify apps shortly. But first, let's talk briefly about how to choose the right social proof app for your store.
Choosing a Shopify Social Proof App
There are tons of social proof apps in the Shopify App Store, so how do you know which is right for you? We suggest considering these factors:
Ease of use: Look for a social proof app that is easy to set up and use, with a user-friendly interface and clear instructions.
Customization options: Choose an app that allows you to customize the appearance and behavior of the social proof notifications to match your brand and website design.
Integration: Ensure that the app integrates seamlessly with your website and shopping cart.
Features: Consider what features are important to you, such as the ability to display recent sales, customer reviews, and product recommendations.
Cost: Evaluate the cost of the app, including any ongoing fees, and compare it with other social proof apps to find the best value for your budget.
Analytics: Look for a social proof app that provides detailed analytics, so that you can measure the impact of social proof notifications on your sales and conversion rate.
Customer support: Make sure that the app you choose has a responsive and helpful customer support team that can assist you with any questions or issues that may arise.
With this in mind, let's take a look at the best Shopify apps for social proof!
Top 13 Shopify Social Proof Apps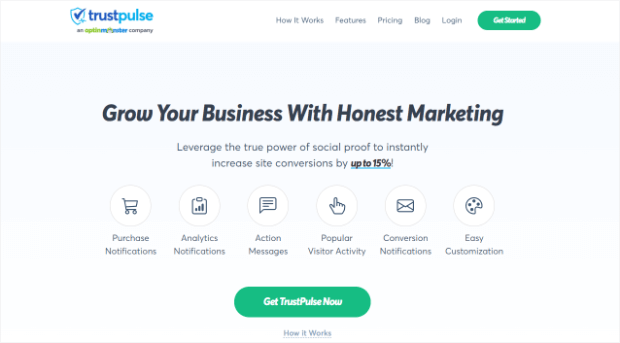 If you use Shopify, TrustPulse is the perfect way to show your customers that people are buying from your store right now. It's like having a big, flashing sign that says "People love shopping here!"
With TrustPulse, you can show your customers things like live purchase notifications, number of recent sales, visitor counts, and even how many people are looking at a specific product right now. It's like having a big crowd of people all cheering for your store!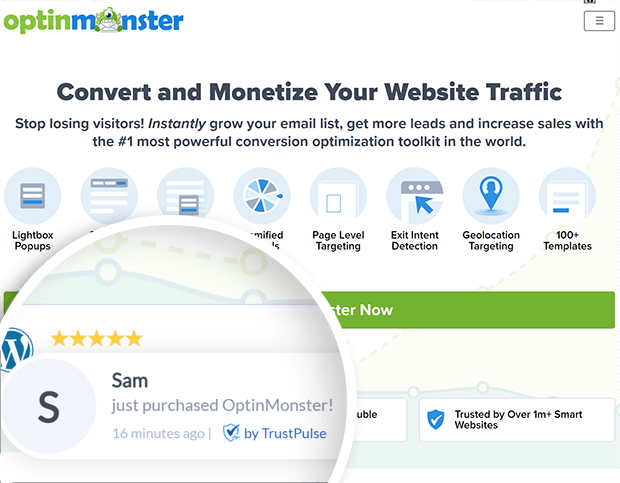 TrustPulse is easy to set up and use, so you'll be up and running in no time. And it's also customizable, so you can make it look like it's part of your own website.

Plus, it comes with helpful and responsive customer support, so if you have any questions, someone is always there to help.
TrustPulse Pricing: Starts at just $5/month
So if you want to make your Shopify store even more exciting and trustworthy, give TrustPulse a try! Your customers will thank you!

The Social Proof & Urgency FOMO app displays notifications for recent sales, product reviews, and trending products in your Shopify store. You can also connect over 100 other Shopify apps to show other conversion activity such as Mailchimp subscriptions, live pageviews, or reviews on other channels like Google.
FOMO Pricing: Free plan for up to 500 notifications per month. Paid plans start at $19/month.

As the name suggests, Sales Popup Conversion Pro does more than build social proof popups. In addition to order notifications, you can add countdown timers, low stock countdowns, and a floating announcement bar to boost your conversions. Plus there's a sticky cart drawer feature that can reduce cart abandonment. The app is made by CareCart, a reliable provider of Shopify apps.
Sales Popup Conversion Pro Pricing: Free plan with boosted revenue limits. Paid plans start at $4.99/month with a 14-day free trial.

Nudgify turns any real-time activity in your online store into social proof nudges. You can display recent purchases, a live visitor counter, and subtle nudges for:
free delivery minimum to encourage upsells
delivery date deadlines
discounts
low stock
With the easy-to-use builder, you can have your first nudge built in less than a minute.
Nudgify Pricing: Free plan up to 1,000 notifications/month. Paid plans start at $9/month.

Qikify combines several sales boosting functions in one convenient app. With Qikify, you can:
Display recent purchases and visitor counter
Add countdown timers
Collect email subscribers with popups
Announce sales and other special events with a promotional bar
Getting started with the app is extremely easy for both new and experienced business owners alike.
Qikify Pricing: Free plan for up to 500 visitors/month and unlimited impressions. Paid plan starts at $4.99/month with 20% upcharge for Shopify Plus customers.

Provesource lets you show off recent sales, product reviews, pageviews, live visitors, and other social proof notifications with just a few clicks. Their notification templates are mobile-friendly, and their customer service team is incredibly helpful. Many customers note an immediate increase in conversions even during the trial period.
Provesource Pricing: Free plan for up to 1,000 monthly visitors with ProveSource branding. Paid plans with removable branding start at $29/month.

Fera specializes in managing product reviews and making the process of collecting this vital social proof easy for business owners. You can easily show reviews with customer photos and videos and even import reviews from Facebook, Google, and other sites. There are also automations for requesting reviews and rewarding customers with discounts, cash-back, and loyalty points.
Fera Pricing: Free plan for up to 10 review requests/month. Paid plans start at $9/month with 14-day free trial.

Visual reviews and referrals are some of the strongest types of social proof, and Loox helps you collect both. With Loox, you can send automatic review requests with discounts for adding photos and videos. Those reviews go into eye-catching widgets with several layouts that can go on your homepage, product pages, in-cart, and even on post-purchase upsells. You can also add on Loox Referrals, will also auto-generate referral links for your best customers.
Loox Pricing: Plans start at $9.99/month plus $5 for Loox Referrals, with 14-day free trial.

Judge.me is one of the leading product review apps for Shopify. You can schedule automated emails to request reviews with photos and videos. Once you have the reviews, you can customize how they're displayed with star ratings, photos, and more. Get more mileage from your reviews by sharing them on social media and Google Shopping. The support team is available 24/7 for technical and design tweaks.
Judge.me Pricing: Free plan available with limited functionality. Paid plans start at $15/month.

Yotpo is a trusted eCommerce app builder for Shopify and their Reviews app is a standout option. After you collect customer reviews, you can display them at key conversion points to boost sales. You can also collect photos, videos, and questions to enrich the shopping experience. Yotpo lets you moderate comments and reviews so you can filter out spam and give your customers the most helpful information possible. Yotpo has official partnerships with Google and Facebook that can boost brand discovery and traffic.
Yotpo Pricing: Free plan for up to 50 orders/month with limited features. Paid plans start at $15/month.

Vitals is a popular marketing app for Shopify that includes several social proof features. Notably, you can import unlimited product reviews from AliExpress and automatically request customer reviews after order delivery. There are also countdown timers and low stock notifications to drive urgency. Finally, you can display trust badges and payment logos to build credibility with new and returning customers. There are lots of other applications you can use to boost conversions as well.
Vitals Pricing: $29.99/month with 30-day free trial.

Avada has more than 10 sales-boosting features all in one Shopify app. Choose from 30+ checkout trust badges to help customers feel secure buying from you. You can also add sales popups for purchases, add-to-cart actions, email list signups, reviews, and other notifications. Avada also includes a live chat widget to address any last-minute questions or concerns from customers.
Avada Pricing: Free

If you're already using TrustPulse or another social proof app and just want to add trust badges, ShopClimb is a great option. ShopClimb uses geolocation to show customers the local payment methods they're likely to be most familiar with. This simple customization can increase trust and conversions, all with drag-and-drop no-code installation. You have full customization so the badges fit your store design perfectly.
ShopClimb Pricing: Free plan without geolocation badges. Paid plans with premium badges, custom CSS, and geolocation start at $5.99/month.
Conclusion: What's the Best Social Proof App for Shopify?
We hope this list has helped you find some social proof apps to use in your own Shopify store. As for which is the best? Here are our top picks:
Best social proof popup app: TrustPulse
Best product review app: Judge.me
Best free social proof app: Avada Trust Badge
Still not convinced that social proof can help your business? Check out these social proof statistics for more evidence.
Ready to add social proof notifications to your Shopify site the easy way? Get started risk-free with TrustPulse today!