Are you looking for the best live visitor counters for WordPress?
A live visitor counter shows you (and often your audience) the number of people who have visited a page or section of your website.
This is a great way of showing your site's traffic how popular your content or product pages are. This helps new visitors trust your brand, and, as a result, you're more likely to increase conversions across your WordPress website.
But how do you track visitor counts in a way that's honest, accurate, and easy to set up?
For that, you'll need the right live visitor counter plugin.
And that's exactly what we'll cover here today. Because we're going to share with you the 5 best live visitor counters for WordPress.
First, though, let's clarify what a live visitor counter is and why they're such an effective marketing tool.
Why Use a Live Visitor Counter Plugin?
There are many reasons why you'd want to use a live visitor counter. Though it's not an exhaustive list, here are the top 3 advantages of adding this tool to your WordPress site:
1) Build More Trust in Your Brand
One of the biggest reasons for using a live visitor counter on your website is to build trust in your brand. It's common knowledge that most people don't buy products or services the first time they visit a website.
But you may still want them to take other actions like signing up to your newsletter or allowing push notifications.
You can increase your odds of getting new visitors to take action on YOUR site by showing them how popular your content is is.
When people see how many other people have visited a product page or blog post, for example, they'll be more likely to trust your brand and engage with it.
2) Boost Sales With FOMO
While it's true that not everyone will make a purchase when they first visit your site, there are exceptions.
And one of the most powerful motivators for online consumers is the "fear of missing out" (FOMO).
FOMO is an incredibly powerful tool that comes from people feeling like they're missing out on some benefit. If you show how many people have visited your product pages, other online consumers are more likely to feel FOMO and have the urge to buy your products.
As a result, you can expect more sales from popular product pages with high live visitor counts.
3) Use Data to Optimize Your Content
Finally, you can use the data you get from your live visitor counter plugin to make a better content marketing strategy.
By learning which posts and pages of your site are the most popular, you'll get an idea of what your target audience is responding to.
Then you can use that information to craft better content to attract even more qualified leads to your email list.
Again, these are only 3 of the advantages of using a live visitor counter, though there are many others.
And now that we're clear on why you should have a live visitor plugin for WordPress, let's look at how you can make it happen.
Let's turn to our 5 best live visitor counters for WordPress.
Best Live Visitor Counters for WordPress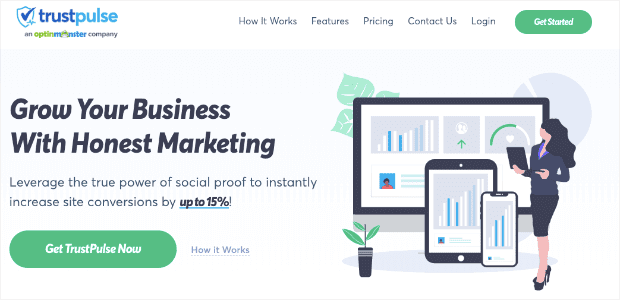 TrustPulse is hands down the best social proof plugin on the market. It allows you to quickly and easily create social proof notifications that leverage FOMO and boost conversions.
You've likely seen these notifications before. They look something like this:

And while you can create TONS of various notifications for live sales, webinar registrations, newsletter signups, and more, there's one campaign that's highly effective:
Showing a page's or post's live visitor count.
This is done with TrustPulse's Visitor Analytics campaign, and it's an excellent tool for boosting conversions.
This shows the number of people who've visited a page, a post, checked out a product, saw a contest page, and more.
Here's an example of what these kinds of notifications look like:

There are 2 big advantages to creating live visitor notifications for your website.
First, you can display these notifications across various pages and add a link to the notification itself.
When users are reading a blog post, for example, they might see a notification like the example above.
Then they can click that message to be redirected to the popular landing page.
And if your landing page is optimized to convert, then you'll get more people flooding your sales funnel.
Second, live visitor notifications are perfect for websites that don't have a lot of social proof right now but don't want to use fake social proof to boost conversions either.
Instead, you can use a genuine form of social proof by displaying the number of people who visit a page or post (rather than the number of people who took action).
That makes live visitor count notifications the best way for new sites to leverage social proof in an honest way.
And the best part is that with TrustPulse, you can design your notifications to match your brand's look, voice, and style.
In fact, the entire campaign can be designed and installed in a matter of minutes with zero coding skills required.
Everything can be configured with drop-down menus, text input field boxes, or by activating a toggle switch: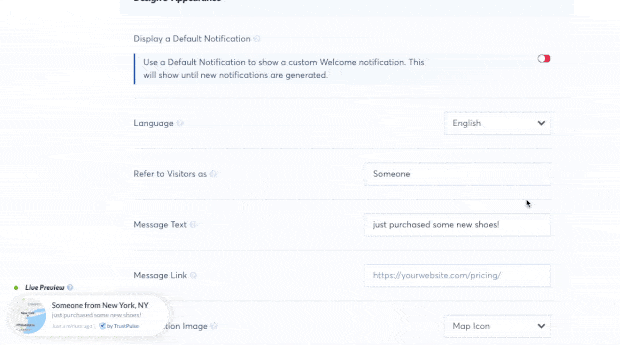 This allows anyone to create the perfect live visitor count notifications in a matter of minutes, regardless of their technical experience.
And that's just one of the reasons why TrustPulse is the #1 social proof software on the market.
Plus, it's a fraction of the cost when compared to the nearest competitors.
For more information on how TrustPulse stacks up to the competition, just check out this helpful post: FOMO vs. UseProof vs. TrustPulse: Which Is Best for Social Proof?
Want to see TrustPulse in action for yourself? Sign up for your 100% risk-free TrustPulse account today!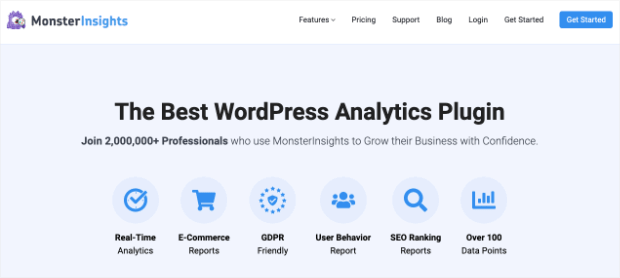 MonsterInsights is the best Google Analytics plugin for WordPress and THE BEST live visitor counter for optimizing your site's content.
That's because MonsterInsights syncs with your Google Analytics (and Google Search Console) to give you a full analytics dashboard directly in the admin section of your WordPress site.
Not only are these reports more conveniently located (meaning you don't have to log in and out of your Google Analytics account), but they're much easier to digest.
With MonsterInsights, you get all the information you need at a glance, such as:
Users
Sessions
Bounce rates
Top posts
Visitor locations
Visitor device
And much more…
And, of course, you can easily see how many people are visiting your posts and pages.
With this information, you'll gain a deeper understanding of what attracts your target audience to your site. And by setting up custom events, you can also better understand what types of content gets that audience to take action.
Then you can refine your content marketing strategy and optimize your site for even better performance.
Want to learn how? Check out this post to guide you through: How to Set Up WordPress Visitor Tracking: A Beginner's Guide.
Features
Syncs with Google Analytics and Google Search Console
Set up custom events
More user-friendly reports
Addons for eCommerce tracking
WooCommerce integrations for easier WordPress tracking
Valuable data for live visitor counts
And much more…
All these features and more make MonsterInsights the BEST analytics plugin for WordPress.
Check out MonsterInsights today!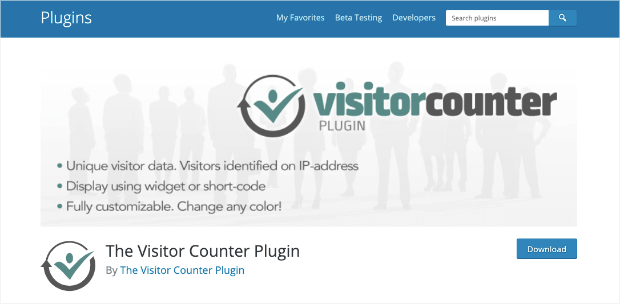 As the name suggests, the Visitor Counter plugin shows the number of visitors who visit your posts or pages.
It's a simple plugin that does exactly what it promises. You can gather unique data on your visitors and display that data on your WordPress site.
Plus, you can style your Visitor Counter widget to match your brand's voice and style.
This includes changing aspects of your widget like:
Background and text colors
Titles
Border radius
Elements width
This gives you more control over how your widget looks, so it attracts just the right amount of attention.
Live Visitor Counter is a free plugin that you can start using to leverage FOMO on your site today!
Features
Simple and easy to set up
Customizable widgets
Add to any page with shortcodes
Free to use
If you're looking for a simple plugin to display your visitor counts, then this might be the option you're looking for.
Check out the Visitor Counter plugin today!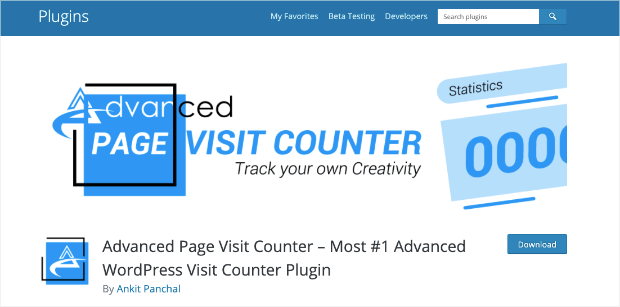 The Advanced Page Visit Counter plugin is a free but powerful tool that gives you detailed analytics on your site's visitors.
With this plugin, you can also customize the frontend to make it blend in better with your website. And you'll get valuable data, such as:
Total visits (by day, week, month, or year)
Browser traffic
Traffic source
Operating system
Real-time counter
Trending pages
And much more…
You can also display some of this customer data on your product pages or posts to leverage social proof and build your site's credibility.
And like other analytics plugins, you can use the information to optimize your content strategy to engage your target audience.
Features
Fully customizable frontend
Gathers LOTS of data on your site's traffic
Displays via shortcode for easier page placement
Quick setup that doesn't require technical knowledge
Free to use
We should mention that there are a few 1-star reviews from the WordPress community claiming that the plugin didn't work.
It either caused problems, didn't track accurately, or had hidden 401 errors.
On the other hand, there were several 5-star reviews saying how powerful this plugin is, so the negative reviews may be exceptions to the rule.
At any rate, you might want to try and thoroughly test this plugin for yourself before committing to the tool.
Try the Advanced Page Visit Counter today!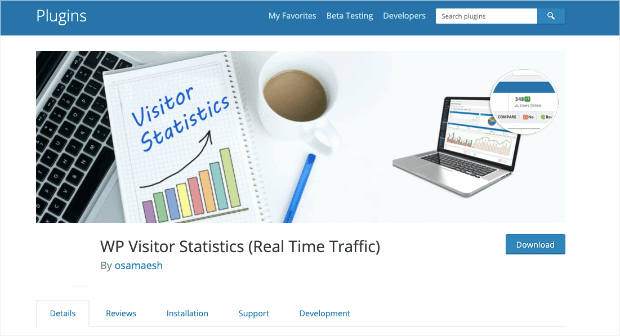 WP Visitor Statistics is an analytics plugin that allows you to show live visitor counts.
It allows you to track valuable data across your WordPress website without using external services (like Google Analytics, for example).
It's one of the more powerful tools we've found and is super easy to set up. With WP Visitor Statistics, you can create a dashboard in your WordPress admin area. The basic version includes:
Real-time statistics
Visitors and visitor location
User-friendly interface
GeoIP (by country)
Search engine queries
And more…
But with the advanced version of this plugin, you can use shortcodes to display live visitor counter widgets and other user information across your site.
Features of the PRO Version
Online counter
Widgets to display live counts
Shortcodes for various types of data
Email reports of statistics
Maps of visitor locations
Recent visitors by IP
And more…
The fact that this plugin doesn't use external tracking tools like Google Analytics is a double-edged sword.
On the one hand, not using external tracking sources means your data is owned by YOU and can't be used by other 3rd-party platforms (again, like Google).
On the other hand, it means the platform can't leverage user-data to make the product as powerful as competing services.
Try out WP Visitor Statistics today!
Which Is the BEST Live Visitor Counter for WordPress?
Today we looked at the top 5 visitor counters for WordPress.
But now, you might be wondering, "Out of the options provided, which is the BEST for my website or online store?"
If your goal is to use social proof to boost conversions, then TrustPulse is 100% the right tool for the job.
Not only is it the most powerful social proof plugin on the market, but it's a fraction of the cost compared to competitors.
Plus, it allows you to use a variety of notifications, so you're not just limited to live visitor counts (though you have that option, too).
If you're looking for a more comprehensive tool to gather more data on your audience, then we're confident that MonsterInsights is the tool for you.
That's the most reliable analytics plugin for WordPress. MonsterInsights gives you all the power of Google tools to track your visitors (and your site's performance) but delivers the information in an easily digestible format.
This gives you faster access to the data you need to create better content for your audience.
And that's it! These have been the 5 best live visitor count plugins for WordPress.
We hope you enjoyed this post. If you did, you might want to check out the following resources:
These articles are loaded with tools that will help you better understand your audience, create better content, and drive more sales from your WordPress site.