Do you need help with TrustPulse? In this tutorial, we'll discuss best practices to help receive a timely response, making the best use of both your time and our time.
Self-Checks
Please review the following steps before proceeding with your support request.
1) Is Your Site Accessible?
Make sure that you can view your site just like a visitor will be. This means not logged in to an owner-only view and checking to ensure that your site is free from page loading errors so you can navigate your website.
2) Does Your Site Have Any JavaScript Errors?
Many times, other scripts can cause JavaScript errors. Depending on the error, it can cause TrustPulse to not load or to load improperly. You might see these showing up by animations not running, or interactive elements not working. These errors must be resolved first before determining if there is a possible problem with TrustPulse. If you aren't sure that's okay too.
3) Does Your Site Use Optimization or Caching?
Caching and optimization plugins can unintentionally end up preventing the TrustPulse API from running. This includes causing notifications from not showing or not getting captured.
One way to tell quickly if one of these plugins are creating an issue is to temporarily turn off the JavaScript optimizations. In many cases the plugin will let you add the TrustPulse API to a list of resources to ignore. Be sure to clear any caching plugins or website cache when you make any changes. This will make sure that you're seeing the most updated version of your site.
WordPress
4) Is your Hosting Service Up-To-Date?
Sometimes issues you see on your site can occur because a hosting provider is not working properly or isn't up-to-date with the latest WordPress requirements.
The latest WordPress release (as of  2020) recommends PHP 7.3 or higher, MySQL 5.6 or higher (OR MariaDB version 10.1 or greater), Apache or Nginx, as well as HTTPS support. You can find more about hosting services and requirements here. 
5) Is WordPress Up-To-Date?
Are you running the latest release of WordPress? If not, you are more at risk to bugs, security vulnerabilities, and problems with plugins.  If your site isn't on the most updated version of WordPress the best next-step is to check out the WordPress documentation on How to Upgrade WordPress.
6) Is Your TrustPulse Up-To-Date?
We have already created a document talking about installing TrustPulse, so we encourage you to check that out and ensure your TrustPulse plugin is actually activated.
The next step is very similar, make sure TrustPulse is up-to-date with the latest version and that all your add-ons are both updated and activated. If you need help, check out WordPress's plugin documentation on managing plugins.
Still Need Support?
If you have progressed through the first steps but have not been able to resolve your issue, then now you are ready to reach out for TrustPulse Support.
Here's how to help our support team provide the best possible assistance:
Please be specific

as to both the problem and your desired functionality for TrustPulse, and provide any URL(s) being discussed.

Please be concise

. To be specific, you may need paragraphs, bullet points, or numbers to describe the problem. No worries, write whatever is required to help keep your questions clear and distinct.

Feel free to

underline or bold

any important information.
Submitting an Email Ticket
To access our email support, you'll need to log into your TrustPulse account and select the Help button.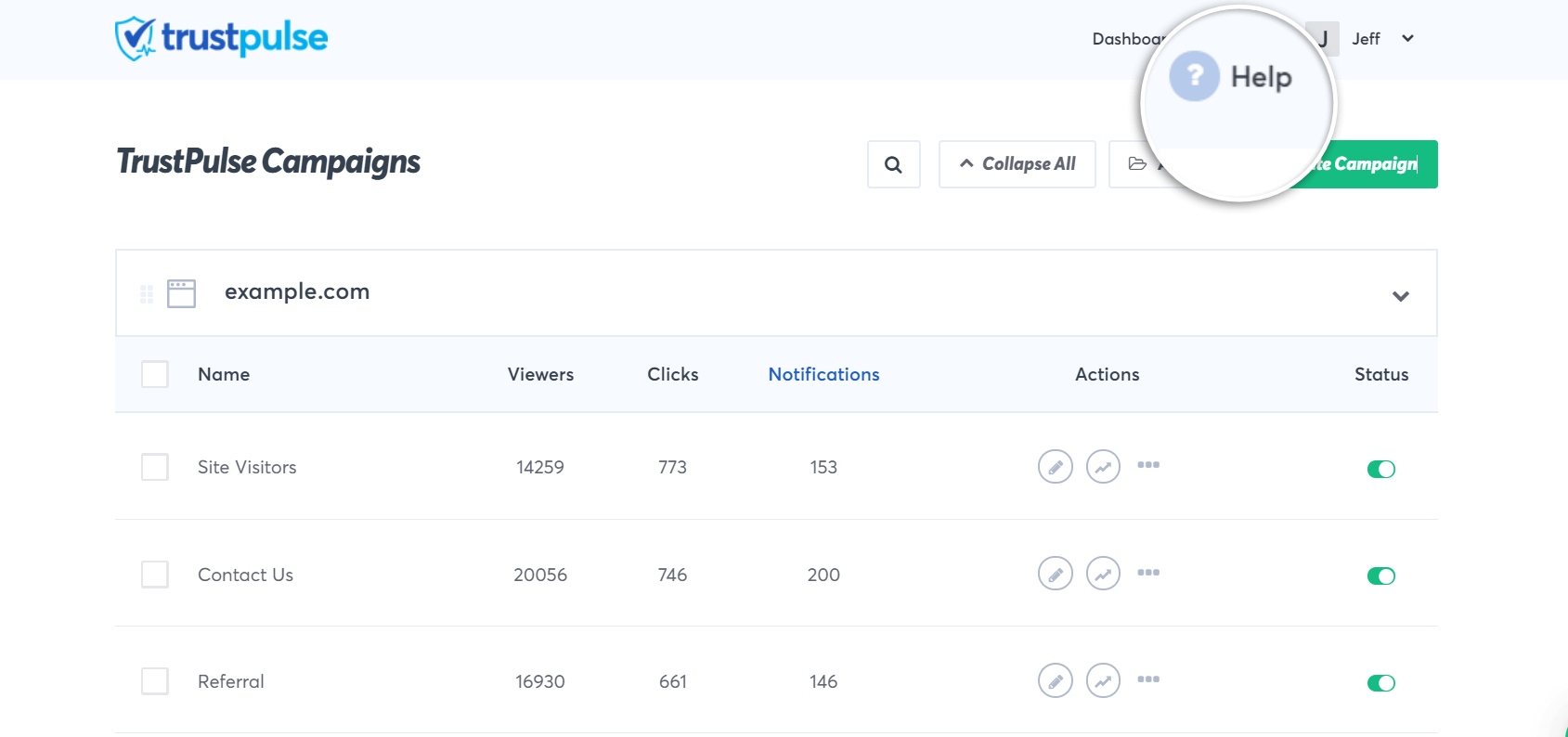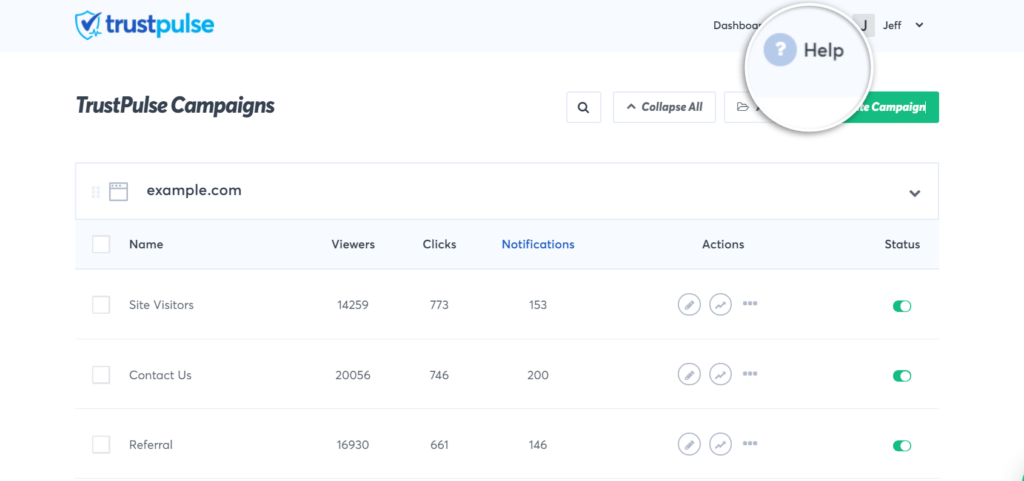 Here you should see both related documentation and the area where you can submit a support ticket. Please note an asterisk (*) will mark a required field. 
You can select your topic, any related campaigns, and the ticket will come straight to our inbox.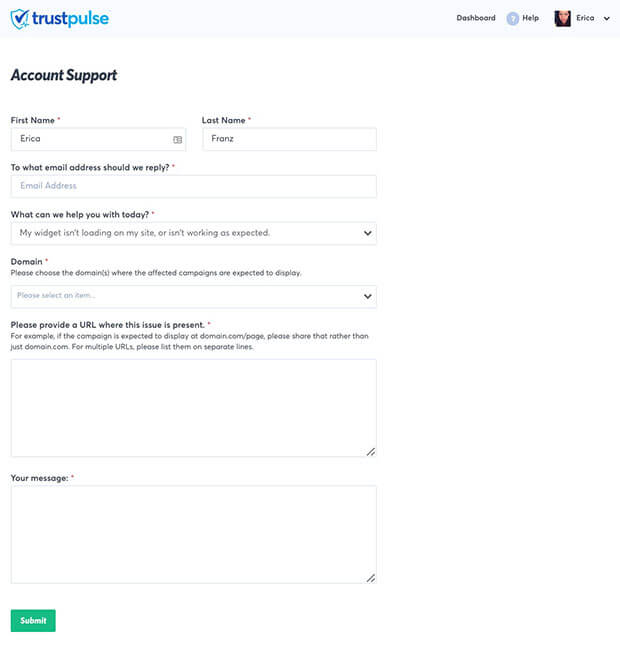 After you hit Submit then our system will receive your support ticket. We will respond as quickly as possible to resolve any issues and to help super charge your website with the power of social proof.
If you're serious about supercharging your website with social proof then get started with TrustPulse today!