Do you want to lower processing fees for your business? Card or digital wallet payments are often more than 3 times as expensive to process as ACH payments. For U.S.-based businesses, ACH payments can save a significant amount of money.
In this tutorial, you'll learn the easy way to set up WordPress ACH payments on your website.
What Does ACH Stand For?
Before we start, let's define what ACH processing is.
ACH, or Automated Clearing House, is a financial network that transfers money directly from one bank to another. You can only send and receive ACH payments in the United States. ACH is a substitute for paper checks, credit card networks, wire transfers, and cash.
Accepting multiple payment methods, including ACH, is a simple but effective strategy for optimizing your eCommerce business.
There are several advantages ACH payments have over checks and credit or debit card payments. Electronic ACH payments can be transmitted more quickly than paper checks, and there's no risk of losing the check in the mail or accidentally throwing it out. In general, ACH transfers cost less to process than a card payment, wire transfer, or digital wallet payment.
The Stripe fee for ACH payments is 0.8% of the charge amount, with a maximum fee of $5.00. By comparison, Stripe charges 2.9% + $0.30 per successful card charge, with no maximum. Those fees can add up fast!
Stripe also offers instant bank account verification for ACH payments. This costs $1.50 extra per transaction, but saves you the hassle of sending microdeposits to verify your customer's bank account. This can help your funds get to you faster.
Over time, you can save a lot of money when customers pay with ACH rather than card. Now we'll show you how easy it is to start accepting ACH payments on your WordPress website!
How to Accept ACH Payments Online in WordPress
WP Simple Pay is the easiest way to create a WordPress ACH payment form.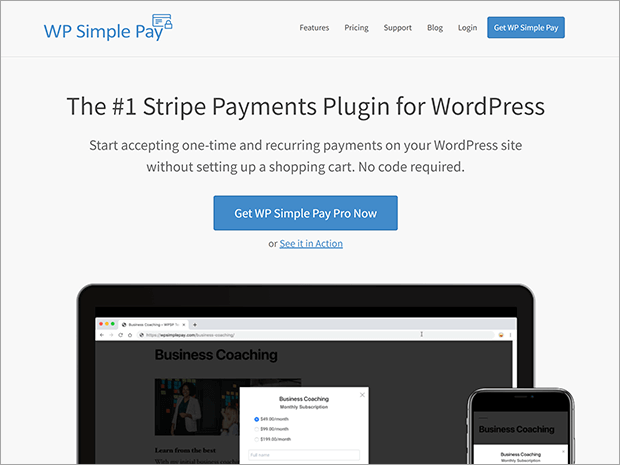 WP Simple Pay is the best Stripe payments plugin for WordPress. You can create multiple payment forms without setting up an entire online storefront. And you don't need to know any coding!
Here's how to use WP Simple Pay to create a WordPress ACH payment form.
Table of Contents
Step 1: Plugin Installation
The first thing you need is a WP Simple Pay license. You can purchase a 1-year license at WP Simple Pay. You can accept ACH payments with any license. However, if you want to accept recurring payments or subscriptions, you will need to get a Plus license or higher.
After you purchase your license, you need to download your plugin file. Find the Downloads section on the Purchase Confirmation page.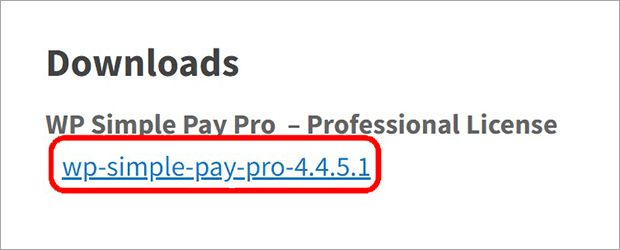 Save this file to your computer.
Next, look your license key in your purchase confirmation. The license key is a long string of numbers and letters. Copy this key. Don't worry about memorizing it, just copy and paste.

Now, go to your WordPress dashboard. Click Add New in the Plugins section.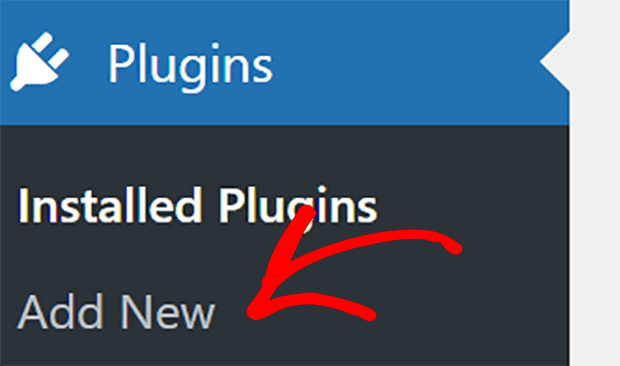 Click on Upload Plugin.

Find the zip file you saved before and click on Install Now.

Click on Activate Plugin.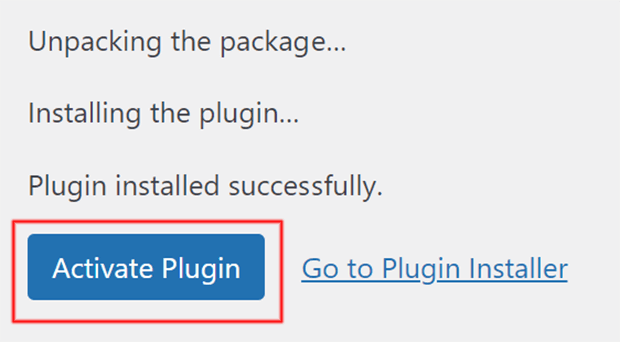 WordPress will redirect you to the WP Simple Pay Setup Wizard.
Click on Let's Get Started.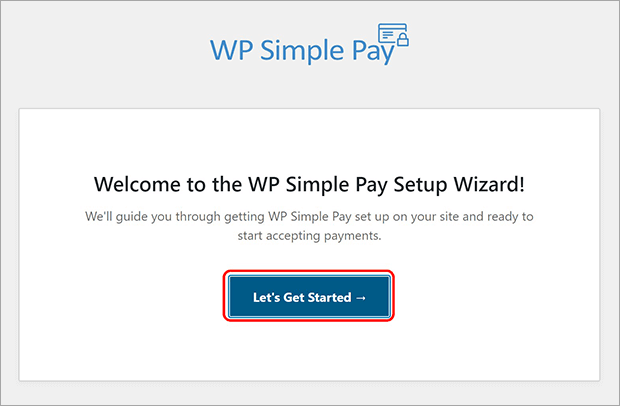 Paste the license key you copied before into the indicated field. You can always get your license key by logging into your WP Simple Pay account.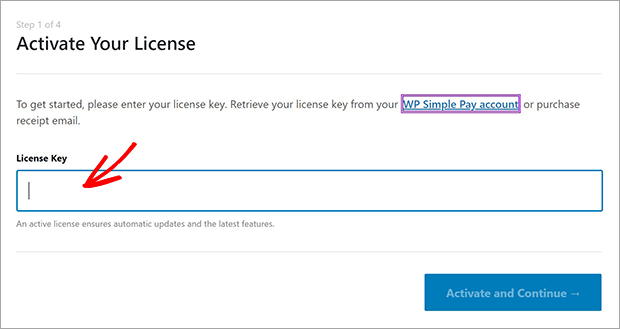 Once you've pasted your license key, click on Activate and Continue. Easy, right?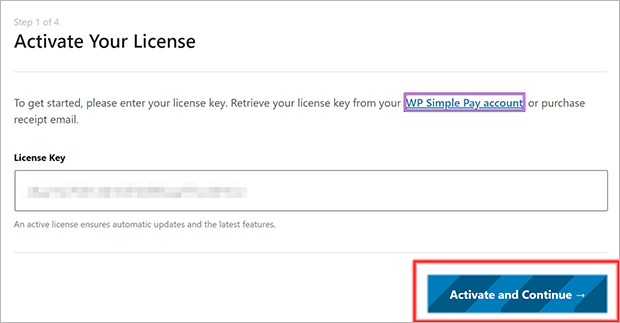 Step 2: Stripe Account Connection
Once the next screen loads, click on Connect with Stripe.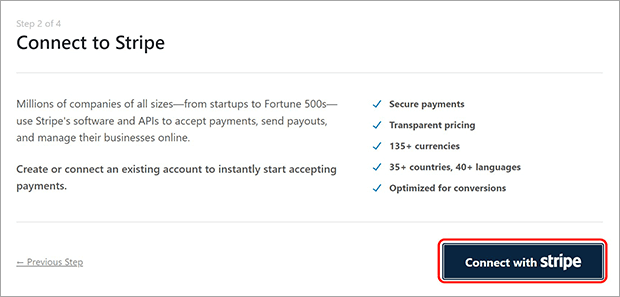 The Stripe connection page will load in a new window. Type your email address in the field and click on Continue.
If you already have a Stripe account, you can use your password to log into Stripe.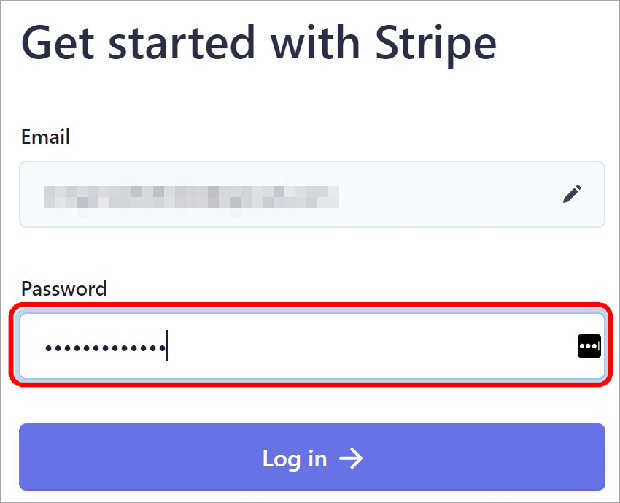 If you don't have a Stripe account already, you can create one for free. You'll need one to continue setting up your WordPress ACH form.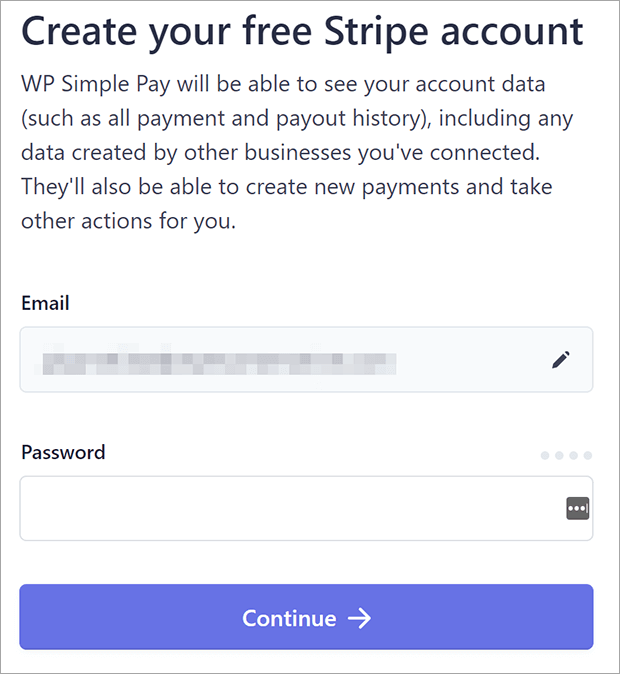 After you log into your account, click on Connect.
You can configure whether you send payment receipts, upcoming invoices, and payment notifications. You can also save this step for later. Click on Save and Continue.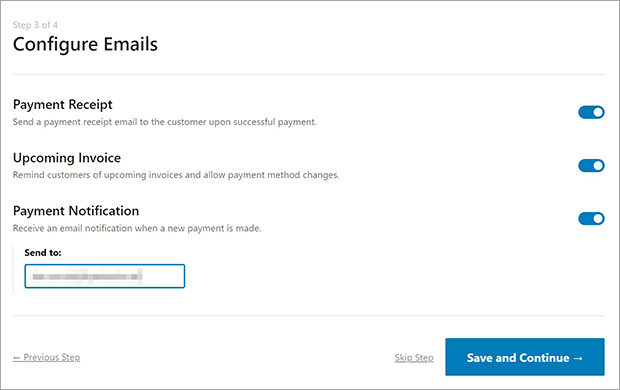 Ta-da! Your WP Simple Pay setup is now complete!
Step 3: ACH WordPress Payment Form Creation
Now we'll show you how to make a WordPress ACH payment form.
From the setup wizard, click Create a Payment Form. You can also add a new payment form from the WordPress dashboard by going to WP Simple Pay » Add New.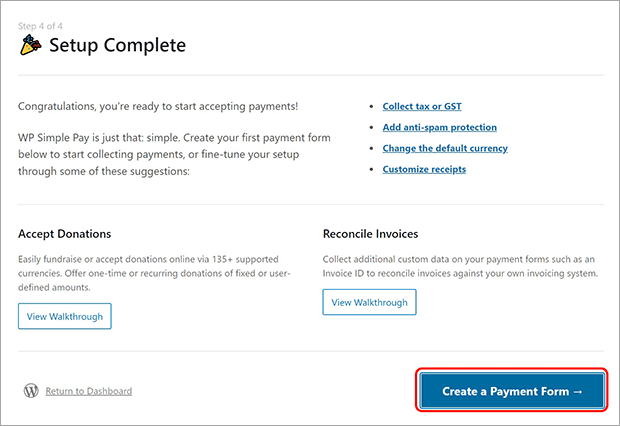 To get started quickly, let's use the ACH Direct Debit Form template. Don't worry, you can customize it in just a moment!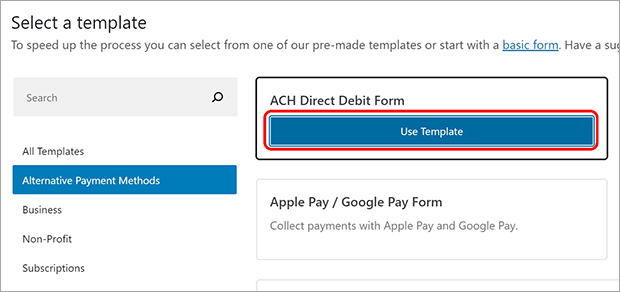 Give your form a title and description. Customers will be able to see the title, so make sure it is informative.

You can use ACH payment on any form type. In this tutorial we'll show you an embedded form
On the Payment tab, go to Price Options. Update the amount you'd like to charge for this form.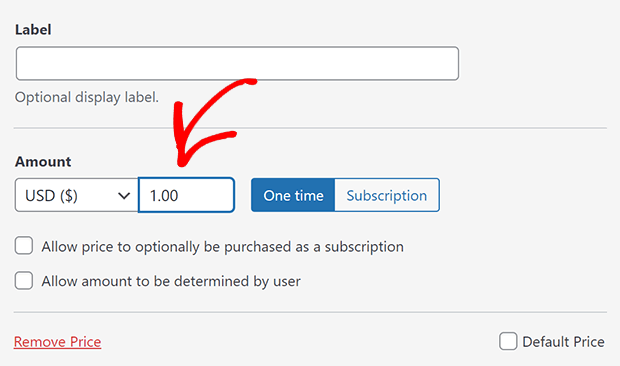 On the Form Fields tab, customize the payment form by adding, changing, or deleting any fields you like.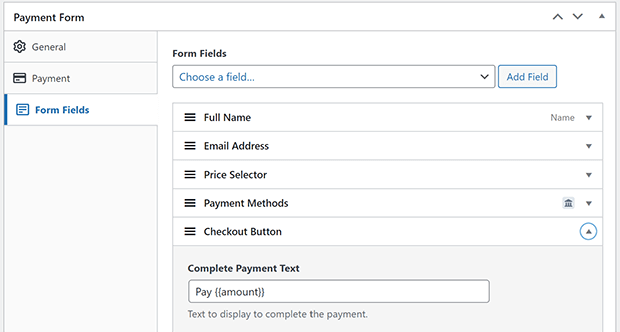 If you only want to accept ACH payments, consider disabling other payment methods. To do so, uncheck any payment method you don't want to accept.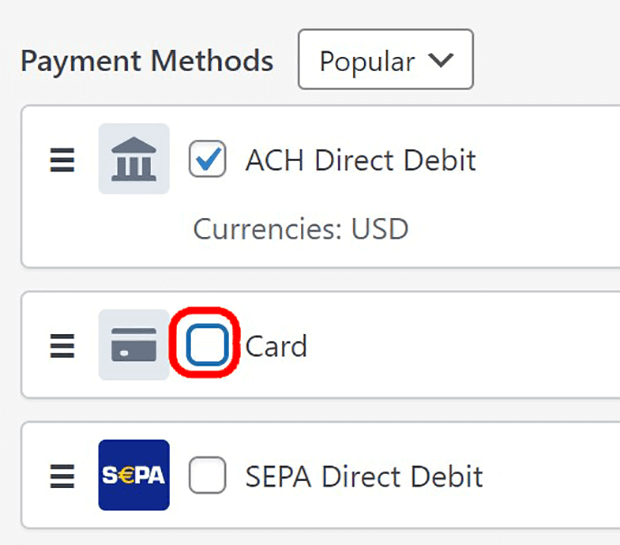 Click on Preview to see what your form looks like. If you're satisfied, click Publish.
Keep reading, we're on to the last step!
Step 4: ACH Payment Form Embedding
Once you save your form, the page will refresh.
When it reloads, click the clipboard icon to copy the form shortcode.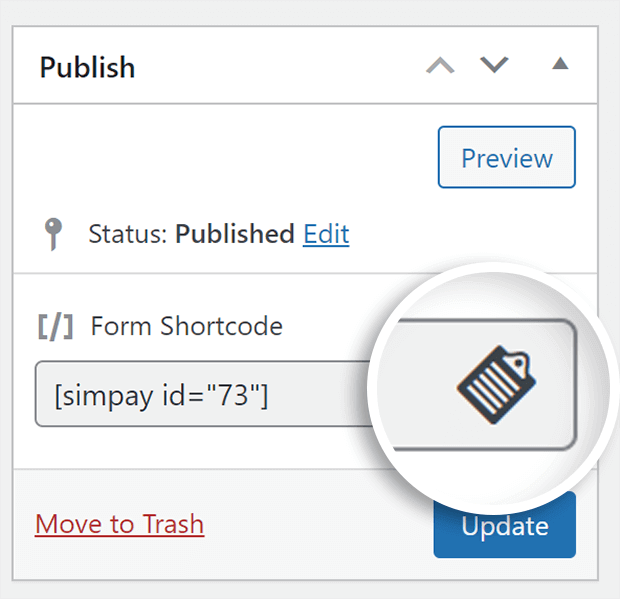 Look for the page or post where you want to add the WordPress ACH payment form. Click on Edit.

Paste the shortcode into the page or post wherever you want the payment form to appear.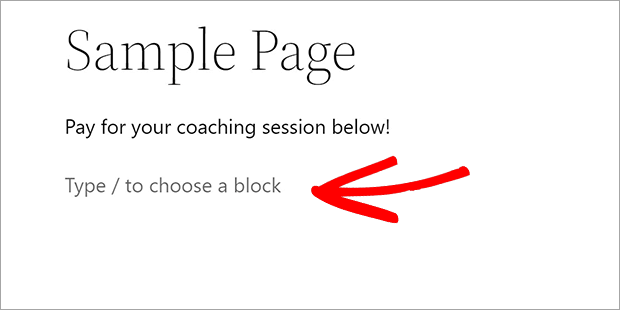 The Gutenberg editor has a WP Simple Pay block you can use instead of the shortcode if you wish.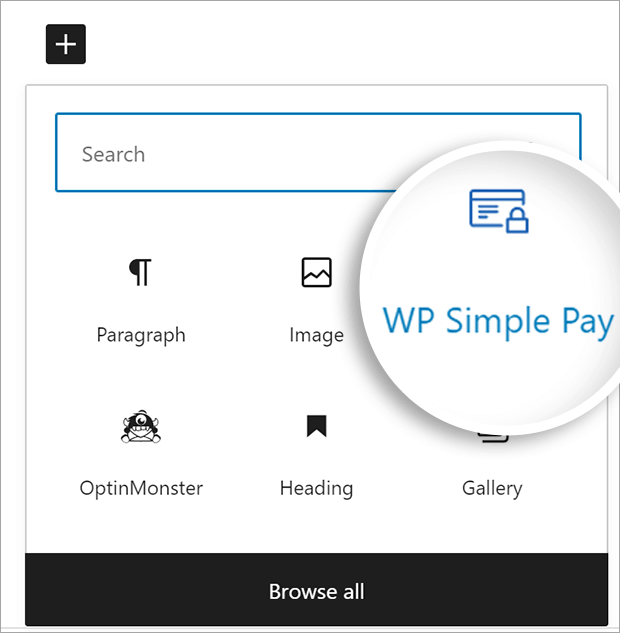 All done! Now your a WordPress ACH payment form ready to accept payments.
WP Simple Pay Features
WP Simple Pay lets you easily collect ACH payments. Here are 3 payment situations you can set up with WP Simple Pay.
1. Pay What You Like Pricing
Sometimes you may want to test how much customers will pay for something. Or perhaps you want to collect donations without specifying an amount. With WP Simple Pay, customers can choose how much they pay.
Under the Payment tab, add a price and then check Allow amount to be determined by user. If you'd like to set a minimum amount, fill in that field.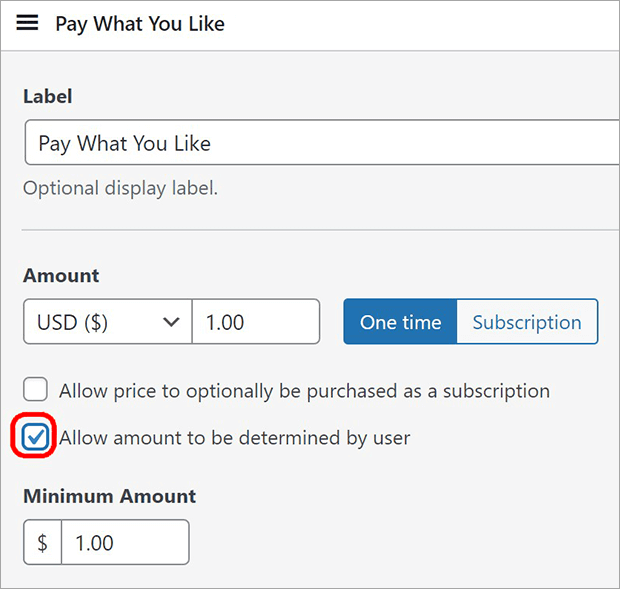 2. Subscriptions
WP Simple Pay can turn any payment into a recurring subscription payment. This can help generate monthly recurring revenue that keeps your business financially stable.
After you add a price under the Payment tab, click on Subscription.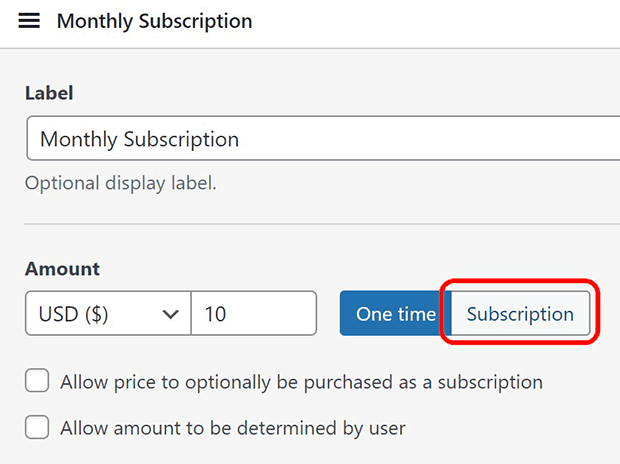 Adjust the billing period as needed. You can choose any number of days, weeks, months, or years.

3. Payment Plans
You can also use the Subscription function in WP Simple Pay to set up payment plans or packages. Customers can pay in regularly scheduled installments, and you have fewer invoices to chase down.
After you set up a subscription amount and billing period, enter the number of invoices to send.

For example, if you wanted to offer a payment plan with 4 weekly payments of $100 each, your subscription settings would be:
Amount: $100
Billing Period: every 1 week
Invoice Limit: 4
You could also set up another payment plan of 2 quarterly payments of $200 each with the following subscription settings:
Amount: $200
Billing Period: every 3 months
Invoice Limit: 2
Stripe only calculates ACH processing fees based on the total charge. For card payments, you would pay a flat fee for every charge and a higher rate. You'll lose less in fees overall compared to card payments.
Frequently Asked Questions
When Should I Accept ACH Payments?
You can accept ACH payments any time with WP Simple Pay. But ACH is especially beneficial for large payments or recurring charges.
For example, to process a $1000 ACH charge would only cost $5.00 in fees, or $6.50 if you choose to use instant bank verification.
By contrast, you'd pay a $29.30 fee to process that same payment by credit card.
ACH also saves money on small charges, especially if it's a recurring charge. For instance, 6 monthly payments of $30 would only cost $1.44 total to process by ACH. On the other hand, Stripe would charge $7.02 to process those same payments by card or digital wallet. A small difference on one charge can add up to a big difference over many charges.
Many customers pay with credit or debit cards in person, but processing these online can cost you a lot of fees over time. It's worth it to encourage recurring customers to pay online with ACH. With WP Simple Pay, they can save their bank information so they don't have to reenter it next time. You could even pass on the fee savings by offering a small discount to customers who pay large or recurring invoices by ACH.
Can PayPal Accept ACH Payments?
Yes, PayPal can accept payments from the customer's bank account. In order to use the actual ACH network, however, additional developer customization is needed.
Are Debit Cards the Same as ACH?
No, there are still differences even though debit cards and ACH both draw directly from bank accounts. ACH payments are typically processed in batches a few times per day. As a result, they can take longer to reach your account. Debit cards are processed in real-time and debit payments are available sooner, but you will pay higher fees to process debit cards.
Are Credit Card Payments Considered ACH?
No, credit cards are not considered ACH. Even though it seems instantaneous, there is technically an extra step to the credit card payment process. The cardholder makes the payment by borrowing money from the credit card company, which must be paid back later.
The Best Way to Accept WordPress ACH Payments
Now you know how to accept ACH payments on your WordPress site with WP Simple Pay. As the plugin name suggests, accepting ACH payments is easy! Doing this can save you lots of money and time as you run your business.
If you found this article helpful, you might also like:
Ready to accept ACH payments on your WordPress website? Get started with WP Simple Pay today!