Are you looking to monetize your WordPress site and need to add seamless payment options? Do you need to know which are the best WordPress Stripe payment plugins?
Scrolling through all of the available payment options for WordPress can be pretty overwhelming. But, then, the questions start mounting:
Why should I use Stripe?
What is the best payment plugin for WordPress?
How do I pick a payment plugin?
Well, we're here to help. Not only will we share our list of the best WordPress Stripe plugins, but you'll also learn why you need Stripe. Also, we'll give you our expert advice on what to look for in any payment plugin.
Why Should I Use Stripe on WordPress?
Honestly, the answer is simple: Stripe is one of the most popular payment processing companies in the world.
With Stripe, you can easily accept credit card payments on your website.
Not only is it simple to use for your customers, but you'll be pleased with how easy it is to set up.
That's because Stripe doesn't require a lengthy process to set up a merchant account. If you have a legitimate business, you can create a Stripe account.
And an added bonus is there are no hidden fees.
Your customers don't need to create an account to use Stripe to submit a payment, unlike PayPal and other payment providers. Instead, all they have to do is simply enter their credit card information on your site.
We don't think you can make making and accepting payments any easier.
Pro tip: To use Stripe on your WordPress site, you must use SSL. WPBeginner has a great guide that we highly recommend if you need an SSL certificate.
Now that you know why you need Stripe on your WordPress site let's go over our list of the best WordPress Stripe payment plugins.
Best WordPress Stripe Payment Plugins
While every plugin accepts Stripe, they are all unique in their own way. For each plugin, we'll be giving you an overview, a list of key features, and the price.
Let's just right in!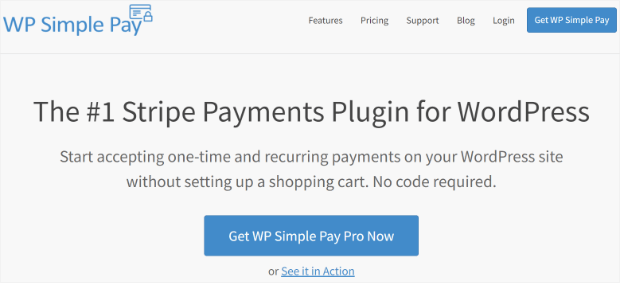 WP Simple Pay lands in the number 1 slot in our list of the best Stripe payment plugins for WordPress.
Why? It's because it's so simple to use!
With just a few clicks, you can start accepting Stripe payments on your WordPress site. Oh, and you can also let customers pay directly from their bank accounts with ACH debit payments too.
WP Simple Pay includes a payment form builder that's as simple as click and drag. No coding needed!
Most importantly, WP Simple Pay keeps your site working quickly and securely. All payment processing and data storage use Stripe's ultra-secure servers, keeping your database size small.
Features:
Multi-language (30+) and multi-currency (135+) support
Fully hosted checkout page
Secure Customer Authentication (SCA) supported
Pricing: 
Plans start at $99.50/year for 1 site.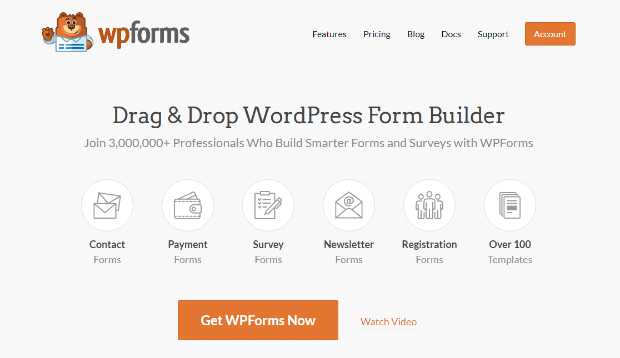 WPForms is known as the top WordPress form builder. But, it's also a great option to accept Stripe payments in WordPress.
By using the WPForms Stripe add-on, you can connect your site with WordPress. Then, you can start efficiently collecting payments, online orders, and donations.
WPForms has taken the hard part out of taking payments, so you can work on other things. This WordPress Stripe plugin has a host of payment form templates to add to your site.
But if you choose to build your form from scratch, the drag & drop builder makes it really easy. In just a few minutes, you can fully build a payment form all on your own.
Features:
Conditional logic forms to allow multiple payments types and customized forms
Test mode for Stripe
WPForms is a Stripe Partner
Pricing:
To use WP Forms to accept Stripe payments, you will need the Pro plan starting at $199.50/year.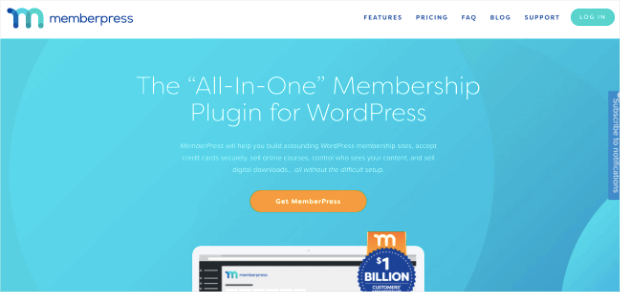 MemberPress is your best option if you sell memberships or courses online and want to accept Stripe.
Memberships could mean paywalled content, courses, and much more.
Using an add-on integration, you make adding Stripe to WordPress ridiculously easy.
Features:
Accepts both Stripe and PayPal
Process payment for subscription services
Dedicated payment gateways
Pricing:
Stripe integration is included in the Basic plan, which starts at $179/year.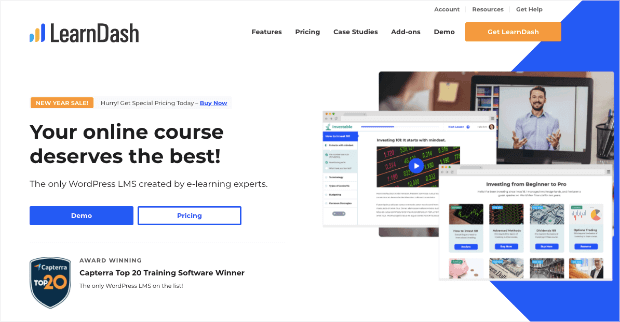 LearnDash, also known as one ot the top WordPress online course platforms, easily integrates with Stripe plugins.
Create quality and powerful content for your online students like quizzes, courses, and assignments. Then, accept payments through Stripe and PayPal.
There's no better way to create and manage your WordPress LMS than with LearnDash.
Features:
Lightbox overlay payment screen
Automatically creates and enrolls students after payments
Simple payment integration
Pricing:
LearnDash starts at $159.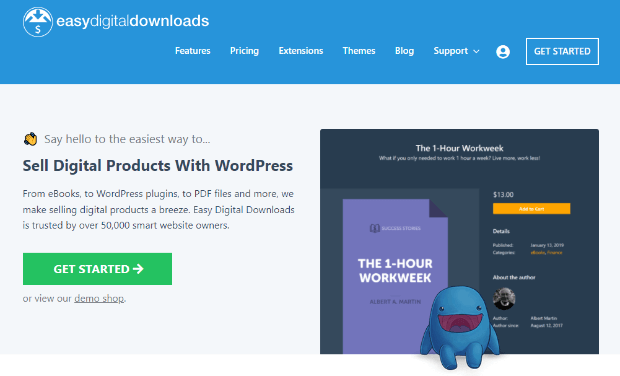 If you are selling digital goods with your WordPress site, you need Easy Digital Downloads.
Not only can you manage your digital goods, but you can also accept payments through Stripe.
Easy Digital Downloads is the superior option for those of us who only deal with digital goods. While WooCommerce is tempting and another great choice, it's geared towards physical goods.
With Easy Digital Downloads, you'll be giving your customers the most streamlined and clean user experience.
Features:
Stripe subscriptions functionality
Option to save customer payment information
Includes a testing mode
Pricing:
You will need the Extended Pass to unlock payment gateways. That starts at $199/year.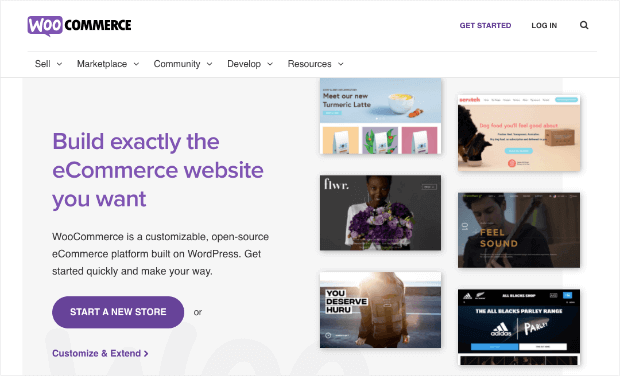 WooCommerce is an eCommerce plugin for WordPress that accepts online payments with Stripe.
If you are selling physical goods, WooCommerce is definitely the way to go. In fact, it powers over a quarter of all eCommerce websites.
Features:
Compatible with Stripe refunds
SCA and PCI-DSS Compliant with Stripe Elements hosted input fields
Numerous themes to fully customize the look and feel of your site
Pricing:
Pricing for WooCommerce varies based on what themes and extensions you use. This is great for you as you have some control and flexibility.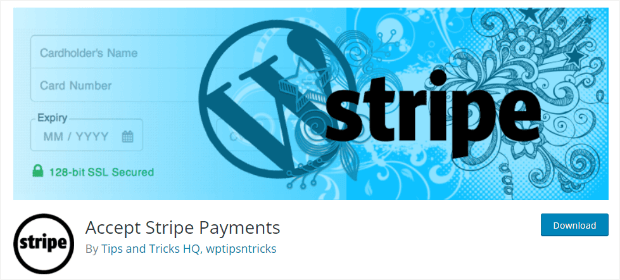 Accept Stripe Payments is a free Stripe WordPress payment plugin.
If you are looking for a free payment option for WordPress, this is an excellent choice!
To add Stripe payments onto your site, you must add shortcodes. So, you'll want to make sure you're comfortable with that before getting started.
Features:
1-click payment option
Remember Me option for customers
Displays payment history within WordPress
Pricing:
Accept Stripe Payments is a free WordPress plugin.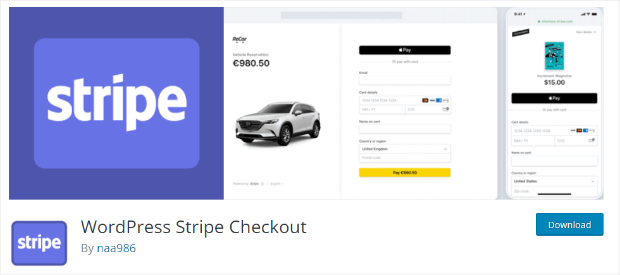 WordPress Stripe Checkout is a no-nonsense and hassle-free Stripe payment plugin.
Like with Accept Stripe Payments, this works through shortcodes that you'll embed on your site.
This WordPress Stripe plugin is smooth enough to use but powerful enough to offer customization options.
Features:
SCA and 3D Secure 2 Authentication ready
Works in 14 different languages
Accepts payments through digital wallets
Pricing:
WordPress Stripe Checkout is a free WordPress plugin.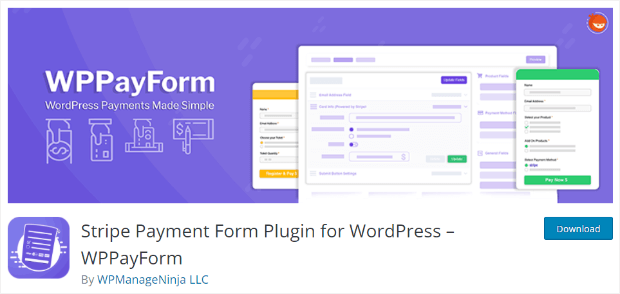 WPPayForm is a freemium WordPress Stripe payment plugin.
This straightforward plugin lets you create payment forms to accept both Stripe and PayPal payments.
Take your business worldwide with WPPayForm, as you can accept over 135 different currencies.
Features:
Mobile-first optimization
PCI DSS and SCA support
Stripe optimized checkout pages
Pricing: A free version of WPPayForm is available in the WordPress repository. You will need to upgrade to a paid plan to unlock multiple features. Prices start at $47/year.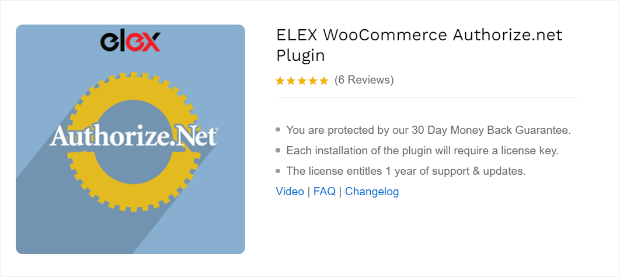 ELEX WooCommerce Authorize.net Plugin effortlessly bridges the gap between the Authorize.net Payment Gateway and your WordPress site.
Unlike some other plugins, this one actually keeps your customer on your site as they complete the checkout process.
This WordPress Stripe plugin uses the AIM (Advanced Integration Method) API from Authorize.Net to ensure everyone's security.
Features:
Processes partial and full refunds
Accept recurring payments
Simplistic redirection options
Pricing: Pricing tiers start at $79/year.
How Do I Pick a WordPress Stripe Payment Plugin?
It goes without saying, but we need to be super careful when picking a payment plugin. After all, it will be handling sensitive financial information for both you and your customers.
So, you'll want to choose one that not only works well but is also highly reliable and secure.
With that in mind, here are our tips for other things you should keep in mind while deciding on which WordPress payment plugin to use:
Security: This is the most critical feature. Find out the plugin's security features before installing and using it.
Multiple Gateways: Check if the plugin offers more than just a Stripe payment gateway. This means more customers can shop with you.
Automation: Tired of sending manual receipts, creating accounts, sending download links, and other mundane tasks? Then, find a plugin that has automation to do that for you.
Refunds: Refunds are inevitable with any business. Research the plugin's refund procedure to see if you'll be facing any additional fees.
And that's it! You now have everything you need to find the perfect WordPress Stripe plugin for your site.
If you liked this post, then you may also want to check out:
These articles will help you learn more about using Stripe with WordPress and how FOMO works to market your site.
And if you're interested in boosting your conversions and sales quickly and effectively, you should check out TrustPulse! It's proven to increase conversions by up to 15% instantly.