Are you trying to learn how to use FOMO in marketing?
FOMO (or "fear of missing out") is a widely known concept that gets your site's visitors to take action.
But while many marketers know about FOMO, only a handful understand how to use it effectively.
That's why, in today's post, we're going to share 7 expert tips on how to use FOMO in marketing to increase your store's conversions and sales.
Before we begin, though, let's get clear on what FOMO is and why it matters.
What Is FOMO?
FOMO ("fear of missing out") describes the anxiety that comes when you're aware there's something fun, profitable, or important going on and you're not a part of it.
You've probably experienced FOMO at some point in your life, and you might have felt it when you saw a friend's amazing vacation photos on Facebook.
Now imagine that same feeling but about products instead of vacations. THAT is real FOMO (or "retail therapy") happening in action.
By using FOMO effectively, you can leverage the following 3 benefits:
Improve UX: Vocalize your most popular products or content so users can navigate to them more easily.
Build Trust: Boost credibility with new visitors by showing how popular your products really are.
Drive MORE Sales: Grow your business as more of your site's traffic take critical actions that bring in more revenue.
These benefits and more are why you need to start harnessing the power of FOMO for your online store.
For more information about FOMO, check out this in-depth resource:
Otherwise, let's dive into our 7 expert tips on how to use FOMO in marketing.
How to Use FOMO in Marketing
1) Leverage Social Proof Notifications
Social proof notifications are small popups that show users when other people are taking action on your site.
They're designed to create a sense of urgency or build a sense of FOMO, so users feel compelled to take action.
You've likely seen these before. They look something like this:

While they may seem unassuming at first, these little popups are actually one of the most powerful conversion tools online today. That's why you should start using them on your site to drive more sales and improve UX.
In fact, our customers have seen an instant boost in sales by up to 15%.
And the best way to quickly add social proof notifications to your website is with TrustPulse: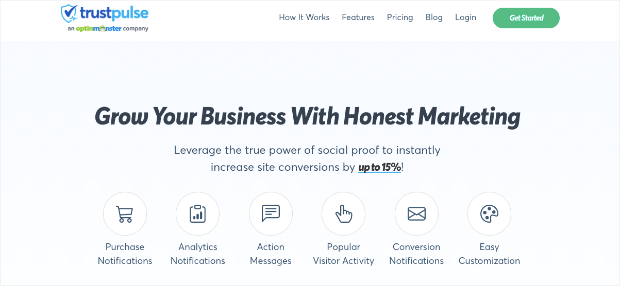 TrustPulse is the best social proof software in the world, and it's the best solution for adding FOMO to your website.
That's because TrustPulse allows anyone to quickly and easily create social proof notifications, even if you have no coding experience at all.
Plus, you can use FOMO at any stage of your business, even before you've made any actual sales. You'll do this by using 1 of the 4 campaign types TrustPulse has to offer:
Recent Activity: Show a live stream of website activity like purchases, registrations, signups, and more.
On-Fire: Showcase the number of people taking action on your website in a given period.
Visitor Analytics: Highlight active interest on your site by showing real page visits over time.
Action Message: Display a single static notification to help drive visitors to take action or show important information.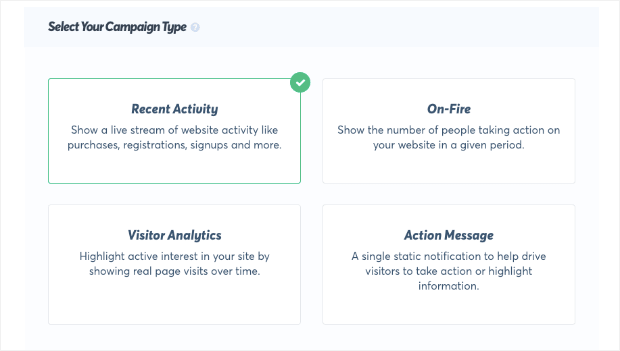 These campaign types help you leverage social proof at every stage of your business.
Before you make tangible sales, for example, you can rely on Visitor Analytics or Action Message campaigns.
The former tracks the number of people who visit pages of your website, and the latter lets you write engaging copy to guide users toward your CTA.
Then as sales start growing, you can increase FOMO through Recent Activity and On-Fire campaigns.
These will send your conversions into overdrive as people realize how popular, reliable, and trustworthy your products or services are.
Plus, TrustPulse lets you customize your notifications without requiring any technical knowledge. Everything can be done by filling in text field boxes or selecting options from drop-down menus: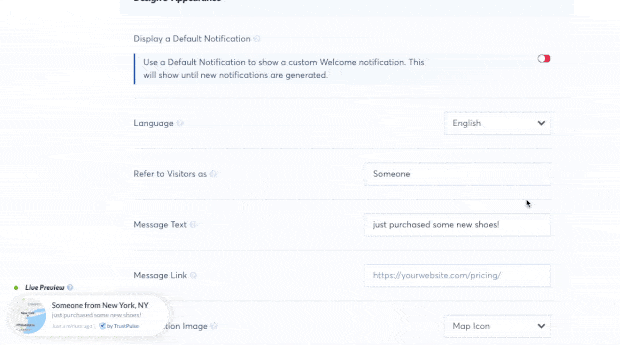 Then you'll be able to target these notifications to find where they're the most effective at boosting conversions.
Over time, you can optimize your social proof strategy by checking in with TrustPulse's analytics dashboard. This gives you detailed data about how your campaigns are performing.
And the best part is that TrustPulse is by far the most affordable social proof notification on the market.
In fact, you can get started with this tool for as little as $5/month.
Ready to see it in action for yourself? Get started with your 100% risk-free TrustPulse account today!
2) Get More Testimonials and Reviews
One of the best ways of building trust with your customers is by showing reviews and testimonials.
The more reviews and testimonials you have, the more effective your social proof will be.
You can then display these reviews and testimonials on:
Landing pages
Blog posts
Product pages
Your homepage
Social proof notifications
Social posts
We'll talk more about how to use social proof on landing pages to drive more sales in the next tip.
For now, it's important that you gather as many reviews and testimonials as you can. This will give you more options for displaying that social proof in the right places across your website.
For example, you might want to show social media reviews on landing pages. But perhaps you want to show 5-star ratings on every page of your site.
These reviews could even be generated from 3rd-party sites like Google My Business or Yelp.
Here's an example of what that notification might look like:

The example above was built by TrustPulse in under 5 minutes.
But here's the question: how can you quickly and EASILY add a review and testimonials forms to your site, especially if you don't have a ton of time for technical tasks.
For that, we highly recommend working with a tool like WPForms: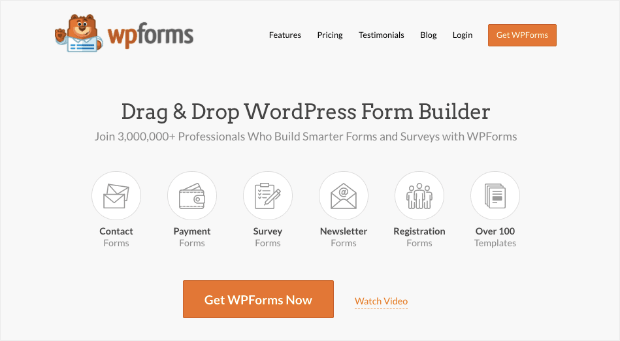 WPForms is the best form builder on the market.
This tool allows you to build any kind of form you want, such as:
Contact
Payment
Survey
Newsletter
Registration
And much more…
WPForms has an easy-to-use drag and drop interface, but you can also create review forms. Plus, it comes with advanced features to get more engagement.
These features are things like conditional logic, multi-page forms, integrations with your favorite email providers, and much more.
All of these tools help you get MORE testimonials and reviews in less time.
Then you can either generate a landing page, use the WPForms block with the Gutenburg editor, or use shortcodes to embed these forms ANYWHERE on your site.
When it comes to getting more reviews and testimonials, there's simply no better software than WPForms.
Get started with WPForms today!
3) Highlight Reviews on Landing Pages
It's no secret that landing pages can be one of the most effective ways to engage your leads and get people to take action.
That's why you need to make sure those landing pages are able to help with one of your most important goals: driving more sales through reviews and testimonials.
One way to do that is by using a carousel review block that shows these testimonials, like this one from WPForms:

This type of widget allows you to highlight multiple reviews at once while also displaying the star rating (and related reviews).
This is a great way to convince users that you have what they want. It also builds trust by showing how many other people bought this product and loved it too.
Therefore, if your store sells popular products, then highlighting these reviews on landing pages can help with conversions and revenue.
Pressed for time and can't waste hours designing detailed landing pages?
That's where a tool like SeedProd can come in handy: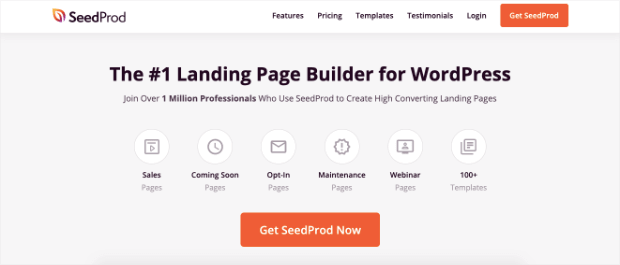 SeedProd is by far the best landing page builder for WordPress. This allows you to build landing pages in minutes, even if you have ZERO coding or technical experience.
How does it work?
Everything starts by choosing what kind of landing page you want. This can include things like:
Sales pages
Coming soon
Optin pages
Maintenance
404 pages
Webinar pages
And more…
Then you can select from 100+ templates to get started with a page that already looks stunning out of the box. You can even filter these pages depending on the type you're trying to build: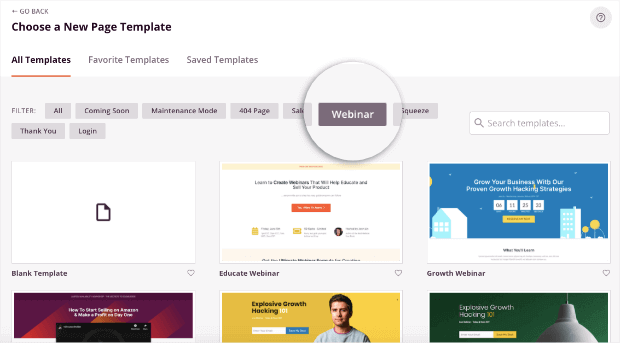 From there, you can use the drag and drop builder ot make changes to your landing pages directly in the editor.
That means you can change things like images, text, videos, and more with only a few clicks.
And to add new features, you can simply select them and drop them into place. This includes a Testimonial block that can be displayed anywhere on your page: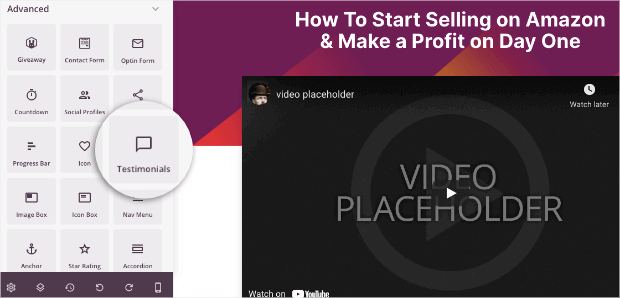 From there, you can add other powerful functions, such as:
Countdown timers
Optin forms
Giveaways
Social media feeds
Checkout features (if you're using WooCommerce)
And much more…
The bottom line is that SeedProd is the easiest landing page builder on the market. But, despite how simple the tool is to use, it doesn't sacrifice any power or flexibility.
Want to see it for yourself? Try out SeedProd 100% risk-free today!
4) Take Snapshots of Social Posts
Social posts are an important part of your FOMO marketing efforts.
Why? Because you can capture powerful conversations where happy customers are talking about your product online.
You can then use these posts to build social proof and drive more sales.
The best part is that you don't need to ask customers to leave you reviews or bother people for a testimonial.
Instead, you can search for people talking about your brand and take screenshots. Here's an example of what we mean: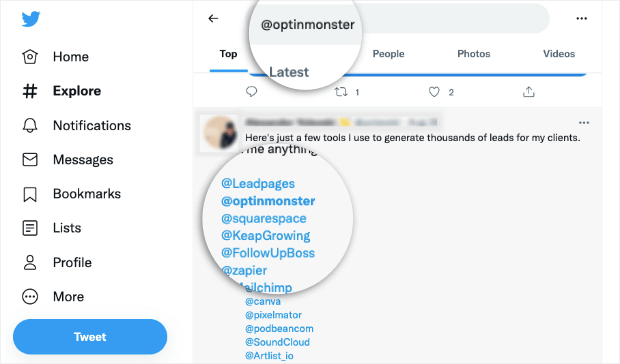 From there, you'll be able to add these snapshots to your content (like landing pages) to quickly build trust with new visitors to your site.
That makes this strategy one of the easiest to get started with.
5) Showcase Limited Stock to Build Urgency
Sometimes, you need to take advantage of the FOMO effect and drive more sales by building a sense of urgency.
One way that you can do this is with limited stock in your online store.
People don't want to miss out on something that they could have had, but now it's too late because the shoes are sold out.
If you're running an online store with popular products, then limiting stock can be one way to drive more sales using FOMO.
Here's an example of a limited stock notification created with TrustPulse in just a few clicks:

Users can then click the notification and get taken straight to the product's landing page.
As a result, more users get the products they love without missing out, AND you drive more sales to your online store.
This combination of boosting UX and revenue at the same time should be the goal of every eCommerce business.
6) Write Case Studies
One of the most popular strategies to leverage FOMO is writing case studies.
Case studies are detailed stories about happy customers.
They often include testimonials, details on the product or service used, and before-and-after photos if you sell a physical product to show results over time.
Case studies are powerful for building trust with new visitors because they go in-depth with what your target audience is struggling with. Then they give you lots of room to outline why YOUR solution is the best.
In other words, case studies help build concrete social proof.
The best part about writing case studies is that they're easy to promote across the web because they include proof of results (which matters in any industry).
That begs the question: how do you get more case studies?
You can either start by reaching out to your favorite (or most successful) customers and asking them if you can write a case study about their experience.
If they agree, then interview them on the phone or in-person (if possible) so that you're getting real-world details for your story.
Don't have any real customers yet? That's no problem. But it means you'll likely need to let a handful of people try your product or services for free.
Then you can write a case study about how they use the tool and the success they see with it.
At the end of the day, you might miss out on some short-term sales (because you'll give the product away for free). But your case studies are sure to yield longer-term results for more sustainable growth.
7) Run Viral Contests (& Show Participant Counts)
Everyone loves a contest, and that's because they're one of the easiest ways to create FOMO.
Online contests are a great way to encourage users across social media channels, blogs, forums, and more to share your brand with their friends.
One thing to keep in mind when designing your contest, though: choose the right prize for your target audience.
While it might be tempting to get more participants with the latest Apple phone or iPad, the prize is too generic.
In other words, if your prize is something EVERYONE would want, then you'll probably get a lot of engagement. But your campaign won't actually help your business's bottom line.
Instead, you want a prize that leverages FOMO with your target audience.
Once you've decided what prize you'll be offering, then it's time to get started with building buzz around your contest.
And to make your viral giveaway even more effective at driving sales (and followers), you can show the number of participants in real-time on your campaign page or landing page:
Doing so will get more participants to your contest and, in the end, this means more leads for you.
One tool that makes it incredibly simple to build viral contests is RafflePress: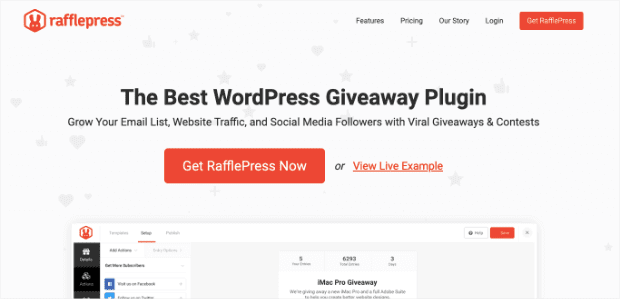 RafflePress is the best WordPress giveaway plugin around. It's the best solution for creating viral online contests that boost engagement through FOMO marketing.
Not only can you set up your contest in minutes, but you can give multiple options for participants to register.
You can award "entry tickets" when users complete specific actions, such as:
Subscribing to a newsletter
Watching a video
Filling out a form (or leaving a review)
Reading a blog post
Or any other CTA that would move the needle for your business.
That means users can have multiple entry tickets for the same contests. But then you can display the entry ticket count to get even more people to join in: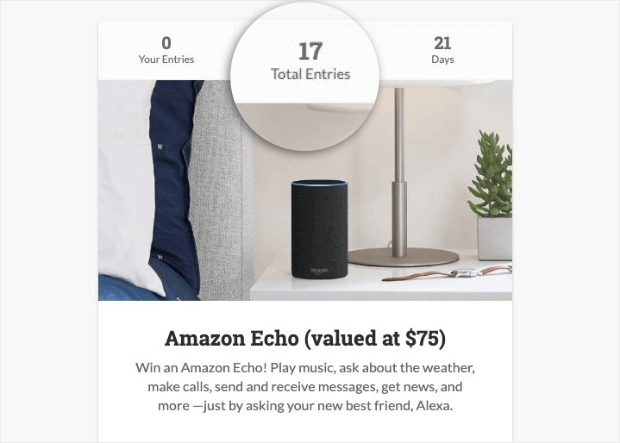 This increases the sense of FOMO for visitors who see your contest's landing page.
Plus, RafflePress integrates with all of your favorite tools. That includes software for lead generation like OptinMonster or WPForms.
But it also connects with your favorite email service providers (ESPs). That means you new leads will go exactly where they need to, every single time.
Get started with RafflePress today!
And that's all for today! These have been 7 proven tips for how to use FOMO in marketing.
We hope you enjoyed this post. If you did, you'll definitely want to check out the following resources:
These articles will have everything you need to get more sales and conversions from your FOMO marketing strategy.