Do you want to use FOMO on your site to increase sales and conversions?
FOMO (or "Fear of Missing Out") is a smart marketing tactic to show visitors how others are interacting with your site. This encourages more customers to buy, sign up, or engage with your brand.
It's easy to add FOMO to your site using WordPress plugins and tools.
In this post, we'll dive into the best FOMO plugins for WordPress to increase sales and conversions.
Before that, though, let's get clear on why you should use FOMO plugins for WordPress in the first place.
Why Use FOMO Plugins for WordPress
FOMO is a powerful phenomenon that exists all around us. It influences our decisions and actions without us even knowing it.
Think about the last time you went to a restaurant totally based on a friend's recommendation. Or when you've seen kids fight over the same toy in a room full of other toys to play with.
FOMO is something that affects all online consumers which is what makes it such a powerful tool.
The truth is that there are so many things we do because we don't want to miss out on benefits we see others enjoying. We want to be in the know, we want to experience what others have, and we want to belong.
When applied to business, FOMO helps customers make purchase decisions. When a visitor sees others buying, it triggers them to buy, too.
This is how FOMO helps you motivate people to take any action you want them to.
But how do you create FOMO online? That's where FOMO plugins and tools come in.
These tools are designed by experts that know how to create a sense of FOMO on your site.
They let you leverage FOMO to increase sales and conversions with minimal effort on your end.
Let's check out the list of FOMO plugins for WordPress and how they can best be used on your site.
Best FOMO Plugins for WordPress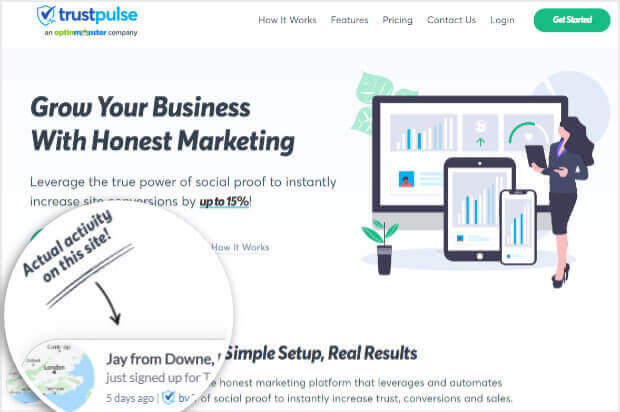 TrustPulse is the most powerful FOMO app on the market. It captures real-time activity on your site and displays them in small attractive popups.
This showcases what actions visitors are taking on your site, like this:

TrustPulse is easy to install, use, and customize. Once you set up a campaign, the popup activity automatically runs on its own.
With TrustPulse, you can track purchases, registrations, downloads, and other activities on your site.
It also lets you display group statistics and live visitor counters. For instance, you can show how many people have signed up for your webinar in the last 7 days.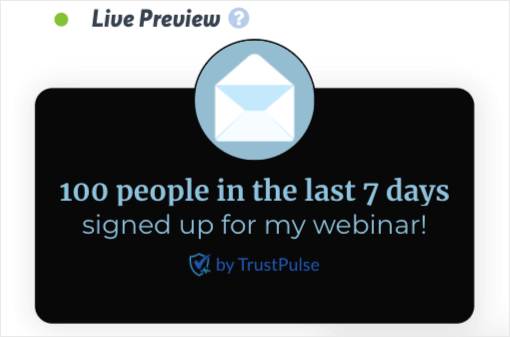 This is just one
FOMO example
of how you can use it to boost conversions on your site, though there are many others.
Plus, TrustPulse also lets you create Action Messages to draw a visitor's attention. You can create messages for sales, webinars, courses, and so much more.

Every popup is clickable, so you can direct customers to where you would like them to go.
The app is so flexible that it works great for any site including blogs, eCommerce stores, and businesses.
In short, TrustPulse notifications build credibility and trust for your brand so visitors feel comfortable purchasing or interacting with you.
Key Features
Create and customize popups in minutes
Choose what kind of activity is captured
Target customers according to what page they're viewing
Track campaign performance
Works on any website platform
Price
Paid plans start at just $5/month.
Want to see FOMO popups in action for yourself? Sign up for your risk-free TrustPulse account today!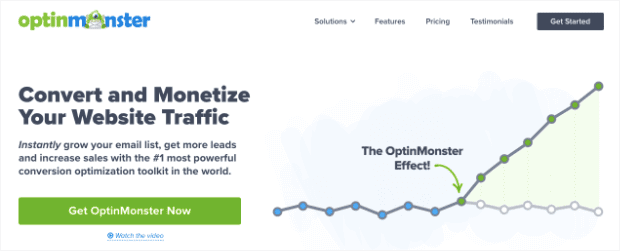 OptinMonster is the most powerful lead generation software and FOMO tool on the market. It lets you create stunning marketing campaigns like popups, slide-ins, floating bars, gamified wheels, and more.
It comes with 50+ templates and a visual drag and drop builder. Along with that, you get access to powerful FOMO features like countdown timers.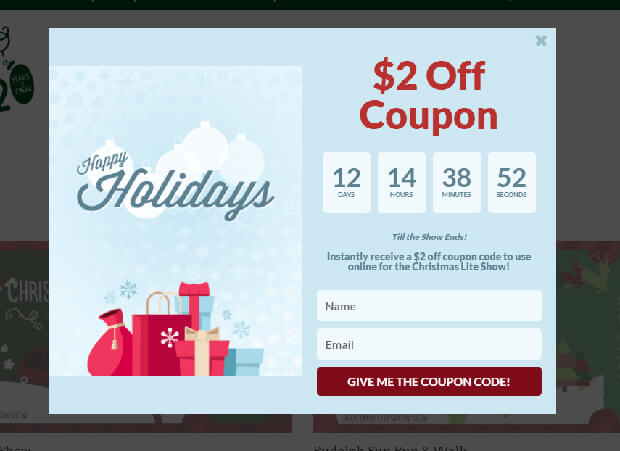 Creating urgency like this prompts your customers to take action before they miss out on a deal.
Plus, OptinMonster comes with built-in targeting rules to display campaigns where visitors are most likely to convert.
For example, you can use Exit-Intent® to display a popup before a customer leaves your site.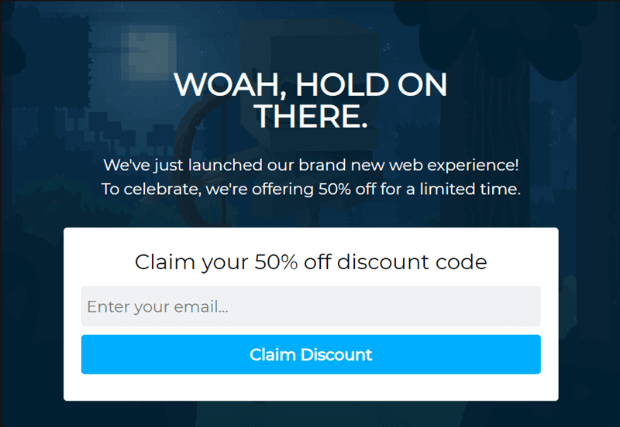 This lets you give them one last chance to grab a deal before they go!
In this way, you can create tons of FOMO campaigns for your site such as early bird access, discounts, coupons, and freebies.
Key Features
Easy to set up and use
Optin forms to grow your email list
Fully customizable and responsive templates
Integrate with popular email service providers
Powerful targeting features, including eCommerce specific triggers
A/B testing and data analytics to get better results
Price
Plans start at $9 per month.
Get started with OptinMonster today!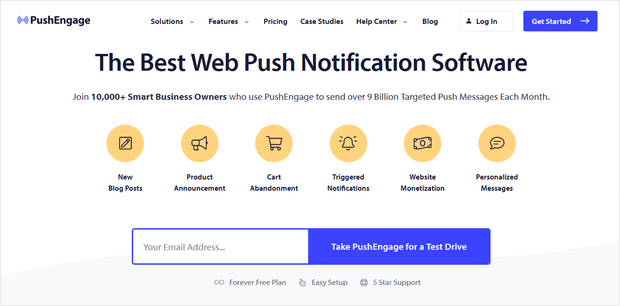 PushEngage is the hands down the best push notification app to stir up FOMO even when customers aren't actively on your website.
It lets you send messages to a subscriber's browser and target them based on their actions.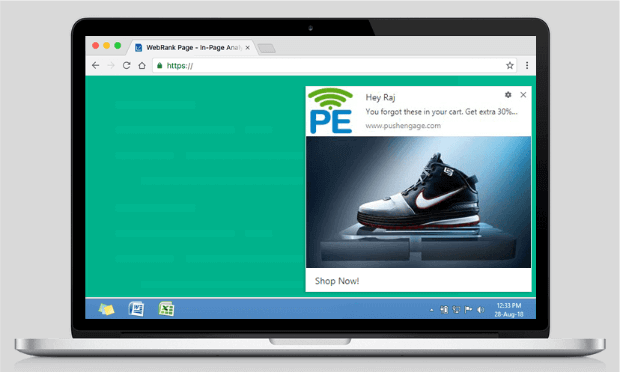 With PushEngage, you can create FOMO campaigns to drive sales, get more reviews, boost email sign-ups, and much more.
It also lets you set up automated drip campaigns so you can send different messages based on where your visitor is in their customer journey.
Key Features
Send personalized FOMO popups
Control when, where, and to whom your notification appears
Powerful A/B testing tool to test different versions of your campaign
Get data analytics, revenue tracking, and actionable insights
Supports multiple browsers
Price
Free to use for 120 notifications a month. Paid plans start at $25 per month with unlimited notifications.
Get started with PushEngage today!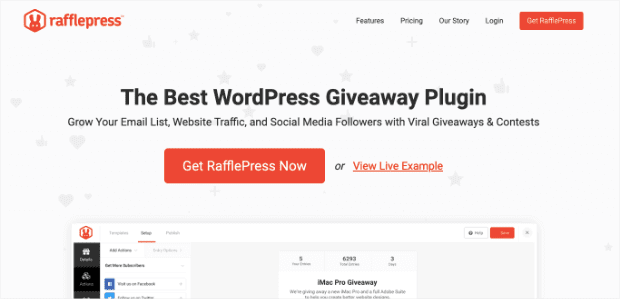 RafflePress is a powerful WordPress giveaway plugin that lets you run contests on your site.
A contest is one of the best ways to use FOMO because it's available only for a limited period. Plus, you can display how many participants your contest has to show people how popular your brand is.
And when given a chance to win something, people are more than happy to engage with your brand.
RafflePress has all the features you need to build contests in minutes. With just a few clicks, you can set up a full-fledged online giveaway without any coding skills.
For instance, you can get users to subscribe to your newsletter, share your brand, leave a comment, and more, to be eligible to participate.
With RafflePress, you can boost engagement, increase followers, and drive brand awareness in a short amount of time.
Key Features
Awesome responsive contest templates
Set up eligibility conditions in a few clicks
Fraud entry protection
Integrates with social media and email marketing tools
Track results and optimize contests for best results
Price
Starts at only $39 per year.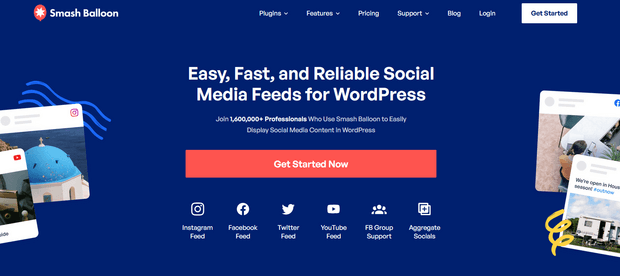 Smash Balloon is the most powerful social media feed plugin for WordPress.
It lets you easily display your social media content on your site. Why is this helpful with FOMO?
90% of customers buy from brands they follow on social media. Added to that, 54% of people research products on social media before they buy.
By displaying your social media feed on your site, your website visitors can see that you have an active social media presence with engaged subscribers.
This not only helps build FOMO but also creates trust in users.
Smash Balloon lets you embed your social media feed in beautiful layouts. You can also add social buttons such as like, share, follow/subscribe, and comment. That way, visitors can engage with your brand right away!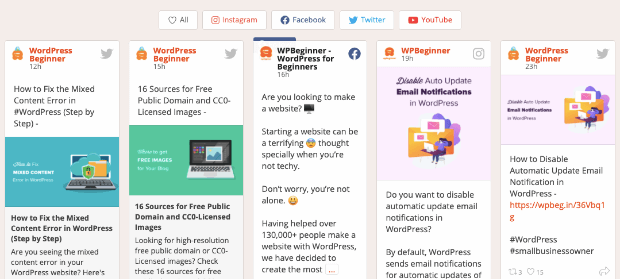 Smash Balloon is easy to use as the social media feeds are automated. When you post to your social media handles, Smash Balloon will automatically fetch it and display it on your site.
You can connect your site to Instagram, Facebook, YouTube, and Twitter. You can even combine feeds from all 4 platforms and create a powerful social wall.
Key Features
Easy setup and management
Tons of customization options
Doesn't slow down your website
SEO-friendly and mobile-friendly
Display likes, shares, comments, and reactions
Price
Starts at $49 per year.
Get started with Smash Balloon!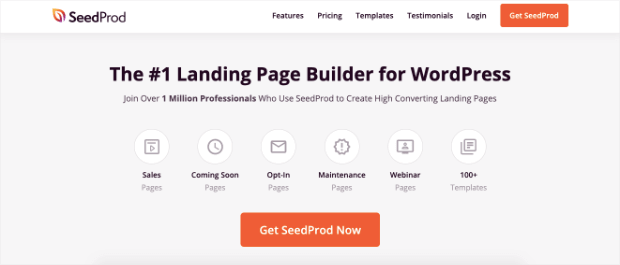 SeedProd is the best landing page builder for WordPress. The reason it's here on this list is because it comes with awesome features that are designed to build FOMO, excitement, and engagement on your site.
First, you can set up any kind of landing page including sales, splash, squeeze, and lead capture pages.
There are 150+ stunning templates to choose from. Plus, you can add optin forms, videos, images, countdown timers, and much more.
It also has built-in options to create coming soon and maintenance mode pages. That way, you can generate a buzz for your brand and capture leads even before launch.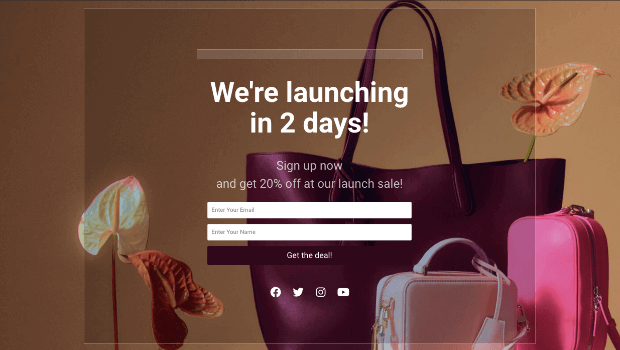 With SeedProd, you can create stunning landing pages to add FOMO to your site. This will help you drastically boost sales and conversions.
Key Features
Customizable blocks, page elements, and calls to action
Responsive and mobile-friendly pages
Dynamic progress bars, video blocks, countdown timers and more
Add social media share buttons and star ratings
Integrates with email marketing platforms
Price
Starts at $39.50 per year.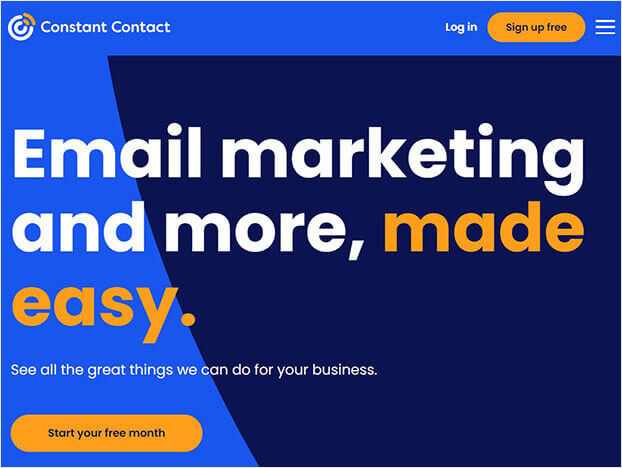 Constant Contact is the best email marketing service for WordPress sites. It has a high delivery rate which makes it one of the most reliable email services you can use to send marketing emails.
Email marketing is one of the best ways to create FOMO for your brand and website. You can send sales alerts, back in stock product updates, and abandoned cart notifications.
Email is a great way to connect with subscribers, but you'll need to use a good service provider that ensures your emails reach the inbox and not the spam folder.
With Constant Contact, you can be sure of that. Plus, you can create stunning newsletters with an easy-to-use drag and drop builder.
Key Features
High deliverability rate
Easy to create and send emails and newsletters
Set up automated campaigns and scheduled broadcasts
Integrates with popular marketing tools
Price
Starts at $20 per month.
Get started with Constant Contact!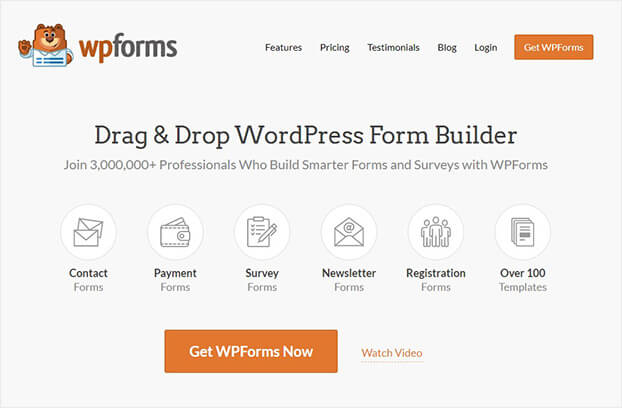 WPForms is the best form builder for WordPress. It lets you capture contact info, feedback, and even online reviews for your business.
Online reviews are a great way to add FOMO to your site. When visitors see your business is valued and people love what you have to offer, they'll want a piece of the action, too.
With WPForms, you can create awesome review forms for customers to fill out.
It comes with smart conditional logic that lets them rate their experience and then asks follow-up questions according to their response.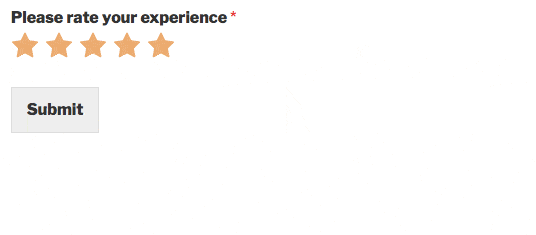 Once they submit the form, you can review and publish it on your site.
Key Features
100+ templates to create any kind of form in minutes
Manage all form entries in a single place
Integrates with popular email marketing services
Built-in spam protection
Price
The basic version is available for free. Paid plans start at $39.50 per year.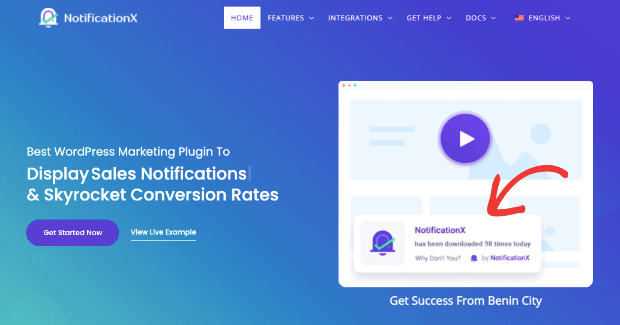 NotificationX is a good WordPress plugin to create sales notifications. You can use it to showcase purchases, downloads, comments, reviews, and more on your site.
NotificationX comes with 36+ design templates to easily create popups in minutes. Plus, it allows you to target specific pages or display the notifications across your site.
This plugin comes with fewer targeting options and much of its key features are included in the paid plans.
Key Features
Easy set up with a user-friendly interface
Seamlessly integrates with your theme
9+ integrations available, including Freemius, Easy Digital Download, and ConvertKit
Detailed analysis of notification performance (Pro)
Price
Paid plans start at $39 per year.
Check out NotificationX today!
And there you have it! This has been our list of the top FOMO plugins for WordPress.
What's the Best FOMO Plugin for WordPress?
Now that we've checked out the FOMO tools available in the market, you might be wondering which is THE BEST on the list.
We can confidently say that TrustPulse comes out as the winner for this.
It's specifically designed to instill FOMO in visitors instantly. In fact, TrustPulse has been used to instantly boost sales by up to 15% right away.
TrustPulse is by far the most flexible FOMO tool on the market. It lets you capture all sorts of activity on your site including sales, page views, sign-ups, and more.
You can even integrate with apps like Zapier to capture 3rd party activity as well. For example, if someone leaves a review on Google, you can capture that action and display it on your site.
It takes 5 minutes to set TrusPulse up, and you'll see it instantly work its FOMO magic on your site.
Ready to boost sales, conversions, and engagement altogether with one tool? Sign up for your 100% risk-free TrustPulse account!
We hope you liked this article. If you're interested in learning more about the magic of FOMO, you'll definitely like the following posts:
These articles will give you all the information you need to get the most out of FOMO on your site to skyrocket your leads, sales, and conversions.