Do you want to grow your Twitter followers?
No matter what business you're in, building your Twitter community can help you grow your online audience, and promote your brand.
In this article, we'll explain some powerful strategies and tools you can use to get more Twitter followers right away.
Why Boost Your Twitter Followers
With over 166 million active users, Twitter is one of the most popular social media networks around the globe.
A higher follower count means more influence in your industry. It also signals that more people are interested in your content and engaging with your brand.
If you're looking to expand your reach, Twitter is the best bet for you.
You can use Twitter to:
Announce new products
Engage in conversations about your industry
Distribute your content
Below, we share proven ways for you to grow on Twitter.
All set?
Let's get started.
1. Set Up Your Twitter Profile
Let's begin with the basics.
To grow your Twitter account, you need to make sure your Twitter profile is set up properly.
Obviously, your Twitter profile is the first thing people see when they see you on Twitter.
And, they might decide whether or not to follow you on the strength of your profile.
So, what does the ideal Twitter profile look like?
People want to know about you and what it is that you do. A good idea is to let potential followers know the kind of content you post. This means you'll only attract followers who are interested in your industry and brand.
There are a few ways you can create a Twitter profile that encourages people to engage with you:
A profile photo or company logo
A completed bio
Links to your website, latest content, or blog
Here's an example from WPBeginner's Twitter profile.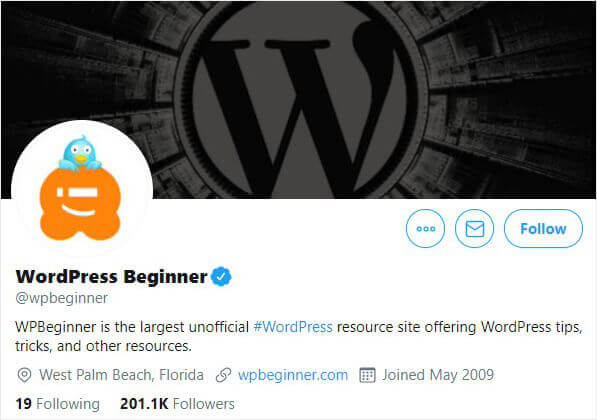 2. Pin Your Tweets
Another technique is to pin a tweet to the top of your profile. Pinned tweets appear at the top of your profile, they're the first thing people see when they visit your profile.
A pinned tweet is a way to show potential followers what's most important to you and your brand.
3. Tweet Frequently
Once you're all set up, you need to post new tweets on a consistent basis.
Need help writing tweets?
Try the Social Message Optimizer: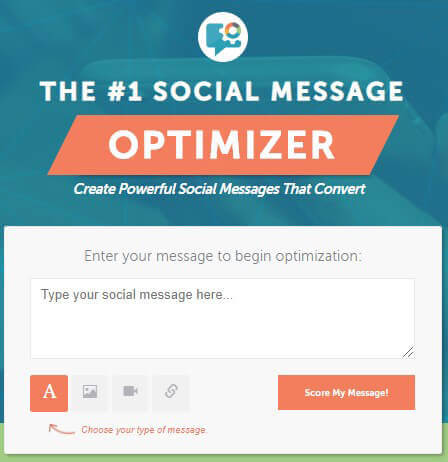 So, when should you tweet?
A social media research project suggested the best time to post on Twitter:
Between 11 am to 1 pm EST on Monday or Thursday for B2B.
12 pm or 1 pm Monday to Wednesday for B2C
Use a social media scheduling app like HootSuite to plan and schedule your tweets.
4. Post Visual Content
Compelling content is key to boosting your followers.
One strategy is to include a mix of content.
In addition to text tweets, consider adding visual content, too. Content with images gets more views and shares than other content.
You can use a visual content creation tool like Canva to design beautiful graphics for your Twitter feed.
5. Use Hashtags
Hashtags are a good way to join relevant discussions on Twitter.
Using hashtags, you can participate in chats and share your expertise.
Twitter lets you see trending hashtags right from your dashboard.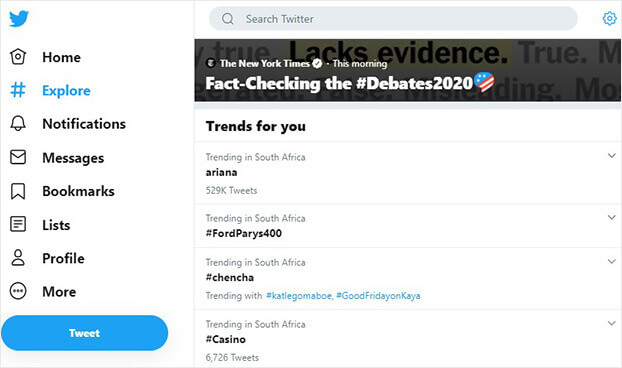 6. Monitor Conversations
Hashtags aren't the way to track conversions on Twitter.
Social media monitoring helps you spot mentions of your industry, brand, or specific topics.
You can check Twitter notifications to stay on top of relevant conversations.
7. Use FOMO and Social Proof Notifications
An easy way to boost your followers is to post real-time Twitter notifications to your website.
You can show your website visitors each time you publish a new tweet or get a new follower.
Why do these notifications work so well?
They're so effective because they're based on two human behavior concepts, FOMO and social proof.
FOMO is the idea that as humans, we don't like missing out on valuable, rewarding experiences. So, when your site visitors see people following you, they'll likely check out your Twitter profile. Social proof adds credibility to your brand. Seeing other people following you validates your brand (and Twitter channel) in the eyes of your site visitors.
TrustPulse is a great tool for adding real-time notifications to your website. With TrustPulse, you can easily build social proof notifications.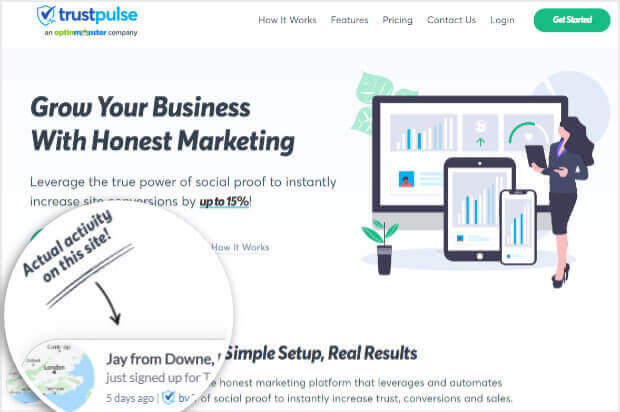 TrustPulse allows you to show a new social proof notification on your website, whenever you get a new follower or tweet something new.
By adding TrustPulse, bloggers and business owners have increased conversions by up to 15%.
8. Add Twitter Follow Button to Your Site
Adding a Twitter follow button to your website is an incredibly easy way to grow your followers.
It makes it simple for site visitors to follow you on Twitter by simply clicking one button.

Here's how to add a Twitter button to your website:
Log in to your Twitter account
Customize the button
Copy and paste the HTML on your website
9. Embed Your Twitter Feed on Your Blog
Integrating your Twitter feed into your blog helps boost your followers.
There are different methods for embedding your Twitter on your blog.
If you want to do it manually you'll need to copy your tweet embed code onto your articles. And you might struggle to customize the feed to match your website.
A simpler option is to use a plugin.
Displaying your tweets is simple with a tool like Smash Balloon's Custom Twitter Feed Pro.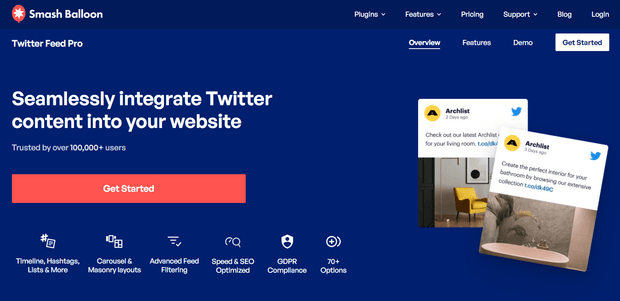 With Custom Twitter Feed Pro, you can easily add your tweets to your site without writing any code.
It allows you to:
Control which tweets you want to display
Customize the way you want your feed to appear on your blog
Show multiple Twitter feeds
Display feeds on any device, including mobile phones
10. Use Twitter Follow Popups
Another way to turn your website visitors into Twitter followers is by using Twitter follow popups.
This is a popup that appears on your web page, darkening the content behind it.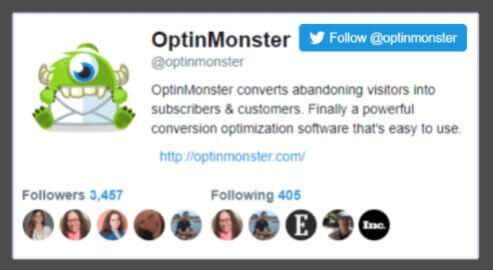 OptinMonster is the best tool for creating Twitter follow popups. With OptinMonster, you can easily create eye-catching Twitter follow popups by using a drag and drop builder.
You can select from popup templates designed specially to grow social media followers. To ensure you only show your popup to your most engaged site visitors, you can make it appear after they've viewed multiple pages.
Check out this article: How to Create a Custom "Follow Us On Twitter" Popup to Get More Followers
11. Run Twitter Giveaways
Quizzes are a great way to boost brand awareness and increase engagement on social media.
Here are examples of Twitter contests:
Ask people to tweet images with specific hashtags
Run a caption competition
Ask a question
Using a tool like RafflePress, you can easily run contests to boost your Twitter followers.
RafflePress lets you build Twitter giveaways with ease. It comes with prebuilt Twitter contest templates. You can encourage users to enter the giveaway and get points for following you on Twitter.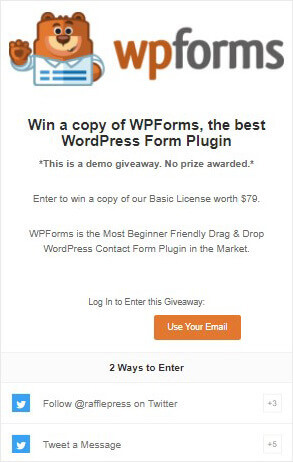 You can give people multiple ways to enter your Twitter giveaway, like:
Following you on Twitter
Tweeting a message
Retweeting particular tweet
For more, check out this article: How to Do a Twitter Giveaway to Maximize Engagement
We hope you enjoyed this article.
Twitter is a great platform to expand your reach and increase online engagement.
If you're looking for more tools and strategies to build your business and brand online, check out these resources:
Ready to start using social proof to grow? Get TrustPulse today.