At TrustPulse, we want to help you leverage social proof to get higher conversions across your site.
In fact, our live sales notifications have been shown to instantly boost sales by up to 15%.
Now, we're excited to roll out a few new features to help our users even more. These include:
User Click AutoMagic Activity Type
Hide Location
Hide Time
Let's take a look at each new feature and how they help you get more conversions using the power of social proof.
User Click AutoMagic Activity Type
This is a feature that we've wanted to add for some time, so we're very excited to see it pushed out today.
In the past, TrustPulse allowed users to capture activity from their site whenever a form was filled out and submitted.
This lets us to capture common activities like:
Completed checkouts
Webinar registrations
Newsletter signups
And more. But now, we're letting users track when people click on buttons or links on any page. This opens up a whole new way to boost conversions with social proof.
Here's how it works.
As you're creating your campaign in your TrustPulse dashboard, you can change the activity type to User Click:

Then you'll select which type of click you want to track: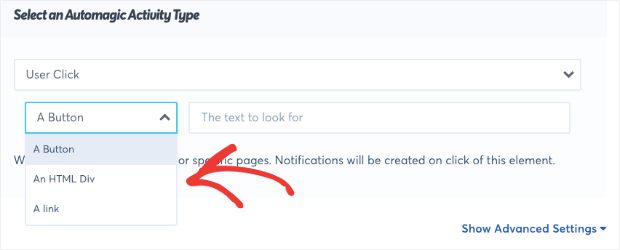 TrustPulse will then create a notification whenever this element is clicked on your site.
But what does this mean for you and how can our User Click feature help you increase sales?
There are so many ways that this new feature can help you boost conversions on your site. Let's say you have a page that shows all your current promotions or deals like WPBeginner has on their homepage: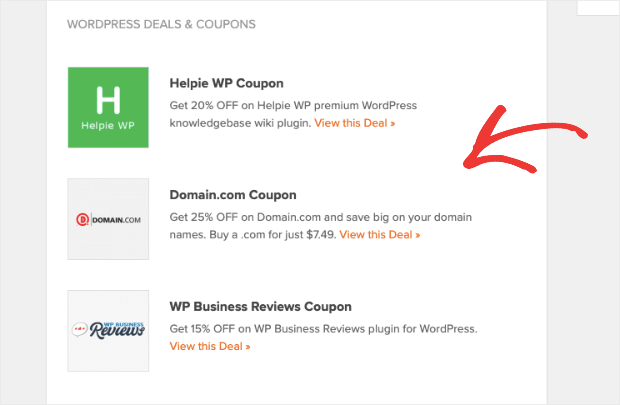 And your goal is to drive traffic to one (or all) of those pages.
You can create a notification anytime someone clicks on the link by entering the anchor text connected to that link.
So in the example from above, you'd add the phrase View This Deal in your User Click field: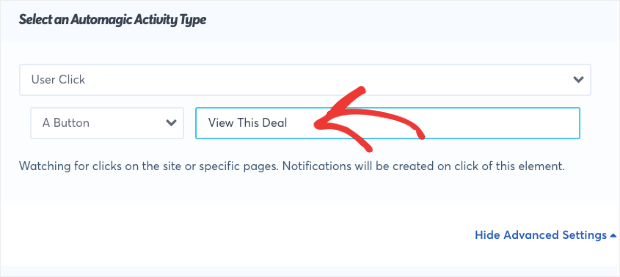 But as you may have noticed, all of the links had the same text View This Deal. That's why we let you track the URL that the link will send users to:

And to take it a step further, you could add the link to that promotional page to your TrustPulse notification. That way, when a user sees a notification like this:

They can click the message and get taken directly to the promotional page.
In the end, this means leveraging social proof to motivate users to navigate where you want them to and, ultimately, get more conversions.
Again, this is just one of the many examples of how you can boost conversions with our User Click feature. Other ideas include creating notifications that show when your site's traffic:
Completed an application form on your site
Checked out a specific pricing page
Read a blog post or resources page
Interacted with your landing page
And so much more.
Plus, you can use the data to analyze how people are engaging with buttons or links. This helps you optimize your landing pages to get the most conversions possible.
Now that we've covered our new User Click feature and how it helps you use social proof to get more sitewide conversions, let's look at 2 other features rolling out.
Hide 2 Descriptors for Cleaner Appearance
In the past, our Recent Activity notifications have shown a minimum of 4 things:
Name or reference of the person who took an action
Location of the person who took an action
A description of which action was taken
Reference to when the action was taken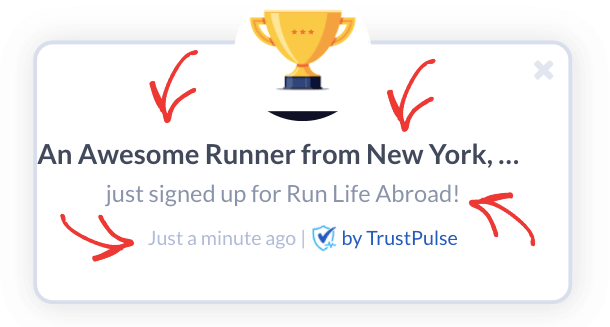 Now, you can hide 2 of these descriptors to give you more control over your campaign's message and design.
Hide Location
First, you can hide the location of the person who is taking action on your site. From the example above, that would mean getting rid of the phrase from New York.
This can easily be done from your TrustPulse dashboard with the flip of a toggle switch. Simply go to Appearance & Design » Advanced Settings » Hide the location data:

And your message will no longer display the location of your users: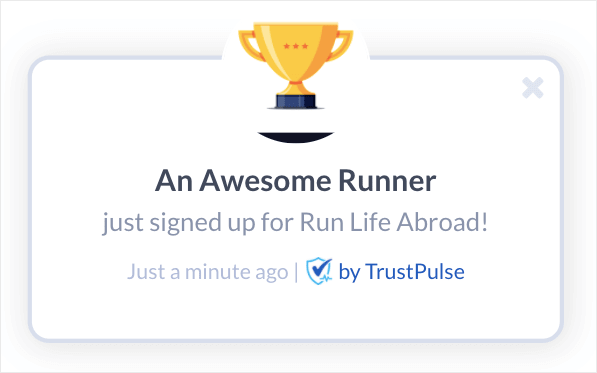 This gives you more control over your message's appearance and design. It allows you to create a simpler, more visually appealing notification when the user's location isn't relevant to getting higher conversions.
Hide Timing
Similar to hiding the location of your users, you can also hide when the action took place. You do this in the same spot where you hid the location.
Go to Appearance & Design » Advanced Settings » Hide time notification created:

And just like before, you'll remove a piece of the notification with the flip of a toggle switch: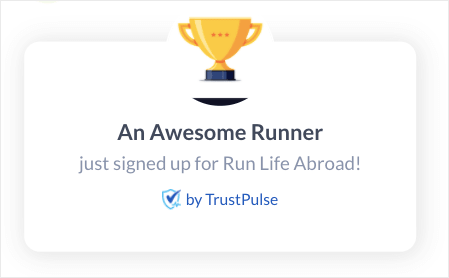 There are 2 benefits to removing this time reference:
You can create a more visually appealing campaign
You can let notifications run for a longer period of time
That last point is particularly important. That's because adding a time reference will make your notification lose power the longer it runs.
In other words, seeing the message Someone signed up for TrustPulse 4 weeks ago is going to be less compelling than the message Someone just signed up for TrustPulse.
By removing the time frame in which the action was taken, you can create evergreen notifications that run longer.
And that's it! These are the 3 new features rolling out today for Pro and above plan users. These plans start at just $19/month and give you access to all of TrustPulse's most advanced features.
This is literally 1/3 of the price charged by our competitors for the same features.
Want to learn more about how TrustPulse stacks up to the competition? Check out this comparison post on FOMO vs. UseProof vs. TrustPulse: Which Is Best for Social Proof?
Otherwise, what are you waiting for? Go sign-up for your RISK-FREE TrustPulse account today!