Do you want an easy way to generate leads from any page on your website? Then you need to read our OptinMonster review!
OptinMonster is one of the most popular lead generation software products on the market, used on over 1.2 million websites. But is it really worth the hype?
In this in-depth review, we'll take a look at the features, use cases, competitor comparisons, and pricing of OptinMonster. Then you can decide if it's the best lead generation software for your business.
Here's what this review includes:
What Is OptinMonster?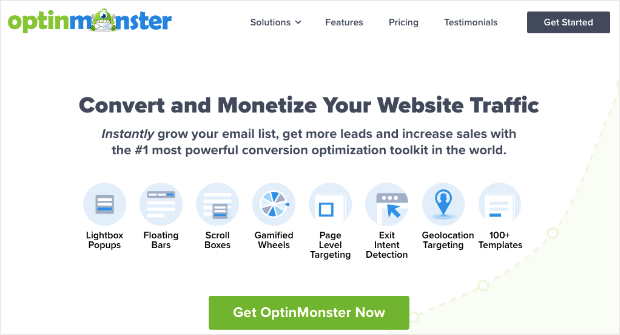 OptinMonster is a powerful lead generation tool that can help you grow your website's email list and increase conversions.
You may see it described as the best popup builder but it really does a lot more than that. With its advanced targeting and behavior personalization options, you can create highly personalized optin forms that will appeal to your specific audience.
You can think of OptinMonster as an automated marketing representative for your business. It can track what your visitors are doing and then show optin forms and other offers accordingly.
Ways to Use OptinMonster Features
Let's take a closer look at OptinMonster's key features.
Campaign Types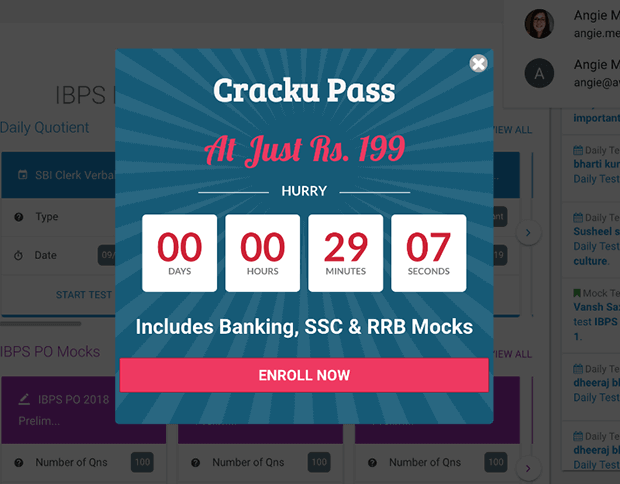 OptinMonster doesn't just create popups. In addition to the traditional WordPress lightbox popups that appear in a new window, you can also make:
Floating bars
Slide-in forms
Inline forms
Fullscreen campaigns
Coupon wheels
Floating bar forms appear at the top or bottom of the screen and stay visible as the visitor scrolls through the page. They're great for highlighting special promotions and lead magnets, and you can even add a countdown timer to drive a sense of urgency.

Slide-in scroll boxes appear from the bottom right corner of the screen and are less intrusive than traditional popups. Slide-ins, like any OptinMonster campaign, can be set to appear after a certain amount of time or when the visitor is about to leave the page.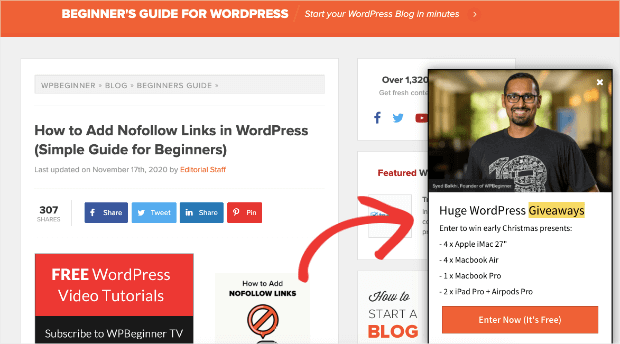 Inline forms are embedded directly into the page's content. They can be placed in specific parts of the website, such as the end of a blog post or as a sidebar form. You can also add content locking functionality to inline forms so that readers need to enter their email address to access exclusive content.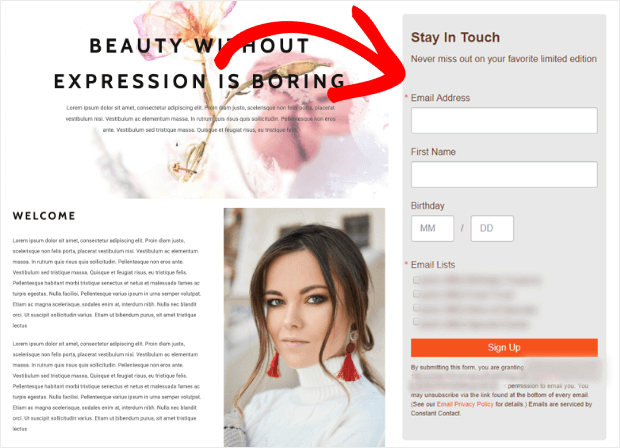 Fullscreen welcome mats take over the entire screen, which can be an effective way to grab the visitor's attention when they first get to your site and promote a special offer.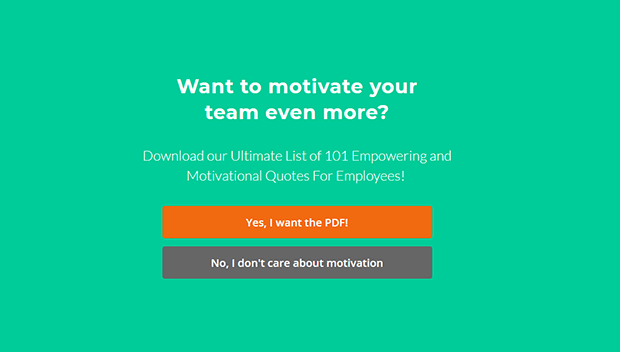 Coupon wheel campaigns work by displaying a spinning wheel on your website that visitors can spin to reveal a randomly generated coupon code. Visitors can spin the wheel by entering their email address. This is a great way to build your list and increase conversions on your website.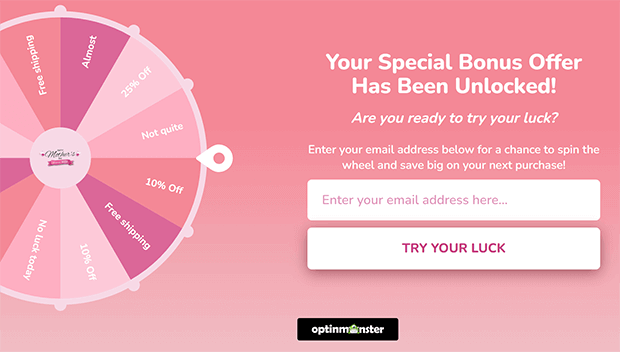 You can also turn any optin form into a high-converting 2-step form, either by adding a Yes/No view or using a MonsterLink. MonsterLinks can launch any OptinMonster campaign from a regular text, image, or button link on your website.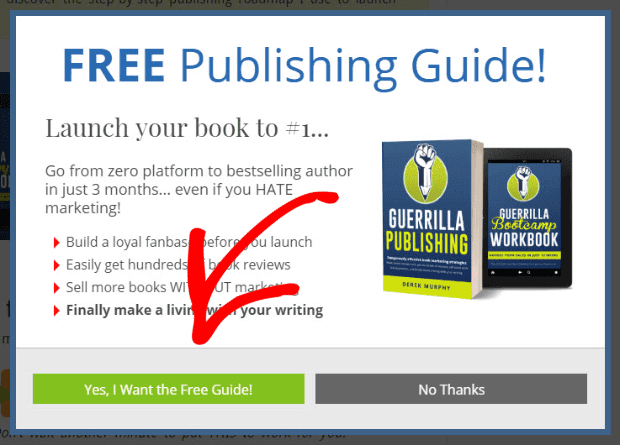 Targeting and Display Rules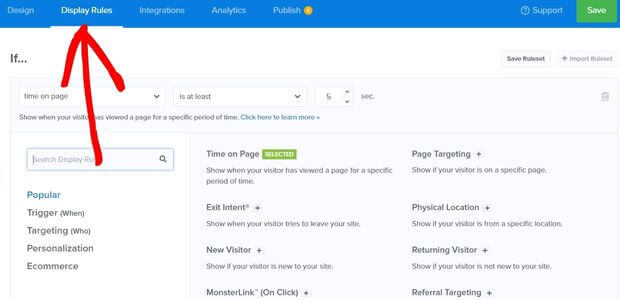 Another feature of OptinMonster is the ability to target specific pages or sections of your website. This means you can create a campaigns that only appear on:
specific pages
categories or tags of blog posts and pages
shopping cart or checkout pages
and more!
With the page targeting rules, you can increase page views by promoting other content on your site, improve your SEO by keeping people on your site longer, and boost your sales with targeted coupons and other offers.
You can also target visitors based on their behavior, such as:
time on site
new or returning visitors
membership group
login status
referral source
items in cart
Exit-Intent®
and much more!
Let's talk a little bit more about OptinMonster's Exit-Intent® Technology. This powerful feature allows you to detect when a website visitor is about to leave and display a targeted popup or optin form. The hope is to capture their attention and encourage them to stay.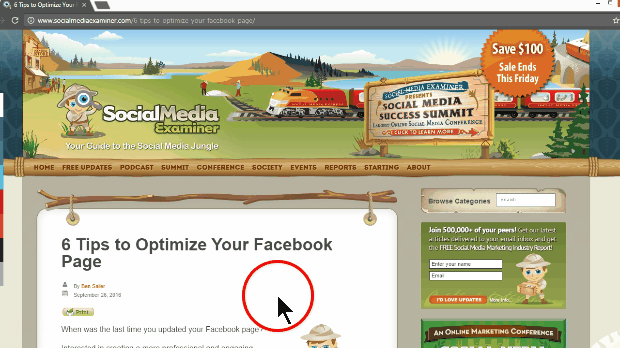 Most abandoning visitors will never return, so it's worth the effort to try and keep them on site. Because the exit-intent popup doesn't appear until they're about to leave, you also aren't disrupting their user experience too early. This feature can significantly increase your conversion rates, reduce cart abandonment and help you grow your email list.
All of the display rules and campaign triggers help ensure that your campaigns are only shown to people who are most likely to be interested in what you have to offer.
Split Testing

You can also use OptinMonster to create different versions of a form and test which one performs best. This is called split testing, also known as A/B testing. For example, you can create two versions of a form, with a different image on each one. Then, see which one gets more people to sign up, and use the winning design.
Split testing is a great way to supercharge your conversion optimization. Even if your conversion rate is already higher than average, there's always room for improvement.
Campaign Builder & Template Library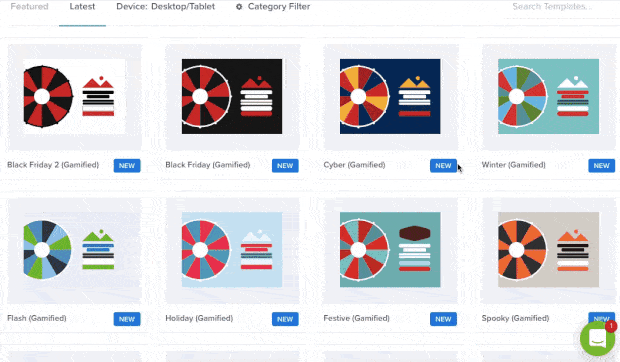 OptinMonster's drag-and-drop builder and template library is a powerful tool that allows you to create and customize different types of email optin forms for your website. The campaign builder is user-friendly and easy to navigate, even for those with limited technical or design skills.
The template library has dozens of pre-designed templates that you can use as a starting point for your campaigns. These templates are optimized for different types of campaigns, such as lightbox, slide-in, and floating ba. You can easily customize the templates by changing the colors, fonts, and images to match the look and feel of your website.
The campaign builder is also where you set targeting rules to control when and where your campaigns will appear on your website. Optinonster knows that a pretty design isn't enough to convert, so the display rules are integrated into the campaign builder.
Integrations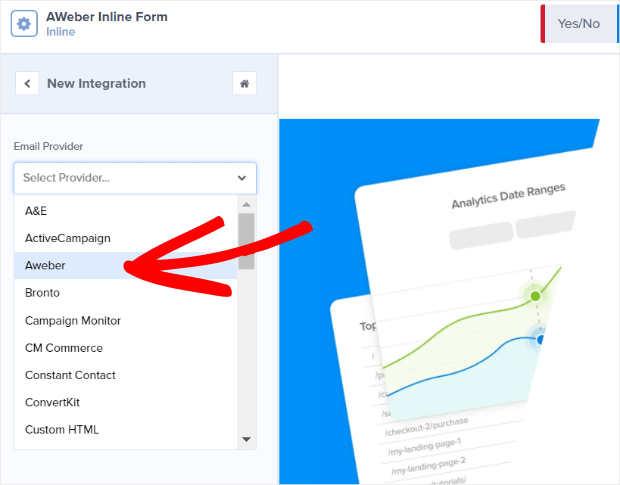 OptinMonster is incredibly powerful on its own, but it's even better when used with other marketing tools. OptinMonster can connect your lead generation forms with a wide variety of other digital marketing software. These integrations include:
Email Marketing Services: OptinMonster can integrate with popular such as Mailchimp, Constant Contact, Aweber, and many more. This allows you to automatically add new subscribers to your email marketing list and send them targeted campaigns.
CRM (Customer Relationship Management) Software: OptinMonster can integrate with CRM software such as Salesforce, Hubspot and Infusionsoft. This allows you to keep track of your leads and customers throughout the customer journey.
eCommerce Platforms: OptinMonster can integrate with eCommerce platforms such as WooCommerce, Shopify, and BigCommerce. This allows you to offer special discounts and deals to encourage customers to sign up for your email list.
Google Analytics: With OptinMonster's integration with Google Analytics, you can track the performance of your campaigns and gain insights into how your visitors are interacting with your website.
Zapier: OptinMonster also integrates with Zapier, which allows you to connect with thousands of other apps and automate your workflow.
These integrations allow you to easily connect your email campaigns with other tools and platforms, which can help you save time, increase conversions and grow your business.
Website Flexibility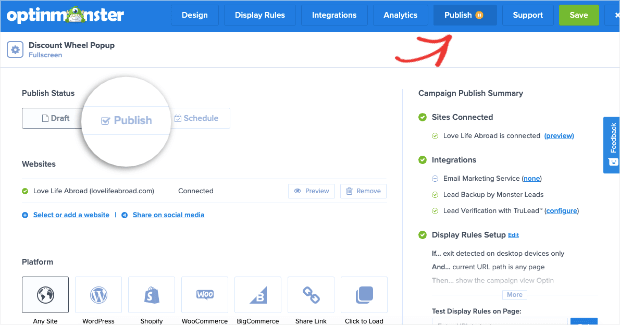 Unlike other lead generation WordPress plugins, OptinMonster works on almost all types of websites. Whether you are using a website builder, a content management system, or a custom-coded website, you can use OptinMonster on it. Some examples include:
WordPress
Shopify
Squarespace
Wix
Weebly
Kajabi
Magento
and much more
Furthermore, OptinMonster can be integrated with any website that uses HTML by adding a custom code to the website.
Since you can use OptinMonster on any website, let's take a look at how to install OptinMonster.
How to Get Started With OptinMonster
One reason OptinMonster is so popular is because it just works. Setup is a breeze but you still have access to lots of advanced features if you want to use them.
In this section, we'll show you how to set up a campaign in OptinMonster, step by step. We won't be able to cover every single feature, but this will give you an idea of what to expect.
Step 1: Creating a Campaign
First, create an account on OptinMonster and log in to your dashboard. If you're using OptinMonster on a WordPress site, you can also download and install the OptinMonster plugin.
Next, click on the Create New Campaign button on the top right corner of the dashboard.

From the window that pops up, choose whether you want to use a Playbook, Template, or a blank campaign. In this tutorial, we'll choose from the Template library.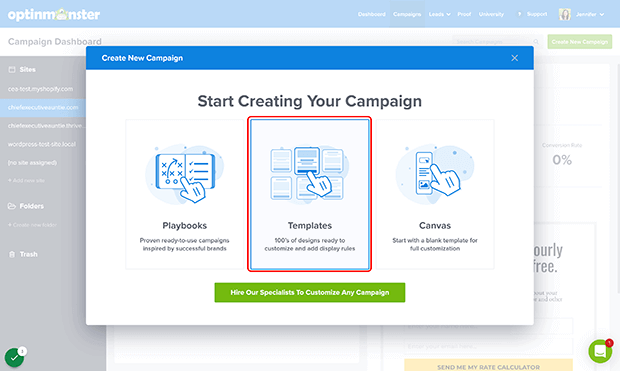 Select the type of campaign you want to create, for example, a lightbox or slide-in campaign. Choose a template that best fits your website's design and style.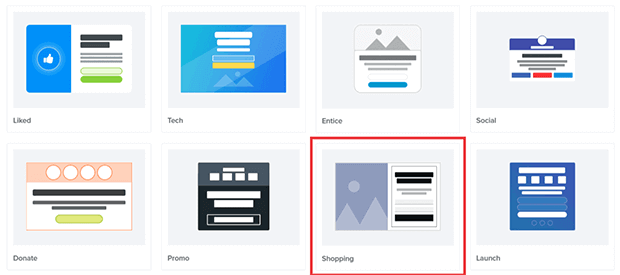 Step 2: Customizing Your Campaign
Once you have selected a template, you will be taken to the campaign builder where you can customize the template to match your website's design.
Use the Design tab to customize the layout, colors, and fonts of the campaign. You can also add or remove elements such as images, videos, and buttons.
To edit the text, headlines, and form fields, simply click on the campaign and type your new text directly into the preview pane. You can also change other settings in the left-side pane.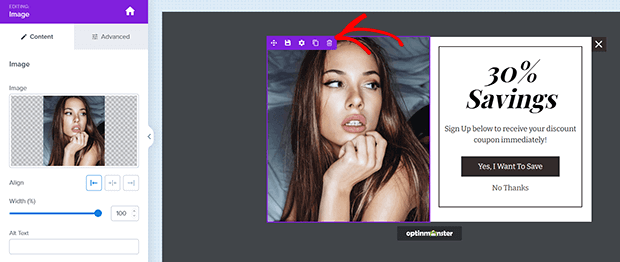 Step 3: Setting Display Rules
In the Display Rules tab, set the conditions under which your campaign will appear on your website. For example, you can set the campaign to only appear after a visitor has been on your website for a certain amount of time or only on certain pages.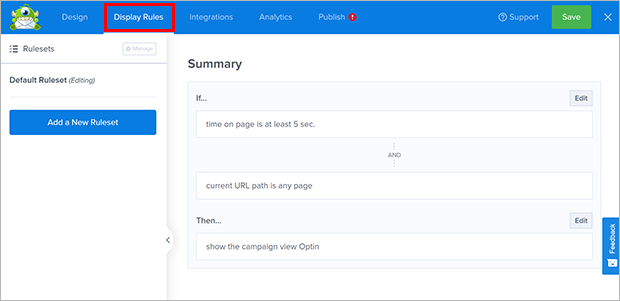 OptinMonster allows you to use multiple display rules at once, which makes deep segmentation of your visitors and leads possible.
Step 4: Integrating Other Software
In the Integration tab, connect your campaign with your email service provider (ESP) or CRM platform.
Find your software in the list and follow the instructions for integration. For example, if you are using Mailchimp, you will need to enter your API key to connect the two platforms.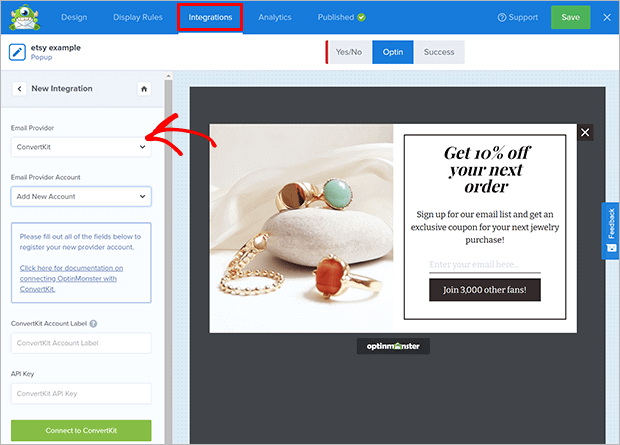 Step 5: Publishing Your Campaign
Once you have finished setting up your campaign, click on the Publish tab. Change the Publish Status to Publish and select or add a website for the campaign to display on.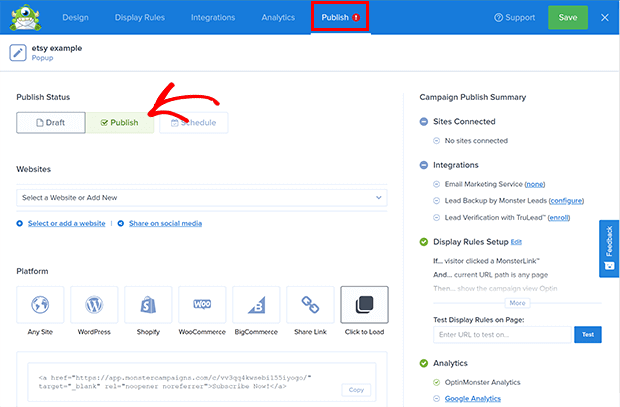 That's it! By following these steps, you can set up a campaign with display rules and integration setup in OptinMonster and start growing your email list with targeted campaigns.
What Makes OptinMonster Unique
This OptinMonster review wouldn't be complete without addressing what sets it apart from competitors. OptinMonster does a lot of things well, but here are some of its best superpowers:
1. Ease of Use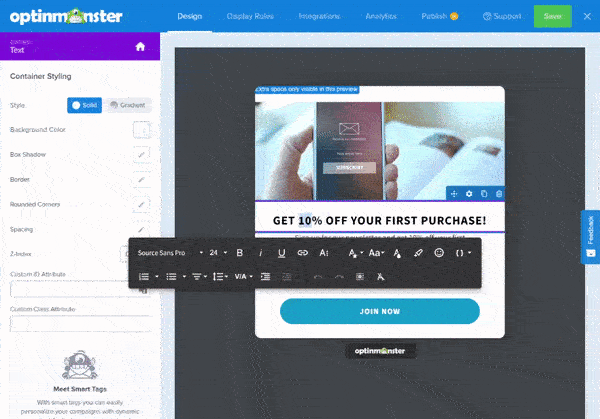 OptinMonster makes it not just possible but EASY for anyone to add high-converting marketing campaigns to their website.
The drag-and-drop builder lets you create campaigns with just a few clicks, no coding required. Because it's a visual builder, you can see exactly how your campaign will look as you're building it.
The hundreds of templates are based on proven conversion principles, so you don't have to guess at what works. All you need to do is customize the text, images, and colors, and you're ready to go.
Plus, you can connect your other marketing tools with just a few clicks. This lets you build lead generation automations that run while you're busy doing other things.
2. Different Pricing and Feature Plans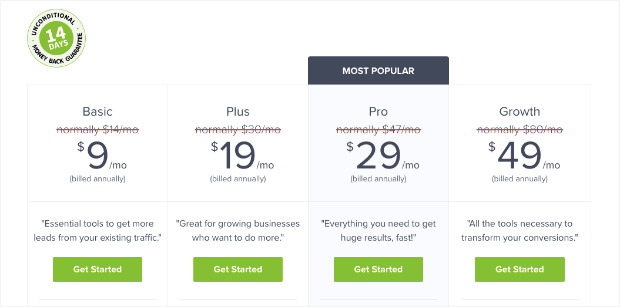 OptinMonster works for bloggers, publishers, B2B agencies, small businesses, eCommerce stores, and just about any other kind of business you can think of.
There are a variety of advanced and basic plans to fit your needs. You don't have to pay for features that you won't use, but you can easily upgrade as your business grows.
3. Industry-Leading Features
There are plenty of popup campaign builders out there, but OptinMonster has many unique features you won't find elsewhere. Besides what we've already covered, OptinMonster has features like:
InactivitySensor™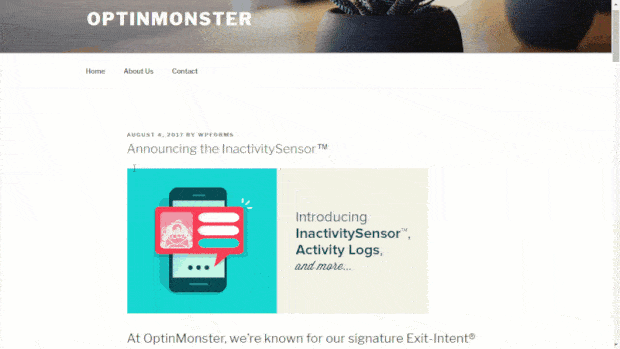 The cousin of Exit-Intent Technology®, InactivitySensor™ triggers popups when visitors have been inactive for awhile. This lets you nudge visitors to finish shopping or check out other content on your site.
MonsterEffects™ and MonsterSounds™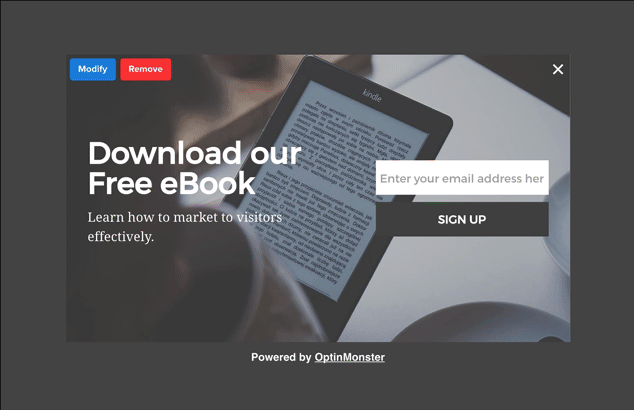 You can add animations and sound effects to grab your visitors' attention with your optin campaigns.
TruLead™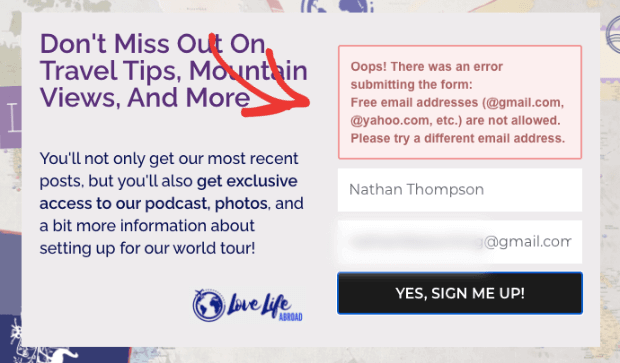 When building a list of email leads, you don't want a bunch of spammers on your list. With TruLead(R), you can verify that every email signup is from a real person. This will help improve your conversion rates and
Geolocation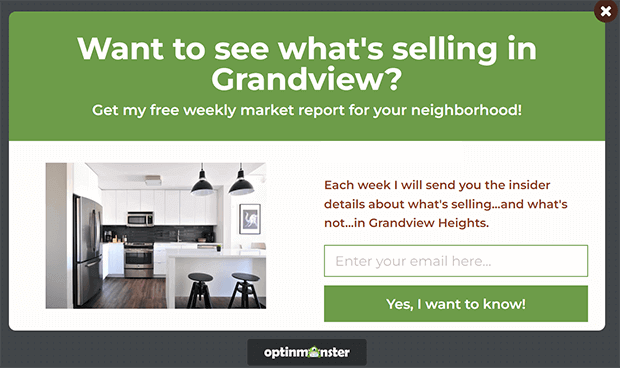 You can target campaigns to users based on their physical location. This means you can show promotional campaigns for products based on climate and regional holidays, or offer localized shipping deals. Highly targeted campaigns perform better than generic ones, so this feature is a great bonus!
Retargeting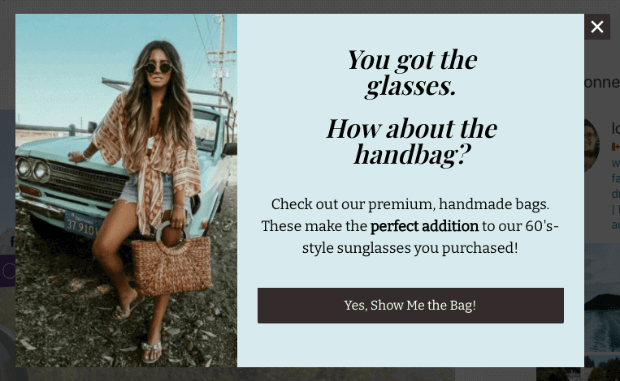 It can take several exposures to your brand before someone is ready to buy or sign up. OptinMonster's retargeting features lets you show different campaigns to visitors based on their onsite activity, device, social media activity, or subscriber status. Again, this type of personalization is proven to boost conversion rates.
Adblock Detection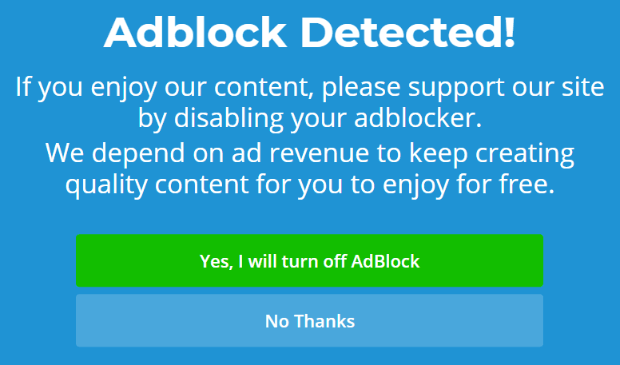 With more users enabling ad blocking software on their browsers, OptinMonster stands out for being able to bypass AdBlock. You can even display special messages for AdBlock users inviting them to whitelist your site.
4. Minimal Server Load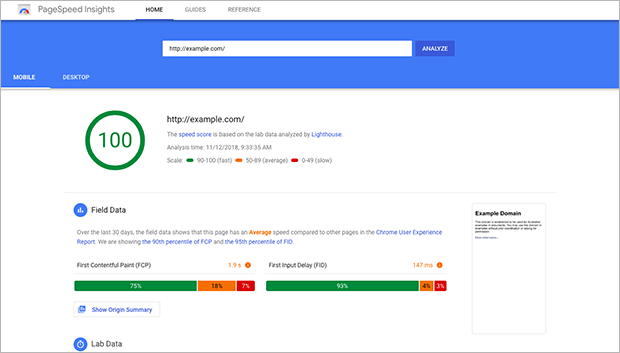 With all of these features, will OptinMonster slow down your site?
No! OptinMonster is hosted on its own platform. This means it won't use up your website's server resources.
OptinMonster is also designed with performance in mind, so it won't slow down your site or otherwise affect performance negatively.
5. Outstanding Support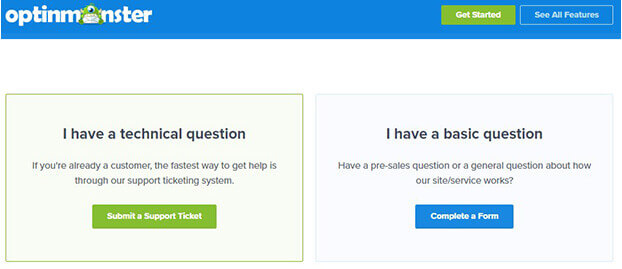 OptinMonster offers a ticket-based support system with lightning-fast responses from real human beings. They're always ready to help you resolve any issues you have, and will even build your first campaign for free!
There's also plenty of documentation to help you become a power user. From blog posts to videos to how-to- guides, there are tons of resources to help you get the most out of OptinMonster.
OptinMonster Pricing Information & Support
OptinMonster has 4 pricing plans as well as custom enterprise pricing.
The Basic plan starts at $9 per month. You get a single site license and all the essential features to build your optin campaigns.
The Plus plan costs $19 per month and includes everything in the Basic plan, plus A/B testing, InactivitySensor™, and more targeting options.
The Pro plan is the most popular plan and costs $29 per month. Besides everything in the Plus and Basic plans, you also get advanced features like countdown timers, multistep campaigns, Exit-Intent®, and pro integrations.
The Growth plan is priced at $49 per month and includes licenses for up to 5 sites. This plan adds even more behavior automation features, custom branding, unlimited sub-accounts, and advanced reporting.
Final OptinMonster Review: Is OptinMonster Worth It?
Overall, OptinMonster is a powerful tool that can help you get more email subscribers and leads. By using the different campaign features and targeting options, you can create forms that are more likely to convert visitors to your website.
For the amount of features you get, even the highest-priced Growth plan is well worth the investment.
But don't take our word for it. Check out the testimonials from real OptinMonster users and in-depth case studies on how OptinMonster boosted lead generation for businesses just like yours.
Ready to supercharge your lead generation? Get started with OptinMonster today!