Are you starting an online store and looking for the best eCommerce platforms?
One of the most important decisions you'll make is which eCommerce software to use for your website. The best eCommerce solution will allow you to get started quickly and grow your business long-term.
In this article, we'll go through the top eCommerce platforms in detail so you can make an educated choice on which will work best for your business.
List of the Best eCommerce Platforms
Options for eCommerce Solutions
When building an eCommerce website, there are 3 types of solutions you can choose from:
Open source
Subscription or SaaS
Headless
Open source solutions such as WooCommerce or Magento Open Source are free and pretty easy to install. There's lots of room for customization, but that can sometimes be overwhelming for business owners with limited time and technical expertise. We tried to pick the most user-friendly open source options for this list.
Subscription or SaaS (Software as a Service) platforms like Shopify or BigCommerce solve many of the technical difficulties of open source eCommerce such as payment gateways, security, web hosting, and more. The trade-off is that SaaS platforms tend to be more expensive.
Headless eCommerce platforms like Shopify Plus or CommerceTools separate the user-facing shopping experience from the technical back-end elements like shopping cart, checkout, shipping logistics, and more. With headless eCommerce, you can create highly customized shopping experiences on multiple devices from web browsers to mobile apps to smartwatches. These platforms require a lot of time and resources to develop, so we won't be focusing on those for this article.
How to Choose the Best eCommerce Platform for Your Business
With so many options available, how do you choose which is the best eCommerce platform for you? Here are some factors to consider:
Cost: Besides the cost of the platform itself, you should also think about the costs of hiring a developer or designer to create your website, SSL certificates and other data security measures, web hosting, and transaction fees.
Integrations: Make sure your eCommerce solution works with the marketing tools, social media platforms, and marketplaces like Amazon or eBay that you already use or anticipate using.
Ease of Use: You need to be able to update your inventory and web design relatively quickly, so look for platforms that are built with user experience in mind. Some come with mobile apps that you can download to check on orders in real-time while you're out and about.
Customization: Think about how much you want to be able to customize your eCommerce store. If you're using eCommerce to supplement a brick and mortar storefront, you may not need a fully custom online store. But if eCommerce is your entire business model, you might want full control over the source code.
Product inventory: If you have a wide variety of products and variants or a mix of physical and digital products, look for a platform that allows unlimited products and easy inventory management.
Transaction volume: Some platforms get very expensive as you process more transactions or pageviews. Even if you don't need it now, consider looking for scalable options with unlimited bandwidth or sales volume so that your business can grow as needed.
Customer support: Your eCommerce solution will be the foundation of your business, so you want to be able to solve problems quickly, or prevent them if possible. Look at the support channels and turnaround time before choosing a platform.
Payment methods: It doesn't matter how nice your website is if your customers can't use it! Make sure that your eCommerce platform supports the currencies and payment methods that your customers are most likely to use.
With this in mind, let's take an in-depth look at the most popular eCommerce platforms to see if they're right for you.
Shopify: Best eCommerce Platform for Dropshipping & Best SaaS eCommerce Platform
Pricing: Starts at $29/month
Customer Support: Phone, email, live chat
No list of the best eCommerce platforms would be complete with Shopify. It's the best one-stop shop for building an online store and managing inventory, shipping, marketing, and payment processing, all from the same dashboard.
Shopify really shines when it comes to dropshipping. Dropshipping is a business model that lets store owners sell products online that are made, stored, and shipped by a third party. Shopify integrates with hundreds of dropshipping apps so you can source products from all over the globe. This is a great way to start your business while keeping costs and risk low.
Even though it's a beginner-friendly platform, Shopify also has many options for growing and scaling. The Shopify App Store has thousands of apps and plugins, including many that are free. With such a large user base, there are plenty of online resources to help you build your online store.
At the same time, all those plugins can drive up costs. There are only a handful of free themes, so for a truly custom look you'll have to pay for custom development. You're also limited to using Shopify Payments if you want to avoid transaction fees.
Honorable Mention: Shift4Shop is another SaaS eCommerce platform with top-notch and affordable dropshipping eCommerce features.
WooCommerce: Best eCommerce Platform for SEO & Best WordPress eCommerce Platform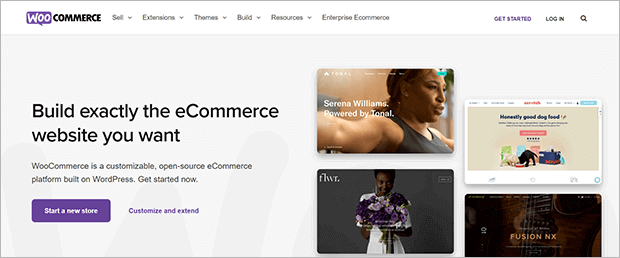 Platform Type: Open source
Pricing: Free for core plugin, many paid plugins and themes to customize functionality
Customer Support: Live chat, email for core plugin
Believe it or not, one of the best eCommerce platforms in the world is free. WooCommerce is the most trusted eCommerce WordPress plugin. Because it's built on the WordPress platform, WooCommerce inherits all of the same SEO (search engine optimization) benefits you'd get from blogging on WordPress.
Everything from product descriptions to page titles and site navigation can be made search engine friendly. This increases your chances of showing up in high-intent search results. The top search results for a product tend to have the highest clickthrough rate and sales. All in One SEO (AIOSEO) is the top WordPress SEO tool and you can use it to optimize your WooCommerce store just like everything else on your site.
There are tons of free and paid plugins you can add on your WooCommerce site to add eCommerce functionalities like abandoned cart recovery, custom checkout, subscriptions, and so much more. That said, the high level of customization can come with a challenging learning curve.
Fortunately, because WooCommerce is built for WordPress, you can use a site builder plugin like SeedProd to create your online store without any coding at all.
We rounded up a list of WordPress eCommerce plugins to help you create the best online shopping experience possible for your customers.
Square Online: Best Free eCommerce Platform

Platform Type: SaaS
Pricing: Free plus transaction fees, paid plans with advanced features start at $29/month
Customer Support: Phone
Square Online started out providing free credit card readers for small businesses, and has expanded to a full online and in-person eCommerce solution. Their core payment processor and eCommerce plan remains free, though you do have to pay processing fees on all transactions.
If you have in-person customers in addition to an online store, Square Online is the perfect solution. It syncs with Square POS (point of sale) solutions like card readers and checkout registers. Square Online also has powerful operations management features like order windows, delivery and pickup options, and shipping labels.
With Square Online, you get a simple website builder that lets you sell products and book appointments online. One drawback is that you can't use a custom domain name or remove Square's branding with the free plan. In general, the customization options for your online store are quite limited.
But if you want to turn your local business into an online business, Square is really second to none.
Wix: Best eCommerce Platform for Small Business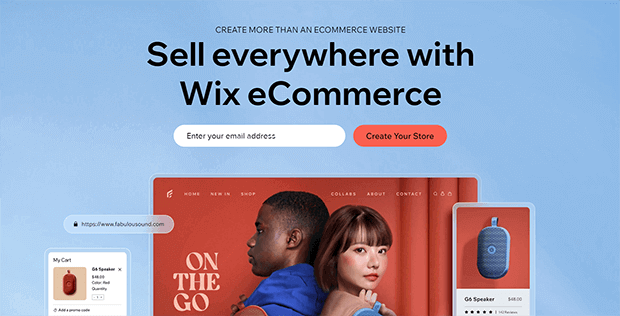 Platform Type: SaaS
Pricing: Starts at $27/month
Customer Support: Live chat, scheduled phone call
Wix has been helping startups and small business owners build websites since 2006, and now they have a great online store platform that features the same user-friendly drag and drop functionality.
Notably, Wix includes abandoned cart recovery in all of its plans. Most other eCommerce platforms have cart recovery as a premium feature. You get an unlimited number of products, as well as bookings, event management, membership packages, and more. This makes Wix eCommerce one of the most versatile eCommerce platforms.
Some industries that Wix has special features for include:
Restaurants
Hotel reservations
Events
Fitness
Digital media
Honorable Mentions: Weebly and Squarespace
Zyro: Best eCommerce Website Builder & Most Affordable eCommerce Platform

Platform Type: SaaS
Pricing: Starts at $3.23/month
Customer Support: Email, live chat
Zyro is another website builder that offers eCommerce functionality. What sets it apart is the price: under $5 USD/month for up to 500 products.
For that price, you'd expect a bare minimum eCommerce platform. Not so! Zyro has many AI tools you can use to make not just your eCommerce site but your entire business plan come to life. From a logo maker to an AI writing tool, you can use Zyro to generate all the content and assets you need to build your online business.
You can even get a secure business email address, though it's not a full email marketing platform like Constant Contact.
The no-code store builder is easy to use, with over 100 customizable website templates to choose from. Zyro accepts payments from Stripe, Apple Pay, Google Pay, and many other processors.
For the best bargain when starting your online business, it's hard to beat the value Zyro delivers.
BigCommerce: Best eCommerce Platform for Large Inventory

Platform Type: SaaS
Pricing: Starts at $29.95/month
Customer Support: Live chat, email, phone
As its name suggests, BigCommerce is our pick for businesses with large inventories. If you have products with a lot of colors, finishes, sizes, and other variables, you want BigCommerce.
With both front and back end support for complex inventories, BigCommerce can handle scaling with ease. You can increase your customer options with dropdowns, radio buttons, text fields, swatch selections, checkboxes, and much more.
There are also lots features built into BigCommerce that require third-party apps on other platforms, such as:
Bulk pricing
Volume pricing
Customer ratings and reviews
Smart discounts
Gift cards
Despite including all these features, BigCommerce has a few important shortfalls. The powerful inventory management comes at the cost of customization. And you still need plugins for things like printing labels.
That being said, it's still a great option for large catalogs with a lot of variants and dedicated support.
Honorable Mention: Shopify Plus is a headless enterprise eCommerce platform that can also handle complex business needs.
Big Cartel: Best eCommerce Platform for Creatives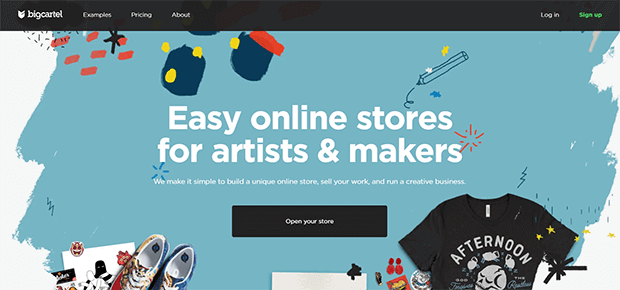 Platform Type: SaaS
Pricing: Free plan for up to 5 products, paid plans start at $9.99/month
Customer Support: Email
If you're a creative entrepreneur looking for an alternative to Etsy, Big Cartel is a simple way to build an online store.
Big Cartel has all the tools you need to run promotions, track shipments, and calculate sales tax. There are free themes you can customize, or you can edit the source code yourself for a more custom look. Unlike Etsy, Big Cartel doesn't charge any listing fees. You just pay the monthly service fee and keep the rest of your profits.
Big Cartel was made by creatives for creatives and is dedicated to staying independent. It may not have as many features as other platforms on this list, but if being part of a like-minded community is important for you, consider using this eCommerce solution specifically for artists and makers.
Honorable Mention: Sellfy is another eCommerce platform for creatives that focuses on the essential features for creative businesses.
PrestaShop: Best Open Source eCommerce Platform (Non-WordPress)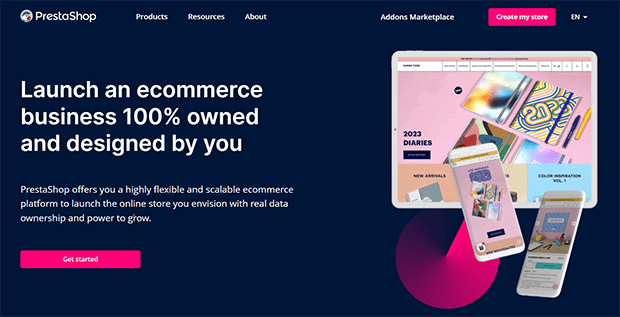 Platform Type: Open source
Pricing: Core platform is free, paid and free addons available
Customer Support: Self-serve documentation, paid ticket-based support plans available
If you're not interested in using WordPress, PrestaShop is another open source eCommerce solution you can try instead. Similar to WooCommerce, there are a variety of free and paid themes and plugins you can use to customize your shop. There's also a community of PrestaShop users and developers who can help answer questions.
PrestaShop isn't as popular as WooCommerce, largely because WooCommerce is part of a much bigger WordPress ecosystem of easy to use plugins and tools. You'll likely need to learn some coding skills or hire a developer to really get the most out of the system, so the "free" price tag may be a little misleading.
That being said, you can still try it out if you're looking for an open source eCommerce platform.
Easy Digital Downloads: Best eCommerce Platform for Digital Products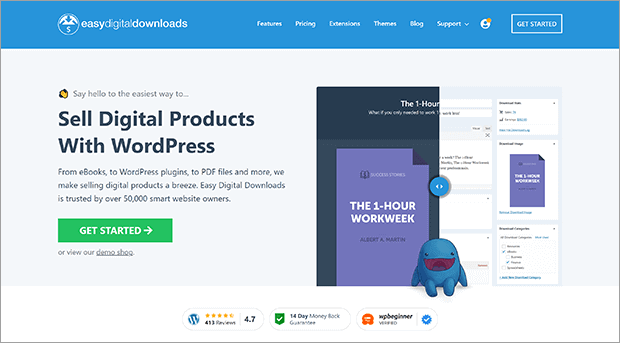 Platform Type: WordPress plugin
Pricing: Free version available on WordPress.org, paid plans start at $99.50/year
Customer Support: Email
Digital products are an easy way to get started quickly in eCommerce, and Easy Digital Downloads is, you guessed it, the simplest way to sell digital files.
Whether you're selling eBooks, PDFs, or software licensing, Easy Digital Downloads can help. Just install it on WordPress, configure your products, and you're ready to go.
Easy Digital Downloads supports Stripe and Paypal for free, with paid extensions you can use to process other payment methods, handle subscriptions, customize checkout, and more.
Check out our complete Easy Digital Downloads review for more information.
WP Simple Pay: Best eCommerce Platform for Service Providers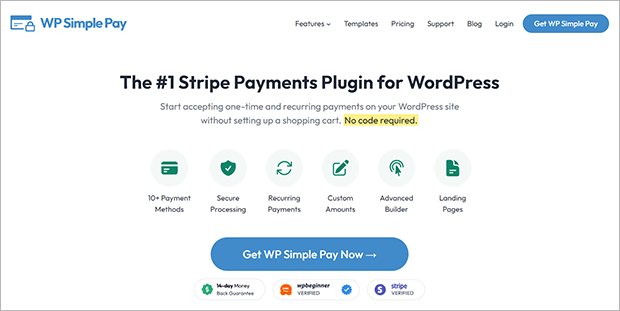 Platform Type: WordPress plugin
Pricing: Free version available on WordPress.org, paid plans start at $49.50/year
Customer Support: Email
If you're a service provider and want to sell a set menu of service packages or create a portal for customers to pay their invoices, WP Simple Pay is the best payments plugin for WordPress.
As a service-based business, you don't need to calculate shipping rates or fuss with physical products. All you need is a way to collect payments, and WP Simple Pay is the solution.
Even though it's simple to set up payment forms, you can still use advanced payment models like free trial, installment plans, subscriptions, coupons, and more.
For more detail, read our WP Simple Pay review.
WP Charitable: Best eCommerce Platform for Nonprofits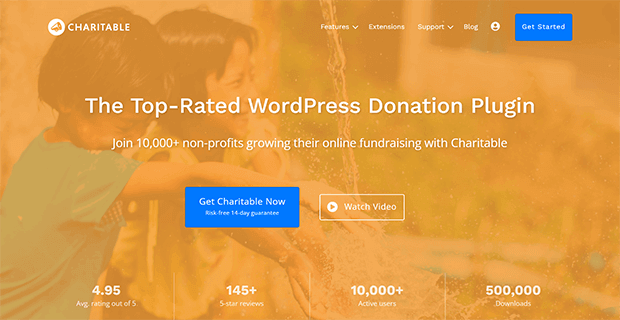 Platform Type: WordPress plugin
Pricing: Free version available on WordPress.org, paid plans start at $99/year
Customer Support: Email
We know that nonprofits have limited resources, so we wanted to include an eCommerce platform that makes it easy and inexpensive to receive donations online. There's no sense in spending extra money on multi-channel selling or other features that your nonprofit doesn't need and won't use. Instead, WP Charitable focuses on getting the fundraising experience right for both organizations and donors.
You can set up as many campaigns and process as many donations as you'd like, even with WP Charitable's free plan. Because it's build for WordPress, WP Charitable fits seamlessly into any existing WordPress theme, so there's no need to rebuild your site just to add donation forms.
What Is The Best Ecommerce Platform?
The best eCommerce platform for your business really depends on your business model and size. Overall, here are our top picks:
Best SaaS eCommerce Platform: Shopify
Best eCommerce Platform for WordPress: WooCommerce
Best Website Builder With eCommerce: Weebly
Regardless of what platform you choose, use our step-by-step guide for how to start an eCommerce business and eCommerce launch checklist to build your eCommerce business.
You can also check out our list of proven eCommerce marketing strategies. And if you want to create a successful eCommerce brand, read How to Build an Unforgettable and Profitable eCommerce Brand.
Yet to create a website for your new eCommerce business? Learn How to Make a Small Business Website in 6 Easy Steps.