Wondering whether WP Simple Pay is the Stripe payment plugin you need for your business?
WP Simple Pay makes it incredibly easy to accept one-time and recurring payments on your WordPress website. When you have a few straightforward products or services to sell, you don't need the hassle of setting up an entire shopping cart or eCommerce platform. Use a Stripe payment plugin like WP Simple Pay instead.
In this article, we'll check out all of WP Simple Pay's features to see how it can process fast and errorless payments.
What Is WP Simple Pay?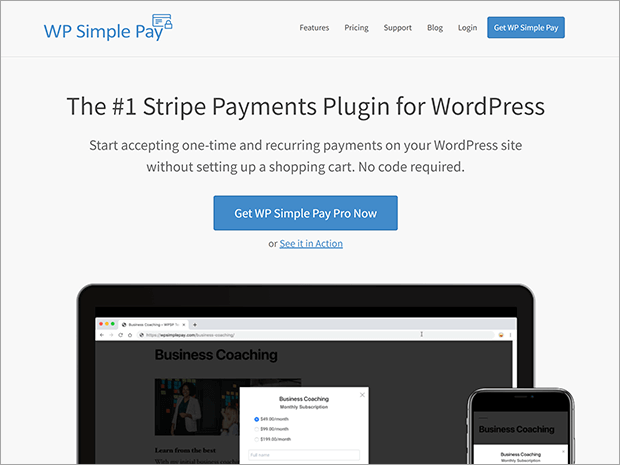 WP Simple Pay is the most popular Stripe payment plugin for WordPress. It's the easiest way to accept payments on your WordPress website.
WP Simple Pay is ready to integrate with Stripe as soon as you install. There's no need for additional plugins or addons. You can use WP Simple Pay to create a payment form and then you'll be ready to accept payments.
Freelancers, agency owners, and online business professionals can all use WP Simple Pay to accept credit or debit cards, Google Pay, Apple Pay, ACH, and other payment methods. If you're curious, check out our tutorial on how and why to accept ACH payments on your website.
Why Do You Need WP Simple Pay Plugin?
WP Simple Pay is a much easier way to collect payments than setting up an entire eCommerce store or complicated checkout process. Here are just a few ways to use WP Simple Pay:
Sell a few standardized service packages or products
Create a one-stop payment portal for clients to pay for custom service packages or commissioned products
Set up a donation form
Accept recurring payments for a content or service subscription
WP Simple Pay lets you create responsive embedded and popup payment forms that work great on phones, tablets, and desktop. You can even redirect customers to the official Stripe payment page. WP Simple Pay uses Stripe's PCI-compliant servers to keep all transactions secure from hacking and data breaches.
How to Accept Payments With WP Simple Pay
Getting started with WP Simple Pay is simple.
First, sign up for WP Simple Pay plan that you need. You can also use the lite version for free, but if you want to process subscriptions or recurring payments, you'll need a Plus plan or higher.
Once you've signed up for your plan, log into your WP Simple Pay account and click on the Downloads tab to access your license key and file downloads. Copy and paste your license key into a text document for easy access. Then, download the plugin file, which will be a .zip file.

Next, you need to install the plugin. From the WordPress dashboard, click on Plugins » Add New.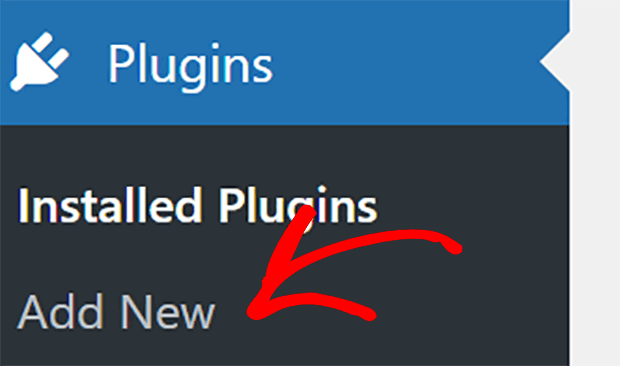 Click on Upload

Add the .zip file you saved from the WP Simple Pay account page. Click Install Now.

Once you've activated the plugin, click on WP Simple Pay » Settings » License .

Paste in your license key and click on the Activate button to verify your license.
Now, it's time to connect your Stripe account.
Navigate to WP Simple Pay » Settings » Stripe and click on Connect with Stripe.

Follow the directions in the Stripe popup window to finish connecting with Stripe.
There you go! Now that the plugin's ready to go, let's look at some of WP Simple Pay's many features.
WP Simple Pay Features
Don't let the word "simple" in the plugin name fool you. While WP Simple Pay is very easy to use, it still packs many powerful features. You can customize your payment forms and checkout experience to match exactly what you need for your business. Let's look at what makes WP Simple Pay so special.
1. Drag and Drop Form Builder
The WP Simple Pay plugin comes with an easy-to-use drag and drop form builder. Whenever you create a new form, it will have 4 default fields: Email Address, Price Selector, Credit Card, and Checkout button.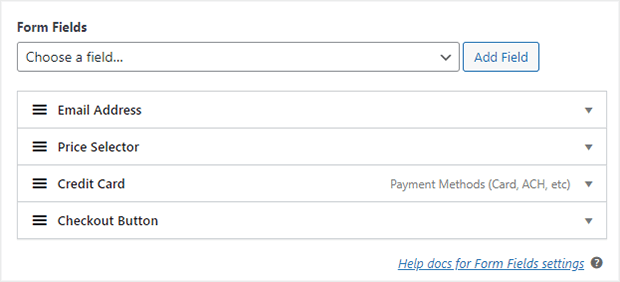 You can add more fields from the builder's dropdown menu and drag them into the right order.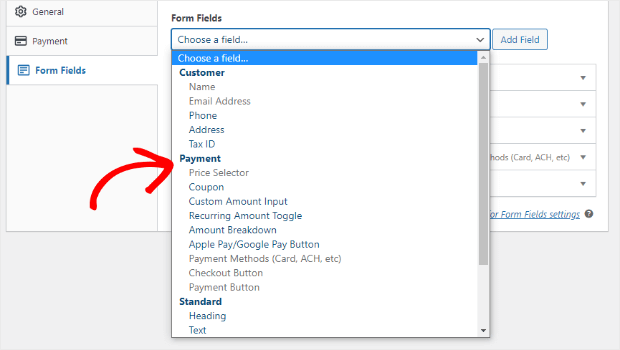 To customize the field label and placeholder text, just click on the form field.
There are also plenty of templates you can use if you need inspiration or just need a form done quickly.
2. Multiple Form Display Methods
There are 3 ways to display WP Simple Pay payment forms on your WordPress site. You can choose your display method in the General tab of the form builder.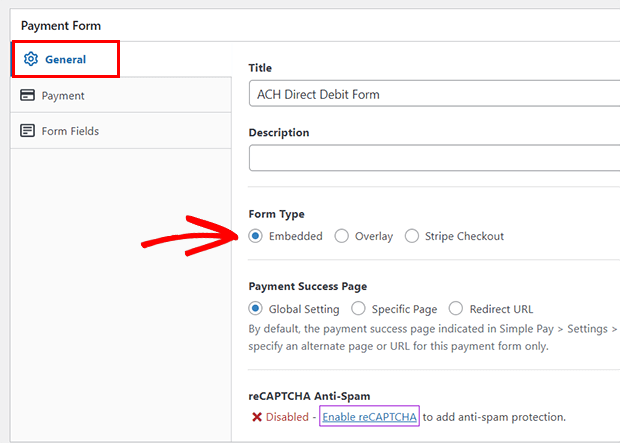 Embedded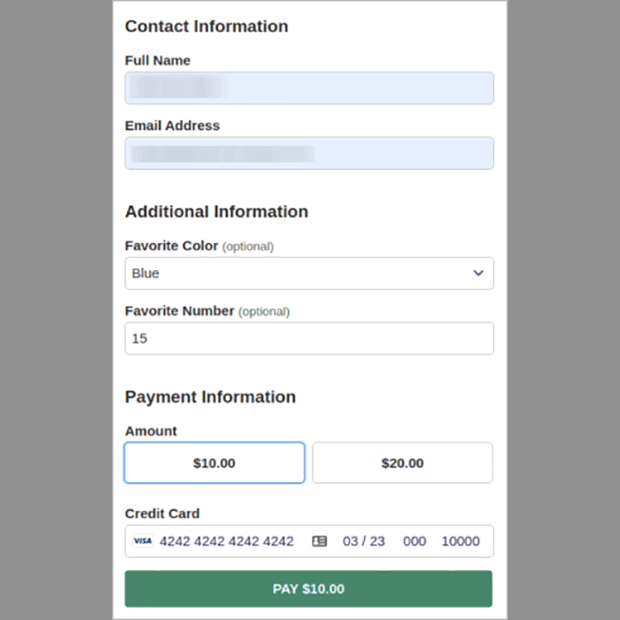 This option simply embeds the form on any page you want.
Overlay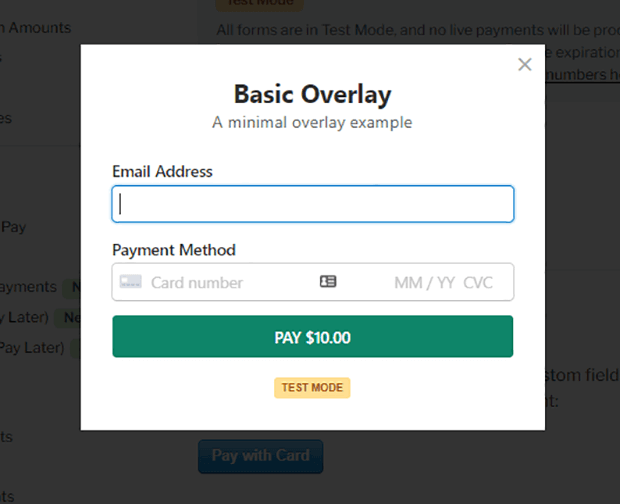 You can also display your form as an overlay popup that appears when a user clicks a button.
Stripe Checkout Form
This option redirects the user to the Stripe platform after they click on the checkout button.
3. One-Time and Recurring Payments
WP Simple Pay makes it easy to create payment forms that accept both one-time and recurring payments.
For one-time payments, you'll simply set the amount.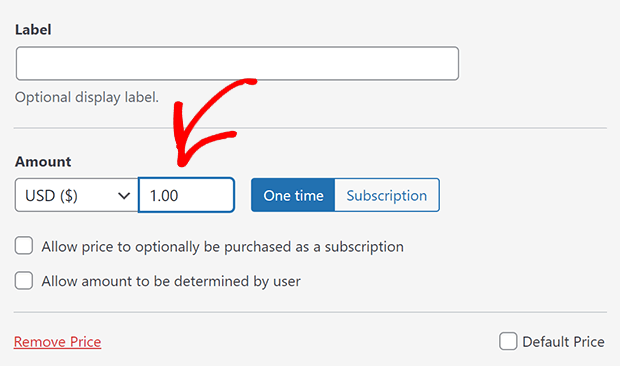 You can also check Allow amount determined by user. This is great for pay-what-you-want offers, donation forms, or a client payment portal where different clients can enter different amounts from their project fees as needed.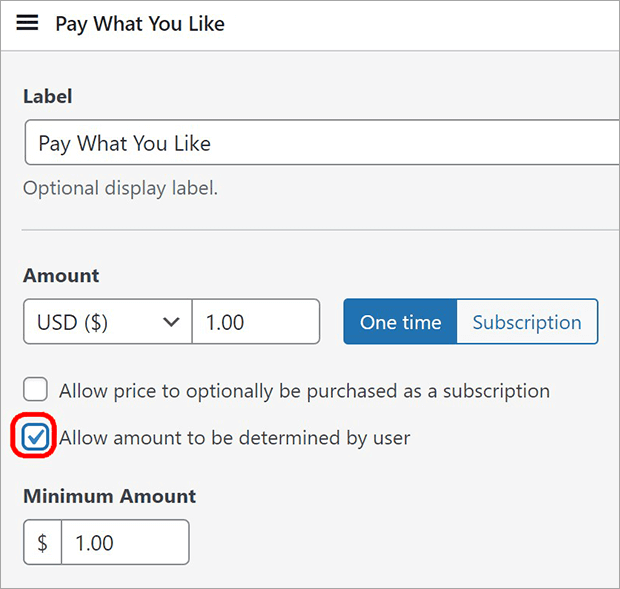 To accept recurring payments, choose the Subscription option.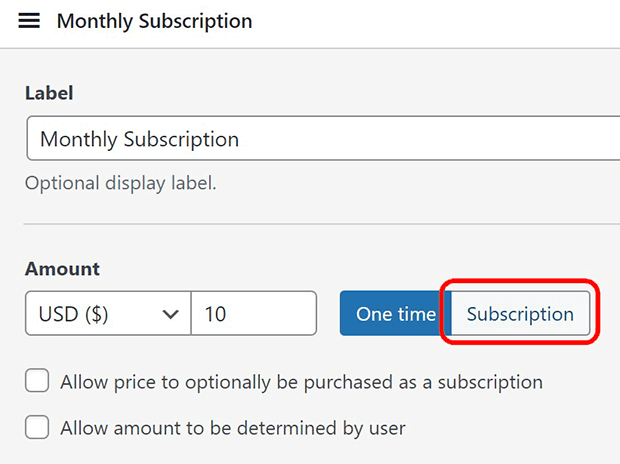 Then you can set the billing period, invoice limit, setup fee, and the number of free trial days as needed.
4. Discount Coupon Codes
Coupon codes can be a great way to boost sales and even track how well your marketing and PR efforts are working. With WP Simple Pay, creating a coupon code is very simple. Just go to WP Simple Pay » Couponsand click the Add New button.

Once you've created your coupon, set the coupon code, discount type, duration, and any redemption restrictions. You can create coupons for one-time and recurring payments.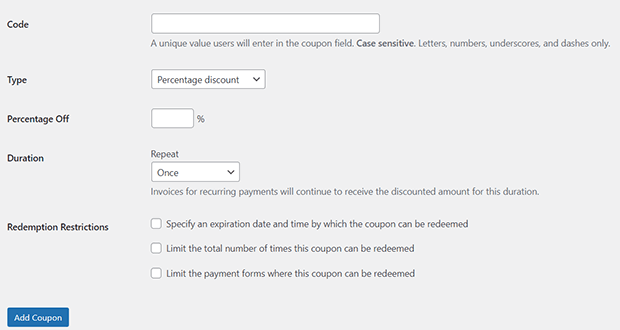 5. Apple Pay and Google Pay Support
WP Simple Pay can accept payments from digital wallets like Google Pay and Apple Pay, as well as regular credit or debit card entry.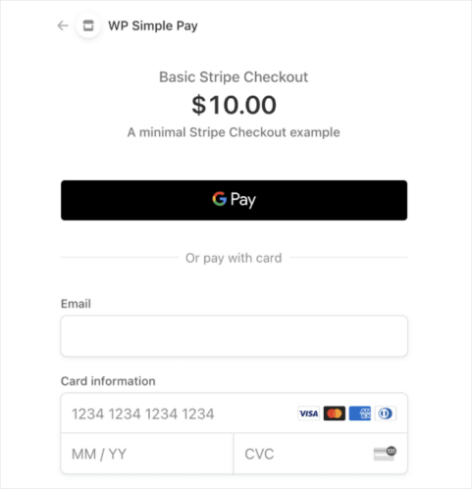 Offering different payment methods improves the user experience for your clients and customers. This can lead to increased revenue over time.
6. Alternative Payment Methods Support
To better serve your customers, WP Simple Pay offers a variety of alternative payment methods, most notably ACH. Accepting ACH payments can save you a significant amount of processing fees on large transactions.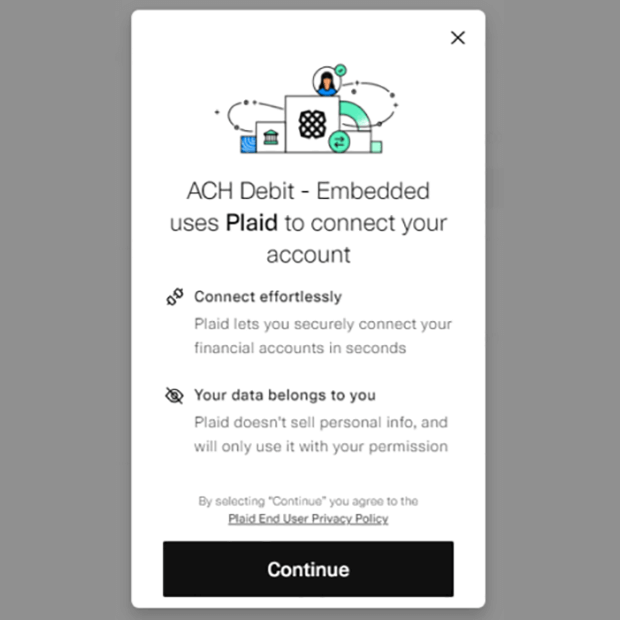 WP Simple Pay also supports accepting payments from:
SEPA Direct Debit
iDEAL
Alipay
giropay
Bancontact
Przelewy24
7. Buy Now, Pay Later Payments
Besides the multiple payment methods that WP Simple Pay can process, you can also set up buy now, pay later payments. These payments mean that you get paid the full amount up front, but your customer gets to pay in installments. It's a win-win situation!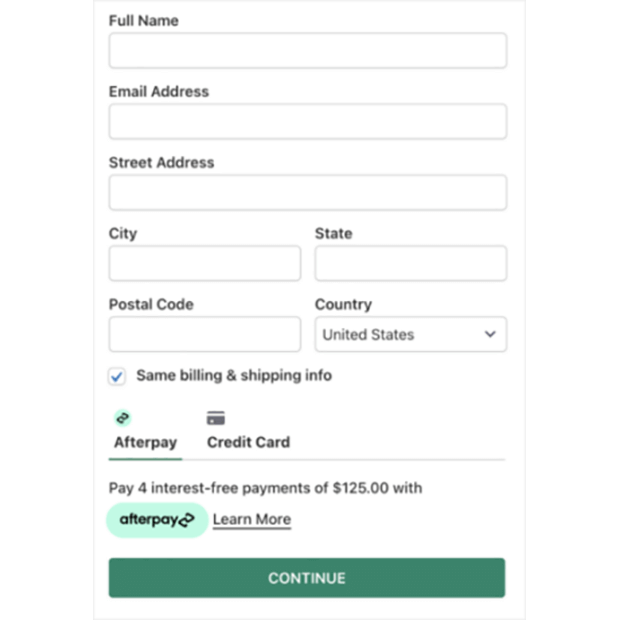 WP Simple Pay connects with Klarna and AfterPay and supports limited currencies like USD, CAD, GBP, AUD, NZD, and EUR (depending on the Stripe account country) for one-time amount payments only.
8. Customized Payment Confirmation Details
You no longer have to settle for generic, impersonal payment confirmation emails. WP Simple Pay offers complete control over customizing the payment confirmation emails.
To configure your payment emails, go to WP Simple Pay » Settings and click on the Emails tab.

Select the email you want to configure from the dropdown menu.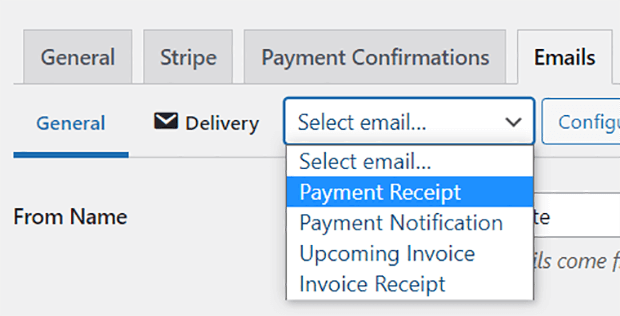 Use the text editor to create your custom payment confirmation email. You can even use placeholder tags to insert the details of the purchase for a personalized touch.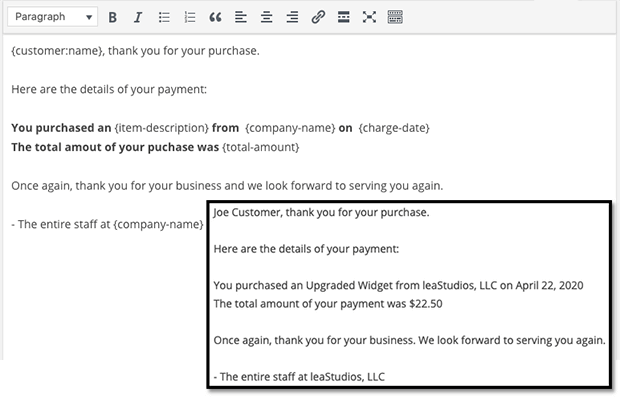 9. 3rd-Party Integrations
WP Simple Pay works directly with several 3rd-party tools to make your payment forms even more powerful:
AffiliateWP (affiliate marketing)
Groundhogg (abandoned cart, customer segementation, and more)
Uncanny Automator (create workflows with other WordPress plugins and apps)
WP Webhooks (automation with external services)
Plus, WP Simple Pay works beautifully with popular page builders like SeedProd, Elementor, and Divi, so your payment form can match the style of your website.
WP Simple Pay Pricing
WP Simple Pay Lite is a free version available on the WordPress plugin repository. You can accept one-time payments and basic payment methods with the free version.
But if you have more complex pricing like subscriptions, name your price, or buy now pay later, we recommend upgrading to a paid plan.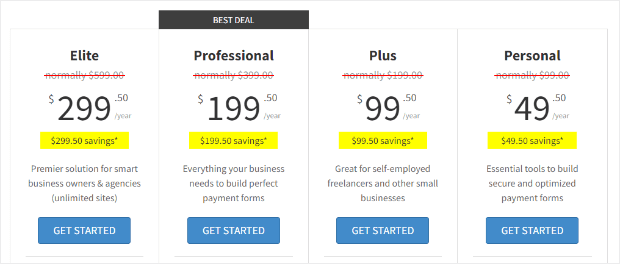 The Personal plan starts at $49.50/year and give you access to all payment methods and coupon codes. Subscription payments are available on the Plus plan starting at $99.50/year.
If you're an agency or have up to 10 website projects, consider the Professional plan at $199.50/year.
Finally, for using WP Simple Pay on unlimited websites, you can go with the Elite plan, which includes all the features, priority support, and integrations at just $299.50/year.
WP Simple Pay Review: The Last Word
At the end of this review, one question remains: Is WP Simple Pay the best Stripe payment plugin?
Our answer is yes!
WP Simple Pay is an excellent payment plugin that does exactly what it's designed to with no coding necessary.
WP Simple Pay will help your business accept payments quickly and easily. Some of the outstanding features of this plugin include:
Drag and drop form builder
Flexible payment settings include user-determined price, recurring payments, and more
Powerful coupon management
Custom payment receipt emails
Easy integration with popular tools
We hope this review was helpful. You can also learn more about how to create a recent sales notification to show new visitors how popular your service or product is.
Ready to accept Stripe payments on your website? Get started with WP Simple Pay Today!
If you like this article, you might want to follow us on Facebook and Twitter for more articles like this.