Ever look at the difference between a standard and a luxury hotel?
There are obvious factors like cleanliness, price, and other things of that sort.
But the BEST hotels typically share something that will make or break your trip: an attentive concierge.
This person's job is to make personalized recommendations for restaurants, shops, and attractions YOU might be interested in.
As a result, hotel guests discover new things nearby, have a better experience, and are more likely to come back on their next vacation.
Now, you can give your WooCommerce store something very much like a personal concierge service with 2 of TrustPulse's new features:
Smart Tags for Dynamic Text
Dynamic WooCommerce Notifications
These 2 features are a major upgrade to traditional social proof notifications.
They allow you to tailor your messaging specifically for your site's visitors and personalize the customer journey at a deeper level.
In doing so, you'll improve the user experience (UX) AND boost sales at the same time.
Let's take a look at each new feature to see how they can specifically drive more revenue from your online store.
Smart Tags
Personalization is one of the biggest factors when it comes to increasing sales. By that, here's what we mean:
The more personalized you can make your offers, the more effective those offers will be. 
And it's our Smart Tags feature that takes your store's personalization to the next level.
With smart tags, you can make the text in these messages dynamic, too.
That means grabbing your audience's attention with custom notifications that are unique for each visitor.
Imagine for a moment someone enters your online store. They're browsing a few items, but they're really just window shopping at this point.
Then a few notifications catch their eye.
Why? Because they see a custom message that starts with their name:

As a result, they're more likely to click the notification and get redirected to a high-converting product or landing page.
And with this dynamic text on autopilot, all you need to do is sit back and watch the sales roll in.
This is one of the options you can now use with TrustPulse Smart Tags.
It allows you to customize your social proof notifications with dynamic text.
That means your message will appear differently for each user, adding a layer of personalization to your customer journey.
And you aren't limited to just your visitor's name, either. You can use smart tags to dynamically add other elements like:
Visitor's location
A customer's cart count
Product names
Product image URL
And much more…
For a full look at TrustPulse's list of smart tags, check out this in-depth resource: How to Use Smart Tags in TrustPulse.
Now let's look at how you can combine these smart tags with WooCommerce's Rest API to set your entire social proof strategy on autopilot.
Dynamic WooCommerce Notifications
We've recently added a WooCommerce integration to give your social proof notification's a BIG boost.
Here's how it works…
You start by downloading the TrustPulse plugin for your WooCommerce store. This is the same process as you'd download any other WordPress plugin and takes just a few seconds.
Then, as you're designing your social proof notification, you can go to the Capture Activity tab and connect TrustPulse to WooCommerce Orders: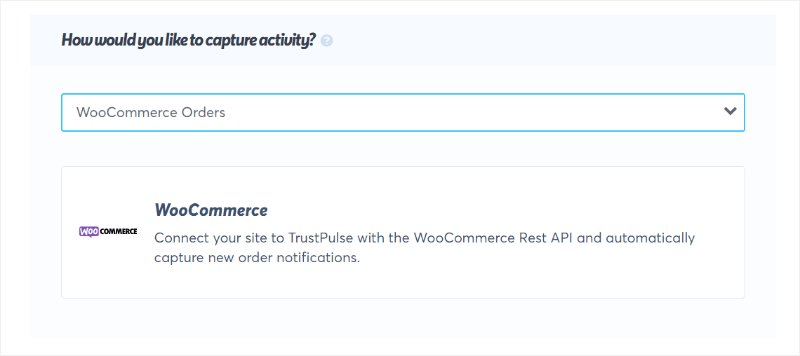 This connects your store to TrustPulse with the WooCommerce Rest API.
In other words, it means you'll be able to capture new order notifications automatically.
Then you'll simply use TrustPulse's smart tags to create a dynamic notification.
You can do this by using the Product smart tag in your message's text:

Now whenever someone makes a purchase, a live sales notification will be automatically generated with the product's information.
But what happens if people buy more than just one product?
In that case, you can configure your notification to show the:
First product placed in their cart
Most expensive product in their order
Random product from their total order
Plus, the image associated with your WooCommerce product will show up.
This means you no longer have to make custom notifications for each of your WooCommerce products.
While that was an effective method to boost sales, it was also tedious and time-consuming.
But now, you can have personalized social proof notifications running on your store at all times.
When someone makes a purchase, your other site's visitors will be notified with a custom message:

And just like that, you've set up an entire automated system for making personalized product recommendations for your store's visitors.
It's kind of like setting up a personal concierge for your WooCommerce store (only it's a whole lot cheaper).
For more information on how to set up WooCommerce dynamic notifications, check out this helpful guide: How to Integrate TrustPulse With WooCommerce.
Or you can dive right in with your 100% risk-free TrustPulse account and start boosting sales TODAY.
As always, we're grateful for your continued support of TrustPulse, and we look forward to bringing you even MORE features in the future to help get you the results you deserve.