Are you looking for the best WordPress SMTP plugin on the market?
If you're having problems sending emails from your WordPress site, you're not alone.
A WordPress SMTP plugin ensures that emails are delivered to your audience's inbox, NOT their spam folder.
So, in this article, we'll show you some of the best WordPress SMTP plugins. Here are the plugins we'll cover:
Before we get into the best SMTP plugins, let's take a quick look at what an SMTP plugin for WordPress is and why your site needs one.
Why Use a WordPress SMTP Plugin?
Many WordPress sites need to send emails for different purposes, like:
Account registration
Password recovery
Order confirmations
These are considered "transactional emails" and are important for sending critical information to your leads or customers.
By default, your WordPress site uses the PHP mail() function from PHPMailer to send emails. Since it's notoriously hackable, some web hosts have disabled the use of the mail() function altogether.
Major email providers (like Google) do rigorous testing to verify that the email sender is who they say they are. And, if your WordPress email can't pass the test, it's destined for the junk folder.
This poses a big problem, especially for WooCommerce stores, because they simply can't afford to have customers/clients miss important emails.
Here is where the Simple Mail Transfer Protocol (SMTP) comes in.
SMTP works by bypassing the WordPress wp_mail() function and forcing it to use your SMTP settings. This means that you can set it to use whatever email you want just by entering your SMTP options in the dashboard.
And the best WordPress SMTP plugins have a quick and easy setup, as you'll see in a moment.
Of course, there are so many plugins on the market. How do you find the right one? Take a look at some of the best SMTP plugins below.
Best WordPress SMTP Plugins
Most of the plugins on this list have a free plan to set up SMTP and easily configure your email delivery with the proper settings.
But before we get started, we should clarify something: none of these tools will help improve deliverability rates if you don't have customers to send these transactional messages to.
In other words, if nobody signs up for your offers, then you've got a bigger problem than just deliverability.
To convert more visitors into registered users, customers, and subscribers, TrustPulse is an excellent tool: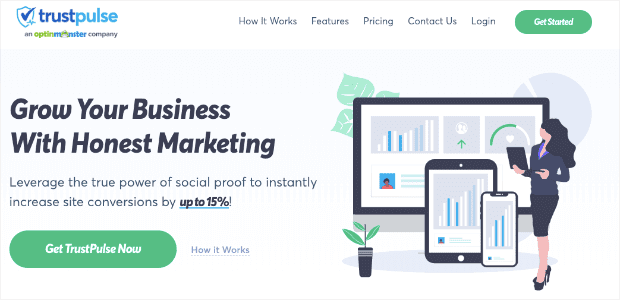 TrustPulse is the world's #1 social proof software. That means it leverages FOMO ("fear of missing out") to inspire your audience to action.
How? With social proof notifications.
These are small messages that display when people have taken positive actions with your site. You've probably seen these before. They look something like this:

These messages are displayed on key pages of your site to encourage other users to take action.
You can add social proof notifications to any page to boost conversions and show how popular your mailing list is. When other visitors see this, they'll want to receive the same benefits.
And, as a result, you'll be able to grow your customer/subscriber base much faster.
In fact, we've seen TrustPulse users see an instant boost in conversions by up to 15%.
Want to see it in action for yourself? Sign up for your 100% risk-free TrustPulse account today.
Once your list has grown and you've got tons of new leads, you'll need one of the following WordPress SMTP mail plugins to make sure your emails end up where they belong.
Let's dive into our list of tools.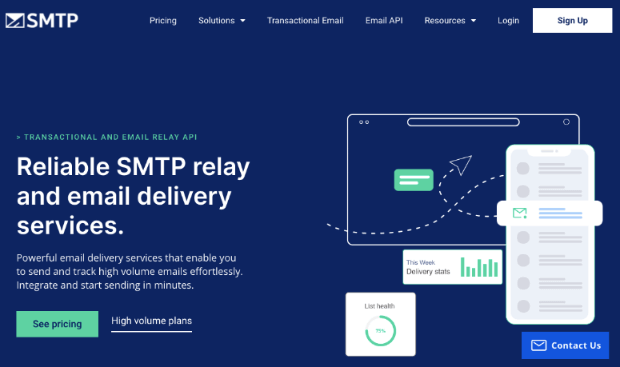 SMTP.com is the most powerful email delivery service for WordPress sites. It's incredibly easy to set up, and you can start sending emails in minutes.
What stands out about SMTP.com is that it lets you send and track high volumes of emails effortlessly.
Plus, it has a scalable infrastructure that matches your business as it grows.
There's also a Reputation Defender addon that will proactively monitor your email list health and safeguard your domain and IP reputation. This helps improve delivery rates and inbox placement over time.
To top it off, SMTP.com comes with built-in comprehensive reports to check and improve your email delivery and engagement performance.
Standout Features
Proactively checks and blocks spam
Superfast delivery with over 99% system uptime
Responsive support team that's available 24/7
Supports shared IPs and dedicated IPs
Cost: SMTP.com comes with affordable plans for businesses of all sizes. There's a 30-day free trial after which plans start at $25/month.
Start your 100% risk-free SMTP.com account now!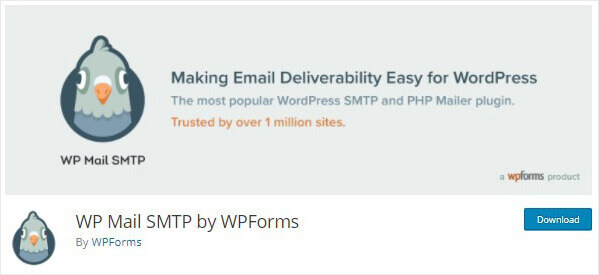 WP Mail SMTP is the best WordPress SMTP plugin that reconfigures the wp_mail()function and uses SMTP instead. This boosts your chances of your email passing through the spam filters. It lets you choose from different free SMTP providers as well.
With the WP Mail SMTP plugin, you will receive a log of all the emails sent from your website.
Here are the different SMTP setup options available right within the plugin:
SMTP.com
Sendinblue SMTP
Mailgun SMTP
SendGrid SMTP
Gmail SMTP
Microsoft SMTP (Outlook.com and Office 365)
Amazon SES SMTP
Zoho Mail SMTP
All Other SMTP
Most of these providers will give you an API key that you can simply enter in WP Mail SMTP to connect your account.
The free version of this plugin lets anyone configure SMTP settings on their WordPress site in just a few clicks.
Backed by the WPForms team, WP Mail SMTP even offers a white glove setup which means they will configure the plugin for you.
This is especially helpful if you want to use a custom SMTP host, SMTP port, TLS/SSL, and encryption settings but aren't sure how to go about it.
WP Mail SMTP even lets you customize the 'from email' inside the plugin settings. Under the Mail section, you can simply enter the email address and the 'from name' you want to use to send WordPress emails.
WP Mail SMTP is a powerful, versatile, and incredibly effective tool for getting your emails in your customer's inbox.
Standout Features
Integrates with all popular email providers
Easily manage email notifications
Backed by the WPForms team
Offers white glove setup where the team will configure it for you
Cost: There's a free version in the WordPress repository. Pro plans start at $49 per year.
Ready to see for yourself? Start your 100% risk-free WP Mail SMTP account today.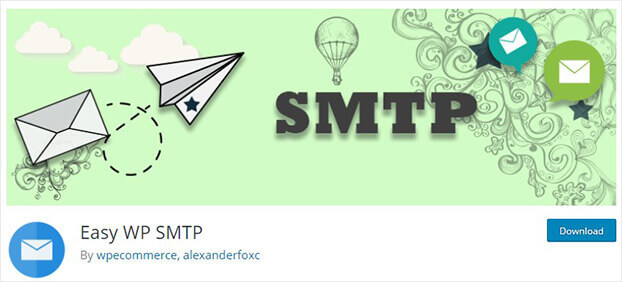 Easy WP SMTP is a free WordPress SMTP plugin that lets you easily send emails from your WordPress site using the SMTP provider of your choice. The plugin comes with an email testing feature.
This lets you send a test email so you check whether or not they're being delivered.
With Easy WP SMTP, you can send emails using your Gmail, Yahoo, or Hotmail account. But, unlike some other plugins, it supports only a few SMTP providers.
Standout Features
Prevents email from going into the junk/spam folder
Integrates with Gmail, Yahoo, and Hotmail
Ability to specify a reply-to email address
Debug logging to see if the emails are sent successfully or not
Cost: Free.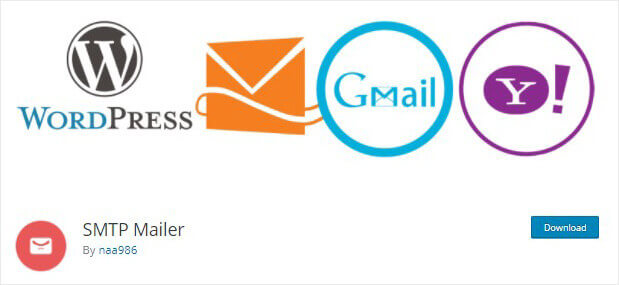 SMTP Mailer is a free WordPress plugin that uses SMTP instead of the default wp_mail function.
SMTP Mailer integrates with the most popular contact form plugins, including Contact Form 7 and Formidable Forms.
Like other plugins, you can test if everything is working once the installation is complete. Since it's a free plugin, the support is limited.
Standout Features
Reduces heavy load from your server
Enable/disable SMTP authentication when sending an email
Test email delivery
Integrates with popular email services
Cost: Free.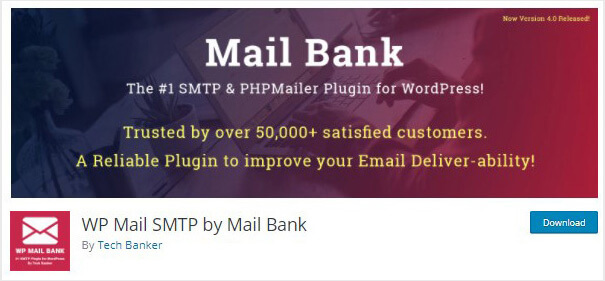 Mail Bank is a free SMTP plugin that improves and tests your email deliverability.
It changes the wp_mail()function so you can control your outgoing email settings.
This means you can connect with almost any SMTP service provider, like Gmail, Outlook, Yahoo, and more. Beyond those integrations, you can also connect with bigger email service providers like Mailgun and Sendgrid to extend functionality.
Standout Features
Quick, easy setup
Email logging to show which emails are not delivered
SMTP security to secure and encrypt your private data
Set up rules if you're working with a large team
You will need to upgrade to the premium version for PRO support.  The best thing is that it works with WordPress multisite.
Cost: The standard version is free. The premium edition starts at 29.99 euros per year.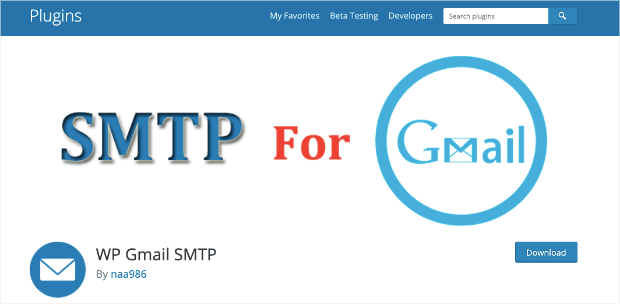 Are you using Gmail to send your WordPress emails?
Then, Gmail SMTP might be the best SMTP plugin for you. Gmail SMTP lets you connect with your Gmail account and use the Gmail SMTP server to send emails.
One great feature is that it uses a security protocol called OAuth 2.0. This means you don't have to enter your username and password. Instead, you can choose to log in with your Gmail account, and that will provide you with the proper authentification you need to get started.
This plugin is different from the other best WordPress SMTP plugins on this list because it only works with Gmail.
So, if you don't use GSuite to send emails, you'll need to find a different solution.
Standout Features
OAuth 2.0 protocol to authorize access to the Gmail API
Only works with Gmail
Authenticate with encryption when sending an email
Cost: Free.
Check out WP Gmail SMTP today!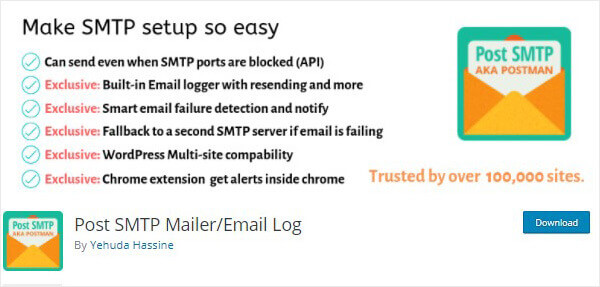 Post SMTP is a free WordPress SMTP plugin that is quick and easy to set up.
Like WP Gmail SMTP, it comes with OAuth 2.0, so you don't need to store your email password in the WordPress dashboard. It's also is compatible with WordPress multisite.
You can also carry out email testing to see which emails were not delivered. Keep in mind that support might be limited when compared with some of the other SMTP plugins.
Standout Features
Easy to set up and use
Built-in email logger with resending
Smart email failure detection and notifications
Secondary SMTP server as backup
Cost: Free.
And there you have it! That's our list of the best WordPress SMTP plugins for proper email authentification and delivery.
Which Is the BEST WordPress SMTP Plugin?
If you're looking for the best WordPress SMTP mail plugin, then you definitely need SMTP.com. It offers high deliverability, great features and scalability.
Plus, SMTP.com will monitor your email list health and safeguard your domain and IP reputation. This will make sure your email or IP addresses don't get blacklisted or flagged as spam.
Our next recommendation is WP Mail SMTP. There's a free version which is great for beginners.
Aside from that, it's the fastest, easiest way to set up SMTP on your WordPress site. WP Mail SMTP is hands down your best bet to get your emails where they belong: in your customers' inbox.
And, though the plugin is simple to use, you'll get access to detailed documentation and tutorials to learn how to set up proper email settings for your domain name.
Here's a handy guide to help you set up SMTP: How to Set Up SMTP in WordPress (the Easy Way).
If you want to hand off the configuration process, you can connect with their support team and rely on them to get the job done for any site including eCommerce.
And that's it! We hope this article helped you find the best WordPress SMTP mail plugin for your business.
If you want to use email marketing to grow your website, you'll definitely want to check out the following resources:
These articles have everything you need to grow your subscriber list, automate processes, and create a better email marketing strategy.