Are you looking for a simple yet reliable way to send emails through your WordPress website?
If you're having problems sending emails from your WordPress website, you're not alone.
A WordPress SMTP plugin ensures that emails are delivered in the inbox, NOT spam. In this article, we'll show you some of the best WordPress SMTP plugins.
Using a WordPress SMTP plugin?
Before we get into the best WordPress SMTP plugins, let's look at what an SMTP plugin is and why your site needs one.
Now, many WordPress sites need to send emails for different purposes, like:
Account registration
Password recovery
Order confirmations
By default, your WordPress host uses the PHP mail() function to send emails. Since it's notoriously hackable, some hosts have even disabled the use of the mail() function altogether.
Major email providers like Google does rigorous testing to check the sender is who they say they are. And, if your WordPress email can't pass the test, it's destined for the junk folder.
Here is where the Simple Mail Transfer Protocol (SMTP) comes in. SMTP works by bypassing the WordPress wp_mail() function and forcing it to use your SMTP settings. This means that you can set it to use whatever email you want, just by entering your SMTP options in the dashboard.
And most WordPress SMTP plugins have an easy, quick setup.
Of course, there are so many on the market. How do you find the right plugin? Take a look at some of the best plugins below:
6 Best WordPress SMTP Plugins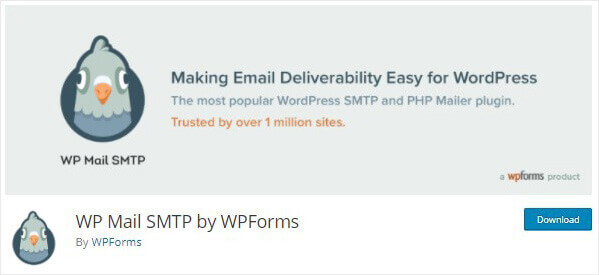 WP Mail SMTP is the best WordPress SMTP plugin that reconfigures the wp_mail()function and use SMTP instead. This boosts your chances of your email passing through the spam filters. It lets you choose from different free SMTP providers as well.
With WP Mail SMTP, you will receive a log of all the emails sent from your website.
Here are the different SMTP setup options available right within the plugin.
SMTP.com
Sendinblue SMTP
Mailgun SMTP
SendGrid SMTP
Gmail SMTP
Microsoft SMTP (Outlook.com and Office 365)
Amazon SES SMTP
Zoho Mail SMTP
All Other SMTP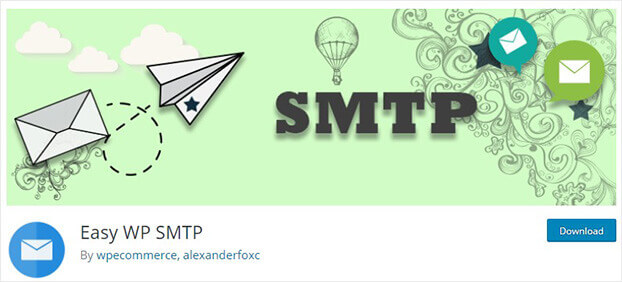 Easy WP SMTP is a free SMTP plugin that lets you easily send emails from your WordPress site using the SMTP provider of your choice. The plugin comes with an email testing feature, so you check whether or not your emails are being delivered.
With Easy WP SMTP, you can send emails using your Gmail, Yahoo, or Hotmail account. But, unlike some other plugins, it supports only a few SMTP providers.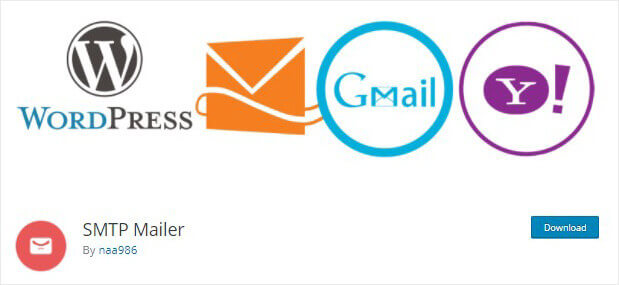 SMTP Mailer is a free plugin that uses SMTP instead of the default wp_mail function.
SMTP Mailer integrates with the most popular contact form plugins, including Contact Form 7 and Formidable Forms.
Like other plugins, you can test if everything is working once the installation is complete. Since it's a free plugin, the support is limited.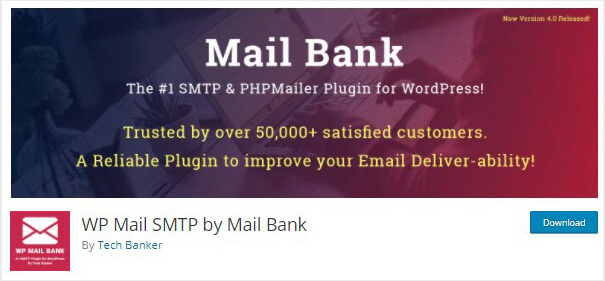 Mail Bank is a free SMTP plugin that improves and tests your email deliverability.
It changes the wp_mail()function so you can control your outgoing email settings.
This means you can connect with almost any SMTP service provider, like Gmail, Outlook, Yahoo, and more. Beyond those integrations, you can also connect with bigger email service providers like Mailgun and Sendgrid.
Other key features include:
Quick, easy setup
Email logging to show which mails are not delivered
SMTP security to secure and encrypt your private data
Set up rules if you're working with a large team
You will need to upgrade to the premium version for PRO support.  The best thing is that it works with WordPress multisite.

Are you using Gmail to send your WordPress emails?
Then, Gmail SMTP might be the best SMTP plugin for you. Gmail SMTP lets you connect with your Gmail account and use the Gmail SMTP server to send emails.
One great feature is that it uses a security protocol called OAuth 2.0. This means you don't have to enter your username and password. Instead, you can choose to log in with your Gmail account. This plugin is different from others on the list because it only works with Gmail. So, if you don't use Gmail to send emails, you'll need to find a different plugin.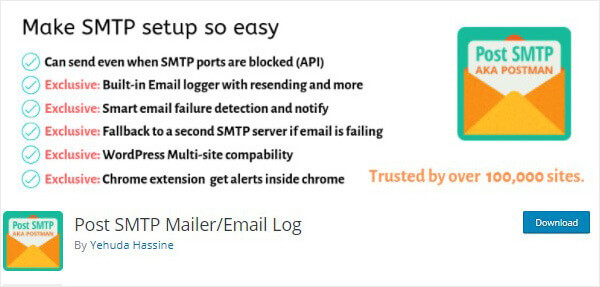 Post SMTP is a free SMTP plugin that is quick and easy to set up.
Like WP Gmail SMTP, it comes with OAuth 2.0, so you don't need to store your email password in the WordPress dashboard. It's also is compatible with WordPress multisite.
You can also do email testing to see which emails were not delivered. Keep in mind that support might be limited when compared with some of the other SMTP plugins.
So, what's the best WordPress SMTP plugin? Our recommendation is WP Mail SMTP. It's the fastest, easiest way to set up SMTP on your WordPress site. And, you'll get access to detailed documentation and support if you ever need any help.
If you're interested in SMTP, you might want to learn more about how email can grow your business:
That's it! We hope you found this article helpful. With one of the above SMTP plugins, you can send emails from your WordPress site.