Are you looking for an easy way to showcase your social media content on your website?
A social media feed plugin lets you set up an automatic feed that will fetch your social media posts and display them on your site.
In this post, we will show you the best WordPress social media feed plugins on the market that improve engagement and credibility.
And at the end of the post, we'll talk about the specific advantages each of these tools can bring to your social media marketing strategy.
Ready to get started? Let's dive straight into the list…
9 Best Social Media Feed Plugins for WordPress
Not every social media feed plugin is created equal.
Some plugins let you add multiple feeds from different social platforms to create a social wall, while others only support a single feed or follow button.
Here's a selection of the best WordPress social media feed plugins.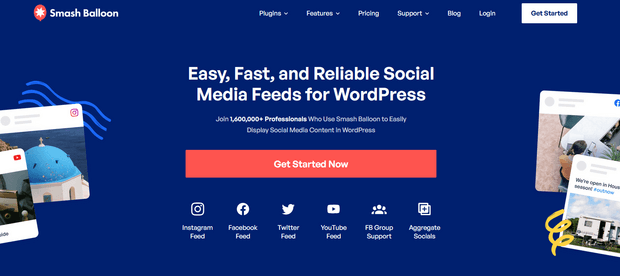 Smash Balloon is hands down the best WordPress social media plugin.
It's a suite of powerful plugins that let you create custom feeds for Facebook, Twitter, Instagram, and YouTube.
You can set up Smash Balloon on your site in minutes. It will copy your WordPress theme's style, so you don't need to tweak any code yourself.
You can show feeds from a single account or connect to multiple feeds. You have full control over the content you show with filters.
Take a look at a YouTube feed example.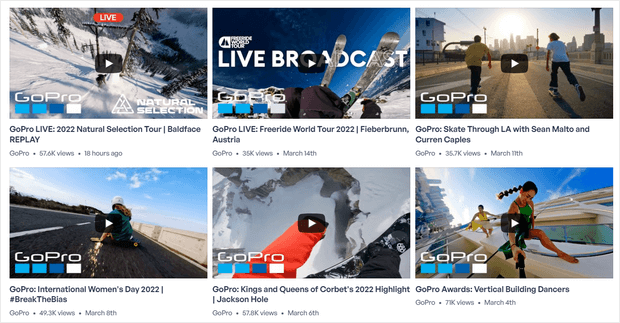 With Smash Balloon, you can…
Add a Facebook Events feed
Automatically display live YouTube videos from your feed
Create a rotating carousel of your tweets
Show an Instagram feed filtered by hashtags
You can also use the Social Wall plugin to combine your feeds from different platforms to create a single powerful wall.
Added to this, Smash Balloon is responsive so your feed will look great on any device.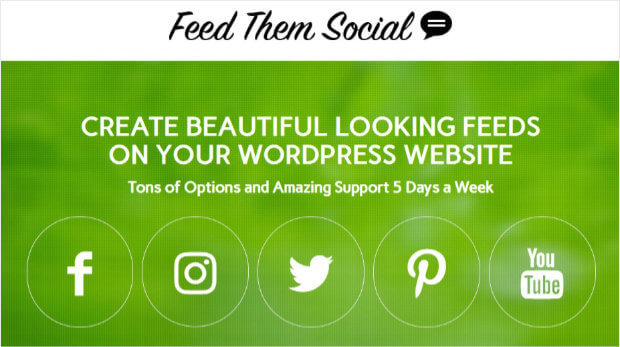 Feed Them Social is a simple WordPress social media feed plugin. It generates a shortcode that will enable you to display your social media content anywhere within your post, page or sidebar widget areas.
You can display feeds from your Facebook, Instagram, and Twitter profiles. Like many WordPress social media feed plugins, it comes with free and paid versions.
You will need to purchase extensions for more features, like displaying a Facebook grid or Instagram videos.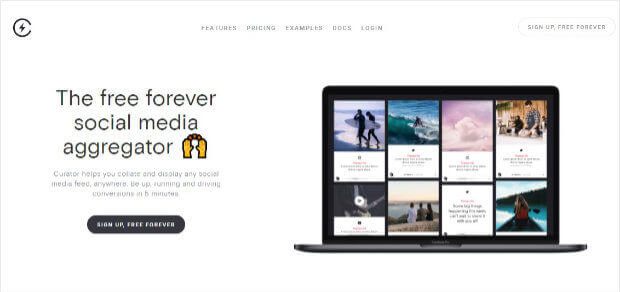 Curator is a WordPress Social Media Aggregator that lets you collate and display any social media on your site. Instead of IFRAME, this tool allows you to embedded the stream as Javascript, HTML & CSS directly into your site where you want it. That means you'll have full control over how you want the stream to look.
Curator supports Facebook, Twitter, Instagram, Tumblr, Flickr, Pinterest, YouTube, and RSS.
The only downside to this WordPress social wall plugin is it doesn't display a 'follow' button.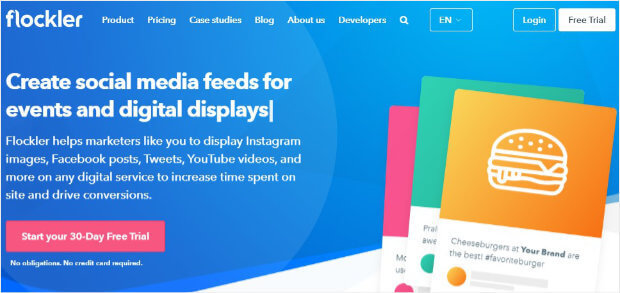 Flockler lets you show single or combined social media feeds on your site.
With Flockler, you can set up social media feeds displaying content automatically.
It also lets you moderate and handpick the content you want to show.
You can share content from Instagram, Twitter, Facebook, YouTube, and more.
Flockler is a costly option, so it might not be a good fit if you're on a budget.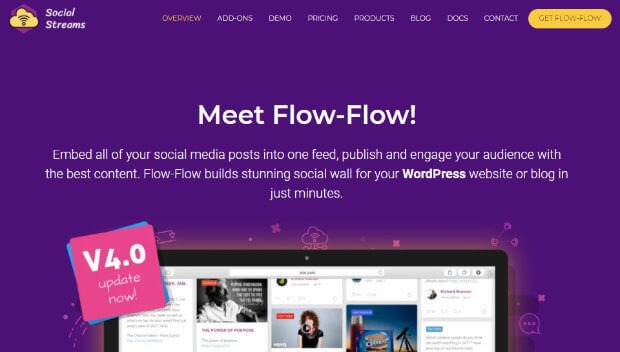 Flow-Flow Social Stream lets you create and display attractive WordPress social walls.
You can show all your feeds on any page on your website. The free version comes with feeds for Facebook, Twitter, Instagram, and Pinterest. And the pro version comes with support for social networks, like YouTube, LinkedIn, Tumblr.
Key features include responsive feeds that work well on any device and social media statistics to show comments, likes, and views.
Compared to other social wall plugins for WordPress, Flow-Flow Social Stream's layout options are fairly limited.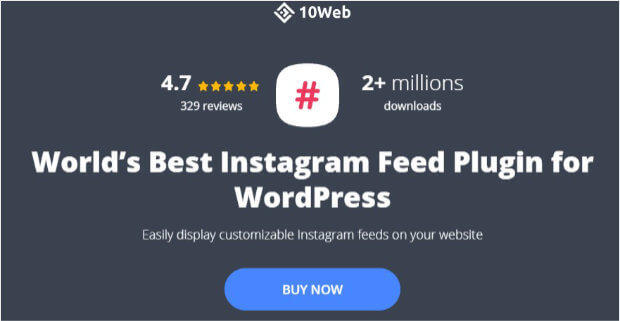 Are you looking for a simple Instagram social feed plugin for your WordPress site? You should consider 10web Social Photo Feed.
10web is responsive and takes only minutes to set up on your WordPress site.
It comes with multiple layouts and content filters. This gives you greater control over the display of your social media feed in WordPress.
Bear in mind that 10web Social Photo Feed is not a social wall plugin for WordPress. It only lets you create and display an Instagram feed.
So if you want to showcase feeds from other platforms, you'll need a different tool.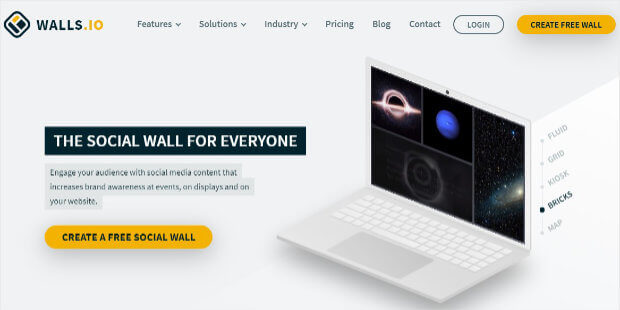 Walls.io is an easy to use WordPress social wall plugin.
You can display content from hashtags or specific profiles. It works with all the popular social media platforms.
The style editor gives you lots of customization options for your social media feed in WordPress.
And Wall.io makes sure your social media feed is responsive, so it will look great across all devices.
One thing to keep in mind is that you might need to set up the Walls.io API to get started. This depends on the social networks you want to show.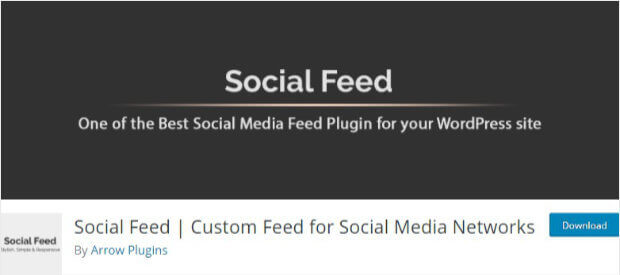 Social Feed allows you to easily add your social content to your WordPress site.
You'll be able to choose from multiple feed templates and styles.
Having said that, Social Feed is a simple and free social media wall WordPress plugin. This means your templates and feed styles are limited when compared with other plugins.
For customization options, you can select to show or hide data about the post, like the publish date.
It supports a range of social networks. It's also easy to show your feed anywhere on your site.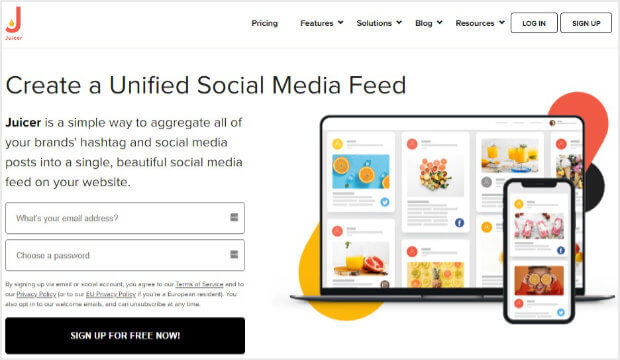 With Juicer.io, you can show social feeds and user-generated content on your site easily.
It lets you pull in content from the big social networks, like Facebook, Twitter, and Instagram. The downside is that if you want to customize your social media feed, you will need to use CSS.
And there you have it. Our list of the top 9 social media wall WordPress plugins!
Before we tell you the final verdict of which plugin is BEST, let's look at the advantages you can expect from any of the tools on this list.
How Social Media Feed Plugins Lead to Growth
More and more site owners are starting to embed social media feeds into their WordPress sites.
This is because by adding a feed, you can:
Build trust: show your site visitors you have an active, engaged following online
Increase engagement: provide an opportunity for your visitors to comment or like your posts
Increase time spend: with more content, your visitors will spend more time browsing your site
But it's not easy to manually embed all these feeds.
Here's where social media feed plugins make all the difference. They require zero coding knowledge so anyone can set up a social media feed on their site.
These plugins let you automate your feed and at the same time, select the content you want to display.
Now that we know why you should use a social media feed plugin, let's reveal the tool that will get you the BEST results in the least amount of time.
Which Social Wall WordPress Plugin is the Best?
After checking out what all the different social wall WordPress plugins have to offer, Smash Balloon is the best bet.
It is the most popular social media plugin suite that supports all the major social networks. It comes with different pricing options, so regardless of your budget, you'll find it helpful.
We hope this article helped you find the best social media feed plugin to set up a social feed on your website
If you enjoyed this post, you might find these resources useful:
Do you want an easy way to show social proof on your site right away? Get started with TrustPulse today.