Do you want to add FOMO notifications to your Kajabi site to increase sales?
Kajabi can be an excellent resource for online entrepreneurs. It's a one-stop-shop that makes it easy to sell your physical products, digital services, online courses, and much more.
But no matter which platform you use to build your site, you'll likely run up against the following question: how can I get even more sales from my online store?
That's why, today, we're going to teach you one of the most effective and affordable ways to instantly boost your sales by up to 15% using FOMO notifications.
Before we dive in, though, let's clarify what FOMO notifications are and why they're such a valuable tool.
What Are FOMO Notifications?
FOMO notifications are small messages that display how real users engage with your website, often in real-time. There are many things that you can show in FOMO notifications, such as when a user:
Signs up to your email list
Joins a webinar
Enrolls in your online course
Leaves a positive review
Buys a product from your store
And much more. You've probably seen these before. Here's the one we'll build for today's tutorial:

FOMO notifications are an incredibly powerful tool for getting more people to take action on your site. But what makes them so effective?
As you may have guessed, FOMO notifications get their name from the consumer behavior known as FOMO (fear of missing out).
FOMO occurs when we see someone getting benefits from a product or service that we are afraid to miss out on.
Remember the last time someone recommended a good movie, a restaurant, or a new cafe? Once they asked if you'd been there and told you how great the experience was, you were probably mentally figuring out how you could try it, too.
That's FOMO in action.
And now, you can tap into the same consumer behavior for your website to get your site's traffic to engage with your call to action (CTA) and, in turn, boosts your overall profits.
In fact, with TrustPulse users, we've seen FOMO notifications give an instant boost to sales by up to 15%.
So let's take a look at how you can create a FOMO notification for your Kajabi storefront.
Add FOMO Notifications to Kajabi
For this tutorial, we'll be adding FOMO notifications to our Kajabi site with TrustPulse: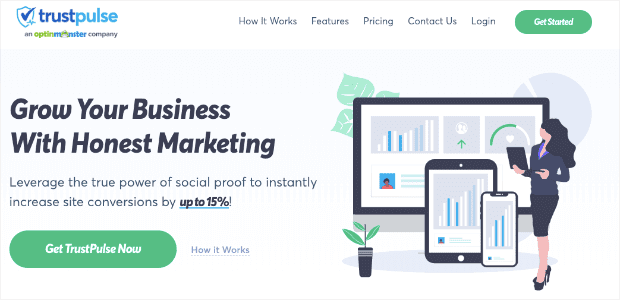 TrustPulse is hands down your best bet for quickly and easily adding powerful FOMO notifications to your Kajabi site, even if you have no "tech skills" to work with.
With TrustPulse, you'll create professional FOMO notifications in a matter of minutes, no coding required. You'll have 100% control over the look, design, and messaging of your notifications, and everything can be configured with simple text input or drop-down menus.
From there, you'll target specific notifications for certain portions of your audience who'll find the message the most relevant.
By personalizing when, where, and to whom your FOMO notifications appear, you'll drastically boost conversions across your site.
Finally, TrustPulse can be hooked up to Kajabi in just a few clicks by injecting a small piece of code in your store theme's template.
Want to see it in action for yourself? Sign up for your risk-free TrustPulse account today!
Now that we have the right tools to work with, let's add a FOMO notification to your Kajabi store.
Step 1) Sign up to TrustPulse and Add Kajabi
The first step is to sign up for TrustPulse and log into your user dashboard. If this is your first time using TrustPulse, onboarding is totally simple.
At one point, you'll be asked to add your site's name and URL:
This will allow you to kick off the process, but it doesn't mean your site is hooked up just yet. That part will come at the end when we get your TrustPulse embed code.
For now, you'll need to go to your TrustPulse dashboard and click Create Campaign in the upper right-hand corner: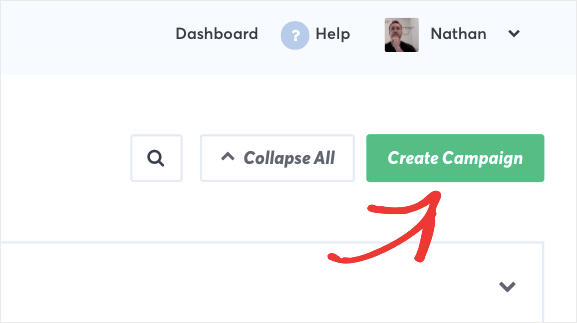 Now you'll be ready to create your first campaign.
Step 2) Select Campaign Type
First, you'll need to give your campaign a name and select which site you want to connect it to (if you have multiple sites):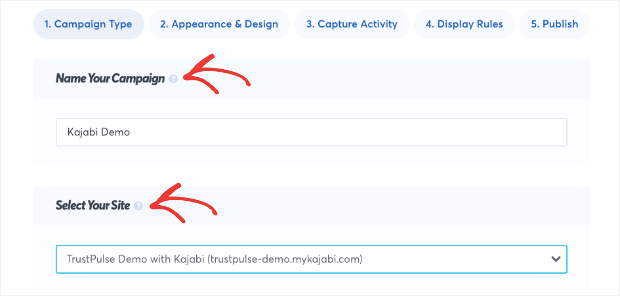 Then you'll need to select your campaign type. You have 4 options here:
Recent Activity
On-Fire
Visitor Analytics
Action Message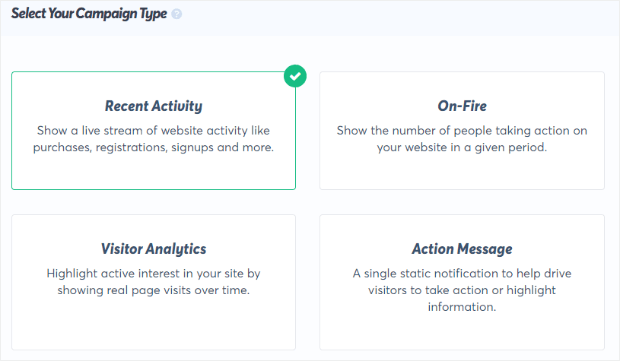 Recent Activity campaigns display when an individual engages with your website. When the information is available, they'll display the first and last name of the actual user:

This humanizes the FOMO notifications and makes them more credible for your site's other users.
On-Fire campaigns function in a similar way but focus on the number in a larger group, rather than an individual:

These are great for popular sales or activities on your website. This would be for things like:
Flash sales
Popular sign-up forms
Webinars that attract loads of people
Free course downloads
And much more
Visitor Analytics campaigns show real page visits over time, highlighting active interest in your site.
Finally, Action Messages are a single static notification that encourages your visitors to take action.
For today, we're going to create a FOMO notification to capture when people sign up for a new online course.
That's because Kajabi is a great platform for selling all kinds of digital products and services. But it's specifically designed to make it easy to create and sell online courses.
For that, we'll use a Recent Activity campaign: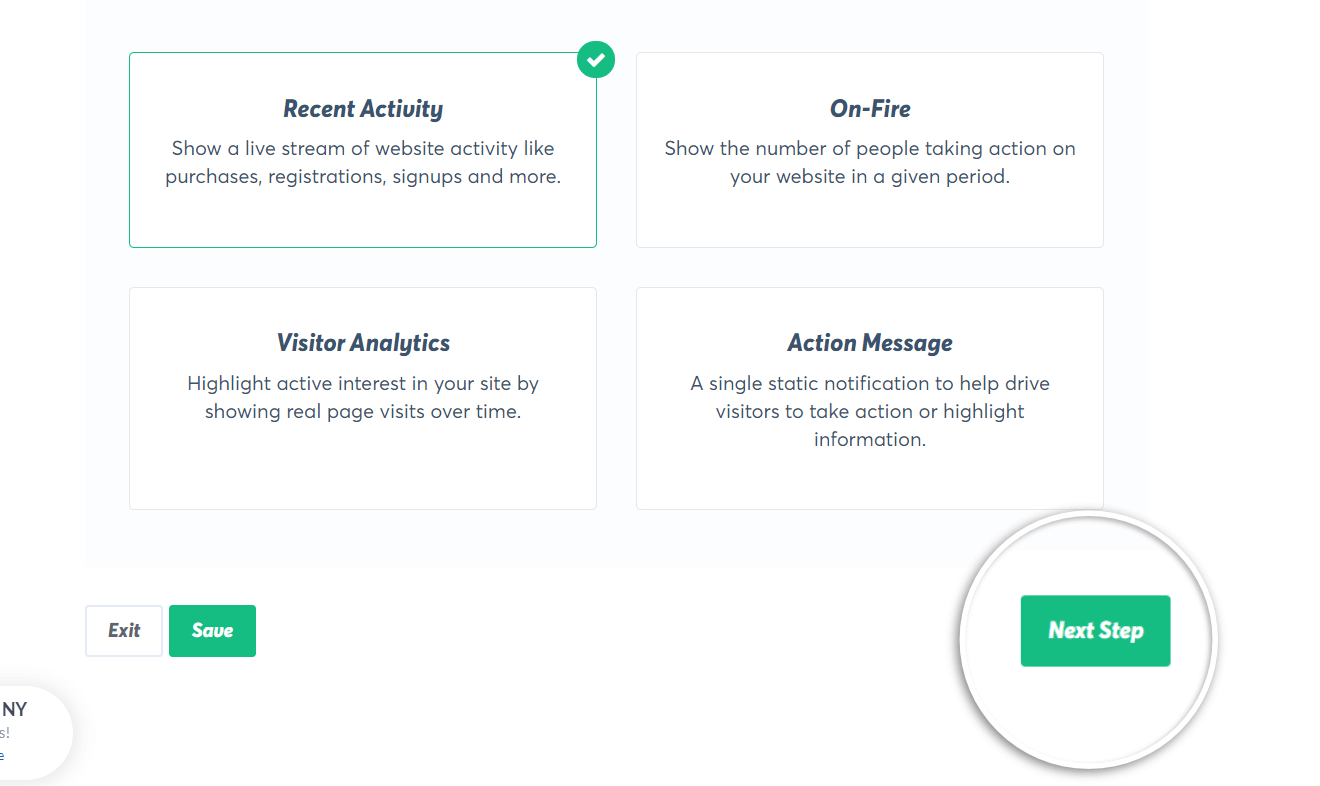 Now it's time to modify your campaign's design.
Step 3) Customize Your Campaign's Design
As we said earlier, TrustPulse gives you 100% control over your campaign's look, design, and messaging. Plus, everything can be done without any coding experience at all.
The first thing you'll notice is a toggle switch that lets you activate a welcome notification:

By default, this is turned Off, and we'll leave it off for today's tutorial, too. But you should be aware that this option exists to use FOMO notifications before you have any sales.
In other words, if you've just created your Kajabi store and don't have many customers yet, this can be a great option to try.
You'll be able to instantly greet users with a custom message and redirect them to popular pages or content on your site: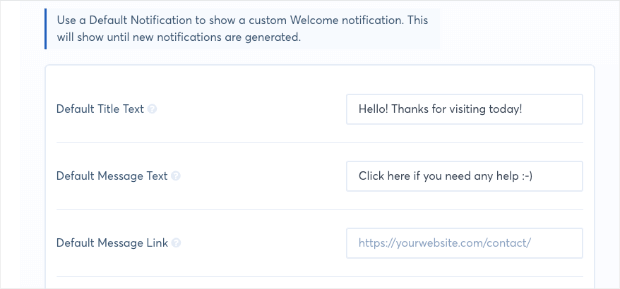 But, as we said before, we'll leave this feature off today and assume you have a course or product ready to sell.
When you're in the Appearance & Design tab, you can modify nearly everything about how your campaign looks, what it says, and how it functions. You can customize your campaign's:
Language
Visitor reference
Message text
Message link
Image
And so much more…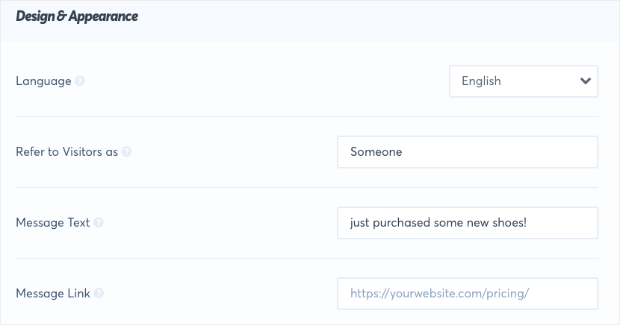 One thing we should mention is how important it is to add a message link to your campaign. Not only does this drastically increase user experience (UX) across your site, but it also boosts sales.
That's because if people see a notification for your Kajabi products, services, or online courses, they'll be able to click on the campaign itself to be redirected to a landing page.
This gives them faster access to the products they want and generates warmer leads for your landing page to convert traffic into customers.
And from there, if you go to Advanced Settings, you'll be able to fully customize other aspects of your campaign's look, such as:
Title text color, font-family, font-size, and more
Regular text color, font-family, font-size, and more
Background color
Border
And more…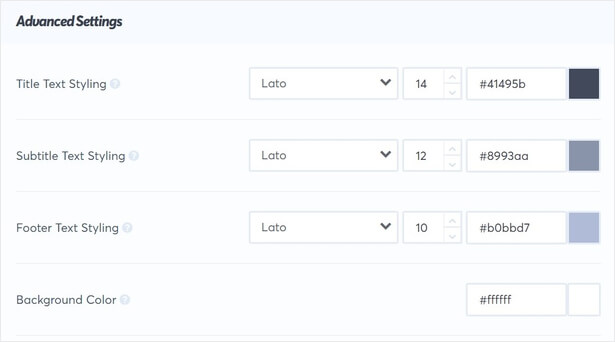 Once you've modified your campaign's look and style to your brand, you're ready for the next step: capturing activities on your Kajabi site.
Step 4) Capture Sales Activity
At this point, you've selected your campaign type and designed it to match the style of your brand. Now, you'll want to select which activity will trigger your FOMO notification.
You have 3 options for this:
AutoMagic
WooCommerce Orders
Zapier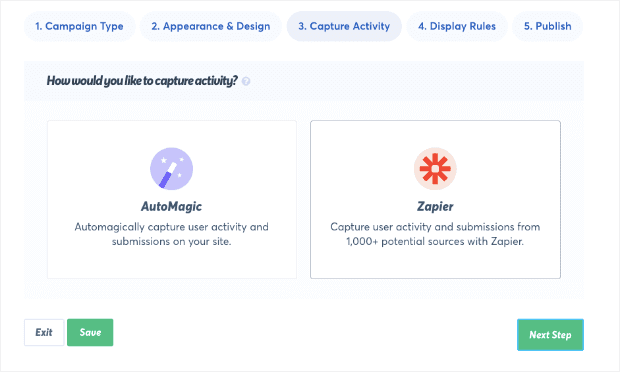 AutoMagic captures activity that happens on your actual site. This would be like when people fill out a form, join a webinar, or make a purchase.
WooCommerce Orders capture order notifications from the WooCommerce Rest API.
Zapier, on the other hand, is an integration that captures activity from 3rd-party sites. This is helpful for when people interact with your brand but not on your actual website.
Think about when someone leaves you a review on Google My Business or Yelp. Even though the customer is interacting with your brand (by leaving a review), the action itself is on a 3rd-party site.
But Zapier allows you to capture that activity just the same and display FOMO notifications from over 1000 external websites.
Today, though, we'll be creating a FOMO notification for when someone enrolls in your online Kajabi course. For that, we'll use AutoMagic: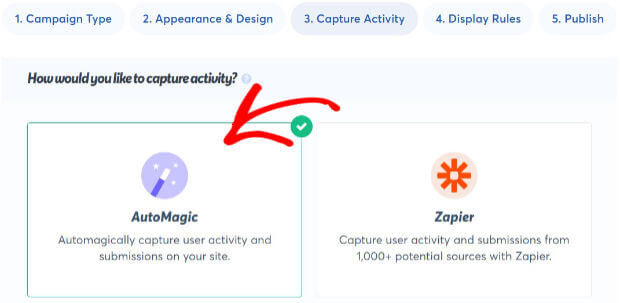 Next, you'll have a drop-down menu after the question, "Where should we watch for this activity?" 
Select Activities from Exact URLs: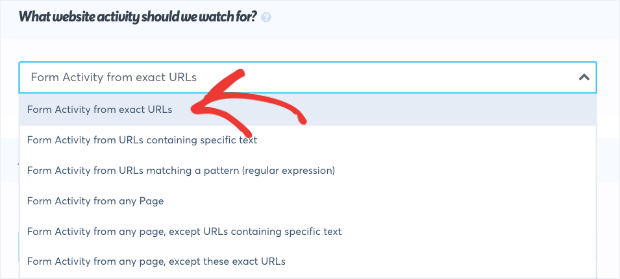 This will prompt you to create a new page rule. You'll need to add the URL slug for your online course's product page: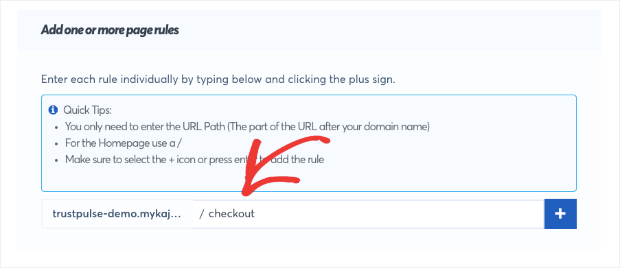 This will capture when someone successfully goes through your checkout process (or, in other words, when you get a sale).
Then, below that, you have two options:

Form Activity is when someone fills out a web form on your site. In this case, it would be when someone goes through checkout and purchases your online course or product.
In this tutorial, we'll leave Form Activity as it is. But you still may be curious about what "user click" means.
User Click, on the other hand, tracks button clicks on your site. This is useful if you don't have many sales yet, but your site generates more traffic.
Rather than saying, "5 people just signed up for my online course," you could create a FOMO notification that says, "500 people clicked to learn more about my online course."
With just a small tweak in your phrasing, you can generate more interest in your high-converting landing pages by tracking clicks rather than sales.
Again, for today, we'll leave this as Form Activity.
Then we're ready for the next step: setting up your FOMO notification's display rules.
Step 5) Configuring Your Display Rules
Creating your campaign and capturing specific actions are only half the battle. The other half is setting up the right display rules to determine where the campaign will appear across your site.
You'll first see a drop-down menu under the question, "Where should we display your notifications?" followed by many options, such as:
Any page
Exact URLs
URLs with specific text
URLs matching a pattern
And much more…
Today, we'll select Display on any page:

This means that your FOMO notification, when triggered by a sale, will appear on every page of your site. That will cast the broadest net for encouraging all of your site's traffic to go to the landing page and sign up, too.
But you should know that the other options available from the drop-down menu help you personalize and target FOMO notifications at a deeper level.
This can be great if you have multiple products or courses to sell.
You can customize notifications to appear on related pages of your site that would be a better fit for some portions of your audience than for others.
From there, you'll reach Notification Settings, where you can modify your campaign's:
Delay
Display duration
Delay between notifications
And much more…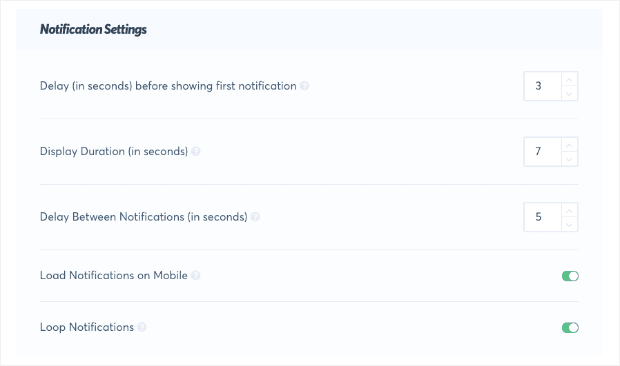 Then you can check out the Advanced Settings, which let you:
Hide anonymous notifications
Show notifications as anonymous
Permanently hide when closed
And more…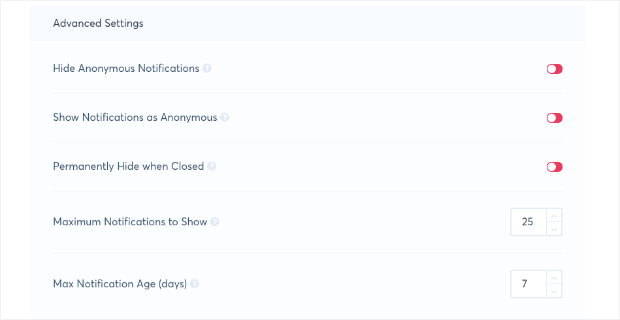 These give you another level of customization that you can use to make your FOMO notifications more effective.
Finally, you're ready for the last step: publishing your campaign.
Step 6) Connect to Kajabi and Publish
Now you'll be able to get a preview of the campaign you created:

Then you'll see a message showing that your campaign isn't connected to your Kajabi store, and you need to add TrustPulse's embed code: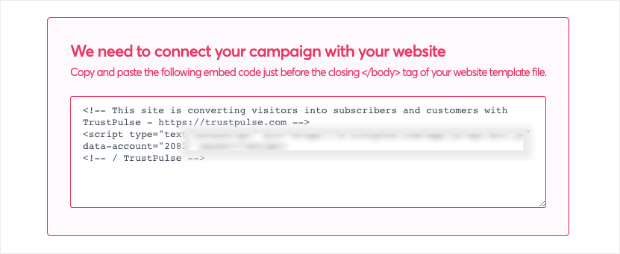 Embedding your TrustPulse code is easy. Just follow these instructions when you're in your Kajabi dashboard.
First, click on Settings on your Kajabi dashboard. Then, click Checkout Settings.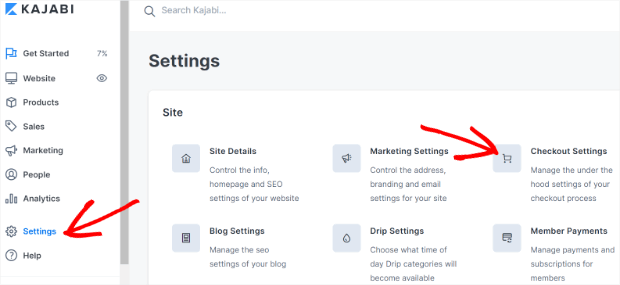 Next, scroll down until you see the Checkout Tracking Code section. Paste the TrustPulse embed code into the Footer Tracking Code box: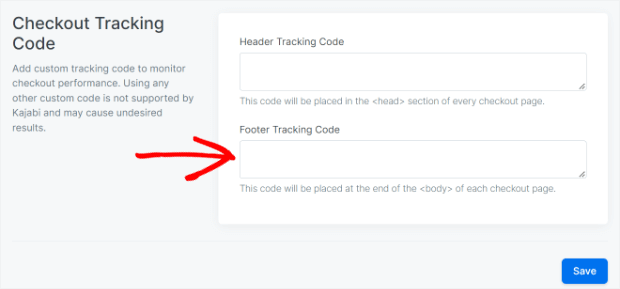 Finally, click Save.
When you save this, go back to your TrustPulse account and click Check Now to see if your site is connected:

If you followed these steps, your site will now be connected, and you can Publish your campaign by clicking Launch Your TrustPulse Campaign: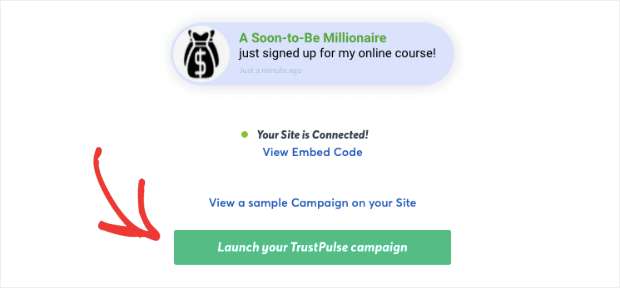 And that's it! Your FOMO notification will now be live on your Kajabi website.
We hope you found this article helpful. If you did, you might want to check out the following resources:
These articles will have everything you need to master using FOMO to your advantage and boost sales for your Kajabi website.