Contact forms are a wonderful way to let your visitors get in touch with you and keep your site looking professional. But, do you know how to create a contact form quickly and easily, without design and coding skills?
Don't worry, you will!
In this article, we'll show you how to create a contact form in WordPress in 5 easy steps.
Why do You Need a Contact Form?
Right now, you may be sitting there asking, "Do I really need to add a contact form to my website? I have my email address on there; isn't that enough?"
Let's take a minute to get those questions answered, okay?
In short, yes, you really need a contact form on your website. Here are 4 excellent reasons why:
1. Offers Spam Protection. Spambots regularly scrape websites for email addresses, so when you put your email address on your website, you're going to start getting a lot of spam emails. With a contact form, however, you can expect to get rid of almost all spam emails.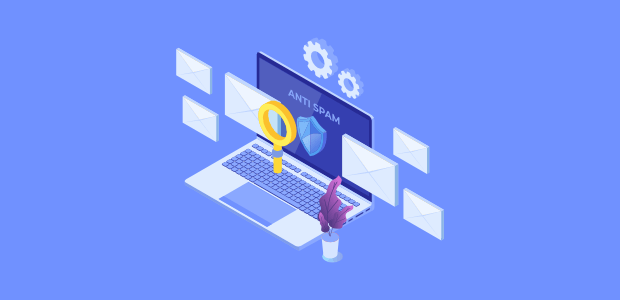 2. Saves Time. A contact form is timesaving for both you and your site visitors. For starters, the form is right on your site, ready for visitors to enter their contact info and message and send immediately. You can deliver an immediate confirmation or thank you message, letting them know what are the next steps, and you don't have to enter their contact info into your CRM, because it's already there!
3. Keeps Information Organized. As we hinted at above, you won't be stuck entering contact details manually into your CRM; with a contact form, the information will come through already organized the way you want it. You control the information by only adding the fields you want to collect, cutting down on the back and forth between you and a potential customer.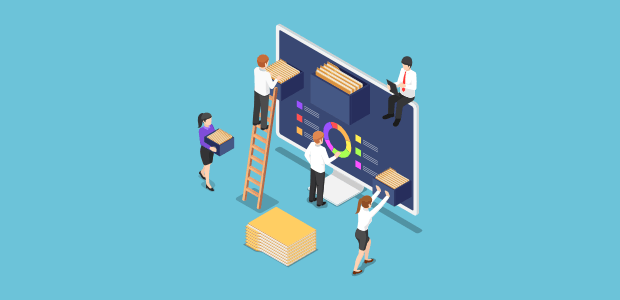 4. Lead Generation. You probably already know that OptinMonster is the best lead generation software available, but what if you want to collect more detail from your leads up front When you combine the awesome lead generation power of OptinMonster with the right contact form plugin, you can use your contact form to increase your conversions.
Now that you know the importance of including a contact form on your WordPress site, how do you choose the best plugin to make the process as easy as drag, drop, done?
We've got you covered on that, too.
Choosing the Best Contact Form Plugin
We've taken the time to review and handpick the best contact form plugins for you. You can simply choose one from our curated list.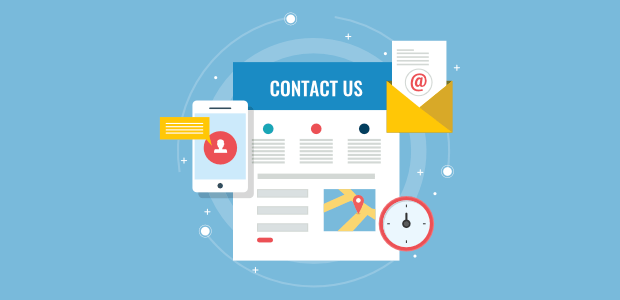 For this tutorial, we've chosen WPForms because it's the best contact form plugin for WordPress.
There are quite a few free and paid WordPress contact form plugins out there, but we use WPForms on the OptinMonster site and believe that it's hands down the best option out there.
You can use WPForms Lite to create a simple contact form if you need a free option. And, when you're ready for more advanced features, upgrade to WPForms Pro.
With WPForms Pro you get access to survey reports, user registration forms, payment forms, post submission forms, smart conditional logic, conversational forms, and a lot more—all without touching any code.
Of course, both WPForms Lite and WPForms Pro come with the intuitive drag and drop form builder to make building awesome forms a breeze.
How to Create a Contact Form Using WPForms
To get started with WPForms, you'll need to install and activate the WPForms plugin. Check out the step by step guide on how to install a plugin in WordPress for more details.
Step 1. Create a Simple Contact Form
Once you have your plugin installed, go to WPForms » Add New from your WordPress dashboard to create a new form.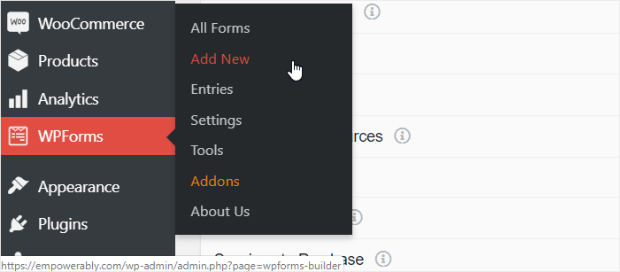 Name your form and select the Simple Contact Form template.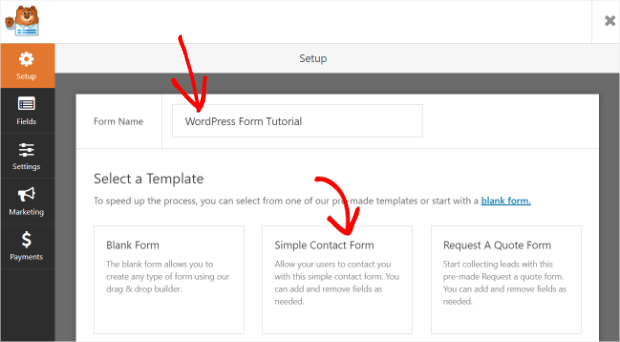 You can add more fields to your contact form by dragging them from the left-hand panel to the right-hand panel.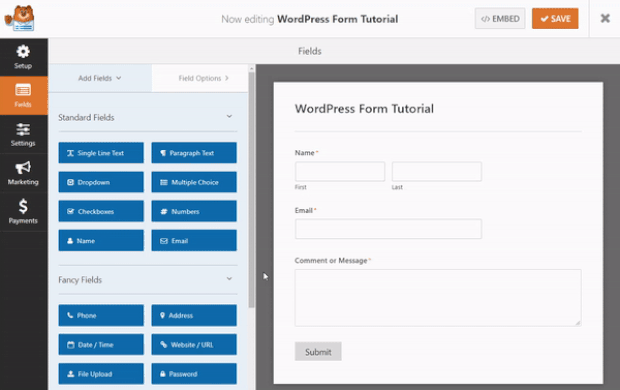 Next, click on a field in the right-hand panel to make changes to that field using the form field options.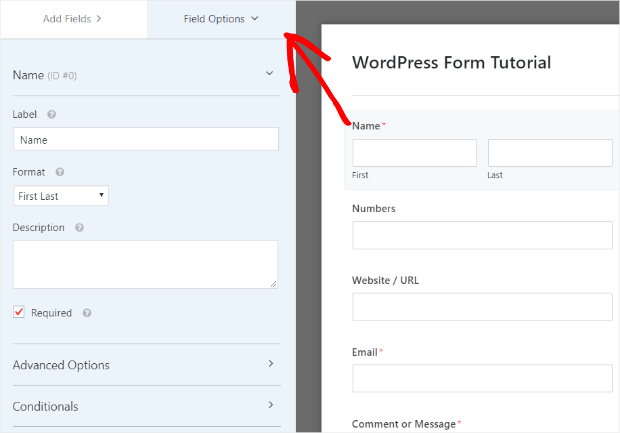 You can also click on a form field and drag it to rearrange the order on your contact form.
When you're happy with the look of your form, click Save.
Step 2. Configure Your General Form Settings
Go to Settings » General.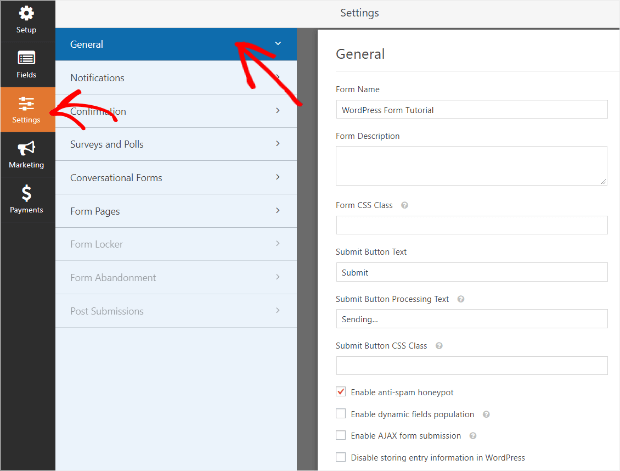 Here you can configure a number of things about your form:
Form Name. Choose a different name for your form, if you'd like.
Form Description. Give your form a description.
Submit Button Text. Change the copy on the submit button.
Spam Prevention. You can enable the honeypot feature to keep spambots from submitting forms. This feature is automatically enabled on all WordPress forms, but if you use another form of spam prevention, unclick this option.
GDPR Enhancements. You can disable the storing of entry information and user details, like IP addresses and user agents, an effort to comply with GDPR requirements. In addition, check out the WPForms instructions on how to add a GDPR agreement field to your simple contact form.
When you're done, click Save.
Step 3. Configure Your Contact Form Notifications
Want to receive a notification whenever someone submits a contact form on your site? You can do that by going to Settings » Notifications.
But, receiving notifications on form submission is actually the default setup, so unless you disable it or want to change it, you'll get a notification about submitted contact forms and don't have to do anything here. ?
To turn off contact form submissions, simply select Off from the Notifications dropdown.

Step 4. Configure Your Contact Form Confirmations
Form confirmations are messages that show up to site visitors when they submit a contact form on your website. They let people know that their form has been processed and give you the chance to let them know what their next steps should be.

WPForms has 3 confirmation types to choose from:
Message. This is the default confirmation type and shows when a site visitor submits a contact form. It's a simple message confirmation that lets them know their form was processed.
Show Page. This confirmation type takes site visitors to a specific thank you page on your site. Be sure to check out our article on ways to increase conversion rates on your thank you pages to make the most of this value but often overlooked page.
Go to URL (Redirect). The redirect option is used when you want to send site visitors to a different website.
Here's how to set up a form confirmation in WPForms to customize the message visitors see when they submit a contact form.
First, click on the Confirmation tab in the Form Editor under Settings.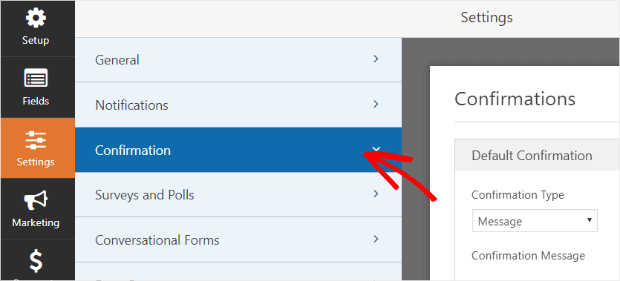 Next, choose the type of confirmation type you want to create. For this example, we'll select Message since it's the most popular.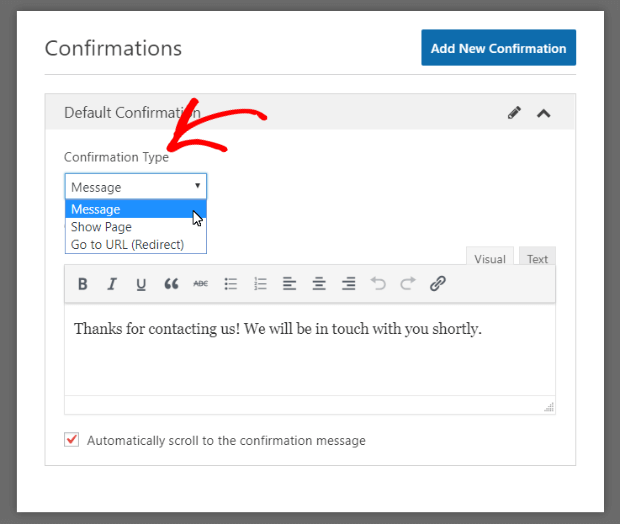 Then, edit the confirmation message and click Save.
Step 5. Add Your Contact Form to Your Website
Now that you've created your simple contact form, it's time to add it to your WordPress website.
WPForms lets you add your forms in many locations on your websites, like blog posts, pages, and sidebar widgets. Most people add forms to posts or pages, so we'll go with that option.
Create a new post or page in WordPress (or choose an existing post or page you want to add your form to) and click on the Add Form button.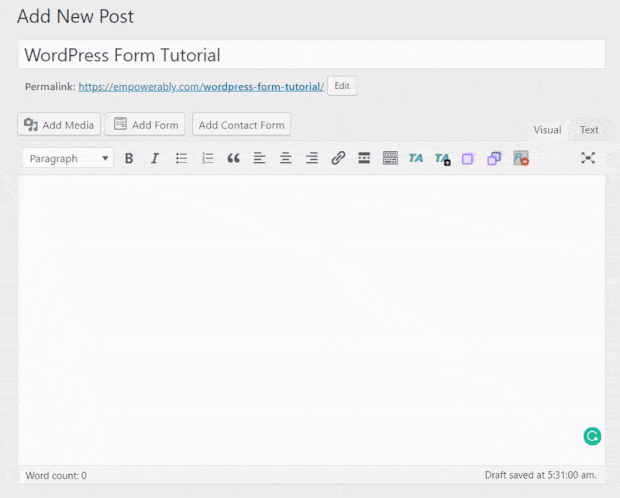 Next, select your contact form in the modal popup and click Add Form.
Then, publish your post or page and your contact form will show up on your website!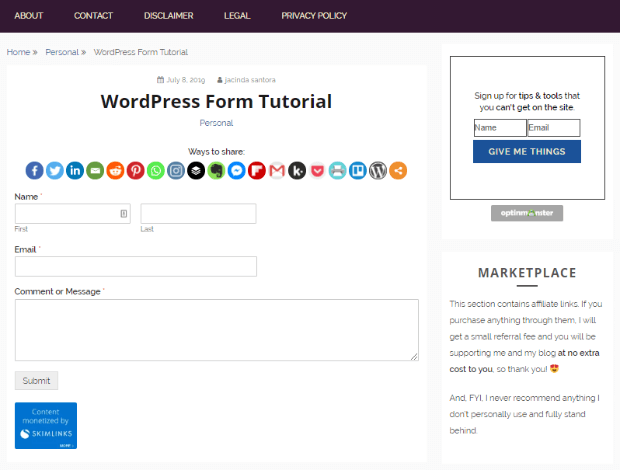 Track Your WordPress Contact Form Conversions
Even though it's easy, you want to know how your forms are performing, right? That's why it's important to track form analytics just as you would other data on your site.
You can do that with MonsterInsights, a user-friendly tool that lets you painlessly harness the massive power of Google Analytics in just a few clicks—without having to touch a single line of code.
Just install and activate MonsterInsights Forms, and the plugin will start tracking your forms automatically.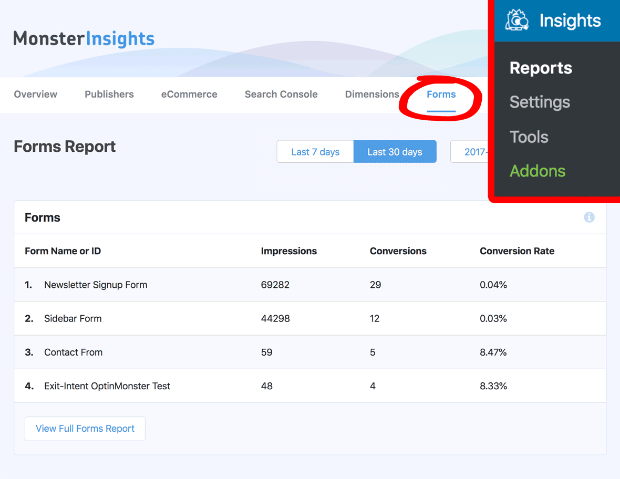 You'll be able to track the total number of views and conversions your forms are triggering as well as your form conversion rates. In addition, you can find out which form is collecting the most submissions.
MonsterInsights and the powerful forms tracking addon provide the insight you need to make sure your forms are performing the way you want.
That's it! You've just learned how to create a contact form for your WordPress site using WPForms. Plus, you can track its success with MonsterInsights. Now that you're a WPForms whiz, why not try your hand at creating a customer feedback form?
And don't forget that OptinMonster + WPForms is conversion magic. Get started with OptinMonster RIGHT NOW.