Finding the right plugins to keep your WooCommerce site running the way you want can be overwhelming. Add the wrong plugin and suddenly your site is puttering along at a snail's pace – or maybe it just stops functioning entirely! Plus, there are thousands of WooCommerce plugins to choose from, so how do you know which ones are worth it?
Never fear, dear reader. We've rounded up a selection of the 20 best free and premium WooCommerce plugins to keep your site humming and your sales soaring in 2019. Plugins that will keep shoppers engaged and returning to your site while also making it super easy to keep your site up to date.
Bottom line: the plugins you find here will help you to make more money on your WooCommerce site from the traffic you already have.
Ready to dive in? Let's do it…
Best WooCommerce Plugins for Email Marketing
Like Shakira's hips, the cart abandonment stats don't lie: most visitors to eCommerce sites are going to leave without buying anything. And, they may never come back. To keep that sad scenario from playing out, you should give visitors every opportunity to stay in touch with you.
Yes, you need to be doing email marketing. Don't worry, with these WooCommerce plugins and extensions lead generation and email marketing can be fun.
1. Constant Contact for WooCommerce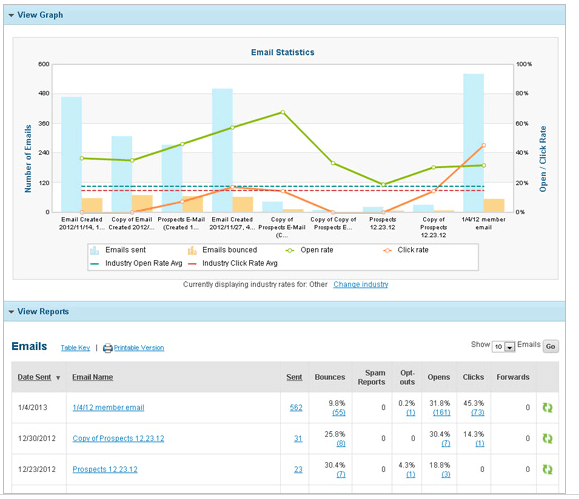 What it Does:
Create perfect email marketing campaigns to stay on shoppers' minds.
Key Features:
Segmentation and groups
Marketing automation
Abandoned cart recovery
Why You Need It:
Constant Contact is the email marketing service that we always recommend because it's an all-around solid product with outstanding customer support. Adding this extension to your WooCommerce store makes it easy to send targeted campaigns, follow up with customers post-purchase, recommend products, and recover abandoned carts.
Additionally, you can track and segment customers based on purchase history and frequency.
2. OptinMonster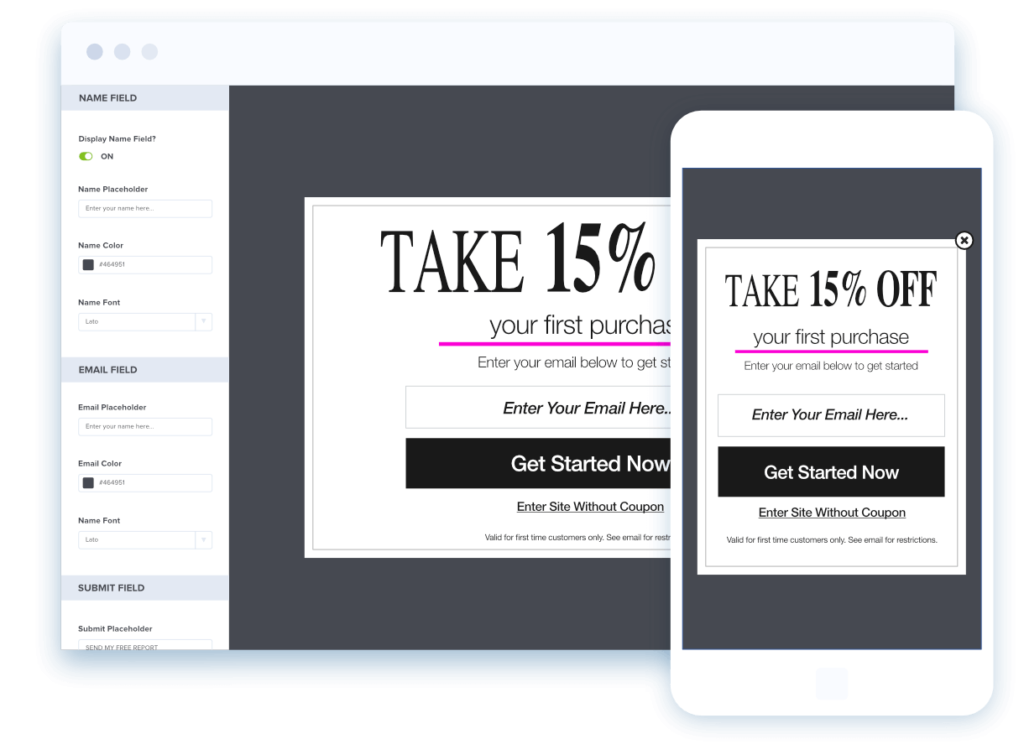 What it Does:
OptinMonster converts your site's visitors into subscribers and customers.
Key Features:
Coupon Wheel optins you can use to instantly increase your sales and conversions by 40% or more
Campaign triggers like exit-intent and scroll trigger to get the attention of your visitors at the right time
Geolocation targeting
Unlimited campaign customization options
Why You Need It:
OptinMonster drives lead generation and works with every major email marketing service out there. The powerful targeting and segmentation features let you show personalized, behavior-based messages to shoppers in order to get more engagement, conversions, and sales.
Also, with the built-in A/B testing you can split-test campaigns to make sure that you're using the best campaign to reach your goal, whether that be growing your email list, recovering abandoning shoppers, or boosting sales.
3. ReferralCandy for WooCommerce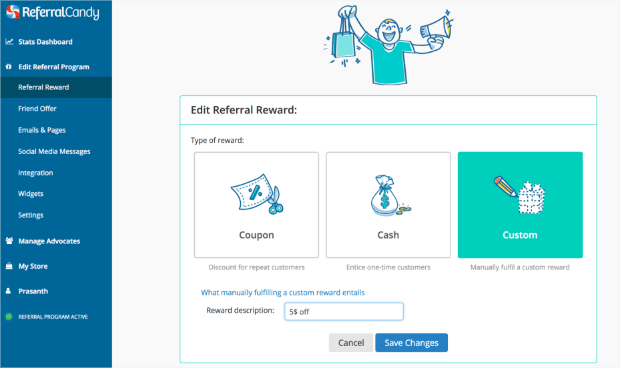 What it Does:
Create an awesome referral program to reward loyal customers with cash, store credit, discounts, or free products for referring their friends.
Key Features:
Track referral engagement, customers' shares, and new sales
Cross-channel promotion to make it easy for customers to join
Distribute rewards like coupons, cash, or gifts automatically
Why You Need It:
ReferralCandy makes it easy to set up and manage and referral program to keep existing customers coming back and get new ones.
Referrals are a huge influence when it comes to new customers making purchases. When potential shoppers are referred by people they already have a relationship with, they are more like to buy. With this in mind, referral programs are a great way to reward loyal customers so they know that their business and referrals mean a lot to you.
Additionally, you'll be able to bring back existing customers to take advantage of their referral benefits.
Best WooCommerce Plugins to Boost Engagement
One of the biggest drawbacks of an online-only store is that customers can't physically interact with your products. If you give your shoppers more ways to interact on your product pages, they'll be much more likely to buy.
The next few plugins will help you make your WooCommerce store more interactive and engaging.
4. WooCommerce Products Slider

What it Does:
This free WooCommerce plugin gives you an attractive way to display product images and product information while also keeping shoppers engaged.
Key Features:
Fully responsive and mobile ready
Unlimited slider
Hide products that are out of stock
Extensive customization options
Why You Need It:
Adding a product carousel is an easy way to keep shoppers engaged on your site.
WooCommerce Products Slider is customizable to make sure that every bit of your site is on brand. Shoppers can view images and product information and can add products to their cart right from the carousel.
5. WooCommerce Image Zoom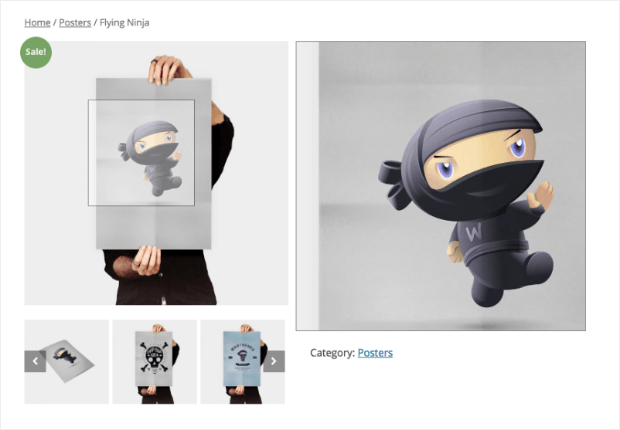 What it Does:
Shoppers can take a closer look at each product image to learn more about your products with this free WooCommerce plugin.
Key Features:
4 types of zoom
Customizable zoom lens and zoom window size
Remove zoom for a specific product or category
Why You Need It:
Since shoppers can't physically pick up your products to get a close look, they're going to want to be able to see larger images. With WooCommerce Image Zoom you can give them the larger images they want without slowing down your website with giant images.
Shoppers are happy and your site still loads quickly.
6. YITH WooCommerce Ajax Product Filter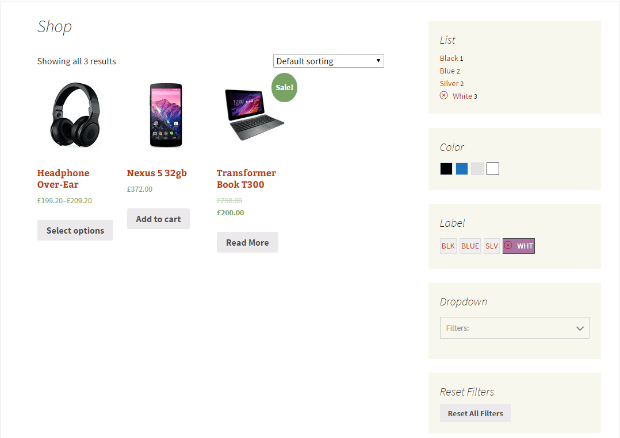 What it Does:
Lets shoppers filter products to find exactly what they're looking for.
Key Features:
Filter products using 1 of 4 available layouts (6 layouts with premium)
Filter for products based on availability or sale status
Sort products by rate, price, popularity, and most recent
Why You Need It:
Search functionality is important on any website, but it's a must-have on an eCommerce site.
YITH WooCommerce Ajax Product Filter lets your shoppers find what they're looking for easily, so they're more likely to buy instead of getting frustrated.
Increase Your Store's Shopper-Friendliness
Your WooCommerce store has to be easy to use, or shoppers are going to find a store that is. The default WooCommerce setup just isn't enough. Offering a wish list, letting shoppers change currencies, and adding user accounts can go a long way to keep shoppers coming back to your site instead of heading to your competitor's.
Let's take a look at the best WooCommerce plugins that make your site a shopper-friendly place.
7. WooCommerce Currency Switcher
What it Does:
Allows your shoppers to switch currencies and get rates converted in real time.
Key Features:
Shortcode to easily add the widget to your site
Currency can be changed automatically based on shopper's location
3 available widgets: currency switcher, currency converter, and currency rates
Why You Need It:
Using a currency converter like WooCommerce Currency Switcher makes it easy for your shoppers to see what they're paying in their own country's currency. It's a small thing that can make a big difference in a shopper's decision to buy.
With this free WooCommerce plugin, you can even set fixed minimum amounts for free shipping offers. This means that you won't be using all of your profits to cover international shipping costs.
8. YITH WooCommerce Wishlist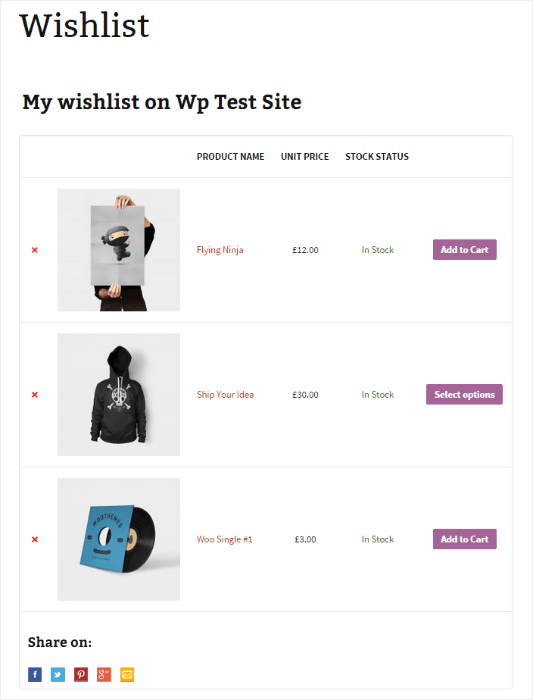 What it Does:
Shoppers can create and share wishlists on your WooCommerce site.
Key Features:
Add to Cart button on wishlist page
Wishlists are shareable via email and social media
Create multiple wishlists (premium)
Why You Need It:
Gone are the days of handwriting lists to let family and friends know what to get people for birthdays and holidays. With YITH WooCommerce Wishlist your shoppers can create and share wishlists quickly so their loved ones are never left guessing. And, if they're wanting to treat themselves they aren't left trying to remember what it was they wanted.
As a store owner, you can use wishlist information to reach out to shoppers about sales on their wishlist items or related products they may be interested in.
9. WooCommerce Multilingual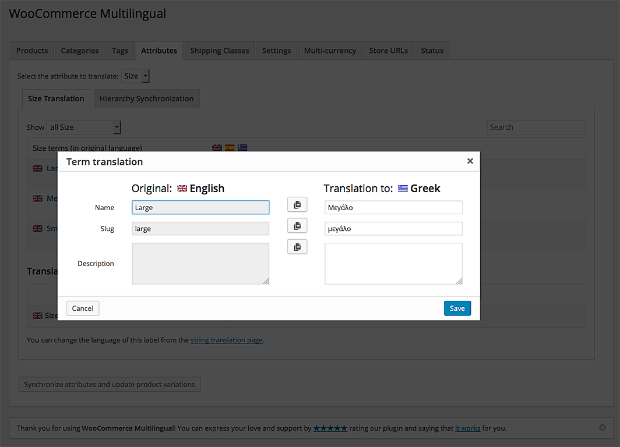 What it Does:
Translate your product and other WooCommerce pages into other languages with this free WooCommerce plugin.
Key Features:
Translation management for products, categories, and attributes
Keep the same language throughout the checkout process
Send emails to clients and admins in their language
Why You Need It:
WooCommerce Multilingual helps your shoppers feel comfortable navigating your site and lets them view product information in the language that works for them.
Showing product info in the language your visitors are most comfortable in makes a big difference to your bottom line. Libratone used this tactic to grow their email list 400%!
Best WooCommerce Plugins for Site Maintenance
Ideally, your pricing structure and product offering won't be a "set it and forget it" thing. You'll want to run specials and deals occasionally to keep shoppers engaged and make sure you're not being undersold by your competitors. Also, you should be regularly changing around the products that you're offering to generate interest and create urgency.
Here are some of the best WooCommerce plugins to help you manage products and pricing.
10. Pricing Deals for WooCommerce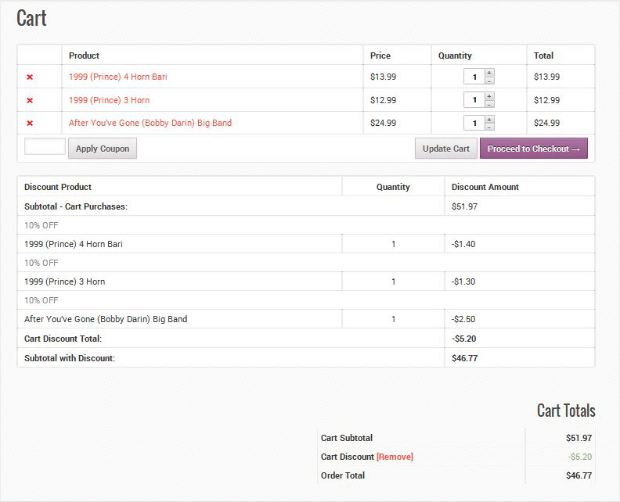 What it Does:
Create discount pricing and marketing deals.
Key Features:
Buy One Get One (BOGO) deals
Schedule pricing changes
Discount based on cheapest, most expensive, or "equal or lesser value" item
Why You Need It:
Shoppers love sales. In addition to that obvious detail, updating pricing on your site lets visitors know that your site is open for business.
Pricing Deals for WooCommerce lets you set sales for your whole store, or you can select specific categories, products, or even brands to include. You can also include a free item automatically which is great for sites offering a free gift with purchase.
11. WooCommerce Waitlist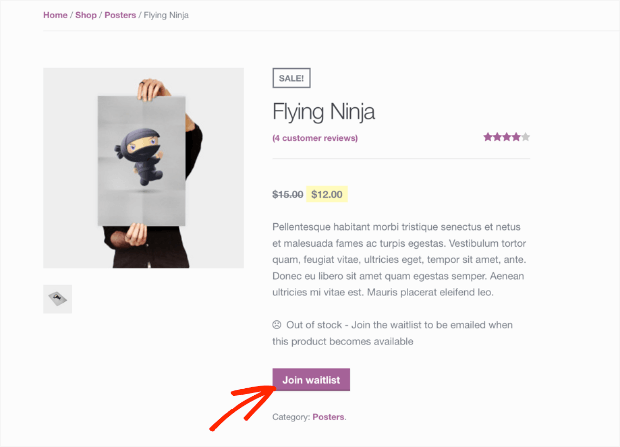 What it Does:
Track demand for out of stock items and send emails once the item is back in stock.
Key Features:
Notify customers via email when their waitlisted product is available for purchase
Enable or disable guest users
Track customer list, products needed, and quantity
Why You Need It:
Using WooCommerce Waitlist keeps shoppers informed about products they're interested in. Also, it gets you the email address of an engaged shopper.
You can use a waitlist to build hype about a new product by having shoppers join the waitlist to be notified when the product finally launches. To take that a step further, you can use the waitlist to create exclusivity around a product launch. For instance, you could give shoppers the opportunity to sign up for the waitlist for a certain amount of time. In exchange, they would be able to purchase the product BEFORE the actual launch date.
There are many ways to use waitlists to boost interest in your products and keep shoppers engaged.
12. Product Import Export for WooCommerce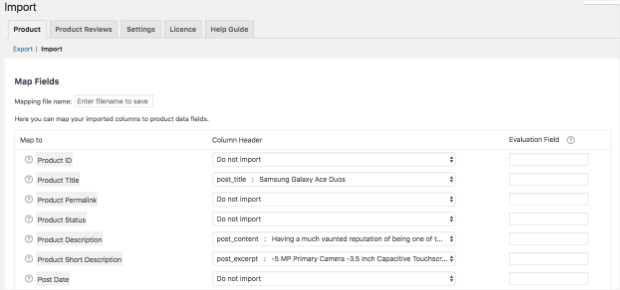 What it Does:
Easily import and export products in your WooCommerce store.
Key Features:
Import products from CSV files
Include reviews, SEO data, etc.
Update/sync product details
Export complete product details, including images
Why You Need It:
You don't have time to manually enter data about every single one of your products. With this in mind, the Product Import Export plugin makes mass edits and updates easy.
This plugin helps you keep your margins where they should be, even when your suppliers change their prices.
Best WooCommerce Plugins for Checkout
There's a reason Amazon offers the option to buy with 1 click: shoppers like easy. Fortunately, there are lots of WooCommerce extensions out there to help streamline checkout and payment.
13. WooCommerce Checkout Manager

What it Does:
Reorder, rename, hide, and extend checkout fields in Billing, Shipping, and Additional sections on your cart page and checkout page.
Key Features:
Add, remove, and make fields required
Create conditional fields
Keep field information for customers
Why You Need It:
Creating a customized checkout experience can provide additional useful information about your customers and make it seem like the site was built when them in mind (as it should be). WooCommerce Checkout Manager is a great WooCommerce checkout plugin that lets you create conditional or optional fields so customers are less likely to see fields that aren't relevant to them.
14. WooCommerce Checkout Field Editor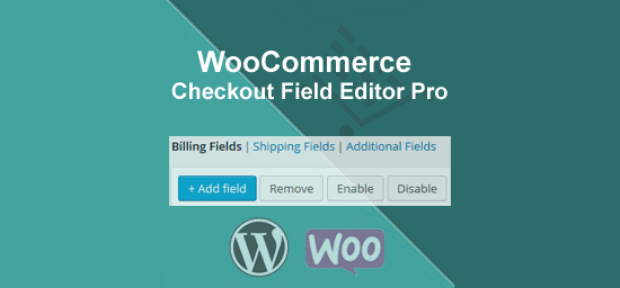 What it Does:
Customize the fields on your WooCommerce checkout page.
Key Features:
Display fields on Order Details page and email
Change fields order
Enable or disable fields
Why You Need It:
Similar to Checkout Manager, WooCommerce Checkout Field Editor is a free plugin that lets you customize the checkout experience for your shoppers.
A really cool thing about Checkout Field Editor is the "reset" button. For those times when you've gone a little overboard with your customizing.
15. Stripe for WooCommerce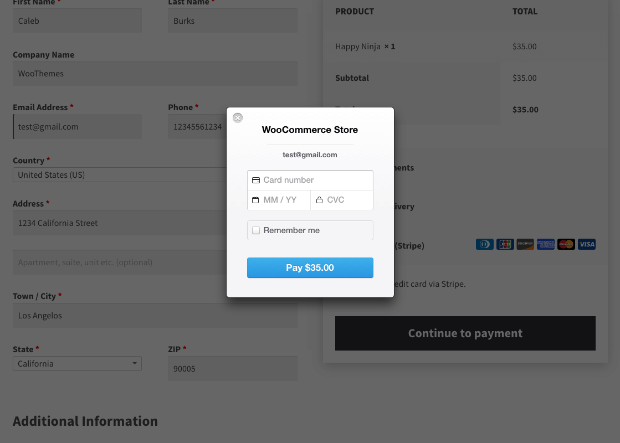 What it Does:
Accept all major debit and credit cards on your site, in addition to local payment methods.
Key Features:
Optimized for mobile and fast checkout
Support for recurring payments
Safe and secure
Why You Need It:
Customers have different wants and needs when it comes to checkout and supporting multiple payment methods can increase conversions.
The WooCommerce Stripe plugin comes with built-in support for Apple Pay, Google Pay, and the Payment Request API to make checkouts fast on both desktop and mobile.
Make Shipping Easy and Trackable
We don't believe it's an exaggeration to say that customers start tracking their shipments as soon as they've submitted and paid for their orders. These plugins can help you get orders out quickly and give customers the tracking info they want.
16. Table Rate Shipping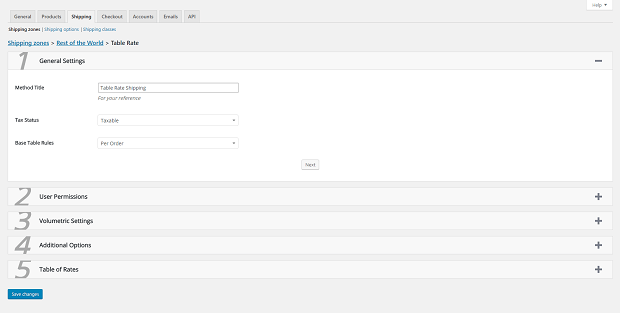 What it Does:
Set up shipping options based on different conditions or pricing models.
Key Features:
Customize pricing based on order, products, shipping class, etc.
Dimensional weight calculations
Multiple conditions supported
Why You Need It:
Table Rate Shipping takes the guesswork out of how to set up your shipping fees to work for both you and your customers. It's flexible and user-friendly and lets you manage your shipping smoothly to make your shoppers' experiences even better.
17. WooCommerce Order Tracker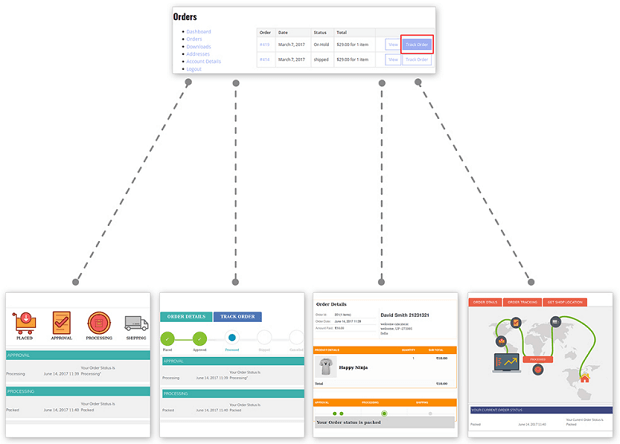 What it Does:
Dedicated tracking system that allows customers to track orders in a graphical and interactive way.
Key Features:
Tracking with USPS, Canada Post, and FedEx from order creation to order delivered
Create your own custom order statuses
Graphical and interactive tracking
Why You Need It:
Pretty much the moment shoppers hit the button to complete their order they are wondering when they're going to get their goods. With this Order Tracker they will never be confused about where their order is or when they will receive it. This eases the burden of your customer service people who won't be fielding so many calls about shipments.
Best WooCommerce Plugins to Cross Sell
18. Booster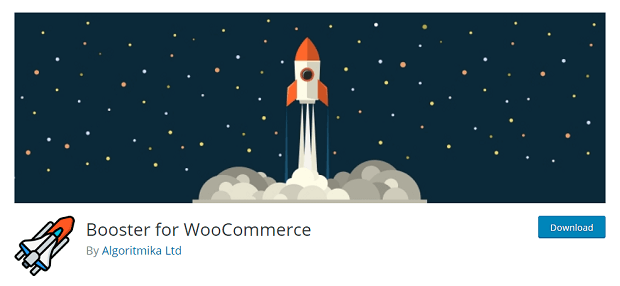 What it Does:
Comprehensive toolkit for WooCommerce.
Key Features:
PDF invoicing
Customize WooCommerce breadcrumbs
Cross-sell products display customization
A ton more…
Why You Need It:
If you're looking to keep plugins to a minimum, adding Booster will help you do that. Booster for WooCommerce contains more than 100 modules that will help you do everything from invoice to cross-sell to ship and track orders.
19. Beeketing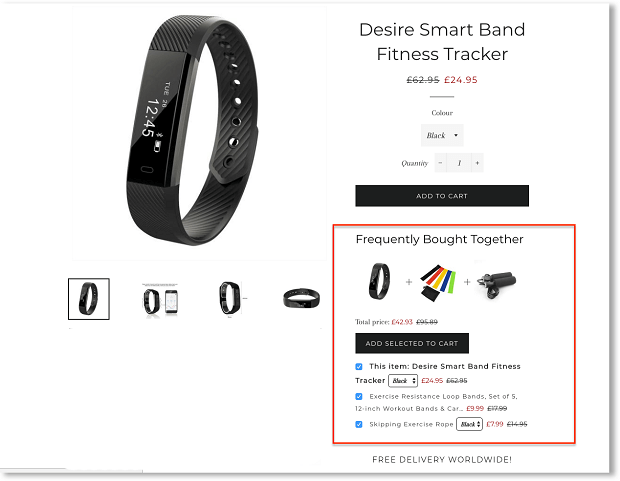 What it Does:
Marketing automation platform so you can optimize conversion rates, increase average order value, prevent cart abandonment, and boost online sales.
Key Features:
Upsell and cross-sell
Create product bundles
Chat with customers via Facebook Messenger without leaving the store
Why You Need It:
Beeketing has a lot of features that make it great for marketing automation. It's particularly great with upselling and cross-selling.
If you're looking for the best WooCommerce upsell plugin, Beeketing is worth a look.
Best WooCommerce Analytics Plugin
20. MonsterInsights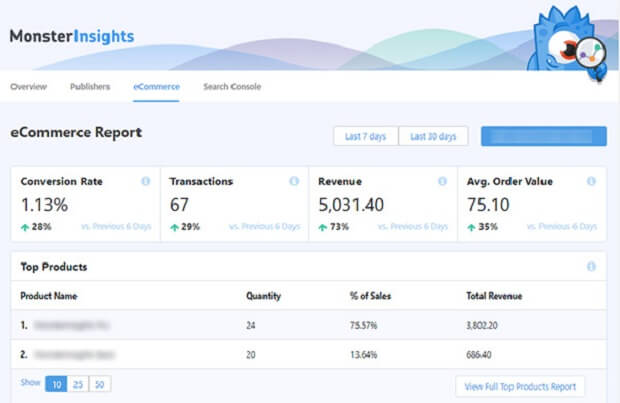 What it Does:
This WordPress plugin will keep track of all the critical eCommerce data you need at a glance: conversion rate, transactions, revenue, average order value, and more.
Key Features:
Real-time analytics
Related products tracking
Individual customer tracking
Why You Need It:
Data not only tells you where you've been, but it also helps you plan out where you want to go and how to get there. With the MonsterInsights plugin, you will have all of the information you need to make sure that your eCommerce site is performing as it should.
There you have it! Running an eCommerce site is hard work, but now you have 20 of the best WooCommerce plugins to make it easier on you. Did we miss any of your favorites? Let us know in the comments.
Not using OptinMonster? Where have we been all your lives? Join us today! Signup takes just 60 seconds and gives you immediate access to professionally designed campaigns you can use to start collecting leads right away. ⚡