Are you curious what the best SEO plugin for WordPress is?
The best SEO plugins can increase your search engine visibility, website traffic, and ultimately sales, all without hiring a developer. But there's so many to choose from. How do you know which ones are worth the investment?
In this detailed All in One SEO review, we'll test all the features and see if it's really the best SEO plugin for you.
What is All in One SEO?
All in One SEO (AIOSEO) is the best WordPress SEO plugin and is used by more than 3 million website owners.
The plugin makes SEO (search engine optimization) a breeze. AIOSEO helps you optimize technical SEO and content SEO factors.
AIOSEO integrates easily with popular social media platforms and other WordPress plugins like WooCommerce.
Why Do You Need AIOSEO?
Search engines are an important source of website traffic. Some of those visitors eventually become customers and subscribers, so the more visible you are on search engines, the more you can grow your list and sales.
Without a plugin like All in One SEO, it can take far too long to optimize all your posts and pages for search. Plus you'd need to hire both a developer and a SEO expert to even get started.
AIOSEO takes the guesswork out of optimizing your content and helps business owners like you get seen on search engines. It's easy to get started. We'll show you how!
Getting Started With All in One SEO
First, sign up for an All in One SEO plan. Once you've purchased your plan, log into your AIOSEO account and go to the Downloads tab. Click on the Download AIOSEO button and save the plugin file to your computer. Copy your license key and paste it into a text file to use later.
Now log into your WordPress dashboard and go to Plugins » Add New. 
Click the Upload Plugin button at the top of the page.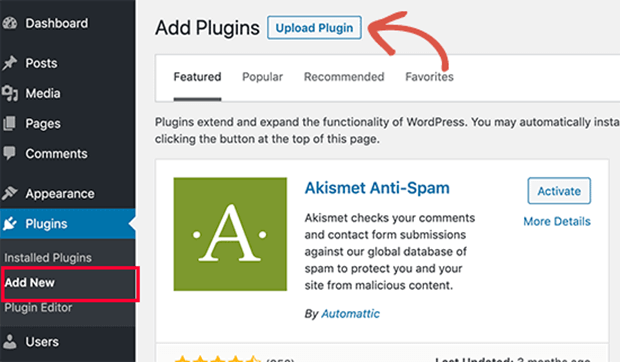 Click the Choose File button and find the plugin file you downloaded earlier from AIOSEO. Click Install Now.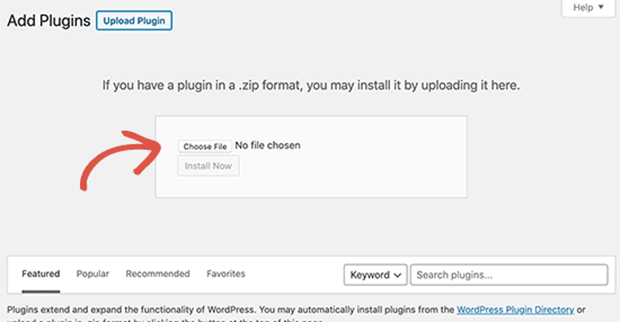 WordPress will install the plugin. When that's done, the button will change to say Activate. Go ahead and click on that.
Now, copy and paste your license key into the All in One SEO general settings panel in your WordPress site.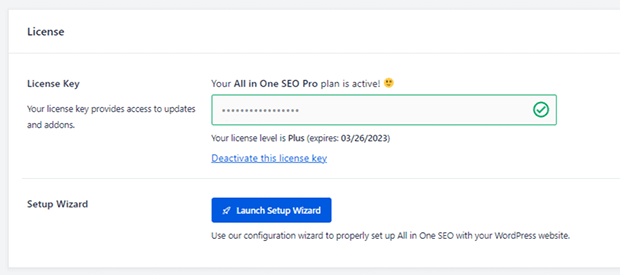 Once that's done, a setup wizard will launch. Click on the Let's Get Started button.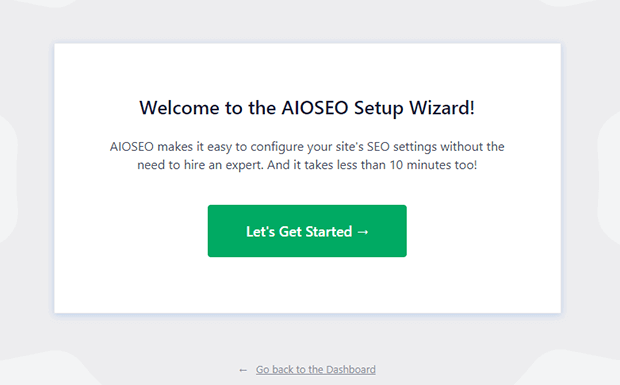 The onboarding wizard will ask 6 simple questions about your site. We recommend answering all of them to get the best results.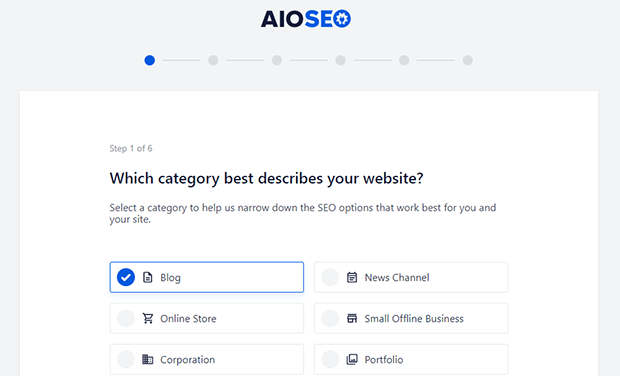 If you're already using other SEO tools like Yoast SEO or Rank Math, it's easy to import data from those plugins into AIOSEO. Because the plugins are all a little different, some settings may not copy, but you'll still have all the important data from your site.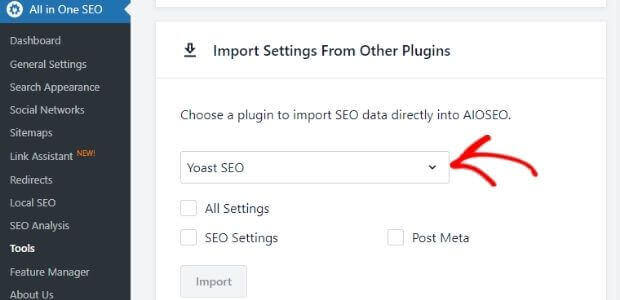 Now let's look at the features that make All in One SEO stand out from other SEO plugins.
Top 10 All in One SEO Features
All in One SEO is packed with functionality, but for this review, we'll go over the top 10 most important features.
1. One-Page SEO Analysis Tools (TruSEO)
The number one best feature of AIOSEO is the fuss-free on-page optimization tool known as TruSEO.

TruSEO offers in-depth analysis of your page content. You get an actionable checklist that walks you through everything you need to optimize every post and page on your site. This checklist includes suggestions for:
Focus keyword or keyphrase
SEO title tags
Readability
Meta description
Canonical URL
Social media metadata
All in One SEO also comes with a dedicated headline analyzer tool to check your post title.
With TruSEO, you can know exactly what to put on each page to bring in the most traffic.
Now let's check out some of the sitewide optimization features of AIOSEO.
2. SEO Audit
You can't improve what you don't understand, so All in One SEO has a SEO Audit that goes over your entire website for possible issues that might harm your SEO.
AIOSEO provides a detailed audit checklist of SEO issues and instructions for how to fix them.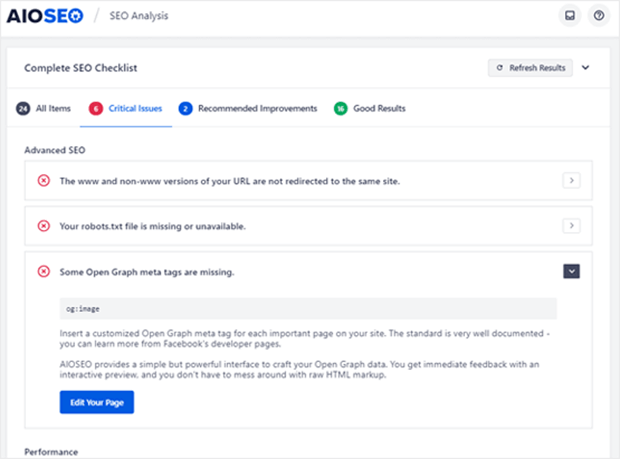 One important factor that SEO Audit tracks is website speed. You'll get ways to improve it until your speed is at least 70.
3. Search Appearance
The Search Appearance settings are an easy but super important way to start seeing results quickly from using All in One SEO.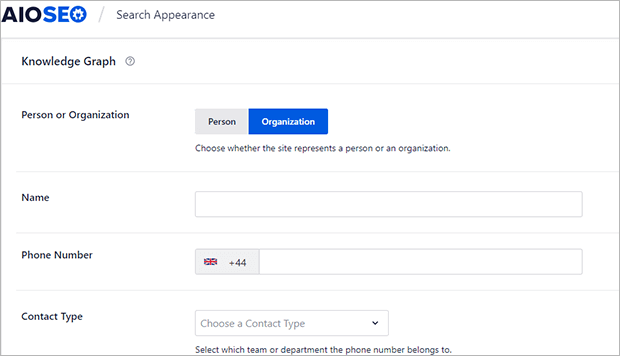 Search Appearance lets you modify your site's appearance as it appears in search results. This metadata is often the first thing someone sees about your business, so you want to make sure to include:
Your name or the name of your business
Phone number
Logo
Opening hours
Other local SEO information
Search Appearance is also the place to set the default schema markup, redirection URLs and alt tags for images, taxonomies, and archives.
4. Link Assistant
Links are a critical SEO ranking factor. You want to show that your content has authority by having lots of internal and external links as well as backlinks.
All in One SEO has a powerful Link Assistant tool that lets you easily see the number of internal and external links used on your posts. You can also see how these links are performing and use that data to boost your link-building strategy.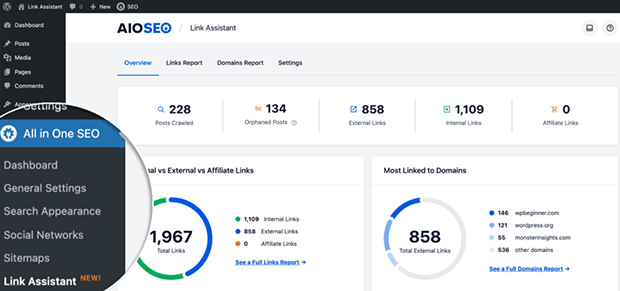 Link Assistant can even show you suggestions for related posts to link to while editing a post in WordPress.
5. Redirects
Redirects are also very important for SEO. If you remove a post or republish it with a different URL, you need a redirect to make sure users and search engines don't run into a dead end. Too many broken links will cause search engines to drop your rank.
All in One SEO has a Redirects feature that makes it easy to manage redirects and prevent broken links.

Redirects gathers any 404 errors in one place so you can manually add a redirect. You can also set AIOSEO to create automatic redirects when you delete a blog post or change the URL.
Here are some other redirect plugins you can try if you're curious.
6. WooCommerce SEO
If you're running an eCommerce store in WooCommerce, you're generating tons of searchable metadata that you want search engines to find.
All in One SEO has settings for optimizing product titles, product images, meta descriptions, and dynamic tags.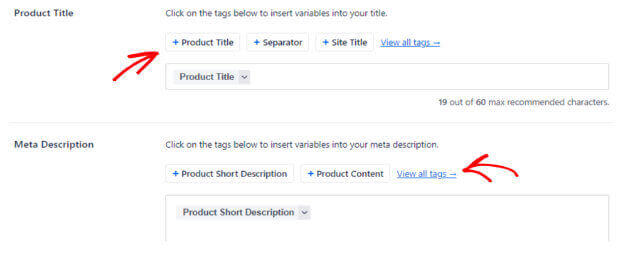 If you want to make this metadata searchable by your site visitors, check out an advanced search plugin like SearchWP.
7. Local SEO
Customers turn to search when looking for local businesses, so it's essential that your business shows up accurately.
All in One SEO's Local SEO features lets you add your business name, logo, address, business hours, payment methods, and contact details to your business knowledge graph. This helps rank your business in local search results and on Google Maps.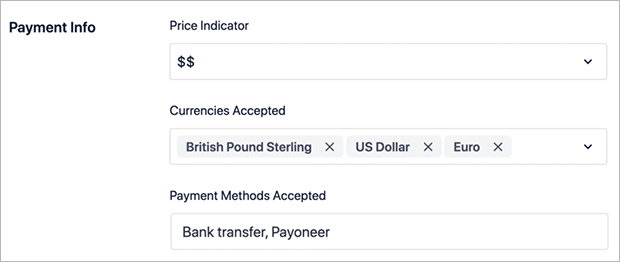 This is important for grabbing the top local search spots for your business.
8. Social Networks
Social media is a key source of traffic and customers to your business. Make sure your posts look their best with All in One SEO.
By enabling the Open Graph Markup in the Social Networks settings, you can preview and control how your posts will look when shared across different platforms. You can have custom settings for each network or duplicate the settings across channels for consistency.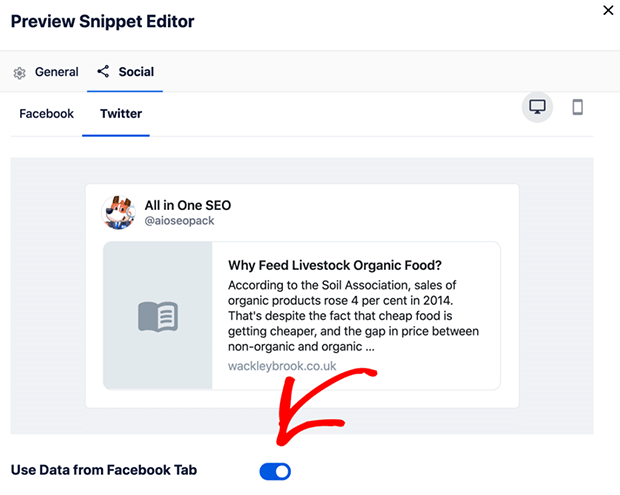 9. Sitemaps
Sitemaps are an important piece of technical SEO. They tell search engines where to find content on your website.
All in One SEO lets you create 4 types of XML sitemap:
General
Video
Google News
RSS
You can choose which post types and URLs to include or exclude in your sitemap. You can also manually set priority and update frequency for different post types.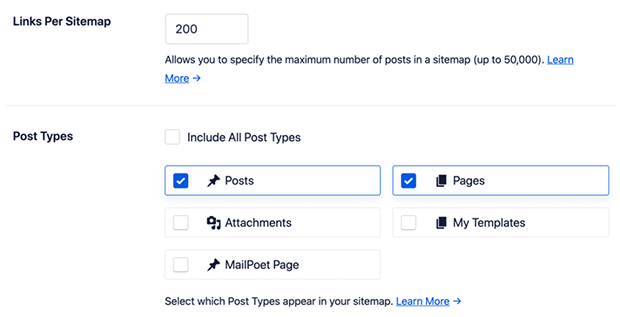 10. Schema Markup
You can get rich snippets in Google search results and more clicks to your website by setting up schema markup properly.
All in One SEO makes it easy to set up your Knowledge Graph, schema markup, and local SEO data. Make sure your content gets indexed accurately with schema markup for products, FAQs, courses, recipes, software, and other content types..
Is All in One SEO Free?
Yes, there is a free version of All in One SEO. The free version includes TruSEO On-Page Optimization tools, integrations with webmaster tools like Search Console and Google Analytics, and other essential features like sitemaps.
To get smart schema markup, local SEO settings, Redirects, and other advanced SEO modules, you can upgrade to the premium version. The premium plans also grant access to a large library of tutorials and documentation as well as premium customer support.
Paid AIOSEO plans start at $49.50/year. There are plans for everyone from bloggers and small businesses to agencies and enterprise customers.
You can check the AIOSEO website often to see if they're running a promotion.

All in One SEO Review: Our Final Answer
We covered the top 10 features of All in One SEO, but there are many more we didn't have time to discuss in detail, such as:
SEMRush integration
Custom breadcrumbs
Robots.txt editor.
Image SEO module
And even more!
After reviewing the unique features and easy to use interface of All in One SEO, it makes sense why 3 million users are actively using the plugin on their websites.
All in One SEO goes beyond merely inserting keywords and covers other important areas of SEO, from internal linking and redirects to schema markup and sitemaps.
These settings are easy to use, and the built-in tool tips guide you in using them all. Plus there's excellent documentation and customer support available if you need more help.
We can say with confidence that All in One SEO is the best SEO WordPress plugin for any website.
Ready to get started? Try All in One SEO today!
Still wondering? Check out our roundup of best SEO plugins to see other options.
If you like this article, please follow us on Facebook and Twitter for more free articles.