Are you looking for the best push notification app to send messages directly to your target audience?
Push notifications are one of the most powerful marketing tools at your disposal. They allow you to communicate with your subscribers in real-time about important updates, new content releases, product launches, and more.
But to be the most effective, you need a push notification app that's reliable and comes with everything you need to personalize messages to YOUR audience.
That's why, in today's post, we're going to share the best push notification apps that you can start using to get more conversions today.
Before we do, though, let's clarify what push notifications are and why they're so important to your marketing strategy.
What Are Push Notifications (& Why They Matter)
Push notifications are small, automated messages that appear directly on a person's browser, mobile phone, or while they're using your company's app. Users can receive these notifications even when they aren't actively looking at your website.
Push notifications are used by all the major tech companies, such as Google, Reddit, Facebook, Instagram, and more. And if these tech giants rely on push notifications to engage their users, it's likely a sign that you should, too.
That's because push notifications have several benefits over other marketing strategies, including:
Easier to Opt in: Push notifications don't ask for personal information like name or email address. Instead, users simply click a button to allow these notifications to appear. This reduces friction in the optin process and leads to more people subscribing to your push notifications.
Faster Results: Since the optin process is so easy, you can expect to get more subscribers to push notifications much faster than you can grow your email list. That means you can expect faster results, too.
More Effective Communication: Push notifications go directly to your users' browser, even when they aren't looking at your website. This often makes push notifications more effective than sending emails because users aren't required to log into any 3rd party apps or services see the information.
These are just a few of the advantages of push notifications, though there are many others. And to be clear, push notifications aren't a substitute for email marketing.
If you want the MOST conversions possible, you should be growing your email list and your push notification subscribers simultaneously.
But that doesn't change the fact that push notifications are an incredibly effective tool you're probably underusing.
With that in mind, let's turn to our list of the best push notification apps to get your site higher conversions today.
The Best Push Notification Apps
Before we dive into the list, there's one thing we wanted to mention about push notifications: they'll only work if your site's visitors believe your website to be genuine, credible, and trustworthy.
In other words, if people don't trust your site, they won't sign up for your notifications. Period.
That's why we recommend using TrustPulse: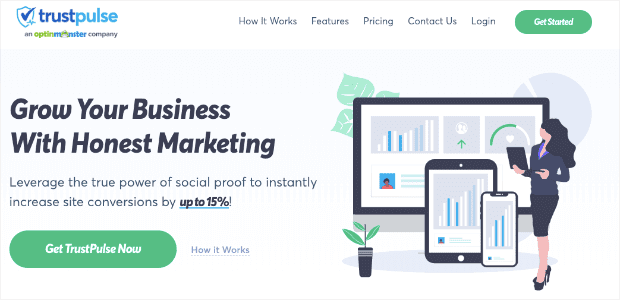 TrustPulse is the best social proof software on the market. It allows you to quickly and easily add social proof notifications to your website that won't conflict with or interrupt how you deliver push notifications.
These small social proof messages show when people are positively interacting with your brand both on and off your site. You can customize these messages, add links to products, change fonts, modify colors, and much more.
As a result, you build instant credibility and trust with your site's visitors.
And the best part is that TrustPulse is easy to install and use even if you don't have any coding knowledge or technical experience.
Want to see it in action for yourself? Sign up for your risk-free TrustPulse account today!
Now let's jump into our list of the best push notification apps to boost conversions.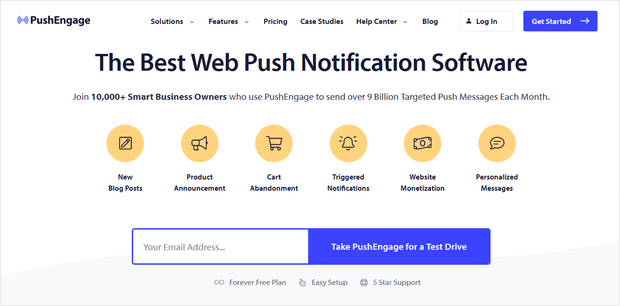 PushEngage is hands down the best push notification app to connect with customers, reduce cart abandonment, and drive more sales. This software lets you send push notifications with targeted messages to help you get more conversions.
With PushEngage, you can do way more than send simple messages.
Instead, you can create push notification drip campaigns that show new messages depending on how visitors interacted with the notifications they've already seen.
And with their powerful A/B testing and tracking analytics, you can optimize your campaigns to make sure you're not leaving any conversions on the table. This allows you to determine when, where, and to whom your campaign will appear so you can personalize your notification's message.
This level of personalization improves UX across your site and leads to driving more revenue for you.
Features
Recover profits with cart abandonment notifications
Get the data you need with revenue tracking
Trigger notifications from user behavior
Optimize campaigns with A/B testing
Supported by multiple browsers
And much more…
Price: PushEngage has a free plan for up to 2,500 subscribers. Their paid plans start at only $25/month for up to 5,000 subscribers, 3 websites, unlimited notifications, and more.
Get started with PushEngage today!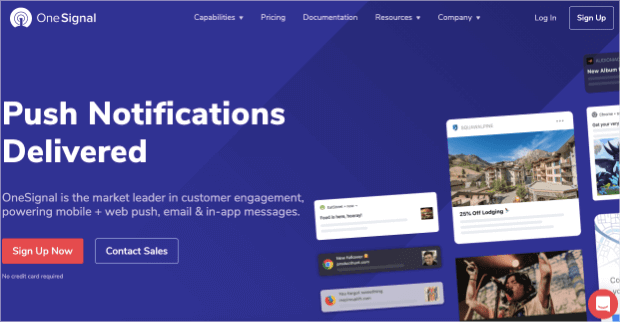 OneSignal is a popular service for communicating with your customers via email, SMS, and push notifications. With OneSignal, you can create notifications for mobile devices, browsers, and in-app messaging. This gives you the flexibility to find the right notifications for your business.
Plus, they have lots of helpful features like A/B testing and tracking analytics. These tools help you optimize conversions, so you're never missing out.
Finally, they have personalization options that allow you to add a user's first name or items in a customer's shopping cart. This type of personalization can help you grab your user's attention and get them to take the actions you want them to.
Features
Accessible across devices (mobile, in-browser, and in-app)
A/B testing to optimize campaigns
Personalization features to add a name or specific products to messages
Powerful analytics tools to track performance
And more…
The biggest downside of OneSignal is that people have reported how difficult it is for their users to opt-out once they've subscribed. This hurts UX and can also harm your overall credibility.
It's also been reported to be difficult to configure for iOS.
Price: OneSignal has a free plan for up to 10,000 mobile notifications (not browser) and 1 in-app message/month. Their paid plans steadily increase with the number of subscribers you have.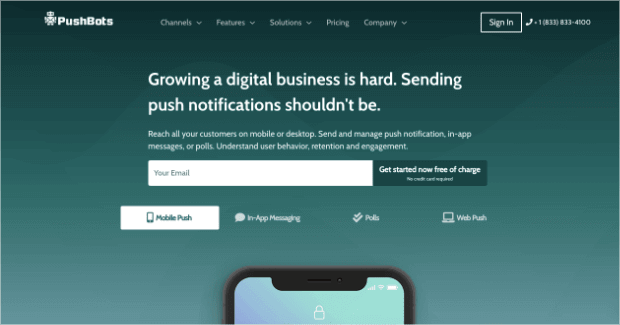 PushBots is a marketing automation platform specializing in push notifications for mobile, browser, and in-app messaging. This software comes with everything you'd expect in a push notification service like A/B testing, tracking analytics, and personalization tools.
One cool thing about Pushbots is their Twitter integration. If you have a large following on Twitter, you can let users know every time you send a Tweet.
This brings more people to your Twitter profile and, ultimately, gets higher engagement with your audience.
Features
A/B testing for notification optimization
Twitter integration to boost engagement with your Twitter feed
Localization lets you send notifications in multiple languages
Demographic data to help you better understand your audience
Events tracking to learn about your customers' unique journey
The biggest disadvantage of PushBots is their pricing model. Their Lite plan starts at $29/month and only allows 5,000 subscribers. Everything else is incredibly limited, too.
Their Ultimate plan gives you 300,000 subscribers but costs $249/month.
Price: PushBots pricing begins at $29/month for 5,000 subscribers.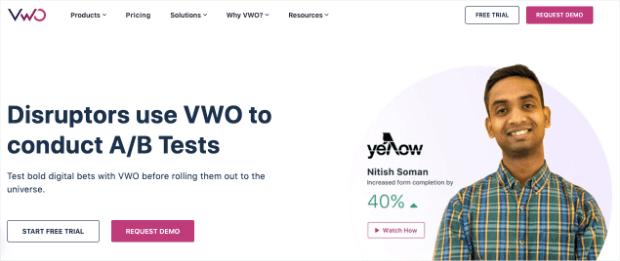 VWO Engage (formerly known as "PushCrew") uses push notifications and Facebook Messenger to help business owners communicate with their clients.
VWO Engage is loaded with tools that help you understand your audience, test your messaging strategy, and create more targeted notification campaigns to reach your marketing goals.
Plus, they have an extensive support team to help you troubleshoot any problems you may have. Their support staff is available 24/7 via live chat.
Features
A/B, multivariate, and split URL testing for better results
Funnel insights
Heatmaps
On-page surveys
Cart abandonment campaigns
And more…
The biggest downside to VWO Engage is that their lower-tiered plans are very limited. Plus, some users have reported extremely low deliverability rates for their notifications.
Price: Their Growth plan is $99/month for up to 10,000 subscribers. For higher plans (or for subscribers over 50,000), you'd need to contact their sales team for pricing.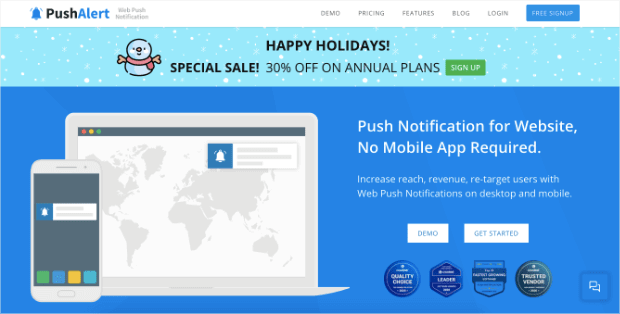 PushAlert is another company that creates push notifications for your desktop and mobile users. You can create push notification campaigns to reduce cart abandonment, increase pageviews, and stay connected with your audience.
They also have some great features that allow you to better understand your audience. This leads to more personalized messaging and, ultimately, more conversions for you.
Features
A/B testing for better notifications
APIs to connect your favorite marketing tools and personalize messages
Audience creator lets you target users based on interests, keywords, location, and more
Optin prompts are totally customizable
And much more…
The downside of PushAlert is that it may not be a great option if you're looking to scale. Their free plan allows up to 3,000 subscribers, but it can get expensive after that.
Their next plan, which is also limited, will cost up to $75/month for up to 50,000 subscribers. Beyond that, you'll need custom pricing.
Price: They have a free plan. After 3,000 subscribers, the price jumps incrementally depending on how many subscribers you have and which features you want.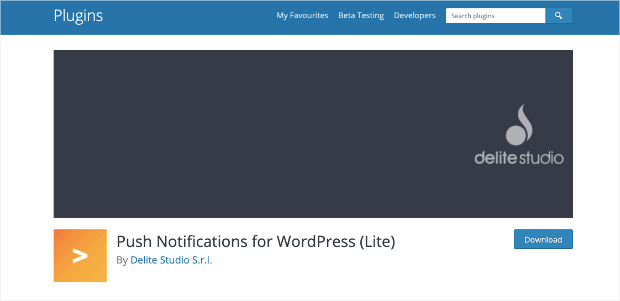 Push Notifications for WordPress, by Delite Studio, can be a great solution if you run your business on a WordPress site. It's easy to set up, installs like any other WordPress plugin, and does exactly what it promises: sends real-time push notifications to your users.
With this plugin, you can send up to 1,000 notifications per month totally free.
Features
No charge for message delivery
Instant notifications (in real-time)
Powerful APIs
Notification categories allow users to receive the messages they want
And much more…
You should know that while you can download the lite version for free, they don't have great reviews on WordPress. Many users have complained the software is unreliable and the free version is too limited to be effective.
Price: The Lite version is free but, again, very limited. The paid version begins at €99 for 1 site. This is a lifetime membership, but support and updates end after 1 year.
Check out Push Notifications for WordPress today!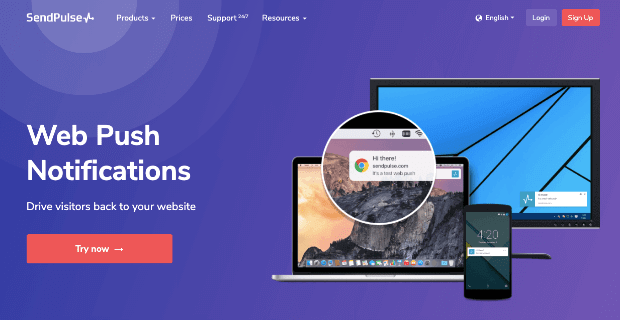 SendPulse is a full-fledged marketing automation platform that uses email, SMS, and web push notifications to engage your customers. Their push notifications can be sent to a user's browser on both mobile and desktop devices.
It comes with analytics and tracking data, so you can better understand your audience, craft better messages, and increase conversions.
Features
Automated campaigns
Built-in personalization and audience segmentation tools
A/B testing to improve performance
Offline notifications
And much more…
Price: The free version gives you up to 10,000 subscribers with limited features. Their Pro plan has more features and pricing scales depending on subscribers. Up to 100,000 subscribers will cost up to $47/month.
This makes SendPulse one of the more affordable tools on this list.
Get started with SendPulse today!

Batch lets you send push notifications to mobile and desktop devices. It also lets you send in-app messages to keep customers using your software for longer.
Batch is loaded with helpful features to better understand your audience, create more targeted notification campaigns, and boost engagement with your brand.
Features
Highly customizable notifications
Powerful tracking, analytics, and A/B testing
Available for desktop, mobile, and in-app notifications
Instant notifications (in real-time)
Smart segmentation features to boost engagement
The biggest disadvantage with Batch is hands down their pricing model. This won't be an affordable solution to most small and medium-sized businesses.
Price: They have a free version that's fairly limited. From there, pricing begins at €245/month.
Again, pricing makes this push notification app best for larger companies.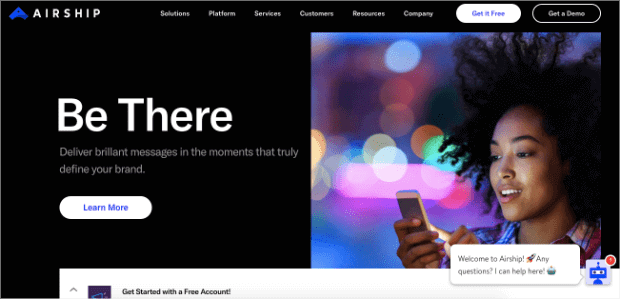 Airship is a customer engagement app that uses push notifications to help specific industries engage their customers. They currently work with companies in the following fields:
Airlines
Media
Sports
Finance
Retail
Telecom
If you work in any of these fields, then Airship can be a great option for you. They help you use push notifications for each step of your customer's journey. That includes grabbing their attention from their first visit to your site to getting customers to revisit your products for repeat sales.
Features
Personalized notifications
Targeted to specific users based on demographics, interests, or behavior
Analytics to help you optimize your campaigns
Audience segmentation is built-in
And much more…
Airship's strengths are also its weakness: it may have more than you actually need. Since Airship also works with email marketing, SMS, and other channels of communication, you'll end up paying for services you don't need.
Price: Airpush requires you to contact their sales team to find the right pricing plan for your business.
Which Is the BEST Push Notification App?
We just covered a list of the best push notification apps that you can start using today. But now you may be curious, which is the BEST option and why?
We can confidently say that PushEngage is the best push notification software available. Not only does it have extensive features to create, track, and optimize your notifications, but it's also the most cost-effective.
And that's it! We hope you found this article helpful. If you did, you might want to check out the following posts:
These posts will have everything you need to learn how to further increase conversions on your site, engage your audience, and drive more revenue.
Want to see a quick boost in sales by up to 15%? Sign up for your risk-free TrustPulse account today!