Looking for a plugin to add the related posts on your website?
Related posts plugins keep visitors engaged on your website. They're good for SEO, interlinking content, and bringing in more clicks to the older published articles.
In this article, you'll find the best related posts plugins that'll help you keep the visitors engaged on your website.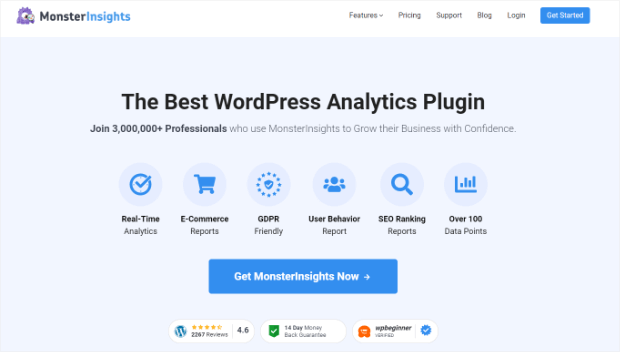 MonsterInsights is the most widely used plugin for adding related posts on WordPress websites. It gives you all the information about your content to select your top-performing articles to increase your website engagement.
MonsterInsights offers you three ways to display your best content in related posts.
Inline Popular Posts: You can automatically display your related posts within a post or a page.
Popular Posts Widget: This option lets you display up to 10 blog posts anywhere on your website, like the sidebar, footer, or widget area.
Popular Products: You can display your popular products on an eCommerce store.
You can select a pre-built theme for the related posts or customize the design manually to match your website design.
MonsterInsights provides you with many conditions for selecting the related post articles. For example, you can choose posts with the most comments or shared articles.
Features:
Huge community
Link tracking features
Popular Posts Widget
Contextual analytics report
Automatically select best performing posts
Pricing:
MonsterInsights comes in 3 different pricing plans. The Plus plan starts at just $99.50/year.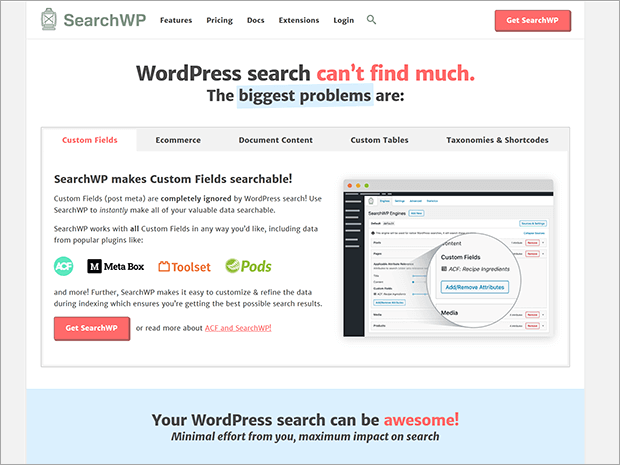 SearchWP is the most popular search plugin for WordPress. It comes with an extension called Related that helps you add related posts to your content.
Related plugin comes with advanced settings like auto-appending of related posts, set exclusion rules, and limiting the number of related posts per article.
The plugin uses a template loader that automatically fetches the color and typography of your theme to match the output. Still, you're completely capable of customizing the appearance of your related posts with the provided settings.
Features:
Exclusion settings
Integration with theme
Live Search
Plenty of filters available
Input customization option
Pricing:
SearchWP standard package starts at just $99/year.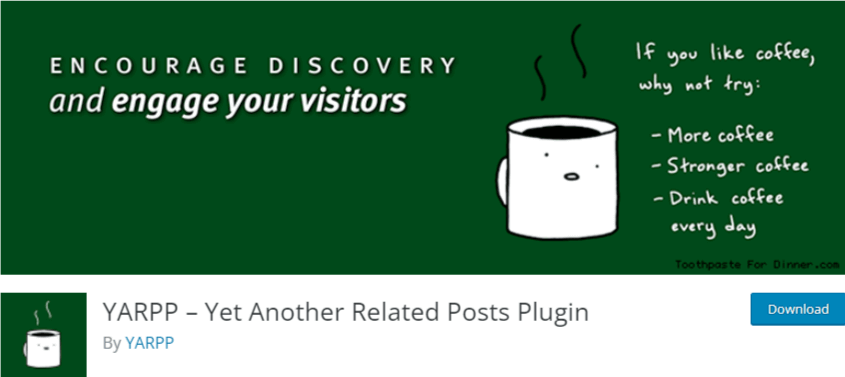 YARPP – Yet Another Related Posts Plugin is a popular plugin for adding related posts. It has over 100,000+ active installs with an average 4 star rating.
The plugin uses advanced algorithms to determine the relation with other content. For example, it considers the post titles, body content, and custom taxonomies like categories and tags to find a matching post.
It also offers ready-made templates with enough customization settings to match the website look. However, the plugin occupies a considerable server space and is not a good solution for high-performance websites.
Features:
Inbuilt caching feature
Show related posts in feeds
Custom post type support
Ready to use templates
Automatic posts selection
Pricing:
YARPP is a free plugin.

Contextual Related Posts is a free plugin with 60,000+ active installations. You can use the plugin to display related posts in content and RSS feed.
The plugin offers simple configuration options. You can select related posts manually by considering the post title and setting the number of posts to display or exclude from the output.
One limiting factor is that users need to add CSS to match the look and feel of the results with their website. Besides, it uses a lot of database space, and therefore, some managed hosting providers block the use of this plugin.
Features:
In-built caching
Custom post types support
Include short excerpt setting
Compatible with Gutenberg
Option for adding post thumbnails
Pricing:
Free plugin.

Jetpack Related Posts is a popular WordPress plugin for adding various features to your website. Related posts is one such module in the Jetpack plugin.
It's simple to configure the related post's settings. Enable the show-related content toggle button, and the plugin analyzes content for displaying related posts.
You can show the related posts either in links format or post thumbnails. Jetpack also provides plenty of filters, so you can customize the output using a custom code snippet.
Features:
Different types of layouts available
Automatic synchronizes new posts
Plenty of customization filters available
Plugin has big community
Pricing:
Jetpack Related Posts will cost you $9 per month.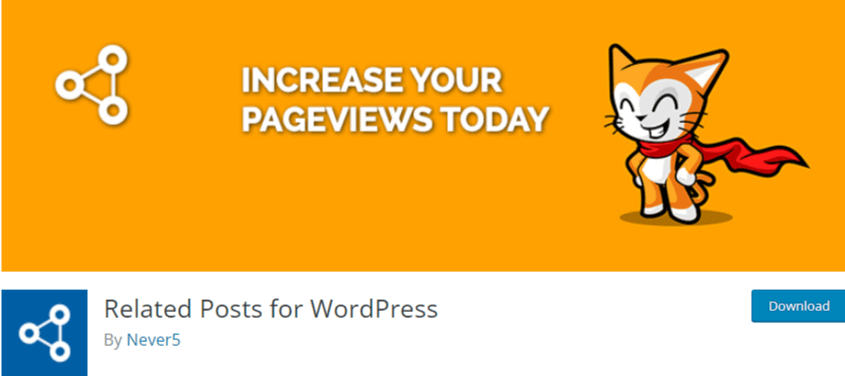 Related Posts for WordPress is a lightweight plugin for adding related posts. It has 30,000+ active installations and has maintained a decent 4.5 star rating.
Once you install the plugin, it automatically analyzes the website post's content and provides suggestions for linking related posts. You can show the related articles in the form of links or post thumbnails.
You get a shortcode for displaying the related posts anywhere on the website. It comes with a caching solution, so your site speed remains unchanged even in the case of hundreds of articles.
Features:
Easy to use
Manually setting for adding related posts
Related posts shortcode and widget
In-built cache support
Pricing:
Basic version of the plugin is free. It also has a premium version available at $5.99 per month.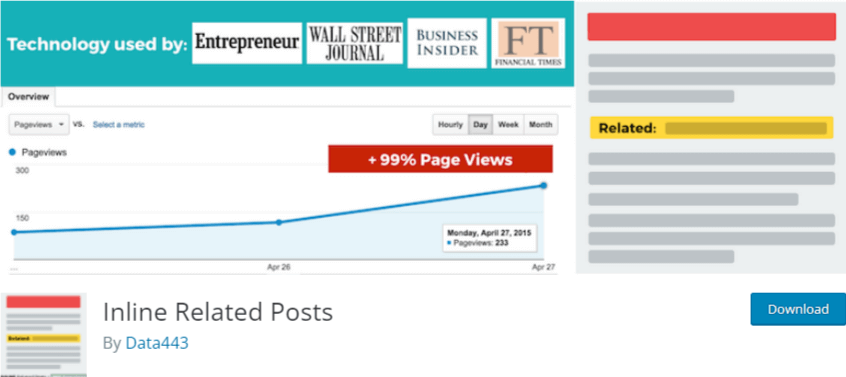 As the name suggests, Inline Related Posts allows you to add content inside the post body instead of showing them at the end of the range.
Generally, most visitors do not read till the end of the post. This plugin helps increase the engagement rate on lengthy articles by inserting posts within the main content.
Inline Related Posts offers accessible customization settings for changing the color and typography to match the website style. You can also use the shortcode to display posts in sidebars and widget areas.
Features:
Many display layouts available.
Post exclusion option
Display content inside content body
Easy customization settings
Pricing:
Inline Related Posts is a free plugin.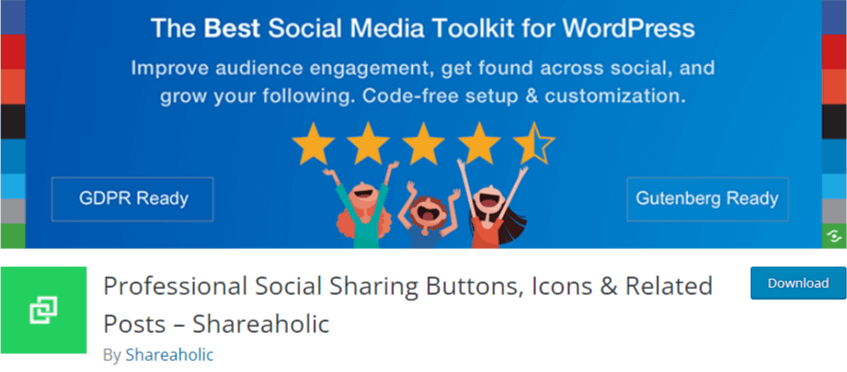 Shareaholic is a popular plugin for adding social sharing buttons on your posts and pages. The plugin is lightweight, easy to use and actively installed on more than 40,000+ websites.
Shareaholic plugin provides options to add related posts and check connect analytics. It works by checking the keywords specified in SEO plugins like All in One SEO, Yoast and suggest posts according to these keywords.
You can use this plugin for adding related posts feature, social sharing buttons and track the performance of your content with content analytics feature.
Features:
Compatible with Gutenberg editor
Optimized for mobile devices
Automatically post keywords detection
Social share button support
Integration with popular themes
Pricing:
Plugin is free.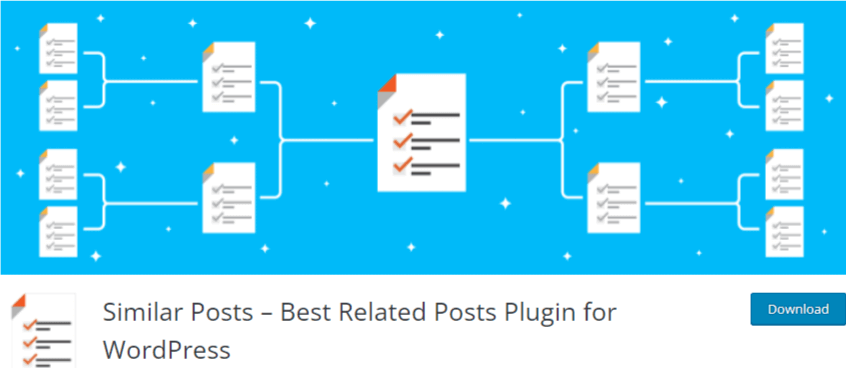 Similar Posts is a simple plugin that checks the similarity between post titles, tags and categories assigned. It's a free plugin with a good number of active installs.
You can set the configuration settings for showing the number of posts, skip any posts, select posts from the same taxonomy, author, and so on.
Features:
Multiple display layouts
Post exclusion settings
Integration with RSS feed
Support for custom post types
Pricing:
It's a free plugin.
Which is the Best Related Posts Plugin?
We have reviewed the most widely used related posts plugins.
The best plugin depends upon your requirements. In our opinion, you can go with the MonsterInsights plugin for adding related posts. It helps you identify the most popular posts on your website and use them as related posts.
If you want to learn more about website growth and visitor engagement, check out these posts:
For more articles like this article, please follow us on Facebook and Twitter.