Do you want to fully manage your events in one single place?
Event Calendar plugins are taking over the WordPress market, with top features like booking, ticketing, scheduling, 1-click payment options, third-party integrations, and more!
With that in mind, installing one of these plugins on your WordPress website could turn out to be an amazing investment.
But which one?
To make your decision-making process as easy as possible, we put together a list of the best WordPress Event Calendar plugins.
Let's dive into it!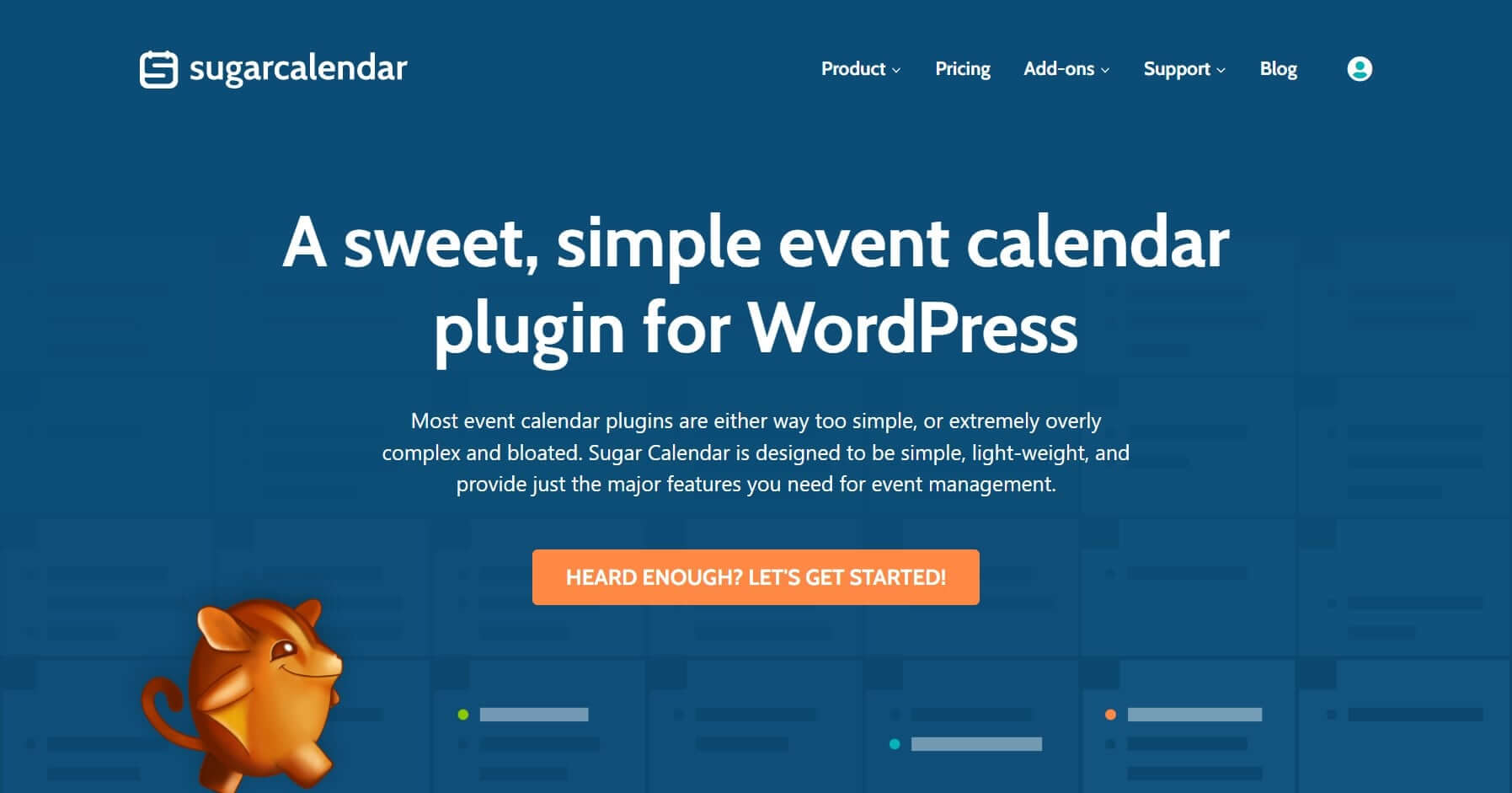 Sugar Calendar is the best all-around event calendar plugin for WordPress.
It comes with a variety of useful features, it's simple and extremely easy to use. In fact, beginners can start using Sugar Calendar in less than 5 minutes.
Overall, it combines the best of both worlds, a friendly user interface with powerful delivery.
Features:
Event Management
Start and end times
Single and multi-day events
Event Ticketing
Event time-zones
Recurring events
Pricing:
The price starts at $49 per year for 1 single website, and it goes all the way up to $449 per year for unlimited websites, premium support and pro features.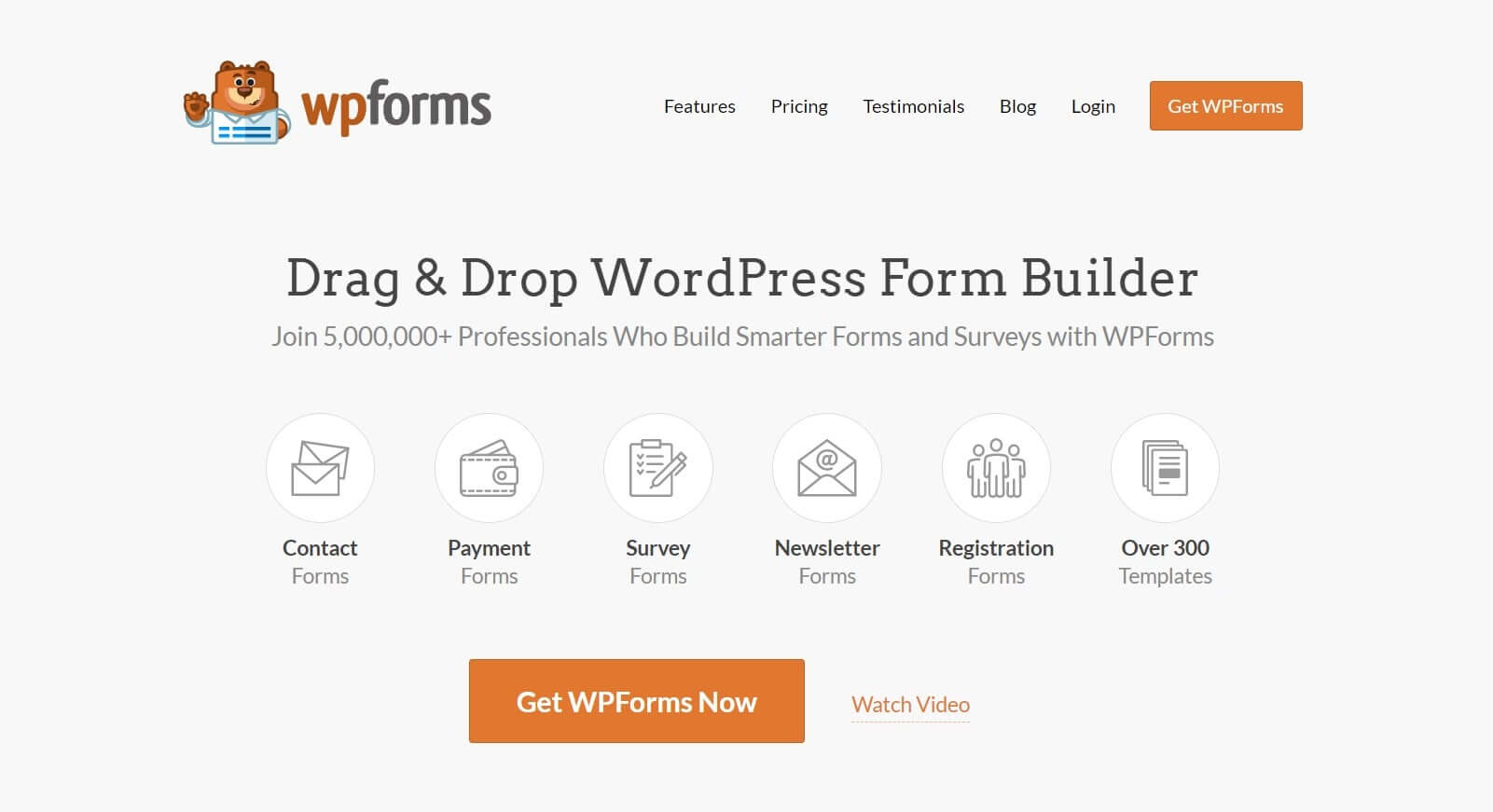 WPForms is a form plugin that offers advanced integration with Google Calendar and Zapier.
More specifically, with WPForms you can easily add and create a variety of events inside Google Calendar.
WPForms also gives you the ability to create a User Submitted Events Calendar in WordPress.
In addition to that, you can make the most out of the Form Builder feature, and create complementary forms that go hand in hand with your events.
This is a great option if you're looking for something that gives you more room for testing.
Features:
Event creation through the Google Calendar integration
User Submitted Events Calendar
Drag and Drop Form Builder
Pricing:
The only two subscription plans that offer access to the Google Calendar integration are the Pro and the Elite plan. The Pro plan is priced at $199.50 per year, and the Elite plan is priced at $299.50 per year.

All-in-One Event Calendar is up there with the best plugins on WordPress.
Currently used by over 150,000 websites, it allows you to easily create, manage and share your events.
Best part? It's free to use and beginner-friendly.
Features:
Room scheduling
Event promotion and distribution
Event registration and ticketing
Event operations and analytics
Pricing:
The Free plan offers access to 1 single user and 1 event calendar. If that's not enough for you, their team offers a Premium plan with personalized pricing based on your specific needs.

One of the oldest plugins on the market, Booking Calendar has been satisfying the needs of its users since 2009.
It has a simple interface that's easy to navigate by beginners and experienced users alike.
It also has flexible functionality, with relevant features for all types of businesses
While its design is not necessarily on par with what other competitors have to offer, Booking Calendar is one of those plugins that WordPress users can count on for delivering results in a simple and efficient way.
Features:
Admin panel for managing bookings
Sync bookings
Captcha support to avoid spam
Multi-Languages
Pricing:
The basic version is free. For more advanced features, the price starts at $47.40 for the Personal lifetime license (limited to 1 website) and it goes up to $539.40 for the MultiUser lifetime license (limited to 5 websites).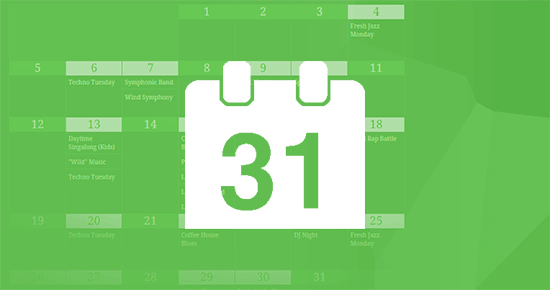 The name of this plugin says it all. It's a simple solution to add events to your WordPress website.
It's perfect for those looking for a relatively modest plugin that can be easily personalized through add-ons.
Features:
Manage events in Google Calendar
Fully-responsive and mobile-friendly
Add-ons for additional functionality
Pricing:
The plugin itself is free. However, those who want to personalize it can buy the premium add-on bundles. The cheapest bundle is priced at $49 (limited to 1 website), and the most expensive bundle is priced at $149 (up to 25 websites).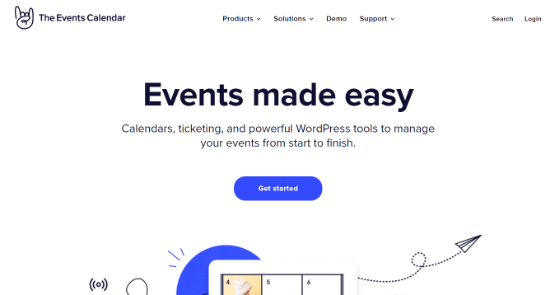 The Events Calendar is one of the few modern-looking WordPress plugins for creating events.
It's customizable, easy to use, and it comes with cool features.
All in all, it's a great option for those who place a great deal of importance on their website's appearance.
Features:
Google Maps display for venue locations
Time zone support
Recurring events
Multiple views
Advanced widgets
Pricing:
The Basic version is free. The Pro version starts at $99 (limited to 1 website), and it goes all the way up to $799 (unlimited websites).

My Calendar is a highly-customizable Event Calendar WordPress plugin.
Similar to other simple and easy-to-use plugins, it doesn't offer a long list of features.
However, that is balanced out by the personalization aspect of the plugin.
Features:
Editable CSS styles
Recurring events
Shortcode generator for custom views
Pricing:
The Basic version is free. The Premium version is priced at $59 for a single-year license, and at $249 for a lifetime license.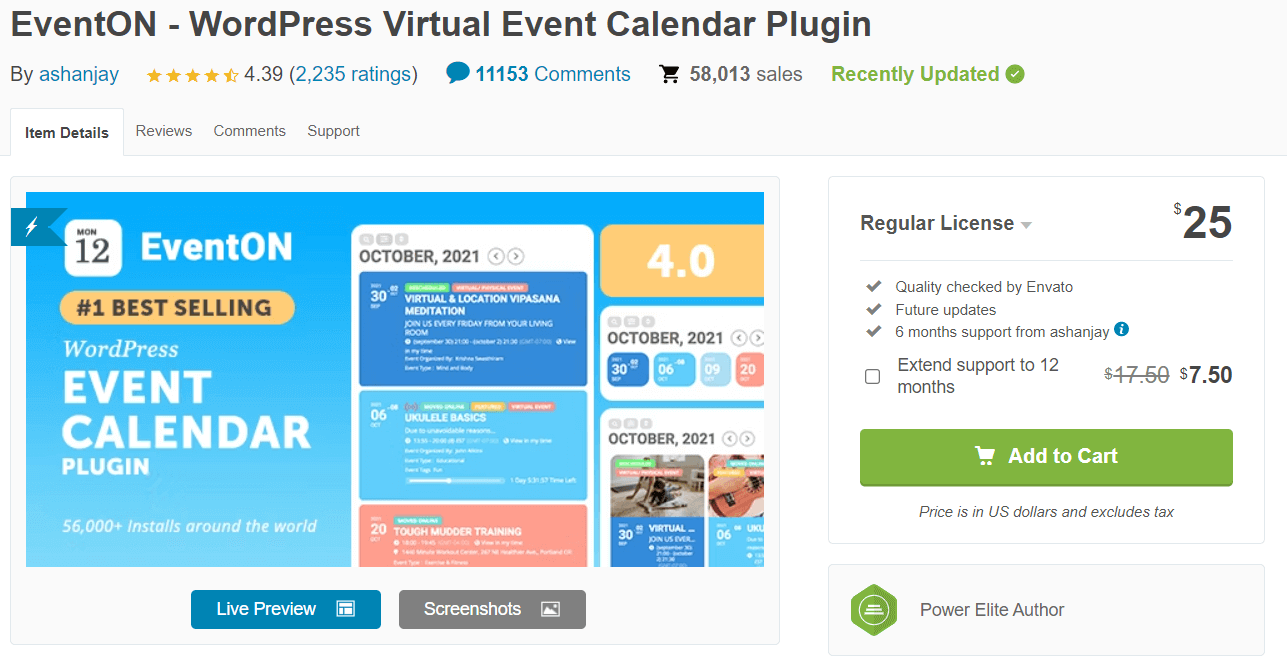 EventOn is an Event Calendar WordPress plugin that focuses on presenting events in a minimalistic and design-friendly way.
This plugin is packed with hundreds of features, so it can be a bit confusing for those who are just starting out.
Features:
After event content
Live now animation
Location maps and directions
Pricing:
There are two licenses. The Regular license is priced at $25, and the Extended license is priced at $250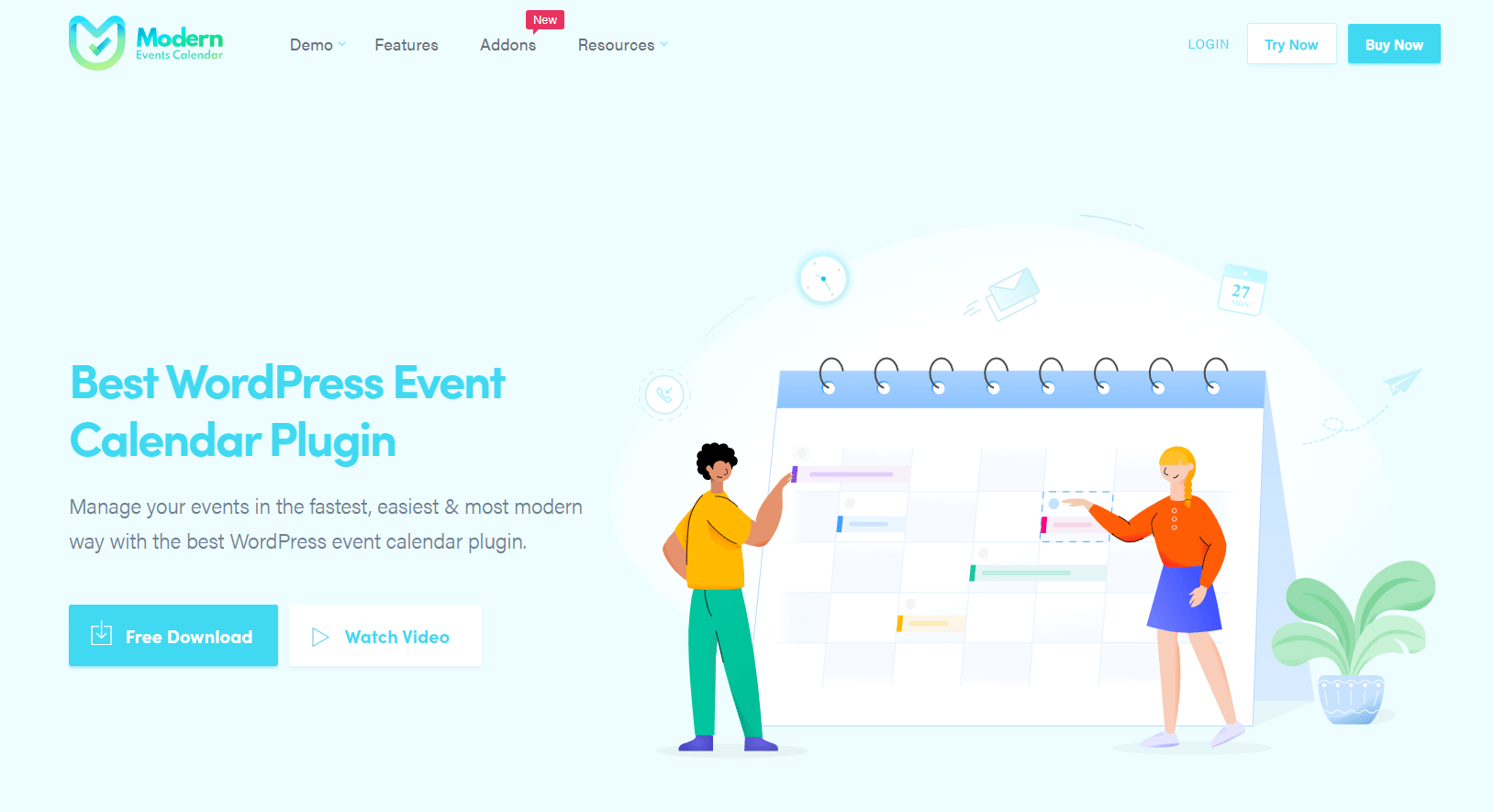 Modern Events Calendar is one of the best design-focused Event Calendar plugins for WordPress.
Its functionality is flexible, so it can be used by a variety of organizations. Restaurants, churches, colleges, associations, and the list can go on.
It also offers an extensive list of features, making it harder for beginners to figure out exactly what they need for their particular situation.
Features:
Never end events
Multiple views
Grid shortcodes
Google Maps and user location
Pricing:
The Basic version is free. The Pro version starts at $75 (limited to 1 website), and it goes up to $455 (up to 10 websites).
What Event Calendar WordPress Plugin Should I Choose?
Well, you're the only one able to answer this question.
The list you just went through has all the information you need to at least start your research process.
In the end, it all depends on what you want to achieve. Some of the plugins we mentioned are better suited for small business owners, others are better suited for major publishers.
Think of your goal, budget, and needs. Once you have a well-defined idea of what you want, give these plugins a try.
Most of them offer demos or free trials, so you can actually test them out before you make a final decision.
We hope this article puts you on the right path towards choosing the best Event Calendar WordPress plugin for you!
If you found it helpful, then you might want to also check these out:
As a final note, if you have any type of business that deals with prospects online, give TrustPulse a try.
Why?
Because it has been proven that social proof boosts conversions. In fact, our customers have seen an increase of up to 15% in conversions just by adding TrustPulse to their website.
Sign-up for your 100% risk-free TrustPulse account today! (14-day money-back guarantee!)