Are you planning to run an online contest but are stuck trying to decide between all of the WordPress contest plugins?
Online contests and giveaways are a perfect way to create a frenzy of activity for your WordPress site and add lots of names to your email marketing lists. To do it right though, you need the perfect plugin, otherwise running a contest may be more hassle than it's worth.
But we've seen just how a properly run contest can help small businesses. That's why we've selected our list of the best WordPress contest plugins to help you easily run your giveaway.
After that, we'll also go over how to promote and excite people on your site to join your giveaway.
Since this is a rather lengthy guide, we've included a table of contents so you can get to the part you want a little easier:
Table of Contents
WordPress Contest Plugins
Our list of WordPress contest plugins will assist in designing and managing your WordPress contest. Each one has unique features, which we'll be highlighting.
Though, 1 thing is consistent: Each plugin is compatible with WordPress and runs on the platform through a plugin.

RafflePress is the best WordPress contest plugin, hands down. RafflePress takes away all the difficulty of running a giveaway, leaving you with just the benefits.
Between the premade templates and user-friendly interface, you can launch your first contest in minutes. Plus, numerous eligibility and entry options will excite your customers to participate and share.
That means you'll see a lot of buzz of excitement around your brand and contest.
You can launch contests that you know will look fabulous, no matter what device it is viewed on. Every design is 100% responsive, which means they'll look and work great on mobile devices, tablets, and desktops.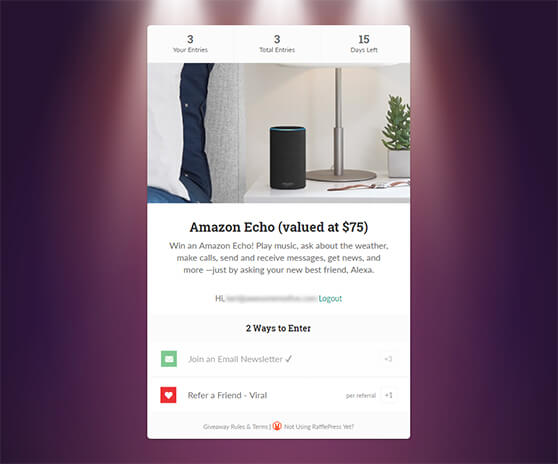 RafflePress also has 20+ entry actions for your contests to maximize your reach and run the ultimate contest.
With RafflePress, contest participants can gain entries doing things like following your social networks, referring friends, joining your newsletter, sharing your site, and much more. As you can probably tell, a properly run contest can reach farther than just your website.
Plus, you don't have to worry about spam or fraudulent entries, thanks to RafflePress' powerful fraud protection technology.
Sending your leads from RafflePress to your favorite marketing and email platforms is incredibly simple. With over 15 integrations, chances are you're using a platform that will seamlessly integrate. If not, all of the email leads are saved directly to the WordPress database for easy exporting.
From giveaway creation to management, no other WordPress plugin makes the process fun, successful, and easy as RafflePress.
Key Features
Fraud detection
Create entry options for social media platforms
Drag and drop contest builder
Integrates with popular marketing platforms
Pricing
RafflePress has four yearly pricing tiers: Plus ($39.50), Pro ($99.50), Growth ($199.50), and Ultimate ($499.50).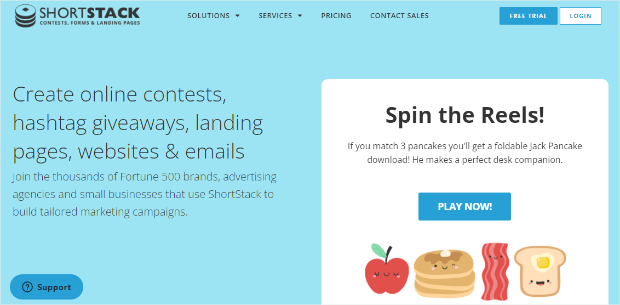 ShortStack is a WordPress plugin that lets you build contests and manage those leads, all in one program.
Perhaps the most unique part of ShortStack is running a contest by using user-generated content (UGC). UGC is just 1 form of social proof. Most people are more likely to take action when they see their friends and family doing the same thing. Harness that psychology hack and use to it boost your contest.
Key Features
Built-in analytics
Lead database
Email notifications
Pricing
The Business plan is $99 a month. Meanwhile, Agency is $249/month, and Brand is $499/month.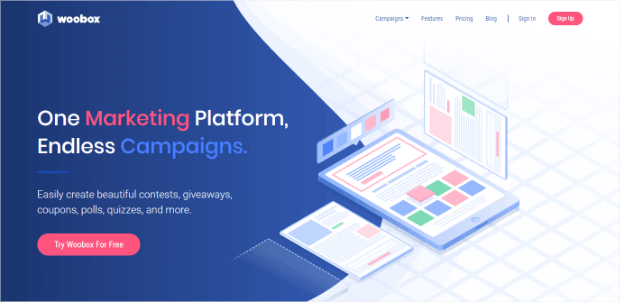 How does free sound? With the free Woobox WordPress plugin, you can easily embed your WordPress contests. This works by using a shortcode, which works with any theme or site design you may have.
Woobox has a variety of giveaways: from Instagram hashtag competitions to comment giveaways.
Key Features
Customizable templates
Integrates with more than 500 other tools
Collect entries from hashtags, likes, or comments on social media platforms
Pricing
Woobox has a free plan and has various paid tiers ranging from $37/month to $249/month.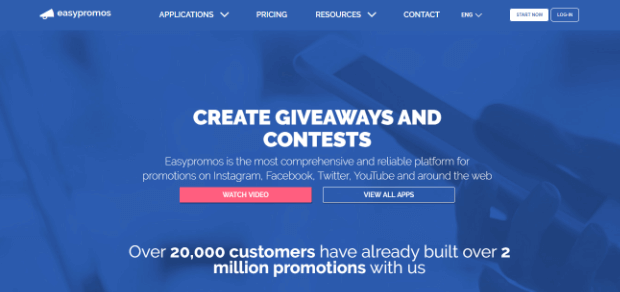 Easypromos is a WordPress contest plugin that uses digital marketing to run your next viral contest.
While there are many ways you can use Easypromos, it's pretty limited when it comes to giveaways. With 8 ways to run a giveaway (called an app), you're limited to forms, social media networks, or live events.
If you're looking to use comments as an entry method, you'll have to manually add them to your contest.
One key feature of Easypromo is the "filter and sort participants" tool. This will prevent repeat winners, easily blocklist unwanted participants, and help you quickly filter people that have entered your giveaway.
Key Features
GDPR compliant
Fraud control
Certificate of validity to show contest equality
Pricing
Easypromos has 4 monthly plans: Basic ($29), Basic Pro ($49), Premium ($199), and White Label ($399). There is also a corporate plan, but you need to contact Easypromos for a quote.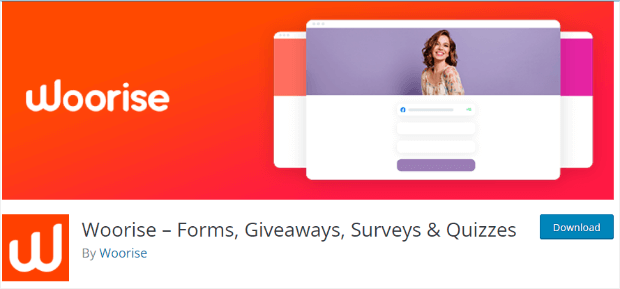 If you are looking to dip your toe into the world of WordPress contests, Woorise has a free account where you can do just that.
Now, features are very limited in Woorise's free plan. So if you want to unlock the true power of the plugin, you'll need to upgrade to one of the paid plans.
Suppose you run a site with an international audience and need multi-language support. In that case, Woorise is the plugin for you.
Key Features
Mobile-friendly design
Geotargeting campaigns
Conditional logic to customize your experience
Pricing
Aside from the free plan, Woorise has 3 additional tiers: Basic at $23/month per site, Grow is $39/month per site, and Pro is $79/month per site.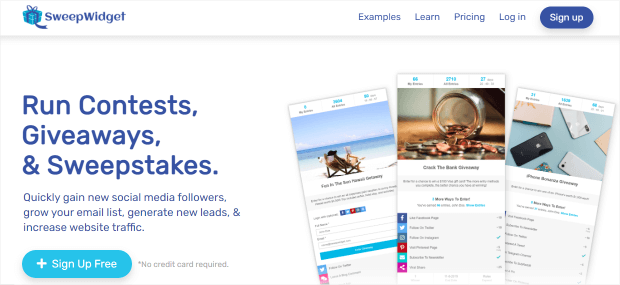 SweepWidget is a multipurpose WordPress contest and giveaway plugin that excels in entry methods.
How does over 90 entry methods sound?
Plus, with compatibility with over 30 social media platforms, you can ensure your giveaway goes viral.
Key Features
Support for 103 languages
Drag and drop builder
Leaderboards
Pricing
Like other plugins on this list, there is a free basic plan. You must upgrade to a paid tier to unlock features like additional brand support, integrations, and more. Pricing starts at $29/month.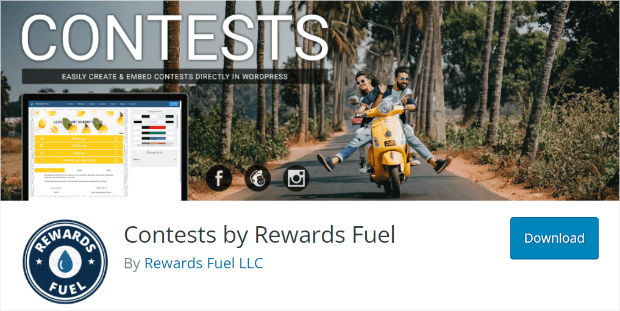 Contests by Rewards Fuel is a plugin that excels in creating contests with a wide variety of entry methods.
With a unique feature that delivers digital prizes for you, businesses specializing in online goods can succeed with Contests by Rewards Fuel.
Key Features
Supports 11 languages
Custom CSS personalization
Copy contest feature
Pricing
Pricing plans start at $11.63/month.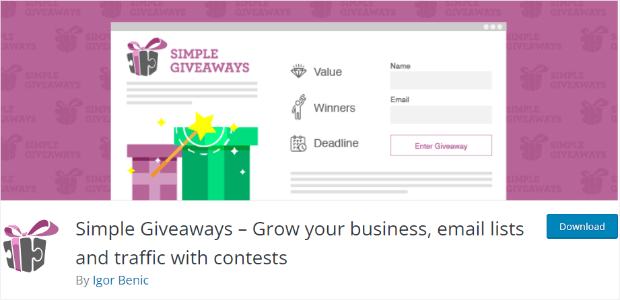 Simple Giveaways is another easy-to-use giveaway plugin for WordPress.
One of the big selling points of Simple Giveaways is the included page builder. That way,  you can create separate pages on your site dedicated entirely to the giveaway.
Though, there is shortcode functionality, so you can just embed your contest on an existing page if you'd like.
Key Features
Integration with email service providers
Contest automation
Unique referral links
Pricing
Simple Giveaways has a free plan. Though, to unlock templates and more, you'll have to upgrade to a paid plan that starts at $49.99 yearly.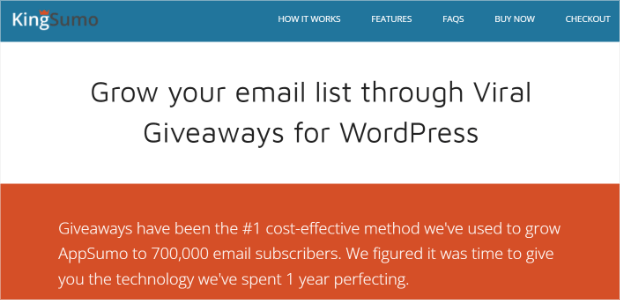 KingSumo is a WordPress giveaway plugin created by AppSumo. They claim that you can launch your WordPress giveaway using their technology in less than a minute.
If ongoing costs are a concern for you, then you should definitely consider KingSumo as there is only a 1-time fee.
Key Features
Schedule start and end dates
Works on any WordPress.org self-hosted site
Easy image uploads
Pricing
$198 for a lifetime license for 1 site. For unlimited sites, the cost bumps up to $594.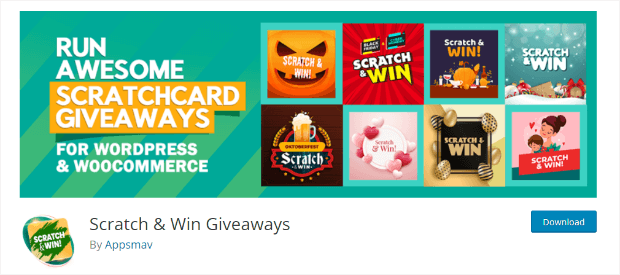 Perhaps you are looking for a more simplistic giveaway. Then check out Scratch & Win Giveaways.
As the name suggests, this is a scratch card-style WordPress giveaway plugin. This can be helpful if you are looking to offer discounts or other digital-related prizes.
You can set the giveaway entry rules, like signing up for your email list for connecting through their social profiles.
Scratch & Win Giveaways has some targeting rules to help you further customize your giveaway.
Key Features
Holiday-themed templates
Popup and inline options
Allows repeat plays
Pricing
Scratch & Win Giveaways is free for the first 50 entrants. Pricing plans begin at $6.97/month for up to 200 users.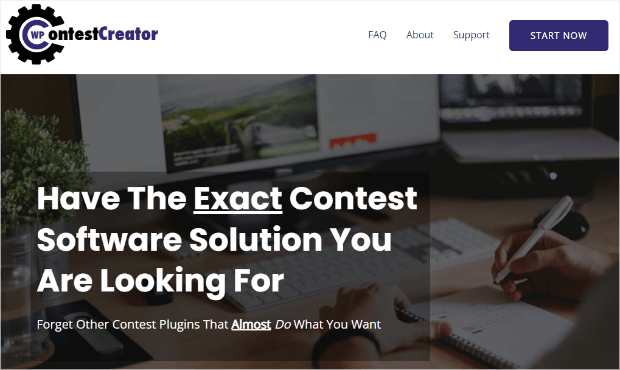 WP Contest Creator is more than just a WordPress plugin.
This is a completely customized solution if a cookie-cutter plugin just isn't enough for you. WP Contest Creator works by starting with a base plugin, then the developers customize it to fit your needs.
Of course, this isn't a quick or cheap install and may be cost-prohibitive for some small businesses.
However, suppose you want to make giveaways and contests a crucial part of your marketing strategy. In that case, this may be an option you want to explore.
Key Features
Custom plugin
3-5 week turn time
Video installation walkthrough
Pricing
Contact WP Contest Creator for a custom quote.
How to Generate Excitement for Your WordPress Contest
Now that you've hopefully found the perfect WordPress contest plugin, it's time to generate excitement and promote your giveaway on your website.
While some people think you can just add some text and an image on your homepage, that doesn't really entice people. After all, this may be the first time they are seeing your brand or website.
So, they need something a little extra. They need to know you are trustworthy. They need to see that other real people are also signing up for your contest.
Use TrustPulse for Social Proof
What you need is social proof. And there's only 1 tool that you need to deliver that proof: TrustPulse: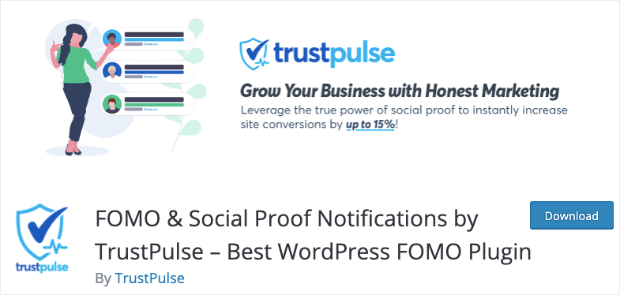 TrustPulse is a premium WordPress plugin that's the most powerful and reliable social proof platform to increase contest participation.
By using TrustPulse, you'll be able to show real-time and historical activity that real people have taken on your website. You can also highlight actions being taken on your giveaway:

Not only does TrustPulse provide social proof by showing real actions taken by real people, but it also leverages FOMO (Fear of Missing Out) on your contest.
After all, who wants to see Eliza win that prize besides Eliza? So, that notification will make people want to click to try and win it for themselves.
Plus, with TrustPulse's smart targeting rules, you can show your social proof notifications to your target audience. That way, you'll be talking to the right people that'll want to take action on your contest.
With flexible design options and a simple setup process, you can get TrustPulse going on your website right away!
Claim your own TrustPulse account now!
And that's all you need to know about the best WordPress contest plugins and what you need to promote them.
We hope you enjoyed this post. If you did, you'd definitely want to check out the following resources:
These posts will have even more information on how you can run an online contest and ways to use social proof and FOMO for marketing.