Do you want to get more organic traffic for your eCommerce business? eCommerce SEO is what you need!
To make more sales, you have to get more eyes on your online store. There's no way around it. Fortunately, search engine optimization (SEO) can help you attract shoppers who are ready to buy what you're selling. And you don't have to hire an SEO expert to get started.
In this article, we'll break down the basics of eCommerce SEO into simple explanations and actionable steps to take. We cover a lot of ground, so here's a table of contents to help you find your way around:
Let's get started!
What Is eCommerce SEO?
eCommerce SEO refers to search engine optimization for businesses that sell their products or services online. The main goal of eCommerce SEO is to get your website or products to show up on the first search engine results page (SERP).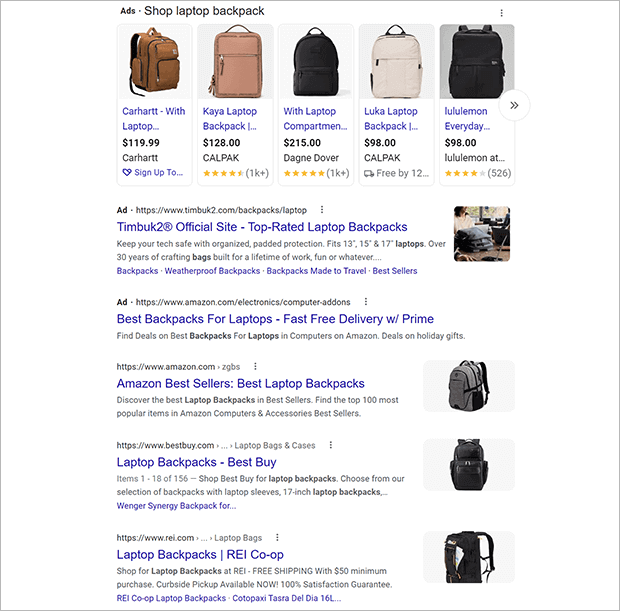 You may hear people referring to an "algorithm" that they're trying to beat. This refers to the many ranking factors that search engines use to decide where to place pages on the list of search results. Some factors include:
Bounce rate, or how often visitors leave a page without clicking further onto that website
Page load time
Backlinks, or ow many other websites link to that page
Overall user experience
Why Is SEO Important for eCommerce?
eCommerce SEO matters so much because many shoppers start by typing the product they want to find into Google search.The higher the clickthrough rate (CTR) on your search results, the more traffic, sales, and revenue you'll get.
Searchers overwhelmingly click on results from the first page more than any other SERP, so getting onto the first SERP is very important.
The first SERP typically includes:
Organic results: unpaid listings that are relevant to the search term
Ads: paid advertisements related to the search term
Google Shopping recommendations: products that have been listed on Google Shopping, ranked by relevance and ad data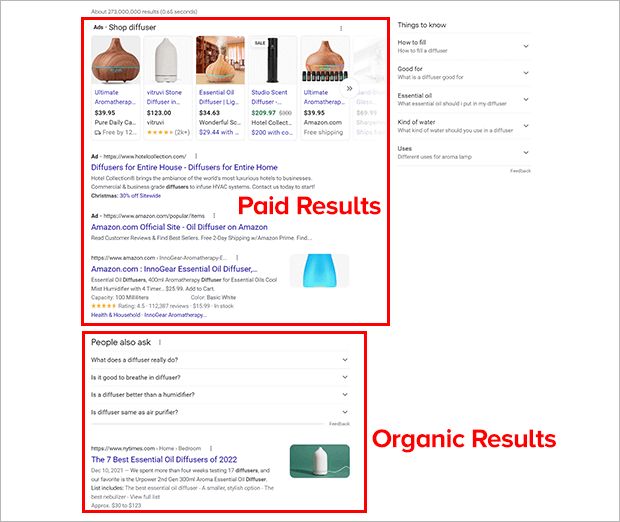 This is why SEO is such a key part of launching an eCommerce business.
How To Do SEO for eCommerce Website
Your eCommerce SEO strategy is an ongoing process, not just something you do once and check off forever. That's good news because there's always room for improvement when it comes to your SEO rankings!
Before you start or change your SEO strategies, consider performing an SEO audit to get your starting metrics. That way, you'll know how well your efforts are working.
Now let's take a look at the 6 parts of eCommerce SEO. Think of these as pillars supporting the same structure rather than steps in a one-way process. You need every piece in place to optimize your SEO strategies.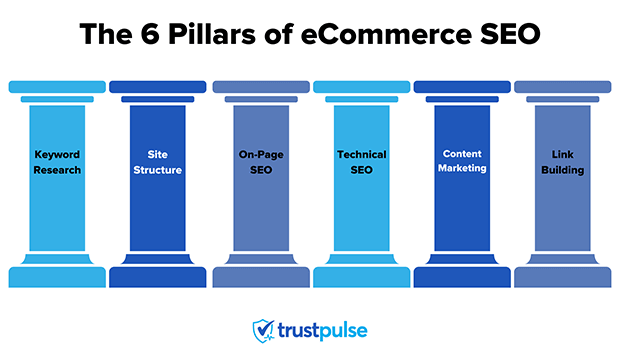 1. Keyword Research
In order to get found, you must understand what your potential customers are searching for. You may describe your products a certain way, but if no one's looking for those terms, they're not going to see your website.
When it comes to how to pick the right keywords for your eCommerce site, look for:
Longtail keywords that show specificity, such as "pink knit gloves for kids" rather than just "kids gloves"
Commercial or transactional search intent that indicates interest in learning more about brands and services or a desire to complete a purchase, such as "best pickup trucks for contractors" (commercial) or "pickup trucks for sale" (transactional)
Search volume, or the number of searches for a term, which should be high enough to be worth the effort of optimizing
Competition, or how difficult it is to rank for the keyword
Keyword-product fit, or how well the keywords actually describe what you sell
Look for a balance between all these factors. For example, you may want to include a longtail keyword with high transactional intent but relatively low search volume in addition to a highly competitive keyword with lots of search volume.
Keyword Research Tools for eCommerce
The good news is that you don't have to guess when coming up with keyword ideas. All of the data is available if you know where to look. Here are our favorite research tools for eCommerce keywords:
Amazon
As one of the largest eCommerce sites in history, Amazon has tons of information you can use to help find your own keywords. Just type in a keyword that's relevant to one of your products and look at the autofill suggestions that come up:

You can find categories for price, user, features, and more. Pay special attention to those longtail keywords, which tend to have less competition and higher conversion rates.
Another place to look for inspiration is the product categories and subcategories. Repeat this process with other major competitors in your industry.
Google Suggestions
The search engine giant Google has plenty of search-related tools. To start, you can type in your relevant keywords just like you did on Amazon and look for the autosuggestions and related searches on the results page.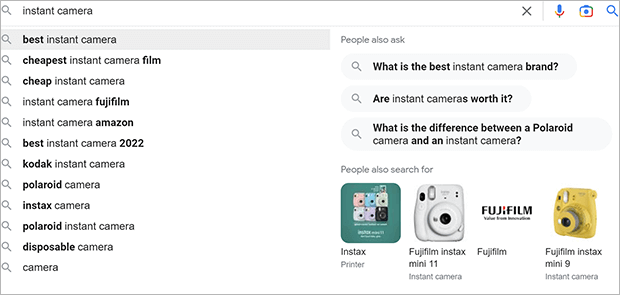 Google Keyword Planner
This free tool shows you how often certain words are searched and how search behavior has changed over time. With this information, you can pick the keywords that will really work best for you.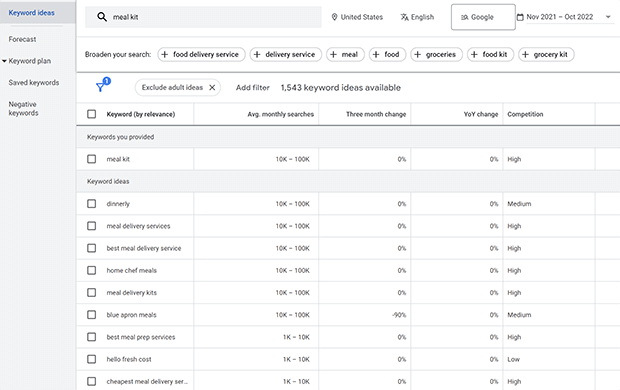 Google Search Console
Google Search Console gives you data on what search terms are already bringing visitors to your site so you can adjust your SEO efforts accordingly. Google Search Console is also where you can submit sitemaps and individual URLs for crawling.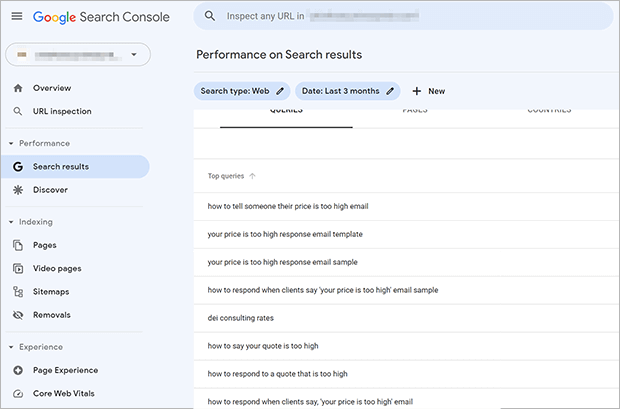 Ahrefs
If you have the budget, a paid tool like Ahrefs can provide additional insights for your keyword research. Ahrefs is particularly good at showing your backlink profile, or the number and quality of links to your website. It also lets you run keyword research reports in bulk if you have a lot of pages to optimize.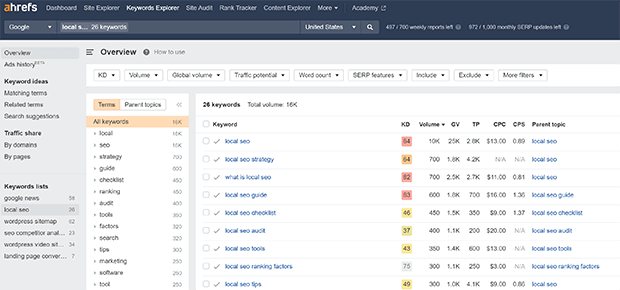 SEMRush
SEMRush has many similar features as Ahrefs, including keyword difficulty, search history, and backlink analysis. SEMRush also has tools to help you plan your content with keyword optimization in mind.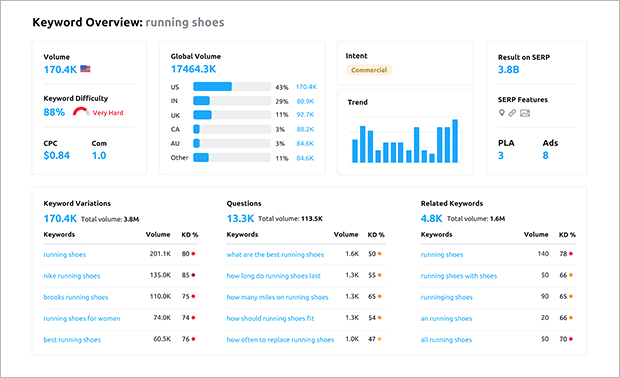 Action Step:
Pick a product on your eCommerce website and make a list of 10 relevant keywords using the tools and principles mentioned here.
2. Site Architecture
Optimizing your site structure for search engines is really about creating a good user experience. You want to make it easy for visitors and search engines to find things in your store. This is especially important because eCommerce stores tend to have a lot of pages: individual product pages, categories, subcategories, blog posts, support documentation, and more. You don't want your site users to get lost!
How To Optimize an eCommerce Website for SEO
The simplest way to make your website friendly to search engines and humans alike is to make every page reachable from the homepage with 3 or fewer clicks. In other words, don't bury your content in a complex site structure.

Most external links will go to your homepage. So you want to make it easy for visitors to get to products and other pages from that initial linked page. Some good link structures might include:
Homepage > Category > Subcategory > Product
Homepage > Help > Support Documentation
Homepage > Blog > Blog Post
In fact, making the link structure clear to visitors can help improve their browsing experience significantly. These links are called breadcrumbs and show how they can get from one page to another.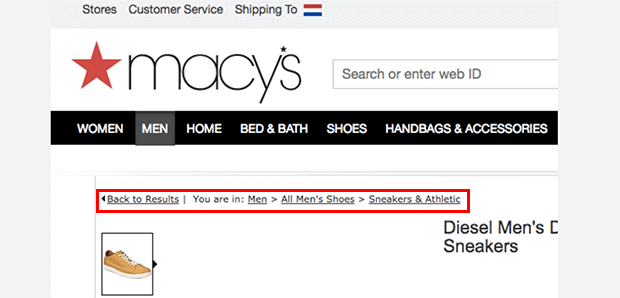 One last tip: use redirects carefully. With so many pages, you may have to redirect an old URL to a new one, which is better than doing nothing and having a broken link. But too many redirects can slow down page speed and confuse users, so keep a careful eye on your site structure and never redirect to a page that already has another redirect active.
Action Step:
Add breadcrumbs to your product pages and make sure there's 3 or fewer clicks from the homepage.
3. On-Page SEO
While most external links will go to your homepage, the individual product and product category pages will generate the most sales and search traffic. The search intent for product name or category searches is very high, which means those customers are ready to buy. That's why we want to make sure that your product page SEO is optimized to bring those customers to your web pages rather than your competitors.
How To Optimize an eCommerce Product Page for SEO
It's not just about using keywords in every other sentence on your product pages. You still need to provide information that's accurate and helps your target audience make a decision. One of the best ways to do that is with unique and informative product descriptions.
Product descriptions should address customer needs and present the information relevant to each product. Don't just copy and paste the same description with a few changes, as this can get flagged as duplicate content. Use keywords from your research that sound natural, and don't overdo it. For a product description of 1,000 words, you only need to use each keyword 3-5 times. The trick is using multiple related keywords to drive traffic from many different searches.
Other places to include your target keywords include:
Title tag that sets the page title in the browser
Meta description that shows up on search results page
URL of each page
Alt text for images
Ever wonder how to get your products featured in something like this on Google?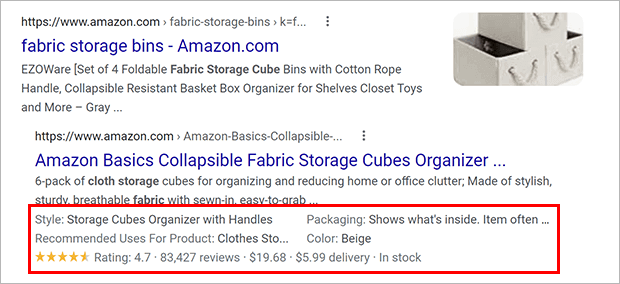 It's called a rich snippet that gives extra information about the page in the search results. Schema markup is a way for your website to tell Google what kind of content to put in those rich snippets. The Product Review schema markup shows ratings and review numbers for your products on the search page. You can use a plugin like AIOSEO to set up rich snippet schema markup with just a few clicks.
Action Step:
For more on-page SEO tips, check out our complete guide to eCommerce product page SEO.
4. Technical SEO for eCommerce Sites
Technical SEO is about 2 main things: speed and links.
Page speed is how quickly each page loads. With more and more shoppers using mobile devices on the go, no one has the patience to wait 10 seconds for a webpage. If your load times are too high, your customers will simply go elsewhere. Make sure your site is mobile-friendly and that your product images are compressed enough to load quickly even on slower data connections.
Internal links are links from one page on your site to another page on your site. Search engines use internal linking to understand the structure of your website and which pages are the highest priority. So you want to have plenty of internal links to high-priority pages like your bestselling products. Now, this usually happens naturally if your site architecture is good, but you can also manually add links from blog posts to product pages and vice versa.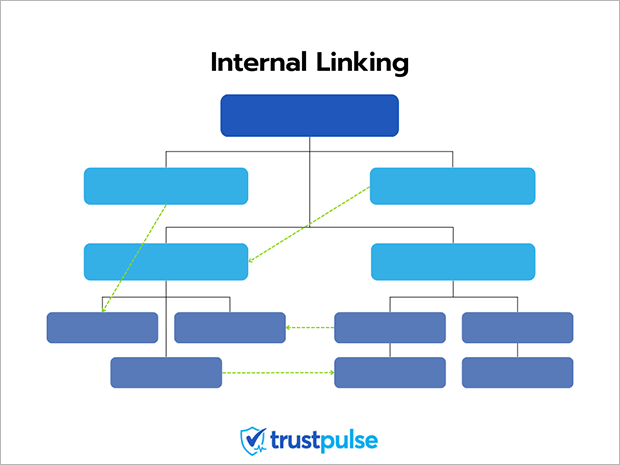 In addition to internal linking, search engines can use a sitemap to better understand your website. A sitemap is a XML file containing information about the pages, videos, and files on your website as well as the relationships between them. You can generate your own sitemap and submit it to Google Search Console to help the search engine crawl your site more accurately.
Action Steps:
Compress your product images with an app or plugin for the eCommerce platform you're using.
Add some product links to your blog posts if you have any.
5. Content Marketing for eCommerce SEO
Content marketing is the creation of high-quality content that supports buyers throughout their journey. It's one of the most effective digital marketing strategies for getting more search traffic.
Publishing content like blog posts and case studies can build your reputation and site authority. This increases your site's visibility in organic search. Content marketing also shows website visitors that you're reliable and knowledgeable about the industry.
For example, this skincare brand has blog posts answering common questions from their target audience. The posts feature their products but aren't sales pitches.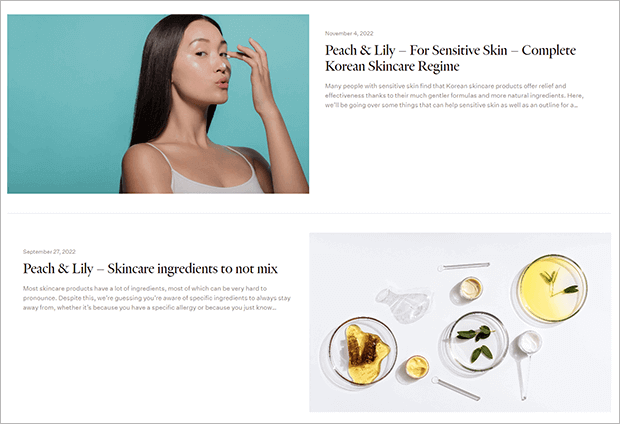 Action Steps:
To create effective content, follow these steps:
Research keywords to rank for, focusing on transactional and commercial intent keywords
Write a blog post that solves a specific problem for your target audience and includes these keywords
Optimize your post following this on-page SEO checklist
Include links to relevant product pages and other high-priority pages on your site
Share your new content on social media, email marketing, industry events, and anywhere else you can
6. Link Building for eCommerce SEO
Finally, don't overlook your backlinks. These are links to your website from other sites, and search engines use the number, quality, and relevance of these links to judge the quality and trustworthiness of your site.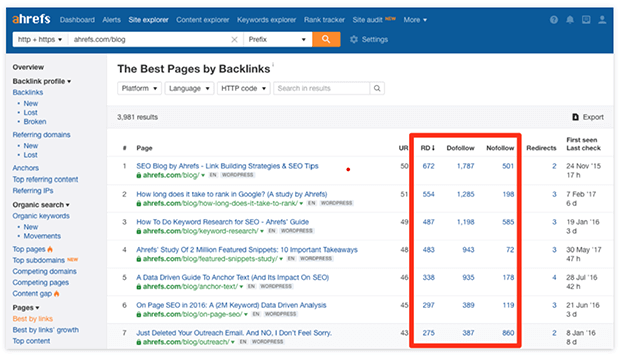 Link building is a long game that often takes awhile to pay off but will continue to reward you for years to come. You can get links to your site by building partnerships with other brands who feature you in their marketing or writing guest posts. You can also earn links through press mentions. We can't share a full PR strategy in this post, but one easy resource for finding press opportunities is Help a Reporter Out (HARO).
eCommerce SEO FAQ
What's the best eCommerce platform for SEO?
When it comes to SEO, the best eCommerce platform is WooCommerce since it builds on the SEO-friendly foundation of WordPress. The best hosted eCommerce platform for SEO is Shopify. It comes with lots of built-in features to get your site indexed and ranked. Plus there are lots of SEO apps in the Shopify App Store to build on the core features.
What are the best eCommerce SEO tools?
Google Analytics to track and report existing website traffic
Google Search Console to see what's already driving traffic to your site
Google Keyword Planner to organize your keyword research
Ahrefs to analyze backlink profile and keyword ranks
SEMRush to conduct keyword research
All in One SEO (AIOSEO) to enhance WooCommerce SEO straight from your WordPress dashboard
We hope this guide helped you understand some of the SEO best practices you can use to boost your traffic and conversion rates. To summarize:
Find the relevant search terms for your website and individual products.
Use a simple site architecture where every page can be reached from the homepage in 3 clicks or fewer.
Add your keywords to your product and category pages while ensuring that your product descriptions, imagery, and other on-page content are helpful and informative.
Make sure that your site speed, internal links, and other technical SEO factors are optimized.
Create high quality content such as blog posts or social media content that's helpful for your target audience and link that to your product pages.
Build backlinks through strategic partnerships and press mentions.
For more tips on eCommerce marketing, check out our ultimate guide to eCommerce optimization.