Are you looking for a way to add IndexNow to your website?
IndexNow is a fast way to get your content indexed by search engines.
In this post, we'll check two different methods that you can use to add the IndexNow feature to your website and speed up SEO rankings.
What is IndexNow?
IndexNow is an instant technique that informs search engines if a new post/page is added, updated or removed. It helps search engines update their SEO rankings relatively faster than the traditional crawl method.
Without IndexNow, it can take several days for search engines to discover that the content has been changed since they don't crawl every URL often. With IndexNow, search engines will be notified about the content changes, which helps them prioritize crawling for these URLs.
Microsoft initiated IndexNow for Bing to improve the SERP ranking process. Google spokesperson has confirmed that they're also checking the IndexNow sustainability and thinking of adding it to the Google Search Engine in upcoming development updates.
Overall, it's a new protocol to speed up the content crawling process and update SERP rankings instantly.
Do You Need the IndexNow Feature?
Traditionally, search engine bots visit websites and crawl the links via XML sitemaps. However, it's a random process, and you've to wait for search bots to visit your website. Once they're on your website, they attempt to crawl most links to find the newly added links.
Whereas, IndexNow pings search bots about the exact content that needs indexing without visiting already indexed links. It saves time and speeds up the SEO process.
That's the reason why you should add IndexNow to your website.
How to Add IndexNow to Your Website?
You can easily add IndexNow to your website without writing any code.
Now, let's have a look at the first method.
Method 1: Add IndexNow with AIOSEO Plugin
All in One SEO is the most popular SEO plugin that you can install on your WordPress website. It's an easy-to-use plugin and is actively installed on over 3 million websites.
AIOSEO introduced the IndexNow feature in their recent update.
Before we jump into the actual steps, let's look at some of the essential features of the plugin.
TruSEO: All in One TruSEO is the best tool for optimizing your content. You'll need to enter the target keyword and follow a simple checklist of SEO suggestions to unlock your content's ranking potential.
Search Appearance: The search appearance settings from the AIOSEO plugin help you add your business name, address, and contact details that appear in the business knowledge graph.
SEO Audit: You can run SEO Audit to analyze your website's overall SEO score and fix any possible issues.
Link Assistant: AIOSEO plugin offers an excellent link assistant tool that gives you insights into all your website's internal and external links.
And many more.
Let's start with our steps for adding IndexNow to your website using the All in One SEO plugin.
Step 1: Install All in One SEO plugin
First, you need to install the AIOSEO plugin.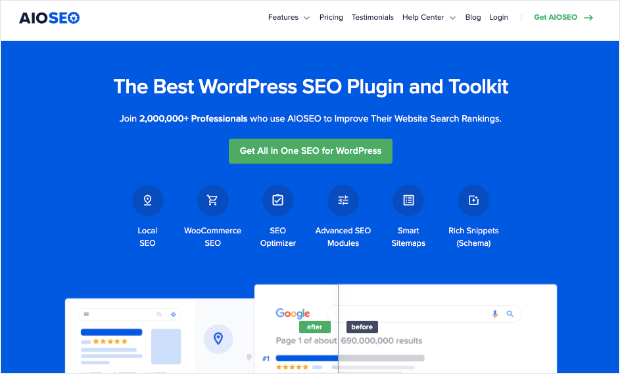 We recommend using the paid version of the AIOSEO plugin to improve your website SEO with premium features.
Select a plan and complete the payment process. Download the plugin and install it on your website.
Consider checking out this ultimate guide on installing a WordPress plugin.

Navigate to the AIOSEO general settings tab from the dashboard and activate the plugin license.
Step 2: Activate IndexNow
After activating the plugin, go to AIOSEO » Feature Manager.
You'll see the IndexNow option.

Activate the toggle button.
That's it.
Next, we just need to verify the IndexNow API.
Step 3: Verify the IndexNow API from the Settings
Once you enable the IndexNow feature, click on the manage link from the description.
Select the IndexNow box and click on the Save Changes button.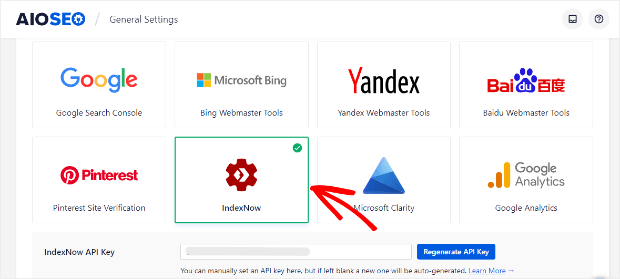 The plugin automatically generates and hosts an API key, so you don't need to regenerate the key.
That's all you need to do to activate the IndexNow feature from the AIOSEO plugin.
Method 2: Activate IndexNow using the IndexNow Plugin
AIOSEO is the best way to add the IndexNow feature.
However, if you wish to use another plugin, there is an additional plugin created by Microsoft to help users implement IndexNow.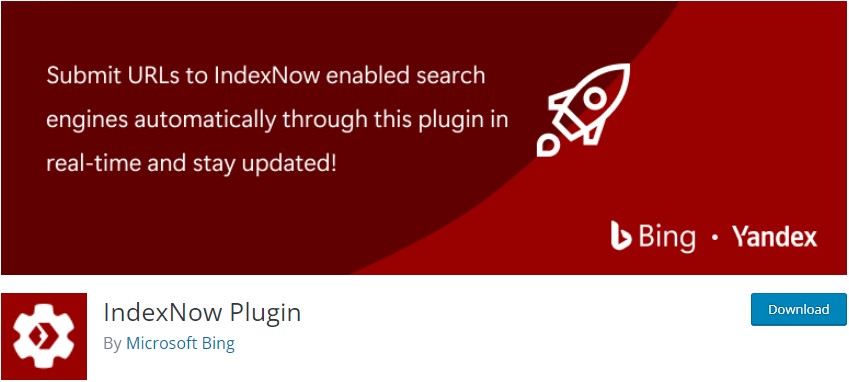 IndexNow, it's a free plugin that you can install from the WordPress repository.
Once you activate the plugin, navigate to the Settings » IndexNow.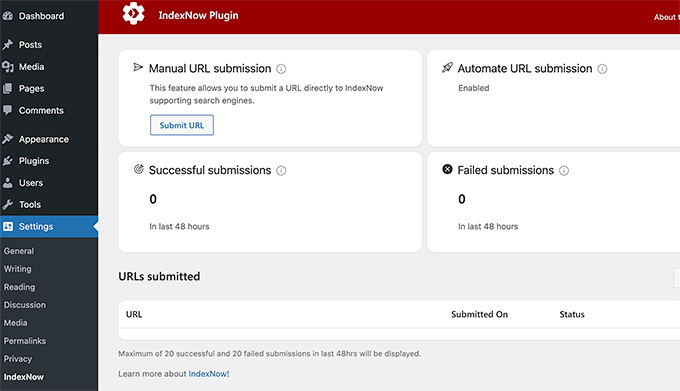 You don't need to generate and host API keys because the plugin automatically submits URLs for indexing content.
That's it. You've added the IndexNow feature to your website.
Best Way to Add IndexNow to Your Website
We've discussed two ways to add IndexNow and improve your rankings in the search engines. If you're looking for an advanced SEO plugin with the IndexNow feature, you should go with the AIOSEO plugin.
IndexNow is a new protocol, and we hope it will keep evolving in the upcoming updates. It's a wise decision to adopt this feature early for long-lasting benefits.
If you liked this post, consider checking out the below articles to improve your website SEO performance:
Don't forget to follow us on Facebook and Twitter for more free WordPress tutorials.