Are you trying to figure out how to increase MRR for your online product or service?
MRR (or "monthly recurring revenue") is a critical factor when it comes to SaaS products. It's one of those key metrics that you likely watch month after month, just hoping to see progress.
But after watching profits stay steady, you can quickly start to feel discouraged.
Luckily, we're going to fix that problem for you today.
That's because we'll teach you 7 expert tips for how to increase MRR.
Before we do, though, let's get a bit more clarity on what MRR means and why it's so crucial to your company's growth.
What Is MRR?
Monthly recurring revenue (MRR) is exactly what it sounds like: the amount of profits you generate each month.
For SaaS companies, this is easy to calculate and plan for.
That's because you can look at how many subscribers you have and calculate how much income will come from recurring subscriptions.
Understanding your MRR is crucial to growing your SaaS business. With an accurate idea of your MRR, you can:
Make a Better Budget: Invest in marketing campaigns responsibly by knowing how much money your business will likely bring in.
Troubleshoot Problems: Identify issues with your product's user experience (UX) by analyzing negative changes in your MRR.
Generate MORE Profits: Double down on popular marketing campaigns by figuring out which campaigns have led to the highest profits.
At the end of the day, knowing what your MRR is AND accurately tracking it each month will help you make a better budget for your business.
It will also help you identify key areas for growth.
And that leads us nicely to what you really want to know: how to increase MRR.
So without any more delay, let's dive into our 7 expert tips.
How to Increase MRR for Good
If you've read other posts on increasing MRR, then you've probably read lots of the same tips, like:
Raise your pricing
Stop your "freemium" services
Create tiered pricing based on features
And so on…
The problem with these tips is that they might not work for every SaaS company. Plus, they'll only work for so long.
After all, you can only raise your prices so high before that tip isn't an option anymore.
That's why, in this post, we'll look at evergreen strategies that will grow your MRR continuously over time.
Plus, this advice can be used by all online businesses, regardless of your pricing model.
More specifically, in today's post, we'll cover the following tips:
Feel free to use the table of contents above to navigate to the section that most interests you.
Otherwise, let's get started with our first tip: using social proof notifications.
1. Display Social Proof Notifications
You've likely seen social proof notifications while shopping online. They're a popular way to boost sales for eCommerce.
They look something like this:

But they're also incredibly effective for SaaS products, too.
Social proof notifications work because they create a sense of FOMO (or "fear of missing out").
FOMO is something that affects all online consumers, even those shopping for SaaS products. And the process is simple:
When we see other people enjoying benefits from an experience, service, or product, then we want those benefits, too.
It's why you'll see these notifications on SaaS websites like OptinMonster: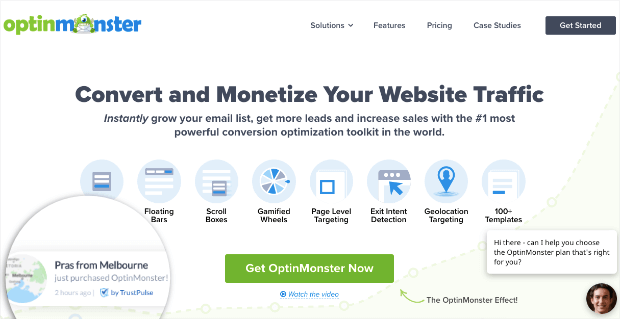 Now you might be wondering, "How do social proof notifications increase MRR?"
These notifications can be used to boost engagement with your brand for any call to action (CTA) you have.
That means getting MORE people to sign up for your free trials or paid plans.
In fact, social proof notifications have been proven to increase sales by up to 15%.
At least, that's what we've found with users of TrustPulse: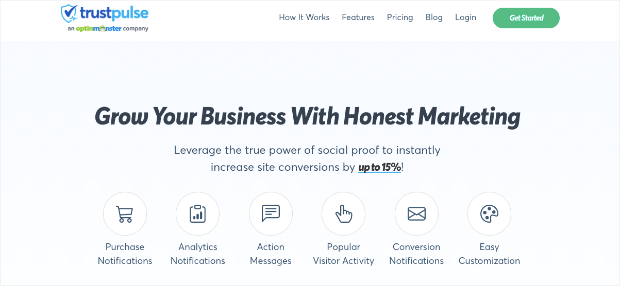 TrustPulse is the world's #1 social proof software. It allows you to create authentic social proof notifications for your SaaS website regardless of what stage you're in.
That's because TrustPulse offers you 4 different campaign types:
Recent Activity: Show a live stream of website activity like purchases, registrations, sign-ups, and more.
On-Fire: Show the number of people taking action on your website in a given period.
Visitor Analytics: Highlight active interest in your site by showing real page visits over time.
Action Message: Display a single static notification to help drive visitors to take action or highly information.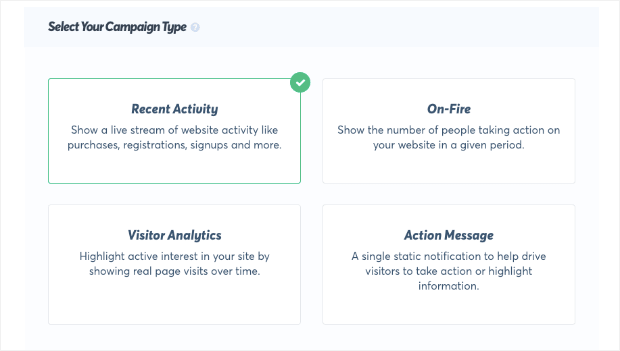 With this variety in your campaign type, you can use authentic social proof at every stage of your business.
If you're just starting out and don't have many subscriptions yet, that's no problem.
You can highlight your sign-up page's popularity with a Visitor Analytics campaign. This will display how many people have visited that page, building credibility with new visitors.
And once people start taking action, you can switch to a Recent Activity campaign.
This lets other site visitors know when someone has signed up or purchased one of your plans.
In the end, this leads to higher conversions and more monthly revenue for your business.
Here are a few other features we know you'll love about TrustPulse:
Easy installation
Customizable notifications (colors, fonts, images, and more)
No coding required
Targeting rules are simple to modify
Powerful analytics dashboard
These features and more are what make TrustPulse the BEST social proof software on the market.
Want to see it in action for yourself? Start your 100% risk-free TrustPulse account today!
2. Grow Your Email List
One mistake that many SaaS startups make is not growing their email list from day 1.
Email marketing is one of the hardest things to nail for a SaaS business.
But it's also the most profitable.
And once you have a robust mailing list to nurture, you can see monthly recurring revenue increase each and every month.
That's because you can guide new leads through an automated email funnel that converts them into paying customers.
Since this series is running on autopilot, you can get more of your time back to focus on other parts of increasing your MRR.
Now you might be wondering, "What's the easiest way to grow your mailing list?"
For that, we highly recommend using a lead generation tool like OptinMonster: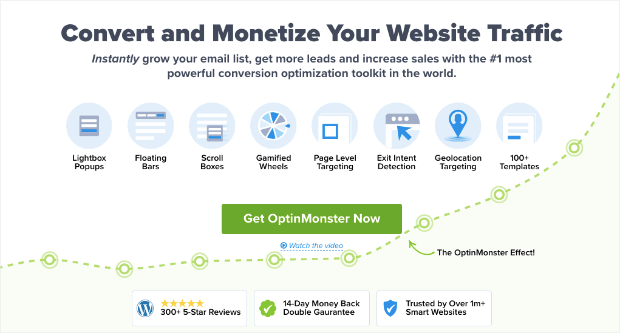 OptinMonster is a premium lead generation software and your best bet for growing a mailing list FAST.
It allows anyone to quickly and easily create "optin campaigns" to capture email addresses.
Optin campaign is a term you're likely already familiar with. It refers to things like:
Popups
Floating bars
Spin to win wheels
Content lockers
Slide-in scroll boxes
And much more…
The goal of these campaigns is to grab some form of contact information from your new lead and send them to your email series.
So what makes OptinMonster the best at this?
OptinMonster has over 50+ pre-built templates that save you hours of time. It also means you don't need to be a professional designer to make beautiful campaigns in minutes.
Plus, it comes with a visual drag and drop codeless builder.
That means you don't need to have any coding or "tech" skills to set everything up fast.
Finally, you'll have access to the most powerful targeting rules on the market. That includes things like:
Exit-Intent® Technology: Recover abandoning visitors (and carts) by showing campaigns as people are actively leaving your site.
OnSite Retargeting®: Keep users engaged by showing fresh campaigns to returning visitors.
Scroll Depth: Personalize the user experience (UX) by triggering campaigns at specific parts of a web page.
MonsterLink™: Boost conversions by transforming campaigns into a clickable link for buttons, emails, anchor texts, and more.
These are just a few examples of OptinMonster's targeting rules, though there are many others.
In fact, MonsterLinks™ are how Stays.net EASILY increased SaaS sales by 10%.
And here's the exact campaign they used for it: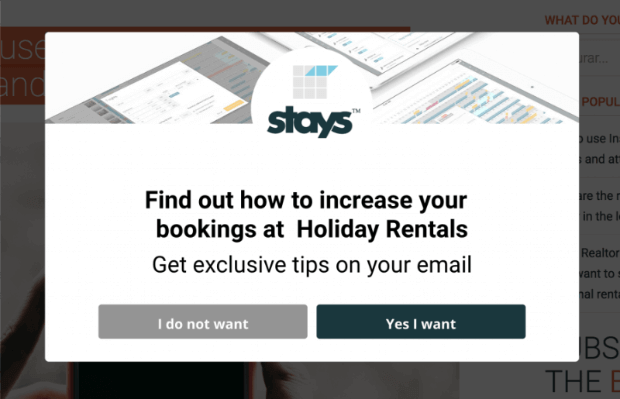 Easy, right?
You can get the same (or better) results for your MRR by starting your 100% risk-free OptinMonster account today!
3. Advertise Your Special Offers
Another missed opportunity for SaaS companies is advertising their special offers.
These would be things like discounts, referral offers, affiliate partner recommendations, and more.
All of these factor into your monthly revenue, and increasing in any of these areas will boost your MRR.
For that, we highly recommend using a floating bar.
These are non-intrusive campaigns that rest on the top or bottom of your user's browser screen.
This is exactly how DateID increased subscriptions by 175%.
They displayed this campaign across their pricing page: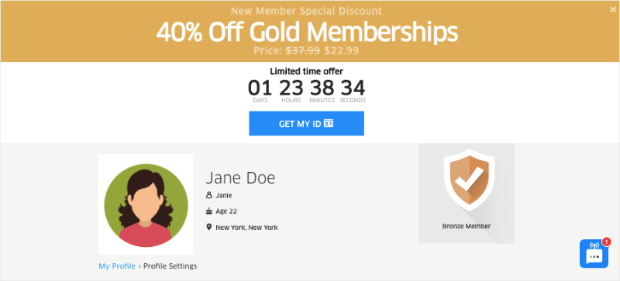 They also used a floating bar to grow their email list.
How? By embedding a clickable survey form into the campaign: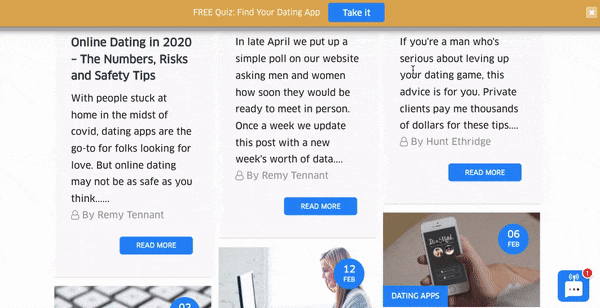 That means DateID was able to increase direct sales with a discount on the pricing page.
But they were also able to increase revenue through email marketing by capturing new leads through an interactive quiz.
This led to an increased MRR. In fact, they saw a 75% increase in sales conversion rates.
4. Leverage Push Notifications
Earlier, we talked about the importance of growing your mailing list to boost MRR.
As we mentioned, this is a process that takes time. For that reason, you should start immediately.
And for faster results, you should also consider adding push notifications to your marketing and sales strategies.
Push notifications are small messages that appear on your subscriber's computer even when they're not on your website.
This gives you instant access to your target audience.
But how is this faster than growing an email list?
Push notifications are helpful because they don't require users to hand over contact information. That means when a visitor lands on your website, they only need to click a button that says Allow.
As a result, you typically get more push notification subscribers than you do for emails.
With that in mind, you can use push notifications to redirect users to high-converting landing pages. And from there, you'll be able to grow your mailing list AND see more direct sign-ups.
Want an easy way to get everything set up? Try using PushEngage: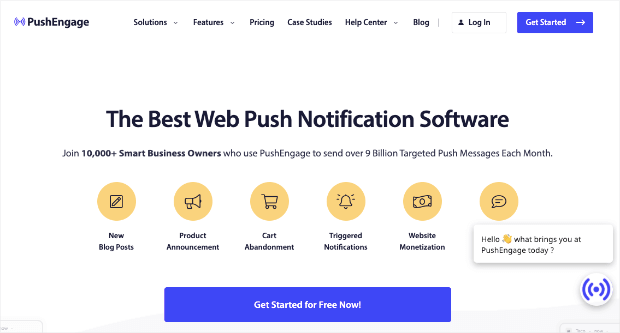 PushEngage is a push notification software that just makes things easy.
From start to finish, you can use PushEngage with no technical setup required. And you'll get access to all their advanced features, such as:
Notification scheduling
Automated "drip" series
Cart recovery notifications
Audience segmentation
A/B testing
Powerful analytics dashboard
And more…
Plus, notifications are incredibly simple to create.
You'll add a few lines of text, determine who you want to receive the message, customize your UTM parameters (for tracking), and send.
Then, just like that, you can directly contact your audience to generate more sales whenever you want.
Sound too good to be true? Why not try it out free by starting your PushEngage subscription today!
5. Build Landing Pages for Features
If you're a new SaaS company, you've probably got a basic website set up.
It probably includes the usual suspects, like:
Homepage
About Us
Integrations
Blog
Pricing
Or some combination of the pages that every SaaS website comes with.
But if you want even higher sign-ups for your product, then you need to have dedicated landing pages built for each of your product's features.
Why? Because landing pages convert better.
Landing pages focus your visitor's attention on a single call to action (CTA). It also helps you rank featured pages on search engines like Google.
That leads to more traffic and higher conversions.
Plus, landing pages really let you show off what your product can do.
By targeting specific features, you can use storytelling in your copy to show why that part of your product is the right solution for YOUR audience.
Then you can load the page with social proof, high-quality images, video demos, and more to get the most conversions possible.
And if you're using WordPress, you can quickly build landing pages with SeedProd: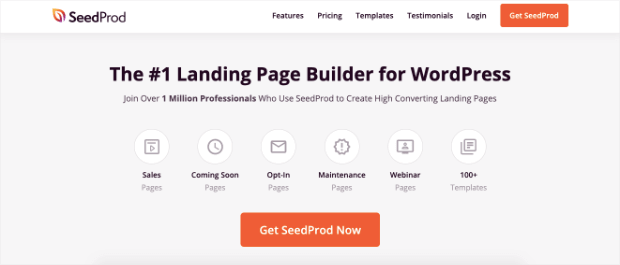 SeedProd is the best landing page builder plugin and lets you create professional pages in minutes.
The best part is that there are ZERO coding skills needed.
Instead, you can select from 100+ original templates that save you HOURS of time. Then to make modifications, you can use the drag and drop visual editor.
This allows you to add new features to your landing page, such as:
CTA buttons
Images
Video
Email optin forms
Dividers
Spacers
And so much more…
Again, SeedProd is a plugin that makes it EASY to build landing pages.
Plus, it integrates with all of your favorite 3rd-party tools. That makes it the perfect addition to any marketing stack that is currently in motion.
Ready to try it for yourself? Get started with SeedProd 100% risk-free today!
6. Add Reviews and Testimonials
At the start of this post, we talked about social proof notifications, and how they can boost sales for your MRR.
But you should rely on other forms of social proof, too.
This is particularly important for your pricing pages, feature pages, or any other landing page where you want visitors to take action.
Of course, this begs the question, "How do you get more reviews and testimonials."
For an in-depth answer to this question, we recommend you check out the following post: How to Get More Customer Testimonials That Drive Conversions.
But at a glance, here are 3 EASY options:
Reach out to your BEST customers via email
Look for where people are talking about you on social media
Take snapshots of 5-star reviews across 3rd-party sites
The point is to collect as much positive social proof as you possibly can for your SaaS website.
If you do, we're confident that you'll see MORE sales each month and drastically improve your MRR over time.
7. Gather Customer Feedback to Reduce Churn
Finally, part of learning how to increase MRR is about earning MORE money.
But the other part is learning how to hold on to the clients you already have.
When people cancel their subscription, it's known as "customer churn." This is a MAJOR factor in keeping your MRR where you want it.
One thing you should do is ask customers for their feedback. This allows you to:
Gather social proof from your happy customers
Address any problems that show up for less-than-happy customers
That last one is particularly important.
By understanding what your audience loves and, more importantly, what they don't, you can optimize the customer experience and reduce customer churn.
Then, as a direct consequence, you'll see MRR in a state of perpetual growth.
And that's all for today! These have been 7 tips on how to increase MRR that you can start implementing immediately.
We hope you enjoyed this article and, if you did, you should definitely check out the following resources:
These posts have even more information on how you can increase conversions AND revenue from your website.