You've probably heard that email marketing is dying, or even already dead, more than a few times. Don't believe it.
Here's the thing:
That line has been around so long that even respected news outlets started referring to email as a "hot, new way" to reach customers in early 2019.
Well, it's definitely hot, but it's not new by a long shot. ?
With a potential return on investment of up to 4400%, email marketing remains the best way to attract and retain customers.
Need more convincing? Good, because we have some nice graphics that we want to show off. ?
In this post, we share email marketing stats showing that, far from being dead, email marketing is an essential tool for attracting and retaining customers. Along the way, you'll pick up some info that'll help you refine your own email marketing strategy.
Email Marketing Facts
Let's be clear: the stats show that email is here to stay.
For starters, we send 102.6 trillion emails every year. And the numbers keep going up, with 126.7 trillion expected to be sent by 2022.
Who's sending and reading all of these emails?
Well, in the U.S. alone, more than 90% of people over the age of 15, it turns out: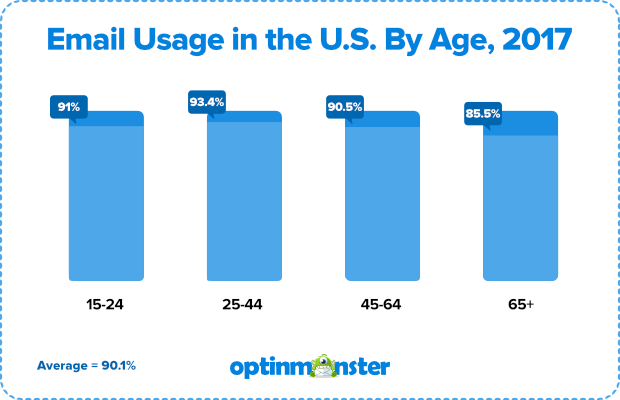 And, despite the rise of social messaging apps, more than 3/4 of teenagers are still using email. In fact, they consider email a "fact of everyday life."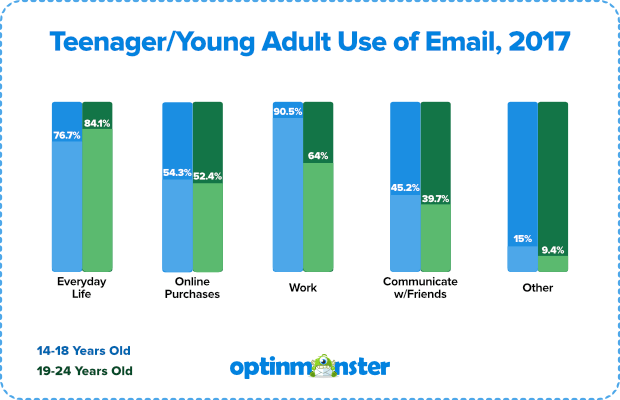 We're also pretty attached to our email. All of us (well, 99% of us) check our email every day.
Some of us check our email as much as 20 times a day. With the rise of mobile use, checking email is super easy, after all.
More than half of us even check our email before doing anything else online (probably before even getting out of bed):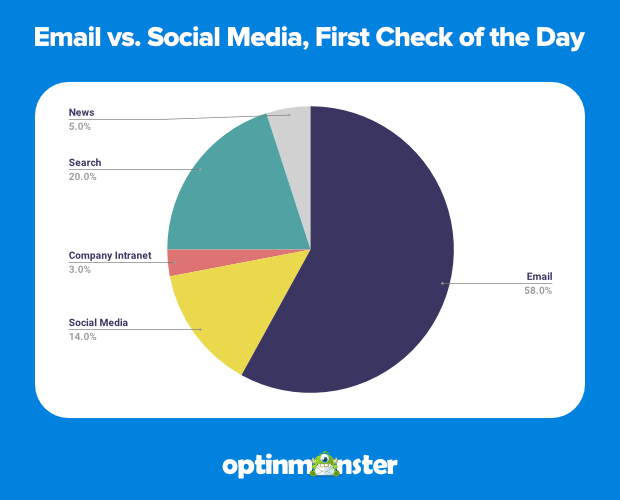 Key takeaway: No matter what age group you are targeting or where they are located, email remains a great way to reach your audience.
How do people usually check their email – on desktop or mobile? By far the largest number are using the iOS mail client, whether that's on the iPhone or iPad, according to research by Litmus. The next largest group use Gmail, which boasts more than 1.5 billion users.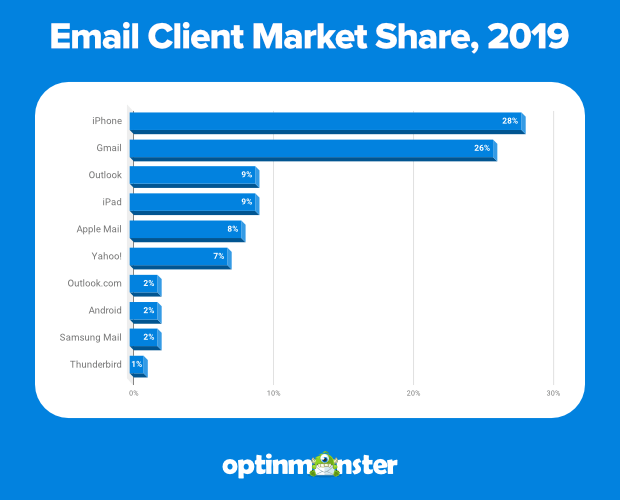 And with all of the emails and all of the users, email reaches about 85% of the people you send it to (this is called the "inbox placement rate").
"But, my fine OptinMonster people," you say, "I can get in front of millions of people for FREE with social media!"
Honey, no. You may not even get in front of most of your own followers for free with social media.
Here's what we mean: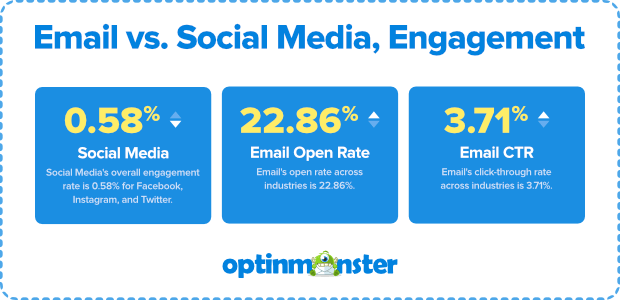 For the "Big 3" of social media (Facebook, Instagram, and Twitter), the engagement rate isn't even 0.6%. Compare that to email's average open rate of 22.86% and even its click-through rate of 3.71%.
Key takeaway: Emails reach most of the people they're intended for, so email marketing remains an essential part of your marketing strategy.
Give your emails an even better chance of reaching your customers by reading our guide: 11 Reasons Why Your Emails Go in the Spam Box and How to Make Sure They Don't.
Consumers and Email Marketing
If you're wondering how email marketing looks from the consumer point of view, this next batch of email marketing statistics gives some insight.
According to Adestra, consumers prefer email for communicating with the brands they're connected with.
Marketers also prefer email. 91% of B2B (business to business) marketers in a Content Marketing Institute study rated email as "important" or "extremely important" to their content marketing distribution efforts.
It's not all good news, though. DMA Insight's 2019 report shows that email marketers have some work to do when figuring out exactly how consumers are going to respond to their emails.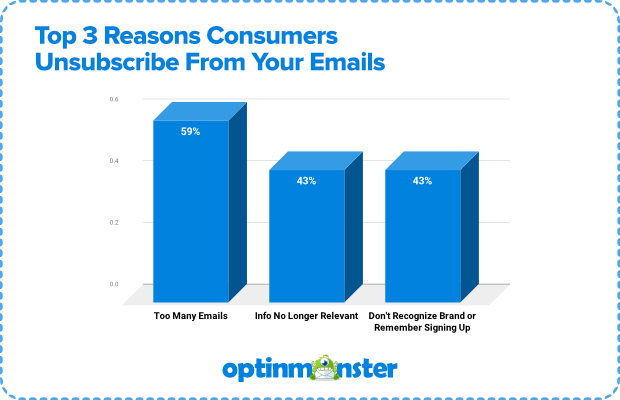 And with 53.49% of emails sent classified as spam as of latest numbers available on Statista (September 2018), it's easy to see how consumers could easily be put off by getting the wrong emails.
It's also easier than ever for consumers to fight back. Many will report emails as spam if marketers don't get the content and frequency right – even if your email isn't actually spam!
Key takeaway: Consumers have the power to get rid of the irrelevant emails that are cluttering up their inboxes.
One way to make sure that your email isn't on the chopping block is to include smart personalization that goes beyond just using subscribers' first names. Learn how to use Smart Tags to make your campaigns more engaging even if you've never used personalization before.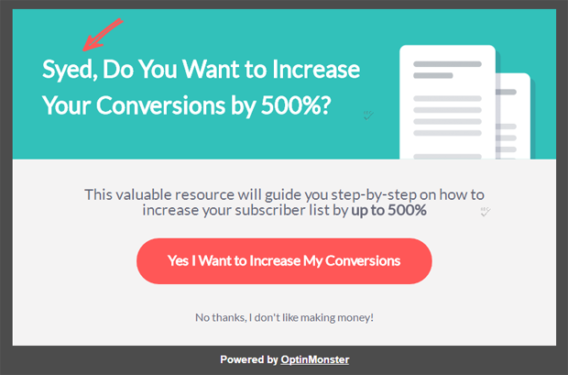 What Email Marketers Say
When it comes to email marketing software, marketers are spoilt for choice. But how do they feel about the emails they send?
It turns out that relevance is a huge concern for them, too. DMA reports that only 55% of marketers believe that more than half of what they're sending out is useful to their subscribers. That's a pretty big problem.
Even worse? Only 1 in 7 people—just 14% of subscribers—believe that more than half of the emails they receive are useful to them.
Relevant content is a big issue for email marketers and since we know that content is one of the main ways to attract and retain your audience, finding ways to create good content has to be a priority for any marketer. Check out our content marketing guide for help with using content to grow your list.
One of the best ways to ensure that you're hitting the mark every time is to test. Yes, you can split test everything, even your content!
Never done a split test before? Don't worry; we've got your back with the Ultimate Guide to Split Testing Your Email Newsletters.
Key takeaway: Email marketers agree with consumers about the issue of relevance in email marketing. This will only become more important, so there's work to do here.
Email Marketing ROI
Another issue people wonder about is the ROI of email marketing. Is it really worth it? That's a giant YES!
Our own comparison of email marketing vs social media shows that email outperforms social by miles, though in fairness to social media it's like comparing apples to cotton candy.
Just a reminder: email marketing has a 4400% ROI. That means that every dollar you spend on email marketing has the potential to bring you a $44 return. Is it worth it?
Key takeaway: the stats agree that email marketing delivers. Find the ROI of your own campaign with our guide on How to Measure the Effectiveness of Your Email Campaigns.
Email Marketing Benefits
So, what are some of the benefits of email marketing that make it a must for marketers?
Remember how we said that consumers still like email? Turns out that they use emails for shopping and finding deals.
According to MarketingSherpa, about 60% of consumers subscribe to a brand's list to get promotional messages and deals compared to only 20% that follow brands on social media.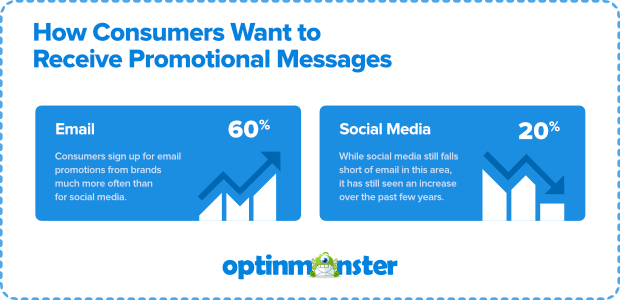 There are multiple other communication methods out there, but email has managed to adapt and stay relevant.
For us, one of the big reasons to use email is that social media platforms come and go and you never actually own your account, which means that your profile could just disappear. It happened to world-famous skydiver Felix Baumgartner, who had over a million fans at the time. Makes you think, doesn't it?
When you build your email list, you own it.
Key takeaway: Email marketing has shown it has the ability to evolve so it's a must for marketers wanting to stay relevant to their customers. Learn how to start your own email marketing strategy right in our Ultimate Guide to Email Marketing for Beginners.
Mobile Email Marketing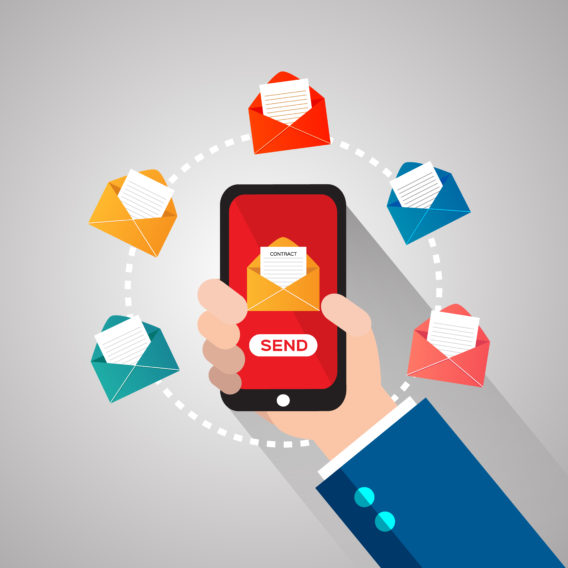 These days, you can't afford to ignore mobile email marketing. About 67% of consumers use mobile to check their email and since mobile use has steadily overtaken desktop use, that trend is only going to continue.
As of 2018, mobile devices claimed 51% of the market share while desktops sat around 45%.
Key takeaway: It's not optional to have campaigns that work well on mobile devices. If your campaigns aren't mobile first or at least mobile-optimized, you're missing out on a lot of potential connections, customers, leads and sales. Learn all about how to increase your mobile conversion rate.
Email Privacy
With GDPR a reality for EU-based customers, privacy issues are more important than ever. Many consumers are happy to share personal information, but 88% of them want transparency about how that information's used.
Luckily, the DMA says 90% of marketers feel that they have a good individual understanding of GDPR. And 57% expect a positive impact on sales. Preference centers will be an important part of this process; 17% of subscribers expect to be taken to a survey when they click to unsubscribe.
Key takeaway: It's time to get serious about email privacy. Check out our GDPR guide for more on this issue.
Email Marketing Predictions for 2019 and Beyond
So, what's coming up in email marketing over the next year or so?
Storytelling and Interactivity. Email marketing is all about the subscriber. Engage them with interesting stories and look for ways they can interact with your content.
Subscriber Experience. With the rise in email marketing automation, it can be easy to lose authenticity. Be sure to stay true to your brand, include personalization, create lifetime value for subscribers, and keep your email marketing focused on subscribers.
Content Combinations (+ TESTING). Try out new content combinations to see what works with your subscribers. Do they like longer emails or get click happy after seeing pictures? You could even get fancy and segment them based on those preferences so you're sending the right content to the right subscribers.
Improve email accessibility for subscribers with disabilities
Non-Linear Sales Funnel. The internet has changed so many things in marketing. The biggest thing is that the sales funnel is a bit less linear. Instead, there are multiple touchpoints where leads might come into contact with your brand. The good news is that email marketing is a great way to connect with leads no matter what stage of awareness they're in.
Key takeaway: Customers will expect an even more authentic and interactive email experience, and marketers will have to use more tools and technologies to deliver that.
Striata also has some trends it suggests email marketers focus on. These include:
Sending hyper-personalized emails
Integrating machine learning/AI into email marketing automation
Being relevant to consumers across all channels
Key takeaway: the future looks bright for email marketing but marketers must keep on their toes to get ahead of these coming trends.
So, is email marketing dead? It's pretty clear that the reports of email marketing's death are greatly exaggerated (sorry for stealing your quote, Mark Twain).
Far from being dead, email marketing is alive, well, and increasingly relevant for you to reach audiences across demographics. Give yourself a head start by checking out these subject lines that will get your emails higher open rates.
For more free guides to email marketing, be sure to follow us on YouTube, Twitter, and Facebook.