Are you interested in creating a WordPress membership site? Curious about finding the best WordPress membership plugin for your needs?
Choosing the right membership plugin to build your website can greatly impact its success. Use the right tool, and you're looking at a full-on membership site that can be set up in minutes.
But use the wrong tool? You're facing hours of headaches and customer support tickets for as long as you maintain your site.
That's why, in today's post, I have compared the best WordPress membership plugins available so you can make the right choice.
First, let's clarify what a membership plugin does and how you should choose one.
What Is a WordPress Membership Plugin?
A WordPress membership plugin is a tool that allows WordPress website owners to restrict access to certain content, features, or sections of their website, making them accessible only to registered members or subscribers.
These plugins provide add-ons to manage user registrations, memberships, and access levels, making creating various membership tiers or subscription plans possible.
Depending on the plugin's features, administrators can also handle payments, create recurring billing options, and offer different membership benefits to their subscribers.
A WordPress membership plugin provides the following benefits to website owners:
build online communities
offer exclusive content
provide e-learning courses
sell digital products or services on a subscription basis
and more.
The plugin simplifies setting up and managing a membership site, making it an essential tool for monetizing content or offering premium services to a specific audience.
So, with that in mind, let's turn our attention to the best WordPress membership plugins.


MemberPress is the best WordPress membership plugin. It's easy to set up, has a low learning curve, and gives you access to advanced features and functionality you'd want from a membership site.
Even people who don't consider themselves "tech-savvy" can install and run MemberPress in a matter of minutes.
Then you can integrate all of your favorite WordPress plugins for marketing, promotions, and sales to get more paying subscribers to your site.
Features
Restrict access to any content, including posts, pages, custom post types, categories, tags, files, and more
Build online courses to educate your audience
Generate coupons for promotions
Customizable checkouts
Add community forums to boost engagement
Create tiered membership plans to suit more users
Integrates with AWeber, MailChimp, GetResponse, and MadMimi email services
Integrate with all of your favorite marketing tools
Add payment gateways to easily collect payments
Integrates seamlessly with Amazon Web Services, Blubrry for podcast hosting, and BuddyPress for creating an online community
 Authorize.net support
Additional features include a built-in dashboard for membership management, customization of coupon codes, email notifications, frontend pricing and user registration forms, custom widgets, shortcodes, Rest API catering to developers, and various other features.
With all of its advanced membership features, MemberPress is hands down your best bet when it comes to selecting a membership plugin for WordPress.
Price: Paid plans begin at $179.50/year.
Get started with MemberPress today!


Thrive Apprentice is an impressive WordPress membership plugin that empowers users to develop and manage online courses, training programs, and membership sites effortlessly.
Thanks to its user-friendly drag-and-drop editor, crafting high-quality content becomes a breeze, even for individuals without technical expertise.
Features
Enables effortless management and progress tracking of your students

Empowers you to design interactive quizzes to assess your students' knowledge

Provides the option to customize certificates as rewards upon course completion

Facilitates direct on-site payment processing for your courses and membership sites

Comes with 55+ course templates, a drag and drop course builder, customizable certificates, and more
Price: Paid plans begin at $149/year.
Get started with Thrive Apprentice today!


MemberMouse is one of the most powerful, flexible, and scalable WordPress membership plugins on the market today. It comes with many advanced features that are designed to help you grow your business. Plus, it's easy to use and has great support.
Features:
Dynamic Content Protection with SmartTagsTM
Create 1-Click Purchase Links
Offer Free and Paid Memberships & Trials
Automatic Overdue Payment Handling
Advanced Membership Metrics Reporting Suite
Integrates with key payment gateways, including Stripe, PayPal, Authorize.net, Braintree, Sticky.io, and ClickBank
Integrates with popular email marketing tools, and Zapier
And much more!
MemberMouse is a powerful membership plugin that's loaded with features. It's perfect for businesses that are serious about growth.
Price: Paid plans begin at $199.50/year.
Get started with MemberMouse today!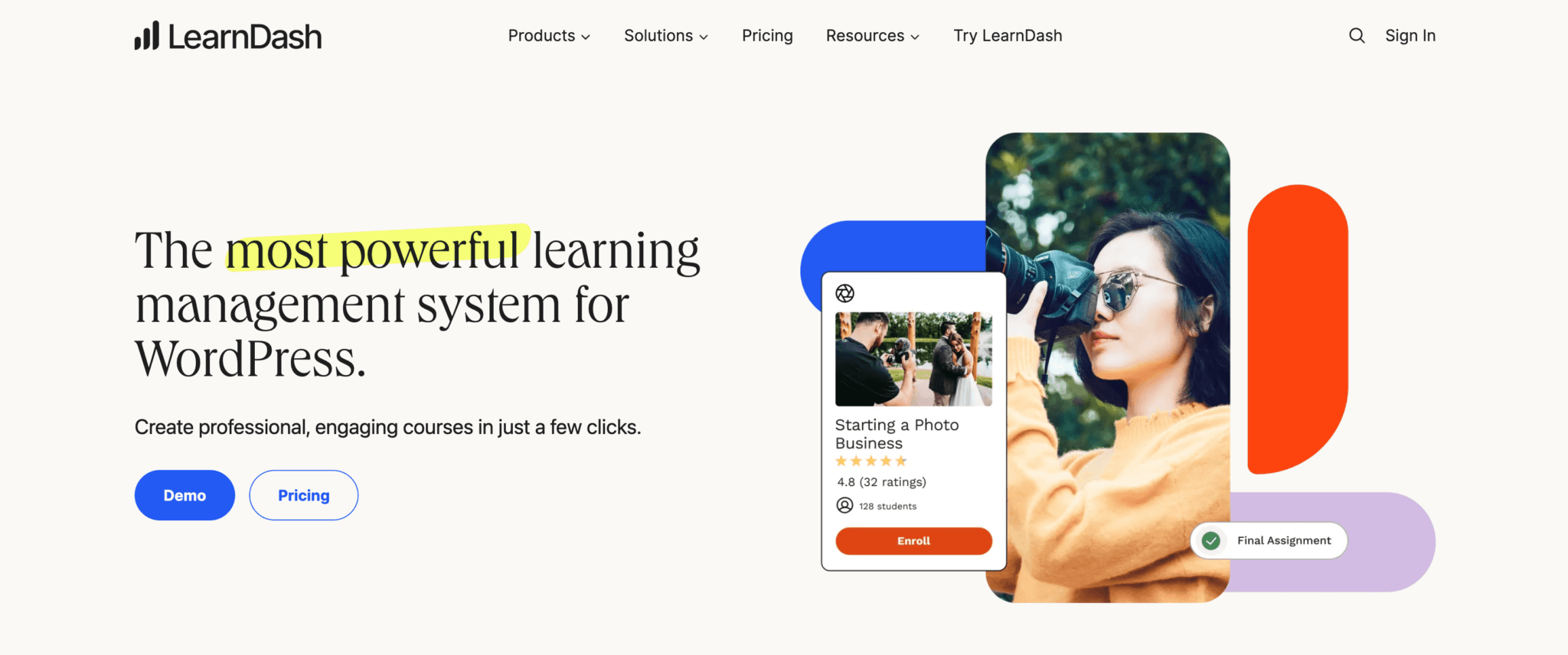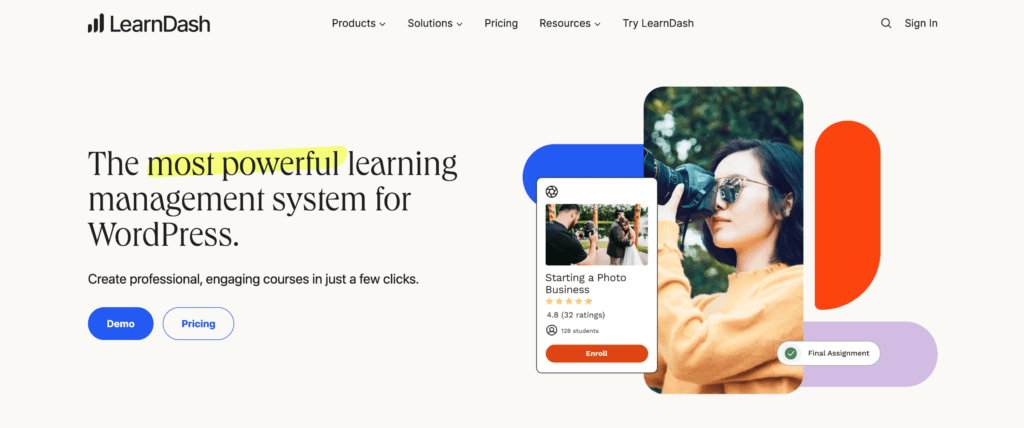 LearnDash is another popular WordPress membership plugin that you can choose. This is a learning management system (LMS) plugin specializing in creating online courses for instructional purposes.
That makes it the perfect membership plugin if you want to create an educational component to your online community.
Features
Create and promote online courses easily
"Drip-release" content to keep students motivated and excited
Add notifications to keep students and teachers informed
Include forums to encourage students to engage
Track progress with powerful analytics dashboards
Integrate your favorite marketing tools for faster promotion
Create quizzes, user badges, course-specific forums, certificates, user profiles, and more
Connects with MemberPress, WooCommerce, bbPress, Slack, and more
If you're thinking about starting an online course, LearnDash might just be the solution you've been looking for.
Price: Paid plans start at $199/year for a single site license with 1 year of support and updates.
Get started with LearnDash today!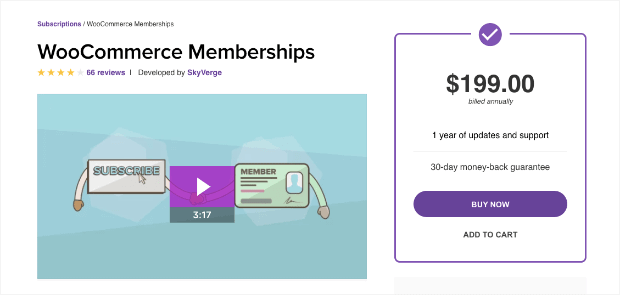 WooCommerce Memberships is an excellent option if you're already using (or considering) WooCommerce for your online store. If you do use WooCommerce, then you have this membership plugin ready to go.
WooCommerce Memberships allows you to limit content and set up recurring payments or one-time payments. This plugin is easy to install and, as you'd imagine, syncs seamlessly with your WooCommerce content and products.
Features
Sell or assign memberships
Restrict or grant access to premium content
Provide better shipping options to members
Promote memberships with special discounts and coupons
Communicate more easily with your members
Offer multiple memberships for companies or groups
Again, if you already have an active WooCommerce store, then this plugin is likely your best option for integrating membership functionalities to your site.
Price: This plugin costs $199/year.
Get started with WooCommerce Memberships today!

Wishlist Member is a highly flexible, versatile, and powerful WordPress subscriptions plugin and it work with most WordPress themes, plugins, and page builders. You can build an entire membership community and protect your exclusive content.
If you're looking for an all-inclusive membership plugin, Wishlist Member is worth checking out.
Features
Customizable membership areas
Create tiered membership levels to provide users with more options
Make triggers to deliver content based on user behavior
Archive old or outdated content
Give users a "sneak peak" to build excitement for product or course launches
Integrate with your favorite marketing tools and payment gateways including 2CheckOut, Authorize.net, and more
Offer free trials to attract more users
Unlimited membership levels with flexible options
And much more
Wishlist Member is a fantastic option for anyone looking to create a membership site with WordPress.
Price: This plugin costs $149.50/year for a single site license.
Get started with Wishlist Member today!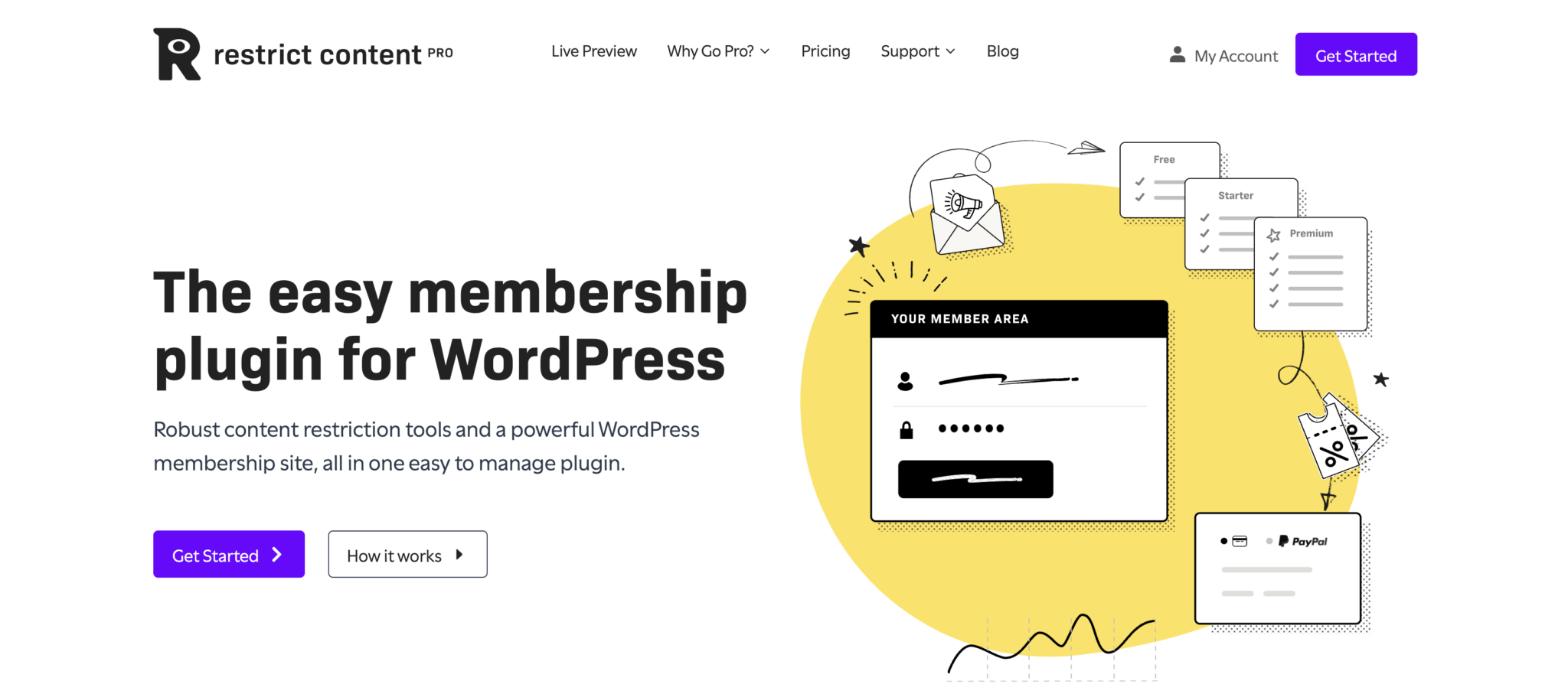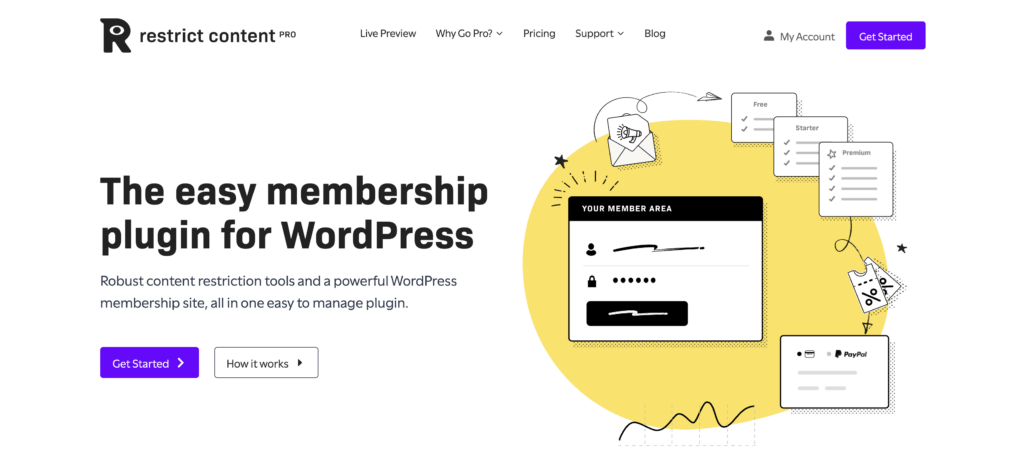 Restrict Content Pro is a powerful yet lightweight WordPress membership plugin. As the name suggests, this plugin restricts exclusive content on your site for members only.
Features
Easy to set up
Offer discount codes to encourage signups
Integrate with your favorite marketing tools and payment gateways
Gather data and display them with powerful analytics reports
Manage users directly from your WordPress dashboard
Create multiple tiers for membership options
Restrict Content Pro is a straightforward, easy-to-use membership plugin for WordPress.
If you need something to restrict content without all the bells and whistles other plugins offer, this might be the right choice for you.
Price: Paid plans start at $99/year.
Get started with Restrict Content Pro today! 


Paid Membership Pro is one of the most robust and completeWordPress membership plugins. It has tons of advanced features, gives you total control over your membership program, and is easy to install.
Paid Membership Pro also provides a list of other sites that have used the plugin. That way, you can see what this plugin can do before purchasing it for your website.
Features
Restrict content for exclusive members
"Drip content" to keep users more engaged
Personalize content for members
Create multi-tiered membership programs
Integrate with your favorite marketing tools and payment gateways
Set up recurring and automatic payments
And much more…
If you're looking for an advanced membership plugin, this can be an excellent place to start.
Price: Paid plans start at $247/year, also offers a free plan.
Get started with Paid Membership Pro today!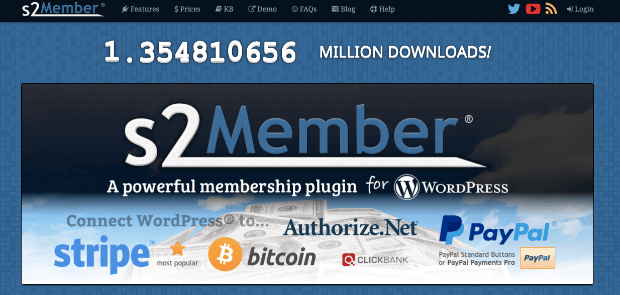 S2Member is a free WordPress membership plugin that has more advanced features with a paid plan. Still, if you need a quick, easy, and free solution to start, S2Member is a great option to have.
Features
Subscription levels for free memberships or paid plans
Integrate with PayPal (more options with paid plans)
Assign user roles and tasks
Restrict exclusive content for members
Protect video and audio content
Customize memberships area with your brand
And much more
Again, S2Member is a simple and straightforward membership plugin that you can use to create your site. Plus, it has a free version that you can use to kick things off.
Price: Paid plans start at $89/year, also offers a free plan.
Get started with S2Member today!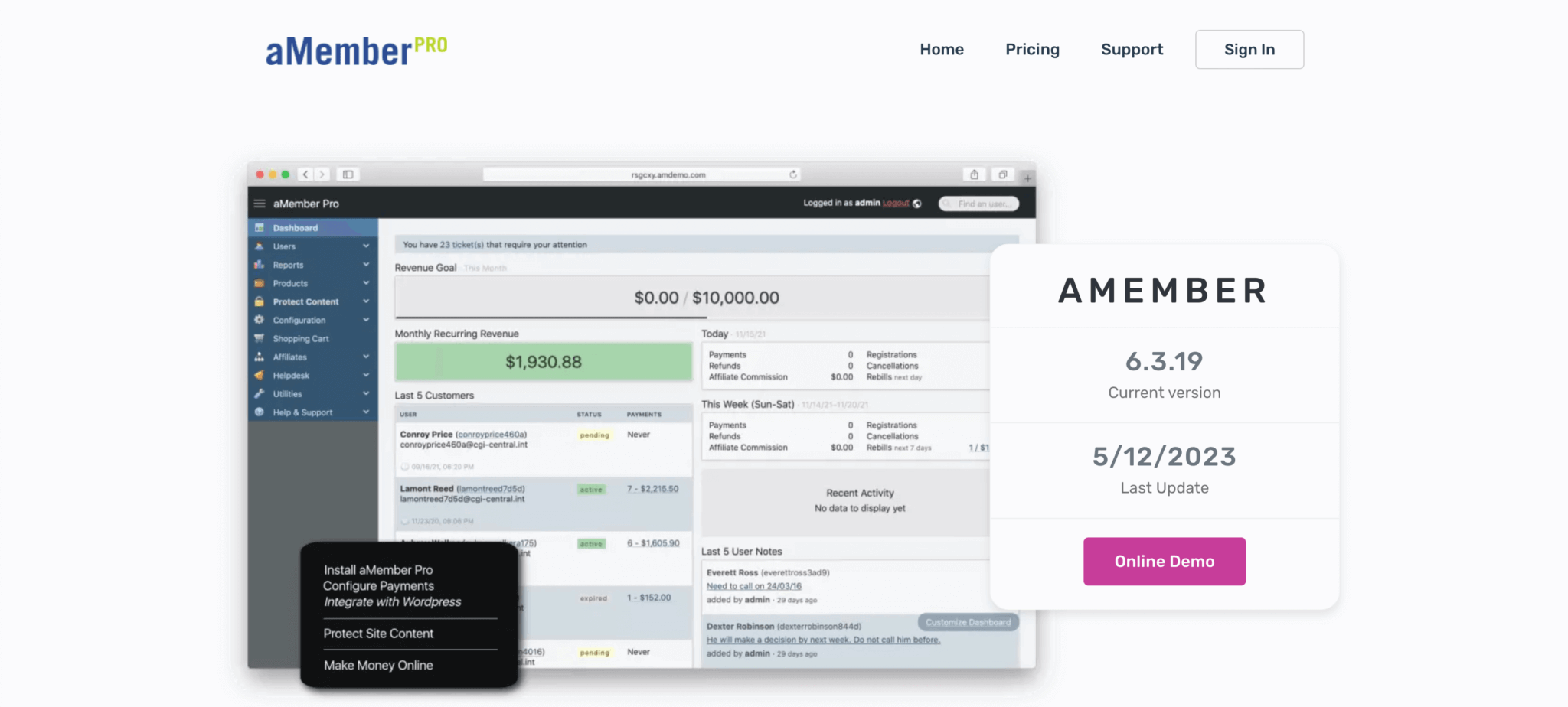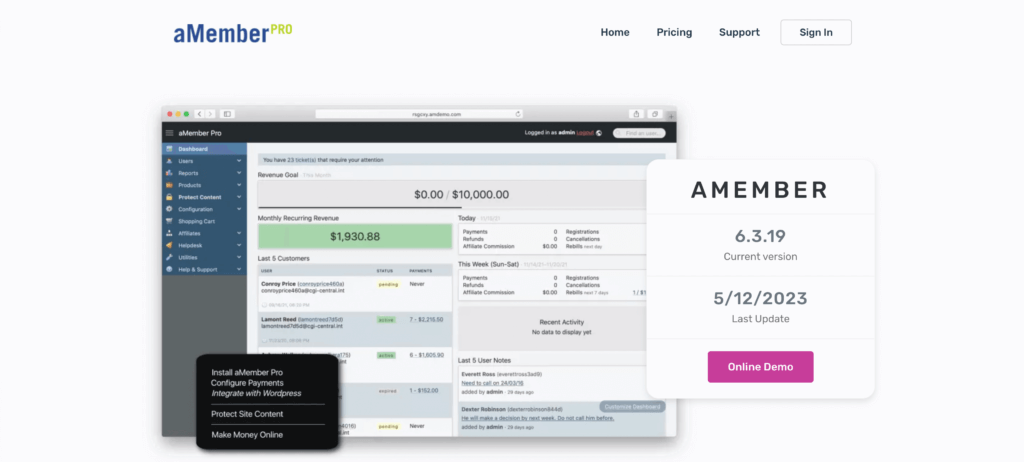 aMember Pro is a user-friendly simple membership plugin that you can start using to build your membership site. It comes ready to use and is loaded with advanced features to give you total control over your site's functionality.
Features
Integrate with marketing tools and payment gateways
Translate into multiple languages
Secure your membership site and user data
Support clients with an integrated help desk
Install the plugin for free (white-glove service)
Built in affiliate program
aMember Pro is a good option if you're looking for an extensive membership plugin. Plus, the aMember Pro team will install the plugin to your site for free, providing added support.
Price: Paid plans start at $149.
Get started with aMember Pro today!
How to Choose Between WordPress Membership Plugins
Here are some essential factors to consider when making your decision:
Features

: List the features you need for your membership site. Consider elements like content protection, multiple membership levels, drip content, payment gateways, email integration, and reporting capabilities.

Ease of Use

: Look for a user-friendly plugin with an intuitive interface. A drag-and-drop editor and straightforward setup process can save you time and effort.

Compatibility

: Ensure the plugin is compatible with your current WordPress version and other essential plugins you might be using. Check for any known conflicts with other themes or extensions.

Payment Gateways

: If you plan to offer paid memberships, check if the plugin supports the payment gateways you prefer to use.

Scalability

: Consider whether the plugin can scale with your membership site as it grows. Some plugins might be suitable for smaller sites but lack the capabilities needed for larger ones.

Documentation and Resources

: Check if the plugin has comprehensive documentation, tutorials, and resources to help you get started and troubleshoot issues.
By carefully considering these factors and comparing different WordPress membership plugins, you can make an informed decision and choose the one that best aligns with your specific needs and objectives for your membership site.
What Is the Best Membership Plugin for WordPress?
We're confident that if you want to build a membership website, MemberPress is the best membership plugin for WordPress.
Not only does MemberPress offer all the advanced functionality your membership site will need, but it also comes at an affordable cost. This makes it powerful enough for large businesses, but affordable enough for small businesses.
But remember, once your membership site is up and running, you still need to get people to sign up. For that, you'll need a social proof tool like TrustPulse.
And that's it! These have been the best membership plugins for WordPress.
We hope you found this article helpful. If you did, we think you'd also be interested in the following:
These articles will have all the tools you need to take your membership website to the next level.
Want an instant boost in conversions of up to 15%? Sign up for your risk-free TrustPulse account today!
FAQs
Does WordPress have a membership plugin?
Yes, WordPress does have several membership plugins available. These plugins add membership functionality to your WordPress site, allowing you to create a membership-based website with content restriction.
Is the membership plugin free for WordPress?
Some membership plugins for WordPress offer basic functionalities for free, but they may have limitations. Many premium membership plugins come with more advanced features and better support, and they usually require a payment or subscription.
How do I use WordPress as a membership site?
To use WordPress as a membership site, you need to follow these general steps:
Choose and install a suitable membership plugin from the WordPress repository or a third-party provider.

Set up the plugin and configure the membership levels or subscription plans you want to offer.

Create the content you want to make available exclusively to members and protect it using the plugin's access restrictions.

Design and set up the registration and login process for members.

Optionally, set up payment gateways and configure payment options for your membership plans.

Test the functionality thoroughly to ensure everything works as intended.
How do I add a paid membership to WordPress?
To add a paid membership to your WordPress site, follow these steps:
Choose a suitable membership plugin that supports payment integration.

Install and activate the membership plugin.

Configure the plugin settings and create membership levels or subscription plans, setting their prices and access privileges.

Set up a payment gateway to handle the transactions. Popular payment gateways include PayPal, Stripe, or other e-commerce solutions.

Customize the registration and payment pages to align with your site's design and branding.

Test the entire payment process thoroughly to ensure it functions smoothly and securely.
Remember that the specific steps may vary depending on the member plugin you choose, so it's essential to refer to the plugin's documentation or support resources for more detailed instructions.
Disclaimer: While we could have included various other membership plugins in this list, such as WP-Members, bbPress, Teachable, SureMembers, and Ultimate Member, among others, we made a deliberate choice to feature only the absolute best membership plugins. This decision was aimed at preventing choice paralysis and ensuring a focused selection to aid you in making a well-informed decision.