Looking for a PushEngage review to help you determine whether it's a good fit for your business?
Look no further! PushEngage is the best web and mobile push notification tool to boost your conversions and sales.
In this article, we'll look at what makes PushEngage special so you can decide if it's right for you.
Let's begin!
What Is PushEngage?
PushEngage is a marketing tool used to send web push notifications. Web push notifications are sent to the user through a web browser like Chrome, Firefox, or Safari rather than through a mobile app or SMS.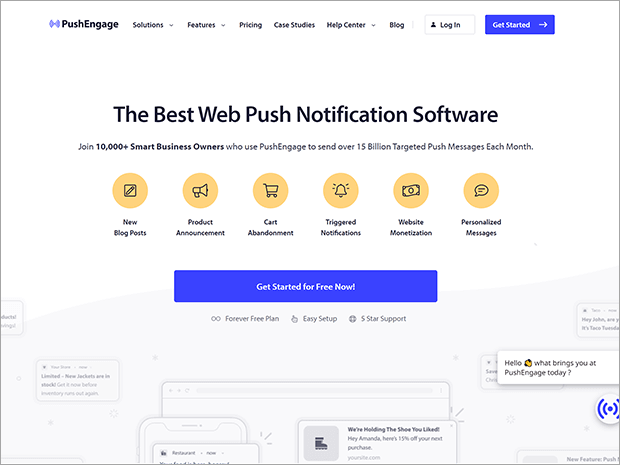 PushEngage gives you direct access to your audience. How? By sending highly personalized and targeted push notifications. These notifications can appear on the user's desktop or mobile device even if the browser isn't open. It's a great way to reach your audience in real-time wherever they are.
Push notifications are small and non-intrusive but can have much higher click through and conversion rates compared to social media posts or paid advertising.
Now let's see who uses PushEngage and how it helps grow their businesses.
Who Uses PushEngage?
Most of PushEngage's users are medium and small businesses. PushEngage works on any platform and across many industries.
For example, news outlets, media sites, and bloggers can use push notifications to drive traffic to their content. Push notifications are a good way to re-engage past website visitors. These repeat visitors are then more likely to convert email opt-ins, affiliate links, or ads.
Another important use of PushEngage is increasing sales for eCommerce sites. Push notifications can help reduce cart abandonment and recommend cross-sells and upsells automatically. Read What Is the Difference Between Upselling and Cross-Selling? Push notifications are also great for promoting price drops, restocks, and flash sales.
Finally, SaaS companies can use PushEngage to improve retention and increase a user's lifetime value (LTV). Push notifications can be integrated into the onboarding process, offer personalized support, or prompt upgrade purchases either automatically or at scheduled times.
As you can see from these examples, PushEngage tends to work well as a top of funnel tool. Push notifications are great for bringing people onto your website and into your funnel. But PushEngage doesn't replace email marketing or other bottom of funnel strategies for nurturing customer relationships long term.
Next, we'll examine all of PushEngage's special features.
PushEngage Features
PushEngage is the most powerful and user-friendly web push notification software on the market. Check out what it can do:
Customized Opt-Ins
Push notifications are a form of permission-based marketing. This means that users must intentionally opt in or choose to receive your push notifications.
PushEngage makes it easy to create timely and targeted push notifications. Inviting users to opt in when they're ready is a better experience than pestering them to sign up as soon as they land on your site.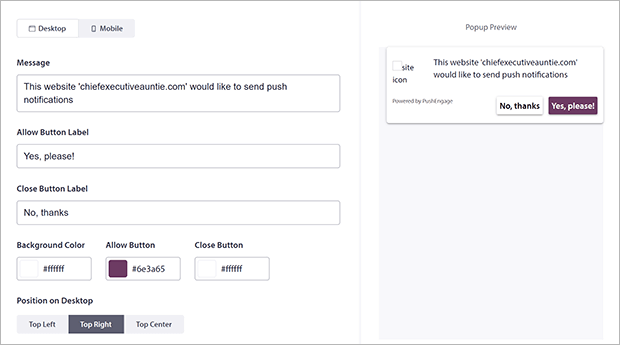 You can trigger PushEngage opt-ins to appear based on clicks, time on page, or scroll percentage. These are all indicators of engagement, and the most engaged users are the most likely to opt in.
Flexible Styling
PushEngage gives you full control over the style and design of your push notifications. Even though push notifications are meant to be simple, you still want the copy and design to match your brand.
You can easily customize the title text, messaging, images, call to action (CTA), landing page URL, and anything else you want on your push notifications. You can even add emojis and icons for some personal flair.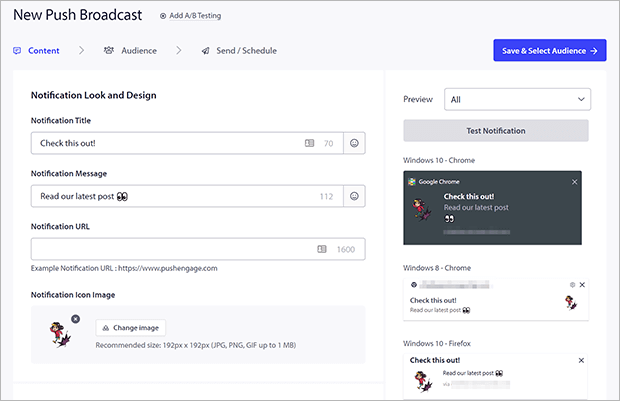 Personalization
With so much content and messaging competing for attention, personalization is an incredibly effective way to stand out. PushEngage makes it easy to send custom notifications based on subscriber details like location, behavior, and interests.

You can use what you know about your subscribers to send messages that seem like you're "reading their mind" and delivering what they need before they even ask. Even seemingly little details like time zone and local language can be customized in PushEngage using its Attributes API.
Segmentation
PushEngage features dynamic segmentation so you can send your push notifications to the right subscribers at the right time. You can create:
Custom segments based on pages visited
Self-selected segments based on user-reported interests and options
Geotargeting based on location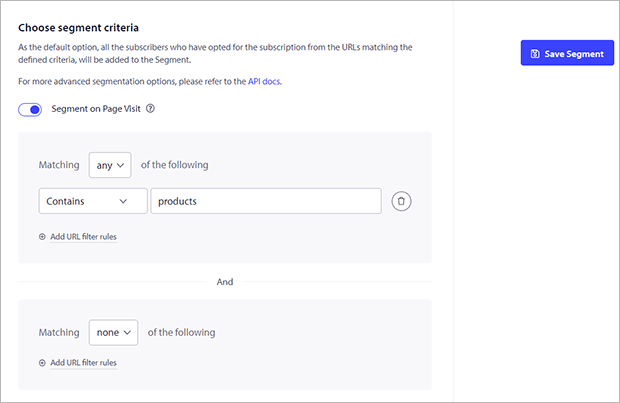 Just like the opt-in customization we discussed earlier, audience segmentation is important for building high quality customer engagement..
Scheduling & Automation
PushEngage lets you schedule and automate your push notifications, even ones that sound spontaneous to the customer, such as a price drop or flash sale.
You can create automated drip campaigns for onboarding, abandoned cart recovery, seasonal promotions, and more. Smart triggered notifications can increase clickthrough rates by up to 200%.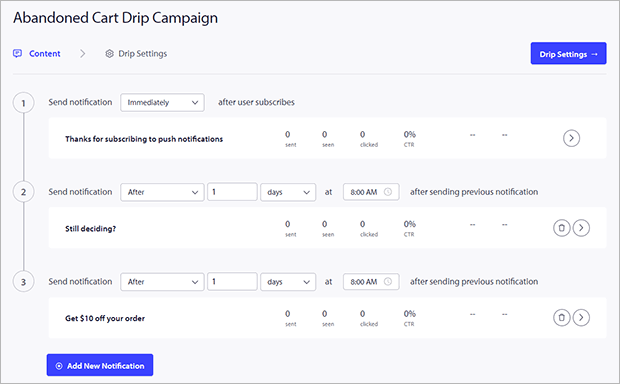 Analytics
Even the most sophisticated marketing campaign would be useless without a way to gauge how well it's performing. PushEngage provides advanced analytics about every step of your funnels so you can make data-driven decisions for your business.
With PushEngage, you can easily see how your push notifications are driving sales, revenue, and engagement. You can also see detailed demographic and device data for your subscribers.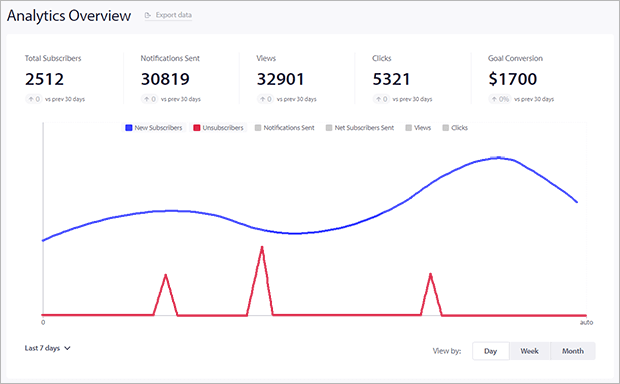 You can even track custom conversions by attaching a value to any action taken on your site. This goal tracking gives you a true picture of how well your marketing efforts are working.
A/B Testing
The key to marketing optimization is testing ideas and tracking the results. PushEngage lets you do both with advanced A/B testing.
With just a few clicks, you can test different variations of every element in your push notifications to see what performs best.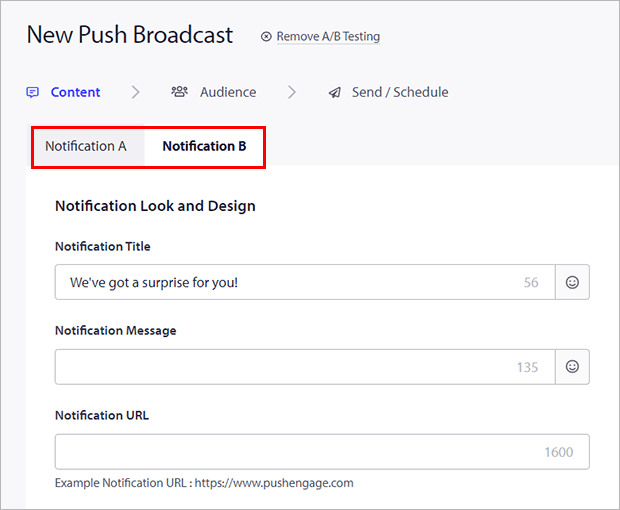 What Makes PushEngage the Best Push Notification Software?
PushEngage isn't the only web push notification software out there. So what makes PushEngage better than, say, iZooto, OneSignal, or Firebase? We identified 4 major factors.
1. Ease of Use
We get it: you're busy. Way too busy to fuss with software or learn coding.
Our favorite thing about PushEngage is that it just works. You don't need any coding skills to set up and manage web push notifications with PushEngage. All you need to do is copy and paste a piece of code onto your site according to the instructions.
Creating push notifications is easy too. You just have to fill in a few clearly labeled fields and define your audience.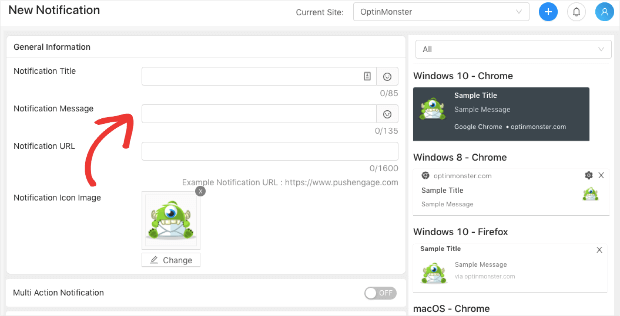 2. Platform Flexibility
Another advantage of PushEngage is that it works on any platform, from WordPress to Shopify to Wix, and more. While there is a WordPress plugin and a Shopify app for PushEngage, you can use the basic PushEngage code on any website you want.
This is important in case you ever decide to change your website platform. With PushEngage, you can keep all your push notification campaigns and subscribers and start using them immediately on a new website. No migration or modification necessary!
Plus, the push messages you create can be seen on Android, iOS, and all other operating systems.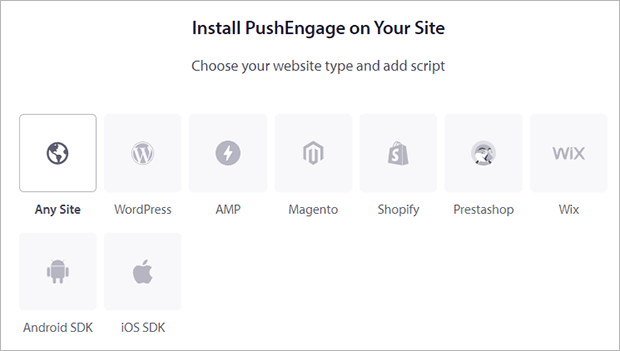 3. Support
Even though PushEngage is simple to use, you may still run into technical issues that you can't solve. Don't worry! PushEngage has a full-time, worldwide customer support team ready to help via email and live chat.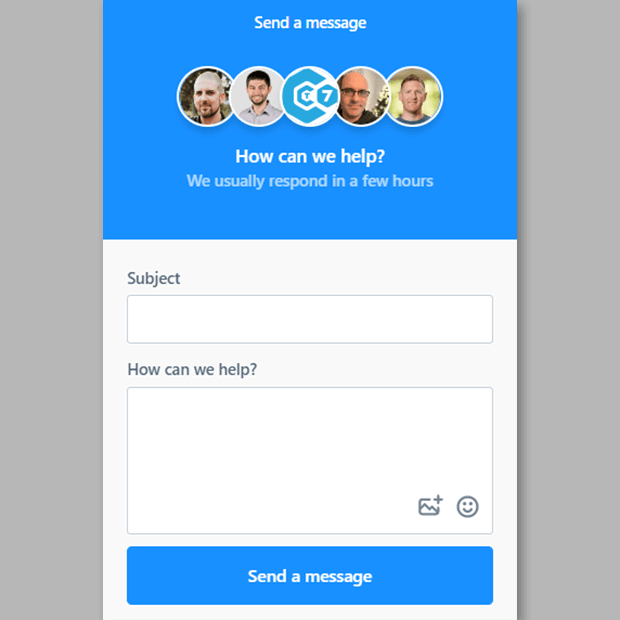 There's also extensive documentation and a YouTube channel of PushEngage tutorials that can help if you get stuck.
4. Affordability
Finally, PushEngage is a super affordable option for sending web push notifications.
The free version of PushEngage lets you send up to 30 campaigns to 200 subscribers or less. It's a great way to test out web push notifications as long as you need. There's no time limit on the free plan.
Paid plans start as low as $9/month when billed annually.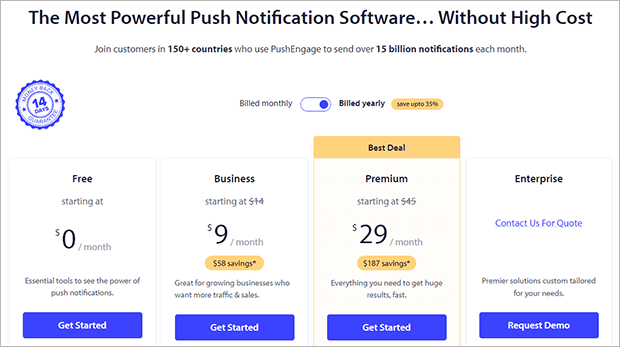 PushEngage Pricing
In addition to the generous free plan, there are 3 paid plans for PushEngage:
Business plan (starting at $9/month) has all the standard targeting, personalization, and segmenting features
Premium plan (starting at $29/month) includes more advanced functionality like autoresponders and A/B testing
Enterprise plan (custom quote) provides unlimited usage and 24/7 VIP support
Prices for each plan level vary based on how many subscribers you need.
Our Final Answer: Is PushEngage the Best Web Push Notification Service?
In this PushEngage review, we looked at the benefits and use cases of web push notifications, as well as the features PushEngage has that make it stand out.
We're completely confident that PushEngage is a tool worth investing in to help you:
Grow your email list
Boost your traffic
Increase sales
Reduce abandonment and churn
Make data-driven decisions for your business
PushEngage works with any platform and requires no technical skills to set up and use regularly.
So don't delay any longer. Start sending push notifications with PushEngage today!
To learn more, check out how to create push notifications to drive more traffic.
If you like this article, please follow us on Facebook and Twitter for more free articles.