Do you want to find the best social media feed plugin for your WordPress site?
Smash Balloon is the best suite of WordPress social media feed plugins. But is it really the best tool for showing social media feeds on your website?
In this article, we'll share our full review of Smash Balloon and you can decide for yourself if it's the best social media feed plugin for you.
Let's begin!
What is Smash Balloon?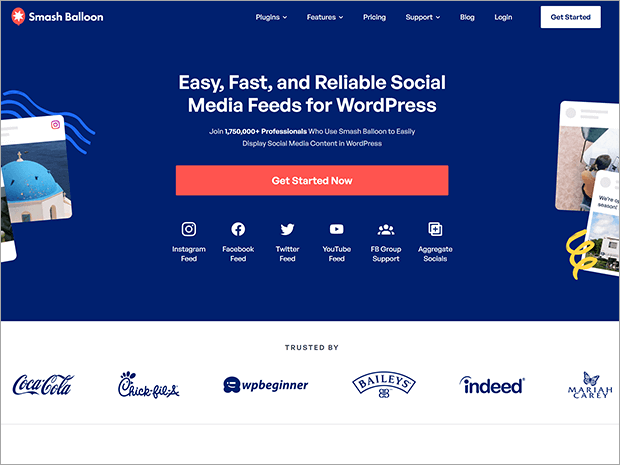 Smash Balloon is actually a suite of 5 different WordPress plugins that help you display feeds from all of your social media accounts.
With over 1.75 million users and an average rating of 4.9/5 on WordPress, Smash Balloon is one of the most popular social media feed plugins.
Smash Balloon lets you add custom feeds from Facebook, Instagram, Twitter, and YouTube to your WordPress site.
You can even combine all your feeds into a single social media wall too!
Why Do I Need a Social Media Feed Plugin?
Displaying your social media posts on your WordPress website is a great way to:
Share reviews, testimonials, and other forms of social proof
Improve engagement on your website
Create a sense of FOMO by showing what other users are doing
Grow your social media followers (which can also grow your email list)
Improve your SEO with keyword-rich content from social media
But adding those social media feeds on your own can be a pain. Every platform has its own code and it's hard to get them styled consistently with your website.
That's why you need a social media feed plugin.
You don't need to be a developer or WordPress wizard to use Smash Balloon. All of the plugins look and work great right after installation. You can have your social media feeds on your website in under 5 minutes.
Now let's look at what makes Smash Balloon really special.
Smash Balloon Review: Top Features
When looking for a social media feed plugin, you want to consider:
Ease of use
Mobile-readiness
Features and performance
Customer support
Pricing
Let's check out how well Smash Balloon meets these standards.
1. Ease of Use
Smash Balloon just works. There's no coding or complicated settings to fuss with. Just point and click on the options you want to activate. Connecting your feeds is also done with a click of a button.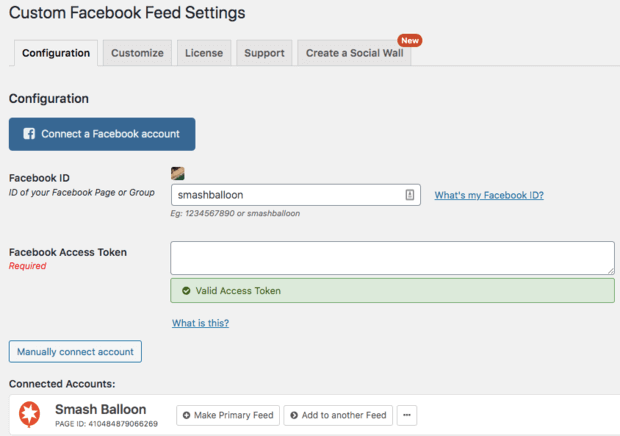 But just because it's beginner-friendly doesn't mean that Smash Balloon isn't powerful. There are plenty of features that can level up your social media marketing.
2. Mobile Optimization
Because so many people browse social media from their mobile devices, it's critical that your social media feeds look good on any screen size.
The good news is that all the Smash Balloon plugins are completely responsive and mobile ready.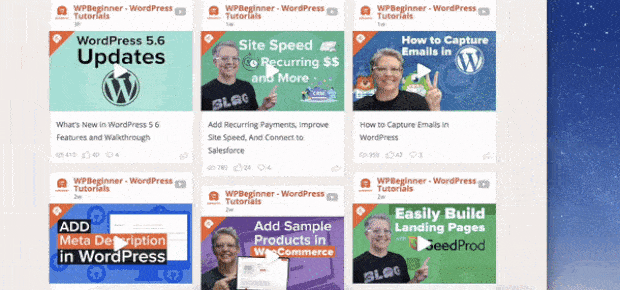 This feature not only creates a better user experience but also helps your website rank higher on search engines.
3. Performance
Embedding your social media feeds can cause your website to slow as it tries to load content from another website. Fortunately, Smash Balloon plugins are powerful but streamlined, so they won't slow down your website.
The Smash Balloon code is optimized with no bloat, so your feeds and website load super fast. Again, fast page speeds are an important factor in your search engine rankings, so it's important to keep your page speed up.
There's also a smart caching feature to speed things up even more. This means your feeds won't need to ping the social media sites for data every time they load. Another benefit of smart caching is that your social media feed plugin will still work even if the social media platforms are temporarily down.
4. Customization
Even though Smash Balloon is designed to work immediately out of the box, you still get lots of customization options.
While you can set your plugins to automatically adapt to the design of your WordPress theme, you can also manually customize your feed height, width, layout, background color, font style, and more.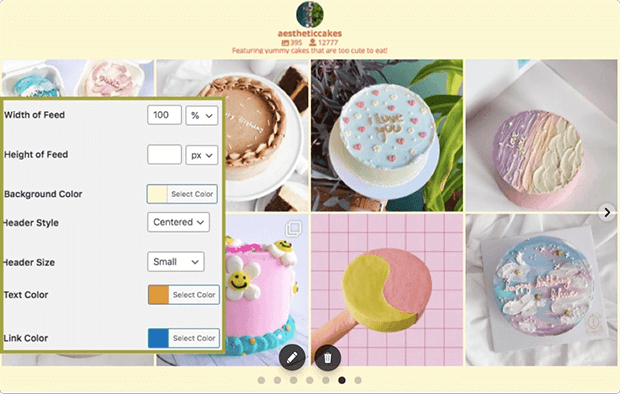 Every Smash Balloon plugin gets separate customization options. So you can style your text-heavy Twitter feed differently than your image-heavy Instagram feed, for example.
You also have full control over the content you want to display.
For example, you can pull different Twitter feeds, filter out hashtags on Instagram, and show or hide header details, follow buttons, and much more.
5. SEO Friendly
While Smash Balloon mobile optimization and high speed performance both contribute to boosting your website's SEO, there's another feature that has an even bigger impact.
Smash Balloon uses server-side code in the social media feed plugins. This means that the search engine bots can read the social media feeds on your website.
This adds dynamic, crawlable content directly to your website with no extra effort from you.
Social media feeds also reduce bounce rate, increases dwell time, and encourages visitors to check out other pages while visiting your website.
Smash Balloon can make your website more visible to search engines without you needing to do anything else.
6. Customer Support
Even with the easiest social media feed plugin, sometimes you need help getting set up or troubleshooting something.
The customer support team for Smash Balloon is world class. They won't just abandon you after you buy the plugin, but work with you to create, customize, and display your feeds exactly how you want them.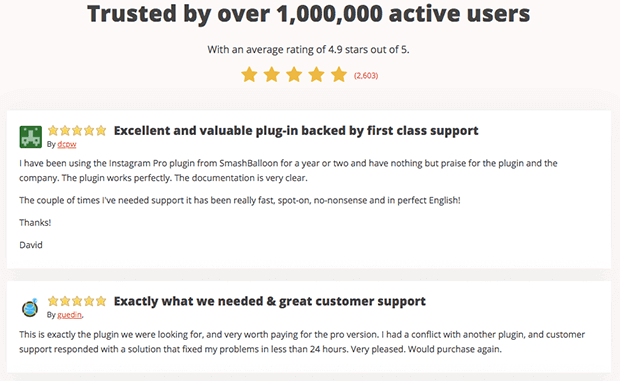 There's also a comprehensive documentation library with tutorials, videos, and social media marketing guides for every plugin.
Now let's look briefly at each of the Smash Balloon plugins and check out the highlights.
Smash Balloon's Social Media Feed Plugins
There are 5 different plugins in the Smash Balloon suite. Here are the best features of each one.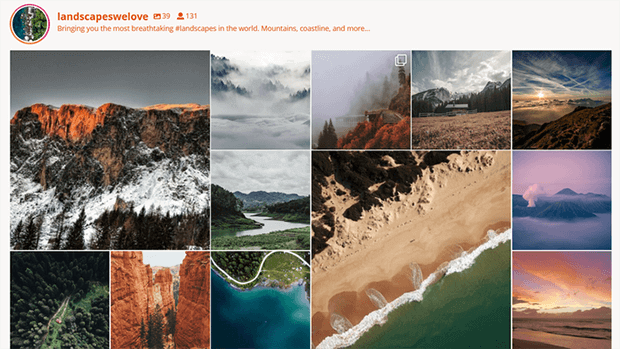 Instagram Feed Pro is the easiest way to show off all your beautiful Instagram photos and videos on your website. If you spend all that time and energy creating Instagram content, make the most out of it!
Shoppable Instagram Feeds
With Instagram Feed Pro, you can show images of your products on Instagram and link each post to your product pages.
You can display these shoppable feeds on your website and on the Instagram app.
Instagram oEmbeds Support for WordPress
You used to be able to automatically embed Instagram posts by pasting the URL into WordPress.
WordPress has discontinued that feature, but Instagram Feed Pro brought it back!
Now you can easily embed an Instagram photo feed into your WordPress blog posts and pages.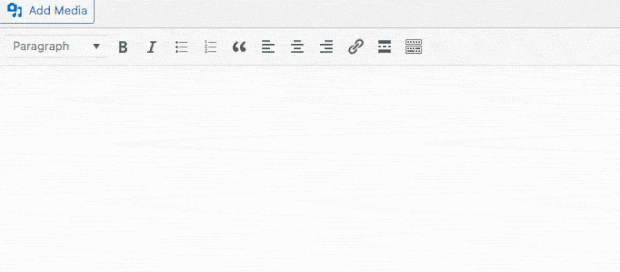 Feed Types and Layouts
Instagram Feed Pro has a wide variety of feed types and layout options. You can show:
User feed: posts from a single account
Hashtag feed: all Instagram posts with a specific hashtag
Tagged feed: Instagram posts that your account is tagged in
Instagram Stories: Stories pop up in a lightbox on your website
Mixed feed: combination of multiple feed types
You can also choose from 4 different feed layouts: grid, carousel, masonry, and highlight.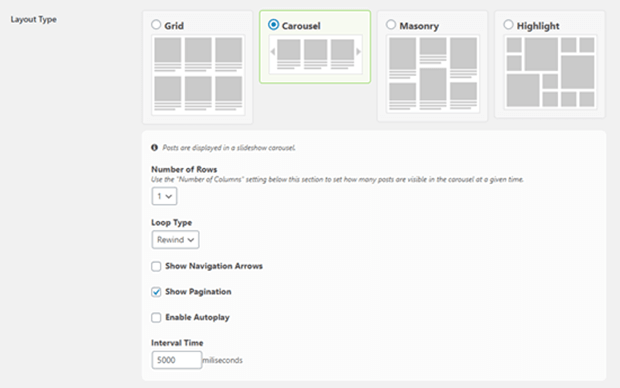 To see even more features, check out Instagram Feed Pro's full feature list.
This long-running social network has many different content types, but Custom Facebook Feed Pro can handle them all.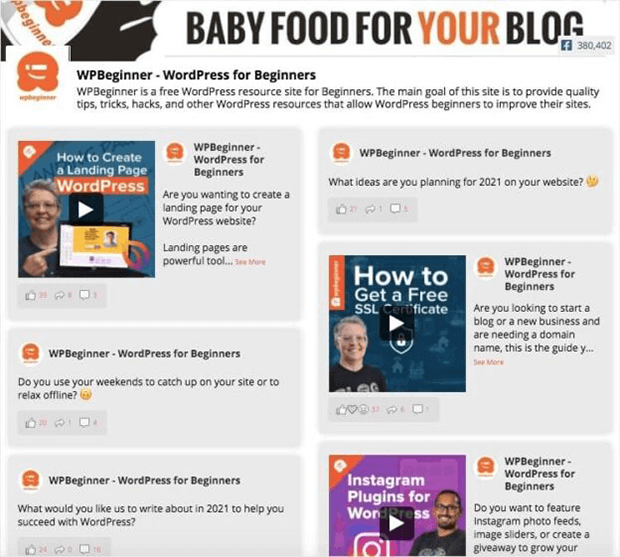 Facebook oEmbeds Support for WordPress
Just like Instagram, Facebook oEmbeds was removed from WordPress, but you can use Custom Facebook Feed Pro to add it back. Simply copy and paste a Facebook URL into a WordPress post or page to embed it.
Feed Types and User Engagement
Custom Facebook Feed Pro can display all the Facebook content you could want, whether it's from a Facebook page or a Facebook group. You can display all kinds of feeds, such as:
Post timeline
Photos
Albums
Status updates
Link posts
Facebook videos
Events calendar
You can also display likes, shares, and comments below each post to encourage user engagement.
Extensions
Custom Facebook Feed Pro has several advanced Extensions that can add new functionality to your social media feed.
These include:
Pulling posts from multiple Facebook pages into one feed
Displaying posts from a specific date range
Displaying content in a sliding carousel
Embedding a specific Facebook album
Displaying specific posts or events based on ID
Displaying reviews from your Facebook page
You can see all the features of Facebook Feed Pro here.
Twitter is a great platform for engaging with customers in real-time. You can schedule posts ahead of time and Tweet more spontaneously. Bring your Twitter conversations to your website with Custom Twitter Feeds Pro. Here are just some of the things you can do with Custom Twitter Feeds Pro.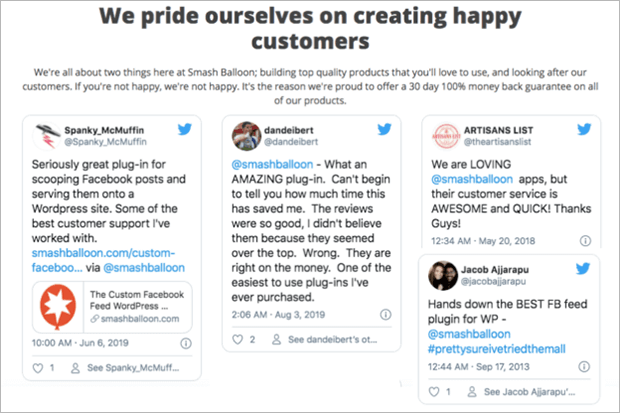 Twitter Cards
Twitter Cards are a way to attach photos, videos, and other media to your tweets. This drives traffic to your website and other social media accounts. Custom Twitter Feeds Pro can automatically create and show Twitter cards to really make your tweets pop.
Twitter Widgets
As with the other Smash Balloon plugins, Custom Twitter Feeds Pro gives you lots of Twitter feeds to choose from, such as:
User timeline feed showing one user's tweets
Hashtag feed showing tweets that use a specific hashtag
Search feed showing the results of an advanced Twitter search
Home feed of your tweets and those from the accounts you follow
Mentions feed showing tweets you're mentioned in
Twitter slideshow displaying your feed in a scrolling carousel
Twitter widget you can place in your sidebar or footer
Infinite Loading
Custom Twitter Feeds Pro places a "load more" button on your feeds to encourage visitors to read more. Your visitors can click the button or scroll to load more tweets right from your website. This can result in longer session times and improve your SEO.
Take a look at the full feature list of Twitter Feed Pro. Or check out other ways to boost your Twitter following.
Video content can take more effort to produce but it can have a fantastic ROI when it comes to engagement. Show off your videos on your website with Feeds for YouTube Pro.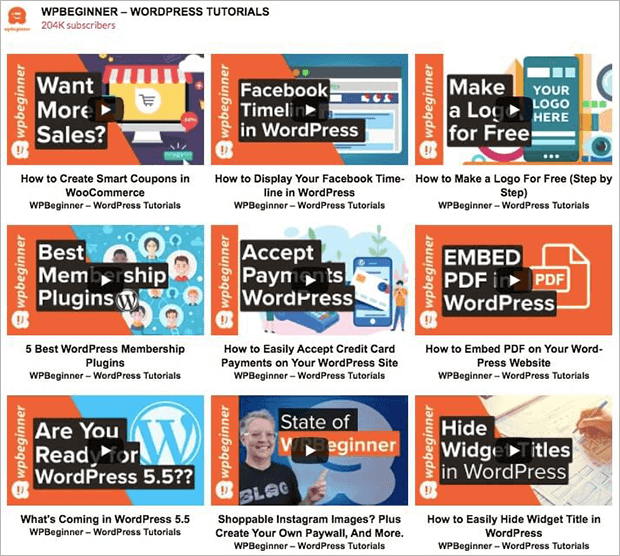 Here's what we love about this plugin:
Super Fast Loading
Feeds for YouTube Pro only loads the video player when a visitor starts engaging with the feed, so it doesn't slow down your site load time. This improves your user experience and SEO.
Customizable Actions
One neat thing you can do with Feeds for YouTube Pro is customize what your viewers see when they pause or finish watching your video.
You're no longer limited to YouTube's related content recommendations. Instead, you can choose your own video thumbnails to show, display a link to your product or landing pages, or even add a contact form.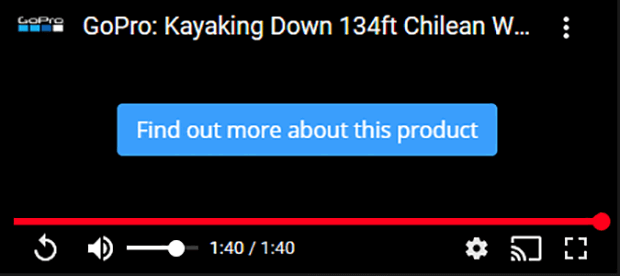 Multiple YouTube Feed Types
You guessed it, there are many different YouTube feed types to choose from:
Channel feed showing a specific channel's videos
Playlist feed showing a curated playlist of videos
Favorites feed displaying videos marked as favorites
Search feed embedding YouTube videos based on specific search terms
Live streams embedding upcoming or existing YouTube live streams
Single video displaying individual videos
YouTube Feed Pro is releasing new features all the time, so check out the full feature list to see the most updated version.
Finally, there's Social Wall. Social Wall can display all of your social media feeds at once in a beautiful social wall. Please note that Social Wall is only available as part of the All-Access Bundle.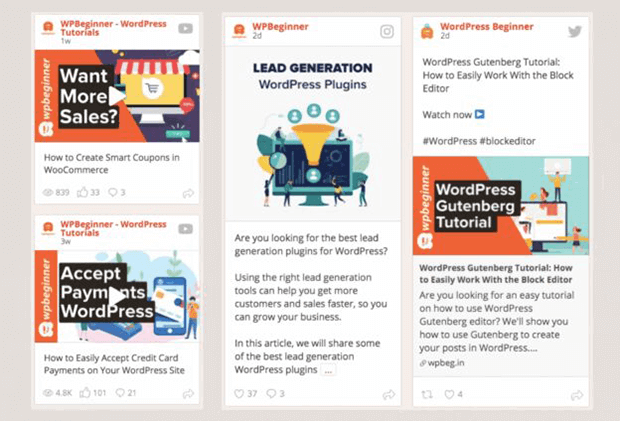 Support for Facebook, Instagram, Twitter, and YouTube
Social Wall lets you promote your social media content from all the biggest social media platforms. Website visitors can easily follow you on the social media platform of their choice, or all of them. This helps you grow your overall social media following faster.
Unlimited Usage
You can create as many social walls as you want, either on the same page or throughout your site. You can easily mix and match feeds. If you want to put Instagram and Facebook videos on one feed, and hashtag feeds from Twitter and Facebook on another, you can do so without breaking a sweat.
Image Optimization
Every social media platform has its own image specifications, and it can get confusing to figure out what sizes to use for each one. Social Wall Pro can resize the images from each platform, save them locally on your website, and automatically select the optimal image size to display in the feed.
These are just our very favorite features of Social Wall Pro. Check out the full feature list here to learn more.
Smash Balloon Pricing
Smash Balloon has a flexible pricing plan that can grow with your business.
You can buy each plugin individually, with 3 pricing tiers for each plugin:
Personal plan: All premium features for 1 website
Business plan: All premium features for 5 websites
Smash plan: All premium features plus priority support for 25 websites
Facebook Feed Pro Extensions are also available individually for 1, 5, or unlimited websites.
Buying individual plugins and extensions makes sense if you have just a single feed that you want to show on your website.
If you have more than one account, you can purchase the All Access Bundle, which includes all the plugins and extensions, use on unlimited websites, and priority support.
There are also free versions available on WordPress.org. These won't have all the premium features, but it's a good way to try out the plugins.
To get the most out of your social media, though, we recommend getting the Pro versions to grow your followers, engagements, and sales.
Final Thoughts: Is Smash Balloon Worth It?
Showing your social media content on your website is a great way to get more use out of that social content, grow your social media audience, and improve your website engagement.
Smash Balloon is the best social media feed plugin we've found.
It's easy to use, packed with powerful features, super fast, and supported by a dedicated team of developers and support staff.
We enthusiastically recommend Smash Balloon to anyone looking to grow their social media marketing.
Smash Balloon also has a risk-free 30-day money back guarantee. So if you try it out and find that it's not for you, you can request a refund.
Still on the fence? Check out our roundup of other social media feed plugins.
If you're ready to blow up your social media marketing, get started with Smash Balloon now!
If you like this article, please follow us on Facebook and Twitter for more free articles.