What are the best Shopify apps? There are dozens of apps to choose from, each with a specific purpose. But which ones will help your eCommerce business succeed and make money online?
This guide will give you an overview of some of the best Shopify apps on the market. We will also highlight some of the features that make these apps stand out from others.
Keep reading to learn more about the best Shopify apps and what they can do for your business.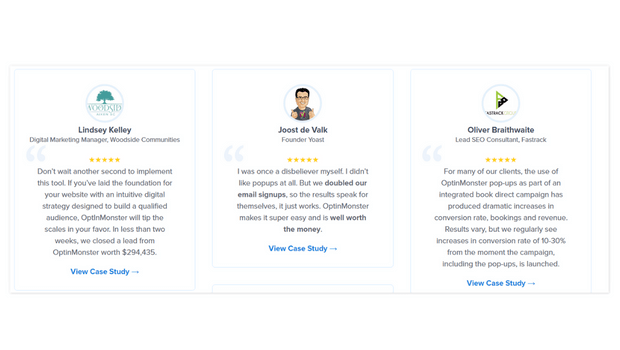 OptinMonster is one of the best Shopify apps for increasing sales. Creating high-quality opt-in forms will increase your return on investment, expand your email list, and recover potentially abandoning customers.
OptinMonster is the best app for Shopify and one of the world's best lead-generation software you can get. It can help you gain more email subscribers, grow your leads exponentially, and boost your revenue.
Converting abandoning carts is where OptinMonster really shines, and that makes it perfect for eCommerce businesses. You can make use of OptinMonster's targeting settings to specifically focus on people about to abandon their carts.
Anyone that has an eCommerce business can get started with OptinMonster's straightforward drag-and-drop builder. You don't need to know any code to create a promising campaign.
The app automatically populates your new newsletter or donation box with a helpful call to action and some eye-catching images. You can use it to set up some stunning campaigns that will boost your conversions and attract more customers.
ClickBank University increased sales by 100% by using OptinMonster, while NeilStrauss increased conversions by 125% using exit-intent optins.
Why OptinMonster?
Easy-to-use campaign builder
Tons of design options
A wide range of templates to choose from
Triggering and targeting rules
Premium customer support
Perfect for suggesting products to website visitors
Keeps customers on your site longer
Higher conversion rates
Price: Starting packages begin at $9/month.

TrustPulse is another great Shopify app. It's a social proof app that you can use to grow trust when visitors reach your website. If you've ever been to a site and seen tiny notifications popping up in the corner of your screen, that's social proof.
With TrustPulse, you can create these notifications saying someone has purchased a product or service. It shows real-time activity from users on a website. Site conversions have been reported to be 15% higher for websites that use TrustPulse.
The nicest thing about TrustPulse is that it's exceptionally easy to use. You don't have to know any complicated coding to begin a campaign, and it only takes a few minutes from start to finish.
Why TrustPulse?
No coding required
Tons of design options for various campaigns
Timing controls allow you to tweak when the campaign is displayed
You can target specific users depending on their actions
Real-time tracking
Perfect for bloggers, eCommerce websites, and marketing agencies
Lowered cart abandonment
More sales
Risk-free
Price: Plans start at $9/month.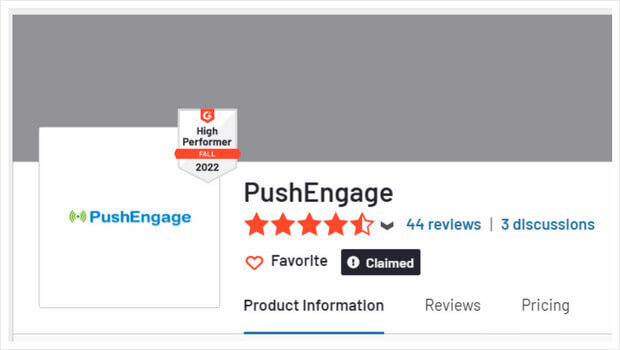 PushEngage is a great Shopify app for social sharing and gaining followers.
PushEngage will let you turn your visitors into subscribers, social shares, or followers. You can segment your email marketing lists in many ways to tailor-make each campaign specifically for your target audience.
For example, you could push a specific message through PushEngage to all your customers based on their geographic location. You could also choose to push a message to those who have spent over a certain amount of money.
Why PushEngage?
Display rules can be customized
Setting it up is easy
Abandoned cart messages can be automated
Lots of different design options
Perfect for increasing website traffic
Suitable for abandoned cart recovery
Price: Paid plans start at $9/month.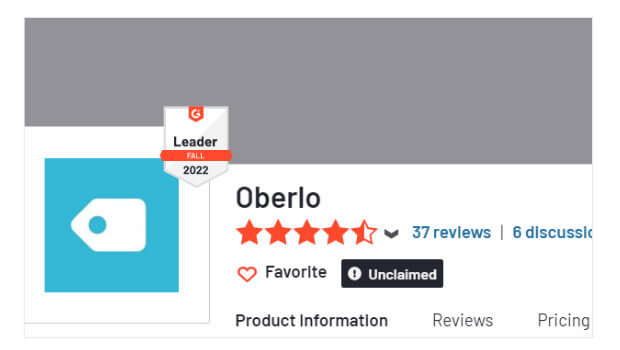 Oberlo is a dropshipping app where users can locate some of the most popular products and begin selling them soon after.
One of Oberlo's most unique features is its ability to import and fulfill orders automatically. So, if you're a store owner, you can simply push your new items up to Oberlo, which will immediately add them to your store for purchase.
No more waiting around for someone else to do it for you. If you're into hands-on marketing and business growth, Oberlo is a wise choice to consider.
Why Oberlo?
Easy to track all of your orders
No interference when shipping from the supplier directly to the customers
Ability to see trending products from suppliers across the world
Perfect for dropshipping businesses
Tons of product customization
Inventory updates can be automated
Viewable analytics to see your progress
Price: Premium plans start at $29.95/month.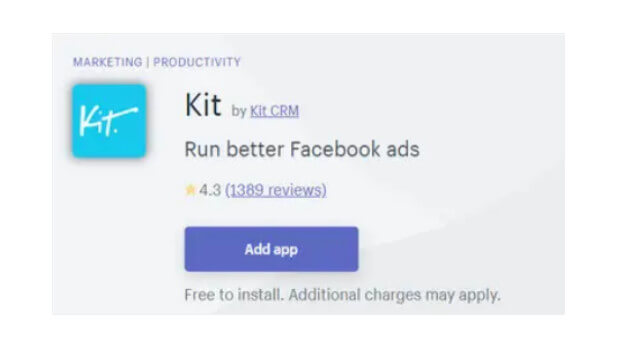 With Kit, your customers can create and share all types of social media posts. This is useful because apps like Instagram have become a popular way to advertise, especially with Instagram feed.
Once your posts are live on Instagram, you can review them to see what works and what doesn't. You can then build upon that knowledge in subsequent social media marketing campaigns.
The best part about Kit is that it's free. For Shopify merchants with high-volume sales, Kit offers social media tracking that includes analytics for each post created using their app. It also provides customer analytics reports to give you a better idea of what works and what doesn't.
Why Kit?
It's free
Straightforward interface
Great for social media marketing
Business campaigns can be automated
Price: Free.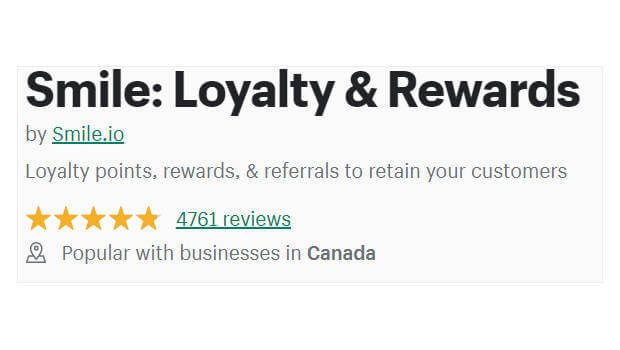 Smile is another top favorite Shopify app among many eCommerce businesses.
It's an app that allows you to customize your thank you page for visitors who come to your shop through a referral. That means that even if they never buy something from you, they can still go away with a positive experience.
Using Smile is a good way to boost new and repeat sales because of the rewards system you can create with it. Loyalty programs can be created in a matter of minutes.
Why Smile?
Smile analytics lets you easily see your results
Loyalty and rewards programs
Customizable
Nudges can engage customers
Perfect for increasing customer loyalty
Good for boosting referrals
Price: Paid plans start at $49/month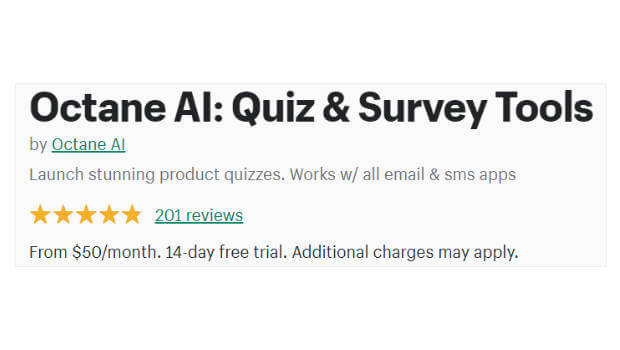 Octane AI is a quiz app that allows you to create branded and promotional quizzes. It has been considered one of the most popular Shopify apps because it adds some interaction and engagement to Shopify stores.
The quizzes you create with Octane AI can be fully customized and personalized to improve the customer experience. Customers are given a quiz that asks them a series of questions. Depending on how each customer answers those questions, a list of product recommendations is provided.
In addition to the product recommendations, customers also receive links where they can easily add products to their carts.
Why Octane AI?
Quiz popups can boost conversions
Product recommendations are personalized
Easy access to carts from popups
Fun and interactive way to suggest products
Price: Pricing starts at $50/month.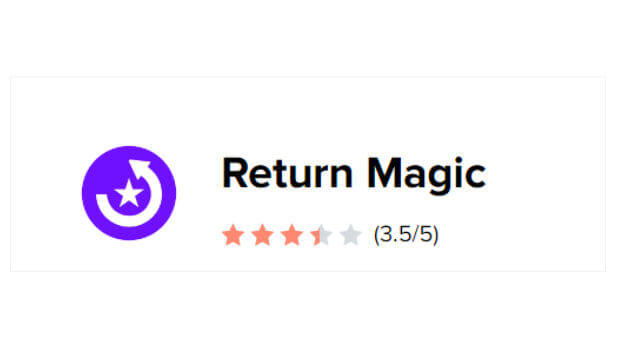 You just want to ship your products and get paid, but it can sometimes seem impossible with many different things to worry about. Thankfully, Return Magic is one of the apps that can help with that process.
What's brilliant about Return Magic is that it takes away the stress from shipping returns and allows you to easily create an awesome return policy on your Shopify store.
Just like Shopify, it's quite easy to install. When setting up your shipping labels and returns in your Shopify admin, you'll be guided through a series of steps that will allow you to set everything up. You can also create unique refund rules to give some products an even better return policy.
For example, you can choose specific conditions under which a customer gets full refunds or 100% store credit instead of being sent a physical replacement. The same goes for shipping costs.
You can adjust the conditions to offer free shipping for orders over $50, but then people need to pay for return shipping if their total order is below $50. Whatever rules work best for your business can be built into your eCommerce store.
Why Return Magic?
You can customize your returns portal
Lots of cash refund options
Automatic display rules speed up the returns process
You can turn returns into gift cards instead of cash refunds
Price: Paid plans start at $10/month.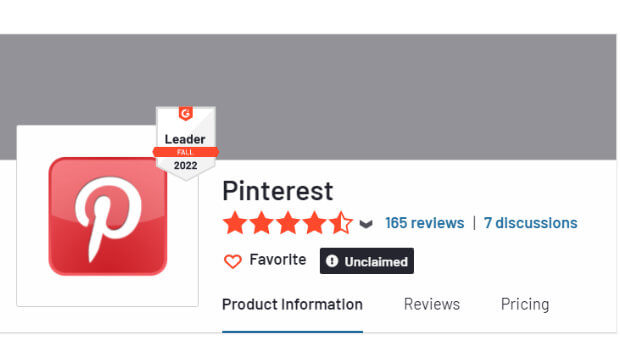 If you're serious about growing your eCommerce store, Pinterest is one of the must-have Shopify apps. It offers pin-to-cart capabilities (shoppable pins) and an opportunity to share eye-catching product photos and helpful tutorials with a highly engaged community of over 100 million pinners.
The Pinterest Shopify app is a good way to advertise your business's products. You don't have to pay anything, and people can purchase products directly from your online store.
Why Pinterest?
One of the best free Shopify apps
Good for growing awareness of the products you offer
Boosts traffic
Catalog updates can be automated
You can target specific demographics depending on interest
Price: Prices vary depending on the cost of Pinterest ads.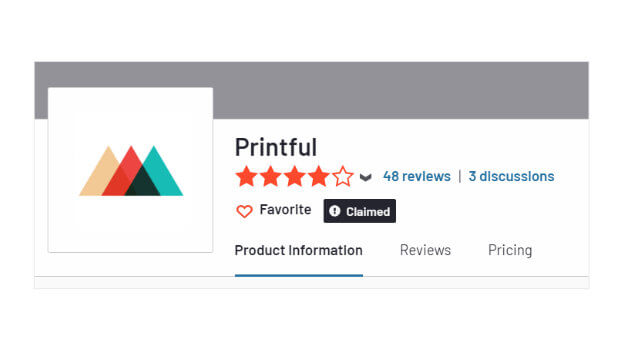 Printful is one of the best dropshipping apps that allows you to add products from other merchants on Shopify. Printful is ideal for smaller businesses that are selling smaller items like mugs, phone cases, clothing, and other types of apparel.
This app also has an extension that you can use to create product listings and display inventory information on your store. The extensions are compatible with BigCommerce, WooCommerce, Magento, and Shopify Plus, as well as independent stores built on these platforms.
Why Printful?
No monthly fees
Automated inventory management
Customized branding options
Perfect for those selling clothing
Price: Pricing starts at $29/month.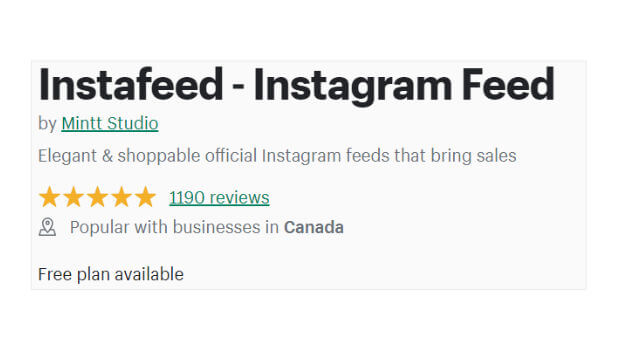 Is there anything more appealing than fresh, quality images of people using your products? That's what Instafeed delivers. Essentially, it connects businesses to real customers, allowing shops to collect user-generated photos and videos on their websites.
With these visual assets on your site, you can drive traffic and increase engagement—which means more revenue for your shop. You can also promote your brand with a hashtag or @mention throughout social media sites like Instagram and Twitter. The best part of Instafeed is that it doesn't cost a thing.
Why Instafeed?
Tons of different layouts
Taggable Instagram posts can increase the visibility of your products
Works on the majority of devices
Engages customers
Suitable for increasing the exposure of your brand
Price: Paid plans start at $5.99/month.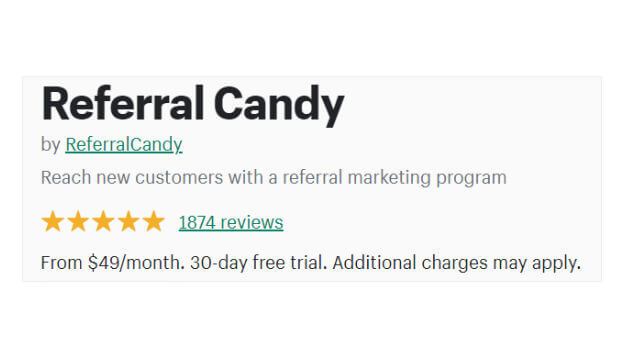 Referral Candy lets you set up and manage referral programs for your store and is incredibly easy to use. It also has analytics that helps you see what's working and which of your customers are getting in on your program. This makes it easier to target promotions and incentives to those most likely to refer.
You can get an active social marketing campaign underway by referring a friend and offering a discount or reward. While there's no limit to how many friends you can refer at once, only your first ten customers will be eligible for rewards.
However, if any referral makes another purchase, they'll also become eligible for rewards.
Why Referral Candy?
Straightforward interface
A good way to monetize referrals
The referral process is simple
30-day free trial
Price: $49/month after the free trial.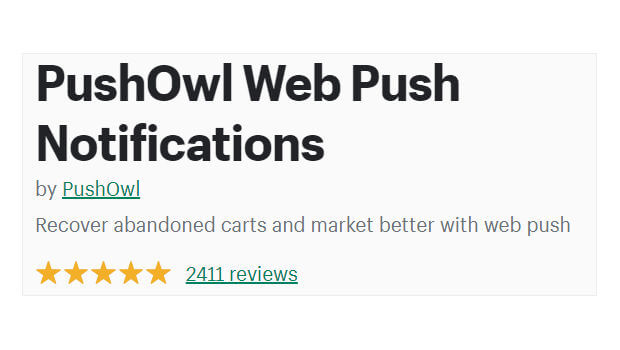 PushOwl is another one of the best marketing apps for Shopify. It lets you streamline your marketing by automatically integrating with Shopify and using complex algorithms to send out web push notifications.
One of the nicest things about PushOwl is that website visitors don't have to disclose personal details to become subscribers. This makes it ideal for people on edge about their privacy.
Why PushOwl?
Easily notify people about your products or services
Setting up a web-push campaign is straightforward
You can see a live preview before publishing
Eye-catching content for more conversions
Customization of notifications
A good way to generate sales
Price: Paid plans start at $19/month.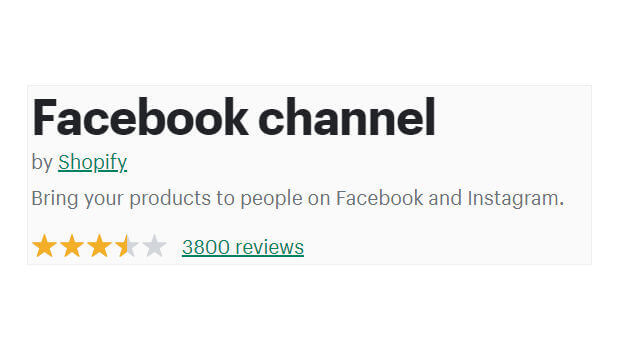 Facebook Channel is a must for any business with an eCommerce shop. This Shopify app will help you integrate your Facebook Page directly into your store so that you can quickly add products and take advantage of Facebook's analytics.
Apps like these help maximize potential on social media and in email marketing. This helps you engage customers better and make your brand more recognizable.
Facebook Channel can give you a birds-eye view of your brand and social media channels. This allows you to identify weak spots in your online presence that can be strengthened. It also helps identify competitors and build a strategy around them to find new avenues for growing your business and closing sales.
This is an important piece of any eCommerce marketing plan and should not be overlooked.
Why Facebook Channel?
Product syncing
Easy to set up
Perfect for managing ads
Ideal for eCommerce companies that sell on social media platforms
Useful for expanding your reach
Price: Sponsored ads' cost varies depending on the parameters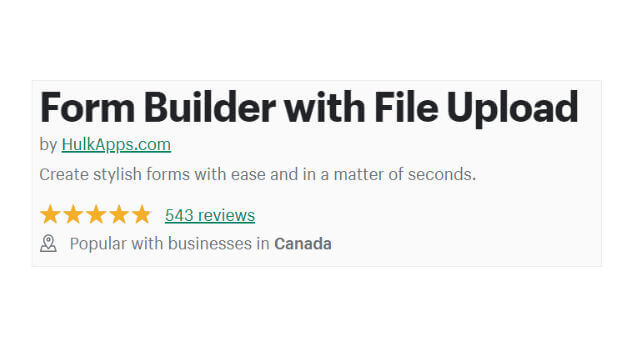 Form Builder makes it easy to set up forms for your online store and gives you a lot of customization. For example, you can't fully control how forms look on mobile devices since Shopify's form builder sometimes doesn't support responsive design.
To remedy these limitations and add features like eCommerce tracking and email marketing, you need an app, specifically a Form Builder Shopify app.
Form Builder is one of many apps that lets you create custom forms for customers to fill out when they check out or request information from your company. You can even track if people purchased after filling out a form, which can help you understand the strategies that drive sales.
Why Form Builder?
Additional forms don't cost extra
Secure against spam
100% GDPR compliant
One-click install
No coding required
Price: $10/month for the premium plan.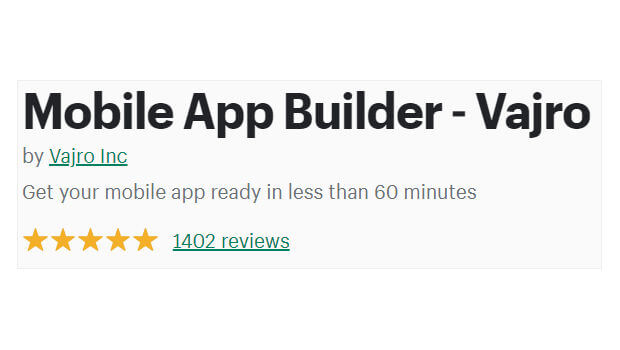 If you're looking to create an app of your own, there are tons of excellent resources. Shopify has an app-builder platform you can use to create apps for mobile devices; however, it's pretty pricey. The good news is that there are other, cheaper options available.
Mobile App Builder by Vajro app is one particularly good alternative with several useful features and templates that make development fast and easy. It also includes analytics, social media integration, and allows you to create custom apps for your business quickly and easily.
The best part? It's completely free for 60 days. Mobile App Builder has some great tools for building an online store or creating a mobile version of your website.
Why Vajro?
Great for automating deals and abandoned carts
Push notifications
Live selling
Boosting customer engagement through personalization
Price: Prices start at $99/month after the 60-day free preliminary trial.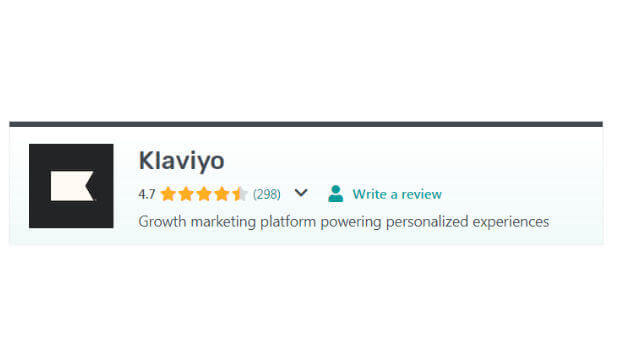 For eCommerce retailers, Klaviyo is another popular Shopify app, known for its email design capabilities, segmentation options, and integrations.
It can be expensive, but features like comprehensive analytics and good email automation functionality make it worth checking out. Having said that, there are better, more cost-effective alternatives out there.
Why Klaviyo?
Tons of integration with some of the most popular platforms, like Facebook
Templates to speed up creating your campaigns
SMS marketing campaigns
You can send automated messages to customers depending on triggers
A good option to consider for mid-sized businesses
Price: Paid plans start at $20/month.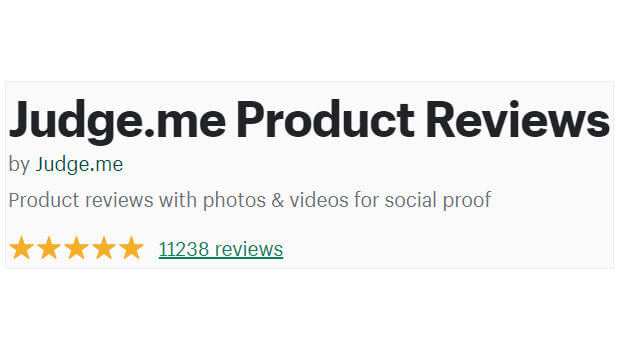 The best thing about Judge.me is that it comes with a generous free plan. Because of its popularity, new features are constantly added, and bugs are fixed. After signing up and completing your profile, you'll be asked a few questions by real-life reviewers who are paid by Judge.me based on their performance as reviewers.
This gives you extra assurance that your review will be impartial, informative, and fair.
Plus, because all reviews are public, customers can see what other people have said about your business.
Why Judge.me?
You can share reviews on social media
Snippets can be SEO-optimized
Video/photo reviews
Great for social proof
Ideal for boosting customer feedback
Price: Paid plans start at $15/month.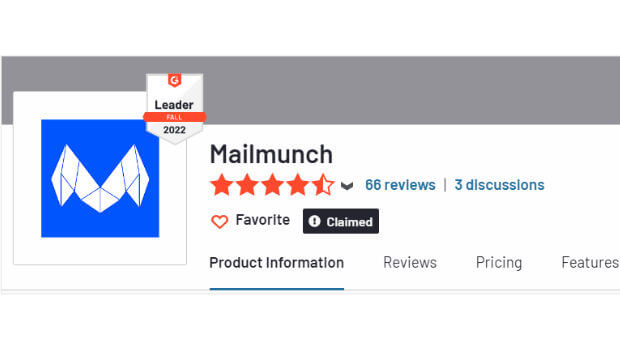 Mailmunch is an email marketing tool with an impressive suite of reporting and analytics tools. It's easy to use, but it can be a little overwhelming at first if you're not familiar with email marketing software. It's worth spending some time with their tutorials to get a good feel for how it works before diving in headfirst.
The free version gives you everything you need to get started and create, send, and track campaigns. Try integrating it with your Shopify site to better understand if it'll work for your eCommerce business.
Why Mailmunch?
Visually stunning landing page designs
Tons of pre-built templates
Easy-to-use drag-and-drop email builder
Cart abandonment emails can be fully automated
Useful marketing analytics
Perfect for small to medium-sized businesses
Affordable
Price: Beyond the free plan, pricing starts at $19.99/month.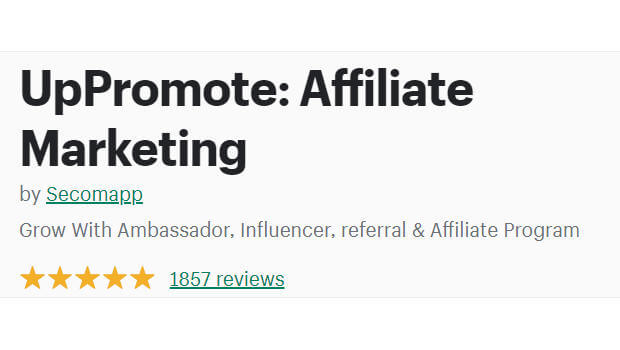 UpPromote is an affiliate marketing platform that allows you to sell other people's products. The useful platform lets you link and promote products from Shopify stores. You'll only have to pay if affiliates make a sale. It's straightforward to track orders, making it ideal for many affiliate marketing companies.
Explore these 10 Affiliate Marketing Tips to Increase Your Income.
Why UpPromote?
By tapping into an existing theme, you can use drag-and-drop technology to add products from your dashboard quickly
You can integrate a new theme using custom fields, making it easier for you to curate content and build an online shop
Good order tracking
Ideal affiliate management
Price: Paid plans start at $21.99/month.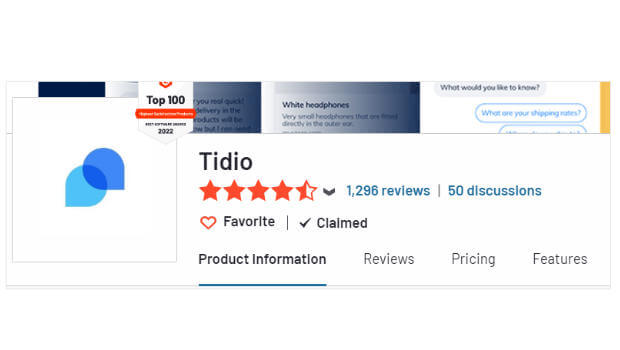 Tidio has received excellent customer reviews and helps you optimize your site with chatbots, Messenger, and Live Chat. This user-friendly platform makes it ideal for new customers being able to find what they're looking for on your website.
Why Tidio?
Pre-built marketing automation templates
Tons of customization
Lots of different support languages
Chatbots are easy to customize
Chatbots can boost sales
More support will increase customer retention
Price: Beyond the free plan, pricing starts at $15/month.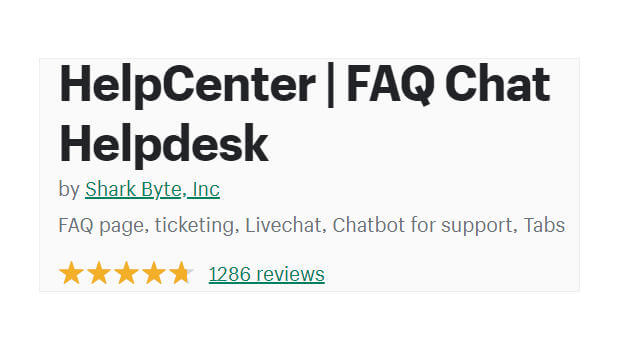 HelpCenter makes it easy to design FAQ pages that can boost your search engine optimization. Creating a FAQ page is one of the most useful marketing strategies because they answer questions from new and loyal customers.
When people's questions are answered, they're more likely to click the checkout button on their shopping cart. HelpCenter also has live chat, ticketing, and other tools to get customers through the product pages to the checkout pages much more efficiently.
Why HelpCenter?
FAQ pages can upsell products by cross-selling
FAQ pages are great for SEO
They can answer questions regarding the pre or post-purchase of products
You can use the eCommerce platform to manage product descriptions
Intuitive support will free up time for the support team
Price: After the 14-day free trial, paid plans start at $4.99/month.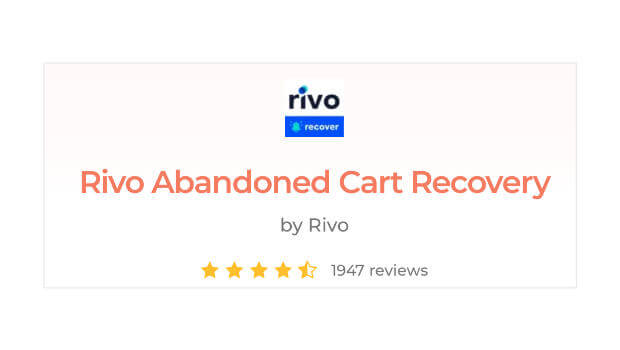 Rivo Abandoned Cart Recovery is perfect for customers that have exit intentions. With this platform, you can create coupon codes or send emails to customers abandoning their carts.
Using this platform can autopilot the abandoned cart recovery process, and you don't even need to know any coding to do it.
Why Rivo?
Cart recovery can be automated
Customized popups
Great for recovering abandoned carts
Helps to boost conversion rates
Pricing: After the free plans, pricing starts at $15/month.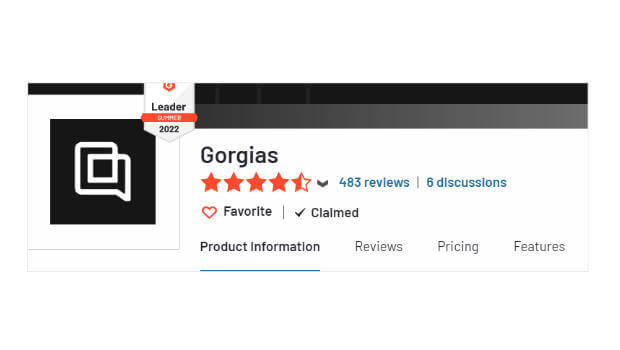 Having full access to all of the customer support channels in front of you can be a great way to speed up communication between shoppers. That's what Gorgias does. You can integrate it with Facebook, Instagram, Shopify, and live chat.
With better customer support, you'll improve your customer reviews and rankings.
Why Gorgias?
Average order value will be increased due to great customer support
Straightforward dashboard for all customer tickets
Lots of templates to see what customers have ordered
Automated support
Speeds up the customer inquiry process
Price: Plans start at $60/month for up to 350 tickets.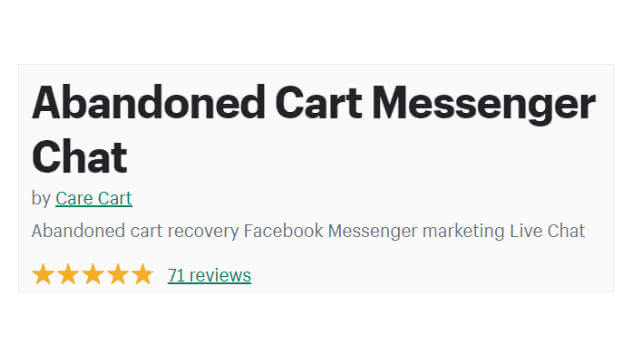 With Abandoned Cart Messenger Chat, you can assist customers through Facebook Messenger. At the same time, you can also provide discount codes, a link to a loyalty program, and other helpful things to ensure the customer experience turns into a conversion.
If you have a Facebook Business page, using this platform to automate abandoned carts can go a long way in boosting sales.
Why Abandoned Cart Messenger Chat?
Great for integration with Facebook Business
Useful at recovering abandoned carts
Ideal for fulfilling customers' wishlists
Helpful for assisting customers before making purchases
Word of mouth gets around on Facebook ads, and these will all link back to your business page
Price: Free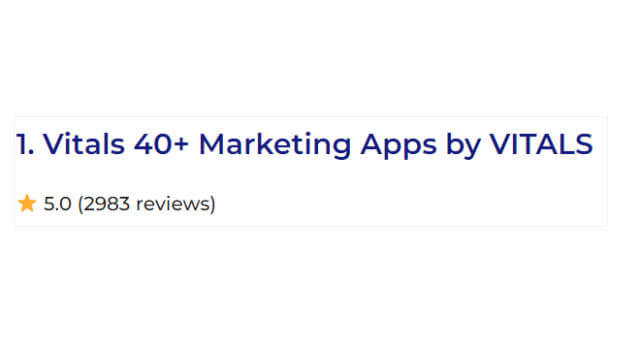 Vitals All-in-One Marketing is a marketing platform that does a lot of things right. You can import reviews, cross-sell campaigns, upsell products, recover abandoned carts, and keep track of your sales channels.
You can easily integrate Vitals with Instagram and Facebook Messenger to reach more potential customers.
Why Vitals?
There are tons of apps on the platform
Great for boosting product reviews
Good customer support
Price: Pricing starts at $29.99/month.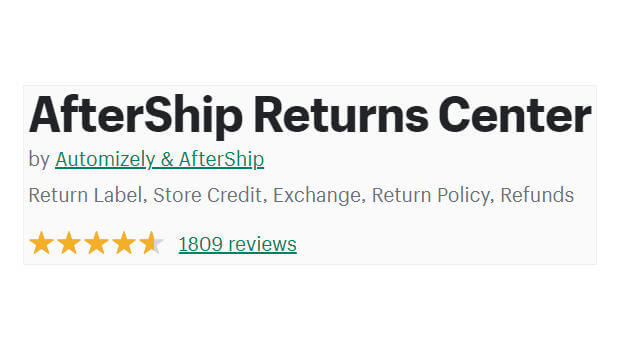 Sometimes eCommerce companies forget about the return process. AfterShip Returns Center helps automate this workflow through a branded return portal that reduces any confusion about return labels and updates.
The best part about this is that you're doing it all from the same platform. When customers can return products without any hassle, they'll be more likely to purchase from your company in the future.
Why AfterShip Returns Center?
Easily monitor returns and exchanges from the same platform
Return requests are easy for customers to submit
Creating return labels is straightforward
Price: Paid plans start at $9/month.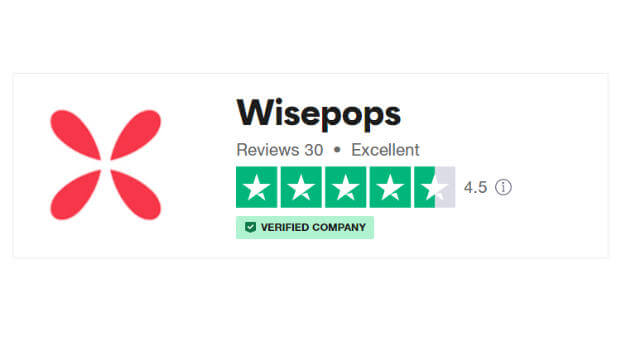 Wisepops is a highly-rated app for boosting sales and conversions. You can create newsletter signup forms, exit-intent forms, and other useful forms to give you an edge with customers.
Why Wisepops?
Easy to use
Great for influencers to see their conversions
Mobile-friendly
Price: Pricing starts at $49/month after the first 14 days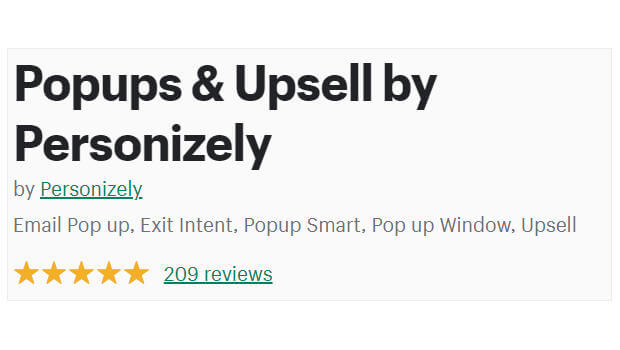 Personality-based recommendations help shoppers who aren't sure what to buy. Personizely is a Shopify app that helps merchants deliver targeted product suggestions to their customers.
Using Personizely, you can group shoppers into personality-based categories based on past purchases and other actions on your Shopify store.
Personizely sends each shopper personalized product recommendations based on their unique personality and purchase history. It also sends recommendations based on previous products purchased by shoppers with similar personalities.
Why Personizely?
Create email campaigns to draw in subscribers
Retargeting functionality
Good for turning shoppers into subscribers
Use different messages for different customers
Perfect for cross-selling
Draws in customers who are using Google Shopping or Amazon
Price: Pricing starts at $29/month for 10,000 visitors/month.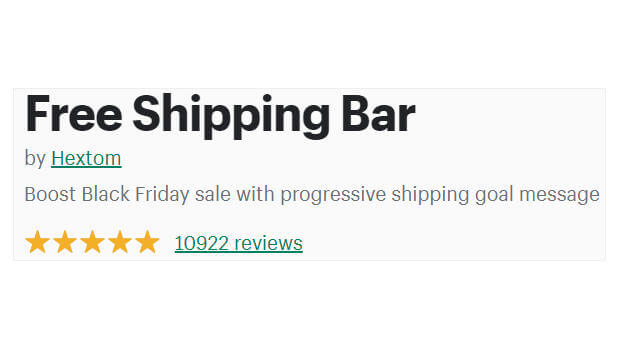 Free Shipping Bar is a powerful way to entice new customers and increase average order size. But there's one big thing stopping eCommerce retailers from offering free shipping: shipping costs.
Shipping can add up quickly, especially for retailers who sell a large volume of products or to customers far away from their warehouses or showrooms.
Many retailers choose not to offer free shipping due to these costs, and that's where Free Shipping Bar comes in. Free Shipping Bar offers an innovative solution that helps brands overcome logistics challenges and maintain competitive pricing. It provides customers access to free shipping when they need it most.
Why Free Shipping Bar?
Free shipping offers can boost sales
You can show certain shipping conditions depending on the location and device being used
Boost conversions
Price: Pricing for paid plans starts at $9.99/month.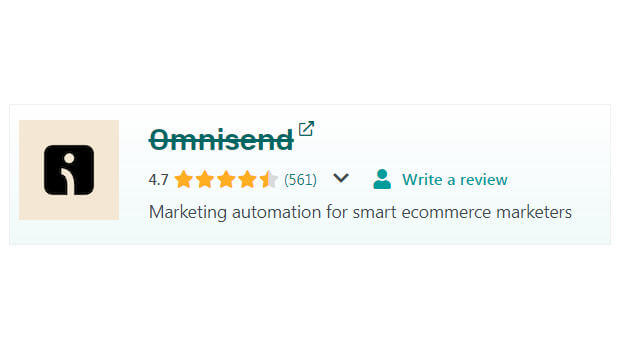 This email marketing app does just about everything, from email marketing to product announcements and automation, all with an easy-to-use interface. It also comes with a free trial and tons of customization options, making it one of our go-to platforms for online retailers.
OmniSend's drag-and-drop editor makes email design exceptionally easy. In addition, email segmentation to specific groups of people can be used to boost conversions for your target market.
Why OmniSend?
Automated workflows
Useful analytics
Expand Shopify stores quickly
Price: Pricing starts at $16/month.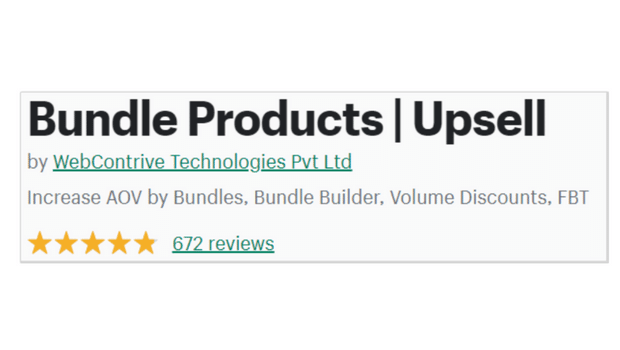 One of the most important Shopify tasks as a store owner is to sell products people love. A great way to do that is by offering complementary products and bundles. This makes it easy for customers to easily add items to their cart without going through a complicated checkout process.
One of the best apps for quickly setting up product combinations is the Bundled Products app. You can pick out different products you want to be bundled together, and it will tell you how much they cost if purchased separately or how much each bundle will sell for.
It's a great way to encourage additional sales while also making sure customers don't have any trouble shopping. And it makes promotions super easy. Just pick a bundle with a discount and make sure it shows up at checkout!
Why Bundled Products?
Works with a variety of Shopify themes
More conversions
Reliable customer service
Price: Paid plans start at $12.49/month.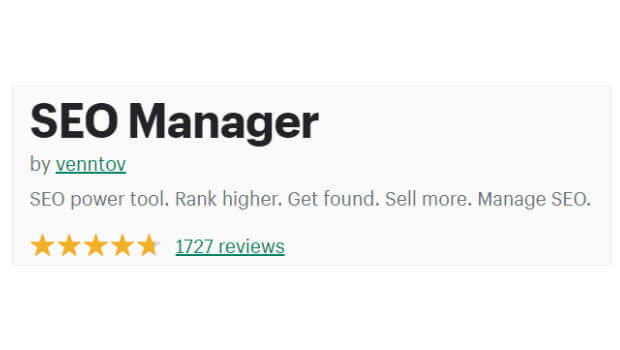 The SEO Manager app provides a powerful suite of tools for managing your organic search. The app's central dashboard can help you track keyword rankings and site visits on Google, Bing, and Yahoo.
From there, you can go deeper into tracking your competitors' SEO strategies, keywords that drive traffic to their sites, and more.
The nice thing about this Shopify app is that you can see how your store will appear on search engines.
Why SEO Manager?
Management of broken links
Boost SEO score for more visibility
Keyword suggestions
Price: After the 7-day trial, pricing plans start at $20/month.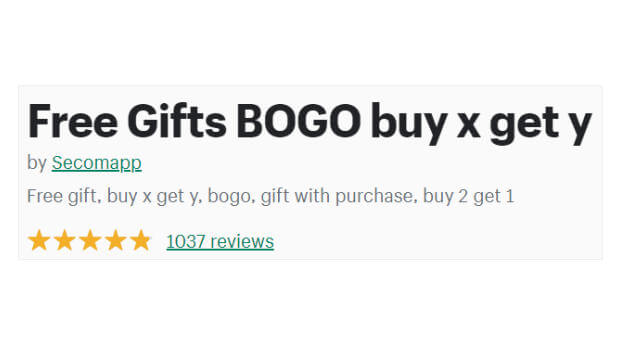 Free Gift BOGO is a great Shopify app that allows you to boost your average order value and increase conversions by creating campaigns that offer gifts along with purchases.
You can also offer discounts, buy-1-get-1 sales, and other free gifts that entice customers into clicking the checkout button.
Why Free Gifts BOGO?
Tons of customization options
Gift offers will draw customers in
Icons can be customized
Boosts customer loyalty
Price: Paid plans start at $29.99/month.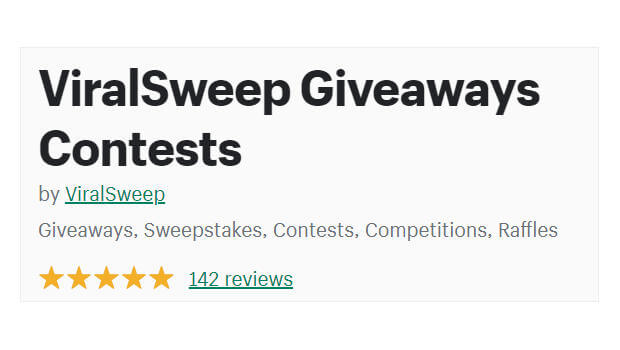 ViralSweep encourages interaction with your Shopify store by allowing you to provide rewards for contest entries on campaigns you may run on your website. Content campaigns can be a great way to boost engagement on some of the products you order, and ViralSweep uses that and builds upon it.
You can also use the information you collect from your contest campaigns to reach out to people in the future.
Why ViralSweep?
Lots of customization
Contests can be shared
Great for building engagement
Ideal for building lists
Price: After the 7-day free trial, prices start at $49/month.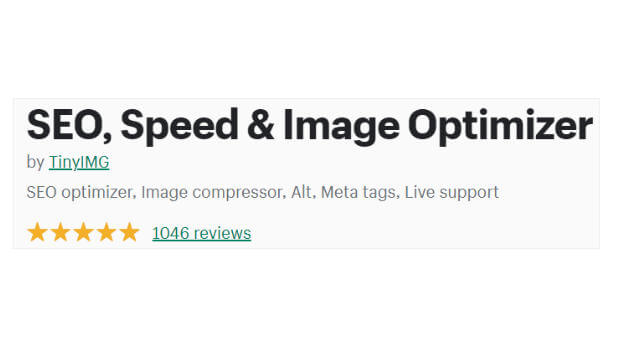 To increase sales and conversions, eCommerce pages need optimized images.
TinyIMG SEO & Image Optimizer allows you to optimize images with just one click of a button. It also generates thumbnails and HTML5 code and helps with page load times by compressing and combining multiple files into one.
Another feature is image distortion correction and image compression optimization for lightning-fast website performance. Once your images are optimized, you can use alt tags to make them richer in SEO.
Why TinyIMG SEO & Image Optimizer?
Fast image optimization
Increases store loading times
Better user experience
Higher probability of conversions and sales
Price: You get 50 free images per month, and everything after that is $.03/image.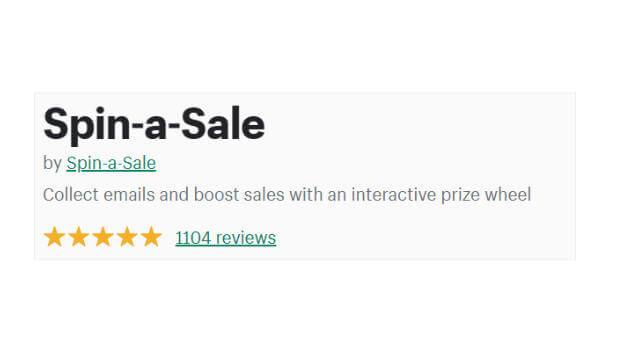 Spin-a-sale is a great way to boost conversion rates in Shopify stores because it's interactive, and people love that. All you have to do is input your email address for a chance to give the wheel a spin for coupon codes. These codes can be used for discounts on products or free gifts.
Why Spin-a-Sale?
Encourages interaction and engagement
Great for building lists
Coupons creation is easy
Price: Pricing starts at $9.99/month.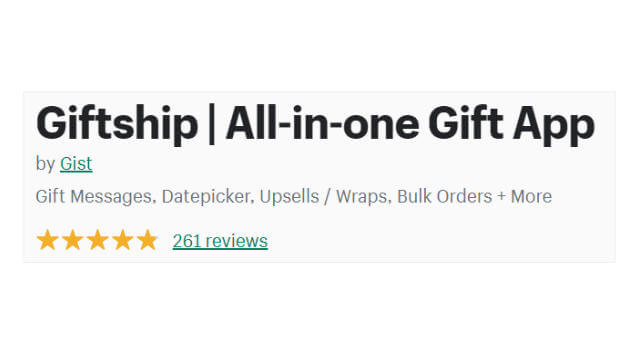 Every store owner knows how difficult it can be to develop a loyal customer base. Giftship is an app that makes it easy to give customers exclusive discounts. This can make them feel special and get your brand in front of their friends, which means more sales down the road.
Users love Giftship's quick setup and beautiful design, while power users appreciate its advanced features, like triggered emails or built-in customer segments. You'll have a hard time finding another app with such a strong focus on simplicity.
Why Giftship?
You can ship to many different addresses
Lots of upselling opportunities
Boosting order values
Price: Giftship pricing starts at $29.99/month.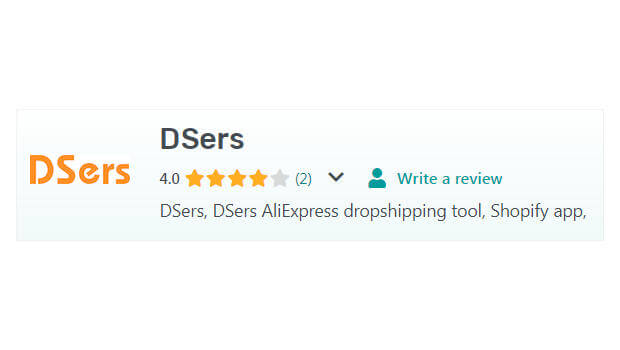 DSers AliExpress Dropshipping app is a fulfillment and product management app that allows you to keep track of orders. It's a highly-rated app that offers a 14-day free trial where eCommerce businesses can test the waters. Over 150,000 users use DSers AliExpress Dropshipping.
Why DSers AliExpress Dropshipping?
You can manage many stores with the same account
Easy to set up pricing rules
Order tracking is automated
Saves you time and money
Price: Paid plans start at $19.90/month.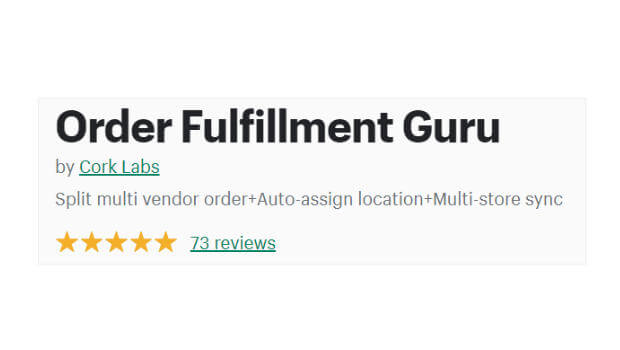 The Order Fulfillment Guru app offers fulfillment services across many different vendors. The other great thing about Order Fulfillment Guru is that it has a ton of great integrations. If you want your app to integrate with dozens of other apps but still need your own customizations, then you'll love Order Fulfillment Guru.
Order Fulfillment Guru allows you to sync your inventory, making it perfect for eCommerce businesses with various Shopify stores.
Why Order Fulfillment Guru?
Automated order management
Syncing products between stores
Easy to use
Price: Paid plans start at $9.95/month.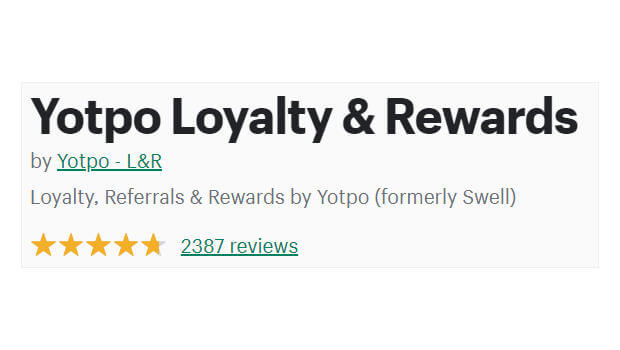 Yotpo is a great way to boost sales with social proof. You can showcase reviews and answer questions from customers on your website. The automatic email review system also makes it easy to collect reviews.
It's easy to install and comes with 24/7 customer support.
Why Yotpo?
Easy to use
Social proof
More customer reviews
Price: Paid pricing starts at $15/month.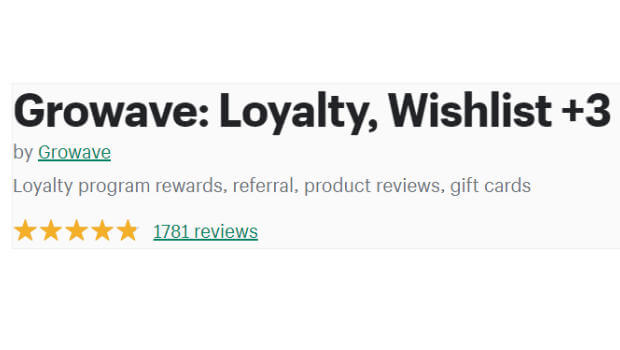 With Growave, you can increase customer loyalty by creating a points program and offering discounts, in-store cash, and other products. You can also collect reviews much easier with the review request feature. You can then feature the best reviews on your pages.
Why Growave?
Great value for the money
Optimizes well with websites
Tons of language support
Price: Paid pricing starts at $9/month.
We hope you found this list of the best Shopify apps helpful. Next, check out the following resources that can help you grow your eCommerce store and increase sales even more.
Moreover, don't forget to check out TrustPulse, which can help you increase conversions, sales, and revenue by up to 15%.