Are you looking for the right social proof software for your website, but not sure which is the best?
Two popular options are Beeketing and TrustPulse. Both are easy to work with, flexible, and effective at boosting conversions on your site.
But, as you know, not all social proof software is created equal. So, today, we're going to give you an in-depth comparison of Beeketing vs. TrustPulse.
Before we dive in, though, let's take a quick look at what each company specializes in.
What Is Beeketing?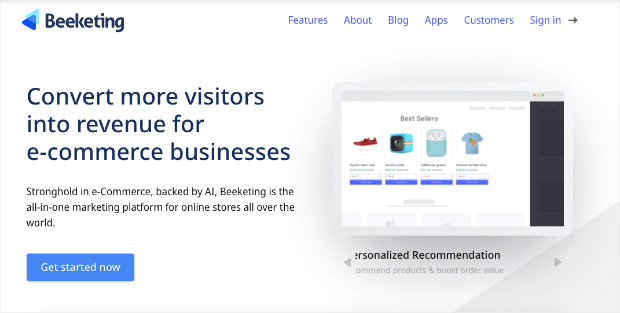 Beeketing is an all-in-one tool to help online marketers with most major eCommerce platforms. It has a wide range of apps and tools for Shopify, Magento, WordPress, and more.
Beeketing offers three basic functions to help digital entrepreneurs:
Learn: Track user behavior across your site
Recommendation: Make product recommendations, coupon popups, live sales notifications, and more
Engage: Create automated emails to get more customers to come back to your online store
Each of these products is broken down into various apps that you can install separately. We'll talk about what this means for your site later, but for now, we should make something clear:
Beeketing has a range of marketing tools and apps, but social proof is only a small part of their company's niche.
This will be important to keep in mind as we're going through our Beeketing vs. TrustPulse review. We'll circle back around to this point toward the end of the article.
For now, let's get more clear on what TrustPulse is and how it can help grow your business.
What Is TrustPulse?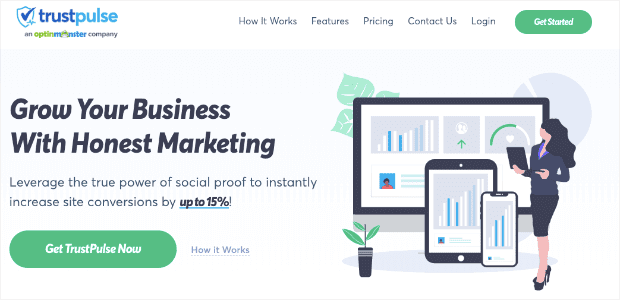 TrustPulse is hands down the best social proof software on the market. It lets you create professional social proof notifications in a matter of minutes.
You've likely seen these notifications before. They look something like this:

But these small messages can lead to a big impact on your store's sales.
In fact, we've seen TrustPulse users get an instant boost of up to 15%. How does it work?
Social proof notifications show how real visitors are interacting with your website. This has an effect on other visitors of your site called FOMO ("fear of missing out").
The basic idea behind this is simple: a well-known part of consumer behavior is that they don't want to miss out on deals or benefits they see other people receiving.
It's the same reason why toddlers fight over the same toy when there are hundreds of other toys around. The idea that we're missing out on something other people are enjoying makes us uncomfortable.
As a result, we're ready to take action to be included.
TrustPulse lets you create social proof notifications to increase your:
Newsletter signups
Webinar registration
Feedback forms
Testimonials and reviews
Sales
And much more…
And the best part is that TrustPulse is ridiculously easy to use. You don't need any coding experience or "tech skills" to build and target professional campaigns to your audience.
Want to see it in action for yourself? Sign up for your risk-free TrustPulse account today!
Beeketing vs. TrustPulse: Which Is Best?
Both Beeketing and TrustPulse are incredibly user friendly and easy to set up. They both require installing a small bit of code on your website, and both let you get started in just a few minutes.
They're also flexible tools, meaning they work for most major website platforms, WordPress included.
But, remember, when we're comparing Beeketing to TrustPulse, we're only looking at their social proof notifications.
This is important because Beeketing has other apps and tools that can be used, but they fall out of the scope of social proof.  And today's question is, "what's the BEST tool for adding social proof notifications to your site?"
We'll break up our comparison of Beeketing vs. TrustPulse into a few different categories:
Campaign types
Ease of "just starting out"
Design customization
Pricing
Let's dive in!
1) Beeketing vs. TrustPulse: Campaign Types
Social proof notifications are like a marketer's dream: they're super effective but haven't become overly popularized yet.
In other words, many online consumers haven't grown accustomed to them yet, so they're great at grabbing your visitor's attention.
But, like everything, social proof notifications can begin to blend in with your site, meaning you need a tool that gives you different types of campaign choices.
Otherwise, you can train your audience to ignore them.
Let's look at what kinds of campaigns Beeketing and TrustPulse offer. We'll start with Beeketing.
Although Beeketing has many apps and tools for marketers, only one is suited for social proof notifications. It's called Sales Pop: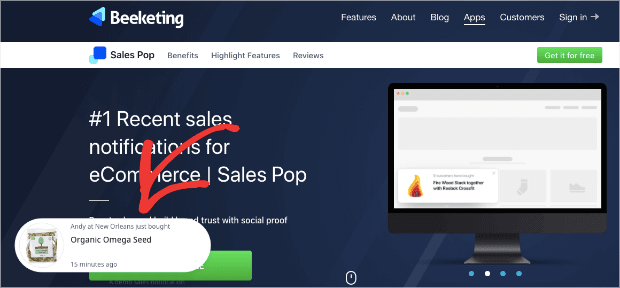 These notifications let your site's visitors know when other consumers have made a purchase. Then it creates and displays these real-time messages across your website.
Just like when using TrustPulse, this leverages FOMO to get users to take action fast. In the end, that means more sales for you.
Besides that, Beeketing's other apps are more designed like a popup software to show countdown timers, reduce abandoned shopping carts, and deliver coupons to visitors.
So let's turn our attention to TrustPulse to see which kinds of campaigns they offer.
TrustPulse has 2 types of campaigns you can use:
Recent Activity campaigns show when an individual has interacted with your site in some way. These look something like this:

When the data is available, these notifications will use the customer's name. This humanizes the notification and gives it more credibility.
On-Fire campaigns, though, will show when larger groups take a collective action. These messages look like this:

This can be a super powerful social proof notification. It's great for flash sales, popular webinars, and other parts of your digital marketing strategy that brings in bigger crowds.
But what really matters for our purposes today is what you can accomplish with these 2 types of campaigns.
That's because Beeketing allows you to show live sales notifications when a consumer makes a purchase.
That's one campaign type with one clear message.
TrustPulse, on the other hand, has 2 campaign types that can be used in an endless number of ways. In other words, you aren't limited to sales notifications with TrustPulse.
Instead, you can capture activity from any type of webform or button click on your site. Then you can use those interactions to trigger your notifications to appear across your site.
That means you can use TrustPulse's 2 campaign types to create social proof for:
Growing your email list
Increasing webinar registrations
Getting more customer feedback
Collecting more customer reviews and testimonials
Boosting pageviews for popular content
And much more, including recent sales, of course.
Final Verdict: When it comes to campaign types, it's clear that TrustPulse comes out the winner. TrustPulse has more types of campaigns and lets you target different activities across your site.
This leads to more positive engagement with your brand and, ultimately, more sales for your online store.
2) Ease of "Just Starting Out"
This may sound a bit odd as a category, but it's important to know which tool is easier for using social proof when you're just starting out.
That's because many marketers or online business owners face the following problem: they want to use social proof across their site, but they don't have many customers on day 1.
So, how easy is it for people to start using social proof immediately with Beeketing vs. TrustPulse? We'll begin with Beeketing.
As we already said, Beeketing's social proof is limited to live sales. That means you need to make sales to start using social proof.
This can be problematic for many new businesses that don't have any customers yet.
And while Beeketing offers other apps and tools to help you acquire new customers, these solutions still take time before you have reliable sales to display in your online store.
TrustPulse, on the other hand, gives you a few different options for getting started with social proof immediately.
That's through a feature called User Click:

User Click allows you to track button clicks across your website. Then, you can display the number of people who clicked that button to use as social proof.
This means you don't actually need to make any sales to display social proof notifications. But how would you use this feature to boost sales?
Imagine that you're starting to get more traffic to your site, but your sales are still limited. You know that people are checking out your product pages; you just wish that more of them would pull the trigger and make the purchase.
You can change the wording of your social proof notification from "Someone just purchased this item" to "100 people checked out this product today":
Of course, the number would change with the number of people who've clicked through to that product page.
This means you don't need to make any sales to start using social proof on your website. You can also leverage this User Click feature to show when people have clicked:
A webform
An external link
Links to product pages
Links to affiliates
Any other call to action (CTA) button on your site
In other words, with TrustPulse, you can begin using social proof to reach any of your marketing goals, even if you don't have any active customers yet.
Final Verdict: Again, TrustPulse is the clear winner here. It's the only social proof software that lets you get started immediately. Then, as you boost conversions with User Click, you'll start generating more sales faster.
From there, you can start creating social proof notifications for recent sales to maximize profits and generate even more revenue for your business.
3) Beeketing vs. TrustPulse: Design Customization
A major factor when considering the right type of social proof software for your business is how easy it will be to design.
After all, you don't want to spend hours of your precious time trying to style a social proof notification. But, you also want it to look professional and engaging to your audience.
That means you need a tool that requires zero coding skills and lets you get stunning campaigns up in minutes.
Let's check out what you can modify with Beeketing.
From your Beeketing dashboard,  creating a new notification is easy, but your design options are fairly limited. You'll need to fill out a few basic details about your notification, including:
Product
Location of the user
Where you want your campaign to display (specific pages or the whole website)
Time the activity was taken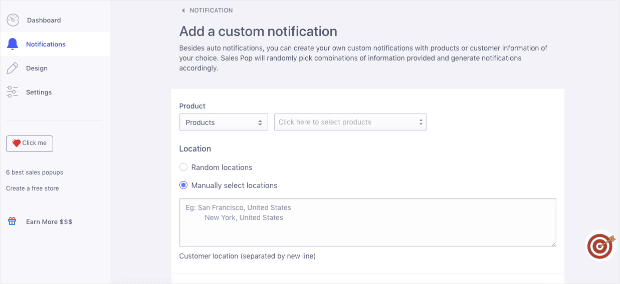 We should briefly talk about one thing before even getting to the design portion of this notification.
At TrustPulse, we're avidly against the use of fake social proof. We think that it's a short-sighted strategy that, in the end, will do more harm than good to your brand.
We bring this up because there are 2 parts to the campaign creation process with Beeketing that isn't 100% genuine.
First, you can either show random locations from a specified country or enter locations that you want to be attached to your social proof notification.
This is problematic because there's no option for showing the genuine region of your consumer. Instead, you'll be manufacturing your user's location while still displaying it in your message.
When users see something like this: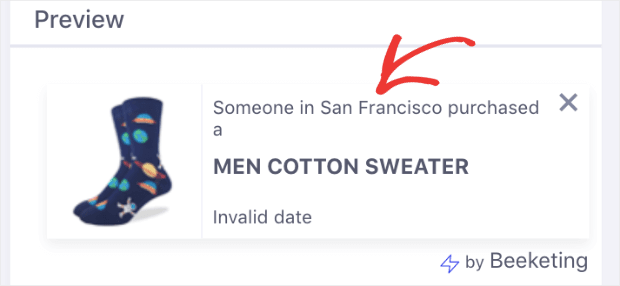 The "customer" didn't necessarily buy anything from San Francisco. While the risks are low of customers finding out, the rewards just aren't worth it.
Why does this matter? When consumers learn that Beeketing allows for this type of fake social proof, they might be more skeptical of your brand's credibility as a whole.
Second, the time the user made the purchase can be manipulated, as well. You have the option to show a random time that the customer made the purchase within 12 hours of making the notification:

This also implies that you can make fake social proof notifications that don't rely on genuine consumer behavior.
Again, we don't like to speak poorly of any other brands, but we are firmly against using fake social proof of any kind.
This is why we added the User Click feature discussed earlier in this post: there are better ways to start using social proof than relying on fake notifications.
But, now, let's talk about the basic design of your campaign. Beeketing offers 6 different layouts for your notifications: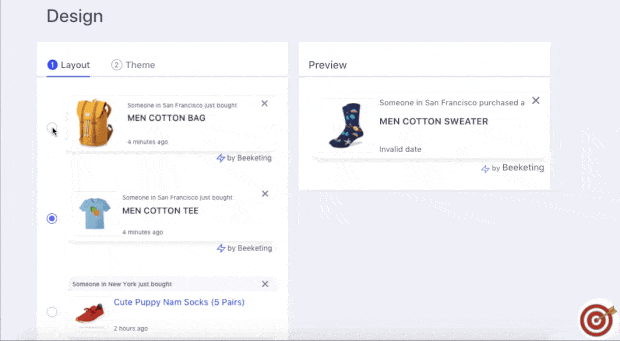 And it has a few different themes that you can choose from, including holiday templates: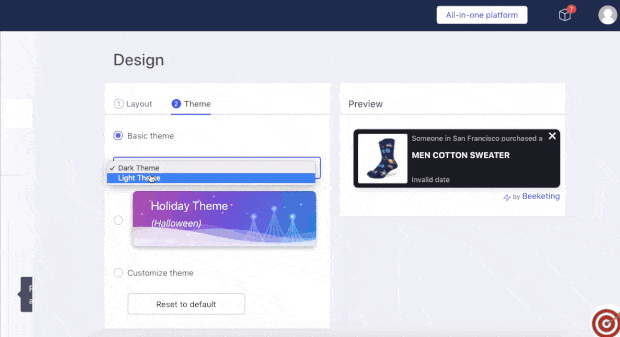 Or you can go the custom campaign route and modify the:
Background color
Time color
Title text color
Product name and link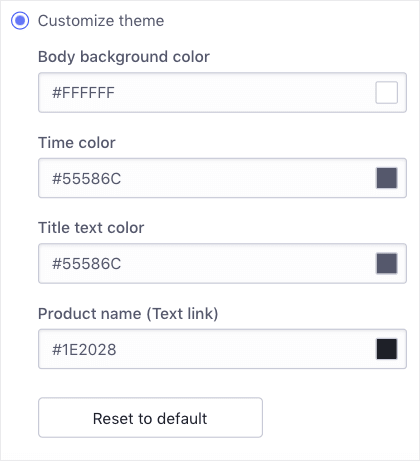 In other words, you can change your notification's color and link, but that's about it for the custom options.
Now let's look at TrustPulse.
TrustPulse only relies on authentic data for your social proof. This protects you from losing credibility with your audience in the long run.
Plus, every aspect of your TrustPulse campaign can be modified, including your notification's:
Language
Visitor reference
Message text
Message link
Notification image
And more…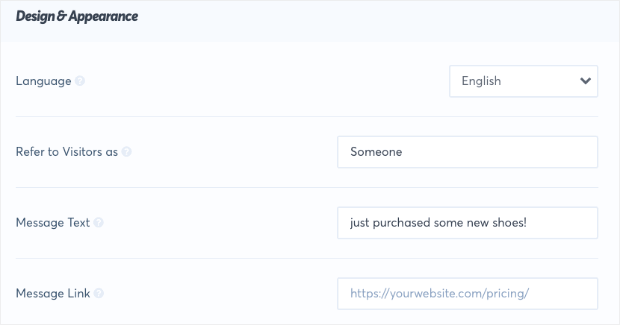 Then, you can go to the Advanced Settings to change other aspects of your notification's appearance, such as:
Text font families
Text colors
Background colors
Border
And more…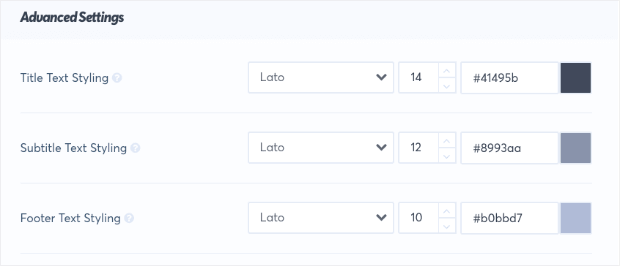 Want to catch your visitor's attention with multiple campaign styles? You can choose from Compact:

You can make it bigger with our Expanded option:

Or go the opposite route and make the campaign much smaller with our Mini format:

These are important options to have, as they allow you to change up your social proof strategy. By using different types of campaign styles across your site, it'll be much easier to grab your audience's attention.
The point is that you have 100% control over your campaign's design. That means you can customize it to match your brand's voice, look, and style.
This gives you social proof notifications that can enhance your site's design, improve user experience (UX), and boost conversions.
Final Verdict: Once again, TrustPulse comes out on top here. TrustPulse gives you total control over your campaign's design. You won't get locked into design schemes or layouts that you're not happy with. Plus, you can modify every aspect of how your campaign looks, what it says, and where it links to.
4) Pricing
Whenever you're comparing 2 different tools, cost is always a major factor. And rightly so.
Using marketing tools is supposed to increase your bottom line, not take away from it. So let's look at pricing options for Beeketing vs TrustPulse.
Beeketing is a totally free app that you can use when you sign up for a Beeketing account.
TrustPulse, on the other hand, starts pricing at $5/month, or about what you'd spend on a morning cup of coffee. From there, prices scale as your needs grow, though the highest paid plan is only $39/month.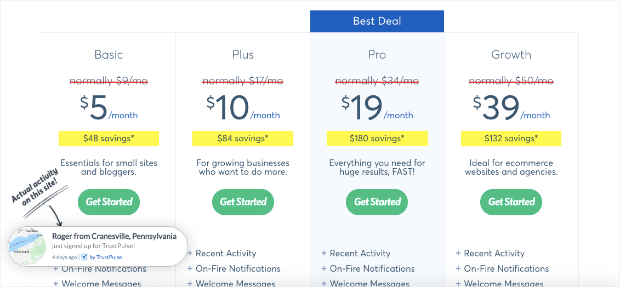 Now, you may be wondering, "If Beeketing is free, doesn't that make it the obvious winner?"
Not so fast. Because there are many instances where the "cheaper" tool isn't always the "best" tool, which is what we're dealing with here.
Yes, Beeketing is free. But as we've seen, it's much more limited in terms of what it can accomplish. With this app, you're limited to sales notifications with only a few design options.
You'll also be using software that allows you to manipulate data to make fake sales notifications, which can hurt your brand.
But TrustPulse gives you 100% control over your campaign's design, message, and functionality. You can use TrustPulse's social proof notification to accomplish more goals that you can't with Beeketing, such as boosting:
Email subscribers
Webinar attendance
Survey participants
Sales
And much more…
At the end of the day, the question isn't "which is the cheapest option." The question really becomes, "which gives you more value for your money."
And TrustPulse is by far the most powerful social proof software that comes at the most affordable price.
For just $5/month, you can create genuine social proof notifications to instantly improve conversions across your site.
Beeketing vs TrustPulse: Which Is BEST for Social Proof?
By now, the answer is fairly obvious: TrustPulse is your best bet for creating social proof.
Not only does it come with more powerful features, is more trustworthy, and gives you more control over your campaign's design, but it's also the most affordable option for social proof.
Again, Beeketing is free, but it's limited in terms of functionality and design. That means you'd eventually need to upgrade to another tool.
This is largely because Beeketing doesn't specialize in social proof. Instead, it's one of their many apps that's given away freely to attract customers to their paid products.
TrustPulse, on the other hand, focuses solely on social proof notifications, which is why we do it best.
Plus, we offer all the advanced tooling in a social proof software but at a fraction of our competitor's cost. For more information on this, check out this helpful breakdown of 3 popular social proof tools: FOMO vs UseProof vs TrustPulse: Which Is Best for Social Proof?
And that's it! We hope you found this review helpful as you decide between Beeketing vs TrustPulse. If you're serious about using social proof to get more conversions, then we're confident that the answer is clear: TrustPulse is the way to go.
If you enjoyed this post, you might want to check out the following resources:
These articles will have everything you need to use more social proof on your site, build credibility with your audience, and generate more revenue for your online store.
Ready to see how TrustPulse can grow your business? Sign up for your risk-free account today!