Do you want to find the best Leadpages alternatives for your business?
Leadpages started as a landing page builder and has since expanded into a full digital lead generation solution. But it still might not have all the features you're looking for.
In this article, we'll show you the best Leadpages alternatives for your business.
What is Leadpages?
Leadpages is a standalone funnel builder you can use to build landing pages, collect leads and make sales from your website. Although it's a good solution, it's not as flexible as a WordPress site built with the exact plugins you need.
Do I Need Leadpages?
If you're searching for a Leadpages alternative, you may want to first ask yourself whether you actually need Leadpages.
Leadpages is a great solution if you want to:
Build a landing page or simple website
Generate leads for your business
Sell a few simple products or services
Do all of the above without learning how to code
Leadpages may not be the best choice if you want to:
Create lots of content, i.e. a blog or publication
Sell lots of products i.e. eCommerce
Fully customize your site design and sales funnel
For fully customizable websites that can handle lots of blog content and eCommerce, we recommend a more robust option like WordPress. You can easily make a one page website on WordPress that can do just as much, if not more, than a Leadpages landing page.
We've included alternatives to Leadpages that work in WordPress and ones that are standalone solutions. Let's take a look!
Alternatives for Building Landing Pages and Sales Funnels
The primary function of Leadpages is to build landing pages without coding. Here are our favorite Leadpages alternatives for creating landing pages.
1. SeedProd (Free Version Available)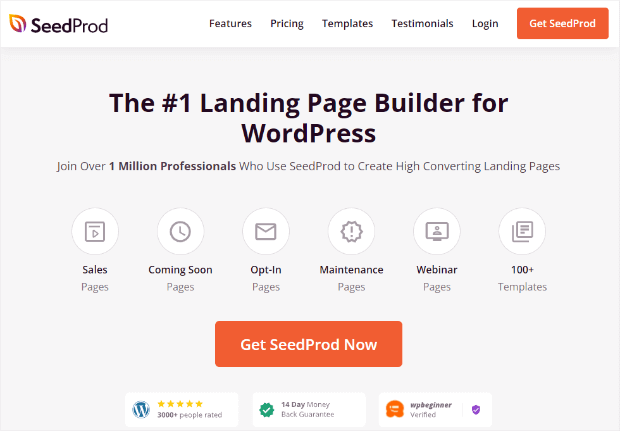 SeedProd is the best Leadpages alternative for creating high-converting landing pages in WordPress. SeedProd has many powerful features but does not drag down your landing page load speed.
The plugin comes with a simple drag-and-drop visual builder, so you can see exactly what your site will look like as you build it.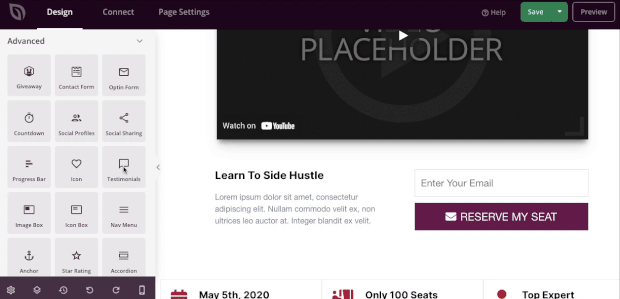 SeedProd also has more than 180 templates to help you get started quickly without hiring a designer or developer. There are templates for landing pages, blog posts, archive pages, 404 pages, and even a coming soon page.
Because it's a WordPress plugin, you can use SeedProd along with your content marketing blog and eCommerce system. SeedProd also integrates seamlessly with your favorite email marketing tools and other parts of your sales funnel.
Pricing:
SeedProd can grow with your business. Start with the free version, which has all the features you need in a free Leadpages alternative.
If you need, you can upgrade later to the paid version of SeedProd starts at just $39.50/year, which provides access to all the advanced features such as the theme builder and pro templates.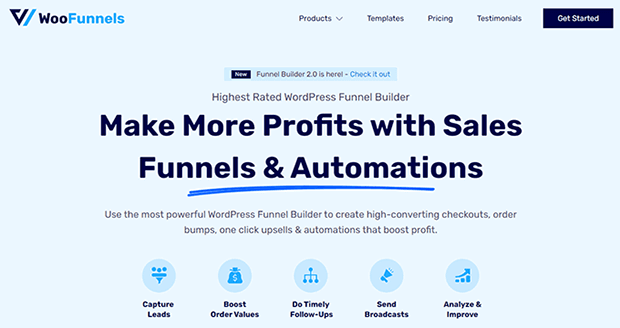 WooFunnels is a powerful WordPress funnel builder that lets you create full sales funnels from beginning to end. You get ready-to-use templates for opt-in and landing pages, checkout pages, and more.
In addition to building pages, you can add bump offers and upsells with the click of a button. WooFunnels also has tools for recovering abandoned carts, which is a critical source of revenue for eCommerce.
Plus, there are built-in A/B testing and analytics features, so you can make data-driven decisions to optimize your landing pages.
WooFunnels also has a companion plugin called Autonami that can scale your funnel with automated emails, advanced segmentation, automated SMS, and other marketing automation tools.
Best of all, WooFunnels integrates directly with your WooCommerce store. No more shuffling customer and sales data back and forth! You can manage your entire sales funnel within WordPress.
Pricing:
WooFunnels starts at $179/year for the Funnel Builder plugin alone. You can bundle the Funnel Builder with Autonami, and also purchase agency licenses.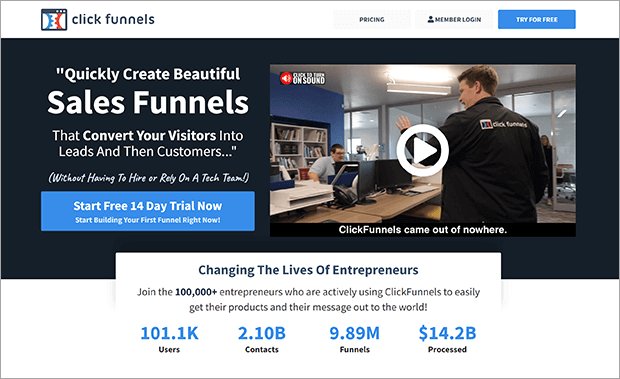 ClickFunnels is a popular sales funnel builder you can use to create landing pages, generate leads, and sell products online. Like Leadpages, it's a standalone option that doesn't integrate directly with WordPress, Shopify, or other platforms.
ClickFunnels offers many ready-to-use sales funnel templates that you can then modify using their drag and drop builder. One thing that sets ClickFunnels apart is their webinar integration, which you can use to set up webinar-based sales funnels. Affiliate marketing is also available within ClickFunnels.
Pricing:
ClickFunnels plans start at $97/month.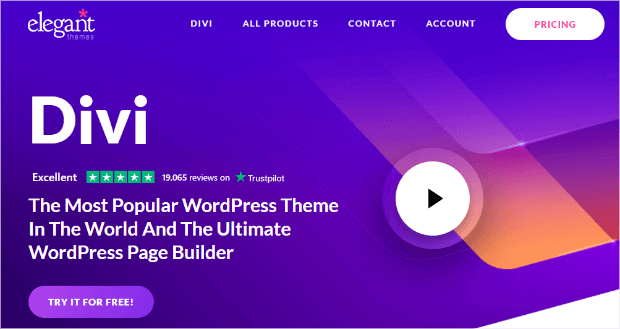 Divi Builder is a WordPress page builder plugin that you can use to create engaging and attractive landing pages. It comes bundled with the Divi WordPress themes, but you can use it with other themes as well. You also have access to other Elegant Themes products like Bloom and Monarch that help you create a conversion-focused website. We'll discuss Bloom more in a little bit.
Divi Builder is an excellent Leadpages alternative that offers hundreds of website packs that each include multiple themed page layouts. You can also build your own layout with 40+ drag-and-drop elements and 100+ pre-built section designs.
An added bonus are the theme-building features. You can use Divi Builder to edit the headers, footer, and sidebars of your website to create a fully custom look.
Pricing:
Divi Builder starts at $89/year for a "membership" that includes unlimited access to the Divi Builder, Monarch, and Bloom plugins as well as the Divi and Extra themes. There is also a 1-time lifetime access pass for $249.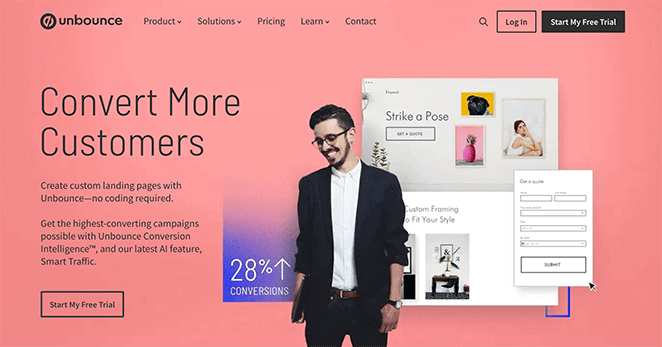 Unbounce is a landing page builder with a twist: an AI-powered smart builder.
You provide basic information about your campaign, and the smart builder recommends data-backed templates specific to your industry, audience, and conversion goals. Even with the automated design, you can still customize the colors and typography settings to match your brand style. There's also an AI-powered copy assistant to generate on-brand landing page copy.
Unbounce works with a variety of CRM and marketing automation tools as well as tools like Stripe, Shopify, Typeform, and Calendly.
Pricing:
Unbounce starts at $90/month. Pricing increases based on conversion and pageview volume as well as access to Smart Traffic tools.
Alternatives for Generating Leads
Leadpages also has a set of conversion tools to help users build their email lists and bring in leads, just like the name promises. We rounded up the best Leadpages alternatives for lead generation.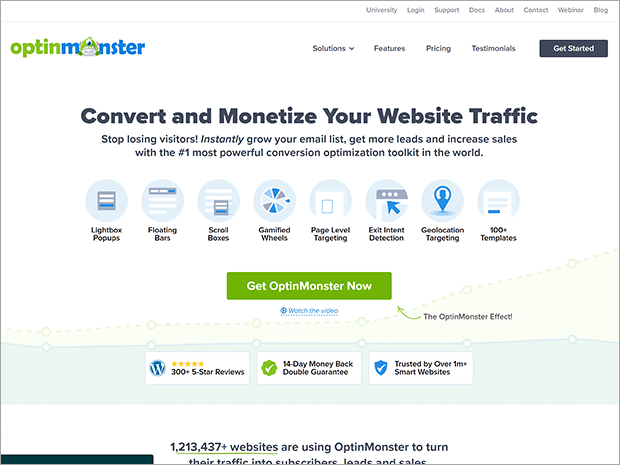 OptinMonster is the best WordPress lead generation plugin and popup plugin for your business website.
With OptinMonster you can create the same popups and alert bars that you can with Leadpages. But you can also create slide-in scroll boxes, spin to win wheels, fullscreen welcome mats, and other campaign types.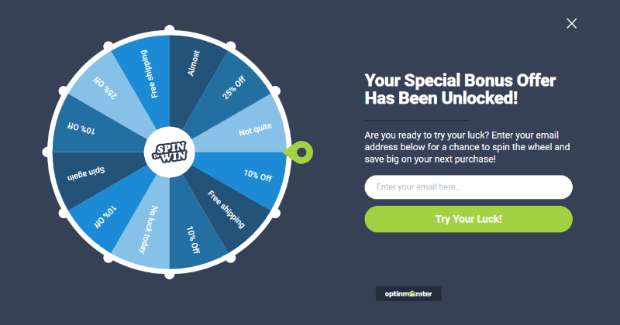 The drag-and-drop builder makes it easy to create your own custom campaigns. Or you can use one of the dozens of templates and Playbooks to have your lead generation popup or alert bar ready to go in minutes.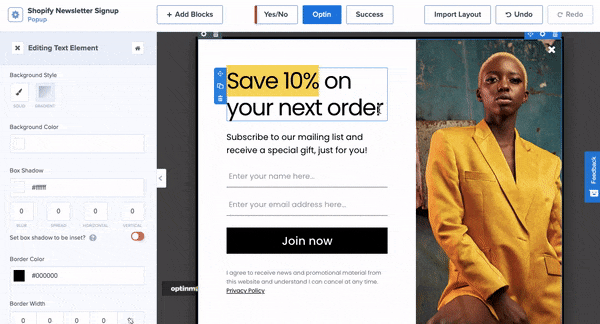 Plus, OptinMonster has much more detailed page targeting features than Leadpages. Display rules control which campaigns appear based on page, previous site activity, geolocation, and more. This means the right customers see the right message at the right time, which has been proven to increase conversions.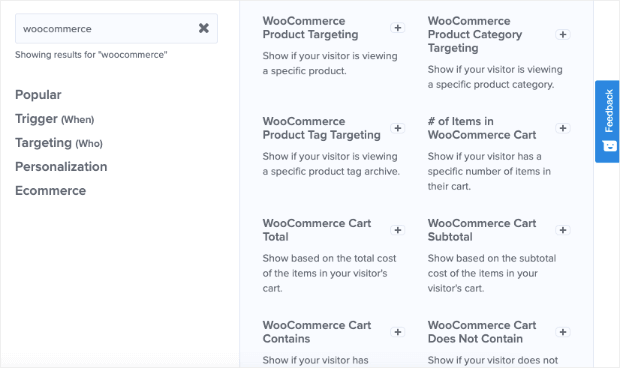 You can even use OptinMonster to turn your existing content into a lead generation machine using the Content Locker inline forms.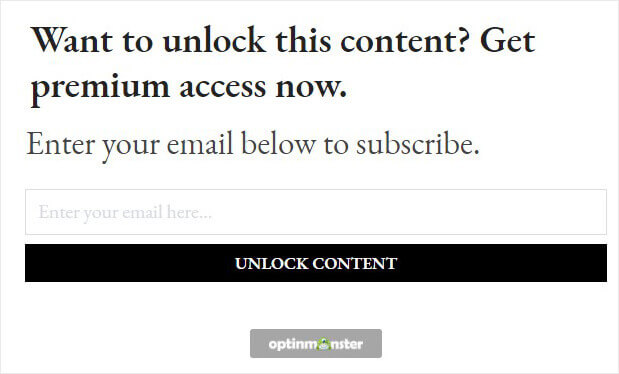 If you're curious about the strategy side, see our ultimate guide to lead generation. To learn more about lead pages, read What is a Squeeze Page (+ 6 Examples of High-Converting Squeeze Pages).
Pricing:
OptinMonster pricing starts at $9/month and includes all campaign types and unlimited campaigns. Pricing increases based on pageview volume and premium feature access.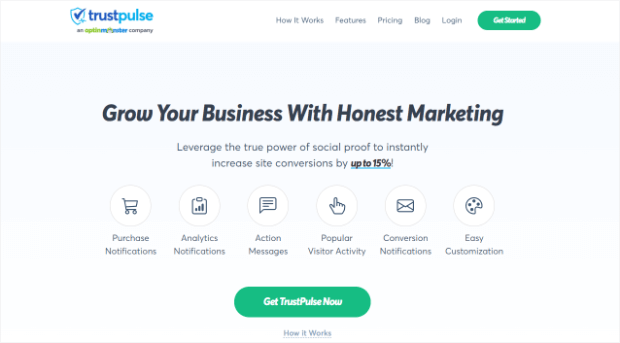 TrustPulse is the best social proof app you can find. It functions a bit differently from the typical popups and alert bars you can build with Leadpages, but is still a great alternative, especially for higher-volume sellers like eCommerce or digital downloads.
TrustPulse displays real-time notifications of user activity on your site. You can use it to show recent purchases, free trial sign-ups, waitlist activity, and more. These notification popups work very well yet aren't disruptive.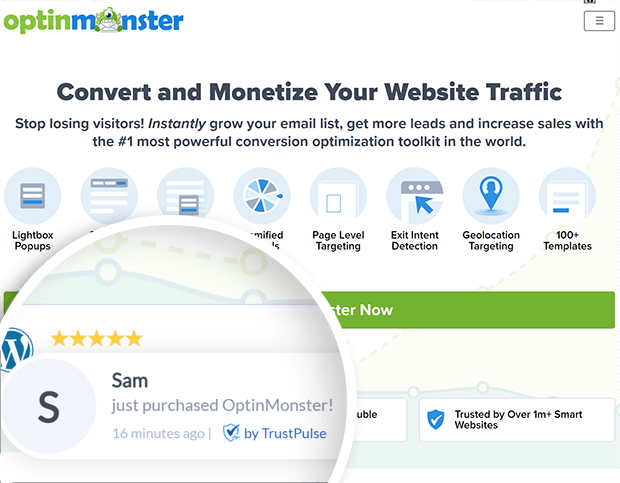 TrustPulse can be set up in just a few minutes and works on WordPress, Shopify, BigCommerce, and any other platform you might be using.
Pricing:
TrustPulse pricing starts at $5/month. Pricing increases based on visitor volume and premium feature access.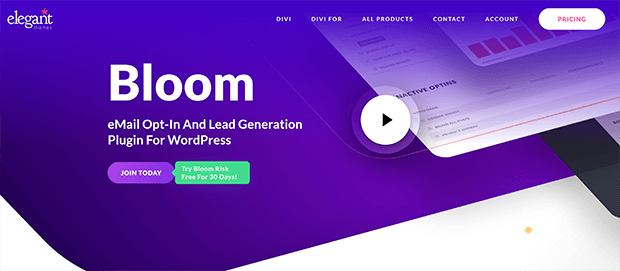 Bloom is a list-building plugin made by the creators of Divi Builder.
With Bloom, you can create automated popups and flyins, inline, below content, and widget area opt-in forms, and content locker forms. The one drawback is that you can only build opt-in forms. You can't create any campaigns geared toward cart recovery, recommended content, or other conversion optimization strategies.
Still, we like Bloom for its easy to use builder and automated triggers. And it's included with the Divi Builder license, so no need to get a second plugin!
Pricing:
Access to Bloom, along with Divi, Extra, Monarch, and Divi Builder starts at $89/year with a lifetime access pass available.
9. Hello Bar (Free Plan Available)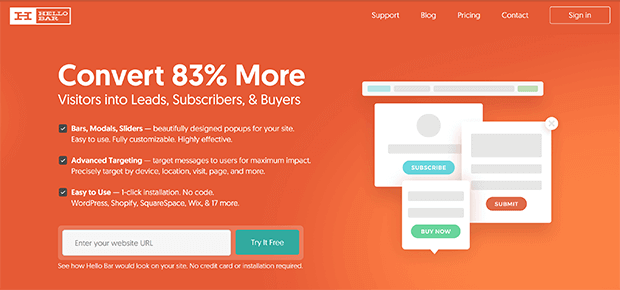 Hello Bar is a WordPress plugin specializing in header and footer notification bars for your website. You can also use Hello Bar to build popups, full screen takeovers, and sliders like OptinMonster has, or alert messages like TrustPulse does.
Hello Bar comes with hundreds of pre-built themes as well as a design assistant that can automatically match your existing site design.
Hello Bar's targeting features are a bit more limited, but you can target visitors based on location, UTM, and scheduled date and time.
Pricing:
Hello Bar has a forever free plan limited to 10 popups and 5,000 pageviews/month. Paid plans start at $29/month and increase based on pageviews, support level, design features, and integrations.
Alternatives for Checkout Forms and Online Stores
Leadpages can sell products with its payment and eCommerce integrations, but it's not a full eCommerce solution. Here are some alternatives you can use, whether you need a simple sales funnel checkout or a full-blown online store.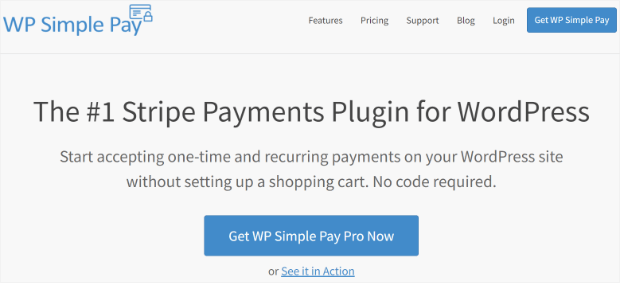 WP Simple Pay is the most popular Stripe payments plugin for accepting payments on your WordPress website.
WP Simple Pay works as a standalone plugin, so you don't need to install any addon to integrate with Stripe. All you have to do is create a payment form with the drag and drop builder and then embed it on your landing page or popup.
Even though it's simple to use, WP Simple Pay has plenty of advanced features, such as:
Subscription options
Custom amount payments
Coupon codes
Apple Pay, Google Pay, and Microsoft Pay buttons
Buy Now, Pay Later payments
Customized payment confirmation details
Pricing:
WP Simple Pay starts at $199.50/year with unlimited payment forms and transactions, plus no monthly or transaction fees.
11. WPForms (Free Version Available)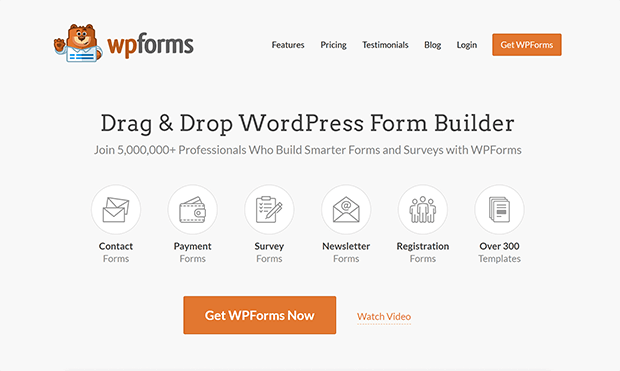 WPForms is the best drag and drop form builder for WordPress that you can use to build payment forms and lead generation forms. So it does double duty!
You can accept payments using PayPal, Stripe, Square, or Authorize.Net. You can even offer multiple payment methods so customers have a choice of how to make their purchase.
WPForms includes a library of 300+ pre-built form templates. Then, you can easily customize the form to match your needs by using the drag and drop builder interface.
WPForms even integrates with other popular plugins like SeedProd which we mentioned earlier. This makes building a custom landing page with payment form super easy.
Pricing:
To build payment forms with WPForms, you need a Pro plan or higher. The Pro plan starts at $399/year.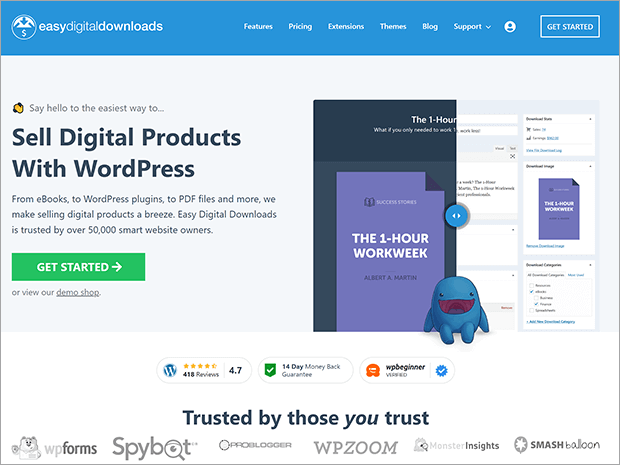 Easy Digital Downloads is the easiest digital download sales plugin available for WordPress.
Easy Digital Downloads allows you to sell eBooks, PDF files, plugins, and much more without the hassle of turning off features meant for selling physical products.
The plugin is beginner friendly and has features to offer discount codes, manage your records, offer discount codes, view your product and sales data, and more.
There are also a variety of free and paid extensions to add other features like:
Alternate payment gateways
Bundles
Email marketing
Software licensing
And more!
Pricing:
Easy Digital Downloads has a free version available. Paid plans with premium extensions start at $99.50/year.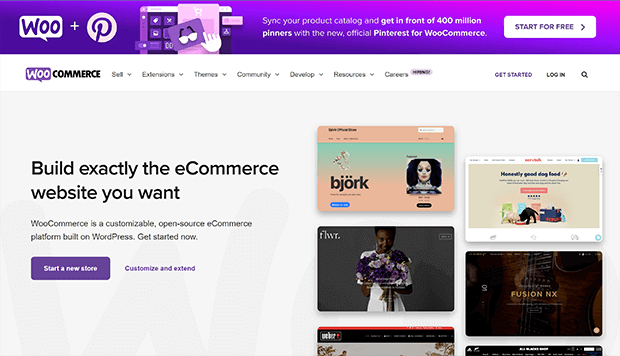 WooCommerce is one of the best WordPress eCommerce plugins in the market. The core plugin is totally free and open-source, and has all the features you need to build an online store.
There's also a wide variety of plugins and themes you can use to add new features to your WooCommerce store.
You can sell both digital and physical products on WooCommerce. Physical eCommerce is where this plugin shines, with built-in inventory management, support for multiple payment gateways, and more.
You can also fully customize your product pages, checkout page, thank you pages, and more, to improve your conversions.
Pricing:
Core plugin is free. Additional plugins and themes may cost extra.
Summary: What's the Best Alternative for Leadpages?
The best Leadpages alternative for you really depends on what you need Leadpages for.
Our top picks are:
We hope this article helps you make the choice that works best for your business.
Once you've picked your tool, check out our guide to landing page optimization.
If you like this article, please follow us on Facebook and Twitter for more free articles.