Are you looking to sell digital products online, but don't know what WordPress plugin to use?
Don't worry. In this article, we'll dive into the 9 Best WordPress eCommerce Plugins for Digital Downloads.
After you read it, you'll be able to choose one that fits your needs.
Let's get started!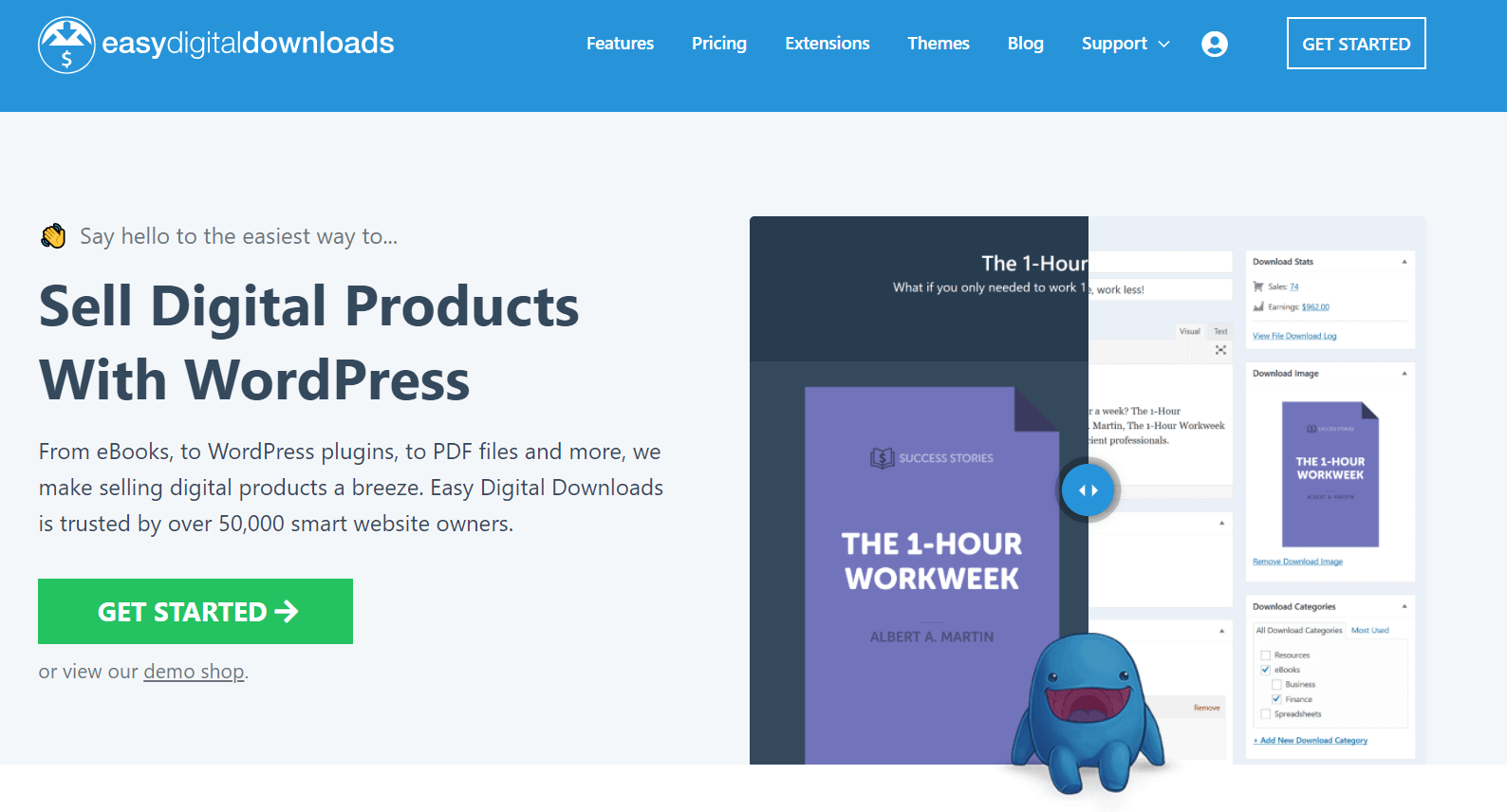 Easy Digital Downloads earned its name. It truly is the easiest plugin to use for selling digital products. You can expect great integrations, multiple payment options, an easy-to-use interface, and more!
It's pretty clear this WordPress plugin is perfect for beginners, but that's not all there is to it. Easy Digital Downloads also offers advanced functionality that rivals all the other plugins on the market.
Features:
Shopping cart
Customer management
Discount codes
Data reporting
File access control
Multiple payment gateways
Pricing:
The price starts at $99.50 per year for the Personal pass, and it goes up to $499.50 per year for the All Access pass.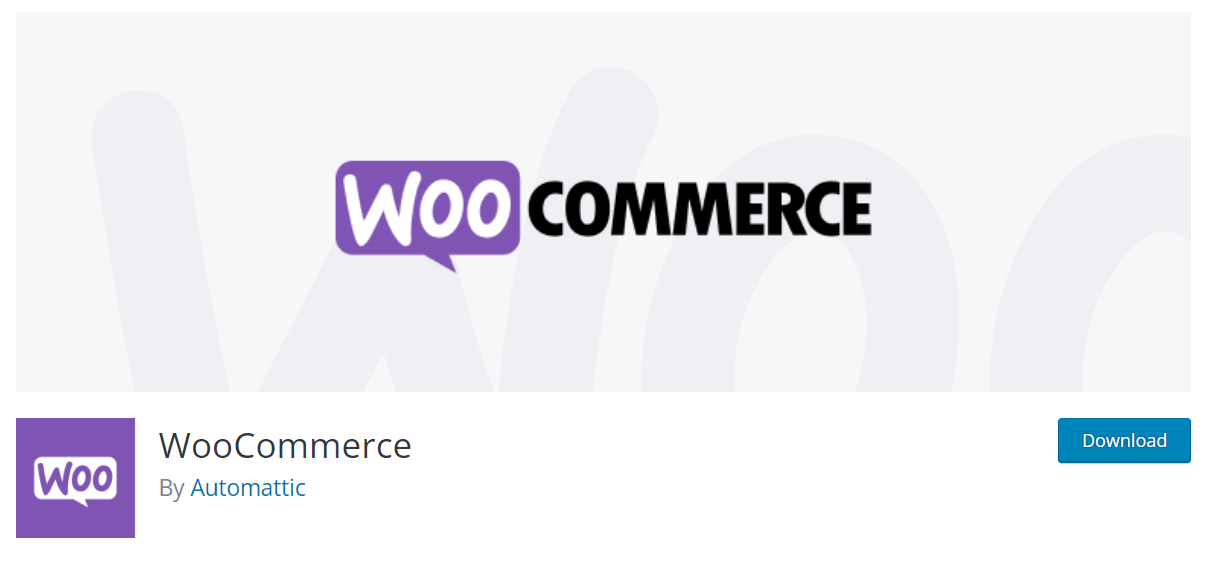 WooCommerce is a household name in the industry. Their WordPress plugin allows you to set up your own store with flexible payment gateways, advanced product functionality, and other cool features.
It's perfect for those who want to sell more than just digital products. It allows you to sell anything, in almost any form (single item, bundle, membership).
Features:
Flexible payment gateways
Customizable store
Open-source
Data and tracking
Numerous extensions
Pricing:
For basic websites with limited functionality, the WordPress plugin is free. For more advanced websites, you can pay an extra $35-$1000 per year depending on your needs.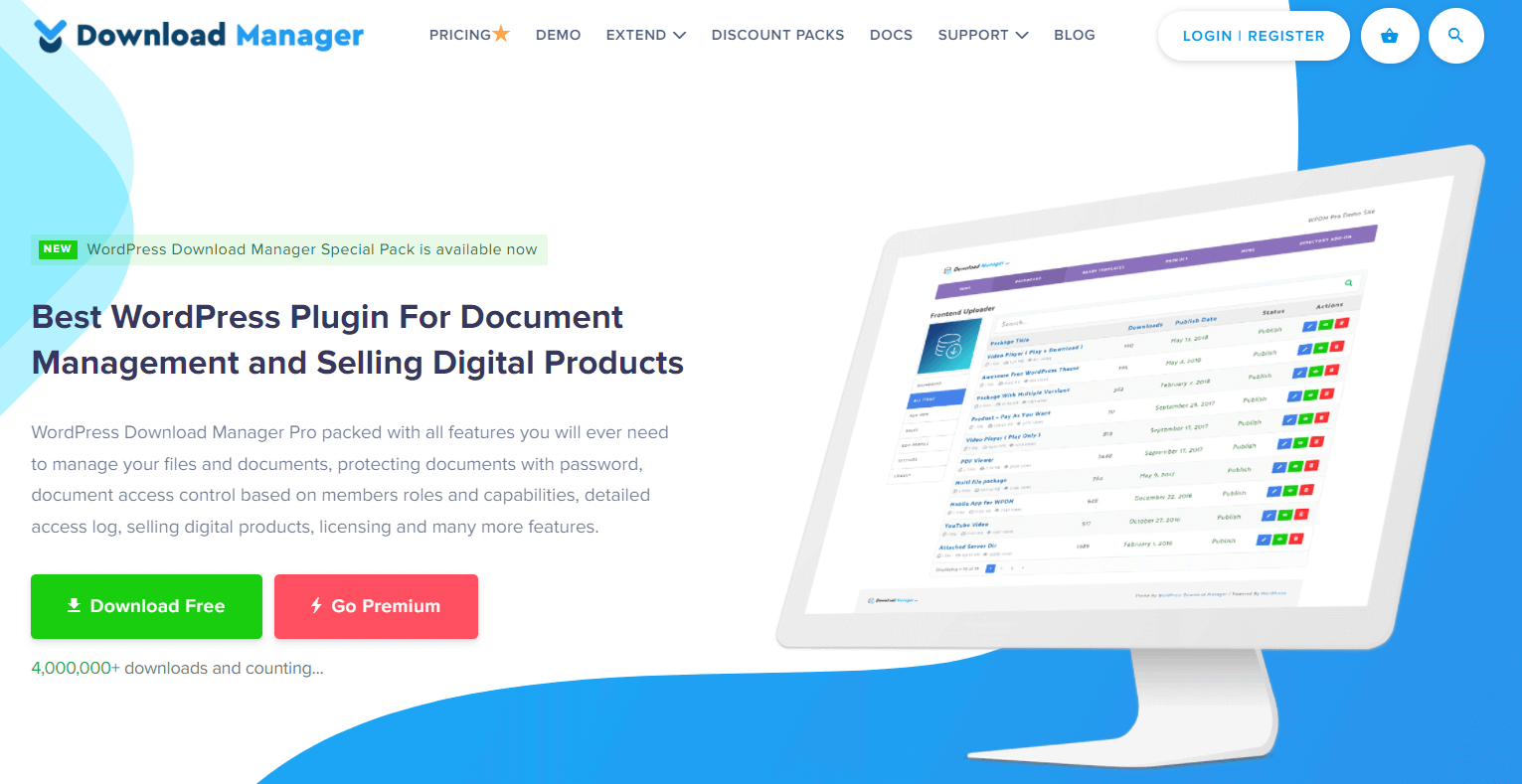 WordPress Download Manageris a complex WordPress plugin for managing and selling digital products.
It has a variety of cool features, like the 'Twitter Lock', an option that locks the download until the user tweets your customized message on their Twitter profile.
Overall, WordPress Download Manager is perfect for those who want to play around and test different strategies for selling digital products.
Features:
Multi-file package
Access control
Password protection
Download stats
Custom templates
Pricing:
The Basic plan is free. The Pro plan is priced at $59 per year, the Business plan is priced at $179 per year, and the Developer plan is priced at $299 per year.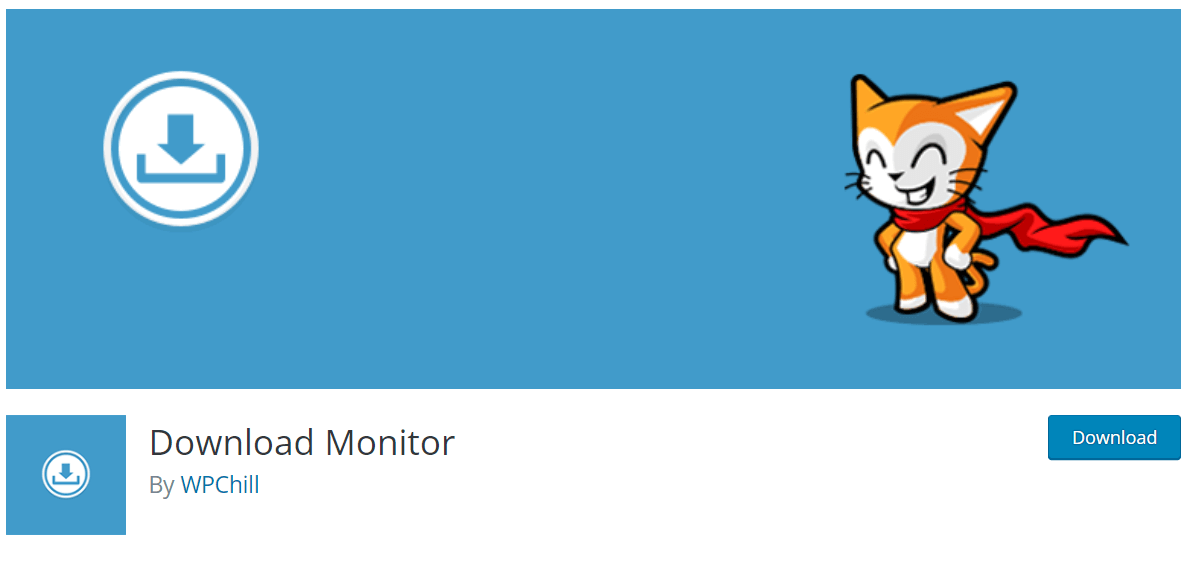 Download Monitor is a simple WordPress plugin for downloading digital files.
It doesn't have an extensive list of features, and it can be used without issues by beginners. It's the type of basic solution that gets the job done.
Features:
Manage documents
Track file downloads
Protection for digital files
Lead generation
Pricing:
The price starts at $39 for the Basic license, and it goes all the way up to $159 for the Complete license.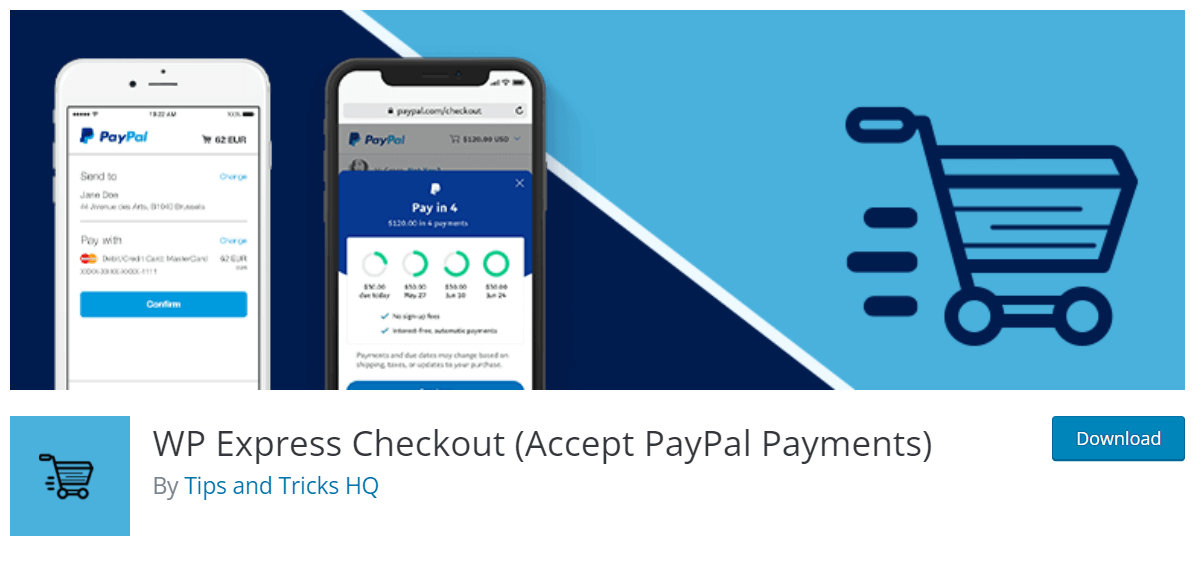 WP Express Checkout is another simple WordPress plugin for selling and downloading digital products.
It works for any type of digital file, but it only supports one payment gateway, PayPal. This could be an issue for a vast majority of users.
However, if that's not an issue for you, WP Express Checkout is definitely worth trying. It has a list of interesting features that could make up for the lack of additional payment options. For example, it gives you the option to accept donations.
Features:
Instant download
Encrypted download links that expire automatically
Buy now – pay later option
Discount coupons
Pricing:
FREE.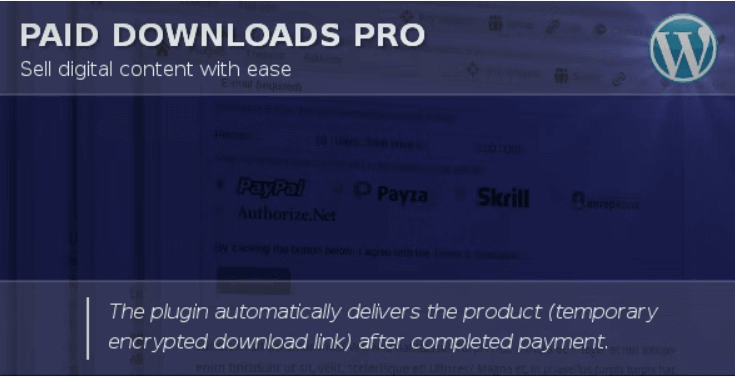 Paid Downloads Pro is another WordPress plugin that allows you to sell any type of digital product.
It's simple, and it gets the job done. Once the payment is completed through one of the payment gateways, your customer can access the digital file through a temporary encrypted download link.
Features:
Multiple payment gateways
Shortcodes
Temporary download links
Translation ready
Pricing:
The Regular license is priced at $22, and the Extended license is priced at $110.

Free Downloads WooCommerce is the only WordPress plugin on our list solely focused on free digital products.
It allows prospects to download free digital files without going through a checkout process.
Features:
Multiple-file support
Customizable download buttons
Product restrictions
Download limitations
Pricing:
The Basic edition is free. The Pro edition is priced at $22.31 for a single website, and it goes up to $55.61 for unlimited websites.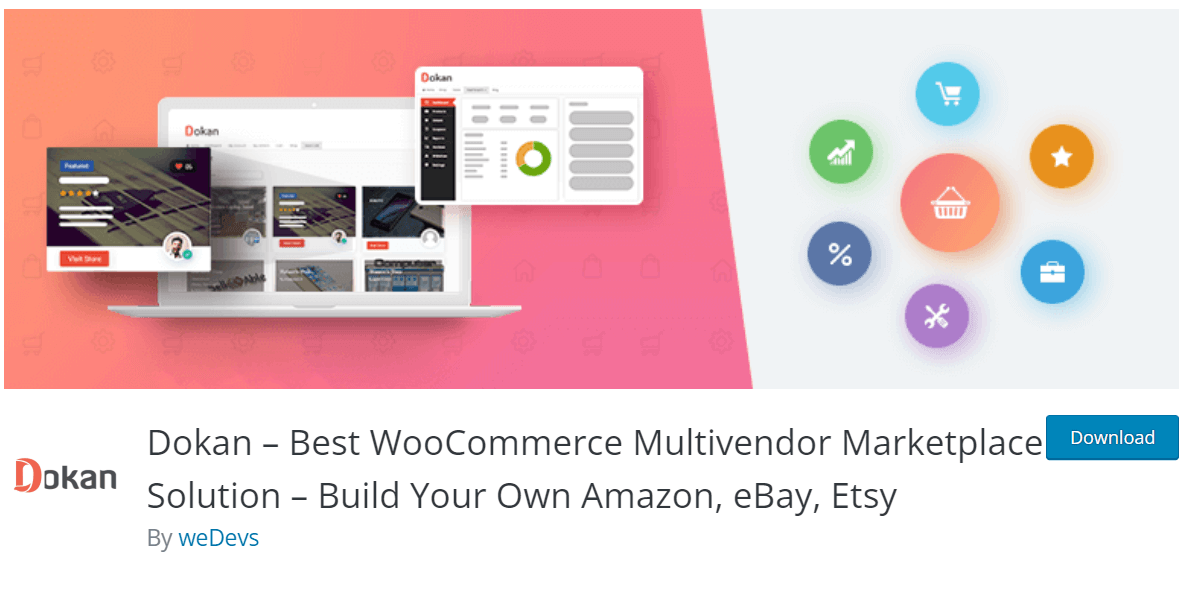 Dokan is a multi-use WordPress plugin for selling all types of products.
It allows users to create an entire marketplace (with several stores) in under 1 hour, and it comes with a variety of features that enhance the selling process.
We believe this plugin is a good option for experienced users that need advanced functionality and plan on selling multiple products at once.
Features:
Marketplace with independent stores
WooCommerce compatible themes
Coupon management
Product reviews
Shipping management
Pricing:
The Basic plan is free. The Starter plan is priced at $149 per year. The other 3 paid plans are Professional for $249 per year, Business for $499 per year, and Enterprise for $999 per year.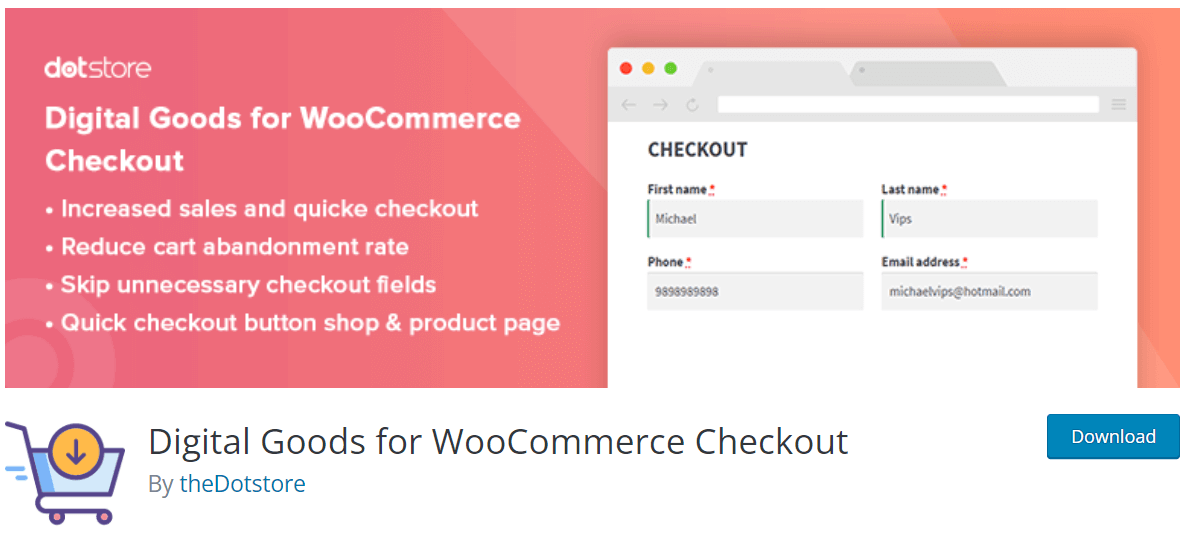 Digital Goods for WooCommerce Checkout is a basic WordPress plugin that helps you sell digital goods with ease.
In fact, it's one of the easiest plugins to use because of its limited functionality. You only need to create and then insert the quick checkout button on your product page.
Features:
Supports various types of digital products
Quick checkout
Compatible with WooCommerce
Pricing:
The Basic version is free. For the Pro version, the price starts at $29 per year for a single website, and it goes all the way up to $249 for a 30-websites license.
What WordPress eCommerce Plugin for Digital Downloads Should I Use?
If you only have one website, and you're not planning on selling multiple digital products, we recommend the basic version of a beginner-friendly plugin.
That way you can test the waters for a small fee, or free.
If you are trying to build an entire marketplace, with a variety of digital goods, then you should try one of the advanced plugins.
Having access to an extensive list of features is going to be very useful when trying different marketing strategies. Also, advanced plugins are usually better secured and offer expert customer support in case you encounter issues along the way.
If you can't decide, get in touch with each company and ask questions. Some of the plugins we mentioned offer trials and demos, so keep that in mind.
We hope this article puts you on the right path towards choosing the best WordPress eCommerce plugin for digital downloads!
If you found it helpful, then you might want to also check these out:
As a final note, if you have any type of business that deals with prospect online, give TrustPulse a try.
Why?
Because it has been proven that social proof boosts conversions. In fact, our customers have seen an increase of up to 15% in conversions just by adding TrustPulse to their website.
Sign-up for your 100% risk-free TrustPulse account today! (14-day money-back guarantee!)