Are you looking for an unbiased Sugar Calendar plugin review?
Sugar Calendar is a lightweight event calendar plugin that you can add to your website for handling events, selling tickets, and managing all other event activities.
But is it the best event calendar plugin?
In this detailed Sugar Calendar review, we'll put it to the test and see if this is the right plugin for your website.
Let's dive in.
An Overview of Sugar Calendar Plugin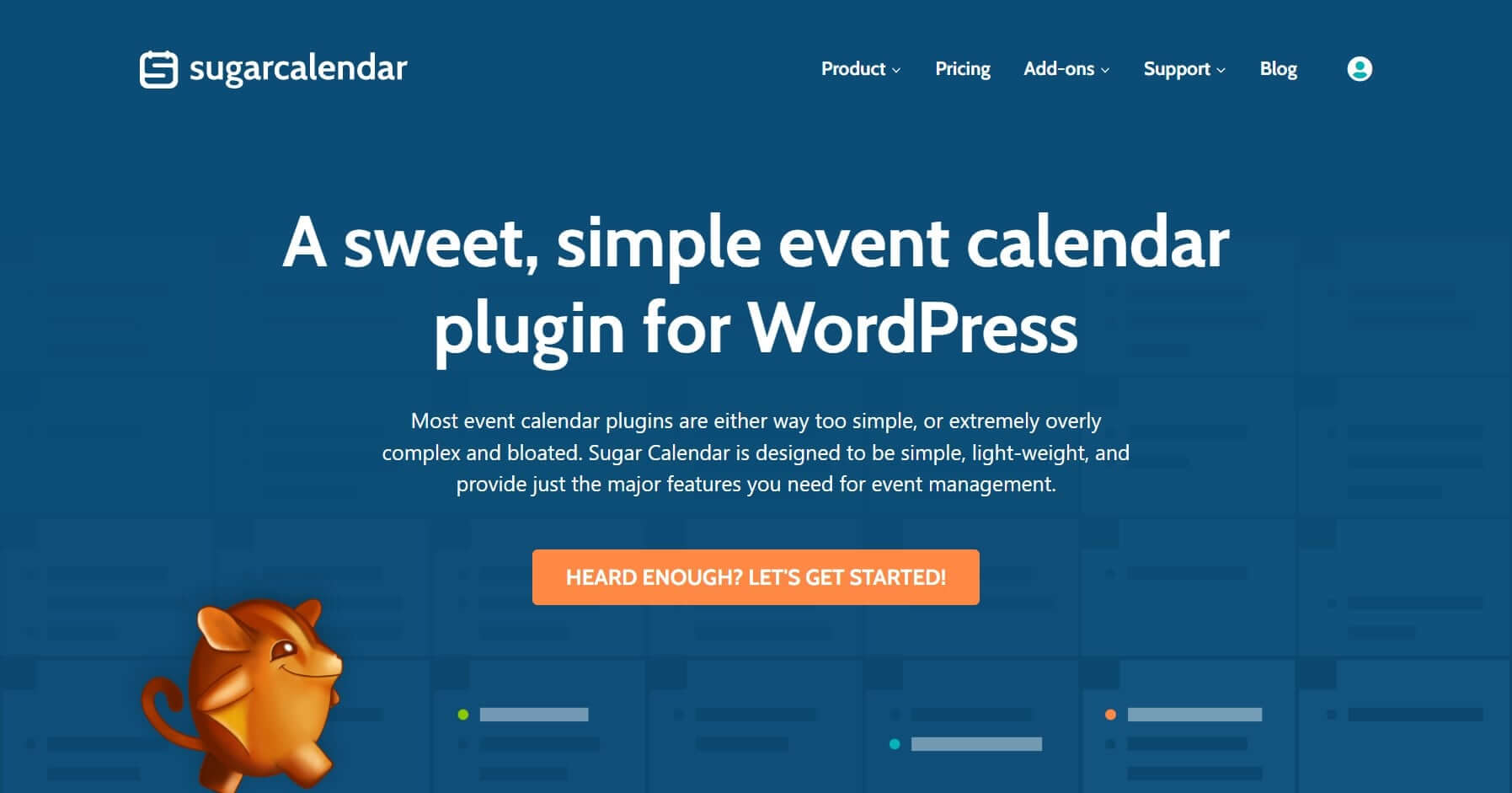 Sugar Calendar is one of the most popular event calendar plugin. It's a lightweight plugin that provides all the necessary features and keeps the unwanted bloat away from your website.
With Sugar Calendar, you can create and manage events right from your website dashboard. You can also showcase the calendar anywhere on your website and keep visitors informed about upcoming events.
Some of the reasons for its popularity are:
Clean user interface
Integration with Google calendar
Easy to create recurring events
Event management settings
Scheduling webinars
Organizing group meetings
Integration with form plugins
Event ticketing features
And many more.
Sugar Calendar comes with minimal settings and works directly from your WordPress editor.
Setting Up Sugar Calendar Plugin
The steps for getting started with Sugar Calendar are the same as any other WordPress plugin. The first step is to install Sugar Calendar on your website.
Copy your plugin license key after choosing a plan from the pricing page.

Now, you can download the Sugar Calendar plugin and activate it. If you're installing a plugin for the first time, consider checking this amazing guide on installing a WordPress plugin.
After activating the plugin, navigate to Calendar » Settings.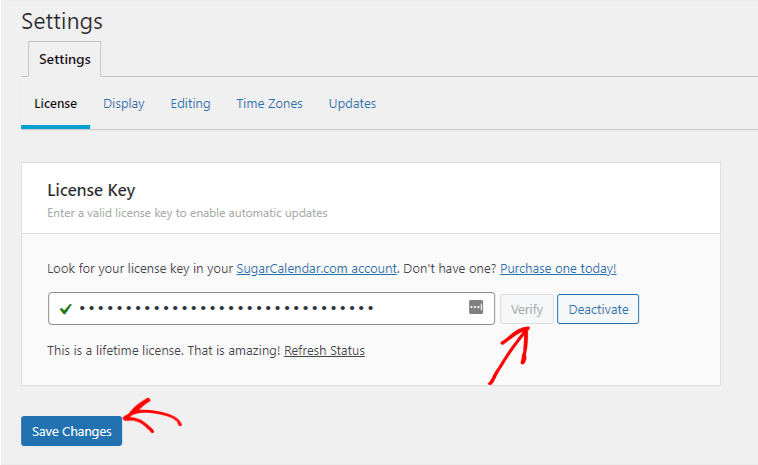 Head over to the License tab and paste your license key.
Click on Verify and hit the Save Changes button.
Sugar Calendar features
Sugar Calendar plugin is loaded with features and functionalities to create and manage events.
Additionally, you can extend the core features with third-party Sugar Calendar addons.
With that said, let's get started with the features:
1. Beginner Friendly Layout
Sugar Calendar is simple, lightweight, and a beginner-friendly plugin.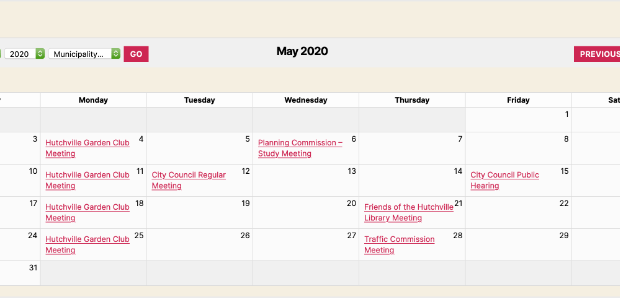 You'll find it easy to understand the backend admin area calendars. Visitors can click on the events in the front to check the complete details.
You can easily change the event view to daily, weekly, and monthly view. Additionally, visitors can use the search box and advanced filters to find the events.
2. Easy to Use Plugin
Once you have installed the Sugar Calendar plugin, you'll find it easy to create calendars and events on your website.
Go to the Calendar menu and click on the Calendars tab to add a new calendar.
Now, you need to click on the Add Calendar button.

Similarly, you can add a new event using the Add Event button from the Events tab.

And you are done! It's that easy!
3. Recurring Events
Sugar Calendar is quite popular for creating recurring events.
You can check the Recurrence tab while creating a new event for all the recurring event settings.

It's easy to create simple and complex recurring events with the help of Advanced Recurring Addon.
4. Sell Online Tickets
Sugar Calendar offers integration with the Stripe payment gateway.
You can install the Event Ticketing addon for selling online tickets from your website.

Once you activate the addon, you can easily connect with the Stripe payment gateway from the plugin Settings.
Sugar Calendar makes it easy to manage tickets order from within a dedicated dashboard. You can also export the event tickets in CSV format and send receipt emails once a purchase is completed.
5. Custom Event URLs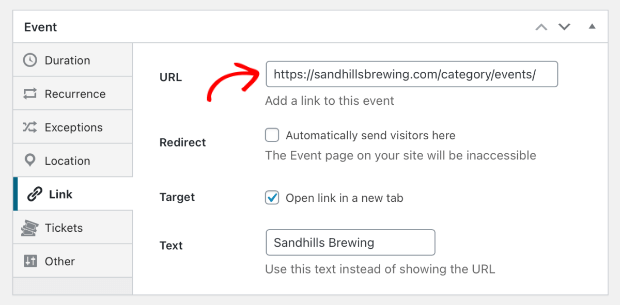 Sugar Calendar automatically generates a new page every time you create an event.
But what if you wish to create a separate page? It's possible with the Sugar Calendar Event URLs addon. It enables you to add a custom URL link and open the event on this new link.
6. Calendar Feeds
Sugar Calendar allows you to subscribe to Event feeds from Google Calendar, iCal, Gnome, and other calendar applications.
Once you activate the plugin, you'll find the feed options in the Settings » Feeds tab.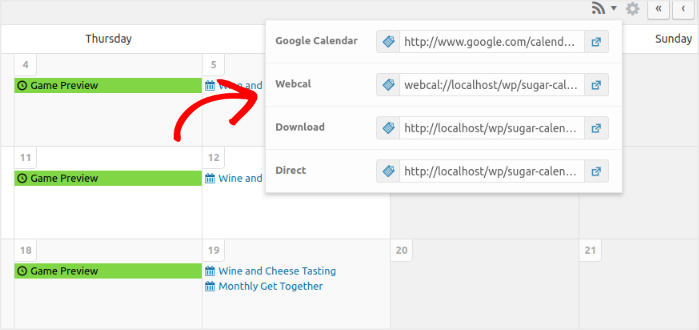 Calendar Feeds are visible to admin as well as visitors. It allows site visitors to add events to their calendar application.
7. Sugar Calendar Extension Addons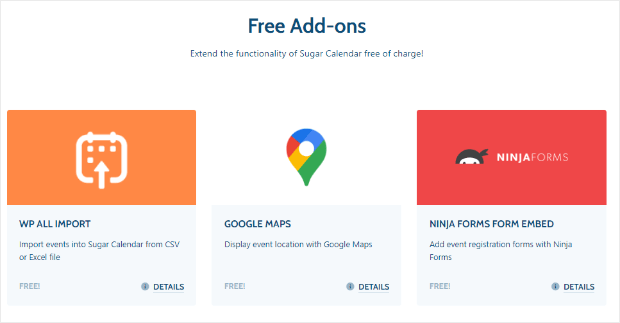 Sugar Calendar integrates with plenty of free and premium addons for extending the event management possibilities.
We have already seen how you can use Sugar Calendar addons for selling tickets and creating calendar feeds. You can even create a community with the help of the Frontend Event Submissions addon.
Other free and popular addons are Advanced Recurring, Google Maps, WP All Import, and integrations with popular contact form plugins.
8. Integration with Zapier
We have already seen how Sugar Calendar addons help you extend the functionality of the core plugin.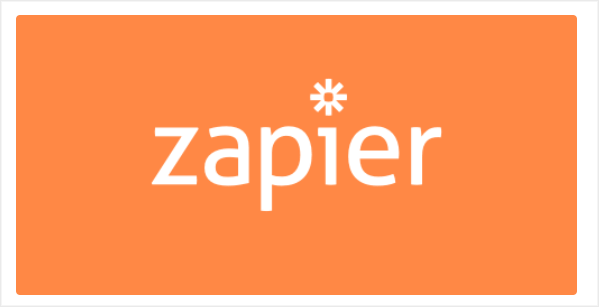 The Zapier addon allows you to automate your most repetitive tasks upon creating events and calendars.
Using the Sugar Calendar and Zapier integration, you can:
Send email notifications for new events
SMS or email notifications for new ticket purchases
Subscribe new customers to a mailing list in ConvertKit, Aweber, and more
Syncing customer order data to Google spreadsheets
Sync events to online calendar services, such as Google Calendar
Sugar Calendar Pricing Plans
We have already checked what Sugar Calendar can bring to your website.
But is it affordable?
The answer is a big Yes!
Sugar Calendar comes in four pricing plans, so everyone can afford it, whether you're a business professional or an agency owner.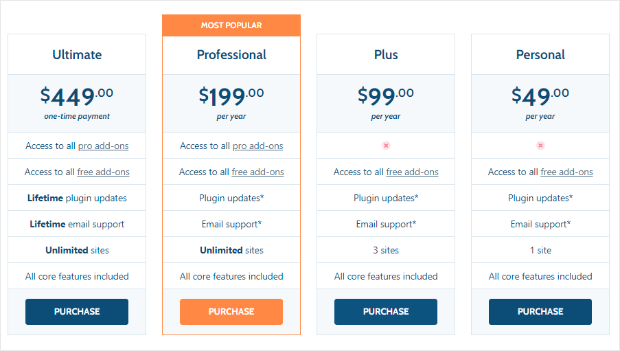 The Personal plan starts at just $49 per year, and you get access to all the addons, plugin updates, and priority email support.
You can even upgrade to Plus, Professional and Ultimate plans at a later stage if you want to add the plugin on multiple websites.
Moreover, you're protected by a 30 days Money Back Guarantee if you feel you get a refund for the plugin.
Final Verdict About Sugar Calendar Plugin
Is Sugar Calendar plugin the best event calendar plugin?
Yes!
If you're looking for a way to keep track of all of your events, Sugar Calendar is a great solution. It includes all the features you need to create events and embed those events on your site.
Sugar Calendar also has excellent addons that make it ideal for any WordPress site.
We hope this review of Sugar Calendar helped you decide if it's a perfect solution for your business. If you liked this article, consider checking out these lead generation ideas for your website:
Ready to launch your first event today?