Are you looking to increase traffic and engagement by hosting a giveaway on your WordPress site?
Online giveaways and contests can quickly increase brand awareness, email subscribers, and website traffic. And using a giveaway plugin is the simplest, most affordable way to launch an online contest.
In this post, you'll discover the best giveaway plugins for WordPress to create beautiful high-converting contests for your site.
Before we dive into the list of plugins, let's get clear on why you should be using these resources in the first place.
Why Use a WordPress Giveaway Plugin?
Giveaways and contests are a powerful way to grab attention online. The right kind of contest can explode your social media count, email list, and blog traffic.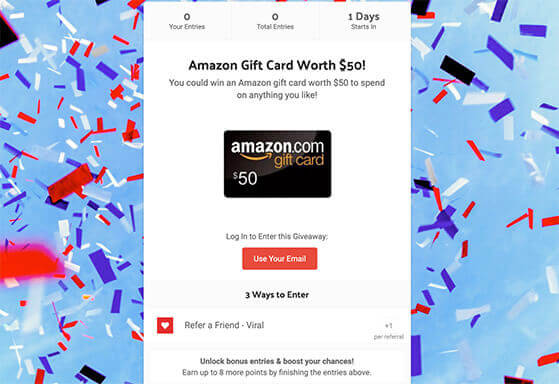 But it can be tough to set up and run an online contest. You need to design an attractive entry form, find a way to capture all submissions, and declare a winner.
You also need to ensure contestants don't break any rules so the giveaway remains fair and gets good publicity. Plus, you'll need to delete fake or multiple entries which can ruin your goals.
Thankfully, you don't have to do it all on your own. Giveaway plugins make it incredibly easy to set up and run a legitimate online contest.
However, there are plenty of giveaway plugins available making it hard to choose the right one. So before you pick, make sure it lets you:
Design stunning giveaway forms and landing pages
Create viral contests with simple sharing features
Add prebuilt terms and conditions
Offer multiple entry methods
Manage participants and winners
Prevent contest fraud with filters
Now that you know how a giveaway plugin can help you run an effective online contest, let's have a look at the best giveaway plugins for your WordPress site.
Best WordPress Giveaway Plugins
There are tons of giveaway plugins on the market. That means it can be tough to sort them all to find the right pick for your business.
Below, we've listed the best giveaway plugins for WordPress to help you create and run successful online contests.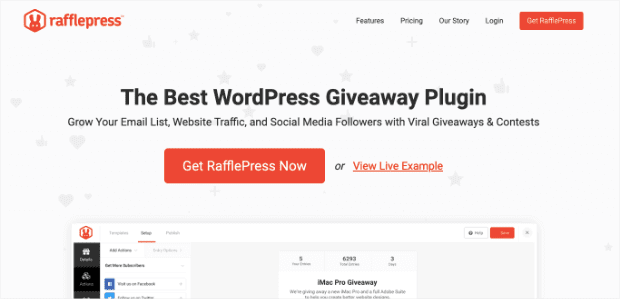 RafflePress is hands down the #1 giveaway plugin for WordPress. It takes care of all the technical things and makes it really simple to create viral giveaways in a matter of minutes.
RafflePress comes with pre-designed templates and a visual drag and drop builder to create beautiful contest pages.
And whether people are entering on their desktop, tablet, or smartphone, RafflePress's responsive giveaway campaigns work great on any device.
The best part about RafflePress is its 1-click entry options. You can choose what your participants have to do in order to stand a chance to win the prize. You can ask them to subscribe to emails, follow on social media, share a post, leave a comment, and much more.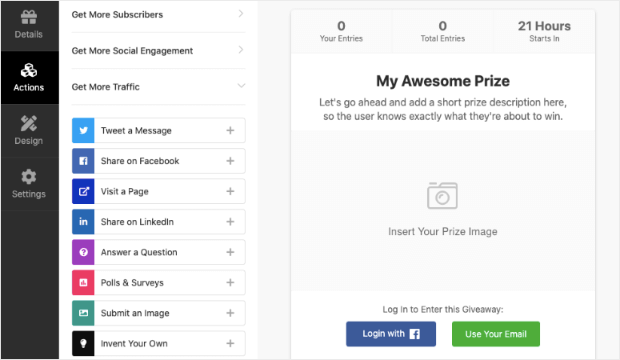 And you don't have to spend time figuring out terms and conditions. You can use the rule generator template to add in your eligibility and sponsor details.
Finally, all submissions are organized and stored, so you can manage your contest easily.
With RafflePress, it's quick and easy to launch a contest that meets your marketing goals.
Key Features
Create an effective giveaway in minutes without any code needed
Offer built-in viral sharing features like refer a friend
Provide multiple entry methods such as becoming a social media follower or newsletter subscriber
Keep your contest fair with fraud protection
Integrate with all your social media channels, CRMS, and email marketing
Use analytics to track your campaigns and success
Cost: There's a FREE version that lets you create an awesome giveaway without spending a dime! The pro version starts at $39.20 per year.
Get started with RafflePress today!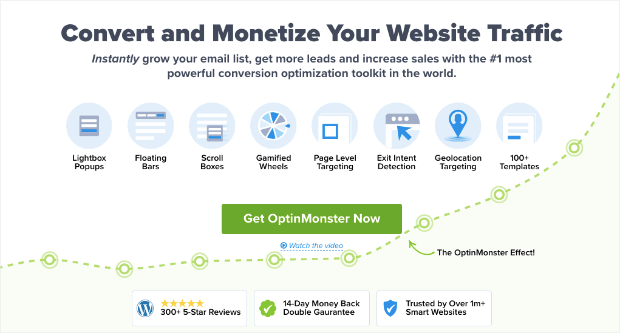 OptinMonster is the best lead generation plugin for WordPress. It lets you promote your contest in popups, floating bars, slide-ins, inline forms, and more.
OptinMonster has powerful targeting rules to display your giveaway to the right people at the right time.
For example, you can use Exit-Intent® to detect when someone is about to leave your site and show them your contest popup.
This will attract more visitors to enter your contest plus you get their email addresses so you can engage with them over email.
And that's is just one rule in OptinMonster's targeting basket. You can target your visitors based on their behavior, device location, activity, and interests. The possibilities are endless.
Plus, OptinMonster lets you create gamified wheels. A visitor simply needs to add their email address and spin the wheel to win something!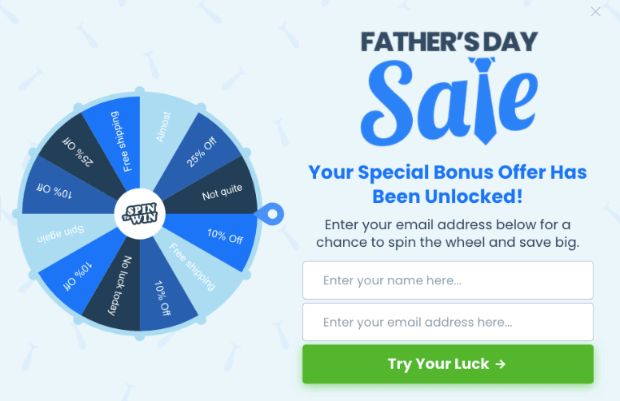 These instant wins keep visitors engaged and can boost conversions and sales exponentially.
Key Features
50+ templates and a drag and drop builder to customize campaigns easily
Powerful targeting rules to show on exit, scroll, click, and more
OnSite Follow Up® and OnSite Retargeting® to engage with returning visitors
A/B testing and built-in analytics to see campaign performance
Cost: Starts at $9 per month.
Get started with OptinMonster!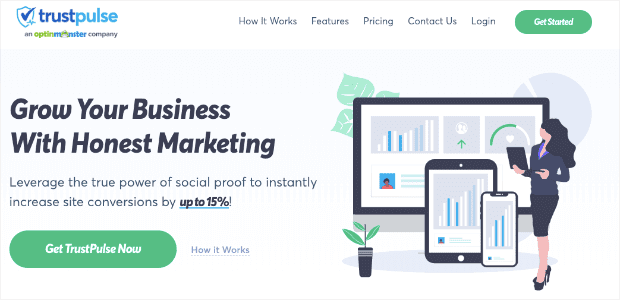 TrustPulse is the best social proof tool for WordPress. It lets you track the activity on your site and display it in small, non-intrusive popups.
That way, you can display a popup as soon as someone enters the giveaway. Or you can even track group statistics like this:

These popups add a sense of
FOMO (fear of missing out)
to your site. That means when visitors see others participating in your online contest,
they'll also want to enter
to stand a chance at winning the prize!
TrustPulse also lets you create action message popups with a personalized message, so you can prompt visitors that you have a contest running. The tool also comes with smart targeting rules to display the popups at the right times and places across your site.
Plus, these popups are clickable, which means you can embed a link to your contest. Any time a visitor sees the popup, they can click on it to visit your contest page and participate.
Key Features
Track recent activity and group statistics
Customize popup style and message
Target people at the right time and place
No coding needed
Cost: Starts at only $5 per month.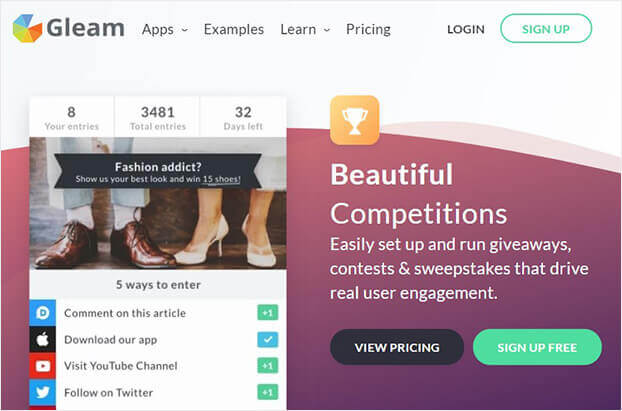 Gleam is a marketing software that also lets you run giveaways.
Like some of the plugins on the list, Gleam comes with features that make it easy for people to share your contest, like custom referral links. One standout feature is that people can enter the giveaway using their social media profiles.
Plus, all Gleam campaigns are responsive, so they will work across all devices. And it comes with fraud protection filters to flag suspicious entries.
Gleam also has a widget to declare and display the winners on your site.
There's a free version of Gleam which is pretty limited when it comes to entry options, so you might need to upgrade to the paid plan for advanced features.
Key Features
Choose entry actions
100+ integrations with marketing and social apps
Add instantly redeemable rewards in exchange for actions from your users
Run engaging photo competitions
Cost: The competitions plugin costs $10 per month. The whole gleam package costs $97 per month.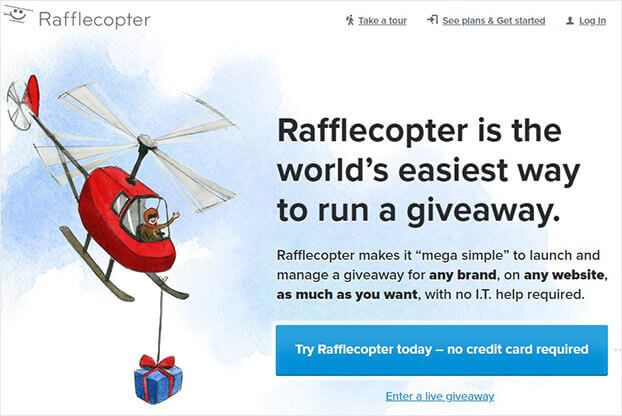 Rafflecopter is a popular web-based giveaway application that lets you create an online contest in minutes. With Rafflecopter, you'll get viral refer-a-friend features and prebuilt terms and conditions templates. The paid plan lets you integrate with most email service providers.
Keep in mind that Rafflecopter isn't a WordPress plugin. You'll need to embed code to your site to publish your competition.
Key Features
Unlimited giveaways and entries
1-click random winners
Create polls and surveys
Easy email integration
Cost: Starts at $13 per month.
Get started with Rafflecopter!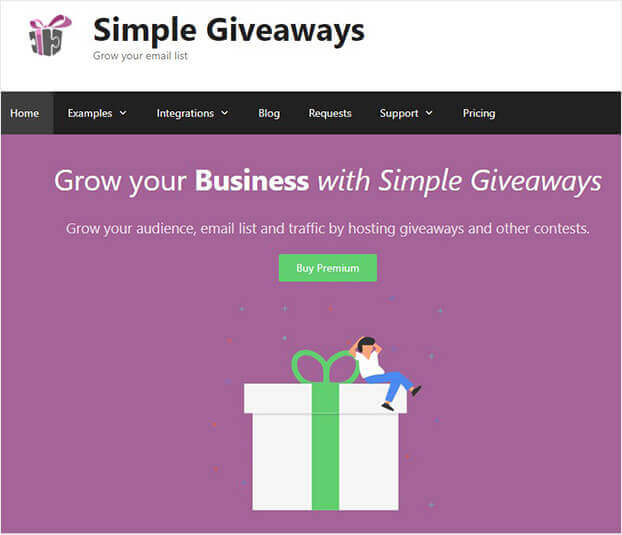 Simple Giveaways is an easy-to-use giveaway plugin for WordPress.
You'll be able to configure your giveaway form in WordPress and integrate it with most major marketing platforms.
Simple Giveaways comes with multiple giveaway templates, several sharing methods, and countdowns to increase engagement.
Though it's easy to customize your giveaway form in WordPress, the plugin lacks a visual drag and drop builder.
Key Features
Predesign templates
Premium integration with email service providers, WooCommerce, Easy Digital Downloads, and more
Contest automation
Send non-winner emails
Cost: Starts at $49.99 per year.
Get started with Simple Giveaways!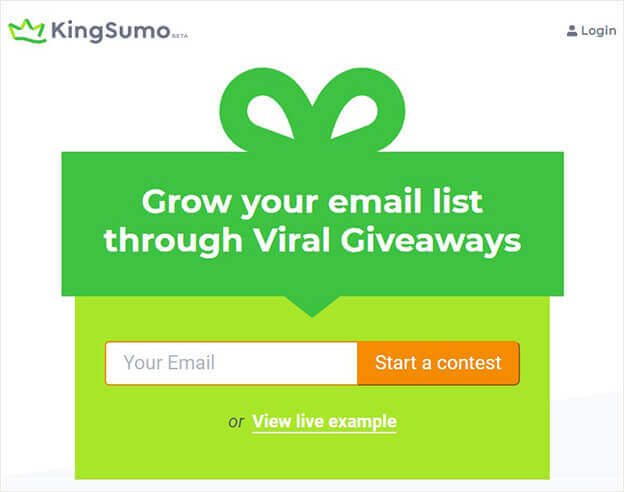 KingSumo lets you create giveaways in minutes. You can build beautiful, responsive campaigns for any type of giveaway.
This tool also lets you schedule your giveaways, so you can set start and end dates for your contests ahead of time. KingSumo is available as both a web application and a WordPress plugin.
One thing to note is you won't be able to remove the KingSumo branding from your emails. You also won't be able to collect your participant's names because the entry forms only come with email fields.
Key Features
Automatic random winner
Email and Facebook contest entry
Add bonus entries for taking extra actions like following social accounts, clicking links, and more
Schedule to run daily, weekly, monthly
Cost: Try it for free. Premium plans start at $49.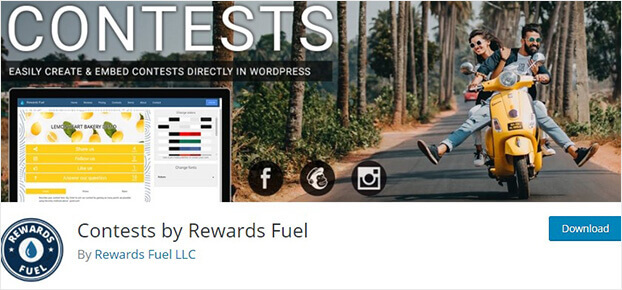 Contests by Rewards Fuel lets you create contests with 35 entry methods.
You can ask people to follow you on social media, share your links, or subscribe to your marketing emails.
You can easily run contests from your WordPress site or on the plugin's hosting page.
The Contests plugin lets you customize your giveaway form by changing the colors, fonts, and images. If you want access to advanced editing tools, you'll need to go for the more expensive plans.
Key Features
Tons of contest entry options
Add digital prizes
Target/block specific countries
Duplicate existing contests
Supports 11 languages
Cost: Starts at $16.63 per month
Get started with Contests by Rewards Fuel!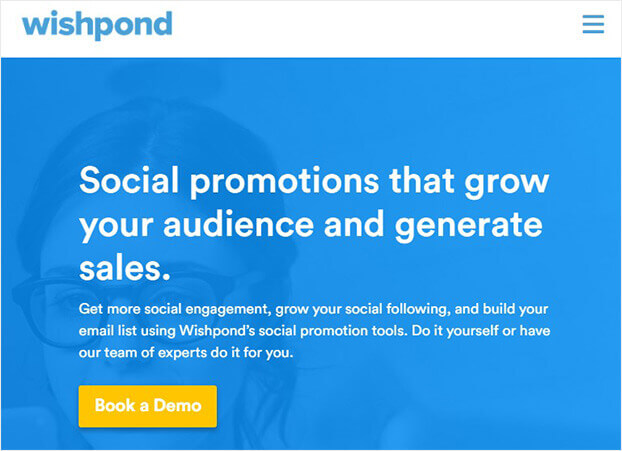 Wishpond isn't a typical giveaway builder. Instead, it's a marketing software that lets you run giveaways on your WordPress site.
With Wishpond, you can run multiple giveaway contests types like video, essay, photo, caption, and vote contests.
Wishpond is designed to handle marketing activities like lead generation and email campaigns. That means their contest features are minimal.
You might want to look at a different tool if you want more than just a basic contest.
Key Features
12 contest types
User-friendly interface
40 native integrations and connects with 1000+ other apps
Cost: Wishpond's giveaway app starts at $49/month when billed annually.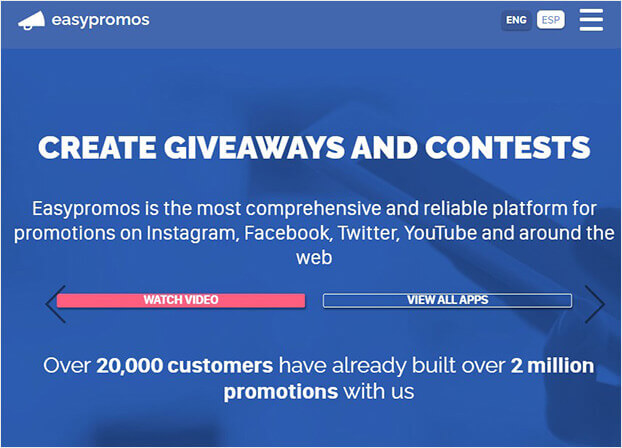 Easypromos is a popular giveaway tool for WordPress.
It lets you easily run giveaways on Twitter, Facebook, and Instagram. It also lets you set up puzzles that participants need to solve to win the prize.
EasyPromos comes with responsive templates that are customizable. It also has built-in fraud protection to make sure your contest runs smoothly.
To add the contest to your site, you'll need to use a widget. This means the setup process isn't as straightforward as installing a plugin on your site.
Key Features
Create quizzes, coupon codes, games, and contests
Multi-stage promotions and campaigns
Compatible with mobile devices
Automate promotions and follow-up
Cost: Starts at $29 per month.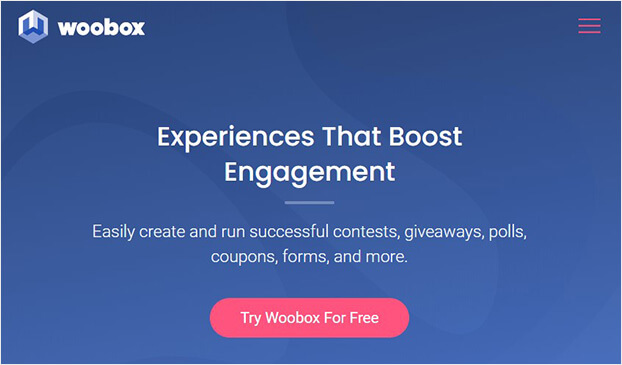 Woobox lets you create WordPress giveaways with templates that you can easily customize.
Its campaign builder makes it easy to design your giveaway with your own colors, fonts, and layouts.
Woobox also makes it easy to manage your participants, pick winners, and approve submissions. Plus, you can seamlessly connect to email service providers to send automated emails.
Plus, Woobox lets you A/B test contests to see which giveaways generate the most engagement.
Woobox is a free giveaway plugin, but you'll need to upgrade to the premium version to access the campaign builder.
Key Features
Create instant-win contests
Add personality, form, trivia, and code giveaways
Automated winner picker tool
Unlimited campaigns and participants
Cost: Starts at $37 per month.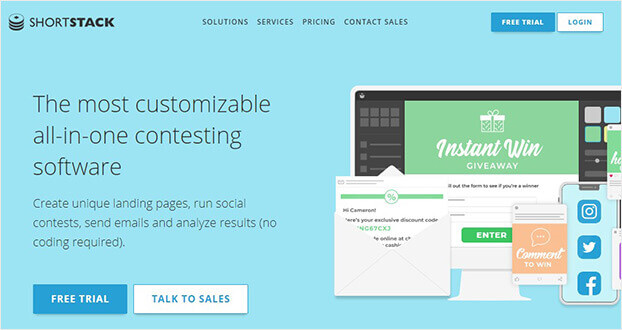 Shortstack lets you easily create contest landing pages using pre-designed themes. You can easily add contest rules, send competition emails, and analyze results.
What stands out about Shortstack is that you can get their team to design and moderate the giveaway on your behalf.
The downside to this plugin is that you need to embed code on your site to run the contest. And unlike some WordPress giveaway plugins on this list, Shortstack doesn't offer unlimited entries or views.
So, if you're on a budget, you might need to find a different WordPress giveaway plugin.
Key Features
Dozens of customizable templates
Send an autoresponder email upon form submission
Randomly choose winners or weighted by votes/points
Analyze contest performance
Cost: Starts at $99 per month.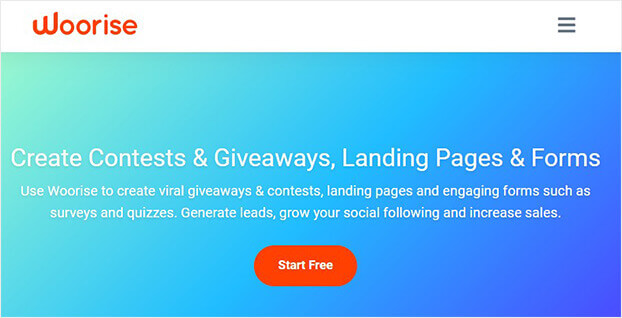 Woorise is another popular tool that lets you create free giveaways and contests. It comes with prebuilt templates that are easy to customize with the user-friendly drag and drop campaign builder.
Woorise makes it easy to create and embed the giveaway on your site. For instance, if you're using the Gutenberg editor in WordPress, you just need to add a Woorise block to your post or page.
Plus, Woorise gives you access to campaign data so you can track the performance of your promotions.
One thing to keep in mind is that while Woorise has a lot to offer, the features you need to make the giveaway successful are only available on the premium plan.
Key Features
1-click pick winners
Instant redeem rewards
Geo-targeting to run local contests
Automatic fraud detection
Cost: Start for free. Premium plans start at $23 per month.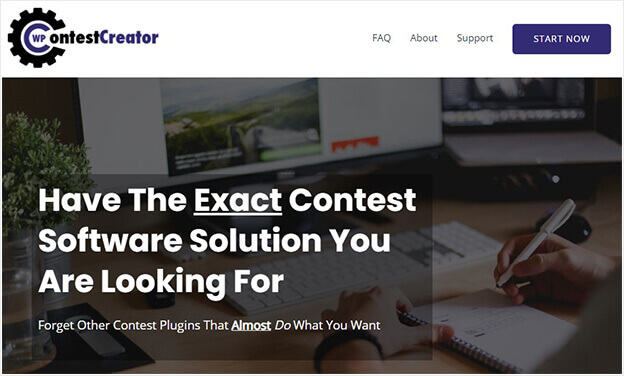 WP Contest Creator is a WordPress contest service rather than a plugin.
The WP Contest Creator team works with you to create your own giveaway plugin. You brief the team on what you need and then they build the custom tool for you.
Once it's built, you can use it on any new or existing WordPress site. While this has some advantages, it might not be the ideal option if you're after a quick, easy WordPress giveaway plugin.
Key Features
Create a custom contest plugin
3-5 week delivery
Integrate easily with new or existing WordPress site
Cost: Custom pricing.
Get started with WP Contest Creator!
And there you have it! That's our list of the best giveaway plugins for WordPress.
Do you want to know which one we choose to run our giveaways?
The #1 spot goes to RafflePress. It's easy to install and you can create awesome contests in minutes.
RafflePress is designed to handle your contest from start to finish. It makes it easy to add contest entry options and it organizes your submissions for you.
But the most important factor is that it's packed with features to make your contest go viral so you get maximum entries.
This will help you actually drive more traffic, grow your email list, and boost social media engagement at the same time!
With RafflePress, contests are easy and fun for site owners and visitors.
Get started with RafflePress right now to build your viral giveaway!
We hope you liked this article and found the giveaway plugin you were looking for. For more ways to grow your business, check out these posts:
With these posts, you'll be equipped to boost engagement, capture leads, and build a trusted brand.
And if you want to boost conversions instantly by up to 15%, sign up for your 100% risk-free TrustPulse account now.