Do you want to remove unwanted or bad reviews from Yelp?
A customer who has a negative experience is highly likely to share that experience by leaving a bad review. And it's not uncommon for businesses to see unfairly negative reviews online, even after offering the customer the best of service.
In this tutorial, we'll show you how to remove bad Yelp reviews and flood your page with good ones to boost your business!
But first, let's get clear on it's important to get rid of your bad Yel reviews.
Why Should You Remove Bad Yelp Reviews?
Yelp reviews are a dominating force in the market, with 184+ million reviews worldwide and 178+ million unique visitors monthly.
Like other review platforms, Yelp has content guidelines laid out, which means they don't allow any reviews that violate their terms of service. Sadly, many fake reviews still manage to slip through the cracks from:
Competitors
Disgruntled former employees
Personal enemies
Angry customers
Customers mistaking business pages
While reading Yelp reviews, customers are drawn to negative ones to see what could go wrong with their own experience.
In fact, a study showed that 4 out of 5 consumers have changed their minds about a recommended purchase after reading negative online reviews.
To make matters worse, some companies try to respond to negative reviews in a way that hurts their brand's image even further:

When you receive a bad review, it's important that you respond AND make sure you resolve the issue at the heart of the review.
But if you feel the review was unjust, fake, and malicious, you don't even have to respond. You can easily get it taken down. And we'll show you exactly how to do it next.
Removing Bad Yelp Reviews
Yelp has a system in place for business owners to report negative reviews so that their platform remains fair. This lets you flag a bad review and ask for an investigation.
If Yelp finds the review to be unfair, fake, or with malicious intent, then they'll take it down.
Step 1: Claim Your Business on Yelp
If you haven't already claimed your business on Yelp, you'll want to visit Yelp for Business and click on Manage my free listing.

Then search for your business page by typing in your business name and zip code. You can now create a Yelp for Business account using an email address and password.
Yelp will walk you through the steps to verify your business and claim your page. In case you aren't able to, you'll receive a prompt to submit a report to the support team that will assist you.
Once you've claimed your business, you can publicly respond to the review or contact the reviewer through a direct message.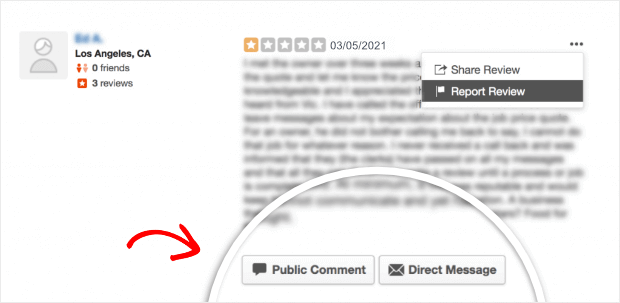 You can try to make it right with the customer to get them to change their review privately before taking further action.
Step 2: Report Fake and Unjustified Reviews
If reaching out to the customer to solve the issue doesn't work, or you feel the reviews are with malicious intent, then you should report it to Yelp.
You can ask for the removal of reviews for a number of reasons, including:
Violent language and threats
Fake reviews with malicious intentions
Promotional material
Irrevelant review to your business page
Private information has been revealed
To report a review, you can click on the three dots next to a review and select Report Review.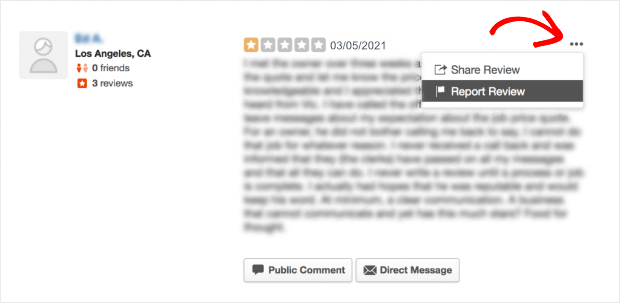 You can choose the reason for reporting the review.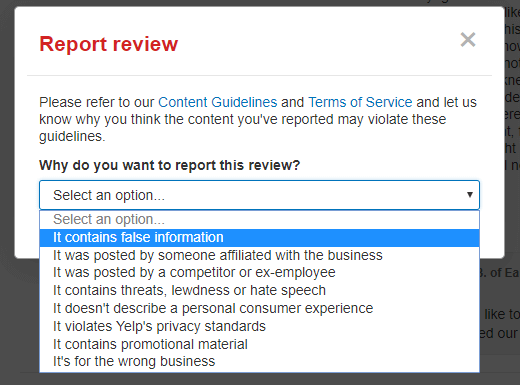 Once the review has been submitted, it may take several days for Yelp to respond. If Yelp finds the investigation in your favor, they'll delete the review, and you won't see it any longer on your business page.
If Yelp doesn't take down the review, you can send in a report once more.
Remember, Yelp sees many bad reviews, and many of them are genuine complaints from customers' real experiences. If there's a problem with the business, then it's only fair that it be reviewed in that light.
So if they feel the review is fair and there is no reason to remove it, they won't take it down.
And, for the record, if you're wondering whether you can pay to remove a bad review, Yelp doesn't allow that.

Thankfully, your efforts don't have to end here.
Up next, we're going to show you how to get plenty of good reviews for your business so you can repair your brand's reputation and grow your business in a better light.
How to Beat the Negative with Positive Reviews
The best way to beat bad reviews is by offering good service that keeps the customer happy. This will automatically get you more good reviews.
But you can take measures to boost the number of good reviews you get. Studies show that 70% of customers leave a review after you ask for it.
So let's start asking!
Getting More Yelp Reviews
The best way to get more reviews on Yelp is using TrustPulse.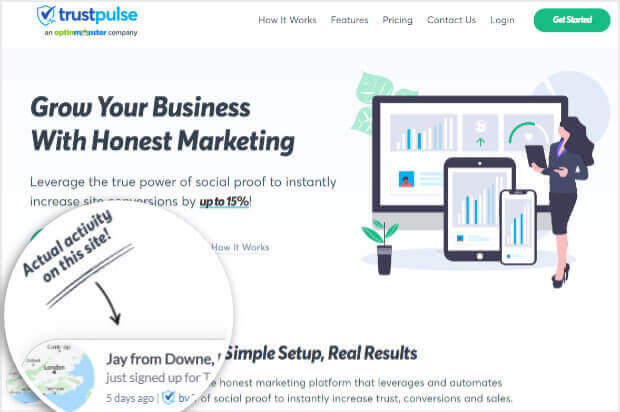 TrustPulse is the best social proof tool on the market that can increase the number of reviews you get.
It lets you display non-intrusive popups on your site that prompt visitors to leave a review.
Here's an example of a small notification asking your site's visitors to leave a review:

This is so powerful because it shows another customer who left a review. This type of social proof will motivate others to take the same action, which will lead to more positive reviews for your business.
With TrustPulse, you can:
Showcase positive reviews from Yelp on your site
Create a FOMO effect (fear of missing out), so more customers review your business
Redirect visitors to your Yelp review page so they can leave a review
Plus, TrustPulse is super easy to use and works on ANY website platform. It comes with a user-friendly builder to customize notifications to match your brand and website theme.
You get full control over when, where, and to whom the popups are shown. You can even target customers who have just purchased an item or service plan.
TrustPulse is also an affordable social proof app and is only a fraction of the cost when compared to other social proof software.
Check out how TrustPulse stacks up to the competition: FOMO vs UseProof vs TrustPulse: Which Is Best for Social Proof.
Ready to begin? Let's start creating the Yelp review popups.
Step 1: Creating a New Campaign With TrustPulse
To get started, first sign up for your 100% risk-free TrustPulse account. If you're using WordPress, you can use the TrustPulse plugin on your site.
For all other websites, you can connect your site using this guide: How to Add TrustPulse to Any Site.
Once you've set it up, access the TrustPulse dashboard to set up your review notifications.
First, select the Create Campaign button.

This will open up a campaign editor where you can give your campaign a name.
You'll also see 4 types of campaigns available:
Recent Activity: Show a live stream of website activity like purchases, registrations, and more.
On-Fire: Show the number of people taking action on your website in a given period.
Visitor Analytics: Highlight active interest in your site by showing real page visits over time.
Action Messages: Display a single static notification to help drive visitors to take action.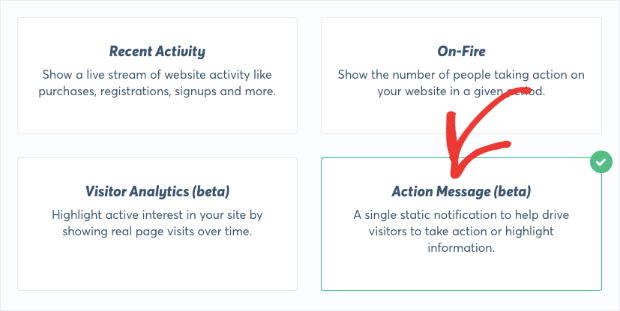 To ask customers for reviews, we'll use an Action Message. When you select it, hit the Next button to start building the campaign.
Step 2: Building the Yelp Review Popup
In the campaign builder, you'll see options to customize the popup along with a preview at the bottom left corner of the page. That way, you can see what your popup will look like as you design it.
You can add a title and message for your popup. You can be as creative as you want here, and we'll even show you 2 ways to do that.
First, you could showcase an existing review from Yelp and then ask other visitors to leave a review, too.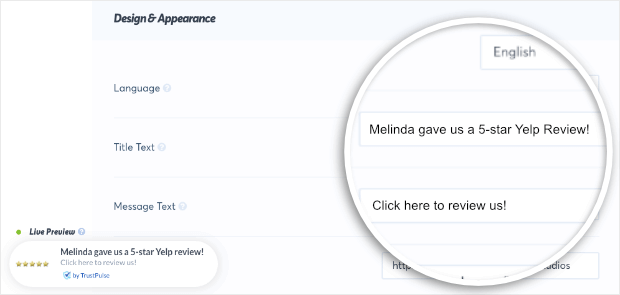 This message has 2 effects on your site:
It prompts existing customers to leave a review
It builds trust and confidence in customers, so they make a purchase decision
Here's another way you can use them: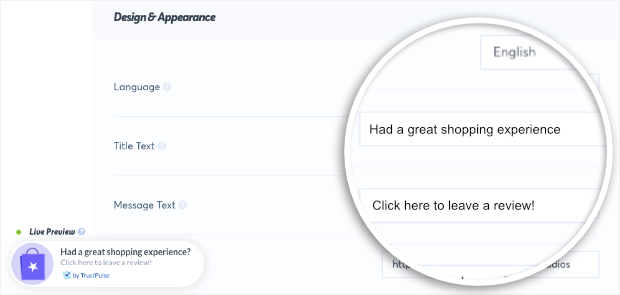 This asks customers how their shopping experience was and if they'd like to leave a review. This lets you get real-time reviews when customers have just finished making a purchase.
This is an excellent opportunity to capture reviewers when your brand is still on their minds.
After you've added a title and message, you can add a link to your Yelp review page in the 'message link' field.

That way, when a user clicks on this popup, they'll be taken to the Yelp review page where they can write a review.
After this, you can select the image to be displayed in the popup. TrustPulse lets you pick one of the pre-made icons or upload a custom image.

To make the Yelp review pop, we've created a custom image of 5 stars as it's a recognizable symbol for a perfect score.
Now your popup is ready, but before we publish it, we'll explore awesome customization options TrustPulse has to offer.
Step 3: Customizing Your Yelp Review Popup
TrustPulse lets you customize everything about the popup. In the same 'Appearance and Design' tab, you can choose where you want the popup to appear on your site.
It can appear on the bottom left or right, or the top left or right.
You can also customize the look of your popup with options like rounded or sharp edges. Or whether you want the notification to be compact or expanded.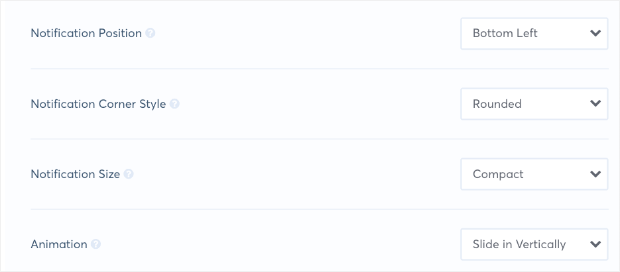 Finally, you can change the animation of the popup to fade in or slide in.
If you want to style your popup's color, font, and background, you can do this under the Advanced Settings menu.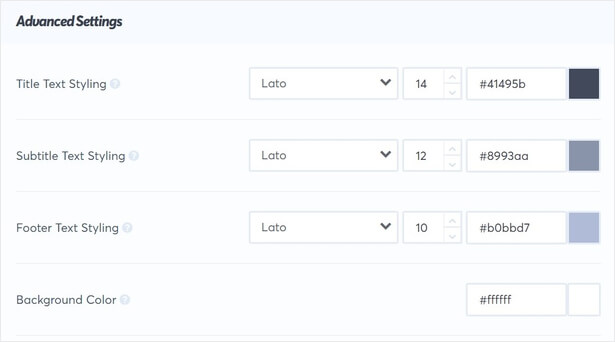 Using these customization options, you can match the campaign with the voice, style, and messaging of your brand.
Once you're happy with how your notification looks, 'Save' this page.
Step 4: Setting Up Display Rules
Display rules will control where and when the Yelp review notifications appear.
To set up your own display rules, switch to the 'Display Rules' tab.
Here you can decide where you want the popup notification to appear.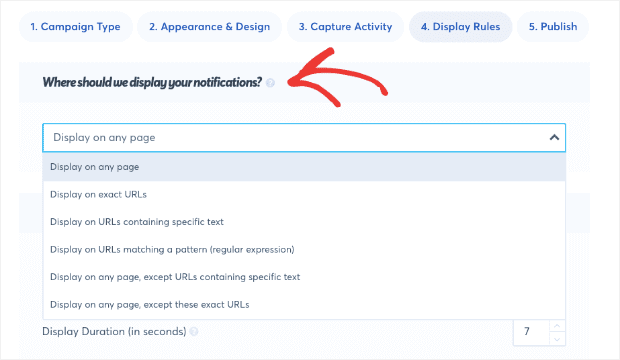 The popup can be displayed on any URL or specific URLs. Or you can filter by specific keywords or patterns.
For the Yelp popup, we want to display it only to customers who have completed their orders. We'll choose 'Display on exact URLs' and then select the order confirmation page.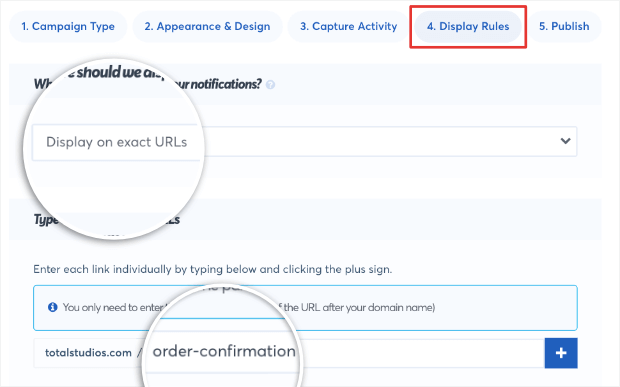 In the same tab, you can add a delay to the popup before it displays to a visitor. You can also choose how long the notification will remain visible.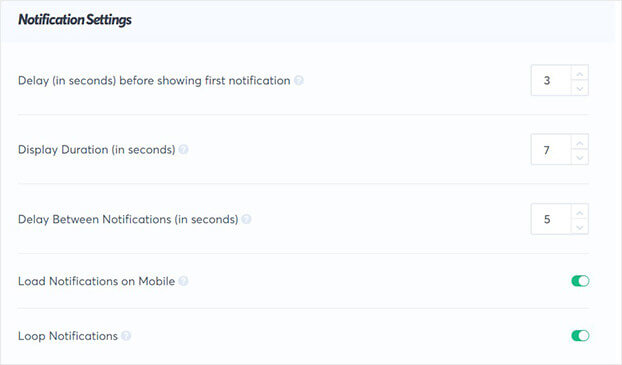 If you're setting up multiple review campaigns, TrustPulse lets you set the order in which you want them to appear.
Simply open the 'Advanced Settings' menu, and under 'Order Priority,' you can set the order for the notification.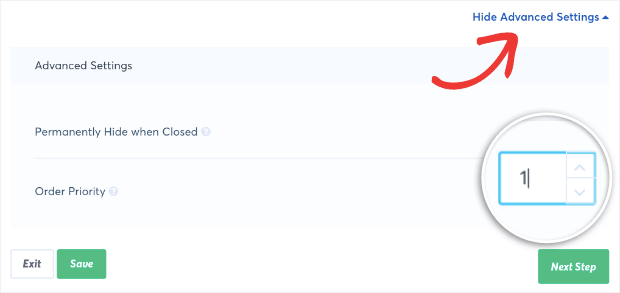 Now, your Yelp review popup is customized and ready to be published on your site.
Step 5: Publishing the Yelp Review Popup
To publish the action message, switch to the 'Publish' tab. Here, you can see a preview of your Yelp review popup.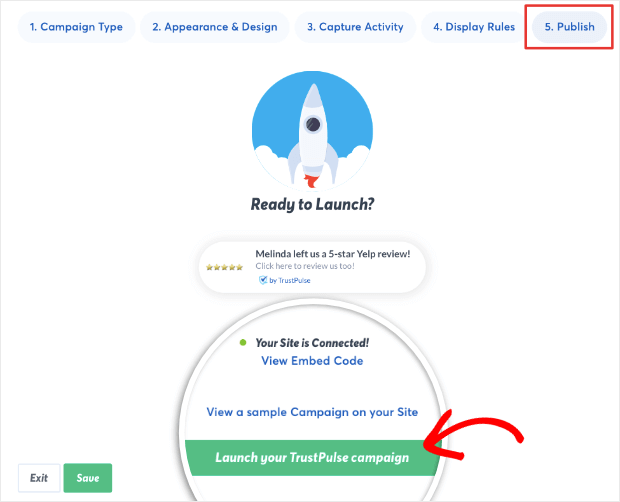 When you're ready, hit the 'Launch your TrustPulse campaign' button to embed Yelp reviews on your site.
Now your visitors will see the Yelp review popup when they come to your site.
If you haven't yet connected your website to TrustPulse, follow this guide: How to Add TrustPulse to Any Site.
Step 6: Tracking the Success of Yelp Review Popups
TrustPulse tracks your campaign performance so you can see how many people engaged with it. With these analytics, you can see how many viewed your message and how many left you new Yelp reviews.
To access TrustPulse's built-in analytics, head over to your TrustPulse dashboard. Here, you'll see a list of your campaigns.

Simply click on the 'analytics' icon next to your campaign.
On this page, you'll see data and graphs that are easy for anyone to understand. This lets you easily see what's working and tweak your campaigns to get the best results.
And with that, you should have everything you need to remove bad reviews and instead get more positive reviews on Yelp.
We hope you enjoyed this article. You can also use TrustPulse to showcase recent sales and signups or flash sale messages.
If you're looking for more ways to display reviews on your website, check out the following resources:
These posts are packed with info that will help you leverage social proof to boost your sales and conversions.
Ready to get started with the world's best social proof software? Sign up for your 100% risk-free TrustPulse account today!