Are you looking for the best Provely alternatives to add social proof to your website?
Provely is one of the most popular social proof software on the market. It's a simple solution that allows you to add basic social proof notifications to your website.
But like any marketing tool, it's not the perfect solution for everyone.
That's why, in today's post, we're going to look at 11 Provely alternatives that you can use to get more conversions FAST.
Before we begin, though, let's get clear on exactly what Provely is.
What Is Provely?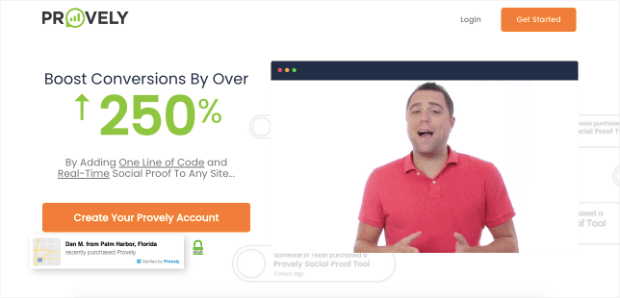 Provely is a social proof notification app that prides itself on simplicity. Once you sign up, you'll just need to add one line of code to your website.
Then you can show real-time sales notifications to get more people to take action across your site.
How does it work? These social proof notifications leverage FOMO (fear of missing out).
FOMO is an online consumer behavior that, for the most part, affects us all. The reason is simple: when we see others enjoying positive benefits or experiences, we want to share those same benefits, too.
That means when consumers see how other people are actively buying your products, they'll be more motivated to do so.
With Provely, you can add these notifications to your website in 3 simple steps:
Design your live sales notification
Embed the notification on your site
Sit back and watch conversions increase
And while sometimes less really is more, Provely might be missing other advanced features you're looking for.
That's why we're going to turn our attention to the best Provely alternatives on the market.
11 Provely Alternatives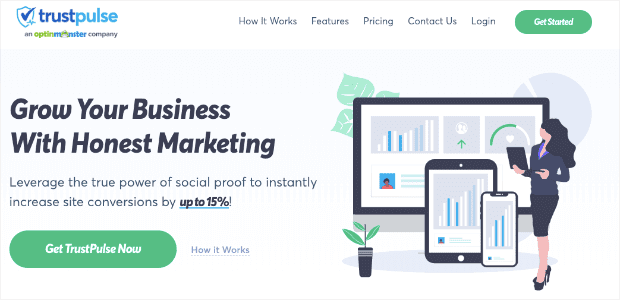 TrustPulse is the world's best social proof software. It's not only the most powerful in terms of campaign design and flexibility, but it's also the most affordable option on the list.
TrustPulse is so easy to use that anyone can get started right away. That's because there's zero coding involved.
Instead, you'll simply need to add a few snippets of code to your website. Or, if you're using WordPress, you can also download the plugin.
Once you've connected your site, you can create stunning and professional notifications that look like this:

The example from above was built in under 2 minutes. But there are more campaign types that you can make.
In total, TrustPulse has 4 types of notifications you can use:
Recent Activity: Show a live stream of website activity like purchases, registrations, signups, and more.
On-Fire: Display the number of people taking action on your website in a given period.
Visitor Analytics: Highlight active interest in your site by showing real page visits over time.
Action Messages: Show a single static notification to drive visitors to take action or highlight information.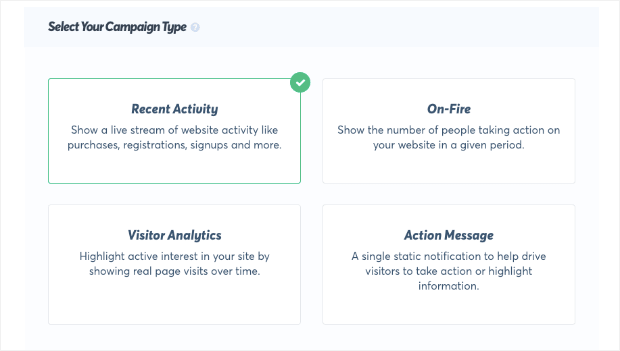 This variety of campaign types is helpful for businesses at all stages, and they allow you to avoid ever using fake social proof.
So if you're just starting out, you might simply count visitors with a Visitor Analytics campaign. Then, as your visitors start engaging with your CTA, you can switch to a Recent Activity notification.
With TrustPulse, your options for effectively using social proof are seemingly endless!
And once you've decided on the type of your notifications, you can customize the:
Style of the notification
Image
Description
Link
Time frame (for when the action was taken)
Font and font sizes
Colors (text & background)
From there, you'll be able to configure where and when these messages appear across your site.
This allows you to personalize your social proof strategy to get even MORE conversions in LESS time.
Features
Real-time event tracking
Multiple notification types
Smart targeting
Flexible design options
And much more…
Price: Paid plans start at only $5/month. That means you can start using TrustPulse for the same cost as a cup of coffee.
Get started with TrustPulse today!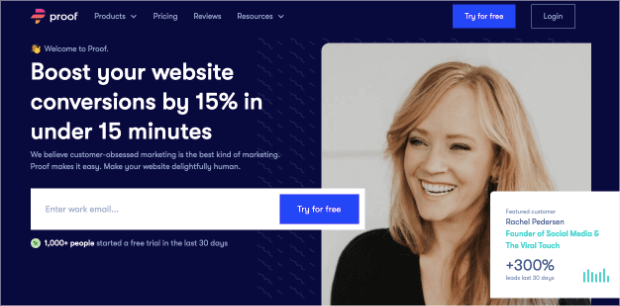 Proof (formerly known as UseProof) is a social proof software that's been around for a while.
It allows you to configure when you want to start tracking data and for how long. That means you can show social proof notifications based on the statistics from the past day, week, month, or even 3 months.
Plus, this tool has a few different campaign types that you can use, such as:
Hot Streaks: Show when large groups of people take a single action.
Live Visitor Counter: Display how many people have visited your posts or pages.
Recent Activity Notifications: Highlight real consumer behavior on your website from individual visitors.
Finally, if you run into any problems along the way, Proof has a large resource center that you can use to find answers FAST.
Features
Easy installation
Multiple campaign types
No coding required
Support team for troubleshooting
And much more…
Price: Paid plans start at $29/month.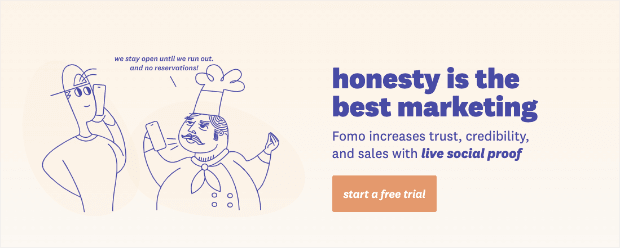 FOMO is another social proof software that makes it easy to add notifications to your website. It requires ZERO coding or "tech" skills to get set up and manage your notifications.
This tool also gives you a ton of options when it comes to customizing your notifications. That means your social proof can match your brand's unique voice, style, and messaging.
And if you struggle with design, that's no problem. They have a notification theme builder that will help you with each step along the way.
Finally, all notifications can be used to reach any of your calls to action (CTAs).
That means you can use this tool to sell products, grow your email list, boost webinar attendance, and much more!
Features
Customizable notifications
Embeddable shortcodes
Preconfigured theme builder
Easy setup and installation
And much more…
Price: Paid plans start at $19/month.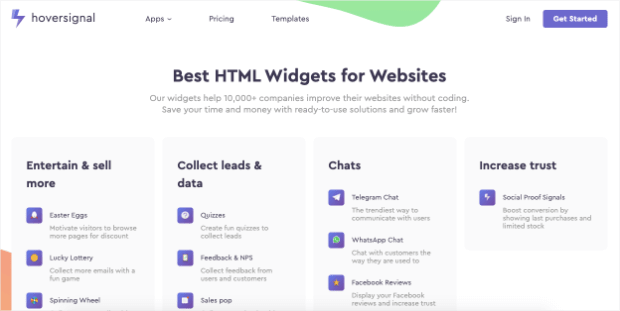 HoverSignal is a little different than other tools we've seen on this list. That's because it gives your more tools than just social proof notifications (though you definitely have access to that).
Instead, this tool creates HTML widgets that can help:
Boost sales
Collect leads
Connect with a live chat
Increase trust
It's the last one that makes HoverSignal a great Provely alternative.
That's because you can use the HTML widget to create social proof notifications for your website.
Like the other tools on this list, you'll be able to customize your notification and leverage FOMO. As a result, you'll build more trust with your audience AND boost your sales.
Features
Gamify your site with "Easter Egg" widgets
Collect user feedback through quiz widgets
Set up and manage in minutes
Boost site performance with lightweight widgets
And much more…
Price: You can get the single social proof widget for $19/month. Or you can get all 10 widgets for only $34/month.
Get started with HoverSignal today!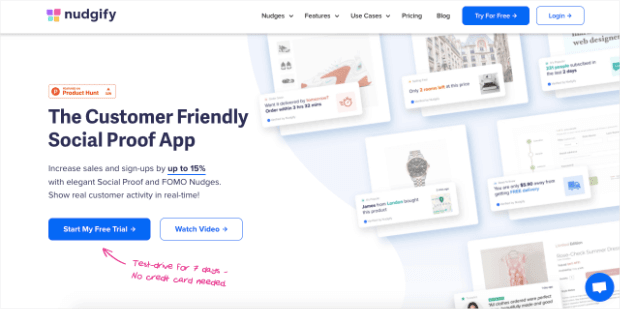 Nudgify is a customer-friendly social proof app that can boost sales by up to 15%. This tool creates social proof notifications (called "nudges") that move your site's traffic into action.
Plus, you can create more notification types than just recent sales. In fact, you have 4 types of campaigns you can make, including:
Live or recent sales
Low stock items
Reviews and testimonials
Special offers and promotions
This gives you a variety of ways to use social proof on your site to get as many conversions as possible.
All of your "nudges" are completely customizable and don't require any technical skills to manage.
Features
Easy setup and installation
25+ languages supported
Pre-made "nudges" for certain niches
Analytics dashboard to optimize results
And much more…
Price: Paid plans start at $9/month.
Get started with Nudgify today!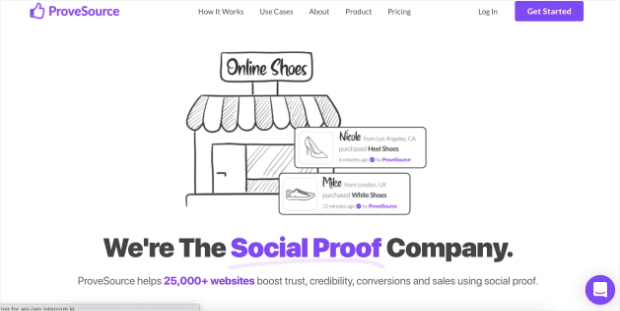 ProveSource is a social proof tool that's been used on 25,000+ websites to increase trust and conversions.
It comes with a variety of campaign types that you can use, such as:
Recent sales
Full reviews
Page visits
Custome web form activity
And more…
Plus, it gathers data for impressions, clicks, hovers, leads, and other valuable KPIs. This allows you to refine your social proof strategy over time to ensure that you're never leaving any conversions on the table.
Finally,  ProveSource creates notifications that are mobile-friendly. That means you'll be able to leverage FOMO for your entire audience, no matter which device they're using.
Features
Timing rules
Mobile-ready
100+ integrations
Auto-tracking (to track conversions)
And much more…
Price: Paid plans start at only $18/month.
Get started with ProveSource today!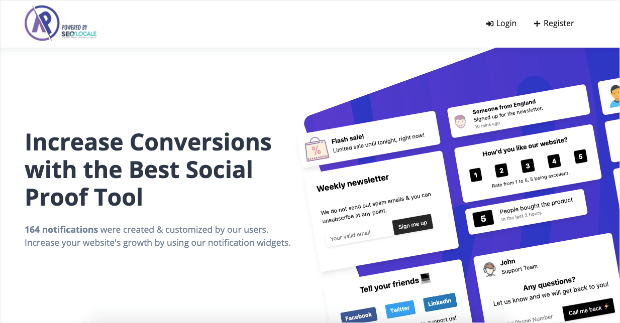 NotifyProof is a social proof tool that uses notification widgets to increase conversions on your website.
This tool offers more campaign types than any other on the list, including:
Informational bars
Feedback bars
Call to action bar
Live counter
Conversion counter
This is great because, like TrustPulse, you'll be able to use social proof no matter what stage of business you're in.
You can use live counters if you haven't made any physical sales yet (rather than relying on fake social proof). Or you can create conversion counters when people start opting into your CTAs.
Either way, NotifyProof is a solid social proof software that's created over 1 million notifications for sites around the world.
Features
Lots of campaign types to use
White-glove installation
Video embeds
Customer feedback (with emojis) to gather user satisfaction
And much more…
Price: You get 1 campaign for free, but you'll need to contact their support team for pricing.
Get started with NotifyProof today!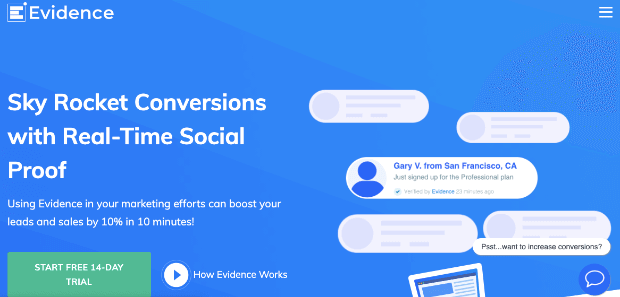 Evidence is a social proof tool, much like the others we've seen on this list. This software allows anyone to quickly and easily add social proof notifications to their site.
Plus, you can use a variety of notification types, such as:
Conversions
Streaks
Visitor count
Announcements
Boomerang tabs
And as we saw with tools like TrustPulse and NotifyProof, this lets you leverage genuine and authentic social proof, even in the early stages of your business.
One of the things that set this software apart from the others is the last type of notification listed above: Boomerang tabs.
This feature creates a small message to your users in the browser tab when people are looking at your website: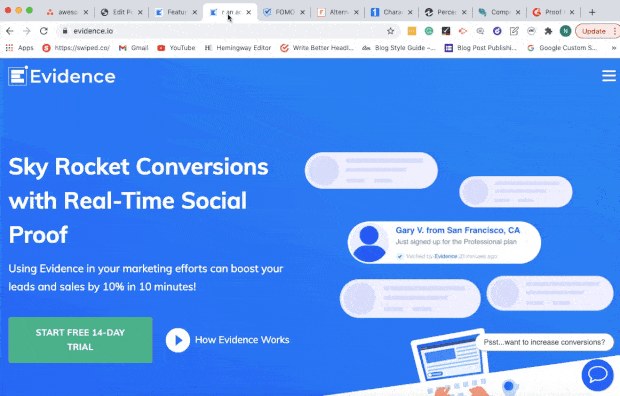 While the feature is certainly unique, there aren't any concrete statistics as to how effective it is.
Features
Timing and animations for more engagement
Live editor
Customizable campaigns
Targeted notifications
And much more…
Price: Paid plans start at $40/month.
Get started with Evidence today!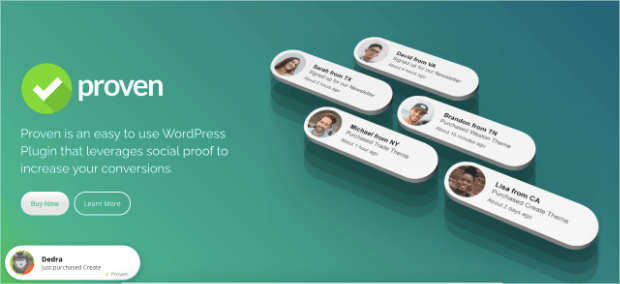 Proven is specifically for WordPress users looking for an easy-to-use social proof tool.
With Proven, you'll be able to set up social proof notifications for your WordPress site. Plus, Proven integrates with your favorite marketing tools, like:
WooCommerce
Mailchimp
Easy Digital Downloads
And more…
Not only can you customize your notifications, but you can control when and where they're seen.
This allows you to show the right message, in the right places, and at just the right time of your customer's journey.
It also lets you personalize your notifications to the content people are browsing. So you can show real-time purchases as people are browsing the product they see in the notification.
This level of personalization is a guaranteed and proven strategy to get more conversions from your social proof strategy.
Features
Easy setup
Customizable appearance
Manual entries
Visibility control
And much more…
Price: Paid plans start at $39 (includes 1 year of support).
Get started with Proven today!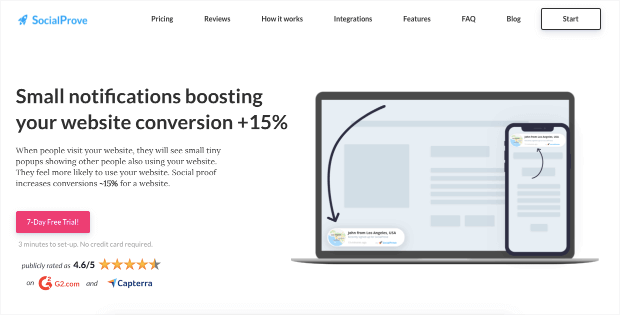 SocialProve is another tool that allows you to create social proof notifications for your website. This allows you to show visitor notifications in the form of small popups.
Plus, installing the software is easy. Just add a few snippets of code to your website, and you'll be up and running in just a few minutes.
As you'd expect, you'll have full customization over the style and look of your notifications. This allows you to display your social proof without harming or distracting the user experience (UX).
It's a reputable company that boasts over 1,000,000 notifications shown per day. It's also well-reviewed on sites like G2 and Capterra.
Features
Variety of campaign types
Customizable notifications
Strong reputation
Free trial (no credit card required)
Price: Paid plans start at $29/month.
Get started with SocialProve today!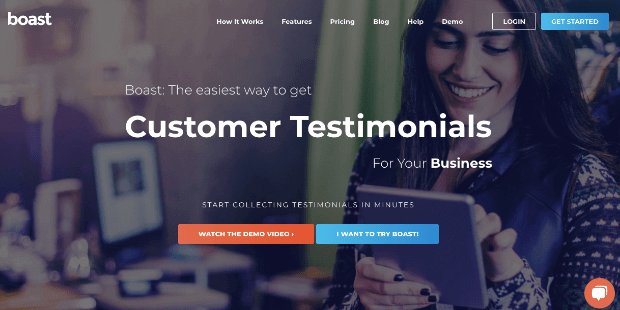 Boast is unlike other social proof software on this list, but only because it doesn't specialize in notifications. Instead, this tool gives you everything you need to collect and display testimonials for your brand or products.
It even allows you to collect testimonials in multiple formats, including:
You can use the mobile app to request testimonials or email your clients directly from your Boast dashboard.
Once you have the testimonials gathered, you can add them to your site's posts or pages.
As a result, you can expect to drive more conversions from your CTAs.
Features
Collect & gather testimonials
Send emails directly from your Board dashboard
Multiple testimonial types (video, text, and audio)
And much more…
Price: Paid plans start at $25/year.
And that's all for today! These have been 11 Provely alternatives that you can use to boost conversions and sales today.
We hope you enjoyed this post and, if you did, you'll definitely want to check out the following resources:
These articles will have even more information you need to leverage social proof and grow your business FAST.
Tired of theory and ready for action? Sign up for your 100% risk-free TrustPulse account today!