Are you looking for the best shared web hosting plans?
The first step in building a business website is choosing a web hosting service. These services store all your website data on their servers, making it accessible to your audience.
However, reliability, security, and loading speeds are just a few things to consider. There's a lot more to consider when choosing a dedicated hosting service.
In this article, we'll explore the best shared web hosting plans to help you find the right web hosting according to your specific needs.
Let's get to it!
Things You Should Know About Web Hosting Services
A good hosting service will help you build a fantastic website that represents your brand image. It'll also help you attract customers and business partners.
However, you can't choose a web hosting service if you don't know what to look for.
Before you start looking at the available options, here are a few factors to consider before subscribing to a web hosting plan:
Uptime indicates how often a web hosting service is up and running. On the other hand, downtime means the service is not working, causing traffic loss and higher bounce rates.
Look for a service with a 99% uptime. This roughly translates to 10 minutes of downtime weekly.
Your website's loading time affects the user experience as well as SEO. According to Digital, 1 in 2 visitors will leave your site if a page takes more than 6 seconds to load.
Must consider this when choosing a web hosting plan, as it can affect your sales.
WordPress is used by 43.1% of all websites. That's because it has fantastic lead generation tools, drag-and-drop page builders, and a gigantic community that supports it with plugins. Look for a hosting service that provides easy WordPress installation, automatic updates, and optimized hosting.
According to Accenture's Cost of Cybercrime Study, 43% of cyber attacks target small businesses. Be diligent and make sure that whatever hosting provider you go with offers adequate measures to protect your website and data. Look for features such as SSL certificates, regular backups, and malware scanning.
Check if the hosting provider offers a user-friendly control panel or dashboard. This will allow you to manage your website easily. Migration from other hosting services and easy installation for WordPress are features that can simplify the entire process.
You should also consider aspects like scalability, hosting environment, and pricing.
The Best Web Hosting Services Worth Subscribing
Now that you have a general idea of what to look for, let's consider those factors and look at the best web hosting services worth considering.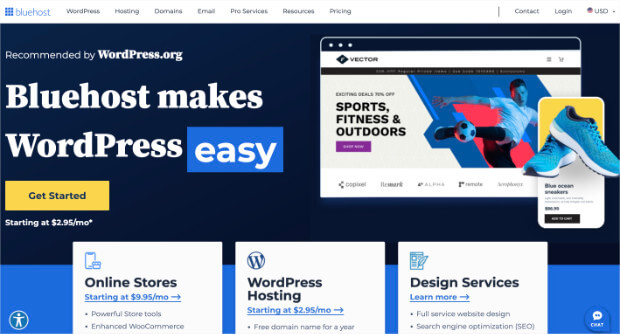 Bluehost is ranked as the #1 web hosting provider by WordPress experts and web developers. It powers over 2 million websites globally and is officially recommended by WordPress.
The hosting service offers affordable, feature-rich plans perfect for small businesses and personal websites.
They have a Basic plan that starts at $2.95/month, and you get a free domain name for the first year. This plan also includes an SSL certificate, 10GB of SSD web storage, and a WordPress migration tool to transfer your existing WordPress site to Bluehost's hosting service.
You also get access to their excellent 24/7 chat support. Bluehost has a reliable team managing its customer service that handles customer issues quickly and responsibly.
Upgrading to the Plus plan gives you email marketing tools, the ability to add another website to the hosting service, and more SSD web storage.
The best part about Bluehost is its easy integration with WordPress. You'll have WordPress up and running on your site with just a few clicks. Just log into WordPress from the Bluehost dashboard and let the platform handle the rest.
For small business sites, you really can't beat the value of Bluehost's shared hosting. On top of that, it scales with you as your business grows into a larger team.
Key Features:
Free domain name for the first year
Unlimited bandwidth and storage
Free SSL certificate
24/7 support
Simple WordPress installation
Price: Plans start at $2.95/month.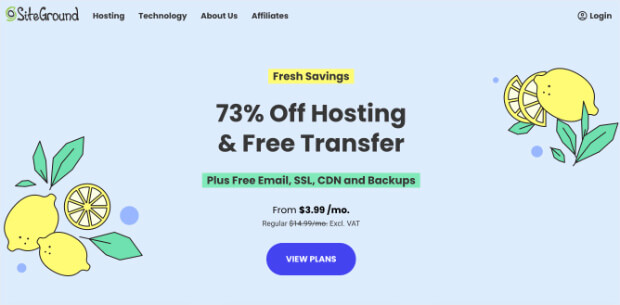 SiteGround should be near the top of your list if you want a worry-free hosting experience. It's a popular hosting service with blazing-fast speed and stellar customer support.
The basic plan starts with 1 website and free WordPress installation and migration tools. You get automatic updates for WordPress, and everything is secured thanks to the free SSL certificates.
Additionally, SiteGround uses ultra-fast servers with sophisticated SSD storage and gives you a free content delivery network (CDN).
A CDN consists of multiple services located in different locations. These are placed to be closer to end users and allow you to quickly add small details like text, images, and videos.
All of SiteGround's plans also include the WP Starter site builder, automatic updates, and expert support for WordPress-specific issues.
It even allows you to add collaborators to your site.
Collaborators get their own log-in information, and they can help you build or maintain your site. And if you have an eCommerce business, SiteGround also offers free WooCommerce installation.
Key Features:
Ultra-fast servers
Free SSL and CDN
Easy WordPress Installation
Free website and email migration tools
Daily backups
Price: Plans start at $3.99/month.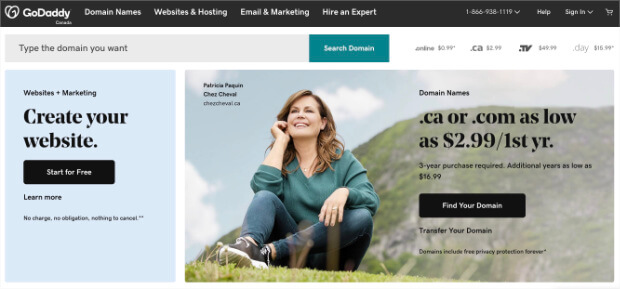 GoDaddy is a well-known web hosting provider designed to accommodate the needs of individuals and small businesses seeking an online presence.
With its shared web hosting plans, GoDaddy provides an economical and user-friendly solution for hosting websites.
You don't need any sort of WordPress experience to set up a website, as GoDaddy will walk you through it.
The basic plan allows you to host one website, while the highest-end one lets you host 50. You get unmetered bandwidth, a free professional email address, and a free domain name with all plans.
It typically includes features like a free domain name for the first year, unmetered bandwidth, and a user-friendly control panel for managing your website.
Other than that, you also get a free SSL certificate, access to GoDaddy's global data centers, and an easy-to-use control panel.
While costs are slightly higher than Bluehost and Siteground, you're getting arguably even better customer support in return. They even back up their reliability with a guaranteed 99.9% uptime.
Most importantly, you get lightning-fast page load times, tight security, and plans that scale with your business.
Key Features:
Versatile and easy-to-use hosting solutions
Intuitive Website Builder for creative freedom
High-performance servers for optimal speed
Responsive 24/7 customer support
eCommerce-focused features for online stores
Price: Plans start at $5.99/month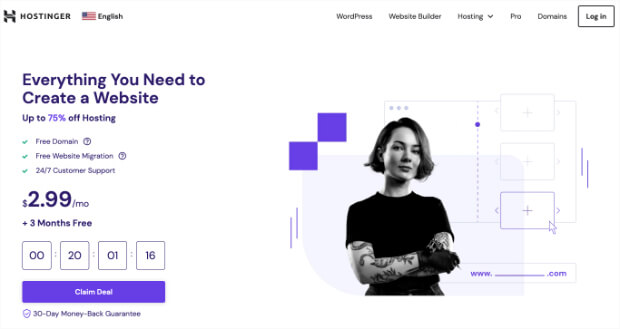 Hostinger is another prominent name in shared web hosting, offering an efficient and cost-effective solution for businesses seeking an accessible entry point into the website hosting world.
With a user-friendly interface and a range of hosting plans, Hostinger caters to various needs and budgets. Their shared hosting services allow users to host websites without the complexity of managing server resources independently.
Hostinger's shared hosting packages typically include features like a free domain name, ample storage, bandwidth, and email accounts.
Additionally, their custom-built control panel simplifies website management. This enables users to install popular content management systems like WordPress effortlessly.
Hostinger's emphasis on speed and performance is evident in their use of solid-state drives (SSDs) and optimized server configurations. All this ensures faster loading times and a smoother browsing experience for visitors.
The basic plan gives you weekly backups, 50GB of SSD storage, easy WordPress installation, and basic WooCommerce optimization to help you build an eCommerce business.
It also includes a no-code website builder with the hosting package. This builder features 150 uniquely crafted templates and theme builders, Google Analytics integrations, and an AI copywriting tool.
Key Features:
Competitive pricing without the performance sacrifice
No-code website builder
Google Analytics integration
Global server presence for better load times
Plenty of security features on the premium plan
Price: Plans start at $1.99/month.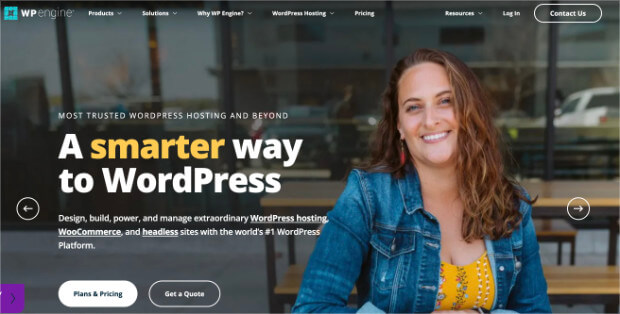 WP Engine offers managed WordPress hosting, meaning they take all the effort off your hands.
They provide a fully managed platform that handles backups, updates, and security. This leaves you free to focus on your content and business goals.
Renowned for its focus on performance, security, and managed services, WP Engine offers a platform tailored to optimize the WordPress experience.
It features advanced caching technologies, content delivery networks (CDNs), and high-performance servers.
The platform gives you access to 24/7 WordPress customer support, auto-renewing SSL access, security scans, and a web application firewall that protects against DDoS attacks.
You also get 10 premium WordPress themes, a block-building tool for site creation, and 1-click staging and development environments.
WP Engine is considerably more expensive than the other options on this list, but it has tighter security, superb customer support, and unparalleled performance. You need this hosting service if you're serious about your business and want to expand your horizons.
Key Features:
Expert management of backups, updates, and security
Lightning-fast speed and performance optimization
Advanced security measures, including backups and firewalls
Round-the-clock customer support by WordPress experts
Seamless scalability for growing websites
Price: Plans start at $20/month.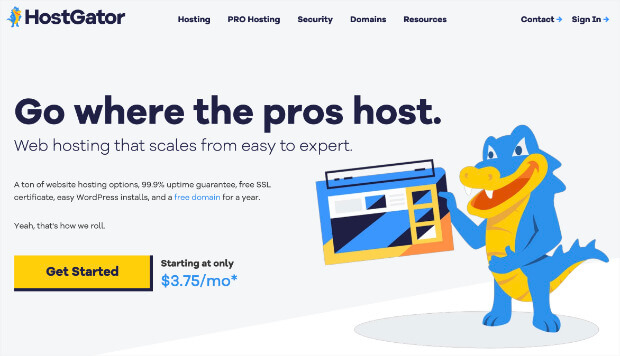 HostGator is a simple and effective shared web hosting service provider.
If you need a web hosting service that's reliable, cheap, and shares the same features as the bigger names, HostGator is your best bet.
They often have introductory offers for new customers, and the pricing is pretty generous. For the basic plan, you get control over a single website, WooCommerce plugins, easy WordPress installation, and an SSL certification.
If you feel like navigating web hosting is difficult, HostGator makes it easy with its user-friendly control panel. Whether you're a tech-savvy developer or a novice, managing your website, domains, and settings is a breeze.
The best part is that HostGator has excellent scalability. As you grow, your site will grow alongside you. Upgrading to the higher-tier plan gives you access to unlimited disk space, unlimited websites, and a dedicated IP Address.
Key Features:
Extremely competitive pricing
User-friendly control panel for easy management
Scalable resources to accommodate growth
Unmetered bandwidth and storage for creative freedom
24/7 customer support for expert assistance
Price: Plans start at $2.75/month
What Is the Best Shared Web Hosting?
The final decision depends on your specific requirements and goals. Here's a list to assist you in picking the appropriate shared web hosting:
Bluehost: Best for reliable and user-friendly shared web hosting with a free domain and WordPress integration.
SiteGround: Best for shared hosting with top-notch customer support and performance optimization tools.
GoDaddy: Best for beginners seeking user-friendly shared hosting with website-building tools and domain services.
Hostinger: Best budget-friendly shared hosting with solid performance and various features for startups and small websites.
WP Engine: Best premium choice for managed WordPress hosting, offering excellent performance and security for WordPress sites.
HostGator: Best affordable shared hosting with a range of features suitable for small to medium-sized websites.
Next Step: Build Your Small Business Website
A good hosting service will help you build beautiful landing pages, create engaging content, and attract more customers.
However, knowing what to look for and how to use the right tools is a good chunk of what you need to succeed.
Next, check out these Best Website Builders for Small Business.
Get started with TrustPulse today and witness the impact on your business website!