Looking for eCommerce email examples to get your creative energy flowing?
Email marketing is one of the best marketing strategies for any eCommerce business. You can use email to acquire, convert and retain customers throughout the customer journey.
In this article, we'll go through examples of all the different emails you can send for eCommerce. Here's a table of contents to help you find your way around.
Let's get started!
What is Email Marketing?
Before we dive into the best eCommerce emails, we'll briefly review what email marketing is.
Email marketing is the sending of business messages through email, usually to a group or segment of your target audience. These emails can be promotional, transactional, informational, or some combination.
Existing or potential customers must opt in to receiving email newsletters from your business. The exception is transactional emails, which you can use to send information to customers about their order only.
Ecommerce brands use email marketing services to send these marketing emails rather than a personal email address. This allows messages to be sent in bulk but still personalized for individual customers. There are also a wide variety of email automations you can set up so that your eCommerce marketing can run around the clock.
Now let's look at the different types of emails you can use in your eCommerce email marketing strategy.
Best eCommerce Email Examples
Welcome Emails
Welcome emails are sent to new subscribers when they first join your email list. A welcome email is where you can build trust by:
thanking them for signing up
introducing your brand
setting expectations for communication
Here are some examples.
Google AdWords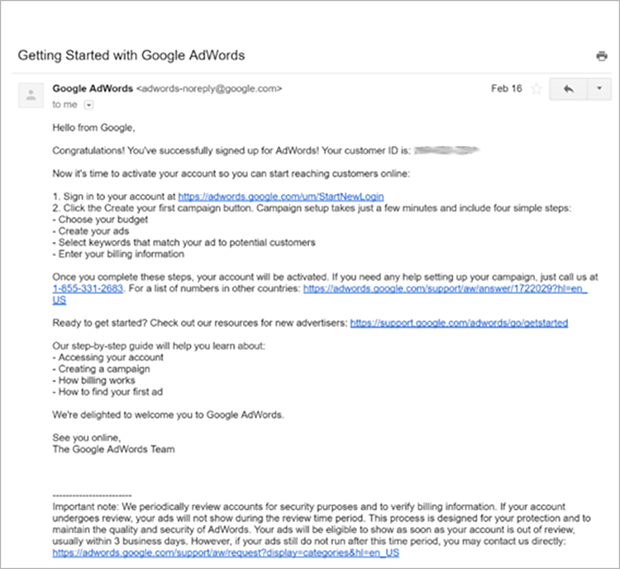 We like the step-by-step instructions for activating a new Google AdWords account. They included several helpful resources. There's no branding, so it looks a little bland, but the up-side is that this text-only email is easily viewable on all devices and browsers.
Ancestry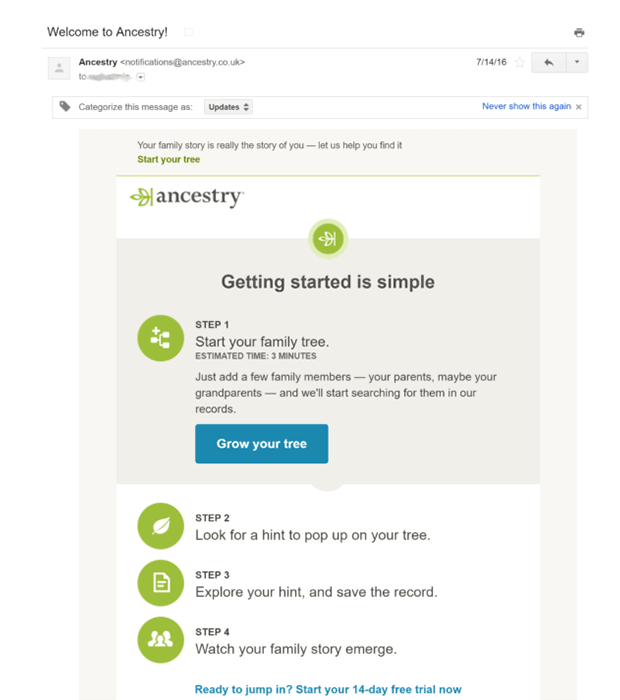 Ancestry's welcome email also has a nice list of instructions for getting started. We like that there's one focused call to action (CTA) on the first step. The following steps lets users know what to expect, but doesn't clutter the email with too many things to do.
Carbonite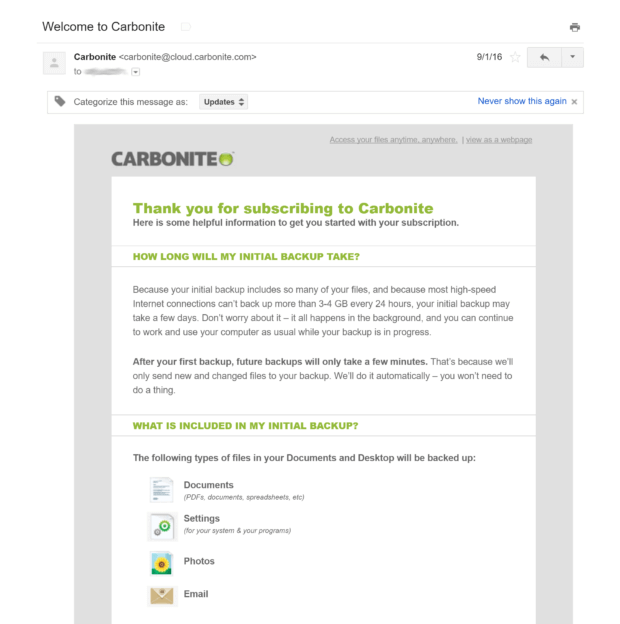 Carbonite's backup software is pretty technical, so they made a great choice in using their welcome email to answer 2 common questions new users have. The email design is simple but recognizably branded. This builds trust, which is important for a technical company.
Check out this post for how to write the perfect welcome email series.
Abandoned Cart Emails
Checkout and cart abandonment emails go to customers who added something to their shopping cart but didn't finish the checkout process. These emails encourage customers to complete their purchases. Sometimes they are simple reminders. Other times you can send an incentive like a discount code or low stock notification to nudge customers to complete their purchase.
Let's look at some real abandoned cart emails for inspiration.
Asos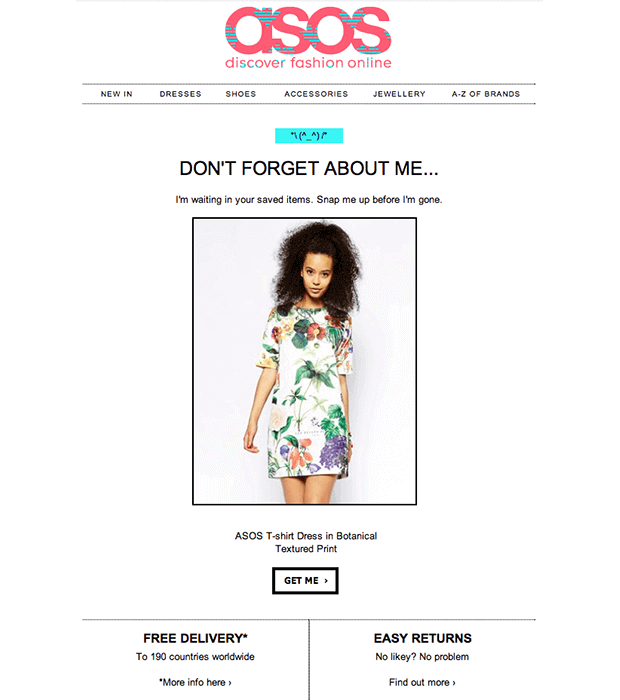 This simple abandoned cart email features a picture of the abandoned product front and center. The email copy is playful, referring to the product as "me." And the email quickly addresses 2 common objections about delivery and returns at the bottom.
BarkBox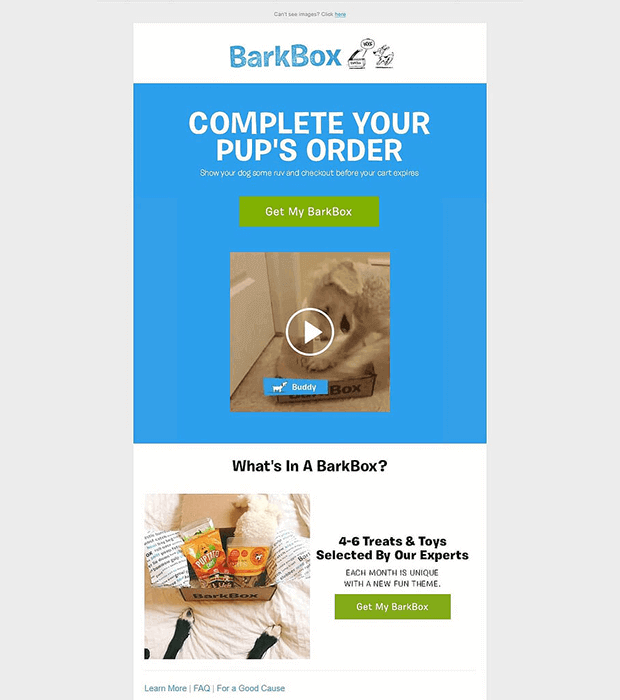 BarkBox appeals to pet owners' love for their dogs in their abandoned cart email. From the playful headline to the animated GIF of a dog tearing into a BarkBox, the message is clear that their pet will love this product. They also do a great job of reminding shoppers what they'll receive in the monthly subscription.
Hayneedle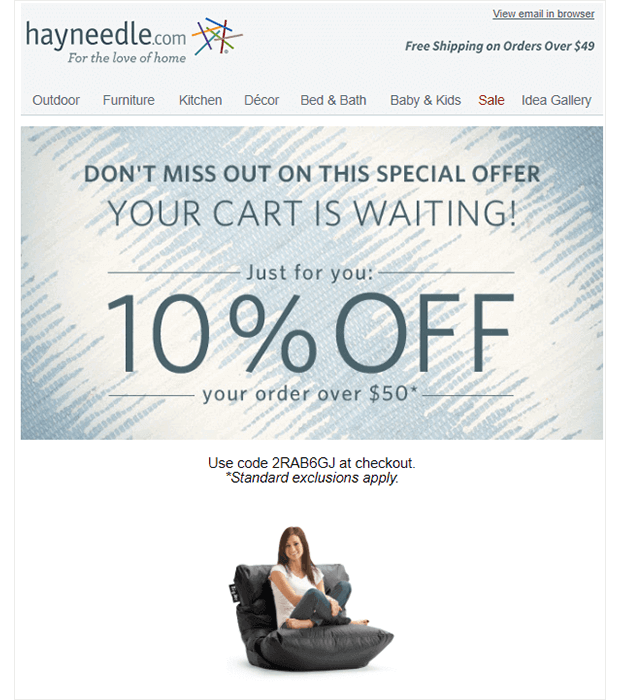 Hayneedle tempts shoppers with a customized coupon code. There's also a reminder about free shipping for orders above a certain amount, and links to different product categories.
Here are some abandoned cart email subject lines we really love.
Post-purchase Emails
Follow-up emails sent after the sale are a good opportunity to make sure customers get the best value out of their new product. These post-purchase emails can include tips for usage, care information, or reminders about return and exchange policies. This customer care is especially after first purchases.
Check out these post-purchase emails for some ideas.
Harry's Razors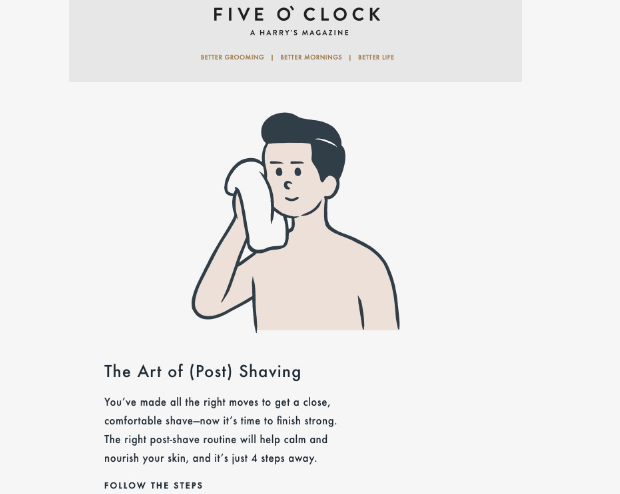 This follow-up email doesn't try to sell anything at all. Instead, it shares information on how customers can improve their shaving experience. Of course, the tutorial includes the company's products, so customers begin to associate helpful information with the brand's emails.
Bellroy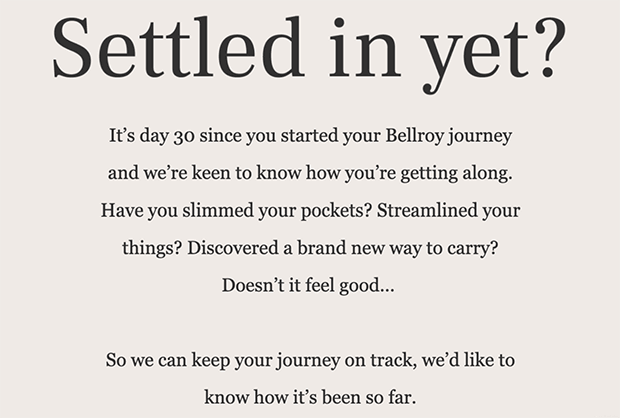 This post-purchase email from Bellroy doesn't go out until 30 days after purchase. That's because they know that it can take awhile to start using a new product. This also lets them emphasize how long their products last.
Ilia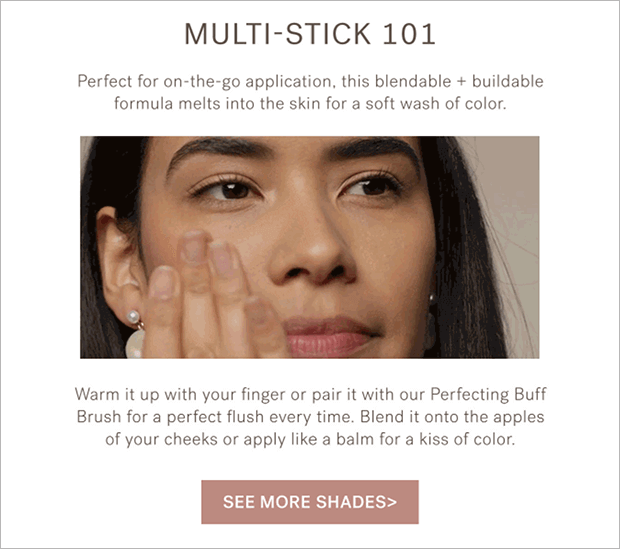 Ilia sends a simple email showing customers how to use one of their products. They subtly slide in a product recommendation for a makeup brush, and suggest other shades in case this one wasn't right or the customer wants to try a new one.
Product Recommendation Emails
Once someone has made a purchase, you can send emails with product recommendations based on what they bought. For example, if someone purchased an item of clothing, you can recommend a coordinating pair of shoes. You can also upsell upgrades or extensions on software licenses or digital products.
Read What Is the Difference Between Upselling and Cross-Selling?
Here are some of our favorite product recommendation emails.
Crate and Barrel

As a home decor brand, Crate and Barrel uses stunning visuals in their emails to stoke customer desire for a beautifully curated home. They make product recommendations that complement the look of previously purchased items.
Goodreads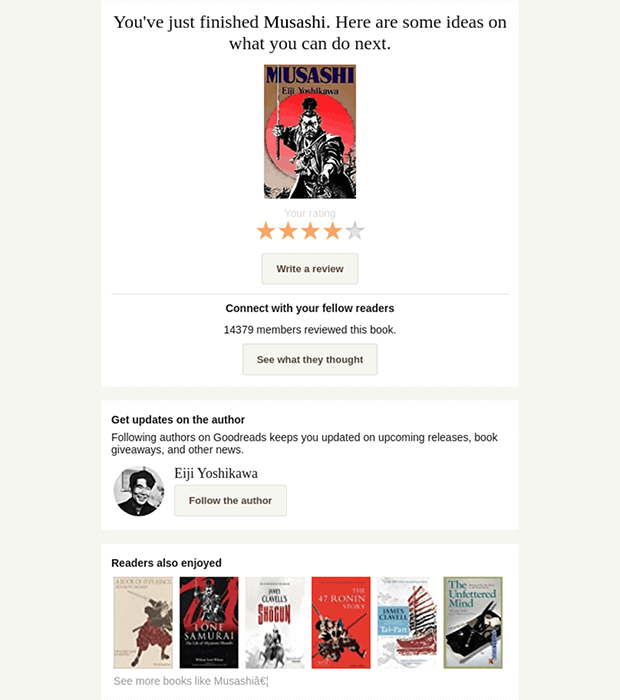 This book review platform thrives off reader recommendations. Naturally, their book recommendation email is excellent. The email reminds readers of what they just finished and how well they liked it. Then it suggests writing a review, connecting with other readers, following the author, or picking up one of the books that other readers of this book also liked.
Winback Emails
Winback, or re-engagement emails, are designed to warm up "cold" email subscribers who haven't interacted with your brand recently. These customers may still be very interested in your products, but need a reminder that you exist.
Let's take a peek at some winning re-engagement emails.
GoDaddy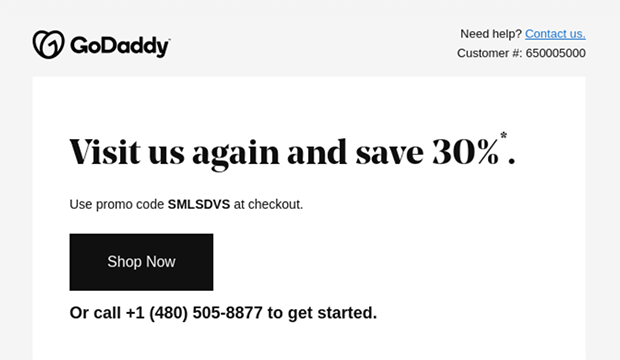 GoDaddy invites past customers back with a generous discount. They also remind cold subscribers about the benefits of their product as well as a support line to help get them back up and running.
Aillea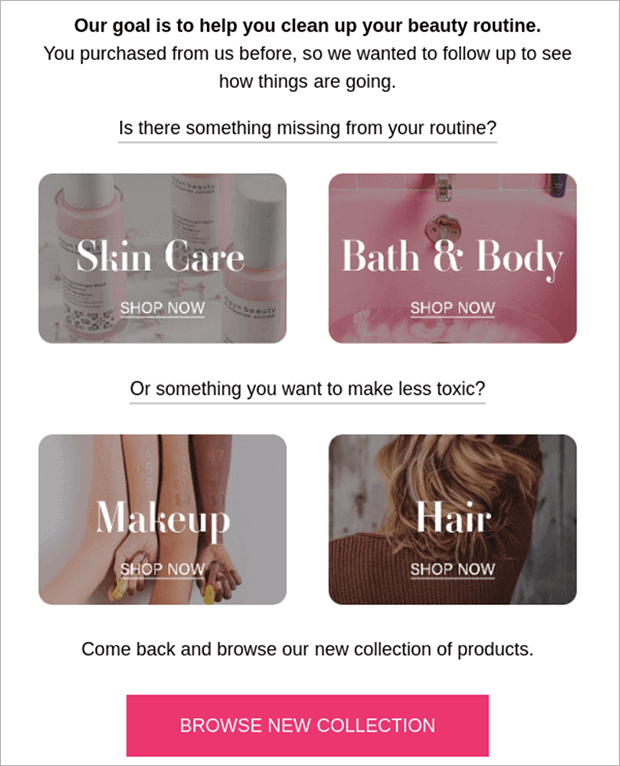 Beauty brand Aillea doesn't just blast past customers with demands to buy again. Instead, the brand asks if there's anything they can help the customer with. This is a great way to highlight the non-toxic products that they offer without being too pushy.
Noom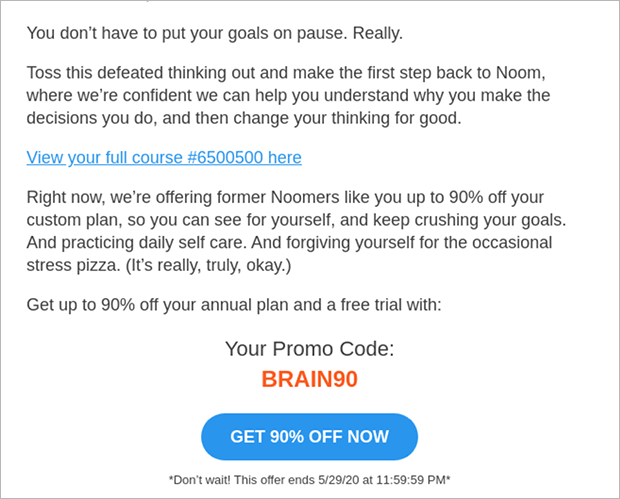 Noom offers former users a whopping 90% discount as well as some mindful encouragement. The time limit on the offer motivates users to rejoin the service quickly.
Seasonal Promotion Emails
Promotional emails are often what we think of when we think of email marketing. You can send special promotions for Black Friday or other holidays. Another strategy is to send out flash sale or seasonal clearance emails announcing limited-time bargains.
Take a look at some of our favorite promotional email marketing campaigns.
Fitbit

Fitbit crams a lot of promotions into one Black Friday promo email. From free 2-day shipping to a gift with purchase, these are truly the biggest deals of the year. The simple email template keeps the design from getting too cluttered.
Rifle Paper Company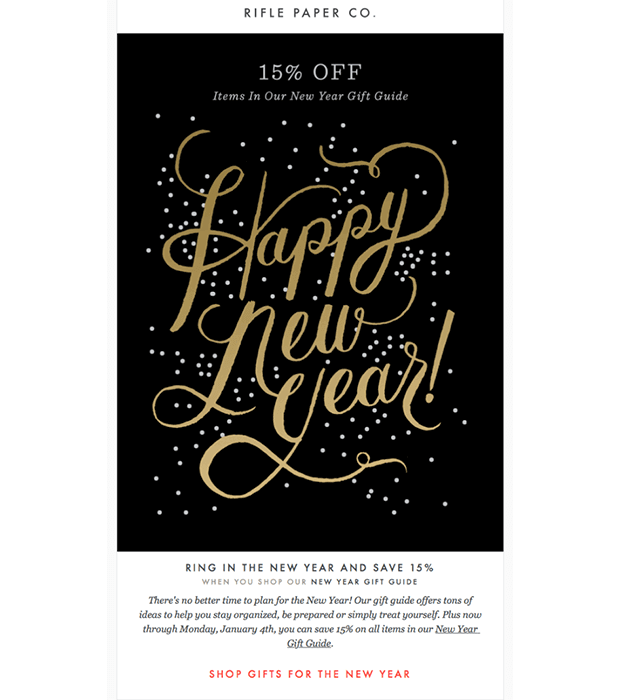 New Year can often be overlooked as a marketing holiday. But stationery company Rifle Paper Company stokes customers' desire for organization and pretty paper products as they ring in a new year. Their email is beautiful and simple, with a 15% discount on all the best sellers in the New Year Gift Guide.
Loyalty Program Emails
Loyalty or customer reward programs are an excellent way to boost customer retention. These emails can keep those customers engaging with your brand.
Dutch Bros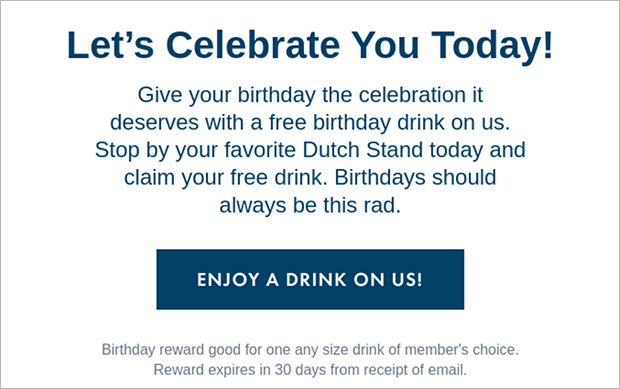 Everyone likes getting a free gift, and Dutch Bros uses the customer's birthday as the perfect opportunity to reach out. While the customer gets a free drink, they're likely to bring their friends who will also make purchases. This is a great way to reward loyal customers and bring in new customers to the business.
Rose and Rex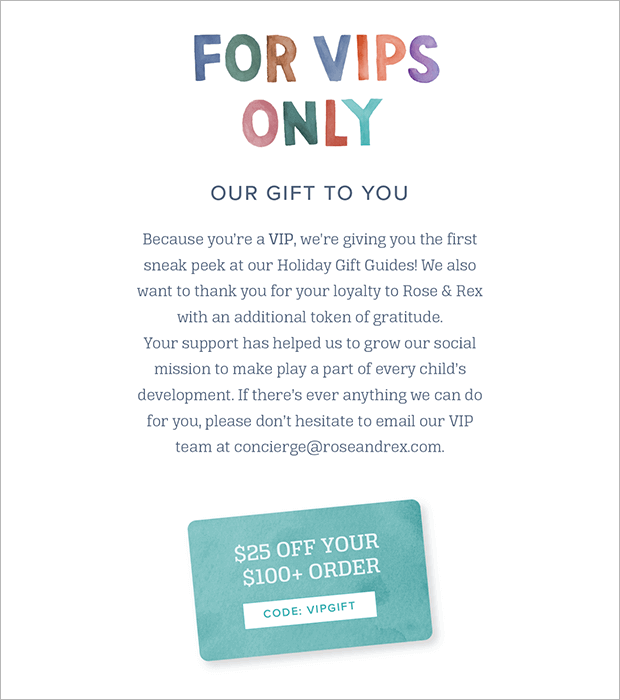 Children's book company Rose and Rex sends their holiday gift guide to members of their customer loyalty program before anyone else. This can boost the conversion rate on those emails, since members of the loyalty program are more likely to purchase from a brand that's already familiar.
New Product Emails
Product launches are a great reason to email past customers who might be interested. You can also run a prelaunch campaign to collect emails of customers who want to know when a new product is available.
We love these new product emails featured below.
Made In Cookware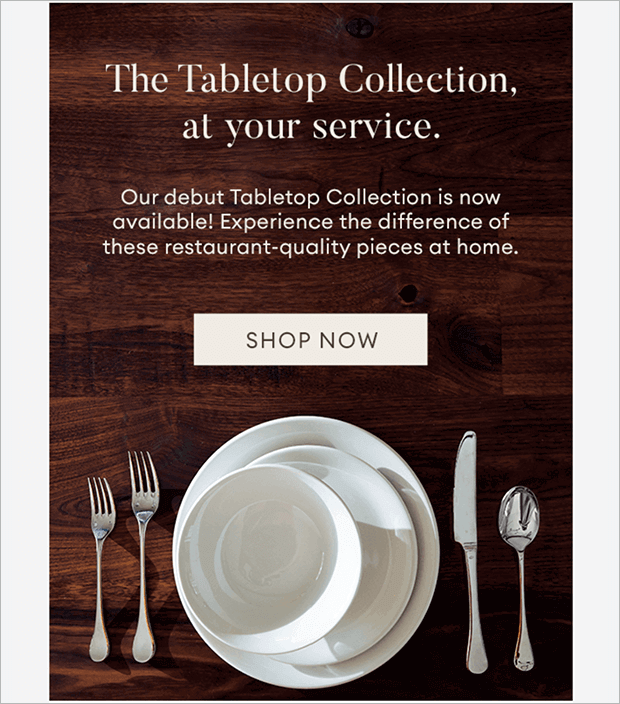 Made In launches their new Tabletop Collection with beautiful product photography and a simple invitation to explore the new collection. Customers can build their own set, look at specific product categories, or shop the entire new line.
Sonos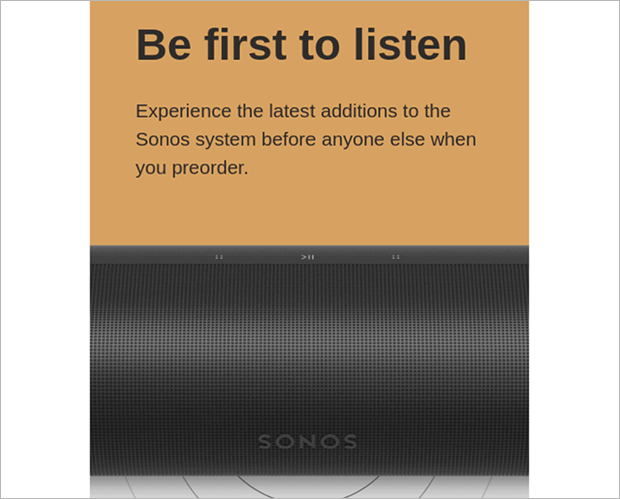 Sonos taps into people's desire for the prestige of being first with their preorder campaign. The new products are teased with images but customers have to click through the preorder link to see all the exciting details.
Hims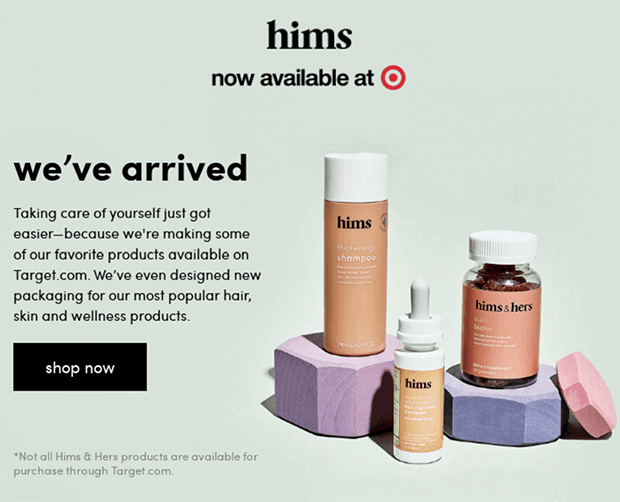 While personal care company Hims may not have new products to launch, they do show off their partnership with Target with new packaging. That's reason enough to contact repeat customers to let them know that they can now pick up their favorite products at a nearby retailer.
Transactional Emails
This email category can often be overlooked. But customers are eager to see their order and shipping confirmations, so these emails often have the highest open rates. Right after purchase is when excitement is usually the highest. That's why transactional emails are actually an excellent place to make special offers for their next purchase or ask for referrals.
Check out these hard-working transactional emails.
Huckberry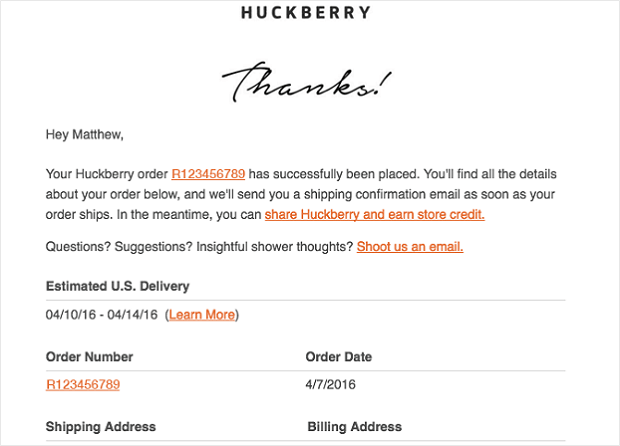 Huckberry uses their order confirmation email to 4 several important things:
Thank the customer for their order
Provide estimated delivery information
Invite the customer to their referral program
Inform the customer how to get in touch with the team
Not bad for a humble transactional email!
Ritual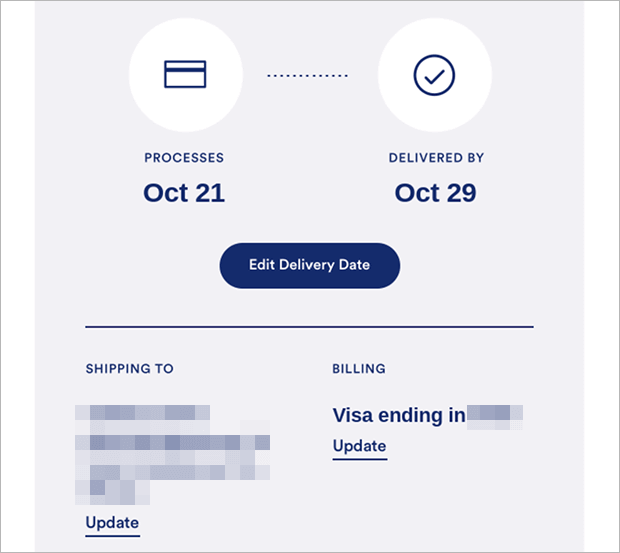 Subscription products like Ritual's vitamins are great for recurring revenue but also have a lot of room for error. If the mailing address or billing method is wrong, the customer might be unhappy month after month. Ritual sends an email with all the important information before the order processes. That leaves plenty of time to make necessary changes.
Next Steps: More eCommerce Email Marketing Tips
We hope this list of eCommerce email marketing examples was helpful for you as you create your own email campaigns. If you're looking for more eCommerce marketing help, check out: