Do you want to add a live sales notification to your Volusion storefront but aren't sure of the best software to use?
Live sales notifications can be an excellent way to increase your profits and build instant trust with customers. But, like everything on your website, you need the right tools for the job to get the best results.
That's why, in this post, we're excited to teach you how to create a Volusion live sales notification in a matter of minutes using TrustPulse.
But before we get started, let's get clear on what live sales notifications are and why they can be such a big help to your online store.
What Is a Live Sales Notification?
A live sales notification is a small message that displays when someone makes a purchase on your Volusion shop. Then, as other visitors are browsing your storefront, they'll see that your products are actively being purchased.
You may have seen these notifications before, perhaps even on this blog. They look something like this:

And these small messages can have a big impact on your overall sales. In fact, we found that TrustPulse users were able to boost sales by up to 15% by adding these notifications to their site.
But now for the big question: how exactly do live sales notifications work?
Live sales notifications are effective for two reasons:
They use the power of FOMO
They add more social proof to your site
Let's briefly look at both of these in more detail.
First, live sales notifications leverage the psychological principle known as FOMO ("fear of missing out").
FOMO is something that occurs when we see other people getting benefits or having positive experiences that we want to enjoy, too.
As the name suggests, online consumers have a natural tendency to avoid "missing out" on things. And when your Volusion customers see that other people are buying your products, they'll be more motivated to do the same.
But there's another aspect to live sales notifications that can boost sales in the long run. That's because they add more social proof to your site.
Social proof is a huge factor in the customer decision-making process. If your customers don't trust your website or products, they won't buy from your online store.
That's why we always recommend putting trust badges on your website. The more trust you can earn from your site's visitors, the more likely you are to get lifelong clients.
Live sales notifications are an excellent form of social proof. They show your customers that other people are purchasing your items and, therefore, your products are proven to be more legitimate.
It's the combination of FOMO and social proof that make live sales notifications such an incredible tool for eCommerce.
Now that you know what live sales notifications are and why they're so effective, we're going to teach you how to make one in just a few minutes with zero coding skills required.
Making a Volusion Live Sales Notification
Creating a live sales notification for your Volusion store is easy. And we're going to show you how with TrustPulse: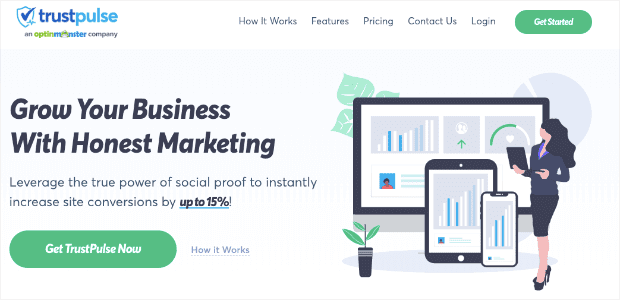 TrustPulse is the best social proof software on the market. As you'll see, it lets you build highly targeted live sales notifications for your online store in minutes.
Plus, you can design the look for your notification to match your brand, so it doesn't disrupt your users' experience (UX).
And the best part? It's only a fraction of the cost when compared to the nearest competitor. You can start TrustPulse paid plans for just over $4/month.
To learn more about how TrustPulse's pricing and features compare with similar software, check out this review of FOMO vs. UseProof vs. TrustPulse.
Ready to get started? Sign up for your TrustPulse account today!
Step 1: Select a Live Sales Notification Campaign
When you've signed up for TrustPulse, you can make a new campaign from your dashboard. Click Create Campaign in the upper right-hand corner: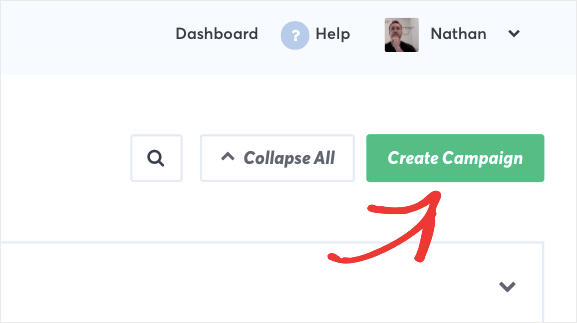 Then you'll be prompted to name your campaign and assign it to the site you used while signing up: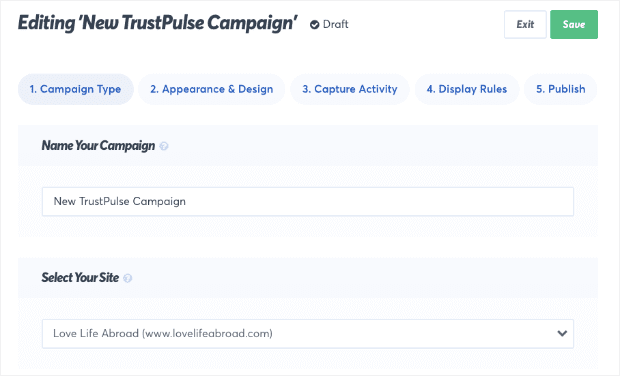 Note that this doesn't connect your Volusion site with the TrustPulse campaign you're building. We'll be connecting TrustPulse with your Volusion store later in this tutorial.
Next, you'll need to decide which type of live sales notification you'd like to create. You have two choices here: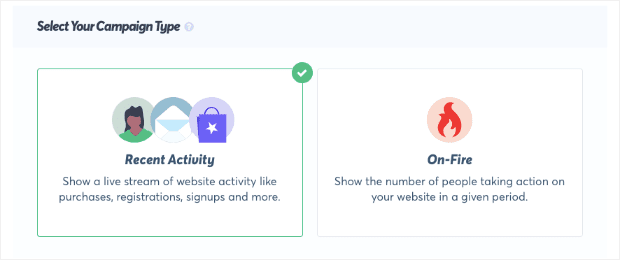 You can use either type for your live sales notifications, but they work differently depending on the context of your products and promotional offers.
Recent Activity campaigns, for example, appear when an individual consumer has made a purchase in your Volusion store.
And when the information is available, your live sales notification will automatically display the name of the customer who made the purchase:

Showing the names of actual customers buying your products is a great way to build trust with your site's visitors. It helps legitimize your notifications and show that you're not relying on fake social proof software.
You can also choose a different label for your customers in your live sales notifications if the customer's name isn't available: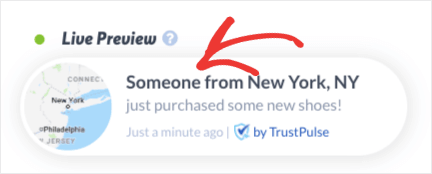 But in other contexts, you may not want to refer to just one customer. Instead, you may want to reference many customers who purchased the same product.
That's where our On-Fire campaigns come in.
On-Fire campaigns show the total number of people who've made a purchase in your Volusion store:

This is perfect for products that are in high demand or when you're running a special promotion, like a flash sale.
For today's Volusion live sales notification, we'll go with a Recent Activity campaign: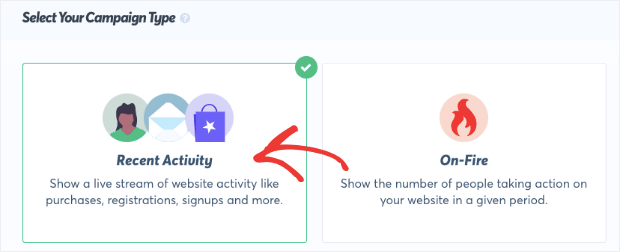 These are excellent campaigns for everyday types of sales and are a great place to start if you're new to creating live sales notifications.
Once you've selected the right campaign type for your online store, click Next Step: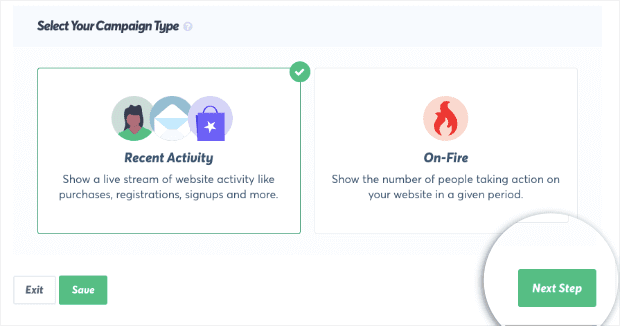 Step 2: Customize Your Volusion Notification
For your live sales notification to be the most effective, you want to make sure that it's visually appealing, matches your brand, and encourages users to click through to a product page.
With TrustPulse, you can quickly and easily change your notification's:
Language
Visitor name
Message text
Message link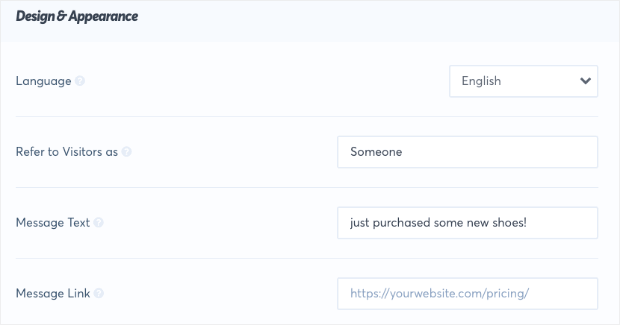 And much more.
One thing to keep in mind is that it's important to add a message link. Again, when users see that another customer has purchased a product, they may be motivated to do the same.
By making your notification a clickable link, you can help potential clients find the products they're looking for.
You should also add an image of your product to your notification. By default, TrustPulse campaigns show a map that represents the geographical region of where your customer is shopping from:

And we also give you the option of using one of our pre-made icons: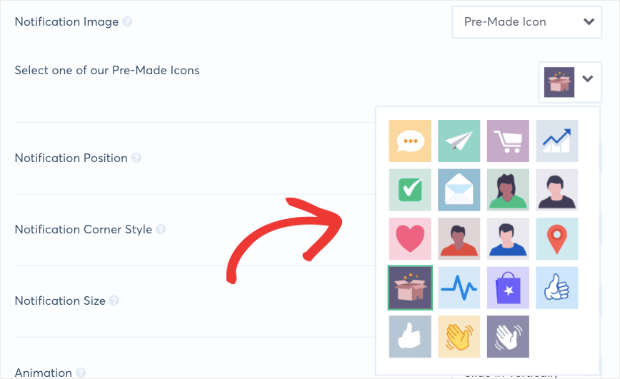 But for live sales notifications, the best is using a high-quality image of the product you'll be selling. You can easily upload your own image to your TrustPulse campaign:

All of these options save you time and energy as you make your notifications as visually appealing as possible.
Finally, you have several Advanced Settings that allow you to change the text, font, or color of your campaign, along with some other helpful options: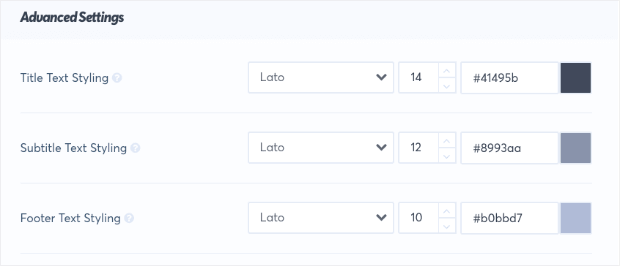 Here's the live sales notification we made for our Volusion store demo today:

This took less than 5 minutes to create and embed it in our online store. When you've created the perfect design for your Volusion shop, click Next Step:

Step 3: Capture Live Sales from Your Volusion Store
Now that your campaign is designed, you need to capture an activity that will trigger the notification. You have two options for this: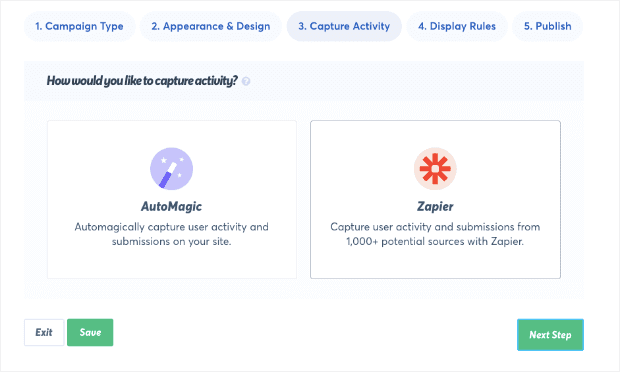 AutoMagic is great because it allows you to capture activity from any form on your site. This is what we'll be using today.
But you should also know about our Zapier integration.
Zapier creates a notification for interactions people take with your brand that don't occur on your website. This would be like when someone leaves you a review on Google My Business, for example.
This is less relevant for today's tutorial because we want to capture when someone makes a direct purchase from your Volusion store. But it's good to know if you ever want to create social proof notifications for your site.
To learn more about that, check out this article on how to add social proof notifications to your website.
Again, today we'll go with AutoMagic: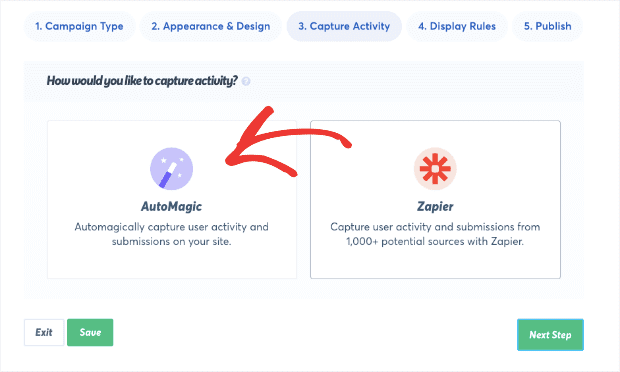 Next, you'll see the question Where should we watch for activity from this site?. Underneath, there's a drop-down menu with options that let you select the form activity you want to capture.
Today, select Form activity from URLs containing specific text: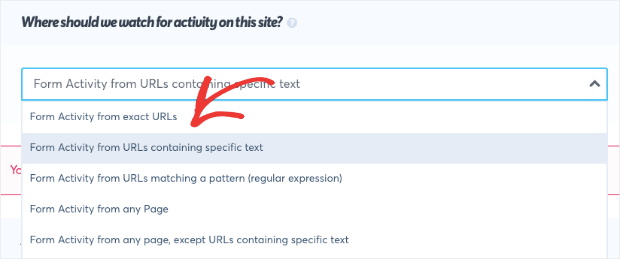 Now you'll need to clarify the URL for your checkout page form. By doing so, you'll create the trigger for your live sales notification to display whenever someone completes the form on your Volusion store's checkout page.
In other words, when someone makes a purchase on your store, your notification will display.
You'll see the heading called Add one or more page rules, followed by your site's URL. Now you simply need to add the URL slug for your checkout page:

For Volusion stores, most checkout pages have the URL slug one-page-checkout.asp, like this example from Antonelli's Cheese Shop:

Next, we'll configure when, where, and how long your live sales notifications appear on your site. To do so, click Next Step:

Step 4: Choose Where to Display Your Notification
By default, your live sales notification will display on every page of your Volusion store:

But you can change that by selecting another option from the drop-down menu in the image above. You can choose to show your notification on:
Exact URLs
URLs containing specific text
URLs matching a pattern
And much more.
That means you can create different live sales notifications for different categories of your website. So, for example, let's say you have an online store with a Women's and a Men's section.
You can make sure your live sales notifications are appearing to the right segment of your audience. This kind of personalization is a great way to increase sales.
Interested in learning more about how personalization can bring in more profits? Check out this article on 15 smart eCommerce personalization examples that boost sales.
For today's tutorial, though, we'll keep the default settings to make our live sales notification appear on any page of our Volusion shop.
Next, you're able to change your campaign's Notification Settings, including:
Delay between the sale and the notification (in seconds)
How long your notification will appear on the screen
Delay between separate notifications (in seconds)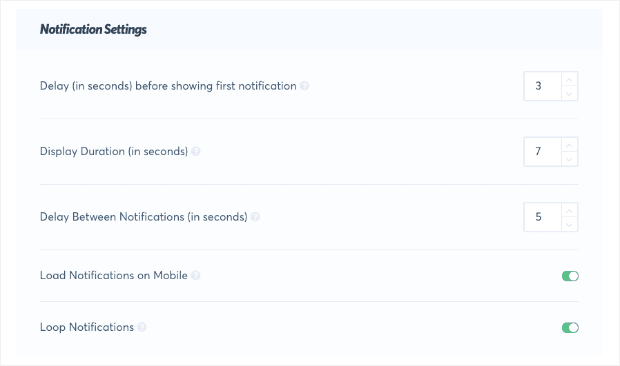 You also have Advanced Settings that let you:
Hide anonymous notifications
Show notifications as anonymous
Permanently hide notifications when closed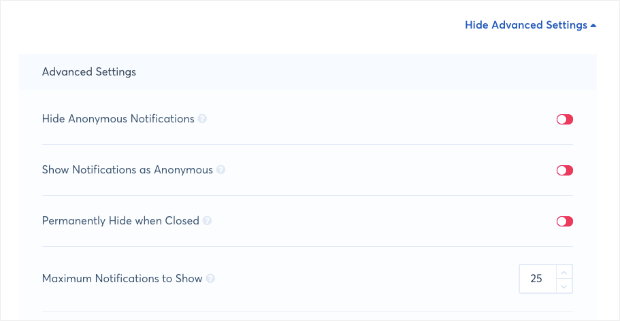 These rules are important because they allow you to regulate how long and how often your live sales notifications appear.
Once you've configured your display rules, click Next Step:

Step 5: Launch Your Volusion Live Sales Notification
Now comes the last step! Embedding your live sales notification on your Volusion store.
At this point, your Volusion store isn't connected with TrustPulse. You'll need to add the TrustPulse embed code to your site.
You'll get a message letting you know that TrustPulse needs to connect with your store. Just underneath that message, you'll see the code you need to embed in your store theme's HTML: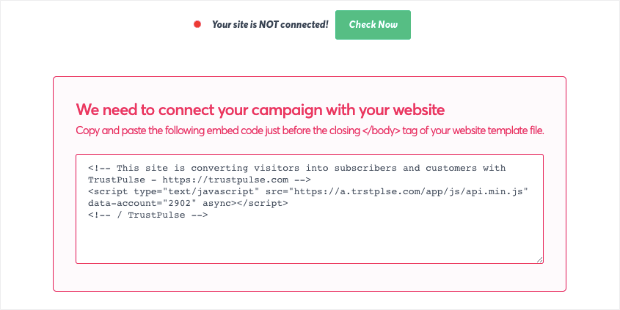 Copy the embed code. Then go to your Volusion dashboard, click Design » Themes, and locate Edit HTML: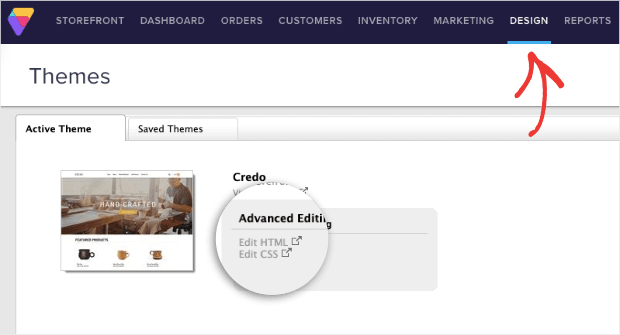 Then paste your TrustPulse embed code just above the </body> tag in your theme's HTML:

Make sure to click Save before heading back to your TrustPulse dashboard.
Click Check Now in your TrustPulse account: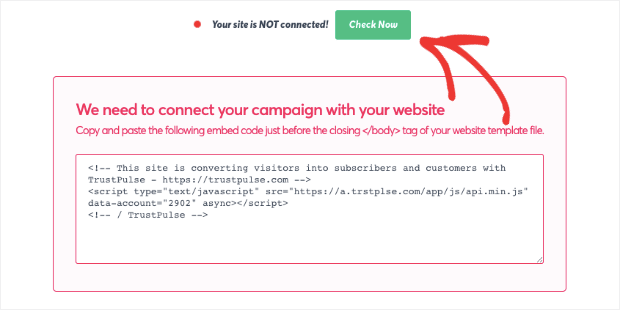 You'll get a confirmation message showing that your site is now connected. Then click Launch Your TrustPulse Campaign: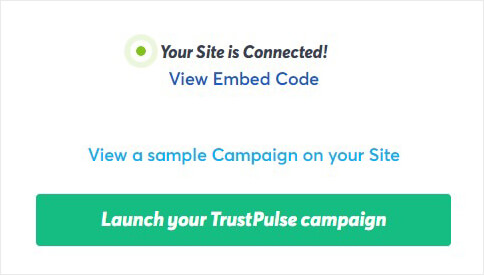 And that's it! Your Volusion live sales notification will appear on your site according the display settings you configured earlier.
We hope you enjoyed this tutorial. If you did find this post helpful, you need to check out these other resources:
These articles will have everything you need to help you boost sales with social proof notifications.
Ready to get started? Sign up for your risk-free TrustPulse account today!