Have you been considering using fake social proof for your Shopify store?
Social proof can be one of your best tools for improving conversion rates and driving more sales.
It's an effective strategy for letting people know that your site is well-liked and trusted by other online consumers.
But getting social proof can be a slow process–especially when you're just starting out. That's why some business owners consider using fake social proof.
And if you're one of those business owners, this article is for you.
Because our goal today is to teach you why Shopify fake social proof is never a winning strategy.
We're going to give you 5 concrete reasons to avoid fake social proof on Shopify and show you what to do instead.
First, though, let's get clear on why some people find fake social proof notifications so appealing.
What Is Fake Social Proof (& Why Is It so Tempting)?
Fake social proof is when you create a fabricated (or fake) interaction with an online customer to build trust with other visitors on your website.
Fake social proof comes in many forms, including fake:
Reviews
Testimonials
5-star ratings
Quotes
Sales notifications
And much more…
But it's really that last example that's tempting for Shopify store owners.
That's because recent sales notifications are one of the most effective methods for boosting conversions and sales across your website.
In fact, TrustPulse users have seen an instant boost in sales by up to 15% from these small messages.
The only problem? How can you use these forms of social proof if you don't have any sales yet?
That's when Shopify owners turn to plugins and apps specializing in fake social proof notifications. So your customers would see something like this even if the interaction never occurred:

For most Shopify store owners, the goal isn't to be deceptive. Instead, the goal is to jumpstart their sales process.
The logic is this: once customers see my fake social proof notifications, I'll start getting real sales. Then I won't need to rely on fake social proof anymore.
The problem with this short-term solution is that it can do long-term damage to your company.
That's why we're going to give you 5 reasons to avoid fake social proof on Shopify. After that, we'll teach you what to do instead, even if you haven't made any sales from your Shopify store.
Let's get started.
Reasons to Avoid Shopify Fake Social Proof
1) It's Illegal
We'll kick off the list with the most obvious reason for not using fake social proof: it's illegal.
The Federal Trade Commission (FTC) clearly prohibits "using unfair or deceptive acts or practices in or affecting commerce" (under 15 U.S. Code § 45).
You can also learn more about their stance on fake social proof by reading this article on Truth in Advertising.
The FTC's ultimate goal is to protect online consumers who are the same people you're trying to turn into customers.
And while you may or may not get hit with hefty fines if you're caught, the damage done to your brand will be hard to recover from.
Considering there's a much easier way to use real social proof when you're just starting out, breaking the law simply doesn't make sense as a marketing strategy.
2) It Builds Bad Habits
There's another concern you should have as a business owner when it comes to using fake social proof: it can create habits that show up in your other marketing strategies.
You might start out with fake sales notifications, only to see minor short-term success.
Once those few sales give you a boost in confidence, you'll likely look for other ways to jumpstart your company's growth.
That could include other dishonest strategies like buying Instagram followers, paying for clicks to boost SEO, making trades for backlinks, and other black-hat marketing strategies: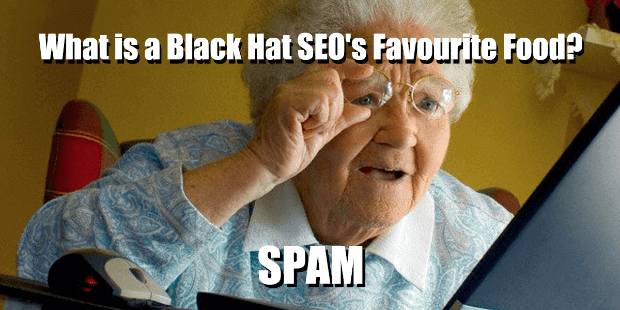 But with each new corner your cut, you're increasing your risk of being caught.
And if you're caught using any of these black-hat strategies, your audience will likely pay more attention to your marketing strategies as a whole.
This can result in a major loss of trust with your brand and, ultimately, huge losses in sales.
3) Your Real Audience Can Spot a Fake
One of the biggest disadvantages of using fake social proof is that your real audience can usually tell when they're genuine or fabricated.
That's because as you attract your target audience to your online store, they'll naturally be drawn to various products and use a certain type of language.
When your fake notifications use different language or sound "too good to be true," your audience will quickly understand these aren't genuine.
A big mistake many online business owners make is underestimating how smart online shoppers actually are.
As Shopify store owners start marketing their products, they're taught to make things "dummy-proof." That means doing things like:
Making clear calls to action (CTAs) that express exactly what the customer should do or click
Using lots of images and videos to entertain your visitors
Creating a frictionless checkout flow that requires little work from your customers
And more…
But "dummy-proofing" your sales funnel doesn't mean the people in it are actually "dummies." In fact, it's quite the opposite.
Nowadays, many online consumers are incredibly savvy when it comes to how you're marketing to them.
And when they see fake social proof, they'll be happy to call you out. Which leads to our next point…
4) Fake Social Proof Can Do Long-Term Damage
So far, we've seen 3 great reasons for avoiding fake social proof with Shopify.
But maybe you aren't so concerned with any of the reasons mentioned:
"It's illegal? I'm probably too small for the FTC to notice, anyways."
"It creates black-hat habits? Nah, I'll just use fake social proof for a few days until I have real sales."
"My audience will know? Maybe… but it still seems worth the risk."
If any of the above sounds like you, then maybe this point will hit closer to home: fake social proof can destroy your brand's reputation and result in massive losses in sales. 
There are countless horror stories online about business owners who've been caught using fake social proof.
You've probably heard of the Sunday Riley scandal. This cosmetics company forced employees to write fake reviews between 2015 and 2017.
For years the strategy worked great… right up until it didn't.
After a heavy fine from the FTC, Sunday Riley lost a huge portion of their loyal audience.
Many users took to social media, particularly Reddit. Posts flooded in like this one:

Over the past few years, Sunday Riley has had to make major changes to keep some of its customer base.
That includes lots of PR campaigns showing more transparency (which is costly), paying a fine to the FTC (again, costly), and lowering prices on their staple products.
What does all of this result in? A huge financial incentive for avoiding fake social proof with Shopify. 
Now let's turn to our last reason for avoiding fake social proof.
5) There's Simple No Need
This is the most obvious reason on the list: there's NO reason you need fake social proof to boost your Shopify sales.
Why on earth would you want to risk:
Breaking the law?
Building bad habits?
Getting called out by customers on social media?
Losing tons of sales because your audience no longer trusts you?
The risks mentioned above may give you some short-term rewards, but they're more likely to cause you long-term damage.
And the funniest part is that fake social proof is flat-out unnecessary!
That's because there's another way to use genuine social proof notifications.
Let's take a look at how you could get started with social proof for Shopify, even if you were just opening your store today.
Shopify Fake Social Proof: A Better Alternative
As we already mentioned, fake social proof can be tempting for Shopify owners because it can help you get those initial sales.
But rather than breaking the law and deceiving your customers, why not use a tool that gives you INSTANT access to authentic social proof?
For that, there's no better tool than TrustPulse: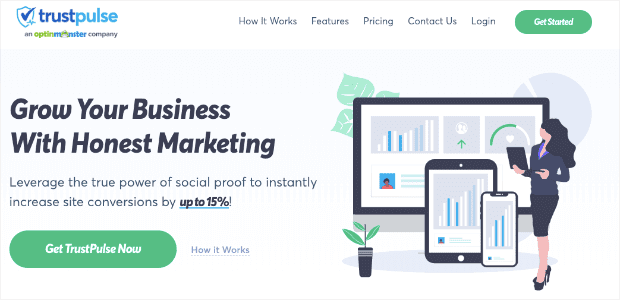 TrustPulse is hands down your best bet for creating authentic social proof notifications for Shopify. This is especially true if you're just getting started and don't have any customers yet.
How? Because TrustPulse allows you to use other forms of social proof that don't rely on sales.
You can create social proof notifications to show when users take smaller actions across your site, such as:
Sign up for a newsletter
Join a webinar
Fill out a feedback form
Visit a landing page
Read a blog post
Or any other action you want customers to make as they move down your sales funnel.
You can create these types of social proof using any of TrustPulse's campaign types:
Recent Activity: Show actions on your website in real-time taken by an individual customer.
On-Fire: Show the number of people taking the same action across your site (great for flash sales or popular promotions).
Visitor Analytics: Highlight active interest in your site by showing real page visits over time.
Action Messages: Create a static message that lets your site's visitors know about new promotions, product releases, and more.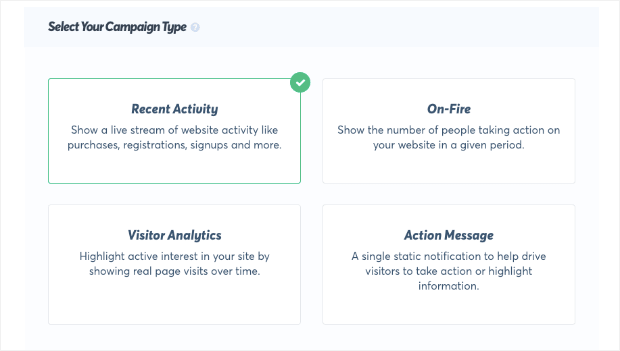 Imagine for a second that your Shopify store gets a fair amount of traffic, but you don't have any sales yet.
You could create a Visitor Analytics campaign for popular pages across your site. And rather than deceptively saying "100 people bought this product":

You'd simply change the wording to be more honest to something like, "100 people checked out this product:

And the social proof notification will update the total number based on how many people have visited that product's landing page.
This is a great way of boosting your Shopify store's reputation in a way that's 100% honest, even if you're just starting out.
But now you might be wondering, "Is TrustPulse hard to use?" That part's easy: not at all!
TrustPulse allows you to create social proof notifications for Shopify in a matter of minutes. And the best part is that it doesn't require any coding skills at all.
Instead, you can customize the look, message, and style of your social proof notification with drop-down menus and inserting text into field boxes: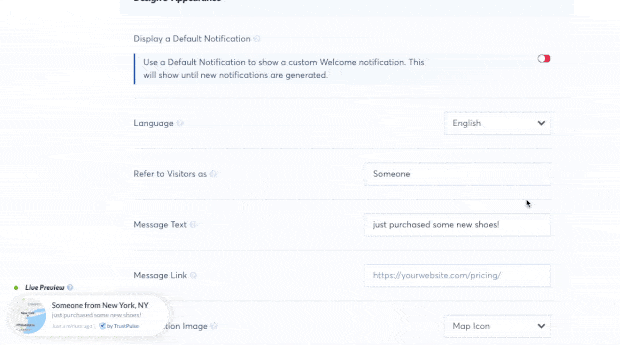 There' are zero technical skills required to create professional-looking and high-converting notifications in minutes.
And once the campaign is created, you can determine where you want it to appear on your website. You can display your campaign on:
Every page of your site
Exact URLs
URLs with specific text
URLs matching a pattern
And much more…

This level of targeting allows you to personalize your genuine social proof notifications for even higher conversions.
In the end, you're left with the tools you need to add authentic social proof ot your Shopify store–even if you don't have any live sales yet.
As your audience learns to trust your brand, you'll quickly get more sales that you can then re-use for a more honest form of social proof.
And that's it for now! These have been 5 reasons to avoid fake social proof on Shopify (and what you can do instead).
We hope you enjoyed this post. If you did, you might also want to check out the following resources:
These articles will have everything you need to grow your Shopify store and use social proof to boost conversions and sales.