Do you want to create a coming soon page for your online store?
A coming soon page hides your website while it's under construction. But instead of a boring error page, you can display a page that helps build excitement for your launch.
And with the right tool, you can collect leads and subscribers so you can get a head start on your email marketing campaigns.
In this tutorial, we'll show you how to create and optimize a stunning coming soon page for your WooCommerce store.
Why Create a WooCommerce Coming Soon Page?
Coming soon pages are used to hide half-finished websites. That way, you can control what visitors see instead of showing them an error page or worse, giving them access to a messy website that isn't ready for the public.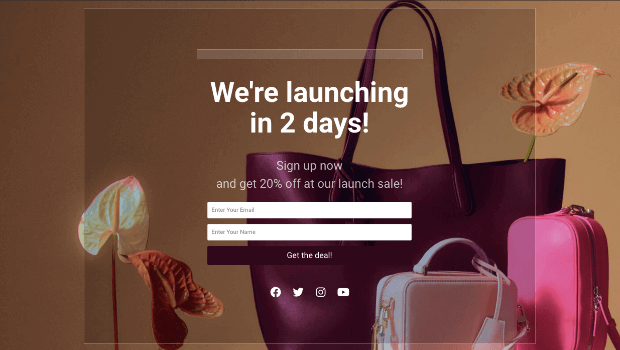 Aside from that, coming soon pages can help in more ways:
Give visitors information about when they can expect your launch
Build momentum for your launch with countdown timers
Collect leads and grow your email list with a signup form
Offer discounts and early bird offers to build a customer base even before you launch
Get a head start on your site's SEO with a published live page
There are tons of ways coming soon pages help your website. Now, let's dive right into creating a beautiful coming soon page for your online store.
Creating a Coming Soon Page For WooCommerce
For this tutorial, we'll be using SeedProd – the best page builder for WordPress.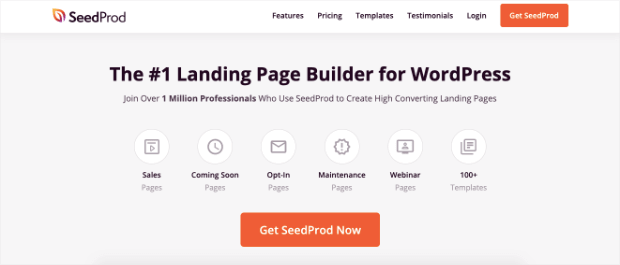 SeedProd lets you set up eye-catching coming soon pages in minutes. Here's why we've chosen SeedProd:
100+ templates to create beautiful coming soon pages
All designs are responsive and mobile-ready
Drag and drop builder for easy customization
Tons of blocks to add new sections like headers and calls to action (CTAs)
Track and manage subscribers
Integrate with popular marketing platforms like Constant Contact and ActiveCampaign
Spam protection against bots and fraudulent form submissions
And the best part? You don't need any coding knowledge or design skills to follow along!
Let's get started.
Step 1: Install and Activate SeedProd
Setting up SeedProd is as easy as pointing and clicking. You can sign up for a SeedProd account on the website. And then follow the prompts to install the plugin on your WooCommerce site.
You can also install the SeedProd plugin from the WordPress repository. They have a free and pro version.
We'll be using the Pro version today because it has some really cool features we want to take advantage of.
Once you've installed and activated the plugin, on your WordPress dashboard, open the SeedProd » Settings page. Here, you can enter your license key.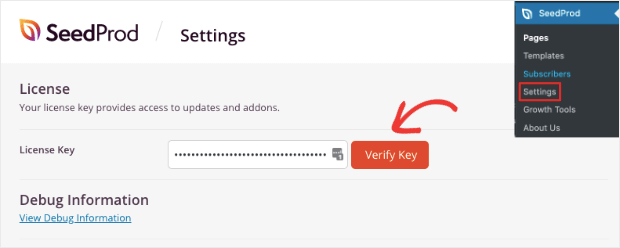 You'll find the license key in your account on the SeedProd website under the Downloads tab: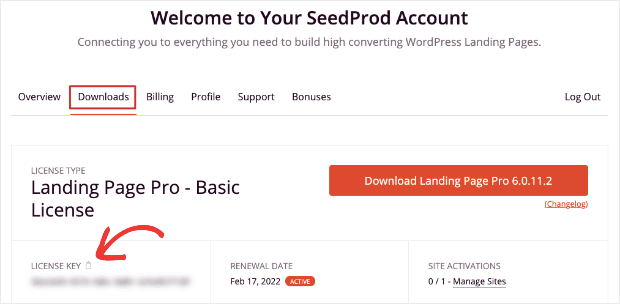 Once you're signed up, you'll be ready to put together your coming soon page.
Step 2: Set Up a Coming Soon Page
To create the WooCommerce coming soon page, open the SeedProd » Pages tab. You'll see options to set up different kinds of pages.
You'll want to select the 'Set up a Coming Soon Page' button.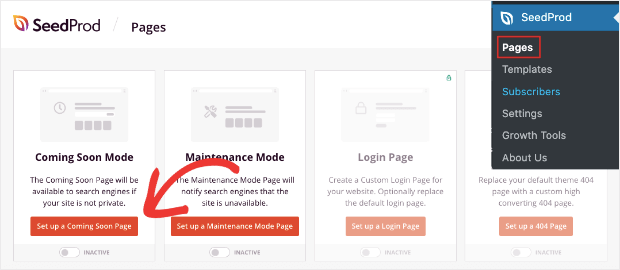 Next, you'll see a list of templates that are ready to use. Hover over any template to get options to preview it and click on the red tick mark icon to select it.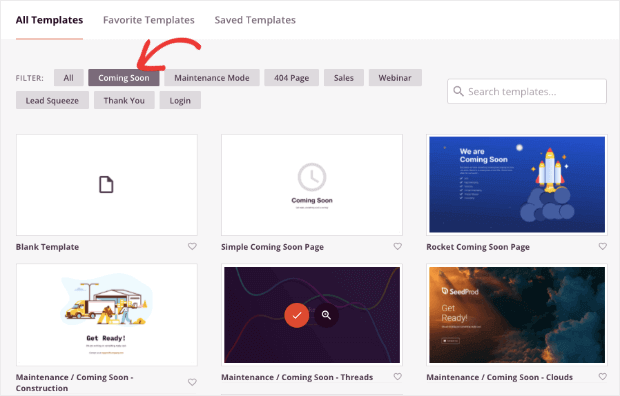 Once you do that, the SeedProd page builder will open up so you can customize your WooCommerce coming soon page.
Step 3: Customize Your Coming Soon Page
SeedProd has a drag and drop page builder that makes it super easy to customize the page.
You'll see a preview of your coming soon page, and you can make edits directly to it. This means you'll see how the changes will look when your page is published.
Plus, the page is made up of blocks. To edit any element, simply select it, and the settings for that block will open on the left: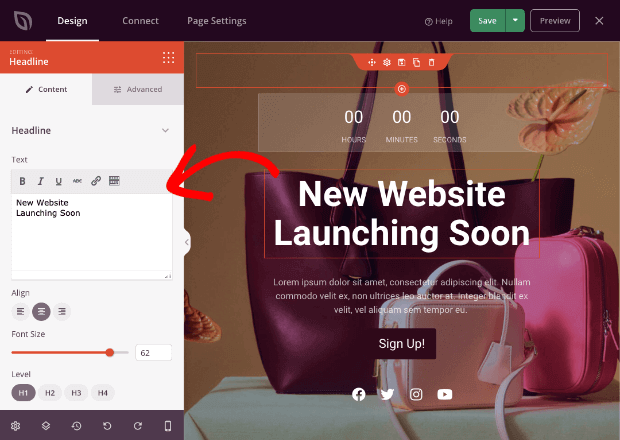 You can change the text, font style, color, and images. You can also add heading tags to optimize the page for SEO.
To add elements, simple drag and drop blocks from the taskbar on the left onto your page.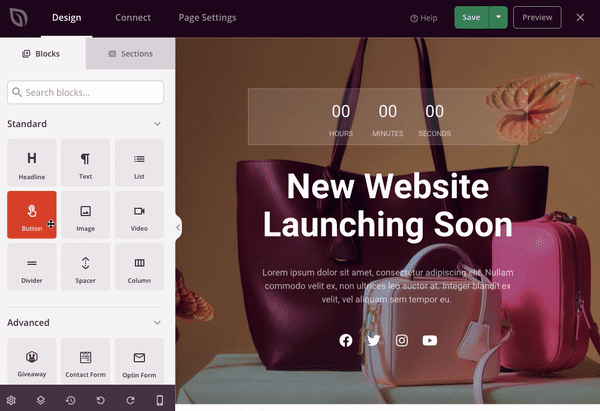 SeedProd lets you add headings, bullet lists, buttons, videos, and images.
And under the Advanced options, you can add optin forms, giveaways, contact forms, countdown timers, social profiles, and so much more.
We recommend adding an optin form to grow your list and a countdown timer to create a sense of urgency.
One thing we absolutely love about SeedProd is it has neat customization features for every block.
For instance, when you add a button, you can customize everything about it including the text and button link. You'll also see advanced options along with templates to easily style your button.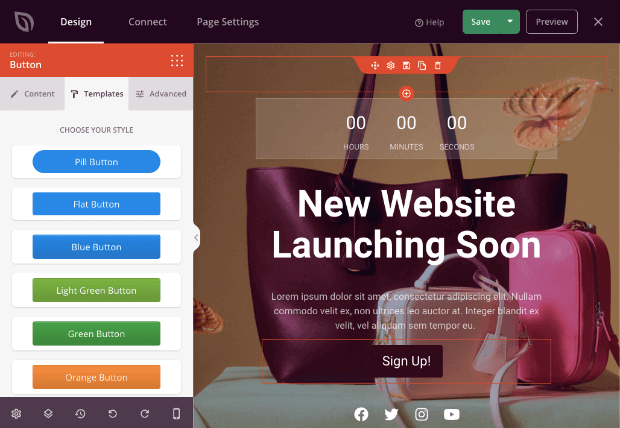 If you want to rearrange blocks on your page, you can select and drag them to the desired position.
Once you're happy with your coming soon page, hit the Save button at the top to save your progress: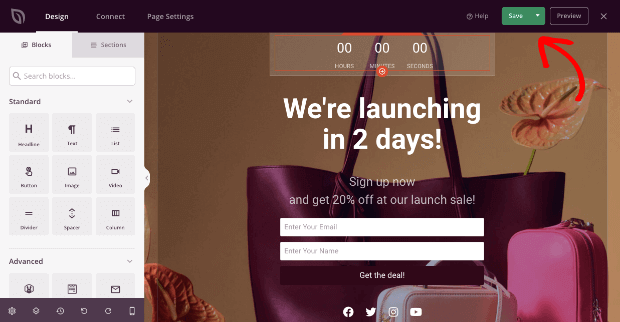 And with that, you've created and designed a beautiful coming soon page for your store.
Step 4: Integrate With Email Services
If you've added an email optin form to your coming soon page, you'll want to connect it to an email marketing service.
This will help you collect leads, manage your subscribers, and send out emails to them.
Under the Connect tab, you'll see the integration options available.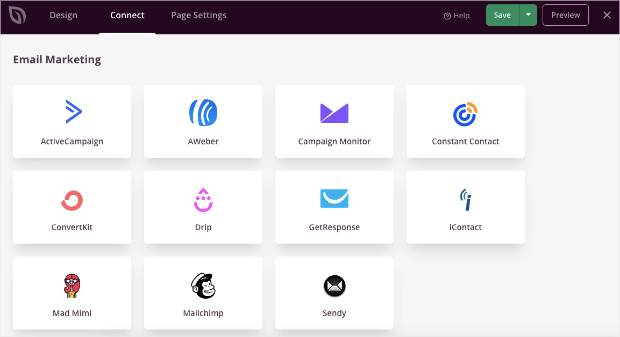 Click on your desired email service provider and follow the instructions to connect your account.
Step 5: Configure Your Page Settings
Before you publish your page, you'll need to configure the page settings.
Switch over to the Page Settings tab, and you'll see a navigation menu on the left.
First, under the General tab, you can change the page title and URL: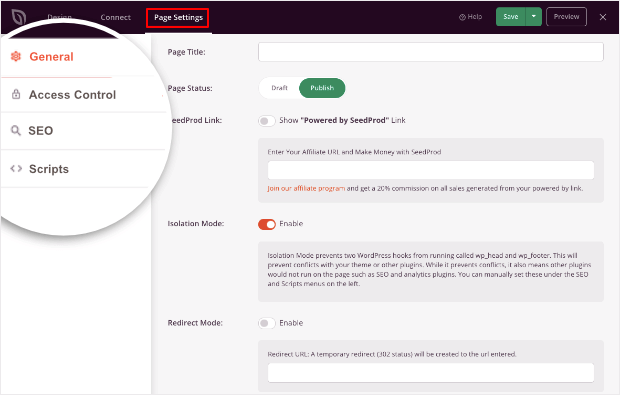 Next, if you're on the Pro plan, you'll see the Access Control tab. Here, you can choose who can see your WooCommerce coming soon page and who can access your website under construction.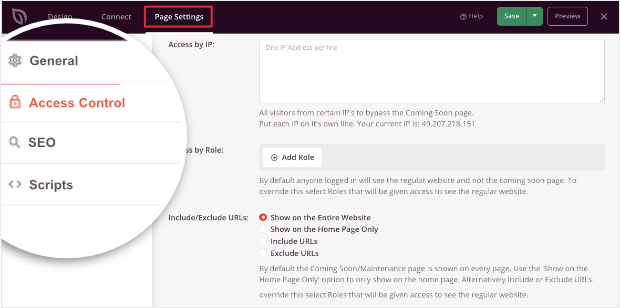 This lets you grant access to any developers and freelancers working on your site.
You can even set temporary access to clients to show them your progress. Or you can share your site with friends and family to get their opinions before you launch.
After this, you can configure the SEO settings. You can also add an SEO title and description that will be displayed in search engine results.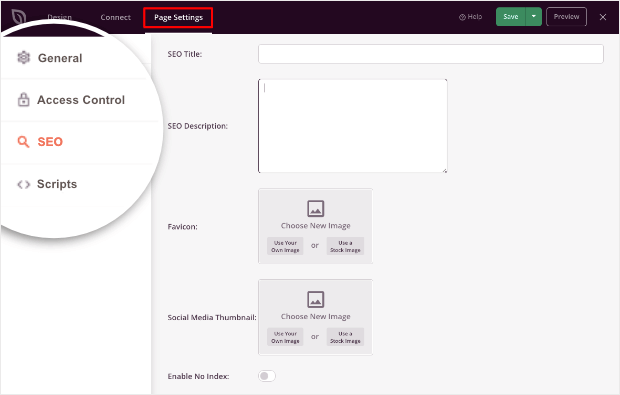 Then, you'll be able to add a favicon and your social media thumbnails. And if you want to block search engines from indexing this page, you can switch on the 'Enable No Index' option.
And finally, under the Scripts tab, you can add any third-party scripts that you may need to add.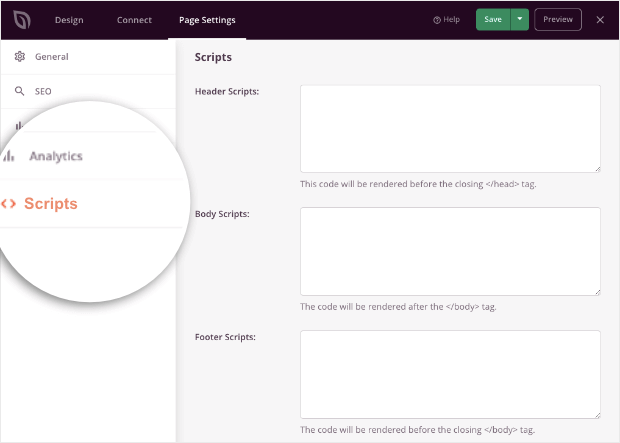 For instance, you may want to add Google Analytics code, Facebook pixel, or other tracking code here.
Step 5: Publish The Coming Soon Page
When you're ready to publish your WooCommerce coming soon page, simply click the drop-down arrow beside the Save button and select the Publish link.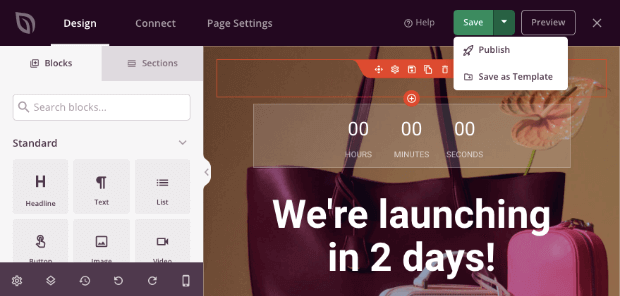 You'll also need to activate Coming Soon mode. This will display your coming soon page to your visitors.
To do this, go back to the SeedProd dashboard by clicking SeedProd » Pages from the WordPress dashboard panel on the left.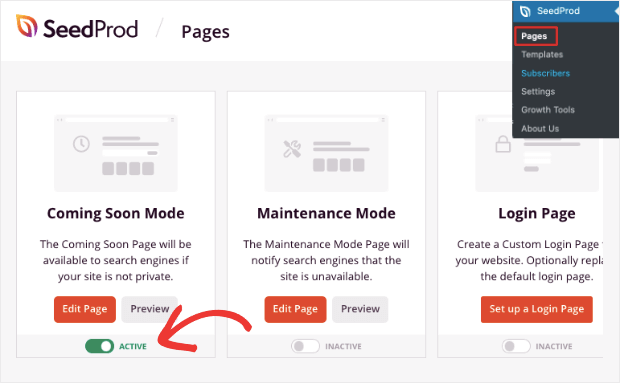 Here, you can use the toggle button under 'Coming Soon Mode' to switch it to Active.
Now, when visitors come to your site, they'll see your coming soon page where they can get updates on your launch time and sign up for your emails.
And that's it! You've successfully added an optimized coming soon page to your WooCommerce site.
Encouraging Visitors To Signup To Maximize Conversions
Customers who come to your store may hesitate to sign up for updates or buy your product, especially if you're new. That's because they have no reason to trust your brand.
To encourage them to sign up, you can display social proof notifications to boost your conversions.
This is where TrustPulse comes in!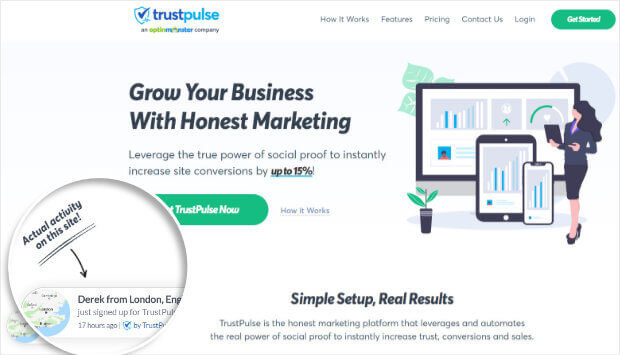 TrustPulse is the best social proof app for WooCommerce.
It tracks activity on your site and converts them into small non-intrusive popups. These popups are designed to grab the attention of the user but not disturb their browsing experience.

And they work so well because they add a FOMO (fear of missing out) effect to your site.
When visitors see that your site is busy and others are taking action, it gives them the confidence boost they need to go ahead take their own action such as signing up or buying your product.
TrustPulse lets you capture page views, product views, purchases, newsletter signups, and more.
That way, you can showcase real activity on your site and build a trusted relationship with visitors. You can also create static welcome messages, sale alerts, and customer review popups.

Ready to skyrocket your WooCommerce sales and revenue? Sign up for your 100% risk-free TrustPulse account.
We hope you enjoyed this post, and if you're looking for more resources to make your WooCommerce store a success, you definitely want to check out these articles:
These posts are packed with info to get more conversions and sales for your WooCommerce store.