Are you looking for the best ProveSource alternative to add social proof to your website?
ProveSource is a social proof software that lets you create social proof notifications. These small messages can drastically boost conversions across your site.
But for some, ProveSource doesn't offer the features they're looking for in a social proof software. For others, it simply isn't the right fit.
That's why, today, we're going to look at the best ProveSource alternative: TrustPulse.
For this in-depth review, we'll be comparing both software in terms of:
Ease of Use
Notification Types
Campaign Design
Pricing
But first, let's talk get clear on what ProveSource is and what it offers to do.
What Is ProveSource?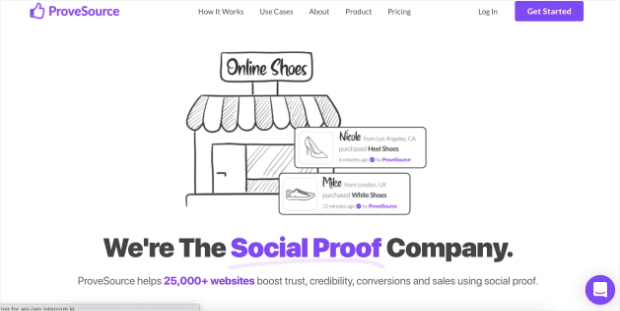 ProveSource is a social proof notification tool that lets you show how other people engage with your site. You can display when someone has:
Signed up for your newsletter
Registered for your webinar
Filled out one of your survey forms
Made a purchase
And much more.
Plus, all of this can be done without any coding experience or technical knowledge. Instead, you just set up ProveSource, and quickly customize your social proof notifications to boost conversions on your site.
But for some businesses, ProveSource is either too limited in terms of design, or it's too expensive to justify using.
And because of that, some people want to find a ProveSource alternative that delivers the same results (or better) at a lower cost.
That's where TrustPulse comes into play.
What Is TrustPulse?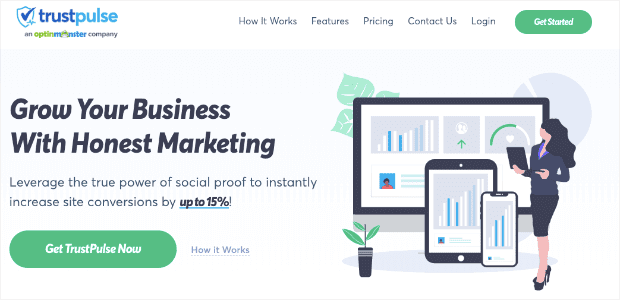 TrustPulse is the best social proof software on the market for adding social proof notifications to your website.
Not only is TrustPulse easy to use and install, but it makes the campaign design process incredibly simple. You can create custom notifications to push users to action.
Plus, you can customize these campaigns to match your brand's style, voice, and message perfectly.
Here's an example of what a quick campaign would look like:

This campaign took less than 5 minutes to create, design, and configure on our site.
And by adding a link to your notifications, you can improve user experience (UX) by giving users faster access to the products, services, or forms they see displayed in these notifications.
That way, when they get hit with a bit of FOMO, all they need to do is click on the notification. Then they'll be taken directly to the high-converting landing page that makes you more sales.
In fact, we've seen sales get an instant boost of up to 15% by using TrustPulse.
Want to see it in action for yourself? Sign up for your 100% risk-free TrustPulse account today!
ProveSource Alternative Compared
The goal of today's post is to help you determine which social proof software would be the right fit for you: ProveSource vs. TrustPulse.
That's why we'll break down this review into 4 categories:
Ease of Use
Notification Types
Campaign Design
Pricing
Let's jump in.
1. ProveSource vs. TrustPulse: Ease of Installation
Whenever you're selecting a new tool, you want to make sure that it's easy to install. Otherwise, you'll waste time, energy, and headaches trying to get the tool set up.
But which social proof software is the easiest to get started with? Let's look at both.
Signing up for both TrustPulse and ProveSource is incredibly easy. For WordPress users, both tools can be installed and activated like any other plugin on the market: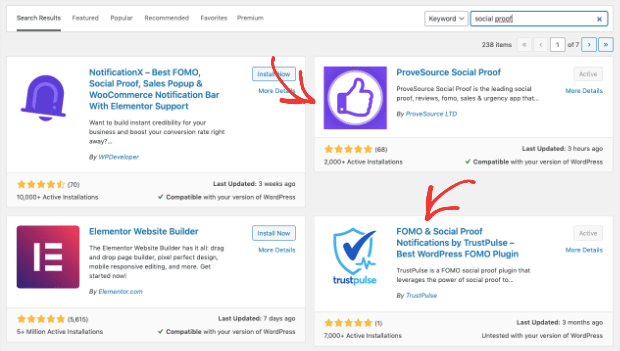 Then just a few clicks, your social proof notifications will be ready to go on your site.
For ProveSource, you'll activate your plugin with a license key from your ProveSource account dashboard: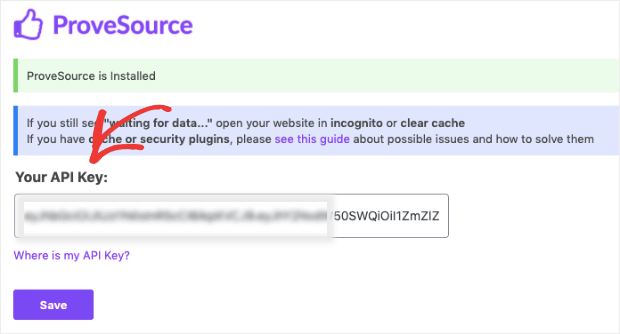 For TrustPulse, everything is done with the click of a button. From your WordPress dashboard, you'd simply click Connect Your Existing Account: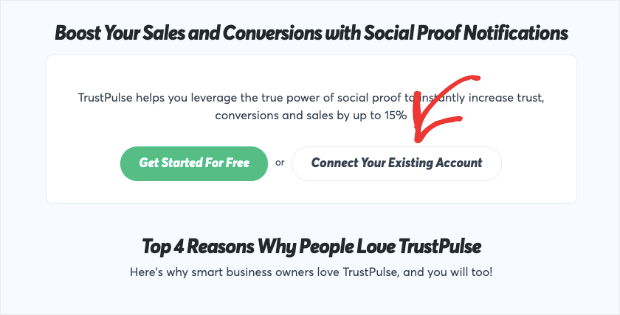 Then, if you already have a TrustPulse account, it will automatically be synced with your WordPress website.
For non-WordPress users, the entire process varies from platform to platform. Most installations can be done by adding a small code snippet to the header section of your site.
This is the same way you'd use lots of popular marketing tools like Google Analytics, Facebook pixels, and more. So most users are already familiar with how to do this.
Final Verdict: You could argue that TrustPulse is slightly easier to install because you don't need to copy and paste anything from one dashboard to the next.
But that difference is small enough that it's safer to call this one a tie. Both ProveSource and TrustPulse are incredibly easy to install.
So let's turn our attention to what it's like when you actually start building your campaigns.
2. Notification Types
One of the first things you'll want to determine is how many different types of notifications there are. ProveSource has 6 types of notifications that can be used:
Stream
Social Counter
Reviews
Informational
Counter
Combo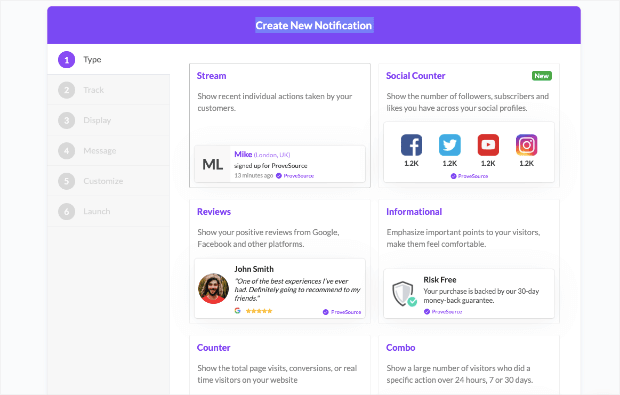 These allow you to display different types of social proof notifications across your site. And, at first glance, this may even appear like more campaign types than TrustPulse.
That's because, with TrustPulse, you can only see 2 types of campaigns: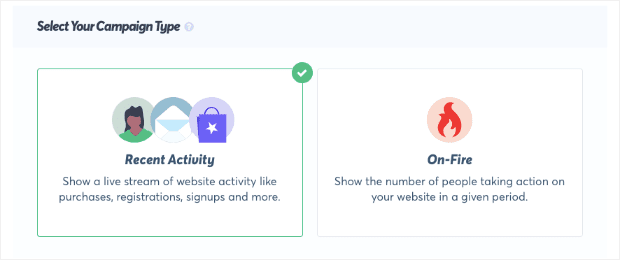 But the layouts are more misleading than they appear. Because with TrustPulse's 2 campaigns, you can accomplish everything (and more) than you can with ProveSource.
Here's the difference:
ProveSource breaks down its campaign types by function.
TrustPulse breaks down its campaign types by the number of consumers you want to display. In other words, do you want to focus on an individual taking an action or a collective group?
But with either campaign, you can use social proof to accomplish any of your marketing or sales goals. With TrustPulse's Recent Activity campaign, for example, you can show when someone:
Makes a purchase
Signs up for a webinar
Subscribes to your newsletter
Leaves a review from a 3rd party site like Google My Business or Yelp
Read a blog post
Visited your site
But you can also keep things informational with alerts about:
Company updates
New sales, discounts, or promotions
Items low on stock
And much more…
Plus, you can create campaigns to accomplish all the same purposes with On-Fire campaigns that focus on the group instead of an individual:

The point is that you can accomplish just as much–if not more–with TrustPulse's 2 campaign types as you can with ProveSource's 6 campaign types.
Again, the difference is simply in how each tool classifies "campaign type."
Final Verdict: "Campaign types" is a bit misleading. ProveSource has 6 campaign types that can be used for 6 specific goals.
TrustPulse has 2 campaign types that can be used for an unlimited number of goals.
So even though TrustPulse technical has fewer campaign types, you can do a lot more with the ones you have.
Now let's check out how each tool lets you design your new campaigns.
3. Campaign Design
Once you've selected a campaign type, it's time to start designing your campaign. This is super important.
You want to have 100% control over your social proof notification's look, style, and messaging. That means you should be able to change font sizes, font families, colors, placement, images, links, and more.
As you might expect, both ProveSource and TrustPulse allow you to design your campaigns without any coding skills. Overall, they both make it incredibly easy to create stunning campaigns fast.
But let's see which one makes it the easiest. We'll start with ProveSource.
After you've selected your campaign type and made a few preliminary configurations, you'll be in the Customize tab. This allows you to change your notification's:
Desktop position
Mobile position
Title color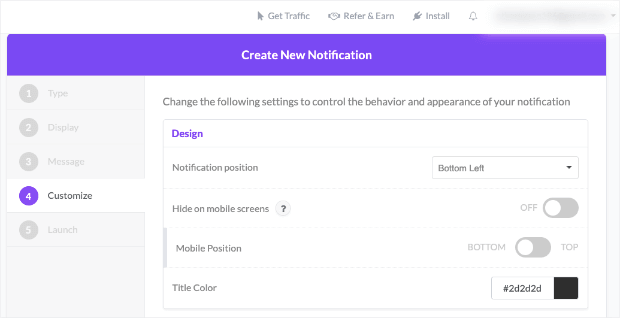 You can also scroll down to find other options, such as allowing users to close the notification or making your notification clickable: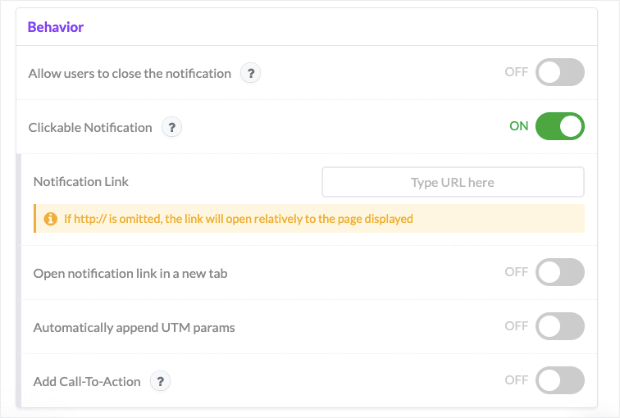 The rest of the settings have less to do with your campaign's design and more to do with the display settings.
So, now, let's see how easy TrustPulse makes it to modify your notification's look. In your TrustPulse dashboard, you'll be able to navigate to the Appearance & Design tab.
From there, you can modify your campaign's:
Language
Visitor reference
Message link
Notification size
Notification position
Image
Title font family and color
Text font family and color
Background color
And much more…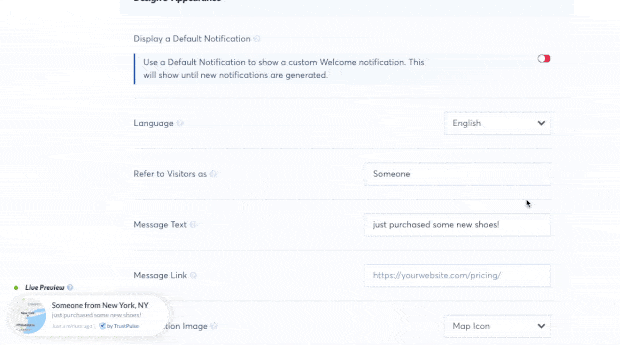 These options give you 100% control over how your social proof notifications look. And, again, this is a very important factor for any social proof notification software.
That's because you want a message that matches your site's style, voice, and branding. But you also want it to stand out enough to capture your audience's attention.
This means that you need as many customization options as possible to strike that balance.
Final Verdict: Both software allow you to customize your notification's design. But TrustPulse clearly gives you more opportunities to do so and definitely comes out the winner in this category.
4. ProveSource vs. TrustPulse: Pricing
When it comes to selecting a new tool for your marketing stack, one of the biggest factors is always cost. Both ProveSource and TrustPulse offer a pricing model that's more competitive than many social proof software on the market.
But only one provides users with the most features at the lowest price. Let's see which one it is, starting with ProveSource.
ProveSource has 3 paid plans:
Starter: $18/month for 10K unique visitors
Growth: $45/month for 50k unique visitors
Monster: $91/month for 200k unique visitors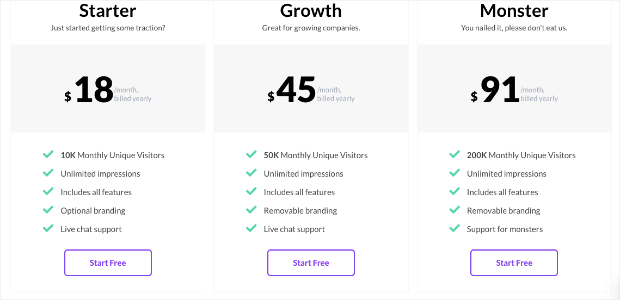 While this is competitive pricing compared with other social proof software like FOMO or UseProof, it still doesn't beat TrustPulse.
TrustPulse has 4 pricing plans:
Basic: $5/month for 2500 sessions
Plus: $10/month for 10,000 sessions
Pro: $19/month for 25,000 sessions
Growth: $39/month 100,000 sessions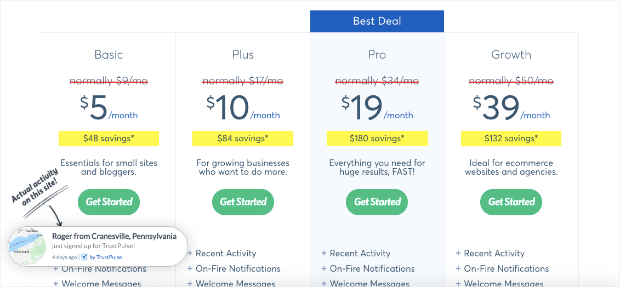 Right away, it's clear which one is the more affordable option.
ProveSource's starting paid plan is $18, and that gets you 10,000 unique visitors per month.
That's the same price as TrustPulse's Pro plan, which gives you 25,000 sessions per month.
Even though the software limits their plans differently (visitors vs. sessions), you still get way more mileage out of TrustPulse's plan.
Plus, you can accomplish more with TrustPulse's campaign types and have more control over your notification's design.
Final Verdict: TrustPulse is hands down the winner of this category. Not only are there more pricing options, but even TrustPulse's most expensive plan is less than ProveSource's middle-tiered option.
For information on how TrustPulse stacks up to other competitors, you may want to check out this post: FOMO vs. UseProof vs. TrustPulse: Which Is Best for Social Proof.
ProveSourve vs. TrustPulse: Which Is Best?
At the end of the day, both ProveSource and TrustPulse have major advantages over other social proof notifications.
Both are easy to set up, and they both give you lots of ways to display social proof across your site.
But if you're looking for the BEST social proof software, TrustPulse is 100% the way to go.
Not only do you get more features and functionality with TrustPulse, but you'll only pay a fraction of the cost. In the end, it's clear: the best ProveSource alternative is definitely TrustPulse.
And that's it! We hope you enjoyed this article. If you did, you might also want to check out the following resources:
These posts will have everything you need to master social proof and boost conversions across your site.
Ready to get started? Sign up for your 100% risk-free TrustPulse account today!