Do you want to learn how to convert traffic into sales?
There are two pain points of running a successful eCommerce business:
How to drive traffic to your website?
How to convert website traffic into sales and leads?
Generating traffic for your website is hard work, but all the hard work goes to waste if you cannot convert those website visitors into paying customers.
In this article, we'll focus on how to convert traffic into leads and sales.
5 Reasons Why Your Traffic Doesn't Convert
We cannot move forward to the solutions before addressing the probable reasons your traffic does not convert.
Attracting the wrong traffic: If your website traffic isn't converting as you like, there's a chance that you're attracting the wrong group of people.
Visitors unable to find what they're looking for quickly: In about 15 seconds, you must route your website visitor to the right page, or you risk losing them to your competitor.
Too many popups: If you're not using the best popup strategy on your website, you can ruin the user experience and force website visitors to bounce.
Difficult navigation: A poorly built site structure is another reason why users leave because it becomes challenging to find what they want.
Leaky sales funnel: Not all your website visitors will convert, but a good conversion optimization tool can help you minimize the number of visitors you lose and maximizeyour email list that you can retarget later.
How to Convert Traffic Into Sales
1) Prepare Your Site With Authentic Social Proof
When starting an eCommerce business, one of the hardest things to do is to show people how trustworthy your brand is.
And for that, you need lots of social proof.
Social proof is the idea that your site gains credibility as more people engage with your brand.
This works because most online consumers experience fear of missing out or FOMO.
When your site's visitors see that other people are buying your products, they'll instantly assume there must be some benefits.
As a result, they'll be more motivated to engage with your brand and buy your products.
There are many forms of social proof, including:
Reviews
Trust badges
Social media posts from your customers (screenshots)
And many others
But a live sales notification is one of the most effective forms of social proof. These show your site's visitors when someone has purchased in real-time.
You've likely seen these notifications before. They look something like this:

When people on your site see a message like that, they immediately feel a sense of FOMO.
And anyone who's even remotely interested in sunglasses would be more likely to follow up with a purchase of their own.
But how do you create social proof notifications if you're either pressed for time or don't have much technical experience?
That's where you'll need a tool likeTrustPulse: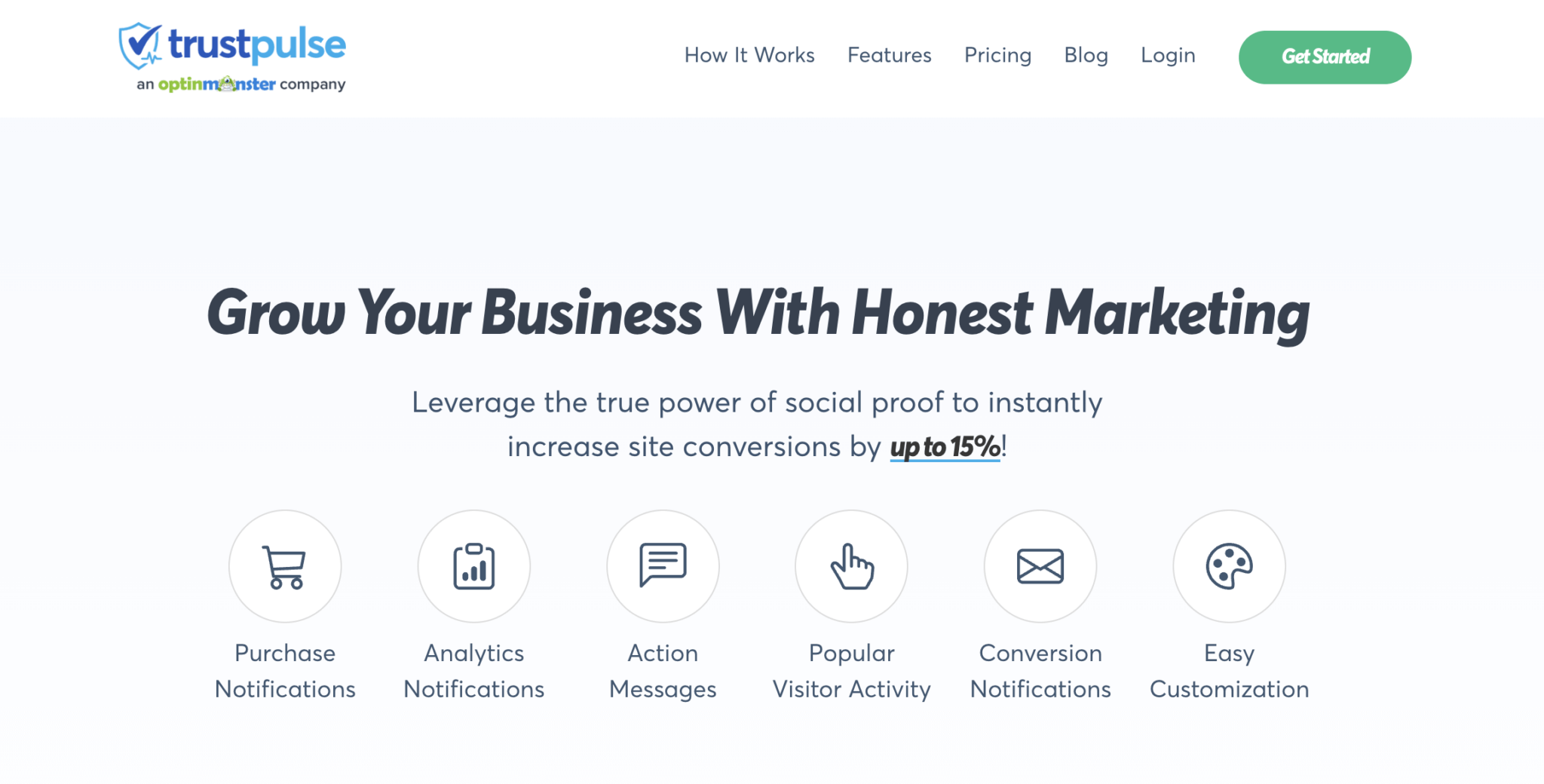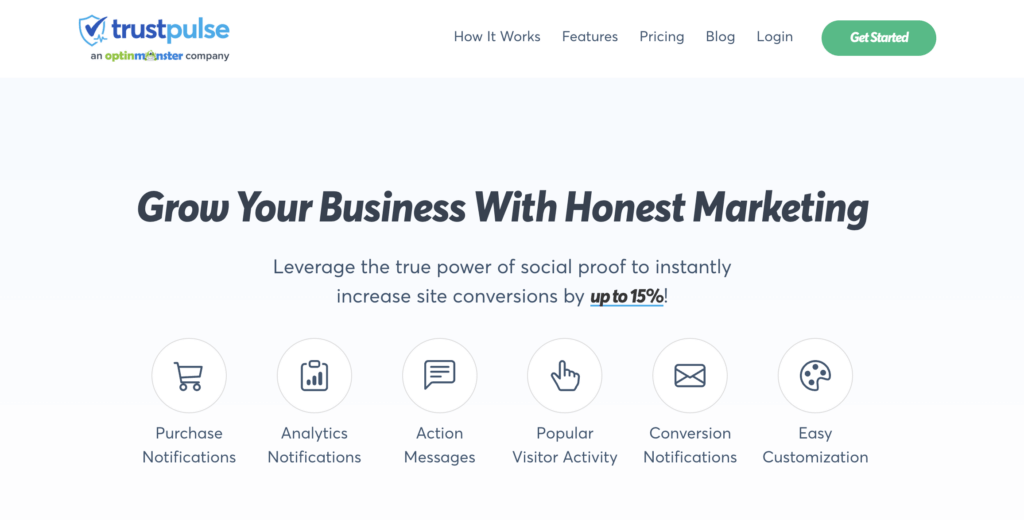 TrustPulse is the best social proof software on the market. It makes it easy for anyone to build stunning social proof notifications in minutes.
Plus, it's a tool that works.
There's no technical setup, and building your notifications doesn't require any coding knowledge.
But the best part is that TrustPulse offers a variety of campaign types that can be used at any stage of your business.
With TrustPulse, you can build the following campaigns:
Recent Activity: Show a live stream of website activity like purchases, registrations, signups, and more.
On-Fire: Show the number of people taking action on your website in a given period.
Visitor Analytics: Highlight active interest in your site by showing real page visits over time.
Action Messages: Display a single static notification to help drive visitors to take action or highlight information.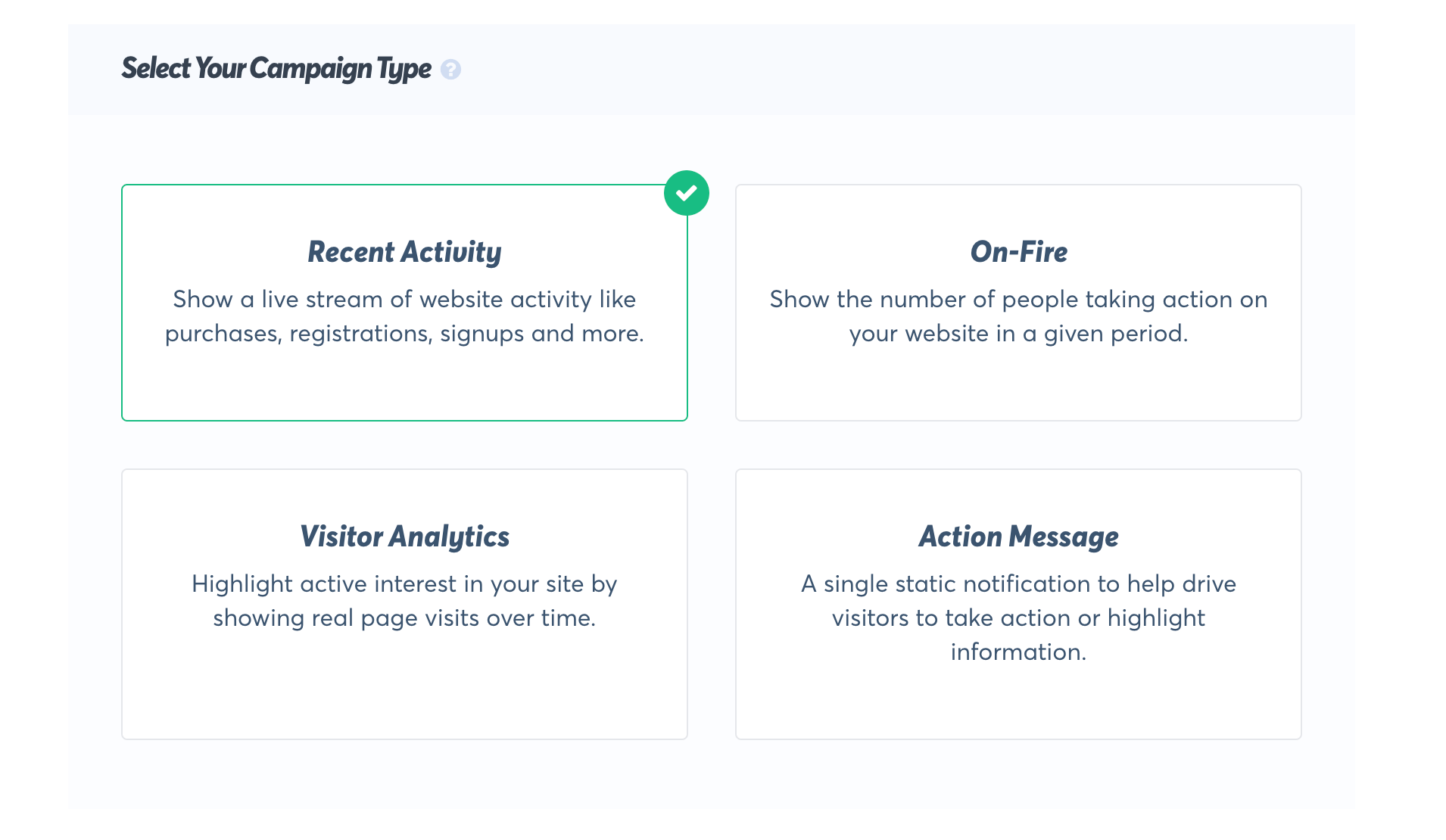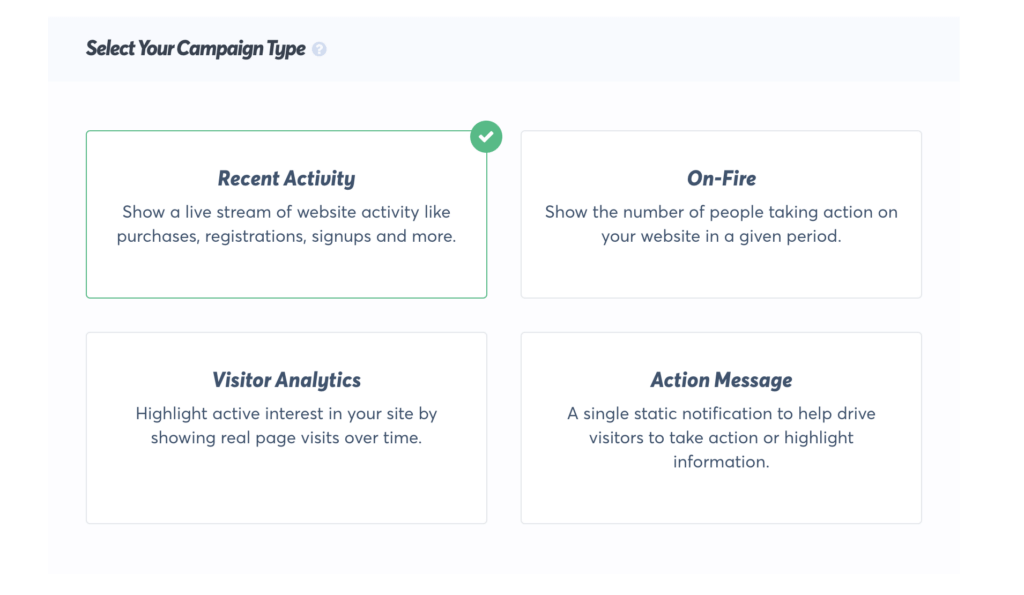 This variety allows you to use social proof before you've made any sales.
You can do that with TrustPulse's Visitor Analytics or Action Message notification.
As more people visit your site, you'll capture your post's or page's popularity with a Visitor Analytics campaign.
But when real sales start pouring in, you can switch to a Recent Activity or an On-Fire campaign.
These will show real-time activity on your site to get more visitors to engage with your call to action (CTA).
And all of these campaign types can be created in minutes.
You'll add a bit of code to your site (or download the TrustPulse plugin) and start building with TrustPulse's codeless editor. You can determine when, where, and to whom your notifications appear.
But why not try it yourself?Get started with your 100% risk-free TrustPulse account today!
Resources
2) Display Customer Reviews and Testimonials
93% of users say online reviews impacted their buying decisions.
The same applies to your website.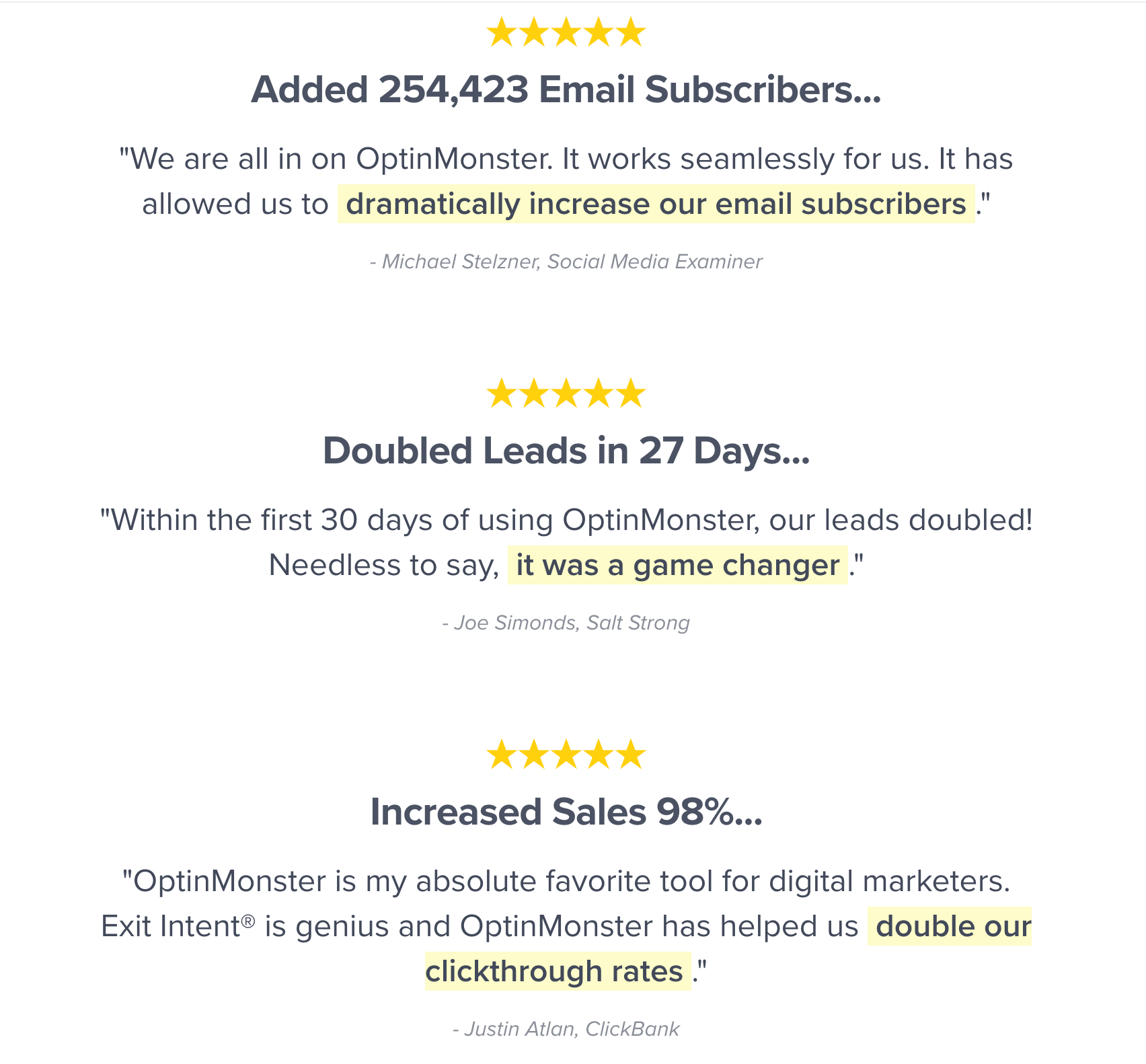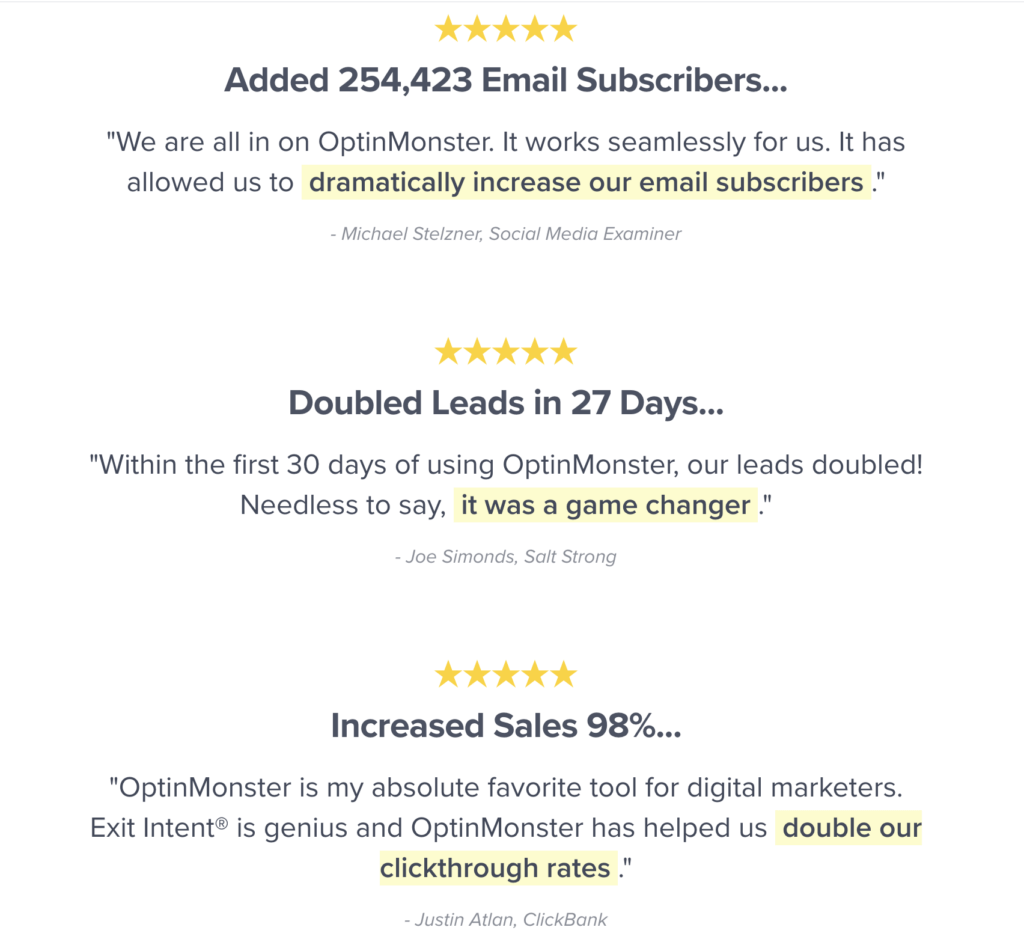 Make your site look trustworthy and credible by displaying reviews left by your customers.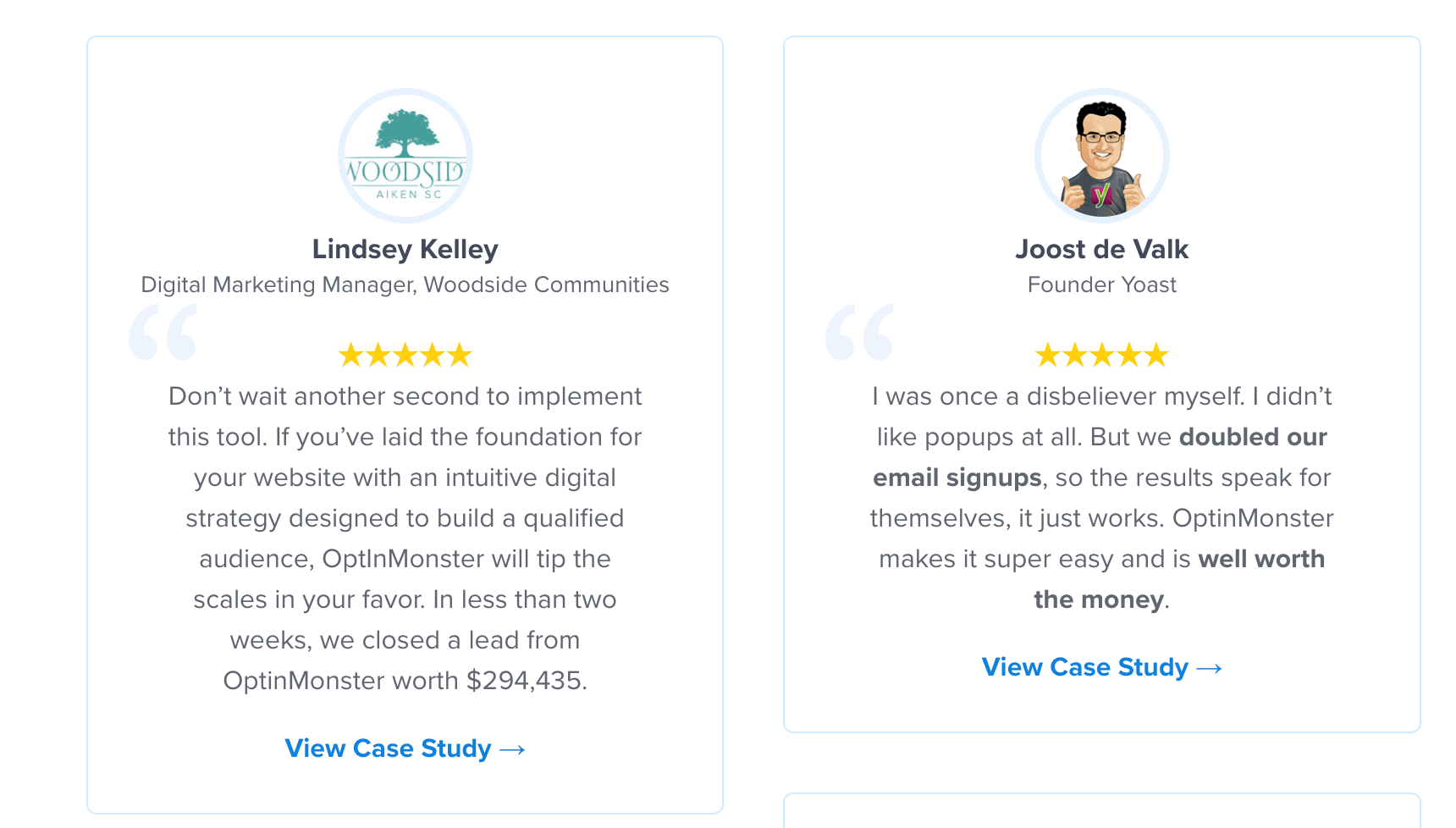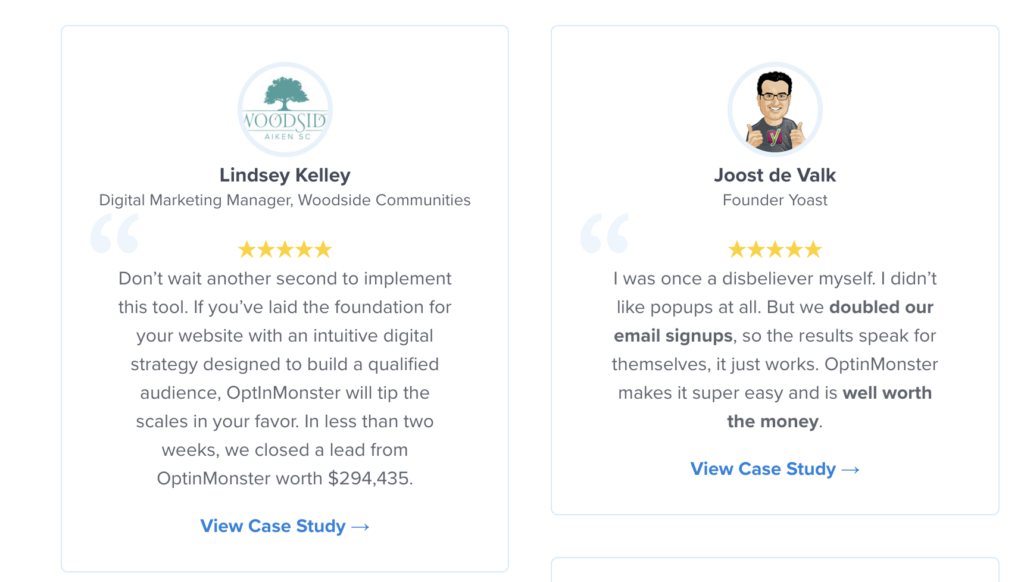 Similarly, testimonials are equally important for converting website visits into sales.
3) Build Your Email List
If building social proof from the start of your website is important, then growing your email list is just as important.
That's because, again, there are two factors:
That's why one of the first things you should do after creating a website is to build a system for gathering emails.
This usually includes a type of lead magnet.
A lead magnet is a special discount, offer, or piece of information your target audience finds valuable.
Then you can build an "optin campaign."
This is a special message that promotes your lead magnet in exchange for a piece of contact information.
When users sign up, their email address gets sent to your email service provider (ESP). Then they'll enter your automated email series to be nurtured down your sales funnel.
This is one of the most important steps when you're learning how to convert traffic into sales.
Not every sale will happen on a visitor's first time to your site.
You must create optin campaigns to grab your lead's contact information and continue the conversation via email.
But, how can you build optin campaigns that look and function great if you're not a professional coder?
We recommend using a tool like OptinMonster: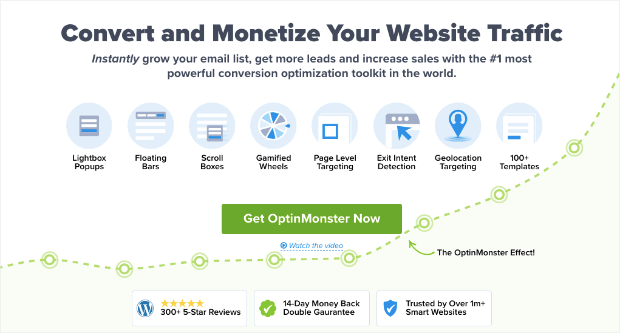 OptinMonster is hands down the best lead generation software on the market.
OptinMonster makes it quick and easy to create high-converting optin campaigns in minutes.
Plus, there's zero coding knowledge or technical skills required.
Here's how it works.
You start by selecting one of OptinMonster's many campaign types, including:
Floating bar
Fullscreen welcome mat
Slide-in scroll box
Spin-to-win wheels
And more…
Then you can choose from OptinMonster's pre-built templates. These are fully responsive, mobile-friendly, and work great out of the box.
And designing your campaign couldn't be easier.
OptinMonster has a codeless drag-and-drop visual builder, so you don't need to be a professional graphic designer to make stunning campaigns fast.
It's how we made this popup in under 10 minutes: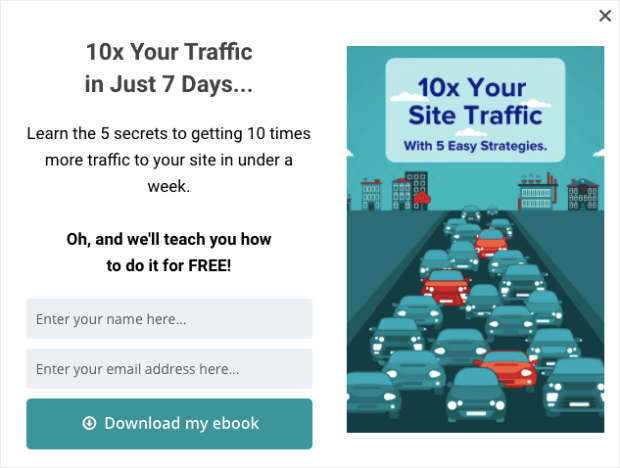 From there, you'll have 100% control over when, where, and to whom your campaign appears.
That's thanks to advanced targeting rules, such as:
Exit-Intent® Technology: Recover users as they're actively abandoning your website.
OnSite Retargeting®: Keep users engaged by showing fresh campaigns to returning visitors.
Geolocation: Personalize the customer journey by targeting people based on their physical locations.
These are just a few examples, though there are many others.
Finally, you can integrate your ESP in just a few clicks. This lets you automate your entire lead generation system.
As users give you their email addresses, their contact info will go to your email provider.
Then you can send automated email campaigns to nurture the relationship and drive more sales to your business.
Want to see it in action for yourself? Get started with your 100% risk-free OptinMonster account today!
4) Create Cross-Selling Campaigns
While gathering email addresses is great, you might want to learn a more direct method on how to convert traffic into sales.
The same types of campaigns you build with OptinMonster don't simply need to collect emails.
They can also be used to increase direct sales.
You can create upsell, downsell, and cross-selling campaigns for your site.
These three types of campaigns work to boost the overall average order total for each of your visitors. Here's how each type of campaign functions:
Upsells: Show users a related but more expensive item than what they're currently purchasing.
Downsell: Show users a related less expensive item than what they're currently purchasing.
Cross-Sell: Show users a related item regardless of pricing.
To learn more about upselling and cross-selling, read What Is the Difference Between Upselling and Cross-Selling?
And with OptinMonster, you can create stunning cross-selling campaigns fast. Here's an example of what that might look like: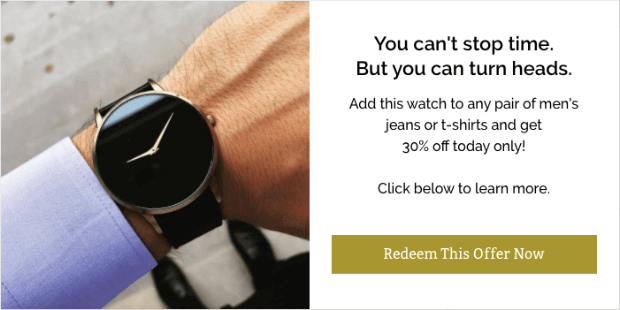 Then you can target these campaigns at the right times and in the right places during your customer's journey.
Imagine being able to show the campaign above any time someone adds a specific item to their shopping cart (like a t-shirt or a pair of jeans).
You'll increase your user's average order value (AOV) by displaying your cross-selling offers at or around the checkout.
And as a result, you'll generate more revenue for your business.
5) Leverage Push Notifications
Earlier, we mentioned that most of your site's visitors wouldn't purchase on their first visit.
That's why it's important to start collecting customer feedback and growing your email list immediately.
Another strategy you can use, however, is push notifications.
These are small static messages that rest on your user's browser screen. But your subscribers don't need to be on your website to see it.
This gives you direct and immediate contact with your subscribers at all times.
You can use push notifications to convert customers into:
Webinar attendees
Email subscribers
Paying customers
And much more…
And the best way to add these notifications to your site isPushEngage: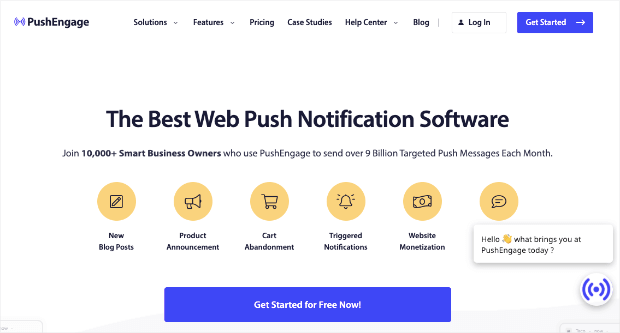 PushEngage is the world's #1 push notification tool.
It lets you create and manage push notifications from an intuitive user dashboard.
You can create notifications, segment your audience for more personalized messaging, and even set up automated "drip" campaigns.
These are a series of notifications that appear automatically to new subscribers as they enter your sales funnel.
But what's great is that you don't ask your visitors for personal information (like an email address or phone number).
Instead, your visitors need to click allowto receive your push notifications.
This means you get MORE subscribers in LESS time.
Then you can use your notifications to convert these new leads into email subscribers and, eventually, paying customers.
Push notifications are undoubtedly one of the most flexible, personalized, and effective methods to convert traffic into sales.
Get started with your 100% risk-free PushEngage account today!
6) Leverage Live Chat 
It sure doesn't feel good when you arrive at a shop and there is no one to assist you.
That's precisely how your website visitors feel when they come to your site and find it hard to make quick contact with you.
This frustration usually leaves them with no option but to leave, resulting in website traffic but no sales.
To overcome this problem, you can install live chat plugin that can increase user engagement and eventually help convert traffic into sales.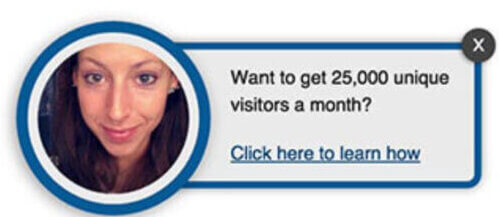 Additional benefits of a live chat plugin are as follows:
Improves the support experience for customers
Helps in customer acquisition and onboarding
Increases your customer service team's productivity
Enables you to provide 24/7 support
Resources:
7) Stop Abandoning Visitors
There are numerous reasons why website visitors abandon the site. It could be because of difficult website navigation or because they didn't find what they came looking after.
Unfortunately, this results in a loss of hard-earned potential traffic. However, one very effective way to stop visitors from abandoning your site is exit-intent popups.
An exit-intent popup is displayed when the user attempts to navigate away from the website, with the purpose of convincing them not to leave.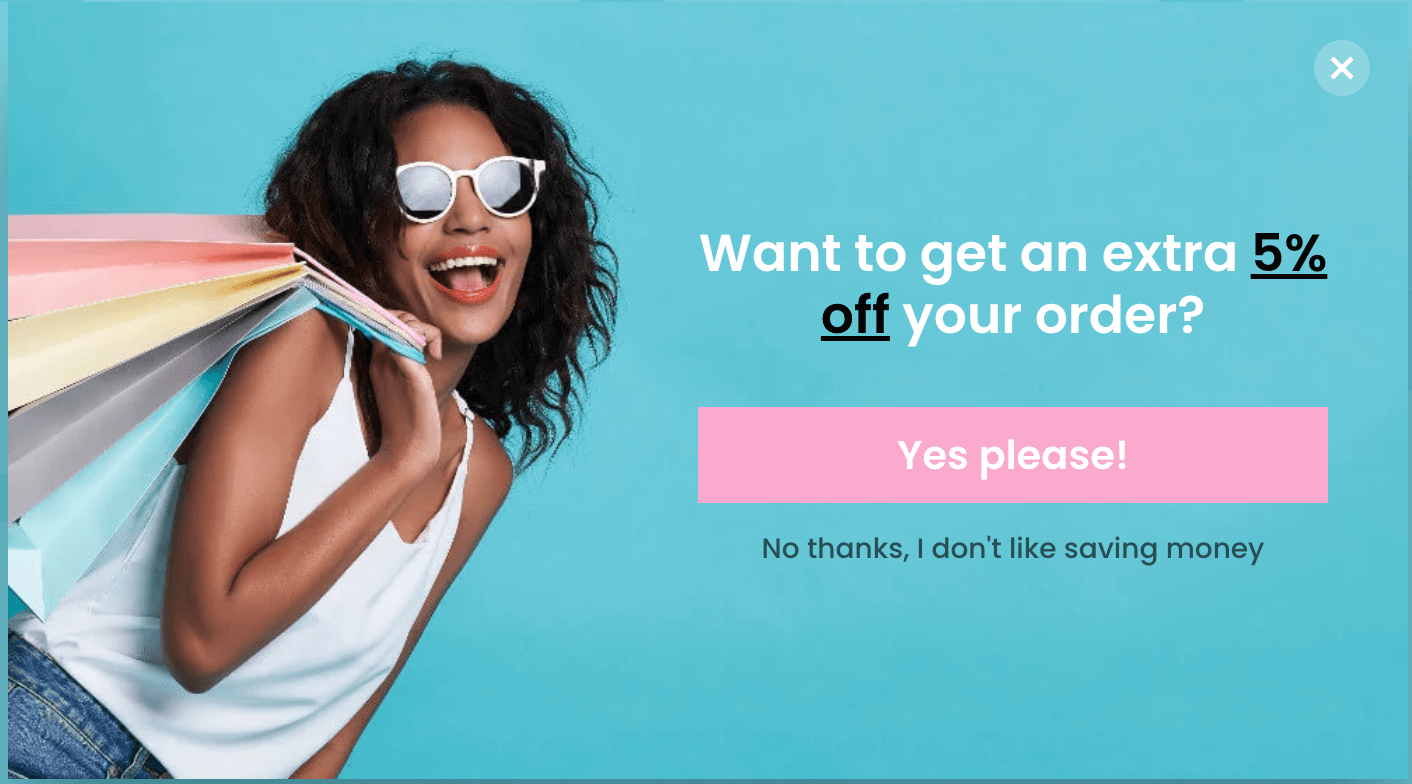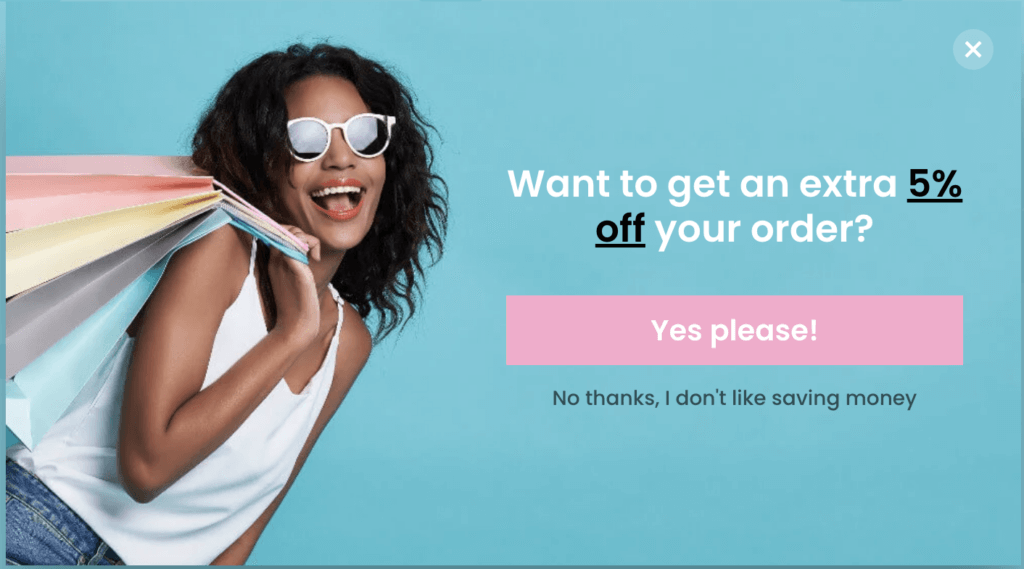 OptinMonster's exit-intent technology detects visitor behavior, allowing you to show them a popup with a targeted marketing message just before they're gone forever.
Here are just a few benefits of using exit-intent popups on your website:
Grows your email list
Distribute lead magnets
Reduces site abandonment
Reduces cart abandonment
Boosts SEO (Search Engine Optimization)
8) Use Popups To Display Attention-Grabbing Offers
Sometimes, your website visitors cannot see your current offers and promotions. That could be due to wrong placement, or the promotion needed to be more appealing to grab your users' attention.
Popups are an excellent solution to that problem.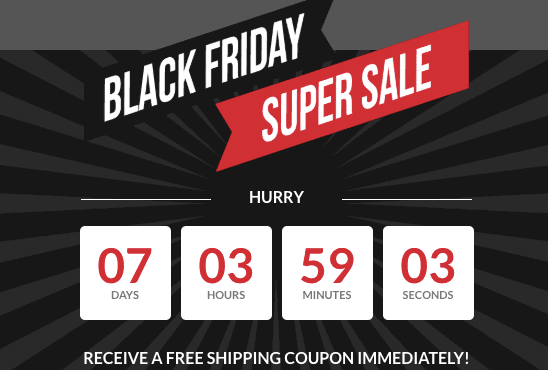 A popup is a window that automatically appears (pops up) on a website while the user is browsing.
With the help of strategically placed popups, you can offer the following:
Discounts to encourage the user to buy
Lead magnets in exchange for email signups
Community memberships for full access to content
Here's a case study on how Kampanjjakt increased conversions by 800% with popups.
9) Use Power Words in Your Copy 
Adding a few power words to your copy can improve your conversion rate by 12.7%.
Power words are words that smart copywriters use to activate a psychological or emotional reaction. They're called "power words" because users can't resist being charmed by them!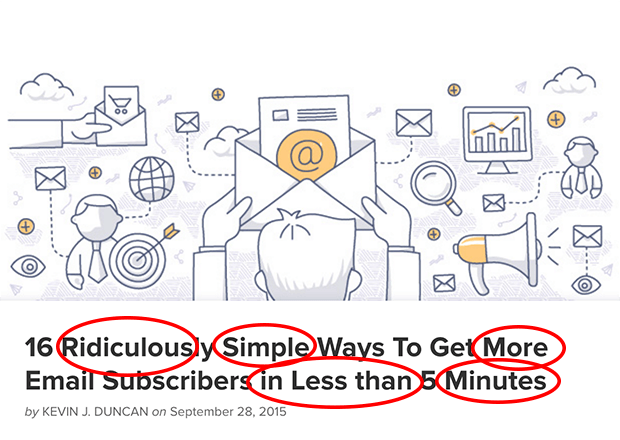 Whether your goal is to draw your visitors to read an article, signup for your email list, or click the "Add to cart" button on your product page, power words are an easy way to convert traffic into sales and leads.
There you have it: 9 tips on how to turn website visitors into sales.
However, it's important to note that not every tip will turn website traffic into sales.
You must keep A/B testing your ideas until you find the right mix of hacks that work best for your audience.
We hope you enjoyed this article. If you did, then you'll want to check out the following resources:
These articles will have even more information on how you can convert traffic into sales to grow your business.
Leverage the true power of social proof with TrustPulse to increase site conversions by up to 15%! Sign up for your risk-free TrustPulse account today!