Are you looking to get more conversions with personalized recommendation apps for your Shopify store?
Finding the right recommendation app for your Shopify store can be time-consuming. But with the right tools, you can get MORE sales in LESS time by personalizing your users' experience (UX).
That's why, in today's post, we're going to share 10 of the best Shopify personalized recommendations apps to drive more sales.
Before we do, though, let's get clear on why you should personalize product recommendations in the first place.
Why Personalize Product Recommendations?
In today's market, personalization gives you an edge over your competitors. That's because it lets you personalize your visitor's experience by recommending relevant products.
This boosts conversions and keeps your audience engaged. 
Let's check out the main advantages of personalized recommendations:
1) More Conversions: When you send targeted messages to your users, you make them feel valued. You can use behavior automation to present products that are appealing to individual users.
This boosts conversions because users can immediately get access to products they like instead of searching across your entire site.
2) Increase Order Value: You can use personalization by having 'you may also like' or 'frequently brought together' recommendations at the check-out stage.
This can dramatically increase the average order value of each of your customers.
3) Enhanced Engagement: Personalized messages will keep users on your site for a longer period and will encourage them to take action on your site.
If done right, eCommerce businesses can generate significantly higher revenue with personalized product recommendations.
With those benefits in mind, let's turn to our
Best Shopify Personalized Recommendation Apps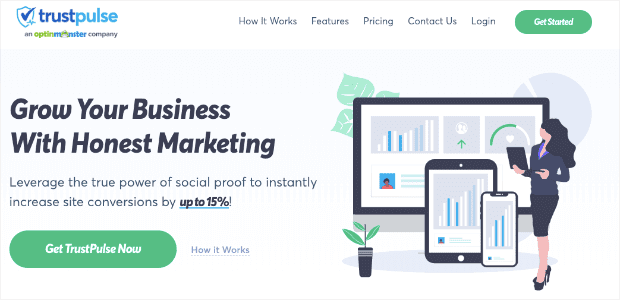 TrustPulse is the world's best social proof software on the market. And while it's not necessarily a native Shopify app, it's HIGHLY recommended for your Shopify store.
To see how easy it is to set up TrustPulse on Shopify, check out this helpful resource: How to Integrate TrustPulse With Shopify.
This social proof tool helps you to leverage persuasive notifications like this one:

This type of live sales notification appearing on your Shopify store motivates your customers to take action.
That's because these small messages leverage the online behavior known as FOMO (fear of missing out).
The concept is simple: when we see others enjoying products or services we don't have, we want to experience those benefits even more.
The best thing is that TrustPulse is not just about live sales notifications. In fact, you can use this tool to get higher conversions for :
Email signups
Demo registrations
Testimonials
Webinar attendees
And much more…
But the best part is how easy this tool is to use. There's zero coding required, and you can create social proof with a variety of campaign types, including:
Recent Activity: Show a live stream of website activity like purchases, registrations, signups, and more.
On-Fire: Show the number of people taking action on your website in a given period.
Visitor Analytics: Highlight active interest in your site by showing real page visits over time.
Action Message: Display a single static notification to help drives visitors to action or highlight information.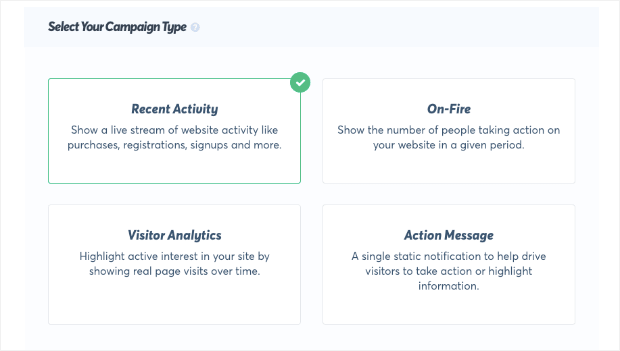 These campaigns allow you to leverage the power of social proof regardless of what stage your business is in.
You can use Visitor Analytics or Action Messages if you're getting traffic but no conversions. These show the number of visitors or custom messages that don't require any sales to be made.
But when you do start making sales or getting signups for your offer, you can switch to Recent Activity or On-Fire campaign.
These campaigns have been proven to boost conversion by up to 15%.
Features
Easy setup
No coding skills required
Create campaigns in minutes
Smart targeting features
Real-time event tracking
Powerful analytics dashboard
TrustPulse works well with any Shopify website and is the perfect fit for any type of eCommerce business.
Pricing: You can get started with TrustPulse for just $5/month. It also comes with a 14-day money-back guarantee, so there's no risk involved.
Get started with TrustPulse today!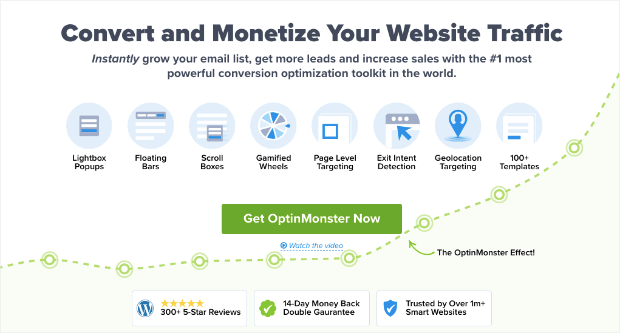 OptinMonster is hands down the best lead generation app for your Shopify store. Using OptinMonster, you can create high-converting campaigns such as popups, floating bars, gamified wheels, and more.
You can even use OptinMonster to send personalized messages to your Shopify customers.
The best thing is that you can create stunning optin campaigns without any coding experience. That's because this software comes with 50+ amazing pre-built templates: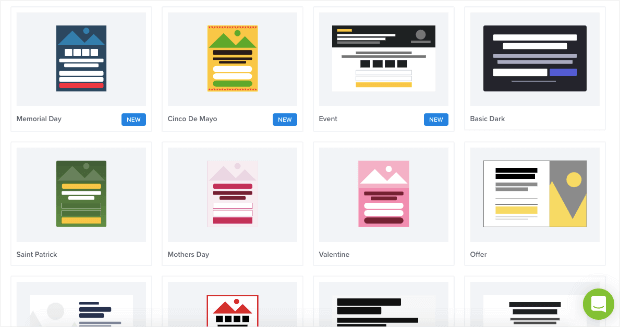 These templates are 100% responsive and look great across all devices.
You might be wondering how this helps you to personalize product recommendations on Shopify?
That's is where OptinMonster's powerful targeting rules come into the picture.
Here are some of OptinMonster's most effective targeting rules:
Exit Intent® Technology: Convert abandoning visitors by displaying personalized messages as they are about to leave your site.
Page-Level Targeting: Watch conversions skyrocket as you create offers specifically for what products your visitor is looking at.
Geolocation: Display relevant content to users based on their physical location.
OnSite Retargeting®: Enhance engagement by showing fresh campaigns to returning users.
By using these advanced targeting rules, IMSource increased conversion by 6,500%.
But for Shopify, you can take things a step further. That's because the OptinMonster Shopify app has eCommerce-specific triggers that you can use.
That means you can show offers for upsells or cross-sells based on:
Items placed in the user's cart
User's cart total
Number of items in the user's cart
Product tags
Users looking at specific posts or pages
And more…
Read: What Is the Difference Between Upselling and Cross-Selling?
These targeting rules will help you make more personalized recommendations to your Shopify store and ultimately boost sales.
Features 
Easy to setup
Drag and drop campaign builder
50+ amazing campaign templates
Seamless integration
Smart targeting features
Actionable insights
Pricing: You can get started by just paying $9/month.
Get started with OptinMonster today!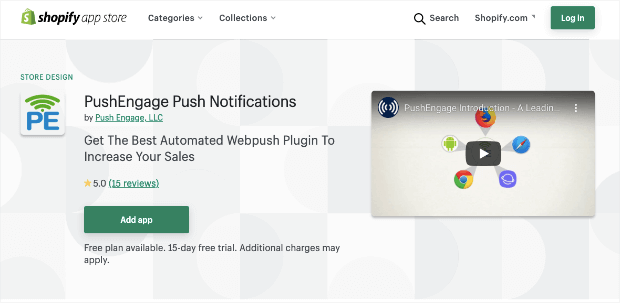 PushEngage is the world's most powerful push notification tool.
There are few tools that are as effective as push notifications when it comes to personalized recommendations. That's because it helps you to contact your Shopify visitors even when they're not accessing your site.
With PushEngage, you can send out targeted messages to your audience segment based on their website behavior, purchase history, location, and more.
PushEngage is one of Shopify's top recommendation apps for the following reasons:
Customizable Optins: Create targeted push notifications and display relevant information at the right time.
Flexible Style: Get full control of the text and design of all your push notifications.
Maximum Personalization: Create personalized audience segments to send notifications your users will love.
Real-time Analytics: Get live insights to see what's working and, more importantly, what's not.
And one of the best parts about this Shopify app is that it doesn't ask users for their name or email address to subscribe.
Instead, your site's visitors simply need to click Allow when they enter your site.
That means you'll have more subscriptions and can grow your audience base FASTER.
Features 
Code-free installation
Customer segmentation
Drip campaigns
Actionable insights
A/B testing
Pricing: There's a free plan that you can start with. Paid plans start at only $9/month.
Get started with PushEngage today!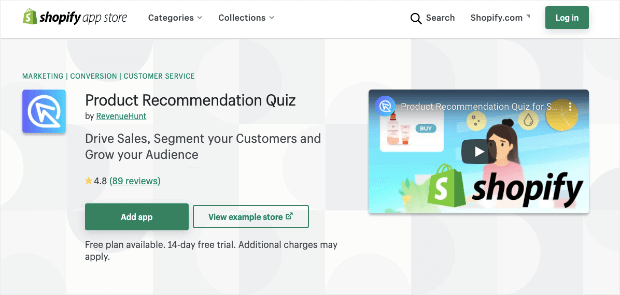 Product Recommendation Quiz is another impactful product recommendation app for Shopify users.
You can use this app to provide personalized product recommendations to your customers when they visit your Shopify store.
You do this by displaying engaging quizzes that help the customers find exactly what they're looking for (instead of scrolling endlessly through all your web pages).
Quizzes also help you to obtain a lot of data about customer preferences which you can then use to create smarter marketing strategies.
Features
Easy to install
No coding skills needed
Conditional logic
Direct integration with popular CRMs
This is a fun app, and you can get it directly from the Shopify store.
Pricing: There's a free plan that gives you only 100 quizzes. The basic plan starts at $39/month.
Get started with Product Recommendation Quiz today!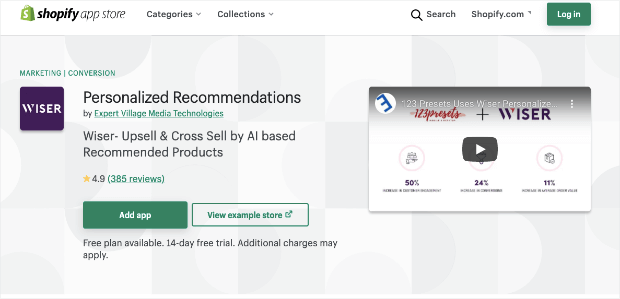 The Personalized Recommendations app by Wiser is an advanced app that helps you to boost sales with a set of impactful tools such as:
Frequently bought together
Upsell popups
New arrivals
Recently viewed
Best Sellers
Wiser is a state-of-the-art application. It uses Artificial Intelligence (AI) to make recommendations as appropriate as possible.
This app even allows you to analyze the performance of your widgets with A/B testing. And users have seen an increase in their average order values by up to 30%.
Features 
AI product recommendations
Powerful widgets
Easy integration with popular CRMs
Manual recommendations
Email recommendations
Pricing: There's a free plan that you can begin with. Paid plans start at $149/month.
Get started with Personalized Recommendations App today!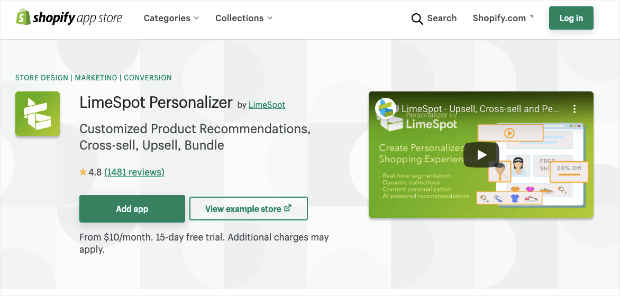 LimeSpot Personalizer is an AI-powered personalization platform that helps deliver a completely personalized shopping experience.
This app provides intelligent product recommendations with the help of:
Multiple layout options to create cross-sells, upsells, bundles, and more
Complete customization of the design and content of the product recommendations
Layout preview and placement with advanced editor
Multiple recommendations on every page
LimeSpot Personalizer helps you to personalize every element of your Shopify store.
Features
AI-based personalized recommendations
Split testing
Email personalization
Audience segmentation
LimeSpot Personalizer is an out-of-the-box personalization solution for your Shopify store.
Pricing: Paid plans start at only $10/month.
Get started with LimeSpot today!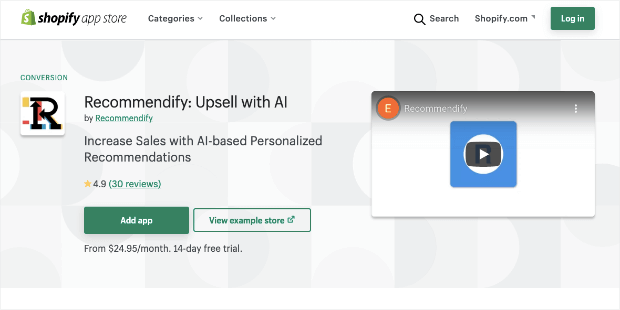 Recommendify allows you to display relevant product recommendations every time someone visits your website.
By using Recommendify, you can increase the average order value (AOV) by automatically promoting related products with the help of AI.
Or you can handpick related products for cross-selling if you find that more effective.
You can also boost sales by displaying 'what's trending,' 'frequently bought together,' 'you may also like,' and more on the products page or the cart page.
Features 
AI recommendations
Handpicked recommendations
Email recommendations
Conversion tracking
Pricing: Paid plans start at $24.95/month.
Get started with Recommendify today!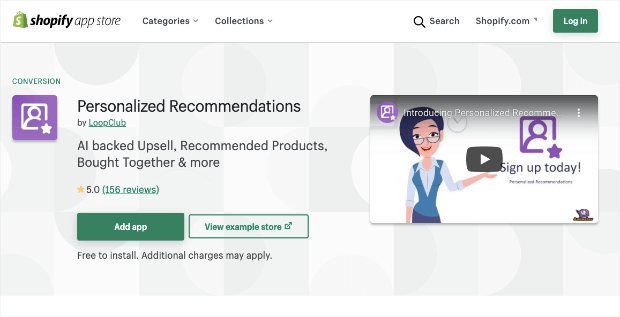 Personalized Recommendations by LoopClub is another Shopify app to personalize product recommendations.
This app makes live recommendations based on your visitor's real-time actions. That means when your visitors are browsing your Shopify store, AI is using real-time data to create personalized recommendations.
This saves time and enhances the user experience (UX).
This app personalizes product recommendations by using powerful widgets such as:
Frequently bought together
Top discounts
Trending products
Recently launched
Bestsellers
At the end of it all, you get more conversions and happy customers.
Features
Hassle-free setup
Real-time recommendations
Powered by AI
A/B testing
Custom widget templates
Pricing: Paid plans start at only $9.99 per month.
Get started with Personalized Recommendations today!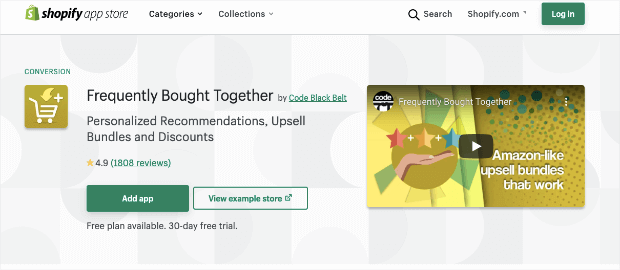 Frequently Bought Together is an extremely useful Shopify app to advertise bundled products. It allows your users to easily purchase related products with a simple click.
It's a great app to increase cart value and conversions with upsells.
You can also use this app to retrieve abandoning carts with timely discounts.
This app is powered by a robust AI algorithm that's continuously updated to produce the most relevant product recommendations.
A fully customizable user interface also helps you to display really personalized product recommendations without interrupting the user experience.
Features 
Simple installation
24/7 support
Incredible UI UX
AI recommendations
Bundle discounts
This app is powered by multiple recommendation algorithms to boost sales and conversions.
Pricing: This app has a free plan and a 30-day free trial. Paid plans begin at $9.99 per month.
Get started with Frequently Bought Together today!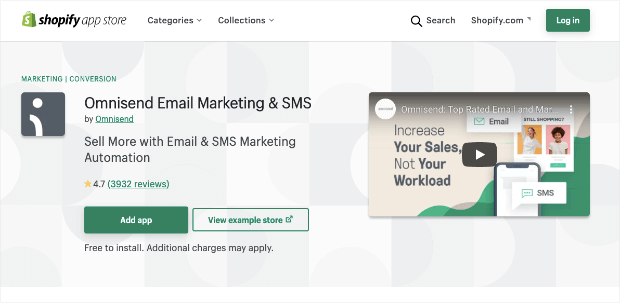 Omnisend is a fully automated Shopify product recommendation app.
Omnisend allows you to set up fully automated email campaigns for different audience segments. This helps you send the appropriate product recommendations to different customers based on their purchase history and persona.
This app comes with pre-built automation that you can use for:
New subscribers
Recover abandoned cart
Get testimonials
Drive more sales
And much more!
Features
Automated sales
Email segmentation
Intelligent product recommendations
Pre-built workflows
Pricing: You can get started for free. If you want to try advanced features like pre-built workflows, then you should opt for the paid plans, which start from $16/month.
Get started with Omnisend today!
And that's all for today! These have been the best Shopify personalized recommendation apps you can start using to drive MORE sales.
If you enjoyed this post, you'll definitely want to check out these other resources:
These articles will help you generate more sales from your Shopify store.